 Founded in 2006, JJJJound is the digital moodboard turned collaborative powerhouse spearheaded by Justin R. Saunders. Described as a "color-coordinated visual stream of consciousness," JJJJound has since become a regarded reference point for design communities worlds over.
Having been consistent in its documentation of the recurring themes key to timeless design, Saunders' brainchild is now a renowned studio, spreading its message through the release of limited-edition products; these include collaborations with the likes of New Balance and Vans. Despite JJJJound continuing to further its visual narrative and presence across digital's many landscapes, it has begun building a reputation for its fabrication of meaningful, long-lasting consumer goods. An approach that resonates particularly well with today's cry for more sustainable practices, and an ideal valued by its new collaborative partner, A.P.C.
In these superficial times, overflowing with vain and useless ideas, his approach touches me deeply. Justin and his little company remind us that the meaninglessness of the world might one day be lessened thanks to him and people like him, who work in all sorts of fields.

Jean Touitou, founder of A.P.C.
Highlighting the elements which make A.P.C. "essential," the collaboration is marketed as representing a "first degree version of the brand." The expertly-crafted selection of garments are visions of elegance and simplicity, portraying what each brand feels to be an ideal world; one which is considerably less cluttered, and filled by only that which we really need. The collection teaches us that Saunders' quest to achieve a so-called unattainable perfection is something A.P.C. founder Jean Touitou holds very dear. Short for "Atelier de Production et de Création," A.P.C. has been able to secure its position as one of France's foremost ready-to-wear labels. Initially conceived as a menswear clothing line in 1987, bearing labels that only read "HIVER 1987," Touitou 's brand began gaining popularity with female customers in 1988, transforming the brand's output into a unisex one shortly after. It then left its enigmatic "HIVER 1987" branding behind to become A.P.C. in 1989. Now, some 30 years later, A.P.C. continues to represent many of the defining sensibilities seen in even its earliest releases.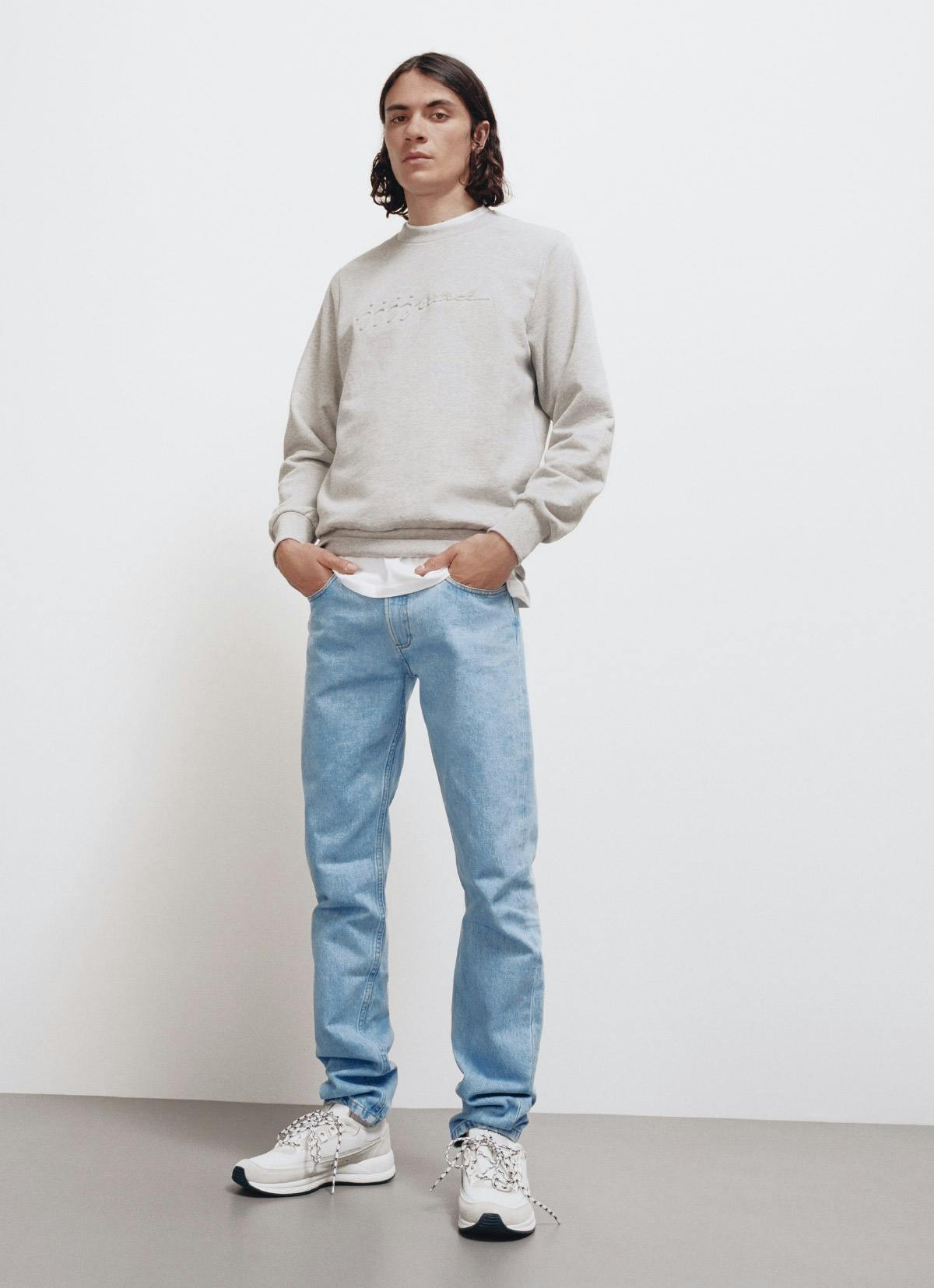 Characterized by minimalist designs, subtle branding, and a re-fashioning of traditional clothing silhouettes, Jean Touitou's atelier represents a culmination of the various elements that constitute timeless design. It is this knowledge that gives its partnership with JJJJound more meaning, a brand, which in its own right, is obsessed with documenting design's most foundational elements.
Justin is doing exactly what I started to do in 1987 when I founded A.P.C. in the sense that his approach is extremely obsessive and driven by a search for perfection that is almost impossible to attain.

Jean Touitou, founder of A.P.C.
The collection consists of a selection of staple silhouettes, including T-shirts, a hoodie, sweatshirt, and a pair of sweatpants. Next to this, the duo has supplemented its offering with two takes on Saunders' favorite jeans, A.P.C.'s renowned Petit Standard silhouette; available here in raw and bleached denim. In addition to this, a backpack, key chain, and a brand new A.P.C. candle will be available alongside the clothing.
Head over to the Highsnobiety shop via the button below to shop the A.P.C. x JJJJound collection.