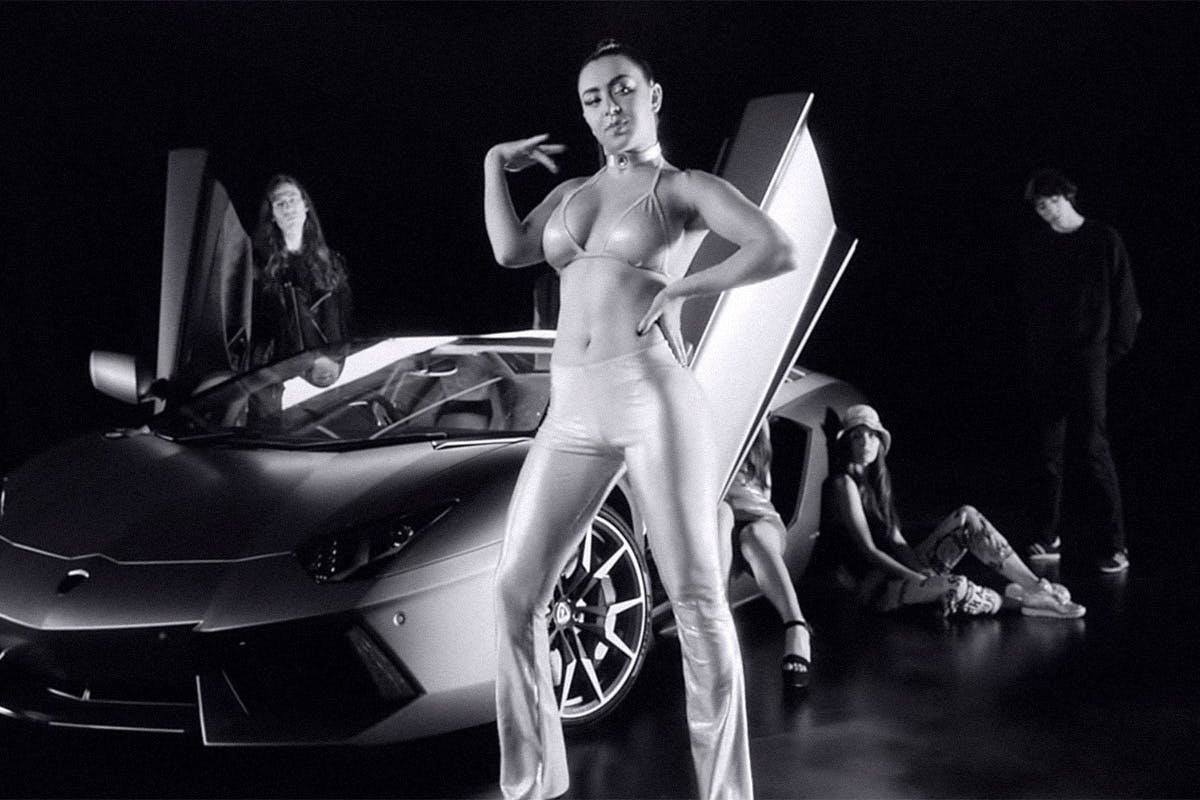 Charli XCX is the living embodiment of the future of pop, but she's also been revering one of the oldest tropes in popular music for years. Quite simply, she's a hot rod enthusiast, a petrolhead, a car geek. Like many icons that reigned decades before her, from Woody Guthrie and Bruce Springsteen to Prince and Grace Jones, songwriters have interpreted four wheels as a monument for freedom and a sanctuary for teen privacy and escape, an extended metaphor for sexual desire and objectification. No matter how revolutionary or futuristic pop music strives to be, it seems unimaginable that automobiles won't be at the center, and our latex-laden pop extraordinaire is making sure of this.
Among the vast array of hedonistic symbols Charli celebrates, from bright colored pills to bottles of champagne, cars are her most complex and beloved motif. Growing up in the Chicago suburbs, cars were an escape – a creative incubator on wheels where I could vent with friends and blast music cathartically while passing by a sea of lawns and strip malls. Similarly, Charli celebrates the car as a symbol of autonomy, but also a background for endless possibility.
Before she was a fluorescent pop queen rotating between vibrant shades of neon, Charli's star power flourished within hits that she penned for other artists. Even back then, automobiles were necessary metaphors to support feelings of grandeur, autonomy, and chaos. Her first Top 10 hit, Icona Pop's 2012 single "I Love It," depicts watching a car crash into a bridge, all worries burning to ash. Amidst the Clueless homage in Iggy Azaela's "Fancy" video, Charli is riding "in the fast lane" toward the path of luxury thrills.
Within Charli's own personal catalogue, the references get more specific and personal. On her debut studio album, True Romance, she declares "Let my car run out / I won't scream and shout" on the cosmic song "Grins." Blurry synths overwhelm her as she pushes love at its highest speed. On 2014's Sucker, she graduates from "car park queen" to riding in limousines as heard on "Hanging Around." Charli is driving toward her deepest desires as opposed to cruising around her daydreams. Whether it's a limousine, a white Mercedes, or an economical Prius, these four wheels are a space of liberation and emotional tension.
It wasn't until after 2016 as the Vroom Vroom EP made its permanent mark on the music world that the automobile imagery felt emphasized and pruned with sophistication. Integral to the Charli we know and love today, Vroom Vroom saw had her teaming up with A.G. Cook and SOPHIE to transform her sound from a cocktail of '80s new wave synth-pop and punk to a romp of wiry, industrial beats. The title track is as cacophonous as an engine's internal combustion, the sound heavy and iron-clad, but evoking a vision of lavender Lamborghinis and bubblegum pink Ferraris that she'll happily crash later on. Her music transformed into a beast as fast and furious as the cars she sings about, "I Love It" and "Boom Clap" left behind in the rearview mirror.
Going back to a record label seemed to set fire to industry expectations, and what soon followed were two mixtapes released with dubious permission. Drawing from her recent sonic revelations, Number 1 Angel casts a luxe, chromium attitude whereas Pop 2 sounds like a mechanic hammering beats with her wrench set. Synths fizzle like pistons firing, then scrape as if shredding thin sheets of metal through a meat slicer. As Charli's sound has evolved into something of a party on Ford's assembly line, automobiles have become a complicated terrain of success, rebellion, and intimacy. Cars aren't only going to get Charli to the party, but showcase that she's worked hard to get there.
On the RAYE and Starrah-assisted track "Dreamer," they've got cars for every day of the week, each ride reminding them of their boss status. But when she's not showing off her triumphs, Charli does a lot of emotional labor while cruising. Increased MPH has become a way to heighten the romance: she fauns over her lover in the driver's seat on "Blame It On You" and sings about speeding in the fast lane, commanding "roof down, kiss me hard in the pouring rain," on "Unlock It." If the party sucks, she uses a Mercedes to escape – the ultimate freedom of leaving when the good times aren't so good or when the debauchery becomes taxing.
Often, Charli remains in the backseat, parsing through her feelings, the vibrations of the subwoofers providing clarity. Sometimes her getaway wields itself like titanium armor where she embraces her solitude over romantic commitment as demonstrated on "Backseat." "Your song, so loud / Drivin' so fast," she sings, "I'm better off alone." When her Gatsby-esque parties are over and lust's intensity subsides, she uses the car to hide with her broken heart and reflect. After she's been burned by love on "Porsche," Charli turns to money to distract her from the pain – "You won't hear my teardrops when they're fallin' / Engine drownin' out the sound, you hear me comin.'" Her presence will be known, but her vulnerability is concealed. And when the love runs out, her gas tank never will; when her lover shows their true colors, she's ready to rebound in her dream car of choice.
Hew new album Charli continues to elevate this motor connoisseurship. Opening track "Next Level Charli" embraces what the singer-songwriter initially loves about her fast wheels: uncontrollable speed, the thrill of the tires burning and the music blasting. Oddly enough, there are no flashy cars here. Instead, she's turned to a... Prius. As Charli becomes more intimate and introspective, the car's meaning widens from a source of hedonism to personal revelation. For example, on "Thoughts" she admits that being on the road only strengthens her feelings for another – "I'm drivin' 'round in Hollywood / I can only think 'bout you."
"White Mercedes" sees Charli identifying with a motor that runs too fast. It's a song about a tumultuous relationship and a love she feels she doesn't deserve. This touching ballad is hinted at in the music video for "Gone," a collaboration with Christine and the Queens that lyrically doesn't mention cars, but shows the singers strapped down on top of a white car, a powerful metaphor for the male gaze. Later on in the video, they break free from the oppressive machine and dance in a fiery rain. Charli isn't hiding inside the car or accelerating away from commitment; she's dancing alongside it. Here, the vehicle feels like a symbol of acceptance, a recognition of the painful feeling of unworthiness that we ultimately tie up and leave it behind.
"The place I listen to music the most is in the car," Charli explained in a recent interview with Los Angeles Magazine. "There's something really romantic about looking out the window and – I know this sounds so cheesy – feeling like I'm in a movie." Not only does she understand that listening to music in one's car is unlike any other musical experience, but Charli validates this sentiment within her own work, complicating and expanding it, making songs that we all want to hear with the windows rolled down low.