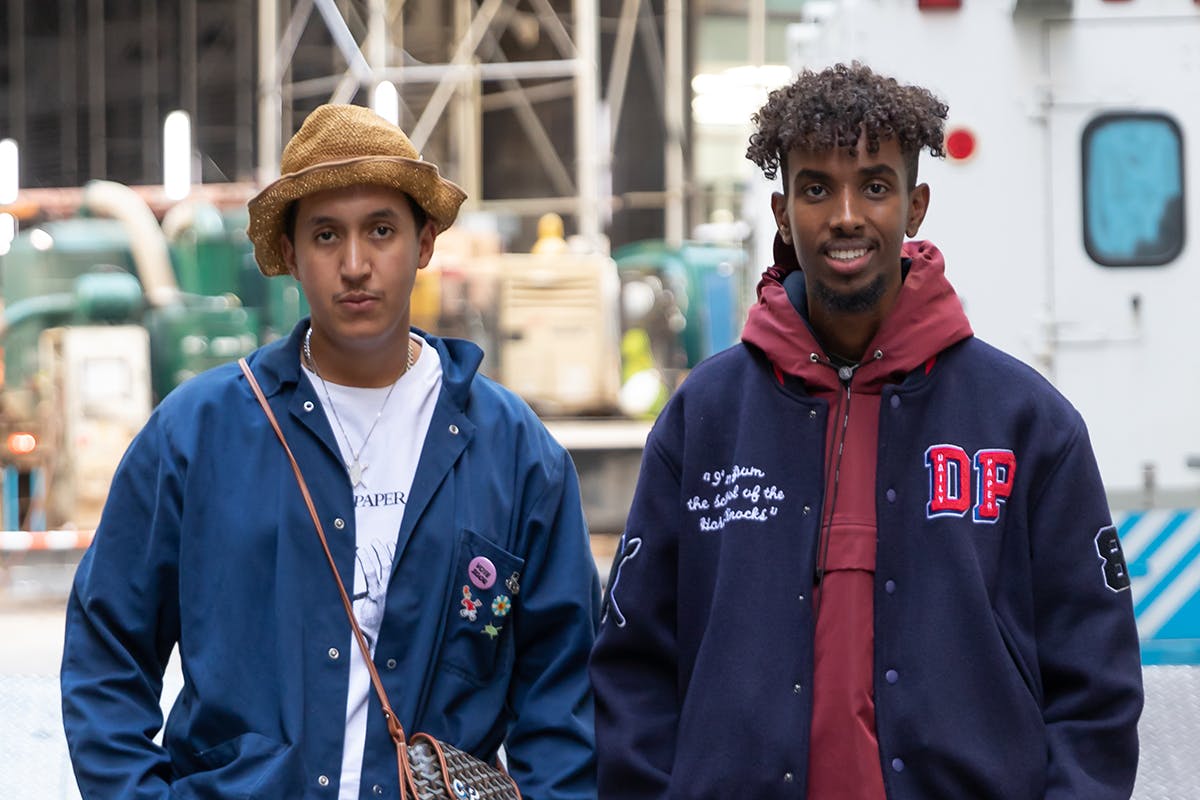 On this week's episode of The Dropcast, hosts Noah Thomas and Jian DeLeon are joined by Hussein Suleiman and Abderr Trabsini, co-founders of Amsterdam-based fashion brand Daily Paper. The partners blend their African and Dutch cultures to create heritage-infused streetwear pieces grounded in contemporary design.
This episode's quick hits start with highlighting why Pigalle is one of today's most underrated collaborators (1:19), and why Supreme's recent collabs with Velvet Underground and Ben Davis signal that the iconic brand might be losing some steam (4:45).
The Daily Paper dudes also have some spicy #muleboyz takes when Hussein addresses Jian and Noah's questionable taste in shoes (6:06). Though admittedly—most of that funny swag comes from Noah.
The conversation takes a more serious turn in discussing B.STROY's controversial collection featuring hoodies emblazoned with the names of schools where shootings have taken place (20:43). Jian and Noah were at the show last week and talked to the designers—and previous Dropcast guests—about why they chose to make such a polarizing statement on the runway, as well as fashion's previous brushes with controversial matter.
The cast closes by reminiscing about Daily Paper's humble beginnings: starting out as a blog and using fashion as an educational platform (26:34) progresses into Hussein and Abderr sharing knowledge with Dropcast listeners, who left plenty of voicemails for the Question of the Week (QOTW): "What do you want to know about starting a brand?" (33:30)
Of course the epsiode ends with asking the guys "What Did you Cop!?" Abderr was one of the lucky ones that got his hands on the new  grey Nike Sacai waffle runner's, "NO RESELL" he proudly points out, while Hussein also kept it Nike vibes and got his hands on the Nike Shox R4's Neymar Jr's
Sacai x Nike LDWaffle



(Available at 2 Merchants)
(Available at 2 Merchants)
Nike Shox R4 Neymar Jr.
Drop by Highsnobiety's Instagram on Monday for our next QOTW, and leave a voicemail on The Dropcast Hotline at 833-HIGHSNOB (833-444-4766) for a chance to be featured in a future episode. 'Til next time.
Relevant Links
Pigalle's Converse Chuck 70 Features a Crazy Lightning Motif
Stéphane Ashpool Previews Pigalle x Chanel Collab
Supreme Pays Homage to The Velvet Underground in New FW19 Collab
maharishi & Suicoke Unveil an Ultra-Functional Tabi-Toe Sandal
DC's Re-Release of the Stevie Williams OG Pays Homage to 2000's Skate Culture
Why We Shouldn't Laugh About the YEEZY Foam Runner (Yet)
Demna Gvasalia is Leaving Vetements to "Pursue New Ventures"
B.STROY's Controversial Collection Viscerally Addresses Gun Violence
Nike Opens Distribution Center Fully Powered By Renewable Energy