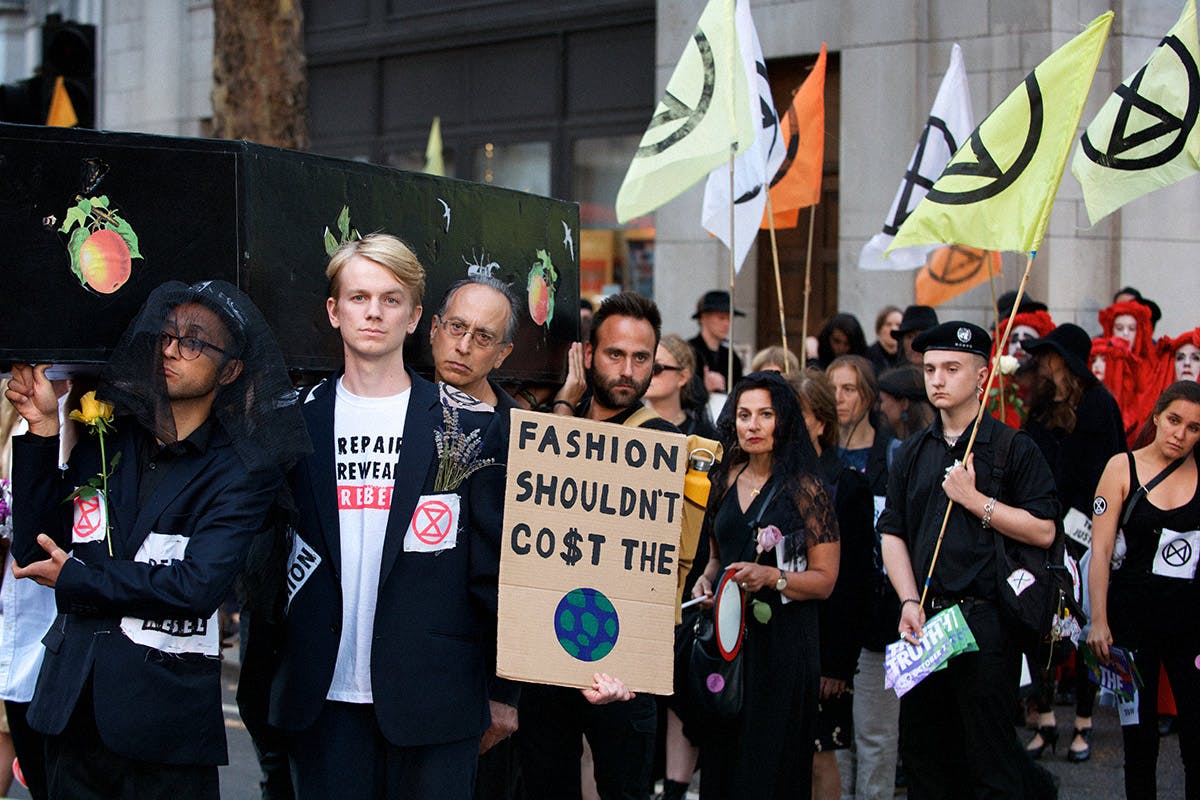 The rallying cry to combat global climate change has been sustainability. Critics of this overarching fashion buzzword have illustrated that this one-size-fits-all solution is akin to putting a bandage over a gaping wound. Even with more environmentally sound practices moving forward, the only true solution is to limit the sheer volume of new clothes being produced every year.
Currently, textile production is the world's second most polluting industry after the oil industry — producing over 100 billion items of new clothing per year. This means that just over 13 new pieces of clothing are produced for every one person on earth. Thus, sustainability could really perceived as a way to maintain an ecological status quo built upon an over-consumption model expected to grow 63 percent by 2030.
The UK's Extinction Rebellion (XR for short) is a group of likeminded climate activists — which counts 485 groups in 72 countries — who have demanded that the UK government declare a climate emergency, reduce carbon emissions to net zero by 2025, and form a citizens' assembly to oversee the changes.
The group was formally created in October 2018 — an offshoot of Rising Up — a network of activists wanting systemic change to the fundamentals of current economic and political systems (not unlike what we've seen with past movements like Occupy). To highlight these causes, they've turned to non-violent forms of civil disobedience. These acts of defiance have taken many forms; in Paris they blocked the Pont de Sully bridge over the Sein, in Berlin protestors chained themselves outside Angela Merkel's Chancellery, in New York groups assembled outside The New York Times building calling for the publication to rethink its stance on sponsoring one of the world's biggest oil industry conferences, and in London people glued themselves to trains and protested fashion week.
Sara Arnold, a prominent spokesperson for XR, saw great value in their funeral-themed protests at London Fashion Week. According to her, business can't change overnight, but companies can, right now, and start using their platforms to tell the truth about the current crisis.
"The influence at London Fashion Week has the power to galvanize the support we need on the streets to get our demands passed," Arnold says. "It is all within reach. It's bold moves that will bring us to the tipping point."
Tolly Gregory, a 19-year-old XR member, echoes Arnold's sentiments. She herself was drawn to the strength, determination, and sense of community she saw when members shut down Piccadilly Circus. She believes they are equal parts a powerful movement of truth-telling and action, as they are a support network for an uncertain future. While she once described herself as an "aspiring fashion designer," the imminent threats to the planet outweighed her sartorial aspirations.
"I have more pressing priorities now," Gregory admits. "Why are we staging catwalk shows for future seasons when we don't even know what the future is going to look like? It's laughable, in my opinion."
XR has called for a complete fashion boycott for one year. Whereas a fashion boycott is usually levied against poor business practices, unfair wages, and usage of animal products, they've reiterated that the only way to break the cycle of excess is through systematic change where guilt or innocence is an afterthought. In the absence of blame, the intent is for the call-to-action to prompt an actual response to 10% chance of reaching a catastrophic 2 degrees of warming which would result in millions of species becoming extinct, and billions dead.
"The boycott's purpose is not to blame but to shift the Overton Window," Arnold says. "In other words, bring the seemingly impossible into our perception of reality. We need to say what's necessary rather than what seems doable in our current systems. We need to stop consuming virgin resources unless it's in a regenerative way. Speaking this truth is jarring but culture has a responsibility in a time of crisis to wake us up to the truth."
While Extinction Rebellion lay blame at the foot of both producers and consumers, they cite historical evidence of shifting the paradigm. According to Arnold, during World War II, a "make do and mend" mentality was celebrated. Today, "fashion" — a term they believe has little to do with utilitarian needs — is more about excess, egos, and indulgence under the guise of art, culture, and creativity.
"What we need is a culture and an economy based on well-being and regeneration," Arnold says. "How do we do this? Perhaps, somehow, we need to split the culture of fashion and commerce of fashion. We need to stop the distortion of culture by commerce."
Alec Leach, a former Fashion Editor at Highsnobiety, who now runs Future Dust, an Instagram account highlighting the most stylish and ecologically responsible fashion items, believes XR's fashion boycott is not only beneficial, but forces consumers into a more meaningful relationship with their clothes.
"It encourages patience and self-knowledge — you can't just go out there and find something — you have to really look, to really know what you want, and to put a bit of work in to get it," Leach says. "It's also really important to rediscover the things that you already have, and to get some joy out of wearing them — that's kinda the whole reason we're into fashion in the first place."
For Tolly Gregory, her role within Extinction Rebellion hasn't sullied her love for clothes. Rather, it's forced her rethink the trend-fueled culture where what's exciting here and now, is often the first thing to be thrown away in the not-so-distant future.
"Don't buy into trends," she says. "I think trends are one of the worst aspects of how the fashion industry currently works. We don't have time to be continually renewing what is deemed as fashionable or not fashionable and it puts too much pressure on consumers."