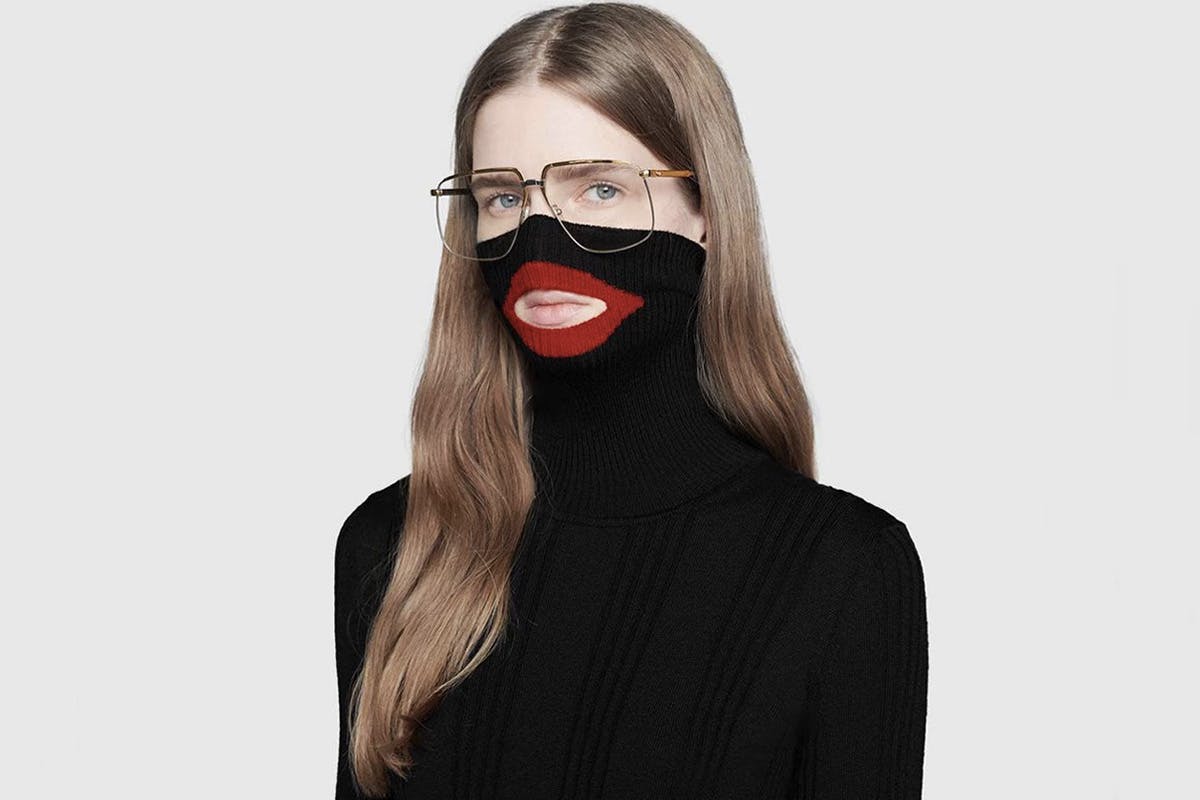 In the month of February alone, which is also Black History Month, we've witnessed over a handful of racial, ill-judged incident's involving the biggest fashion brands in the industry including Gucci, Balmain, Vogue, and more. At a time where we should be celebrating black culture, we're instead face palming these brands and public figures for making the same racist mistakes that have plagued the fashion community forever. Is no one learning?
The fashion industry continues to progress in other social avenues including gender-neutral clothing and sustainable practices, but when it comes to racial injustice within these brands' own ranks, it's still very stagnant.
The lingering problem is the lack of diversity and inclusivity of minorities in creative and decision-making positions. That absence of culture leads to Valentino putting white models in cornrows, Prada releasing a $550 keychain that mirrors blackface, and Balmain painting black models darker for a runway show. It's a never-ending cycle of racial incidents, community outcry, and "we didn't mean to offend" apologies. It's a level of ignorance. In some ways designers seemingly lack the instruments to understand cultural imagery and history, especially of black culture, because the culture is absent in those offices.
According to The Cut, less than 10 percent of the 146 fashion designers who showed at the major Fall 2018 shows for New York Fashion Week were black, as well as only 3% of the Council of Fashion Designers of America. We've seen some progression since last year including Virgil Abloh becoming the first black man to take on the role as men's artistic director of Louis Vuitton, Edward Enniful becoming the first black editor-in-chief of British Vogue, and Tyler Mitchell as the first black photographer to shoot the cover of Vogue.
However, time and time again, we've dealt with instances of racism in a myriad of ways. In the shortest month of the year, many huge incident's have accrued including Gucci facing blackface allegations, Burberry incorporating a knot that reminded some of a noose in their FW19 show, and Vogue Brazil's fashion director accused of throwing a "slave-themed" party, amongst others.
It's issues like these that show the lack of discipline, inclusivity, and education in the fashion industry. It needs to be addressed.
Here's how Black History Month alone proved fashion still has to address its race problem.
Gucci Faces Blackface Allegations
On February 6, Gucci was met with major backlash after producing a sweater that evoked blackface. Described as a "balaclava jumper," the black polo neck appeared to feature bright red oversized cartoonish lips around the wearer's mouth. Listed at a retail price of $890, the jumper was immediately hit with viral scrutiny by social media and was forced to be taken down.
Labeled as blackface, consumers alongside celebrities lashed out with swiftness, leading to a social media apology from the Italian fashion house stating, "we are fully committed to increasing diversity throughout our organization and turning this incident into a powerful learning moment for the Gucci team and beyond."
The apology wasn't met well, especially by rapper and "long time supporter" T.I. "APOLOGY NOT ACCEPTED!!!! We ain't going for this 'oops my bad I didn't mean to be racist and disrespectful towards your people," he shares on Instagram. He goes on to urge his followers to stop supporting the fashion house until they earn our respect.
Spike Lee also addressed the issue, implying Gucci needs to hire more black people, as well as Harlem designer Dapper Dan who sat down with many industry leaders to discuss Gucci moving forward.
As a result, the Italian fashion house has begun to focus on diverse recruitment and more ethical practices with the launch of its Multicultural Design Scholarship Program. The new strategy will hopefully lead to the hire of five new designers from around the world and create a new role titled Global Director for Diversity and Inclusion. It's a step in the right direction.
Katy Perry's Namesake Brand Also Accused of Blackface
Similar to Gucci, pop singer Katy Perry also faced blackface outcry after releasing a series of shoes from her namesake line that featured a "Picasso-style" face with red lipstick. The design came out on nine different colorways, but it was the black pair that garnered all the attention.
After receiving tons of heats for the design, Katy removed them from her store and shared an apology on the New York Times.
"The Rue and The Ora were part of a collection that was released last summer in nine different colorways (black, blue, gold, graphite, lead, nude, pink, red, silver) and envisioned as a nod to modern art and surrealism." The statement continues: "I was saddened when it was brought to my attention that it was being compared to painful images reminiscent of blackface. Our intention was never to inflict any pain. We have immediately removed them from katyperrycollections.com."
Many fans had mixed feeling regarding the shoes, as some were angered toward her ignorance regarding blackface, but others defended her and called the backlash against her a "character assassination." It's a controversial scenario to be in, but her design team should've known better. Releasing anything with a large or small resemblance to blackface is an instant no.
Vogue Brazil Fashion Director Throws "Slave-Themed" Party
The fashion director of Vogue Brazil, Donata Meirelles resigned after throwing a 50th birthday party with an apparent "colonial slave theme." Yes, you read that correctly. Her party in Salvador de Bahia, northeast Brazil, featured black women dressed in all white uniforms that closely resembled clothing worn by house slaves.
The women were essentially used as props as guests sat on a throne-like chair, which had strong similarities to cadeira de sinhá, an ornate chair for slave masters.
"The black women were used as objects to create an exotic scene," said Stephanie Ribeiro, the author of the #BlackGirlMagic column in the Brazilian edition of Marie Claire. "It's reminiscent of colonialism and romanticizes those times. She was recreating the image where whites are superior and blacks are dehumanized."
Donata Meirelles posted the now-deleted images to her Instagram, but promptly axed them after facing angered reactions.
Following the heat, Meirelles responded on Instagram, saying that the chair was actually an artifact from the Afro-Brazilian folk religion candomblé, and the clothes were traditional Bahian party attire. "Even so, if I caused any different impressions, I am sorry," she said. In result, she decided to resign from her position as fashion director of Vogue Brazil.
STAUD Accused of Using Black Women as Props
STAUD did a big oopise in their latest Spring '19 collection. The LA-based brand, who's Instagram is flooded with predominately all-white models, is being accused of using black women as props in the their latest lookbook.
As you can see in the photo below, two white models are awkwardly sandwiched between two elderly black women. With zero context or purpose of their appearance, many quickly believed the two local black women were used merely to add color to the image, literally.
As of now, STAUD has not yet responded to the allegations of the photo.
Burberry Rocks a Noose-Like Knot During FW19 Runway Show
Burberry sent a knot resembling a noose down the runway and got roasted accordingly. Part of the brand's FW19 collection, the noose was designed as a "nautical"-themed knot for hoodie strings, but what Ricardo Tisci and team somehow didn't realize is that the hangman's knot also symbolizes lynching and suicide. So, to stick it around a models neck during a runway show was a major red flag in the community.
Model Liz Kennedy, who walked in the FW19 show, attacked Burberry on Instagram calling out the offense and claiming that her concerns for the hoodie were dismissed by company employees at the venue. "Suicide is not fashion. It is not glamorous nor edgy." She added, "Let's not forget about the horrifying history of lynching either. There are hundreds of ways to tie a rope and they chose to tie it like a noose completely ignoring the fact that it was hanging around a neck."
In a statement to Highsnobiety, Burberry CEO Marco Gobbetti responded to the backlash saying, "We are deeply sorry for the distress caused by one of the products that featured in our A/W 2019 runway collection Tempest. I called Ms. Kennedy to apologize as soon as I became aware of this on Monday and we immediately removed the product and all images that featured it."
He adds, "Though the design was inspired by the marine theme that ran throughout the collection, it was insensitive and we made a mistake. The experience Ms. Kennedy describes does not reflect who we are and our values. We will reflect on this, learn from it and put in place all necessary actions to ensure it does not happen again."
Tisci also offered his own sincere apology on Instagram.