Friday Feuds
This Week's Biggest Feuds Include Kodak Black, Chris Brown & More
This week in Friday Feuds an embattled singer clenches a W in a battle of wills, and a femcee shows her sucker free side when she gives her management the boot. Plus, a sultry singer fires warning shots to her soon-to-be ex-husband. Not to be forgotten, one distinctively coiffed rapper flirts with freedom (but only for a moment), and more…
Chris Brown vs. Nia Guzman
Chris Brown's ongoing custody battle with the mother of his child, Nia Guzman, has been well-documented and full of mutually traded jabs, insults and implications of bad parenting. This week, however, the frequently villainized Brown managed to come up smelling like roses when a judge struck down every single one of Guzman's requests.
Brown's former paramour was angling for full custody of their 2-year-old daughter, Royalty, along with monitored visitation on Brown's end. Guzman also reportedly asked that Brown's mother be barred from seeing the child, and that Brown be subjected to mandatory drug testing.
In the end, the judge maintained their joint custody arrangement, entitling Brown to 12 days per month with his daughter. Guzman's lawyer for the change of custody hearing was also reportedly provided by Brown, as per the judge's orders at the time. However, in light of Brown's recent win TMZ is claiming the judge has also ruled that Guzman will have to pay the $20,000 lawyer fee back to Brown. Guzman, who receives $2,500 per month in child support, was said to also be gearing up to ask for $16,000 per month. However with the custody request having gone south she has since withdrawn the petition.
Following the news, Brown remained uncharacteristically quiet while Guzman took to Instagram to thoroughly admonish TMZ for what she called inaccurate reporting…
Dej Loaf vs. Former Manager
Dej Loaf illustrated exactly what happens when you try her after reports surfaced that she had fired her latest manager. You might remember the manager before this one was also let go, resulting in a dust up at the BET Awards. Of course people part ways all the time in a fast-moving business like the music industry, but it was the possible reason behind the latest manager's firing that raised eyebrows on social media.
Shortly after Dej's one-time management set all of her social media accounts to private and deleted all pictures of the rapper allegations began to circulate that she'd stolen around $50,000 from Dej, ultimately leading to her firing. At this point it's really all rumors…
Jhene Aiko vs. Dot Da Genius
Jhene Aiko and her current flame, Big Sean, have put the rumor mill into overdrive, partly because they're a new couple and partly because Jhene Aiko is still legally married. Earlier in the year many were shocked when Aiko quietly married producer Dot Da Genius. Shortly after, she and Sean made their debut as the group TWENTY88 and romance rumors immediately followed.
While Aiko denied they were anything more than friends and co-workers in the beginning, it soon became apparent there was more to the story. Now that the duo are a full-on couple, many social media users have been questioning Aiko's faithfulness to her husband. This week the singer had enough and took to social media to air out her marital issues…
Dot, who had been silent until Aiko's latest round of accusations, also took to social media to respond…
Kodak Black vs. State of Florida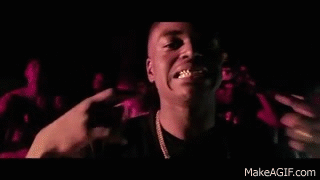 19-year-old incarcerated rapper Kodak Black learned just how fickle the fates can be when he was given a shot at freedom only to have it snatched back at the last second. This Tuesday, Black, born Dieuson Octave, pleaded no contest to charges ranging from drug and firearm possession to robbery and resisting arrest.
At the time a Broward County judge approved a plea deal on Black's behalf which sentenced him to one year of house arrest and five years of probation. Unfortunately the jubilation was short-lived as the county's sheriff's department discovered two outstanding warrants in Lucie County during the release process. The result? Twitter's #FreeKodakBlack party came to a screeching halt.
Quavo vs. DJ Drama
DJ Drama unintentionally lived up to his name when he found himself at the center of one Atlanta rapper's ire after a candid interview with The Breakfast Club. During the interview Drama was asked which Atlanta rappers he felt had been most influential to the scene. The DJ dutifully mentioned names ranging from Young Thug and T.I. to Jeezy and Outkast, but nowhere on the list was Migos.
Quavo, a member of the group, promptly took to Twitter to express his dissatisfaction at being omitted from the influencer club…
Drama's response was rather unperturbed…
Keep updated on the drama by checking out some past Friday Feuds.