After recently collaborating with Bristol Studio on a collection of limited-edition items inspired by the personalities of its biggest ambassadors, Hennessy is looking to the next generation of artists and creators who "Never Stop, Never Settle," a mantra that the cognac brand embodies when producing its legendary spirits.

Hennessy tapped Bristol Studio to create three items each inspired by one of its brand ambassadors: hip-hop artist A$AP Ferg, singer-songwriter Maluma, and legendary boxer Canelo Alvarez.

We connected with Masego, the musician behind trap house jazz sensation 'Tadow,' and visual artist Joshua Vides, known for his irreverent stenciling style, to see how they're defining success on their own terms.


If there's one characteristic every successful creative possesses it's acknowledging failure as part of the journey. Failure is something artist Joshua Vides is comfortable talking about and recognizes it as having been a catalyst for his signature black-and-white artwork he's known for today.

But before the art came a career that started at 19 when he launched streetwear label CLSC. His resume also boasts working at The Hundreds, not to mention the countless brands he's collaborated with since.

We sat down with Vides to probe into his career arc, how he defines success, his advice for artists, and more.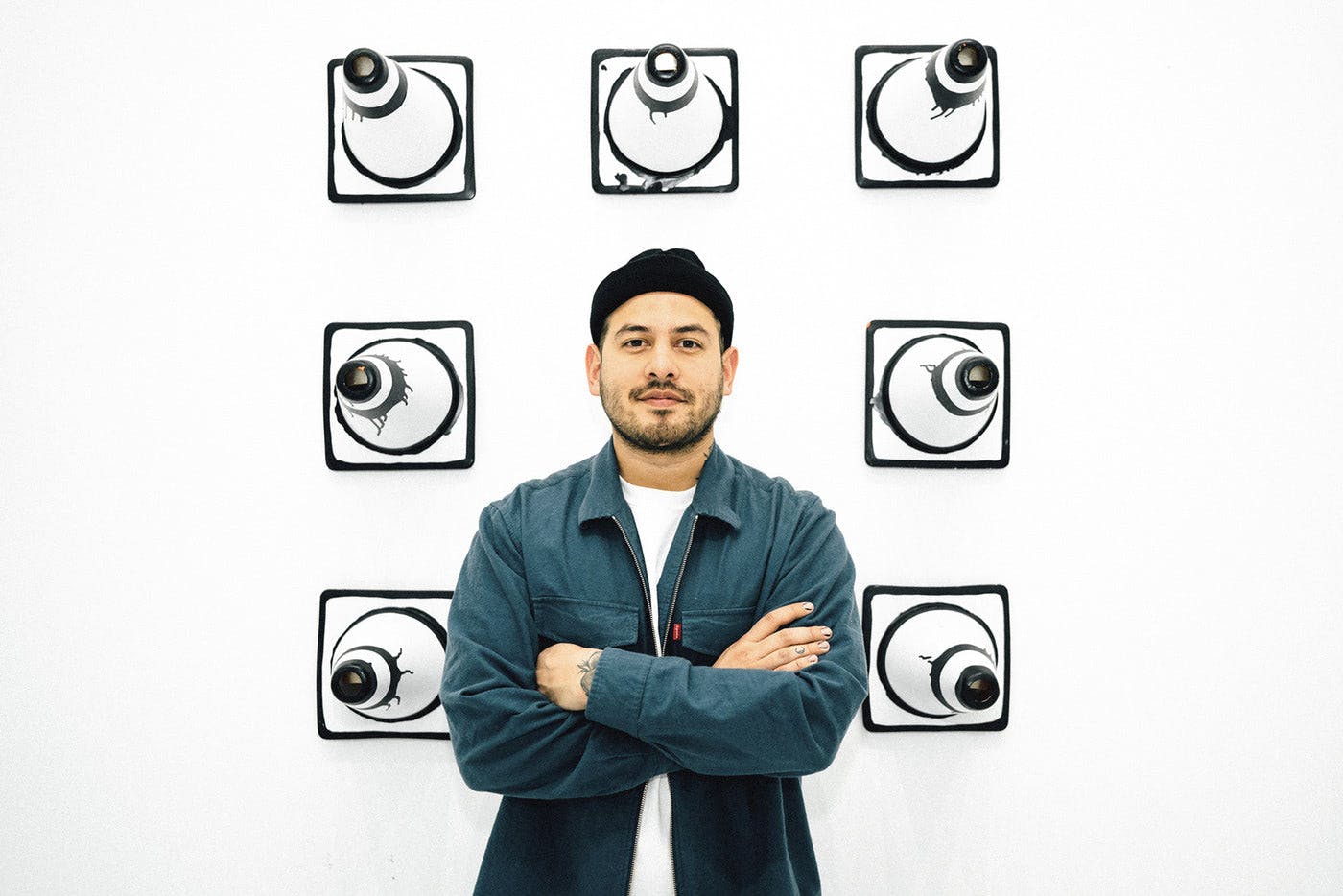 How did you get your start as an artist?

I mean, it's tough to say. From an early age I've had multiple avenues or categories of self-expression. It was from drawing to skateboarding to playing baseball to playing the drums, etc. And from there that kind of turned into [creating] a particular brand when I turned 19, and really being serious about my creativity and starting a business, trying to generate dollars off of that was kind of my first venture into becoming an artist. I was drawing and designing, and placing those designs on whatever product or canvas and going, "Hey, well this exists and I think it's dope." And that was kind of gnarly to do at 19, and I think that doing all of that has helped me get to the position that I'm at today.

How did you have that sort of business savvy, that hustle, that vision at such a young age?

I think a lot of it [comes] from the beginning. My parents are immigrants from Guatemala and my mom's a nurse and she was taking nursing classes and English classes at the same time. So my dad being a truck driver and basically paying for my mom to go to school and for all of us to survive… there were five of us. And so I think there's something there. There's that determination and drive that I for sure get from my parents. And I've always, from a very young age, I just told myself, "You're going to be great at something."

I'm not saying that what I'm doing now is that ceiling. I don't think there's a ceiling. I feel like I'm just extremely prepared to fail at any time, any day. I'm just down to make everything that I can while I can, and put it out there and see what the reaction is. And I've had a lot of failures, for sure, and I'm proud to say that, you know? I think that's why people who succeed, succeed. It's because they're just down, they know that shit can crack off and go down the drain at any moment.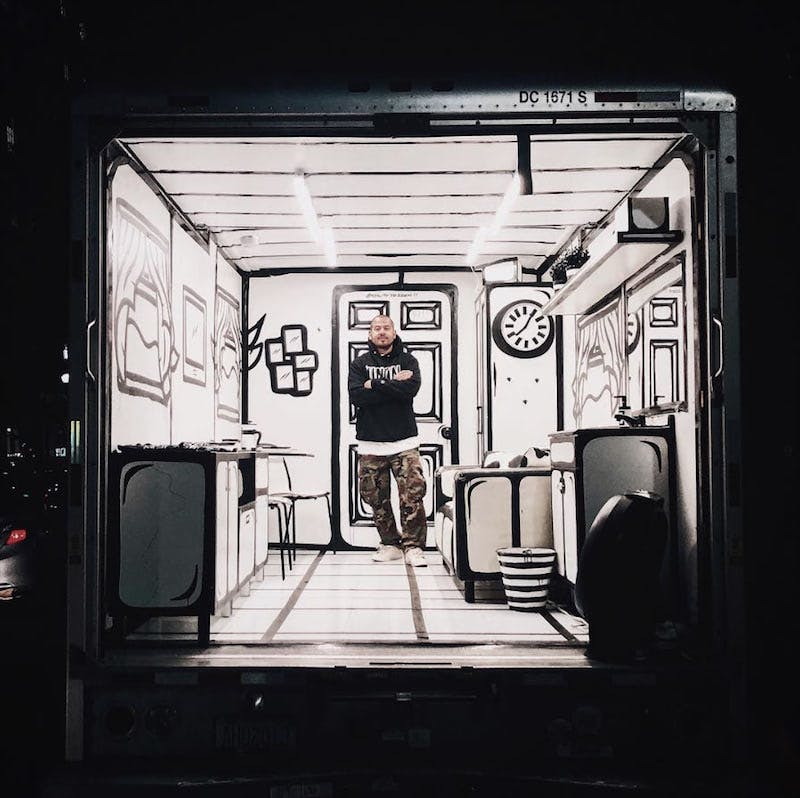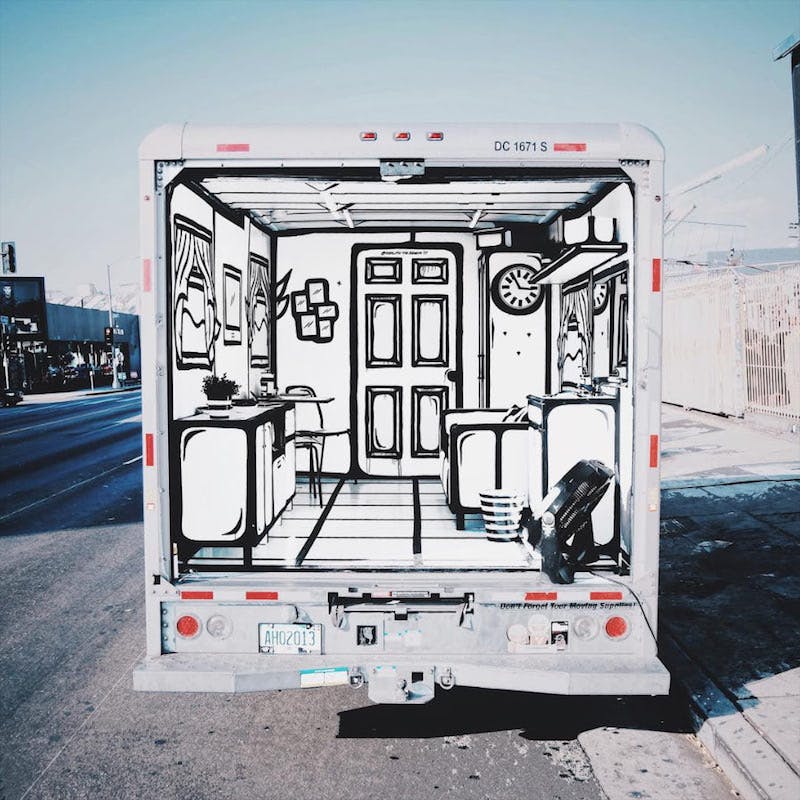 Talk to me about some of the biggest highlights in your career so far.

I grew up as a massive fan of streetwear. I was on The Hundreds blog every day, even multiple times a day. I worked for them later on in my life and that was massive. I worked for some amazing brands and people, and it was kind of surreal working for those guys.

As of recent, kind of transferring my direction of creativity from streetwear into art itself now. I think the biggest moment for me was when I worked with Jordan for All-Star Weekend in L.A. last year. It was wild because that was the first time anyone ever asked me what my daily rate was. Well, that was the first time anyone ever asked me to come be a part of an event and do something. And not only that, they're the first basically brand-slash-person to buy art from me, which was fucking crazy. I had gone from selling, I don't know, $35 T-shirts, $60 hoodies, for seven to eight years to, "OK, I painted this metal backboard to replicate a basketball backboard." So it was this big, big moment in my life where I had to take everything that I had learned working for The Hundreds, starting the brand [CLSC], eating top ramen for months because I was broke as shit. It was all this energy into this one decision and that was a really big moment for me.

I remember laughing off the email to Jordan brand. Like, "This is how much the backboards are." Just fucking staring at my computer. It took him about three hours to respond. So for those three hours, man, I was losing my shit. Like, "I fucked it up. I dropped the deal. It's done, I fucked up. Jordan's never going to work with me again. There goes that whole relationship, I'm an idiot." And after three hours they responded and they were like, "Cool, sounds good." I was like, "Oh shit." That was crazy, man. That was a very, very extremely emotional, overwhelming day for sure. And then I had to go make 15 backboards in a week.

So how do you define success? Is it a feeling? Is it something that's more measurable?

It changes every second, every day. I went to college for a quarter until I dropped out, and I remember I was in English class and the teacher asked, "What do you think is success?" And everyone kind of went around the room and some people were like, "Oh, Lamborghini." Or this, this. I remember it got to me, and I was like, "For me, it's just being alive and being able to pay your rent." I worked at Starbucks and I was able to buy shit that I wanted and survive. And that's success because a lot of people can't even fucking reach that point. So the fact that I was working at Starbucks making frappuccinos and making, like, $12 an hour to me is fucking incredible.

I mean, everyone has their own answer. If you were to ask me right now what success is, I'd really have to think about it, but it's to make the impact that I believe I can truly make in the art world. And I'm not there right now, where I feel like I've done that. Where I feel like people are looking at my work and talking about it in a certain way, or feeling the way I hope that people are feeling about it. So do I feel like I'm succeeding right now? I mean, I'm for sure putting food on the table, but I got a long way to go sit down and say, "I'm successful."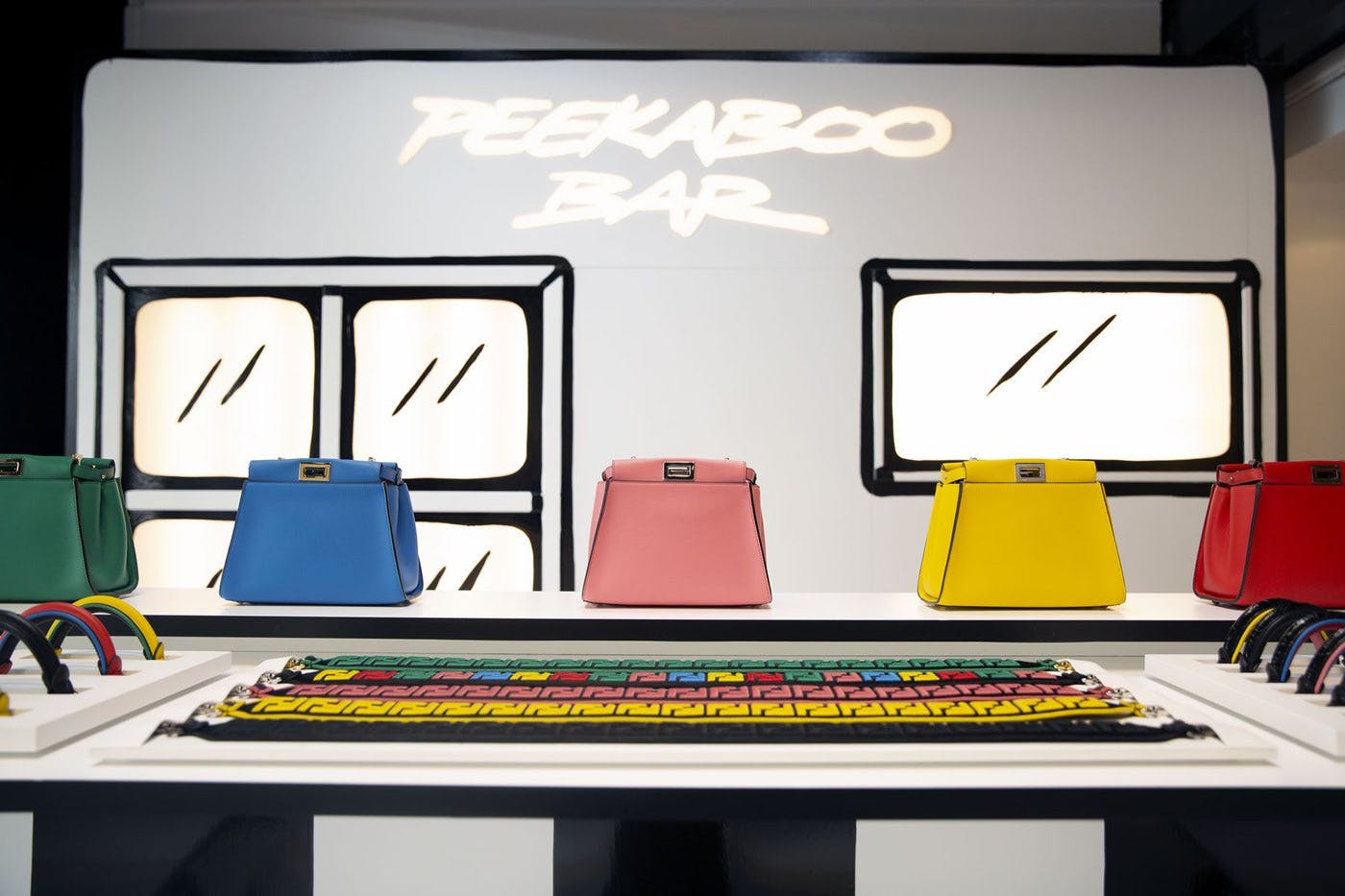 When did you start developing your signature style, the black-and-white style that you're known for? How did that come about?

It was March of 2017 when I painted the shoe. I had just watched a show about Tinker Hatfield and my mind was wondering how many designs he's created that we've never seen. Hiding somewhere in a cabinet. Then that lead me to how many ideas have I come up with and never shown? How many ideas have I just thrown away? I ran to my closet and found a pair of old Reeboks that I knew I wasn't going to wear again. I went to the garage and I spray painted them white, let the paint dry, grabbed a Sharpie, and I replicated what potentially the initial sketch of that Reebok looked like on paper, on the object. And boom. That was it, man. I was starring at the shoe and I was like, "This is fucking something." And to be honest, I had never really felt that way about anything that I had created while looking at the shoe. I was off to the races after that. I started painting everything in my house: the forks, the cups. I was so addicted to it. I just had to keep doing it.

What's your advice for artists?

Continue to make everything you can while you can. Because you never know what's going to stick. Whether you have all the time in the world, maybe you have a job or have kids, you have to find the time if you really want to live off of your skills. What everyone needs to understand is the worst thing that can happen is you fail as an artist. Then guess what? You can always get a job, go back to school, etc. Obviously that's worst-case scenario, but it's never going to be easy. But that's why we do this, right? Because we don't want to do that. We want to work our own hours and succeed off of our ideas. You gotta keep going and you have to keep trying everything that you can until you literally can't anymore. And if you're not built for that amount of time, energy, and work, then you're not built for this life 'cuz shit is no joke. I go weeks without making a dollar or work on projects and get shot down or spend days on a canvas and hate it at the end. Shit hurts, man. But you gotta dust yourself off and keep it pushing.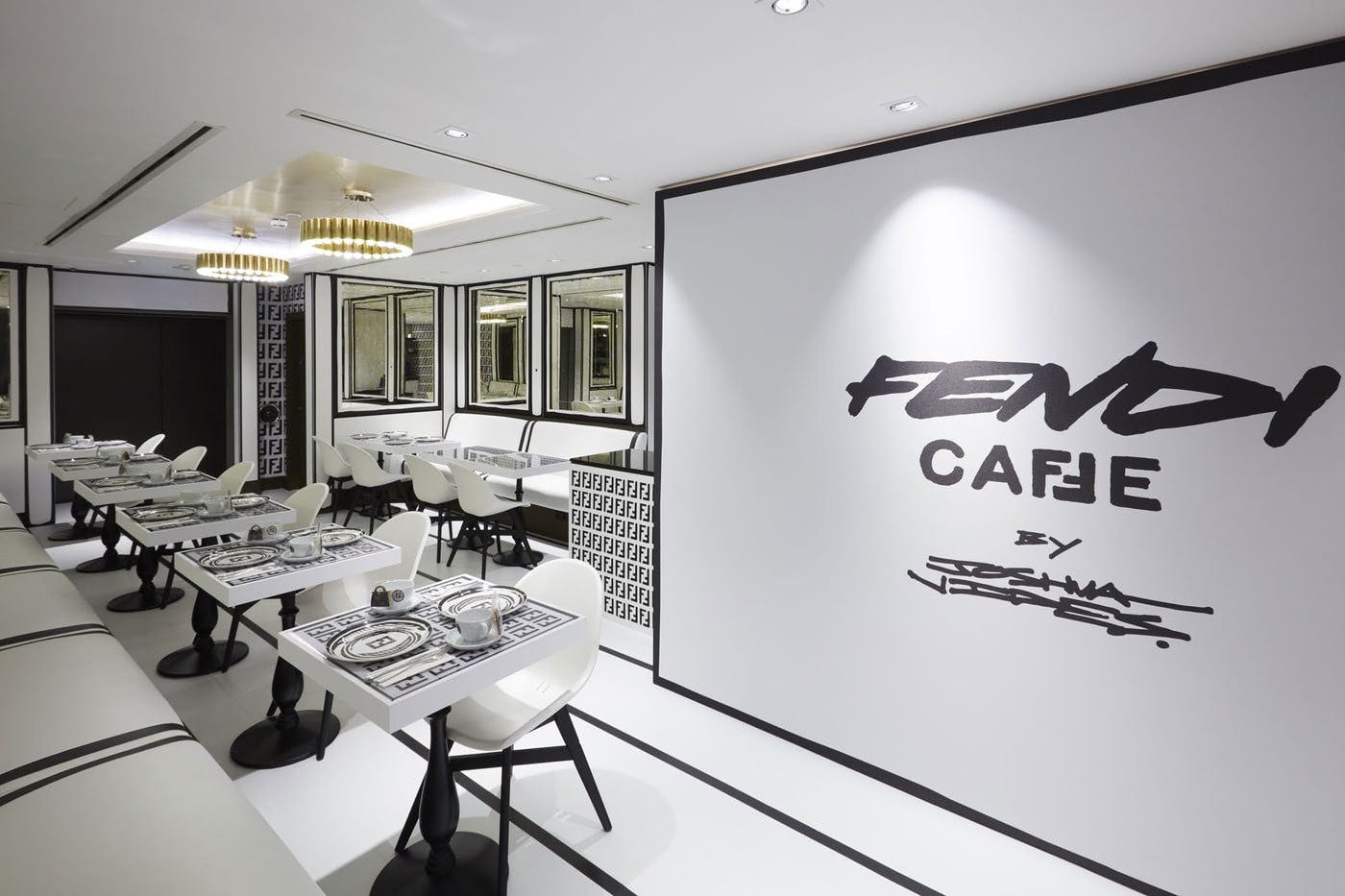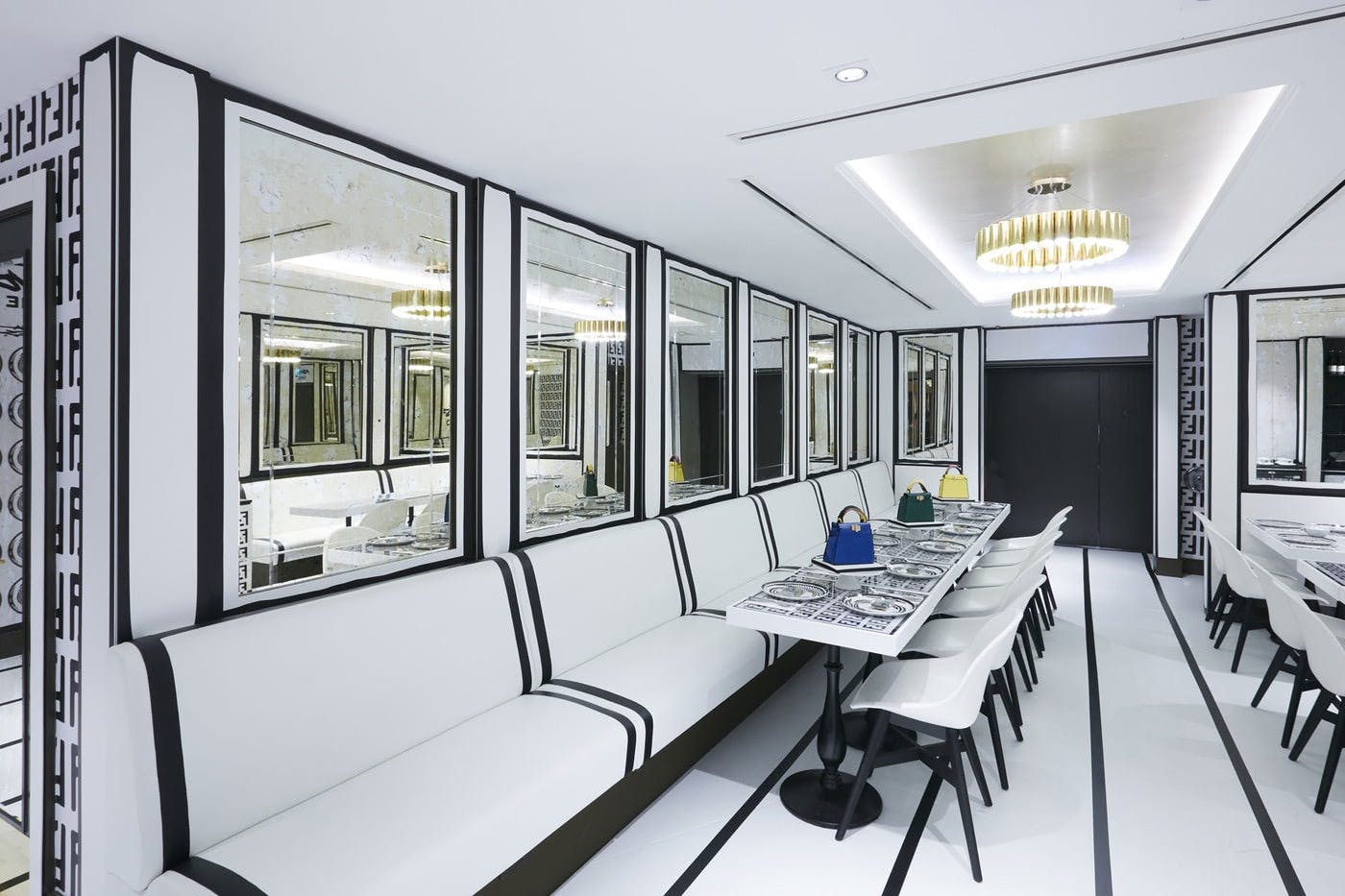 What's next for you?

I don't know. There's a list in front of me of shit that I need to start working on, but I guess what's next for me in life is growing and dealing with the ups and downs of being an artist. Shit hurts some days, and shit feels great some days. And it's understanding how to continue to push forward. It's not an easy thing, but I'm enjoying what I'm doing now. I'm trying to figure out other ways, other avenues to succeed in besides just highlighting my latest concept.

I'm going to open a coffee shop in January, Matte Black Coffee in Los Angeles, and that's going to be my first time trying to play and have fun in the food and beverage world. And then from there I need to get better; I need to become a better artist.

You know, I honestly look up to people like Takashi, right? And Daniel Arsham, etc. These guys are creating work that I can't understand. I look at it in person, I'll be right in front of this shit and I just don't understand how they created this. And I want to get to a point where other creatives and artists are looking at my work the same way I'm looking at theirs. So just trying to get better.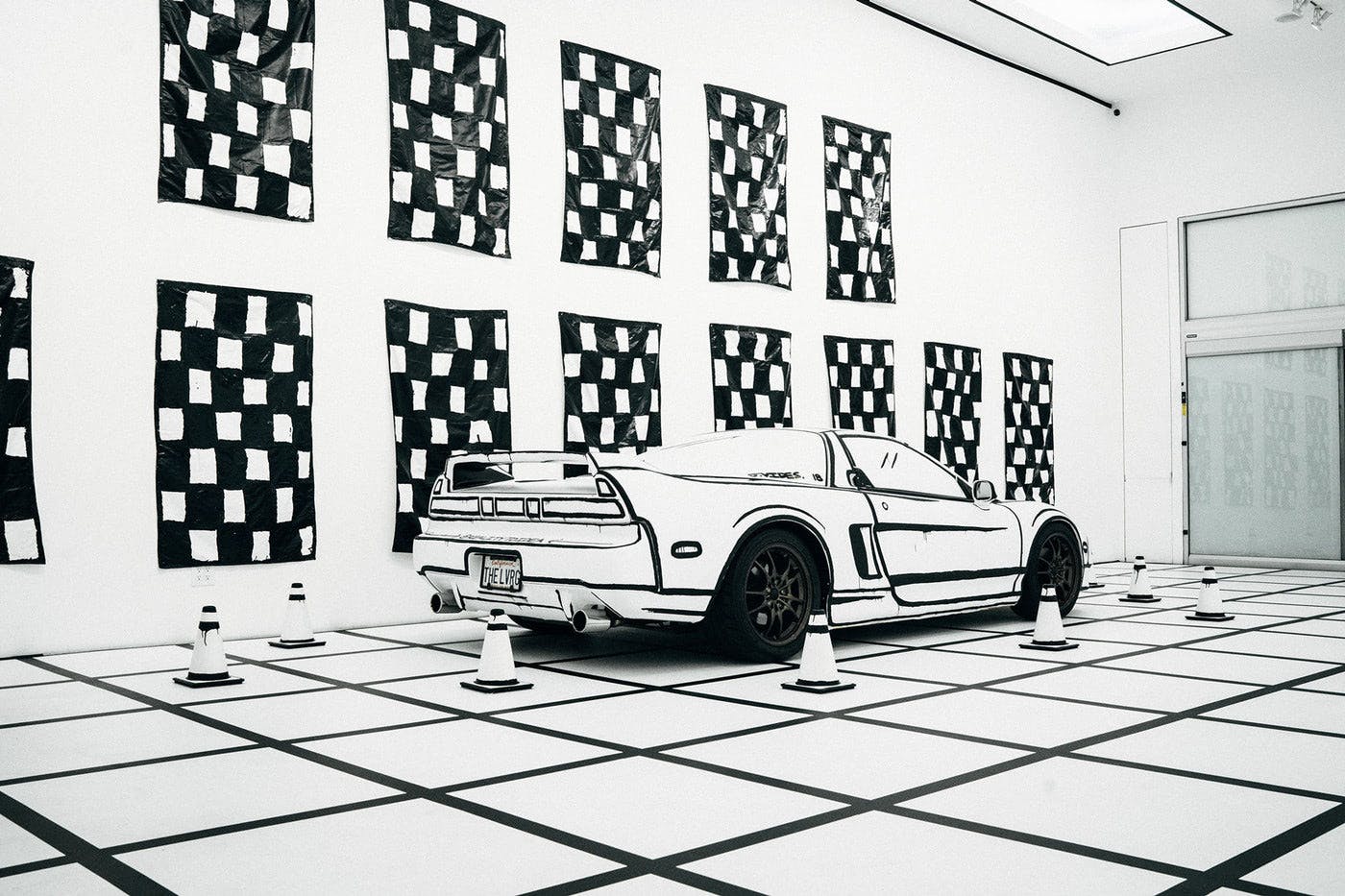 Every artist has different motivations in life, but genre-bending musician Masego says that in order to be successful money shouldn't be one of them. The 26-year-old artist has made a name for himself pioneering a genre he calls "TrapHouseJazz" that combines elements of soul, jazz, dance music, R&B, and hip-hop.

Born in Jamaica and raised in Virginia, the musical shapeshifter burst onto the scene with his 2017 single 'Tadow' which went on to become a viral hit amassing over 150 million views on YouTube.

We chopped it up with Masego to see how he got his career started, what success means to him, why money shouldn't be an artist's main goal, and more.


How did you get your start as an artist?

Instagram and SoundCloud. I grew up in Virginia and what I was trying to do musically wasn't the scene out there honestly. I was trying to play saxophone on things that weren't saxophone songs so I used to just go on YouTube and look up different lo-fi beats and play sax on that. I'd be on SoundCloud and just play sax on SoundCloud beats. People posted beats on [Instagram] as well, so I just found a sense of community on the internet pretty early.

I used to steal beats on SoundCloud and then repost them into my gig, I do, and then I'd be on YouTube, like ripping beats from people's blogs and then playing sax and that. A lot of that. But I feel like it just kind of helped me get my footing and kind of understand that the world was larger than my hometown.

There were so many different collectives and groups online, I'm going to just make my own. I had the trap house jazz band created to give me a sense of community and artistic identity. I started having jam sessions at my home and invited a lot of like-minded musicians who just wanted that sense of community and wanted to play a different style of music, because Virginia was strictly neo soul and gospel. If it wasn't [those genres] it wasn't really drawing a crowd, but what I was trying to create, it was emotion. I'm a Gemini, so if I'm feeling like we're going to be soulful today, we're doing that. I might try to dip into this electronic world. I might really try to just play trap beats and it just kind of felt more free for me to create my own thing. So that was the foundation of what it was because if anybody asked me, I graduated from YouTube University.

What has been the biggest highlight of your career so far?

Biggest highlight. Honestly, I feel like getting this house in LA because for years I've wanted to have a place that I can make music for all times of the night. I flew out my band mates and my best friends from Virginia and they live here with me now. I think it was our first jam session here, it was just us and it just felt like I won. All I wanted to do was make music with no pressure. That's even how 'Tadow' went, we weren't trying to make a hundred-million-stream song. This is what I do, I just breathe and just kind of create naturally.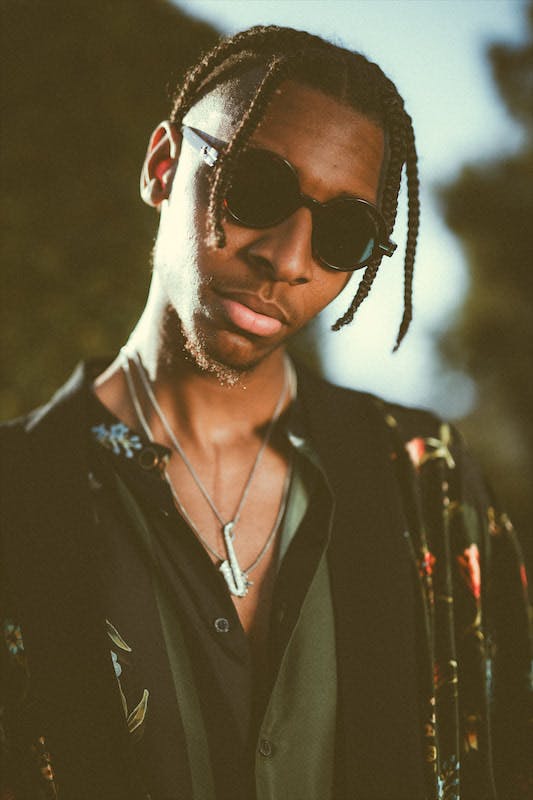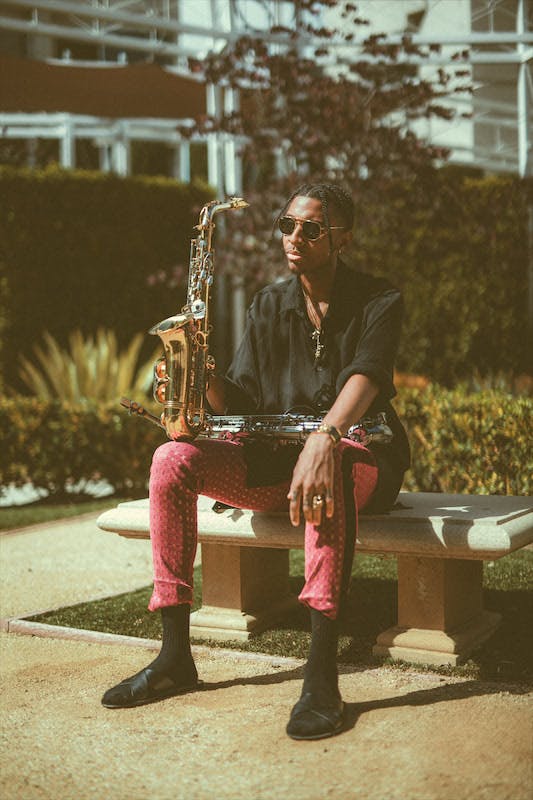 What do you contribute to your own success?

Honestly, it's all me. From the ideas, to the marketing, producing, to the engineering ideas. It's literally just me being this meticulous guy. But I feel like as time goes by I'm trying to teach the people around me to do the things that I do. I want the guy that all he plays is the flute to play the flute. I want the guy that plays bass guitar to play on the song. I wanna say, you know what, the baseline that y'all hear right there, that's actually my boy. So nowadays I'm trying to credit everybody for helping with the vision. I think that's because of the Jazzy Jeff jam sessions and the way that J Cole did it with his Dreamville sessions. Super collaborative.

What advice do you have for someone who's just starting off their career as an artist?

Spend time knowing your why. That's what drove me my whole life. At first I wanted sense of community. I loved music and I wanted to be just free to do whatever ideas were in my head. So I was like, man, I gotta learn this instrument to get this idea out of my head. And I wanted everybody else to think what I thought was cool, was cool as well. Those things were driving me so it's a very pure journey. I never mentioned money in that. I really don't care about money at all, honestly. It's just a thing. A lot of artists nowadays are very "money's the motive." So I feel like if money is the motive, you're not going to make good art. Honestly, it's just going to be a thing for a while and then it's not really going to touch people for long. So it's like know your why. If it's for money, you should probably not do it. This is my opinion, don't do it if it's for money.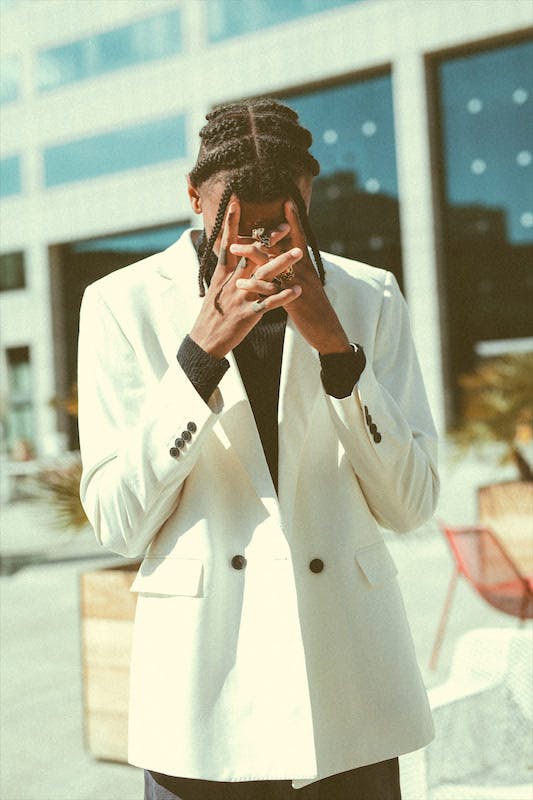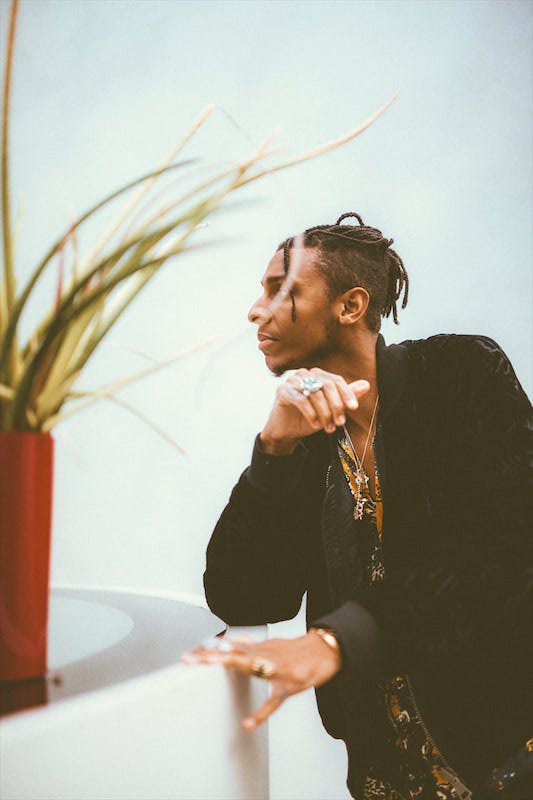 What advice do you have for someone who's been in the game for a few years and trying to break through to the next level in their career?

I know a lot of those. They try to get me back to where they come from, whatever line that was. I feel like they're coming to me to try to get songs, but I think the best advice is spend time with yourself. You have to figure out your personal super power and hone that and develop it. Even yesterday I was in the studio and this guy was trying to play all of his beats and convince us all to want to hop on it. But if you can feel that you're at that level, this person is a fully realized version of themselves.

So if you've been in the game for awhile and maybe you've affected people earlier, you just got to rediscover yourself. See if you can affect people nowadays. Because I don't think music is good or bad. I think it's like this affects people, this doesn't and who's your audience, who are you trying to speak to? It's a deeper convo, but there [are] a lot of legends back in the day that don't really adapt to the whole social media thing because they don't really have personalities.

They just have pure talent, and personalities are the ones that really drive content nowadays. So figure out who you are, develop your personality, get your motor skills up. Go on a vacation, read a book, meditate, swim, but just learn [about] yourself because people really connect with you just being who you are.

There [are] a lot of artists that don't look like stars in terms of the old way that a star was defined. So if you're old in the game or just have a little seasoning just go back and figure out who you are.

What's next for you in your career?

I'm working on my next album. The goal is to get myself where I can be as alias as Adele, [Childish] Gambino, and Frank [Ocean]. 'Cause I really don't like to leave my crew. If it's more than 20 minutes away, I'm probably going to flake and cancel. So I'm trying to get to a place where I'm so large, people just deal with that so the next songs are phenomenal.


A$AP Ferg
Harlem hip-hop collective A$AP Mob launched the careers of several prominent figures in the New York rap scene, including that of A$AP Ferg. Before ever stepping foot in a recording studio, Ferg was already entrenched in the music business — his father Darold Ferguson owned a small Harlem boutique that printed merch for record labels, one of them which was Bad Boy Records.

Friends since high school, A$AP Rocky recognized Ferg's raw talent and encouraged him to pursue the rap hustle. Ferg initially wanted to be a clothing designer, but Rocky steered him toward his true calling. The multi-hyphenate once famously explained that "trapping means hustling," and people call him "'Trap Lord' because my hustle game is impeccable."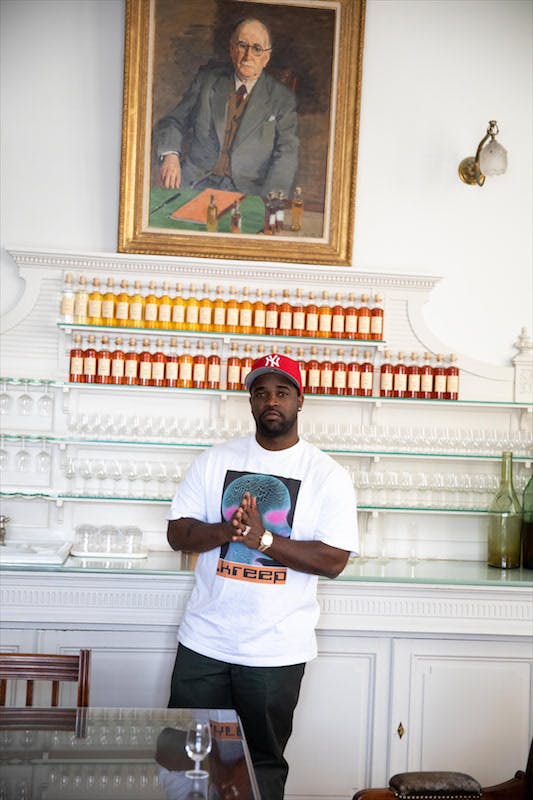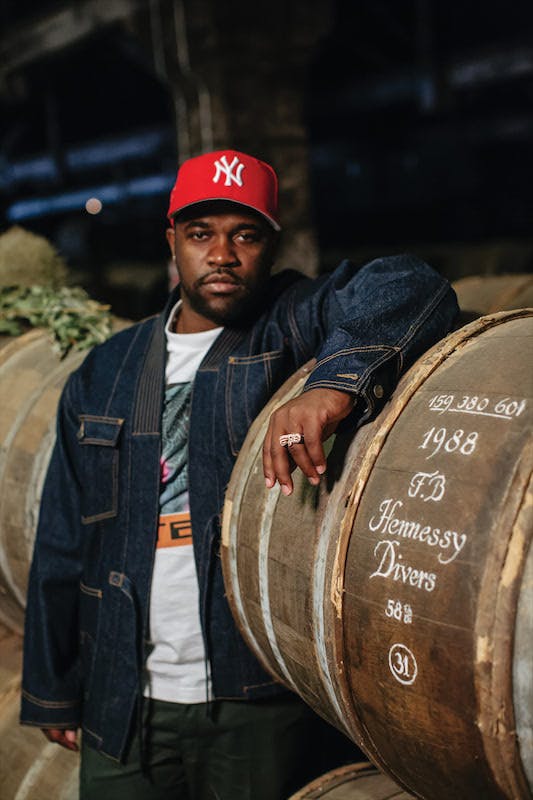 Maluma
Born and raised in Medellin, Colombia, Maluma has completely transformed the pop-reggaeton genre. The singer songwriter developed a penchant for music at a young age, releasing his first album at just 18, but it wasn't until his 2015 sophomore effort, Pretty Boy, Dirty Boy, that captivated fans worldwide. The breakthrough album was an enormous success and launched Maluma to the forefront of Latin pop. It confirmed Maluma's status as a rising star in Latin music and led to high-profile collaborations with the likes of Ricky Martin, Shakira, and Mexican singer Thalía.

Perhaps one of the biggest affirmations of Maluma's stardom is his Madonna collaboration earlier this year on the lead single off her 14th studio album. Titled 'Medellin,' the song was a pivotal moment for Latin culture and showed that the world was ready to crossover. "I want to be recognized in the world as a Latino and as an artist from Colombia who sings in Spanish," explains Maluma in a recent interview with GQ. "I want to break barriers in Spanish with my language, with who I am, and with my essence. I think I don't need to sing in English for people to like my music."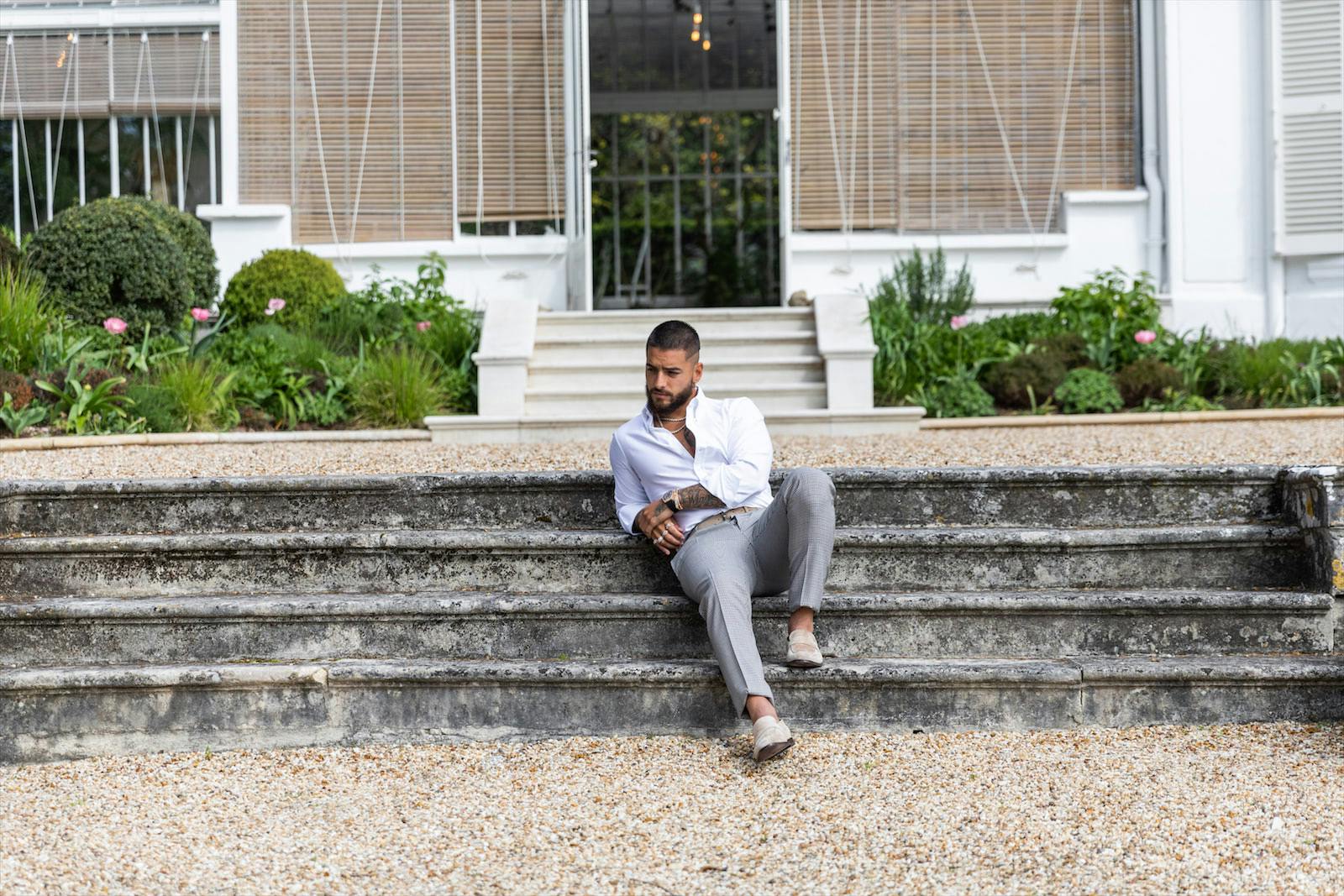 "I want to break barriers in Spanish with my language, with who I am, and with my essence. I think I don't need to sing in English for people to like my music."
– Maluma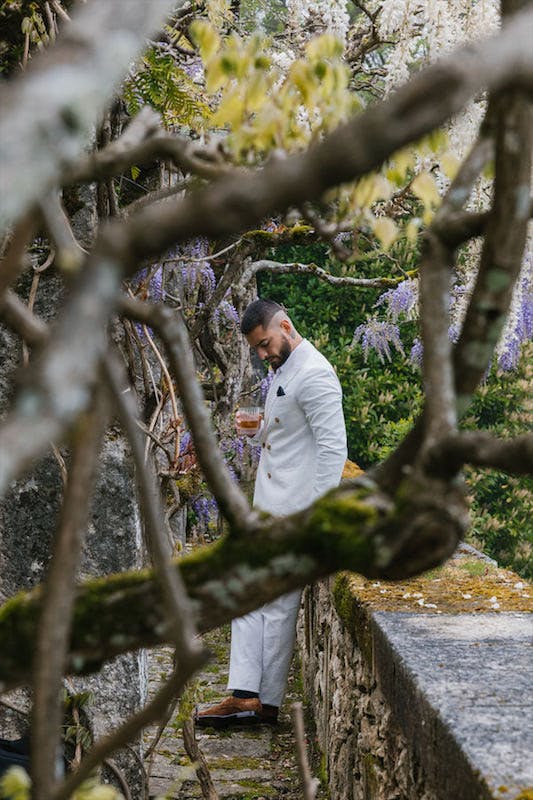 Canelo Alvarez
Considered the world's best boxer by many, Canelo Alvarez is the reigning middleweight world champion and boxing's biggest star. Alvarez comes from a long lineage of fighters and has mastered the art of boxing. With 15 years of experience under his belt, the Mexican boxer is a four-weight world champion who fights for the pride of his country.

After a recent bout with Sergey Kovalev that saw Alvarez decisively clinch the WBO light heavyweight title, his record continues to climb with a staggering 54 wins. Alvarez embodies the Hennessy 'Never stop. Never settle.' mantra each time he steps into the ring, and it's this unrelenting drive and commitment that has propelled him to the top.