Hosted by Highsnobiety Editor-at-Large Christopher Morency, "On the Record" is a podcast series of intimate, off the cuff conversations with icons and cultural engineers that have shaped the worlds of fashion, music, tech, art, business, sports and youth culture at large. For this episode, Morency touched down at 1017 ALYX 9SM's showroom in Paris and spoke with Matthew Williams, who is building a modern-day luxury brand for a young crowd who feel disconnected from traditional luxury houses.
In 2012, Williams formed Been Trill, the internet-born art collective and DJ crew-turned streetwear line with Virgil Abloh, Heron Preston and Justin Saunders, who met while working for Kanye West and leveraged their insider connections and roots to underground subcultures to create a micro community of authoritative creatives, subsequently driving demand for any product they would put out.
But 1017 ALYX 9SM, named after his eldest daughter, is a lot more personal. It's the business he's always wanted to build and one that everyone from Skepta, A$AP Ferg and Bella Hadid to local fashion kids gravitate towards.
We caught up with Matt at his Paris showroom and had a chat about his humble beginnings, collaborating with Kim Jones, and what exclusivity means today.
The below interview is a written version of 'On the Record' Episode 3. It has been edited and condensed for clarity.
Christopher Morency: Why don't you tell us, first of all, where we're at today?
Matthew Williams: We are in our showroom space in Paris, France, and also we had a temporary store here this week.
I saw Ronnie Fieg and other friends coming in yesterday while I was leaving, but then also saw a lot of consumers. The brand has always been very democratic like that, hasn't it?
Yeah. The idea for the temporary store is that we wanted to have a place that was actually curated by us before we have our own retail stores. It's also nice for the buyers to see the community that's around the brand. I always had this dream of the clothes being able to be made in the same space as the store was and having a showroom there too. I feel like there's that residue or energy that may be left in the space when the stuff has been created there. It's a dream of mine to one day have that in Milan or Paris.
You just showed your third runway collection, how was it different this time around?
Like anything, you get better the more times you do it. The first show was a Spring collection, but I didn't know I was going to be able to do the runway show from the beginning of the development of that collection, so it was more designed for a lookbook shoot or for our showrooms. Fast forward to the Fall show, that's an example of the first collection that was designed knowing that we were going to do runway and it's like a different approach to the development of the collection. This Spring collection we were able to have the right mix of product and a more clear, focused idea.
The energy felt very different too. Your shows have always included friends walking the show and editors that you'd been close with for years. But this time there was an even bigger goodwill. People want you and (your partner) Jennifer succeed along with the brand. You don't see that with a lot of brands. People were cheering when she came down the runway, model backstage said they wanted to wear all of the clothing after the show.
It was really cool and I feel so appreciative to have that support. It's amazing. That's the thing money can't give people is being proud to work towards something or wear something, and that has always been the goal, to have an environment that feeds that because we're an independent brand. I run the company with my partner, Luca [Benini], and, obviously, Jen is an integral part of the company as well, and we don't have much money at all, but yet we have so many people that are really dedicating hours and time and we're able to ask for favors. We put on a production, in my opinion, at a much larger scale than the size of the brand that we are.
I wanted to speak a bit about those early days. Do you remember the first interaction you had with fashion?
It was probably Nike shoes and sportswear stuff like that. Early on, around age 10 as I played soccer. Then I got more into skating and there was the whole fashion side of that. Then, when I went to Europe for the first time when I was in my late teens, that was a whole other side that I had never seen before.
Yeah, tell me about that story when you were, I think, in Norway.
Yeah. [All these kids] were wearing these crazy Diesel jeans and tight tees, and they had this rave on the longest day of the year, where the sun doesn't set, in the town square in Oslo, and I was just hanging out with the guys that I was playing soccer with, and we were all 16 and it was just so different than the Southern California punk, rap and skate culture that I was more interested in at the time. When I came back, I had another perspective of what kids were doing. [After] I started interning for [my soccer coach on his brand Corpus] and doing production in LA. That's how I learned how to make clothes. I just decided that's what I wanted to do.
What drew you to that?
Soccer, especially back then, if you liked the Premier League or Serie A or whatever, you'd have to order jerseys from Europe. I remember I wore Valsport cleats that you had to order from some random mail order catalog. It was just cool to have cool soccer clothes and that translated into fashion.
Not being from a major city (Pismo Beach in Central California) there's always been this thing where I've had to search for music or fashion, and I think that's just become part of my daily life. Even though I don't deejay anymore, I still have this hunger for music. I find new stuff all the time. It's this insatiable hunger for creativity and inspiration.
To an extent music culture is one of the only niche yet mass things at the same times. You can find this micro-community of people around the world, but then you have to be on it early before it blows up.
Back then, it was more niche than it is now, especially in menswear. I think it was even more connected to nightlife. When I first started going out, I was 19, and it was really about getting dressed up to go to the club Girls got dressed up, guys got dressed up. There was only certain music that you could hear at the club, so you would keep going back to the club to hear the songs that you really wanted to hear. And there was really a reason to go out every night because you would see new fashion, hear new music, meet new people, and fashion was really connected to that, and I think less now than it was back then.
It's so interesting. My friends and I discuss this quite often, we talk about subculture not existing anymore nowadays. Where in the past subculture was driven by politics and music culture. Now subcultures have gone mass and as a result have been killed by the internet.
Some of the OGs, like Hiroshi Fujiwara, Giorgio Di Mitri are really into food now. The food subculture is the new one where you'll have people like Luca [Benini] and Giorgio [Di Mitri] fly to an island off of Sardinia to eat the most fresh tuna in the world that the best Japanese chefs use, and they fly there, take an hour-long boat ride to some remote island and eat the tuna right after it's caught. And that's the kind of subculture that the guys that started streetwear are into now. I'm sure that's probably the one interesting one that exists now [but] I'm sure there are more.
After Corpus you moved to New York, before returning to LA. When was the moment you realized you wanted to create something of your own?
I've always known. Since I was 19. [But] people forget it was much harder to make clothes back then. There were limitations to the kind of product and quantities that you could make in LA, and ordering a fabric that comes from abroad was so expensive. I learned that really early on. Back then it was also much more secretive to find out where to product stuff, where to get your fabrics and source materials. Nothing was on the internet, you had to just know people and follow the rabbit hole. Being one of the few younger people being able to make a proper looking garment was how I actually was able to get jobs in my early twenties. Keith from Corpus gave me access to the stuff that had taken him a decade to get access to. But back then you couldn't just create a brand or screen print a t-shirt. That was difficult at the time. I remember spending days in screen printing shops and just driving all around downtown LA to factories making stuff.
How you get into music, working with artists like Lady Gaga and Kanye West?
I started working in music because it wasn't as hectic dealing with production and stores. I loved making a piece with my hands and working with the costume houses, sometimes months on just one dress. I loved that it had this moment on stage, and it was for one person. It felt more of an elevated approach that was accessible to me, because I wasn't able to make high fashion there. That's how I started making costumes for the stylists that needed them for the artists. At times I'd have a few thousand dollars to make one dress that was great. After that, I got more into the creative direction and art direction when I became more close with the artists. That's how I also started meeting more people in fashion.
It was a very different time back then, because I know fashion brands weren't lending any pieces to the artists ten years ago like we're seeing today.
No, there were just a few musicians that would have that kind of access and support. I don't think fashion was ever against it. I think it was more LA was really far away and removed from the fashion community. People didn't fly as much as they do now. That's what I think is so incredible about the streetwear community from the '90s. Hiroshi, Luca, Michael Kopelman, James Jebbia, they were all connected at a time when the internet didn't exist. They were flying to Japan meeting each other, having proper trust and business relationships. With fashion and music, there wasn't that cross-over. People weren't communicating. That's why it was amazing working with Nicola Formichetti who was the fashion editor at V and Dazed at the time. He kind of just linked us to the fashion community to a point where we really became a part of the industry, which then made people more comfortable with us wearing their clothes. That became another stage in my learning where we were able to collaborate with all these different photographers, creatives, and fashion brands.
You brought that collaborative approach to Been Trill (with Virgil Abloh, Heron Preston, Justin Saunders and more). There wasn't a big strategy behind it but it turned into this pioneering collective, mixing high and low culture. What was the trajectory of that?
I think it just started and ended really naturally. It was a lot easier to hang out all together when we were all working and travelling together. Then everyone gets married, has kids and moves to different cities. It kind of just had a natural beginning and slowed down a bit, but who knows for the future. It might just come back.
I was speaking to Heron a while back about how you, along with guys like Virgil, Jerry Lorenzo and Ronnie Fieg, were luxury fashion outsiders and now dictating the direction of menswear. What caused that switch?
It's interesting because I feel like I was a bit more part of it than some of the names you mentioned. I was a little bit more integrated, because I worked with Nick Knight. I was an art director at ShowStudio and worked in New York, even all that Gaga stuff. I did feel more a part of the fashion community. I didn't feel as an outsider, but I think the thing with me was I didn't negate my background of coming from streetwear or being really into rap music or whatever.
You were into Hieroglyphics instead you once told me.
Yeah, I loved Hieroglyphics. I still do. I remember when I was doing fashion films for the first time and just trying to think of what songs to use and just wanting to use those songs I was into. You wouldn't hear rap music at a fashion show whenever I would go. I think it's just naturally just gone that way as people get older and kids get younger, there's all generations of kids under us that like similar things. I think there's [now] room for everybody. I don't think the community that you just mentioned negates a community that existed before. I think what's happened is that the people who were more aware of what we were doing through music or through collaborations have become more aware of our fashion.
So I think it's not about us taking over this fashion community, we just brought in a new one that was more aware of streetwear. I think Kanye is really the one who paved the way for all of us. He was the one that got told no a million times before anybody said yes to us. He was really the one who began and still continues to lead the charge in that space 100 percent. I'm just a lineage of him. He's the one that believed in me first. I wouldn't be as strong of a creator as I am today without his belief in me, him teach me and still giving me support today.
What's something that's stuck with you in terms of learnings from Kanye?
Definitely self-belief and work ethic. I don't know if you can learn this, but he's really great about seeing something in people before they've had the opportunity to do the thing that they're really good at. I once made this jacket [at the Grammy's] for him and he said, "What are you doing?" I told him I wanted to be a designer. "Come work for this brand I'm starting," he said. Do you know what I mean? Or he would say "You've never done a video before, but direct one. I think you can do it." No matter if somebody has all the experience in the world or none at all, he's really amazing at identifying somebody's [creative] talent.
Do you live that ethos yourself?
It's something I really attempt to do with my brand and other projects. It's not only about working with people that have proven track records of success in our industry, but be open to letting the universe kind of put somebody else onto my path, intersect and have a new creative collaboration that then gives someone else the opportunity. So, I try to just be open to working with anybody that crosses my path in whatever way that it happens, whether that's meeting someone on the street, or getting DM, or on a plane or whatever. I always want to be open and no matter how seemingly big or successful the brand gets, I'll stick to working with people that have no experience if I think that they have something special about them.
That democratic approach to fashion, not always having to go through the traditional route of a fancy fashion school and get a ton of experience, is what you guys brought to fashion.
I'm a big advocate for education. I'm working with IED Milan helping out with their master fashion class and I'm meeting with more schools. But it's not the only route. I think the bigger lesson is people that want it are going to do it with or without the help of people, with or without the help of the industry, with or without the help of finance, with or without the help of press. Some people are going to do regardless.
Why did you finally start 1017 ALYX 9SM?
I was 27 and I already had two kids and I wanted to do it while I still had the energy. If for some reason it didn't work, at least I'd tried. So, since the kids were still babies and Jen and I were living in a one bedroom in New York, we weren't so planted yet. Like we still had a little bit more time for flexibility to move or to restructure our life that I could do a startup business and still manage to not make a lot of money.
You're not one of those designers that says they went to an Italian beach and found some beautiful shells and that's what inspired your Spring/Summer 2020 collection. Instead the brand has always been rooted in product. Finding a balance between more avant garde and commercial products.
It's a constant discussion with Luca, Jen, and the whole team. I think every single business has to find out what that right mixture is for them. Of course we're correcting every season. I need to be excited about the product we're making, and sometimes that comes with a very high cost to the company and the final product. But it's the only reason for me to keep doing this or else it just becomes like McDonald's, just making shit to make money. That's not why we do this. But at the same time, there needs to be product that everybody can have access to and is still special. Even the inexpensive products have elements that are really unique about them, because I don't think that design is limited to just having to be good because it's expensive. And because we have such a range, our customers range from like 11 or 12 to 60 years old.
So there's an 1019 ALYX 9SM life cycle the customer goes through?
Yeah. [Kids] can see Playboi Carti wearing the brand, and they don't feel comfortable wearing leather pants. But they can get excited to buy a nylon hat, a graphic tee or socks. Then we also sell canvas suits with Caruso in Italy that mould to your specific body worth thousands of dollars. As a brand that's a challenge because we have both of those customers.
When product is key, material selection is crucial. Not many people know that a lot of the brand's items are sustainable. How do you make sure you educate customers on it without being too PR-y?
There's so much information and we can't give the consumer all the information at once. We're working it out because we have so much information, but it's what really separates our brand from others. My goal is to create a brand that's an example of modern craftsmanship. Sustainability is modern luxury. Why does luxury just have to be [about] old couture techniques? Why can't those techniques be interpreted in new ways with new processes? So as people spend more time with our brand, I hope there's always something new to learn, because that's what's keeping me going.
Where do collaborations come into play with this in terms of learnings?
A lot of times we collaborate with companies that make materials or products that we're unable to make with our resources. Someone like Kim Jones is really amazing with his research and the way that he casts and puts the collections together is just so beautiful. He's always great at creating an amazing team around him and giving credit to everybody that contributes.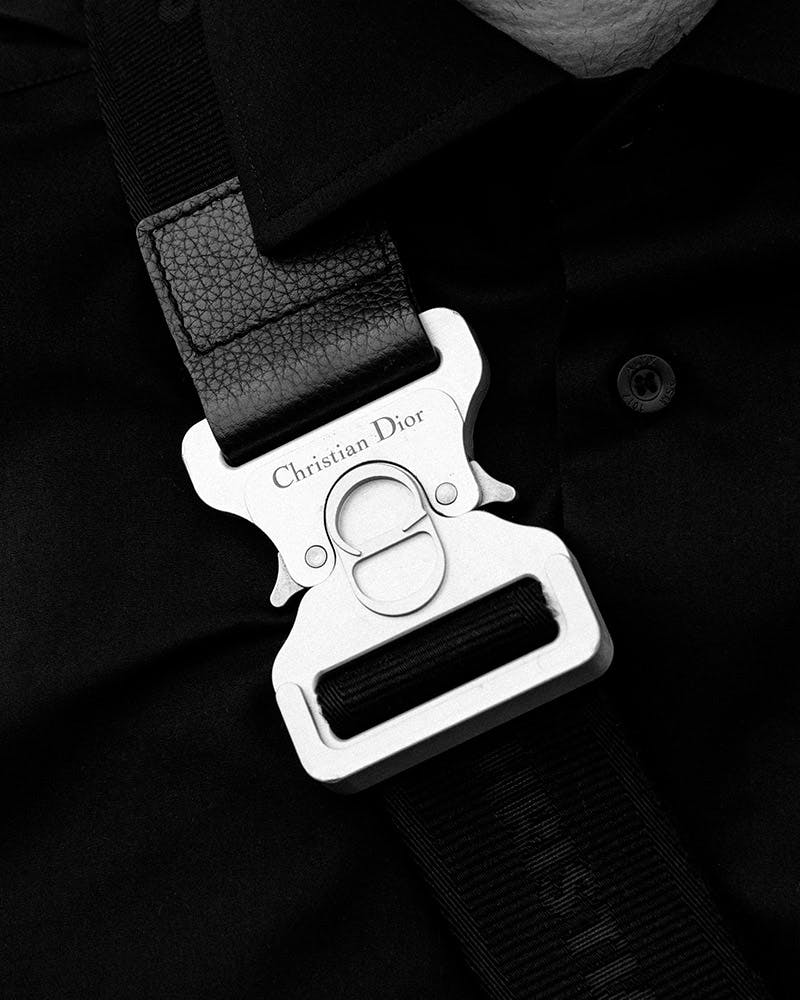 What's the story behind the classic 1017 ALYX 9SM buckles that you also made with Kim Jones at Dior?
It comes from the rides at Six Flags Magic Mountain. In the US you would go there for grad or prom night or for a birthday. It's always been like a rite of passage from teenage to adulthood, or for getting over a fear. You might have your first kiss or get drunk for the first time. For me it represents this like place of transition and. It's kind of like an airport in the way where time stops and it's its own micro universe. I know I'm placing so much importance in a theme park, but that's what I feel.
Speaking about the next generation, what advice do you have for young people who want to do what you do. What are some key steps they can take?
I think you just have to be prepared to sacrifice everything and put in the work, you know what I mean? I grew up in small town in California and then moved to LA. That was a big step. Then moved to New York, not knowing anybody and trying to find work and then moved to Italy. So I think you have to just be all in feel like there isn't another option. It can't just be fun, there are no shortcuts. You have to build the house brick by brick.
Also try to work with somebody that you want to emulate in the future and can be close to and learn from. If you want to be the CEO, you gotta start in the mail room and know every single job in the building so that you can speak to each person and they know that you're speaking their language. So it's going to take time. And even if you have short success at the beginning, it's not about that. It's about being able to have the foundation to have extended success and that doesn't come without experience. And it's not a one man show. You need a lot of other people contributing and believing in you. Relationships are always going to be the most valuable thing in anybody's life. Then you also have to foster those relationships, from the suppliers to the press and buyers. That's the most valuable thing if you want to start you own brand. But sacrifice is number one. Be prepared to sacrifice your time with friends and family. Be prepared to bang your head against the wall. You have to do this because you love it. There can't be another reason.