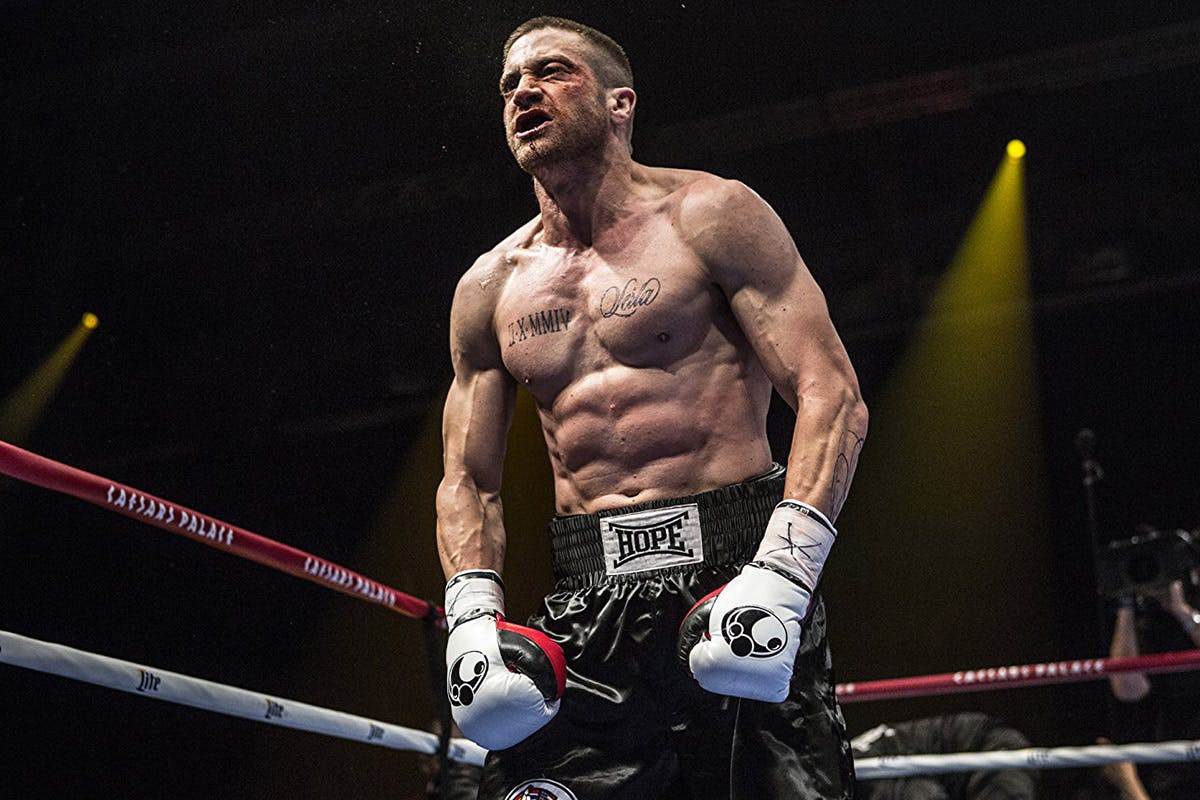 When actors are showered in praise for their work in film, there's usually a universal sentiment like, "he/she disappeared into the role." It's the audience's way of saying that they've forgotten that they're watching movie stars like Christian Bale, Matthew McConaughey, and Natalie Portman when they emote.
While this is usually aided by period-correct costumes, altered hairstyles, and a damn good story to tell, movie stars throughout history have also relied on a body transformation to embody a particular character. And as we are with most everything in popular culture, the more extreme it is, the more people and critics seem to take notice.
Whether it's bulking up to play a larger-than-life superhero, or teetering on starvation to embody a real person, a major transformation has almost become a prerequisite for award season recognition. Thus, we've combed through decades of movies for the craziest body transformations in cinematic history.
Christian Bale in everything
Christian Bale's name is often the first brought up when discussing a major body transformation. For 2004's The Machinist, Bale went from 180 to 120 pounds to embody the titular character, saying of his method to achieve the emaciated look: "I came up with the absolutely brilliant method of just smoking cigarettes and drinking whiskey to lose weight."
A year later, Bale would weigh in at 220 pounds to take on the role of Batman in Batman Begins. The yo-yo weight loss and weight gain would continue as rail-thin drug addict Dicky Ecklund in The Fighter, and again in American Hustle where he engorged himself on doughnuts and cheeseburgers to make his 228 pound frame appear dough-like.
Most recently, Bale packed on 40 pounds for his role as Dick Cheney in Adam McKay's Backseat, only to lose the weight (and more) to portray British driver, Ken Miles, in James Mangold's Ford v. Ferrari.
Bale has said of his overall thought process on transforming for each role, "I find I start laughing because I'm too aware that it's still me. It's helpful not to look like yourself. If I look in the mirror and go, 'Ah, that doesn't look like me,' that's helpful."
Shia LaBeouf in Fury
When he's not being showered in praise for his fashion sensibilities, Shia LaBeouf is often capturing moviegoers attention for his commitment to his craft through a prominent — and sometimes permanent — body transformation.
While transitioning from child actor to adult star is an arduous transformation unto itself — given Hollywood's track record — LaBeouf's greatest physical change came on the set of David Ayer's World War II tank film, Fury.
When he wasn't satisfied with the prosthetic scars on his face, he took a knife to his moneymaker to create real scars. His co-star, Logan Lerman told British GQ, "For the whole movie, he kept opening these cuts on his face. That's all real."
Additionally, he had a dentist pull out one of his front teeth and swore off bathing so as to experience the physical stench that would grow during warfare while inside a Sherman M4A3E8 tank.
When asked about the elective dental surgery, LaBeouf quipped on Jimmy Kimmel that since it didn't "make medical sense, I got it done by some guy in Reseda next to a Radio Shack and he didn't ask too many questions."
Matthew McConaughey and Jared Leto in Dallas Buyers Club
The crux of Dallas Buyers Club was about the relationship forged between rodeo-riding, Ron Woodroof, and his transgender business partner, Rayon. Their shared AIDS diagnosis resulted in an unlikely friendship based around providing alternative and unauthorized treatments not approved by the FDA.
Set in the '80s when an HIV/AIDS diagnosis was a death sentence, both McConaughey and Leto had to undergo physical transformations which reflected their declining health due to complications from the auto-immune disease.
McConaughey lost 47 pounds, while Leto lost between 30-40 pounds and was left with a 114-pound frame. Besides the physical changes to their bodies, each noticed a change in behavior as well.
"The surprise was how the energy that I lost from the neck down transferred to the neck up," McConaughey said. "I became clinically aware, almost hyper, I needed three hours less sleep a night. I had an amazing amount of energy from the head up. That was something I didn't know was going to happen."
"It changes the way you walk, the way you sit, the way you think," Leto added.
Robert De Niro in Raging Bull
While most actors opt to get shredded for a role as a boxer, Robert De Niro opted for accuracy over physical adulation when portraying real life pugilist, Jake LaMotta. Specifically, De Niro packed on 60 extra pounds to differentiate between his fighting days, and the aftershock of what occurs after being a prize fighter.
"I began to realize what a fat man goes through," said De Niro. "You get rashes on your legs. Your legs scrape together."
The film's director, Martin Scorsese, became gravely aware of the consequences, later saying, "His breathing was like mine when I have an asthma attack."
Charlize Theron in Monster
Although makeup and prosthetics were a key factor in transforming Charlize Theron into real-life convicted murderer, Aileen Wuornos, in Monster, there's no denying that there was a physical shift in how she carried herself on screen.
"Charlize Theron pulls off the year's most astounding screen makeover," wrote The New York Times reviewer Stephen Holden at the time.
Physically, Theron gave up exercising and never said no to a pastry as she sought to lose herself in the role.
Adrien Brody in The Pianist
Playing a Polish Jew, Wladyslaw Szpilman, hiding in a Warsaw ghetto from the Nazis during World War II, Adrien Brody managed to drop down to 130 pounds – despite being 6-foot-1 — to best embody the real life pianist for Polish radio who survived on scraps from resistance fighters.
"It was excruciating," Brody said. "During the time I was starving myself, the thing I was most comforted by was playing the music. It calmed me and allowed me to some degree to distract myself from my own loneliness at that time."
Tom Hardy in Bronson and The Dark Knight Rises
Tom Hardy is seemingly capable of just about anything on screen. But where he seems to really excel is as a villain; particularly because he gives you much more than campy dialogue and far-fetched ploys to blow up the world.
Perhaps the two best examples of this are in Bronson and The Dark Knight Rises where he played real life UK serial criminal, Michael Gordon Peterson, and Batman's most physical foe, Bane.
With only five weeks to prepare for the role as "most dangerous prisoner in Britain," Hardy still managed to pack on 40 pounds.
"It was a race against the clock: We didn't have any time to waste, so I started eating and my arse very quickly got very fat," Hardy said.
This meant indulging on ice cream, pizza, and soda in order to achieve an extra layer of mass that wasn't supposed to be construed as "shredded."
Not to be outdone, when it came time to star opposite of Christian Bale in The Dark Knight Rises, Hardy packed on an additional 30 pounds of muscle by doing short, 20-minute bursts of training four times a day.
"My approach was to do a lot of repetitions in order to send messages to my muscles," he said. "This helps them start to grow in a way that you can't make them in the gym. To achieve dense muscle, you need a specific kind of training.  Also, to 'become' Charlie Bronson I had to quickly put a lot of weight quickly on my forearms, chest, and neck. By the time I'd finished, my legs looked like those of a stork in comparison to the top half of my body."
Rooney Mara in The Girl with the Dragon Tattoo
As the titular character in the adaptation of Stieg Larsson's novel, Rooney Mara had to physically transform into a character that the author described as, "a pale, anorexic young woman who has hair as short as a fuse."
To achieve this unique transformation into Lisbeth Salander, Mara chopped off her hair into blunt bangs, bleached he eyebrows, and got piercings on her ears, nose, eyebrows, and nipples.
Vince D'Onofrio in Full Metal Jacket
One of the most memorable portions of Stanley Kubrick's Vietnam War film, Full Metal Jacket, comes during basic training. Despite being thousands of miles from the front line of the conflict, it still manages to be a grotesque look at the initial stages of war.
As Private "Gomer" Pyle, Vince D'Onofrio had to physically become the lightning rod for his platoon and drill sergeant. His slovenly physical appearance was an easy story choice to make viewers aware of his shortcomings. Yet, the onus was on D'Onofrio to get from 200 to 275 pounds for production.
Relying on a breakfast of steak, three eggs, half a loaf of bread, and a quart of milk, Vince D'Onofrio pulled it off. It took him five months to return to his normal weight.
Jake Gyllenhaal in Southpaw
Jake Gyllenhaal opted for the opposite of what Robert De Niro went for in Raging Bull in the 2015 film, Southpaw.
To become light-heavyweight champion, Billy Hope, Gyllenhaal did 1,000 push-ups and ran five miles each day, and upped the ante by having extensive boxing training twice a day. As a result of the training, he packed on 15 pounds of pure muscle.
"I said, 'The word is sacrifice,'" director Antoine Fuqua said at the time. "Literally. I think he broke up with his girlfriend because he was just in the gym every day. He was training like a fighter. I had him sparring, really getting hit. I put him in situations where I wanted to see what he was made of. No one but fighters understand the sacrifice it takes to be a fighter."
Natalie Portman and Mila Kunis in Black Swan
For even the uninformed, there's a general awareness that the world of ballet is cutthroat. As a result, dancers are forced to contend with not only the skill that is necessary to land a spot in the best ballet companies in the world, but also maintain a look and weight that falls in line with expectations.
Natalie Portman lost 20 pounds, and Kunis dropped down to only 95 pounds on a 1,200 calorie-a-day diet of mostly cigarettes.
During production, Portman thought that the role was actually killing her, and Kunis contended with real injuries like a torn ligament and dislocated shoulder.
Chris Pratt in Guardians of the Galaxy
Prior to his turn as Star-Lord in Marvel's Guardians of the Galaxy, the world primarily knew Chris Pratt as pudgy Pawnee resident, Andy Dwyer, in Parks and Rec.
While the character is decidedly different than other heroes like Iron Man, Spider Man, and Thor, Pratt still had to get into superhero shape. This meant dropping 60 pounds in six months during a regimen that consisted of two months of bodybuilding, two months of equal parts bodybuilding and conditioning, and a month of cardio circuits.
50 Cent in All Things Fall Apart
To prove himself as a budding thespian, 50 Cent lost 54 pounds to portray a can't-miss football prospect who saw his career derailed after a cancer diagnosis.
Matthew Fox in Alex Cross
Much in the same way that the public viewed Chris Pratt solely as Andy on Parks and Rec, so too had Matthew Fox become synonymous with his role as Dr. Jack Shephard on Lost. To literally shed this notion, he dropped 40 pounds in five months using an hour and a half of non-stop circuit training to prepare for his role as a serial killer in Alex Cross.