Nine days before Daniel Marin Medina ran his third marathon in Berlin, he tempted the fates. The 26-year-old runner and illustrator tattooed 'Cry,' encircled by a wreath of thorns in the center of his left knee.

Medina says the word represented the unavoidable fact that over the course of the 42.195-kilometer loop through all of the city's iconic landmarks, emotions would run high.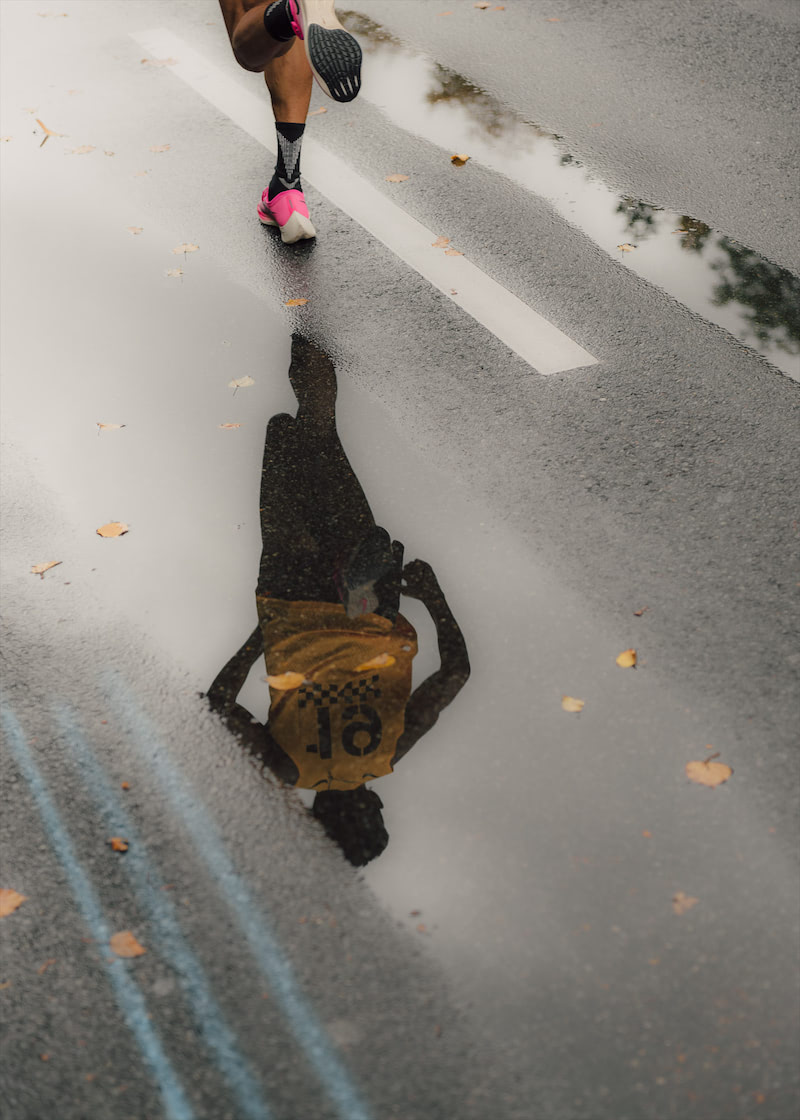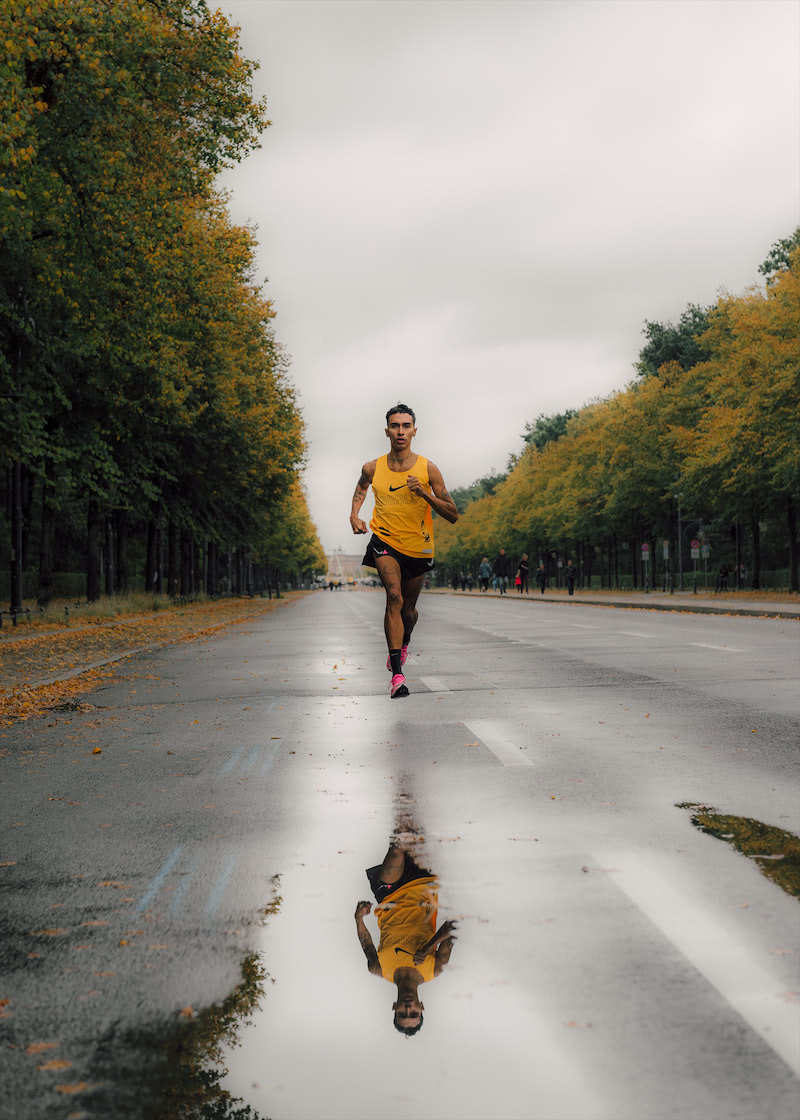 Kilometer 1: Victory Column
"I think the marathon is such a distance that it does something to the human body and the human spirit in a very specific way," he reflects, ordering a hot chocolate. "There's something about this distance that just tests everything." Above all, for Medina, running gives him an opportunity to pay it forward. As a queer, brown man, he says, "It's taken a lot of self-work to find as much confidence as I've been able to find and by no means do I think the work is done, but I'd like to live as visibly as I can in hopes that it catches on to other folks."

Those who know of Medina are likely familiar with his nude illustrations, an ever-expanding series of figure studies on male sexuality. In Berlin, however, he's better known as a marathon runner, co-founder of the Wayv Run Kollektiv with Thi Minh Huyen Nguyen — a crew to welcome marginalized identities into a primarily white, middle-class sport — and an ambassador for Nike's 2019 #BETRUE campaign. We caught up with Medina in a café off Bülowstraße station in the Schöneberg neighborhood, around where the marathon's 37.5-kilometer-mark cheering zone would have been, to talk about his passion for running and the recently passed marathon.
"I think the marathon is such a distance that it does something to the human body and the human spirit in a very specific way."
– Daniel Marin Medina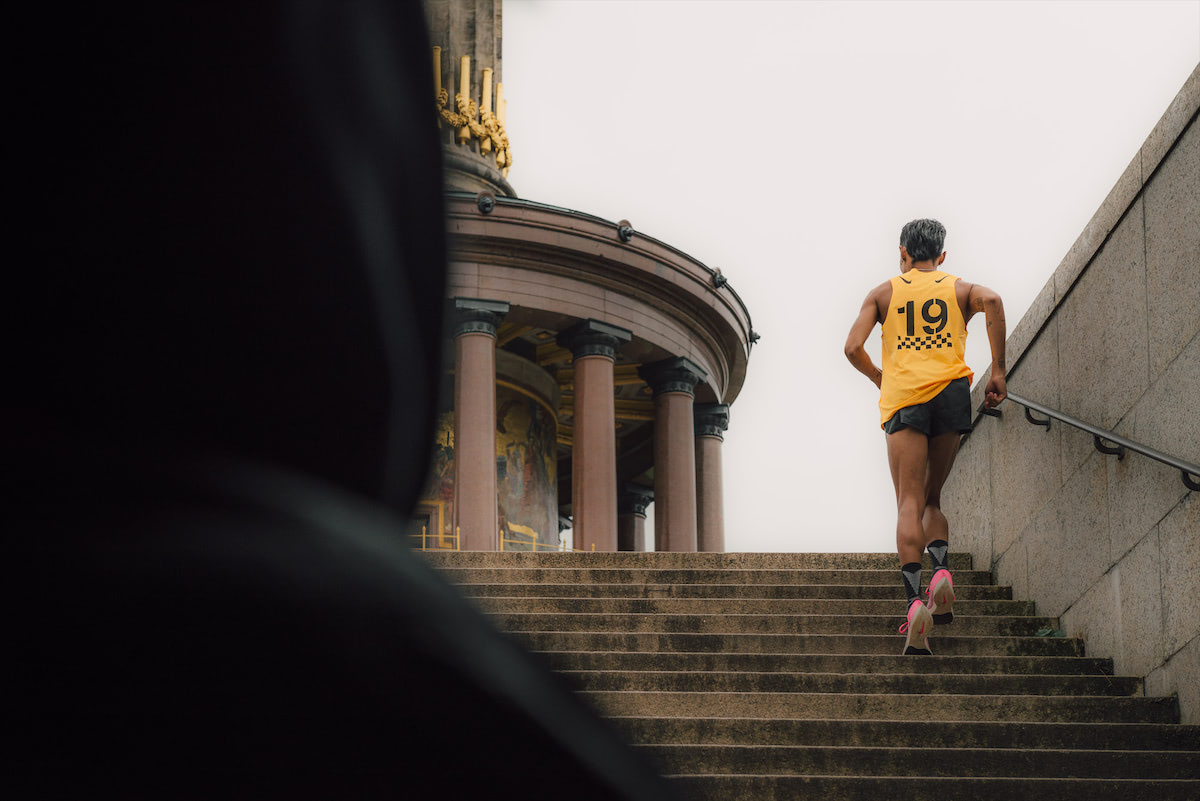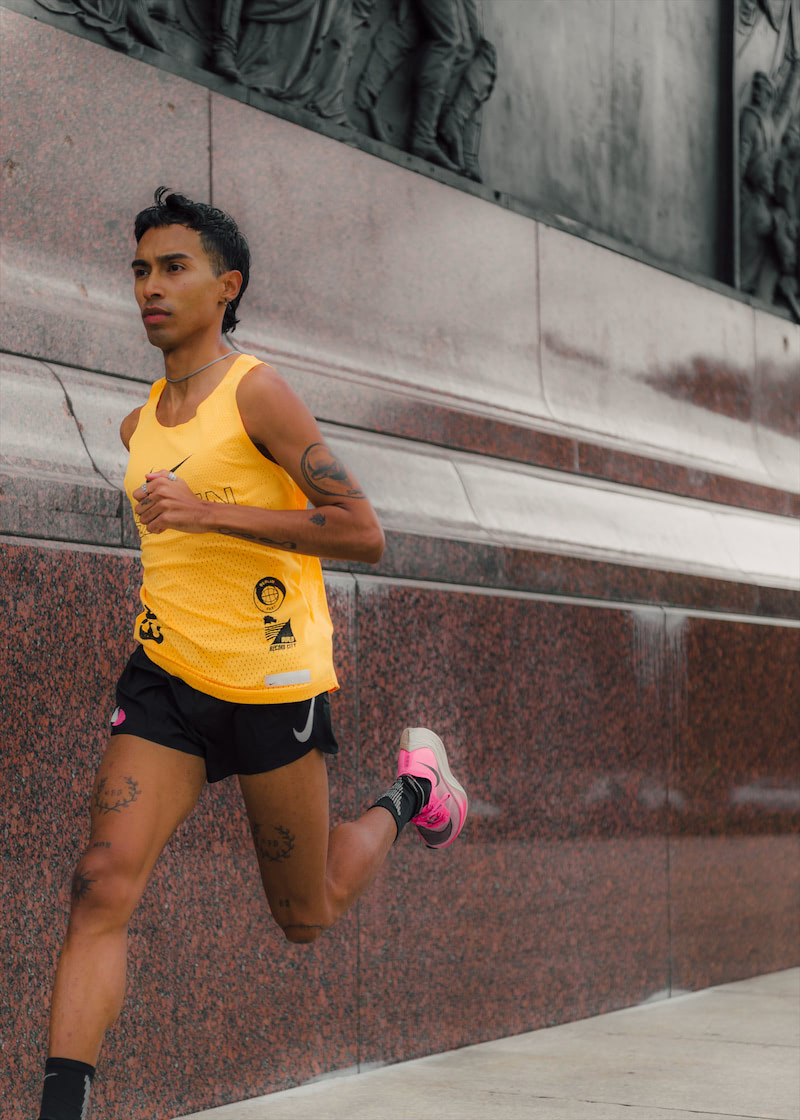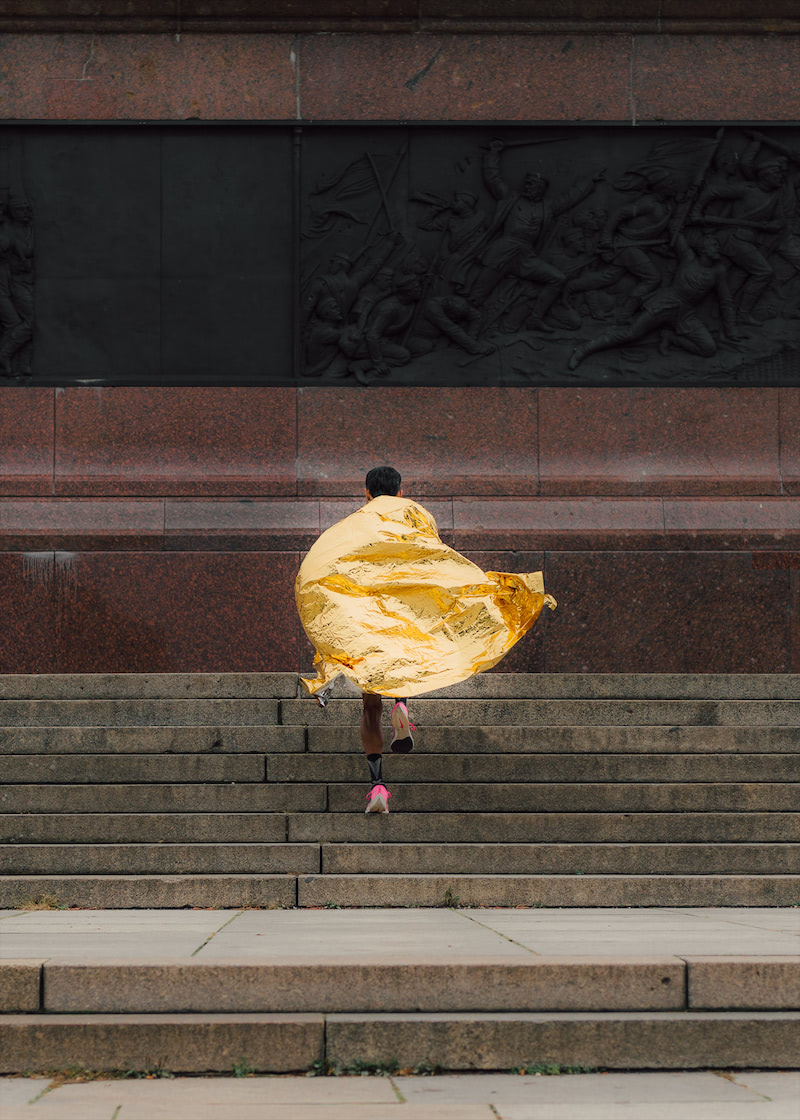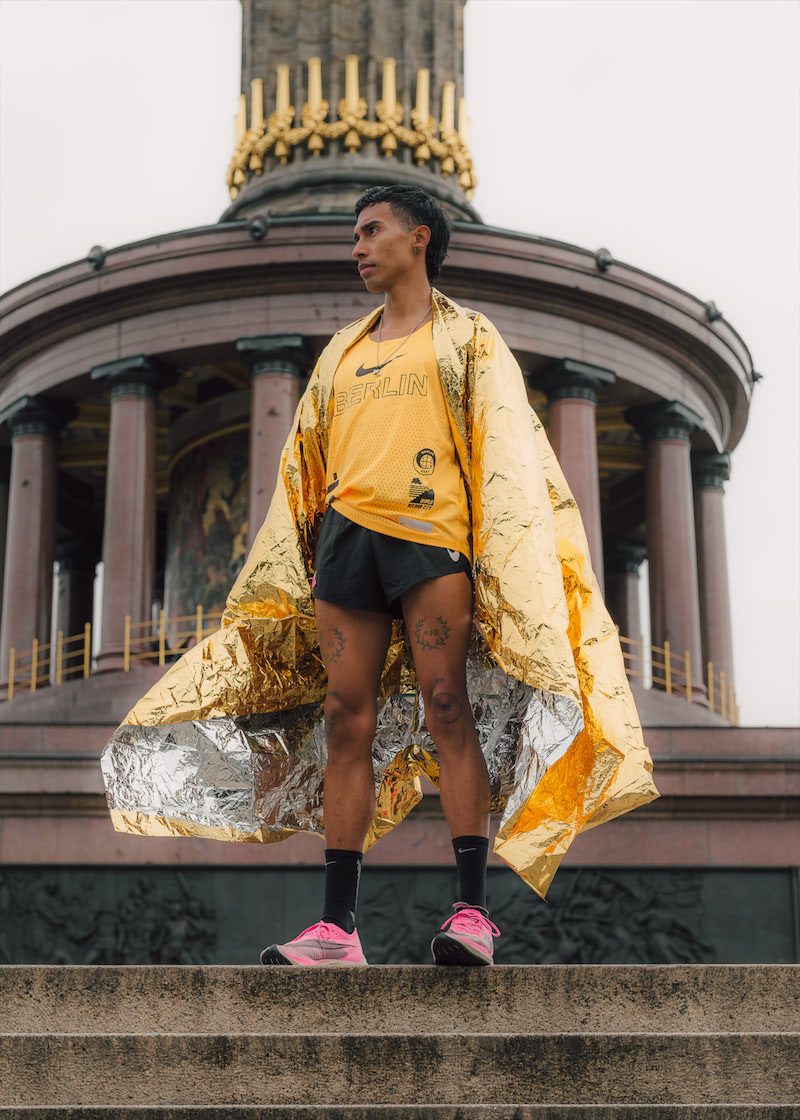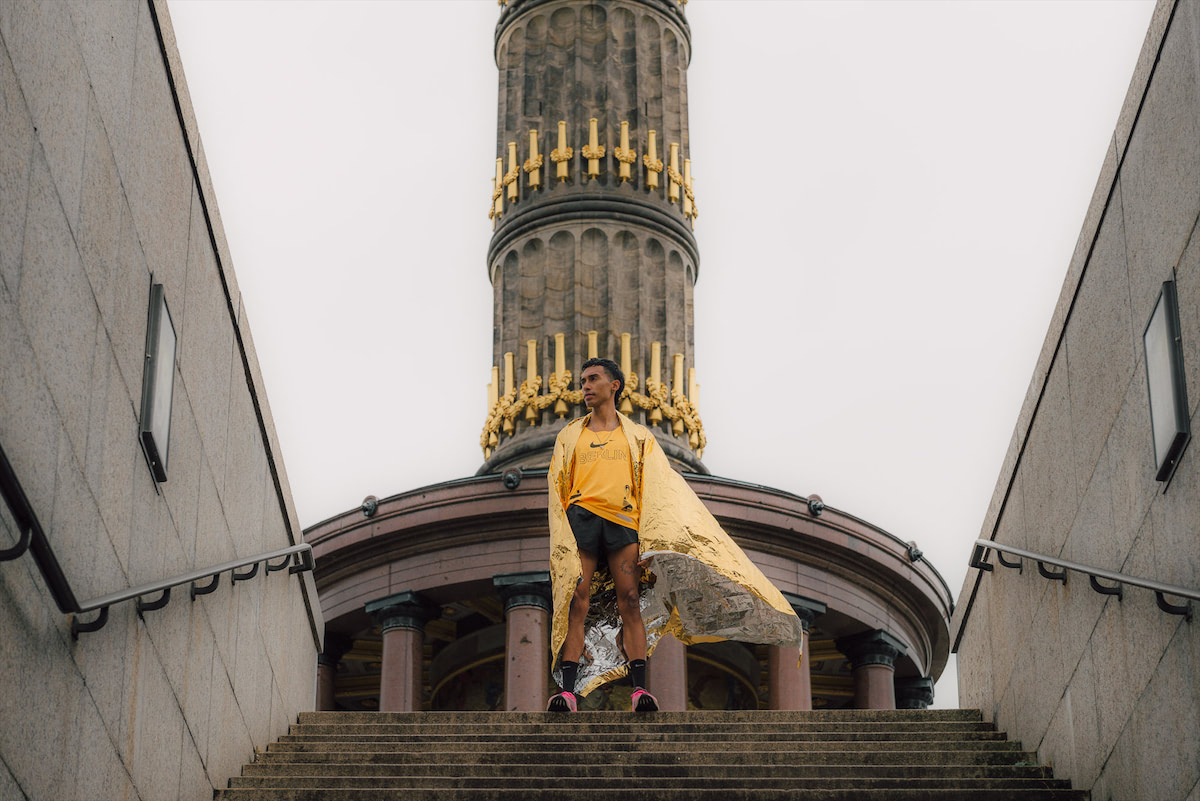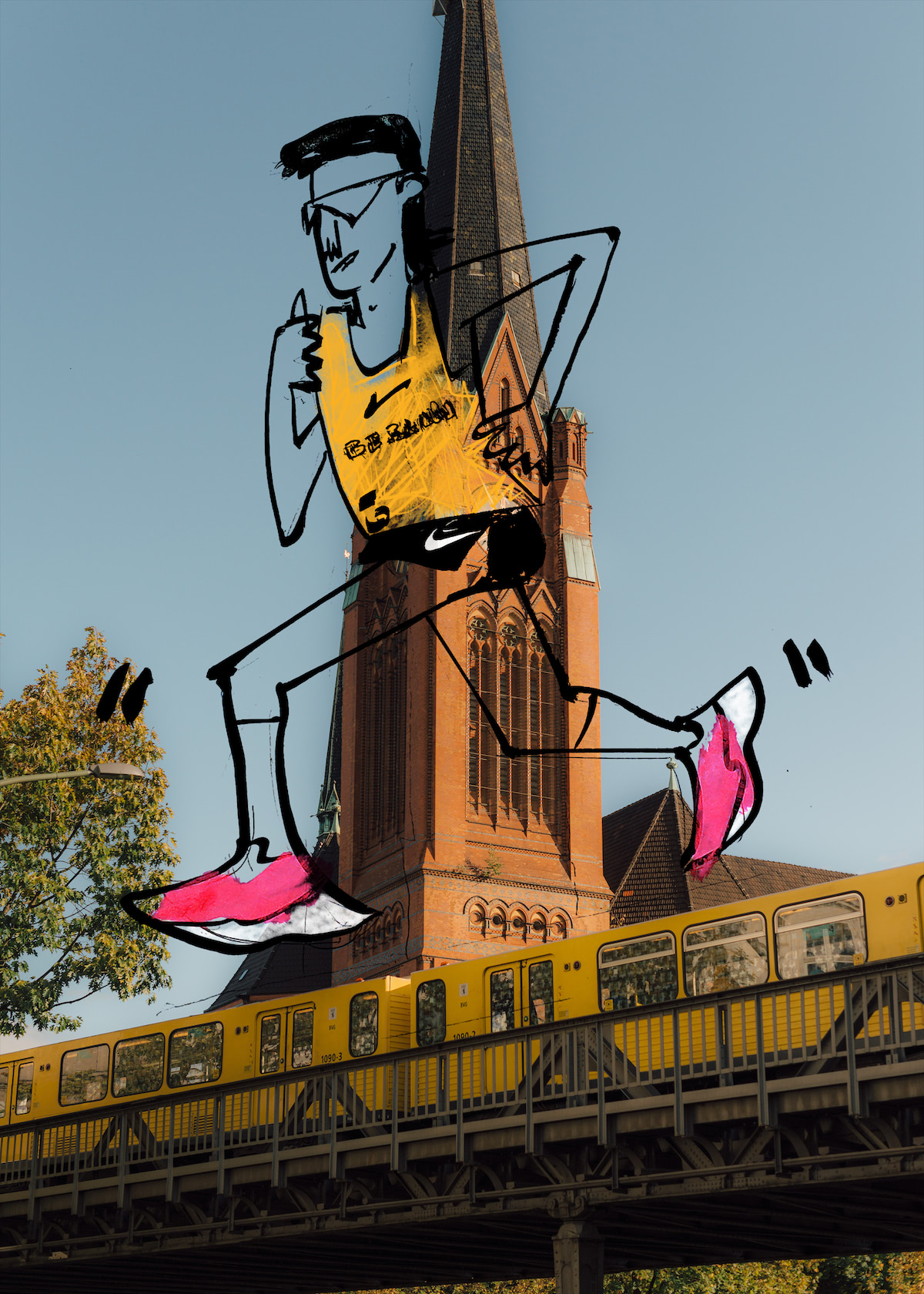 For Medina, his love of running comes from how democratic the sport can be. "Running is so simple, at most you need a pair of shoes," he says. A universal mental tenacity is also part of it. "I think every runner — from Eliud Kipchoge who is just broke two hours in the marathon to Sally Umbro who finishes in six hours in the back — everyone is going through those same things."

His commitment to running and his relationship with his father are also inextricably linked. Originally born in Colombia, Medina relocated stateside at the age of six. "[My dad] was like a semi-professional soccer player — but I think all Colombians are to some degree," he jokes.
"Running is so simple, at most you need a pair of shoes."
– Daniel Marin Medina
Kilometer 11: Haus der Statistik
"I fell in love with the community, the support, and the fight for marathon glory."
– Daniel Marin Medina
As Daniel grew up he became a self-described "weird little nerd art boy" who excelled in school and in music. Yet, at the same time, he could see the way his father's passion for the game still ran as an undercurrent to all his academic achievements. "I could just feel how nice it would have been for him to have an athletic son," Medina says. It wasn't until freshman year of high school that he found his stride in the sport. "What was the most satisfying to me," Daniel confesses, "was that dad just became a full-force cross country mom. He had stickers on the car, our house was a water stop for all our runs, and he would come to every fucking meet. I loved him being able to say, 'look at how fast my son is' or 'look at that race he won.'"

So, when Medina moved to Greenwich Village, Manhattan to study illustration at Parsons School of Design, he continued to run. "Through some fortuitous connections from the universe," as he puts it, he was gifted a slot in the 2014 New York Marathon. He remembers racing on a fractured heel and crying his way to the finish line, but, just like that, he was hooked. Daniel signed up immediately for the Chicago Marathon and went on to run in the New York Marathon two more times.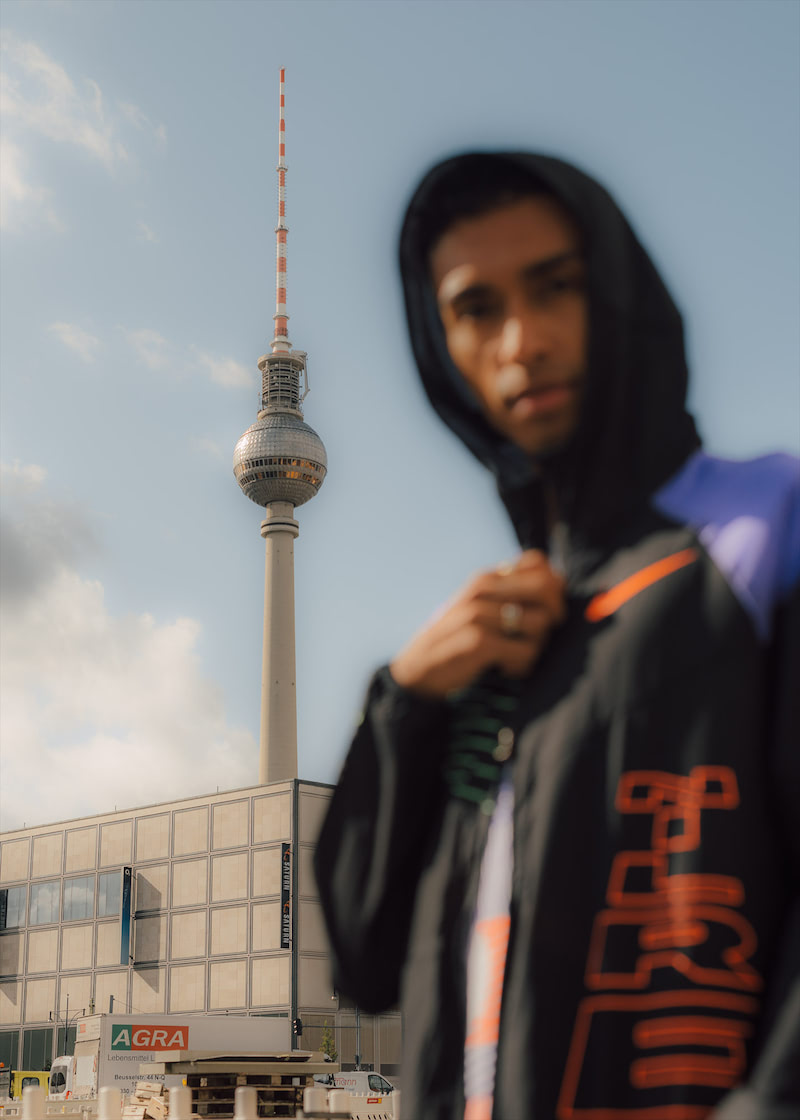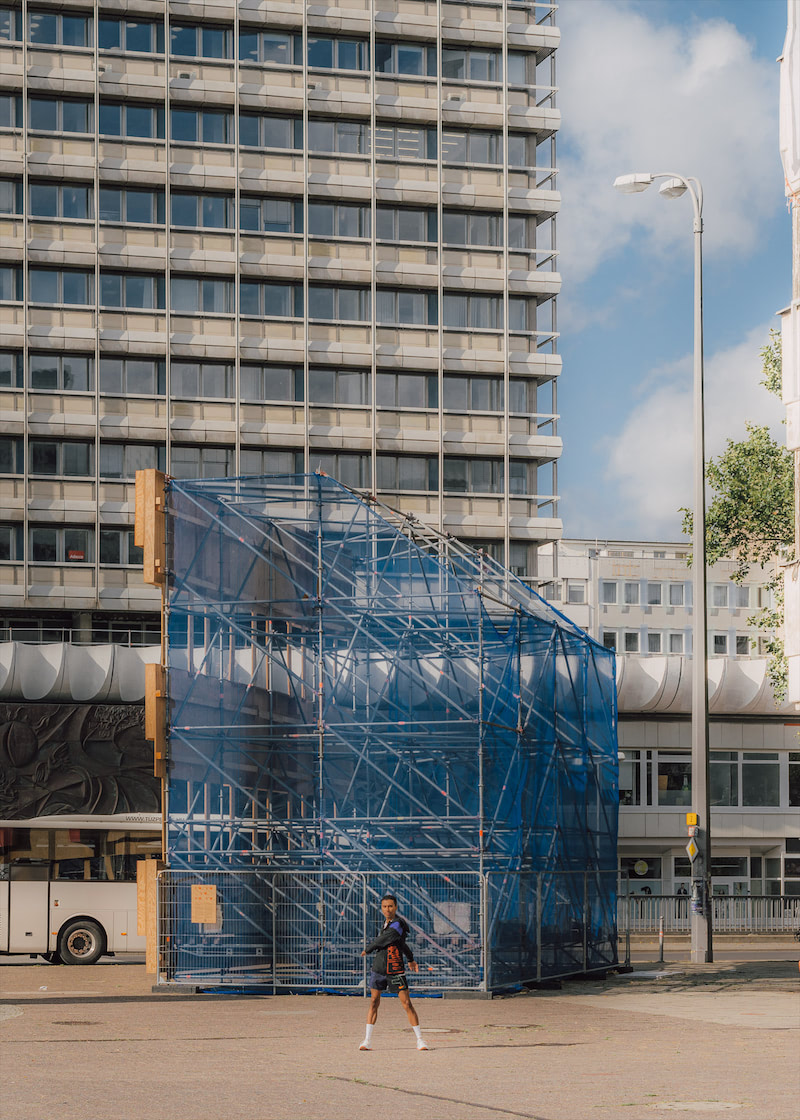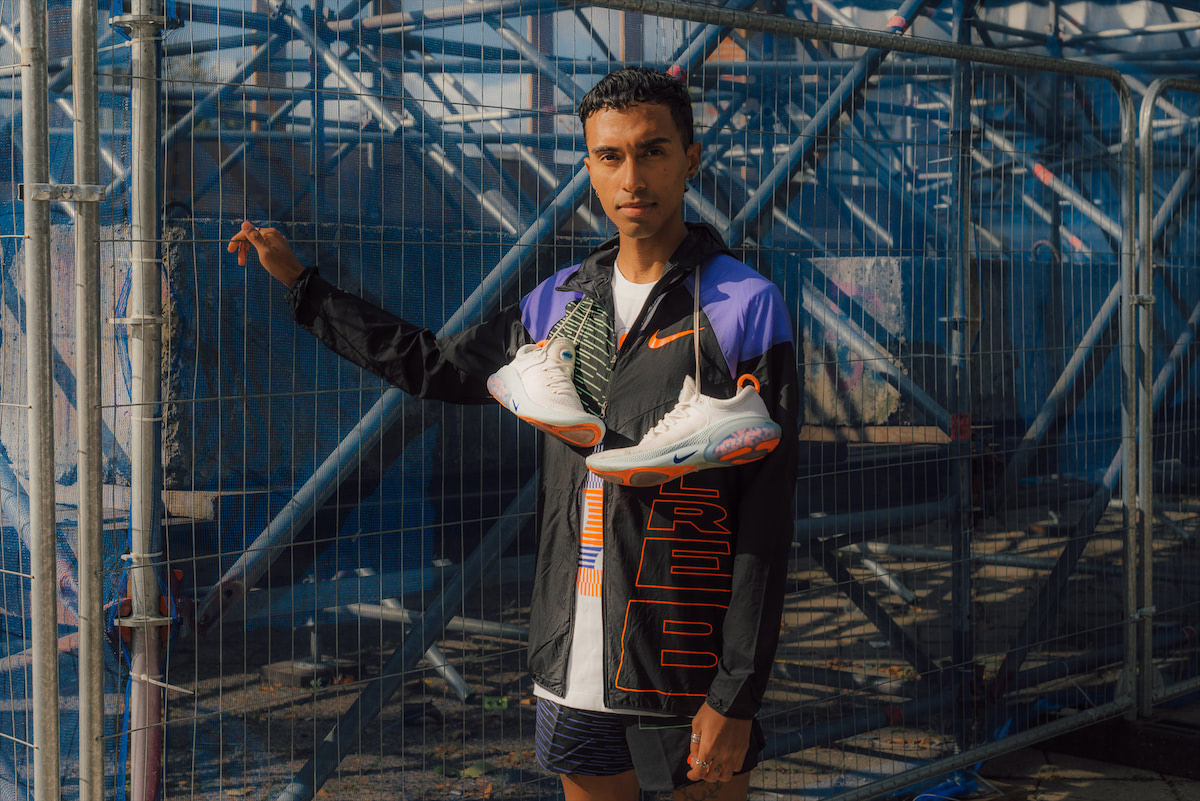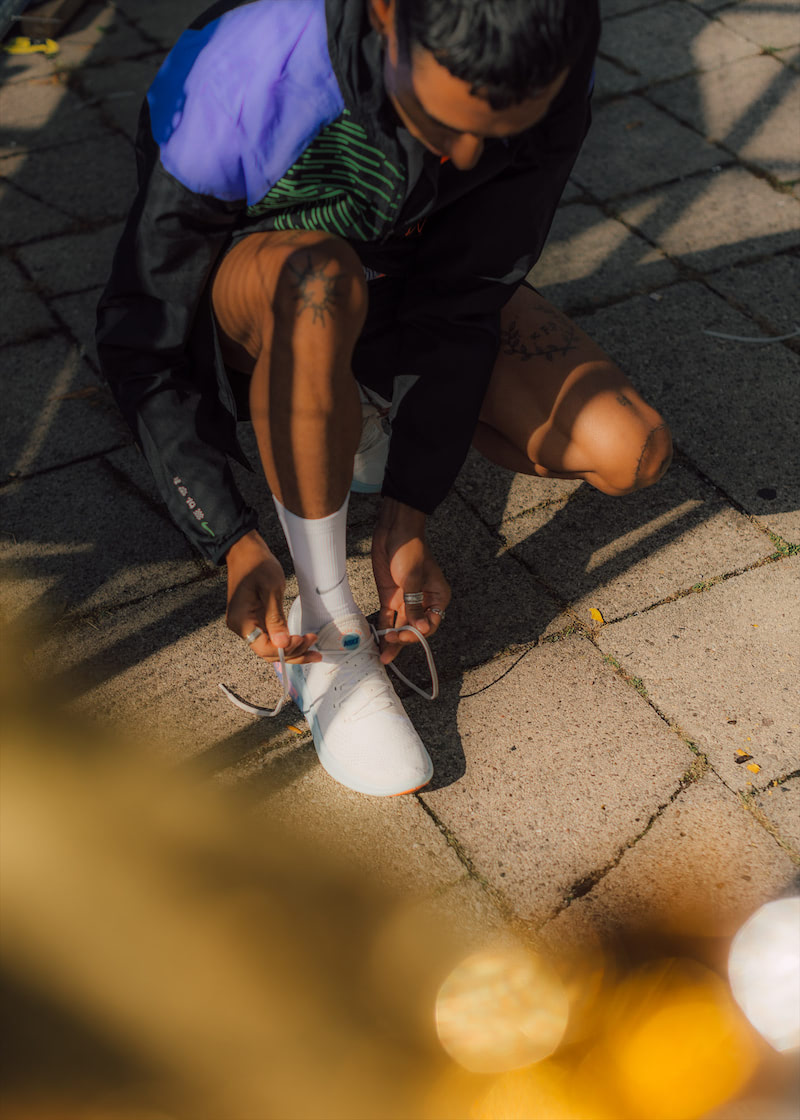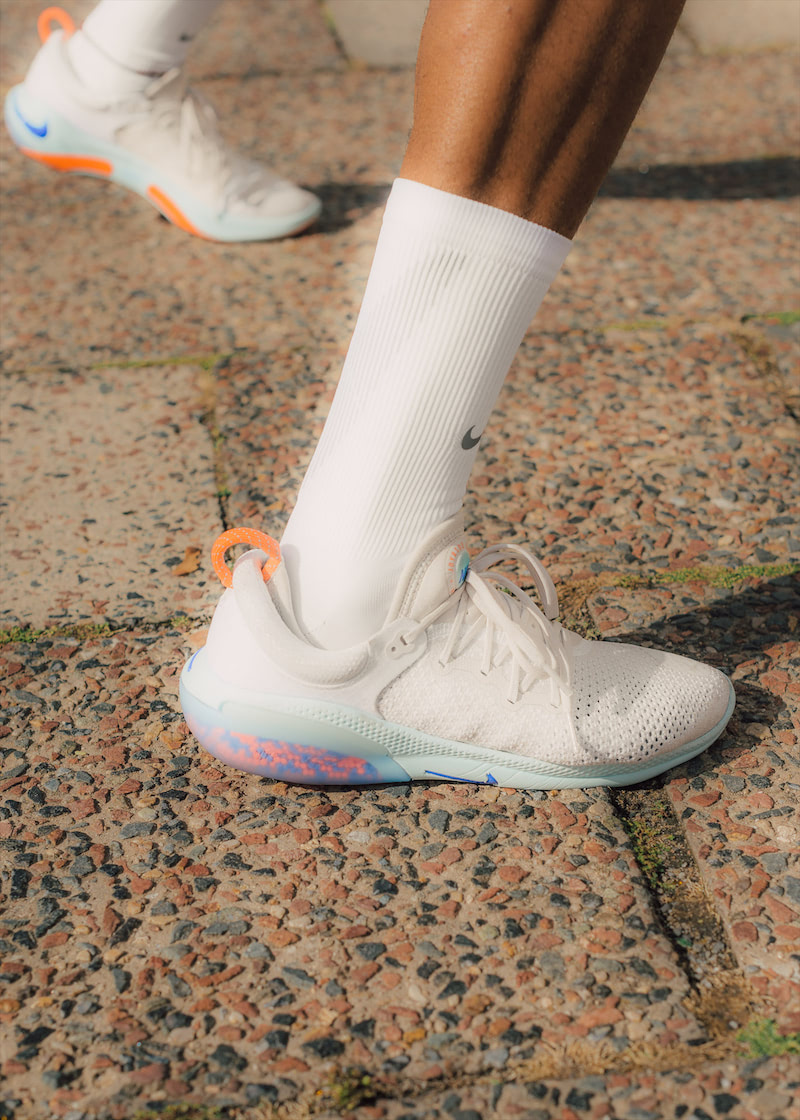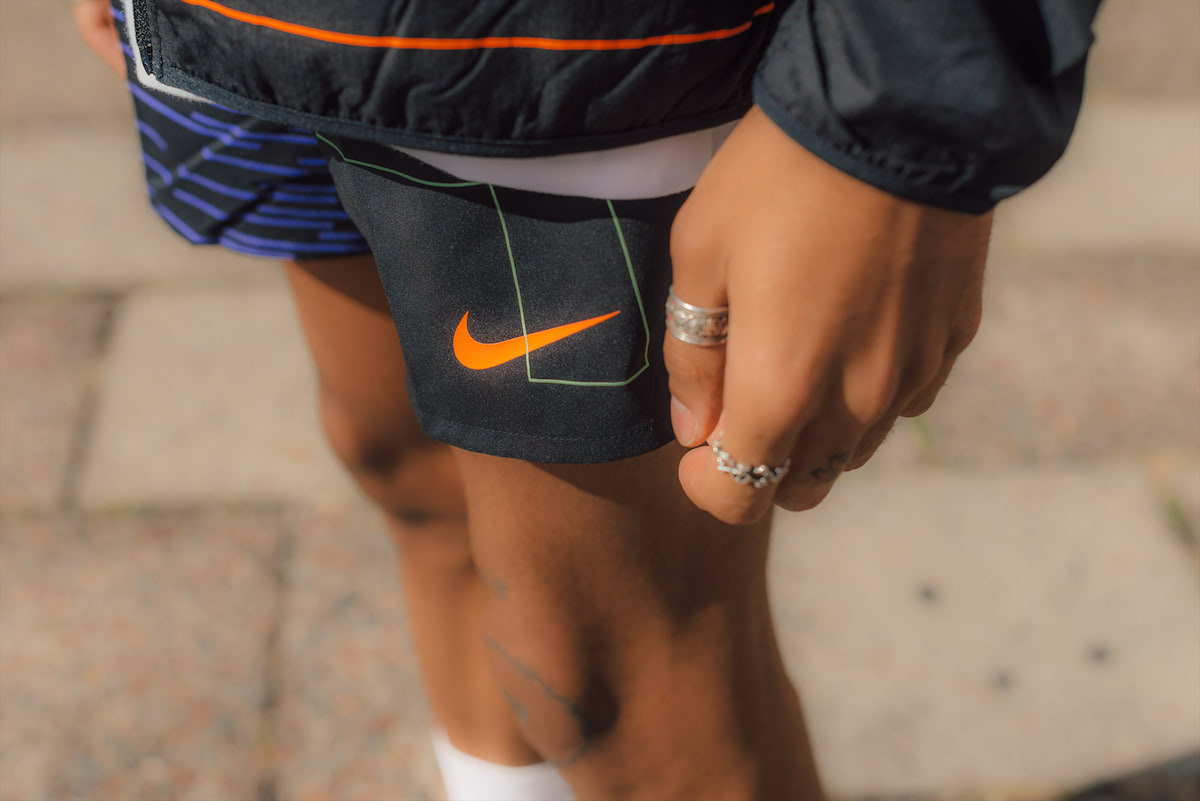 In the winter of 2017, he was accepted into the Berlin marathon and, in that, was his one-way ticket to a new life. "The marathon is what gave me the idea to consider this city as a potential place to live," he explained. If this first marathon was the seed that planted the idea of Berlin as a new home, it was the city's running community who provided the ingredients to help him grow. "It is no understatement to say I would not be in this city had it not been for running. Some of the first people I met were through an NRC workout here in Berlin and it was those connections that ultimately gave me the confidence to pack up my life in New York and boop over to Berlin."
Kilometer 15: Kottbusser Tor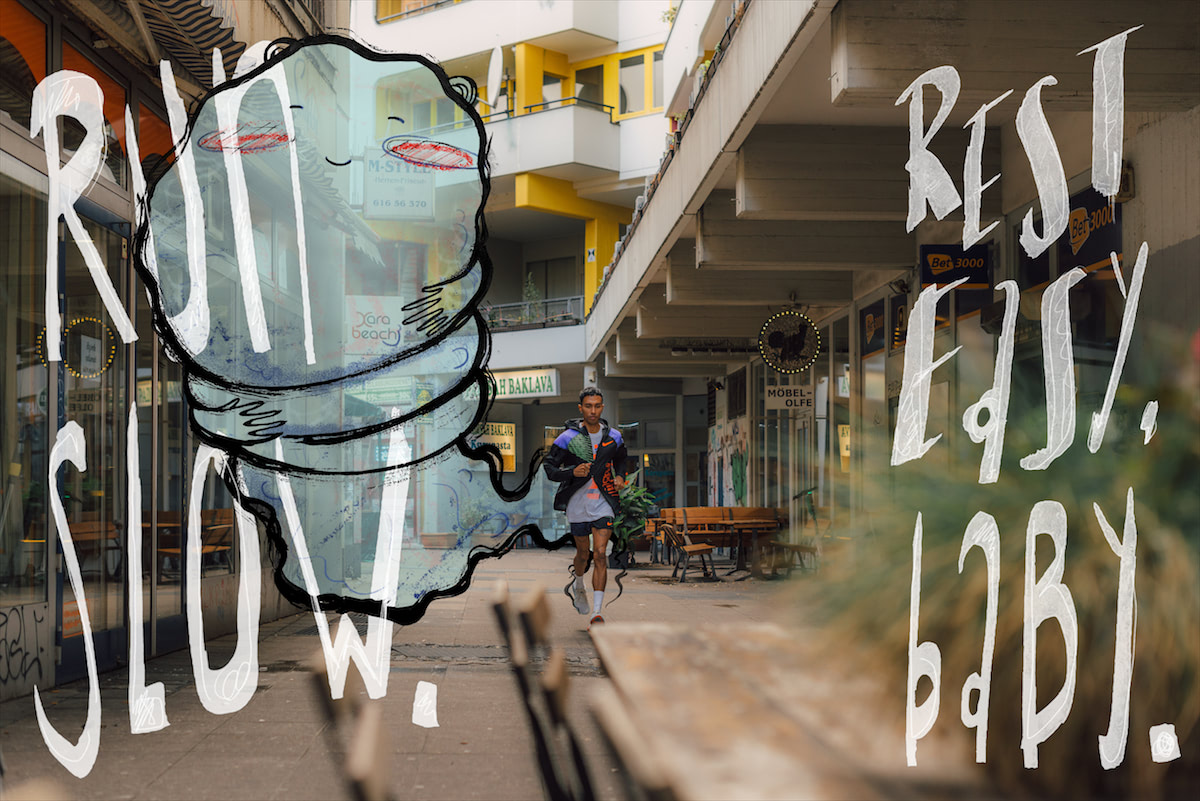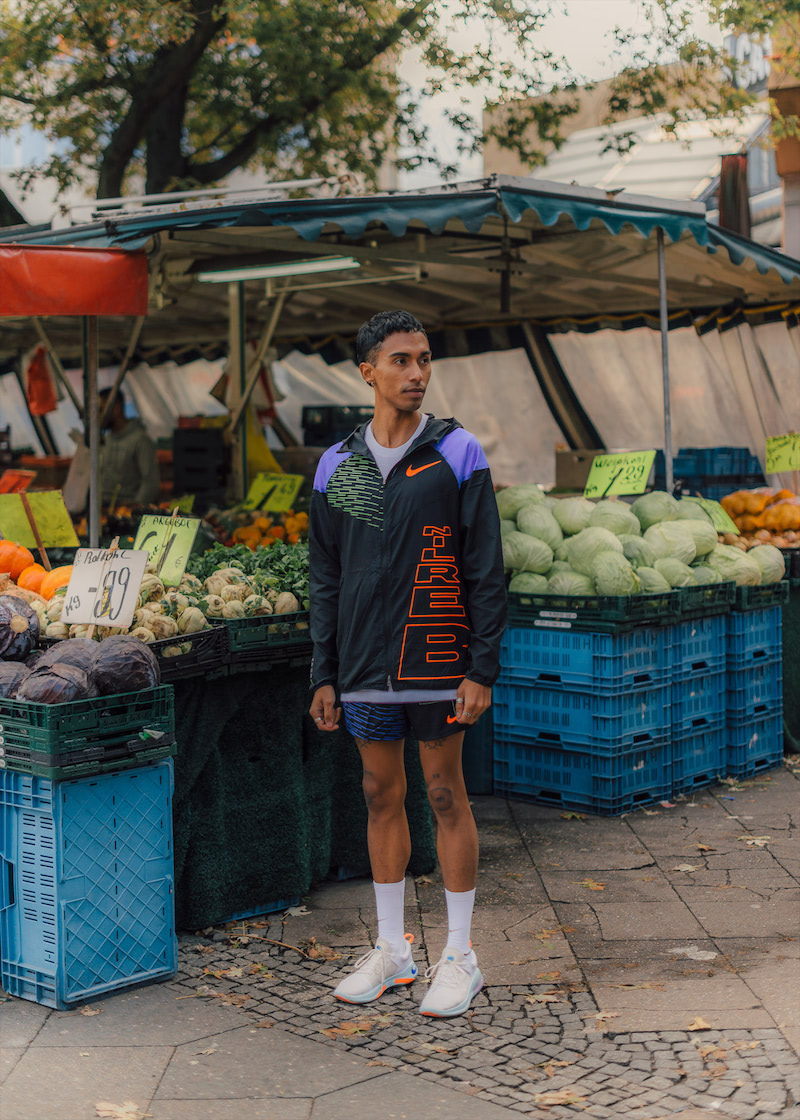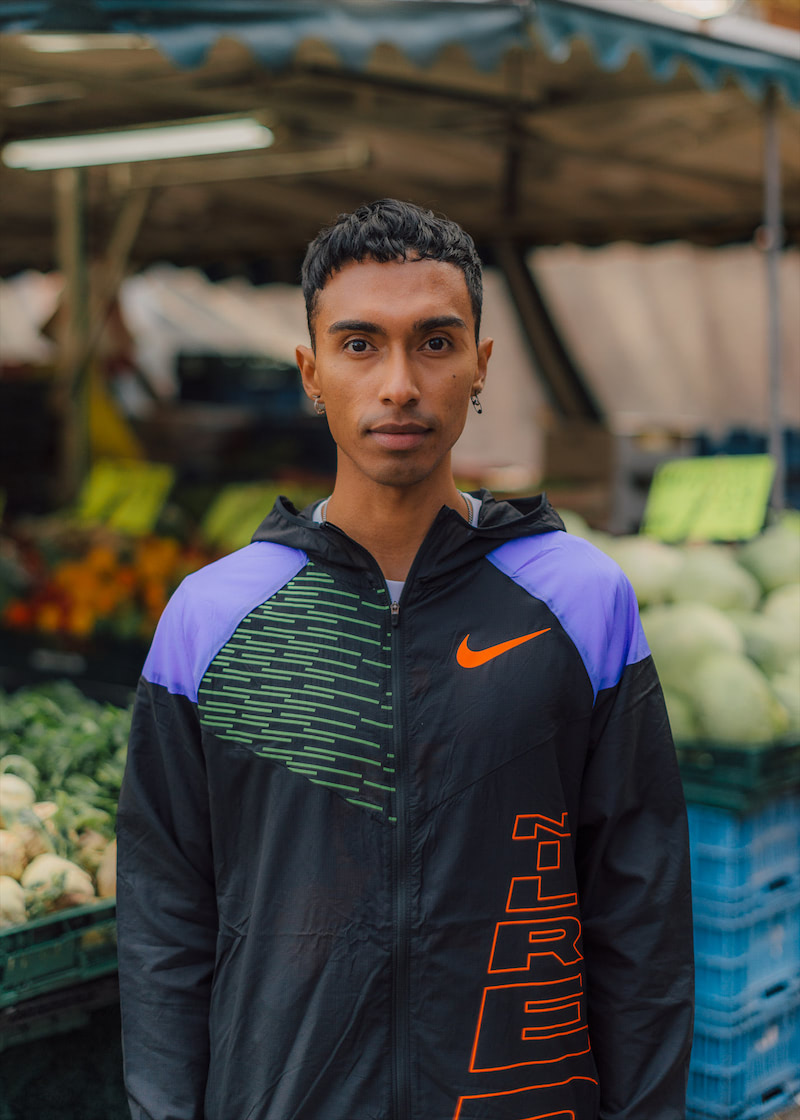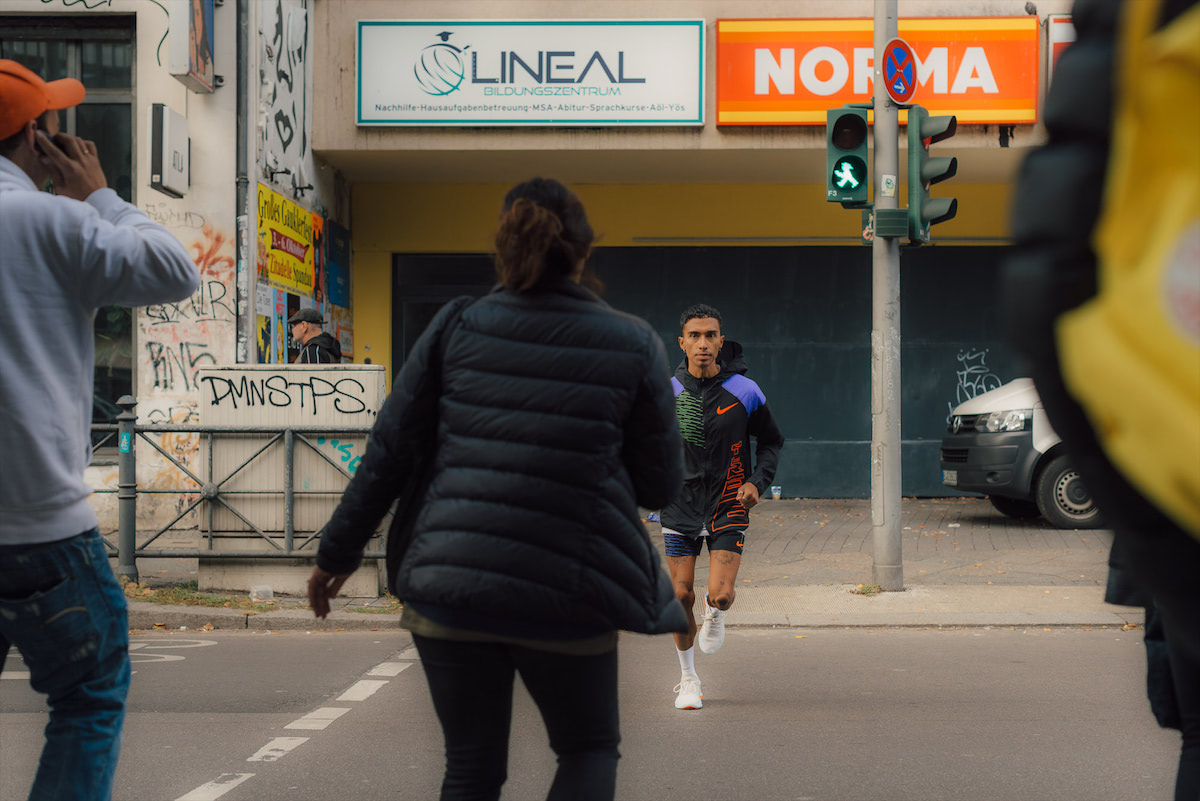 Kilometer 35: Kaiser Wilhelm Memorial Church
Two years into his life here, Medina laced up his shoes once again and took to the starting line of the city's famed marathon course. Following predominantly flat terrain, it is widely considered one of the fastest courses to run in the world, with a starting line that begins on the wide, tree-lined thoroughfare Straße de 17 Juni in Tiergarten, the city's largest and oldest park. As runners travel west on the first legs of their journey, the first monument they encounter is the Victory Column, or Siegessäule in German.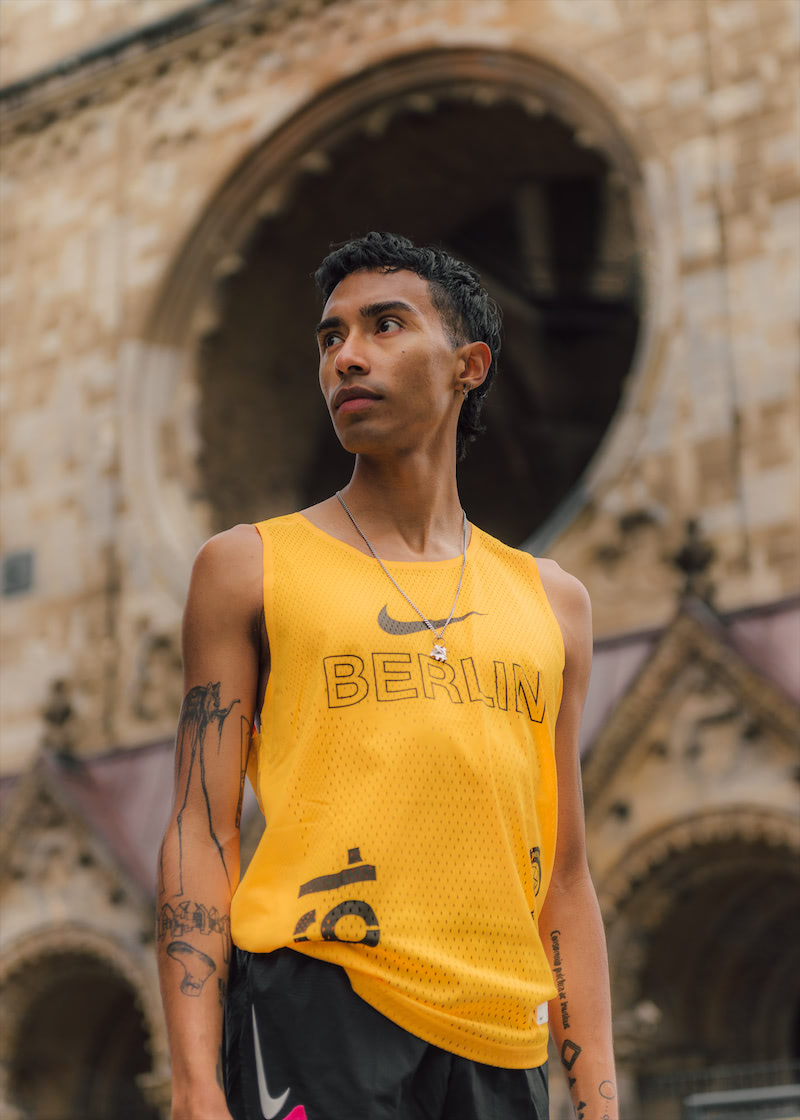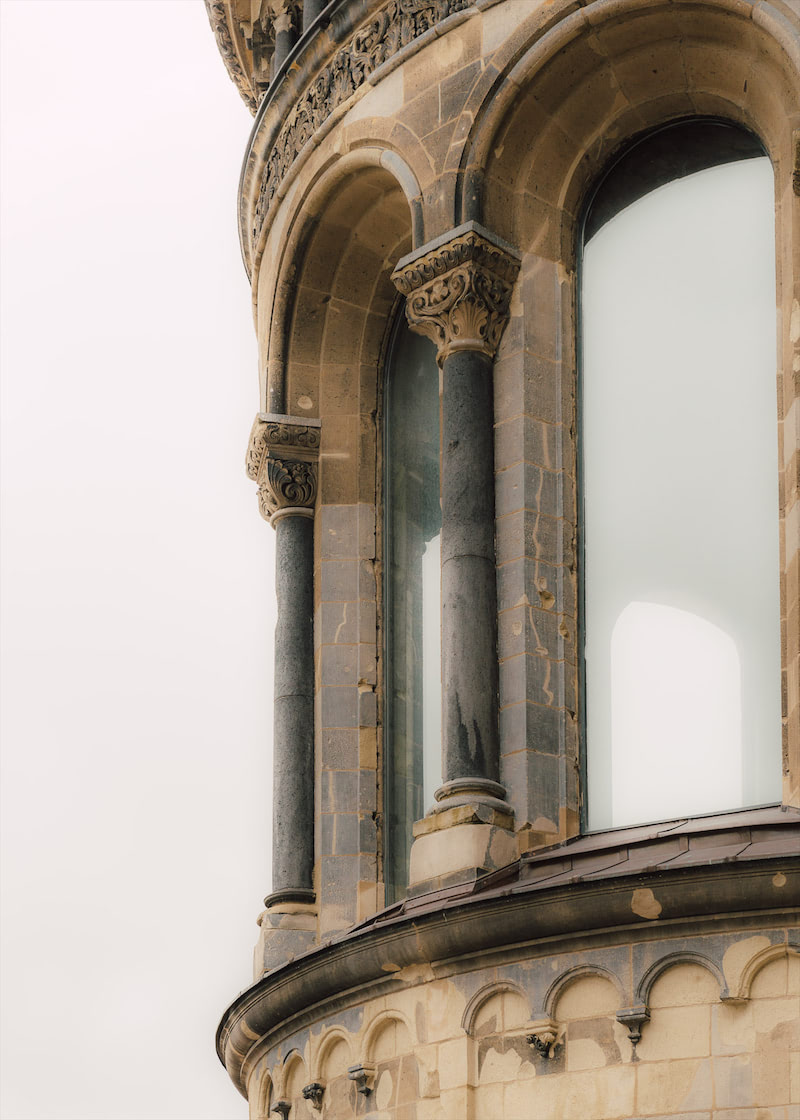 "By that point in the race, you're just full of excitement," Daniel explains. "Things are very calm, things are just super fresh and then you have to restrain your efforts because there's a long way to go." He continued past the 11th kilometer, where he spotted his mom, dad, and stepmom in front of the Haus der Statistik near Alexanderplatz. A quarter of the race completed and he felt, as he puts it "still crisp as hell—fast, you just feel fast."

"Very shortly after 21k," says Medina, "is when shit started to hit the fan." Days prior to the main event, he started to have Achilles tendon issues. But Medina had trained hard for the event and, as a seasoned runner, he's accustomed to pushing his body in extremity. He ran his first marathon with a fractured heel, so, to downplay the problems with his Achilles, he'd tell his friends jokingly, "Oh, I am the pain. I am embracing the pain. I am ready for the pain."
Kilometer 36.5: Bülowstraße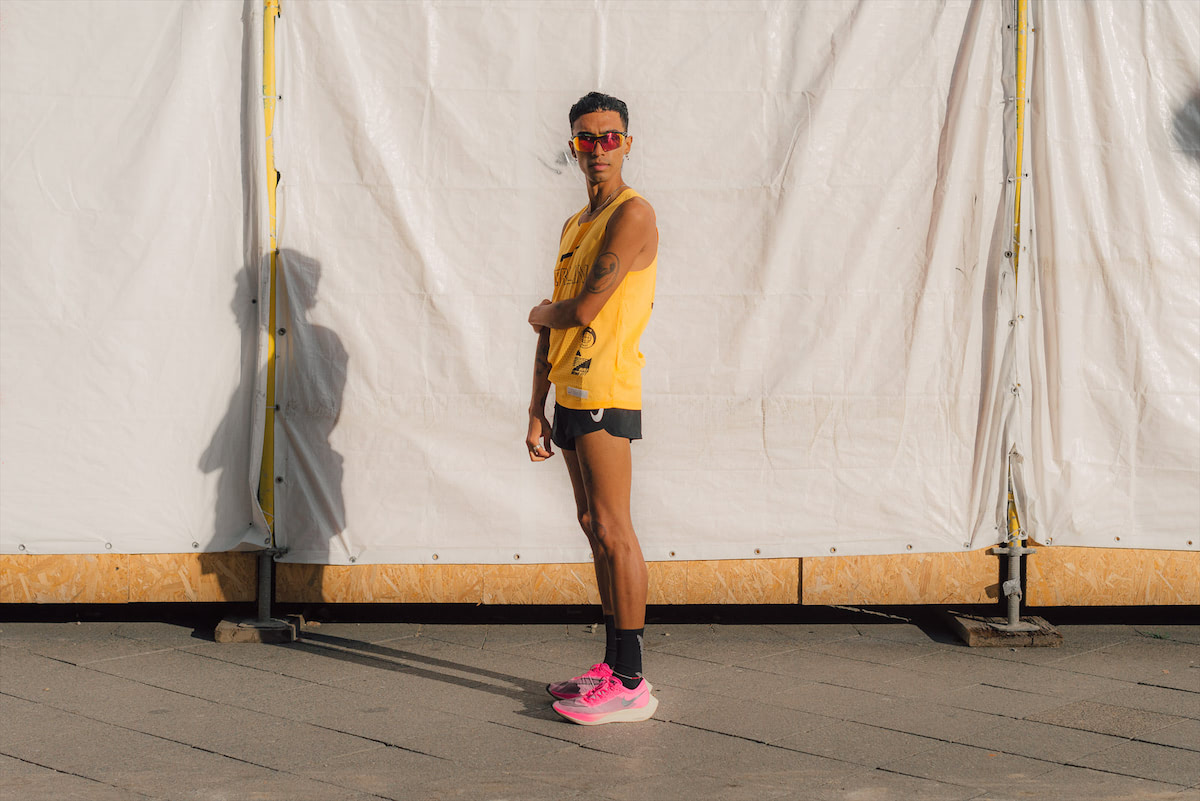 What had initially seemed like a minor inconvenience in his Achilles heel, over the 21 kilometers, became excruciating. For the next 18 kilometers, until 39k near Potsdamer Platz in the West of the city, Medina continued, what he describes as, "running, stopping, holding, crying, and running again." He heard his father shout from the sidelines. "I had to double back and just hold him and cry for a bit. He kept saying 'go'. And I kept saying, 'No, I'm good. I'm good right here."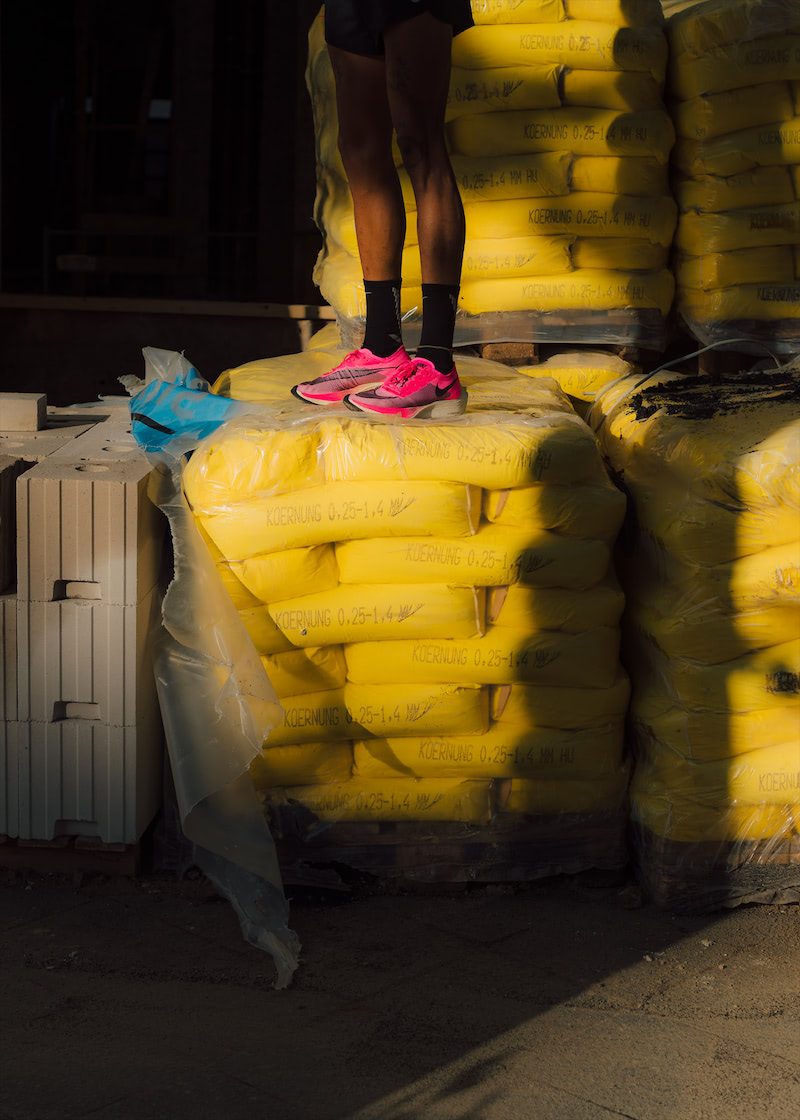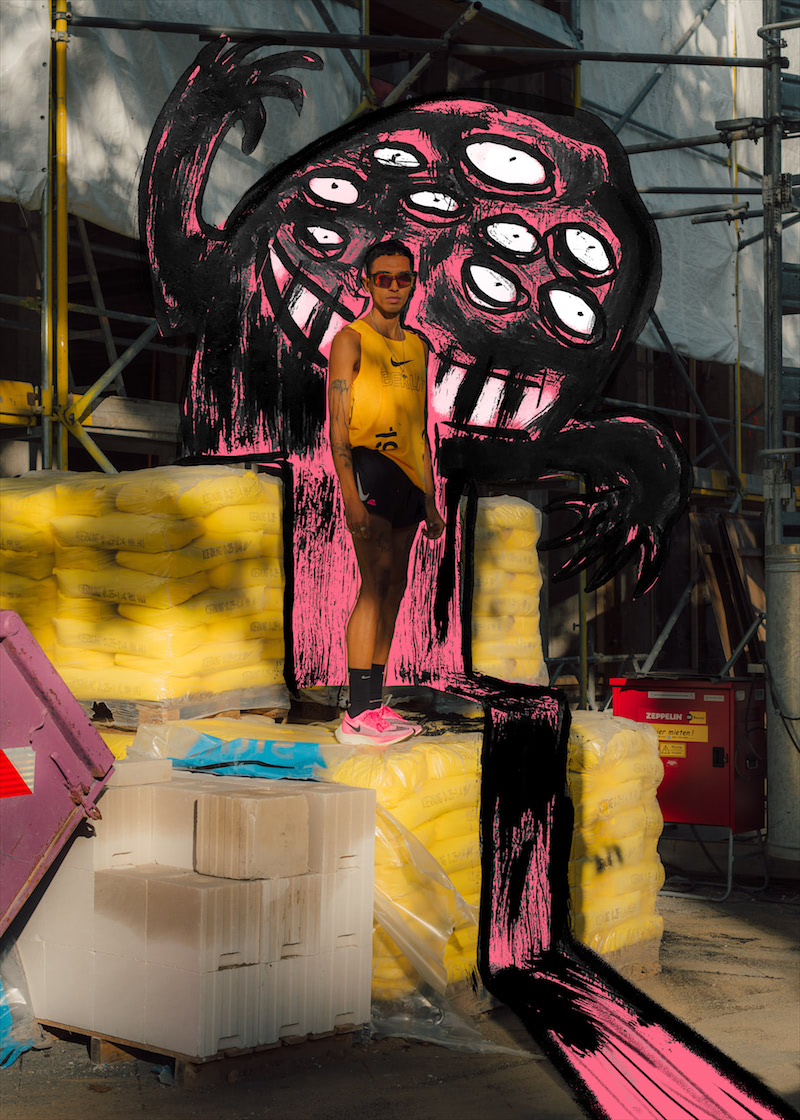 Despite the setbacks, Medina channeled the energy of the crowd and tapped into what he'd learned during his rigorous training regime as he recited this mantra: "I've been here before. I've hurt this way before, I've pushed passed it. Things will be fine." As he propelled himself through the finish line and capped off the painful race, the marathon's infamous cheer zone blanketed him in praise for pushing through to the end — making for a fitting visual representation of all the hard work he'd poured into the city's running scene.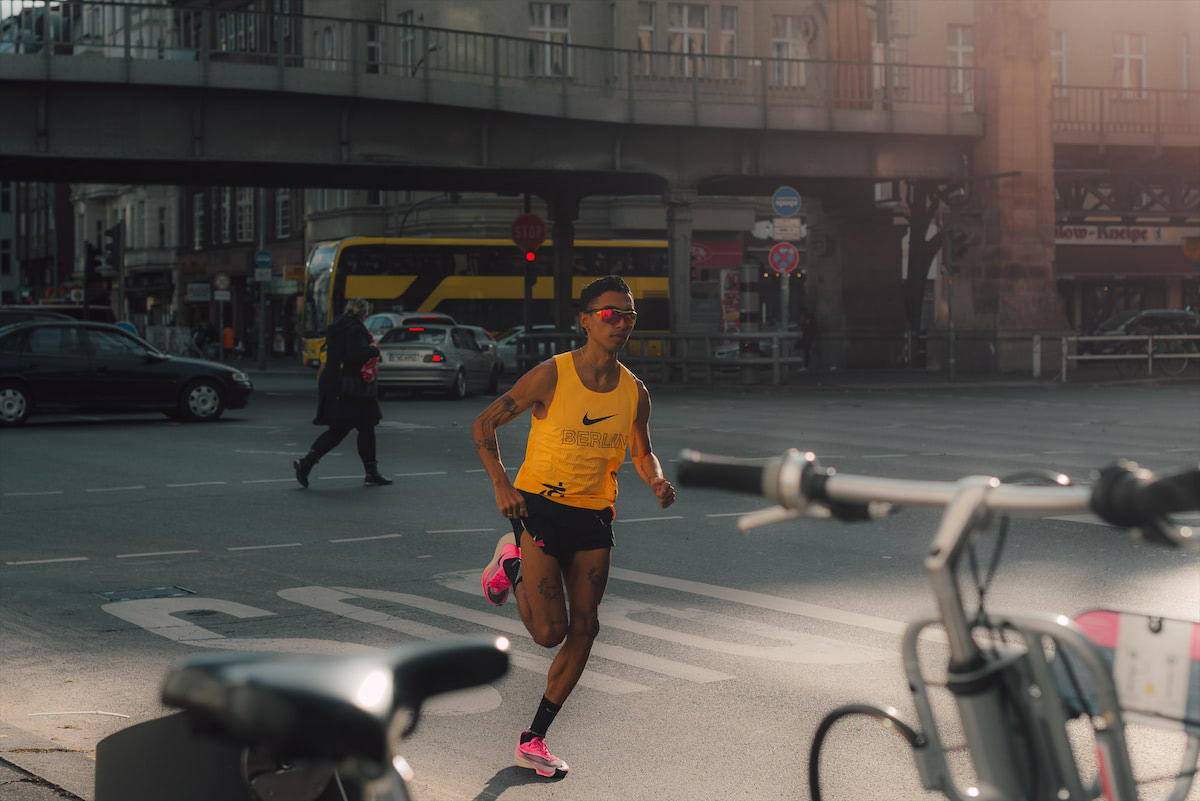 "I've been here before. I've hurt this way before, I've pushed passed it. Things will be fine."
– Daniel Marin Medina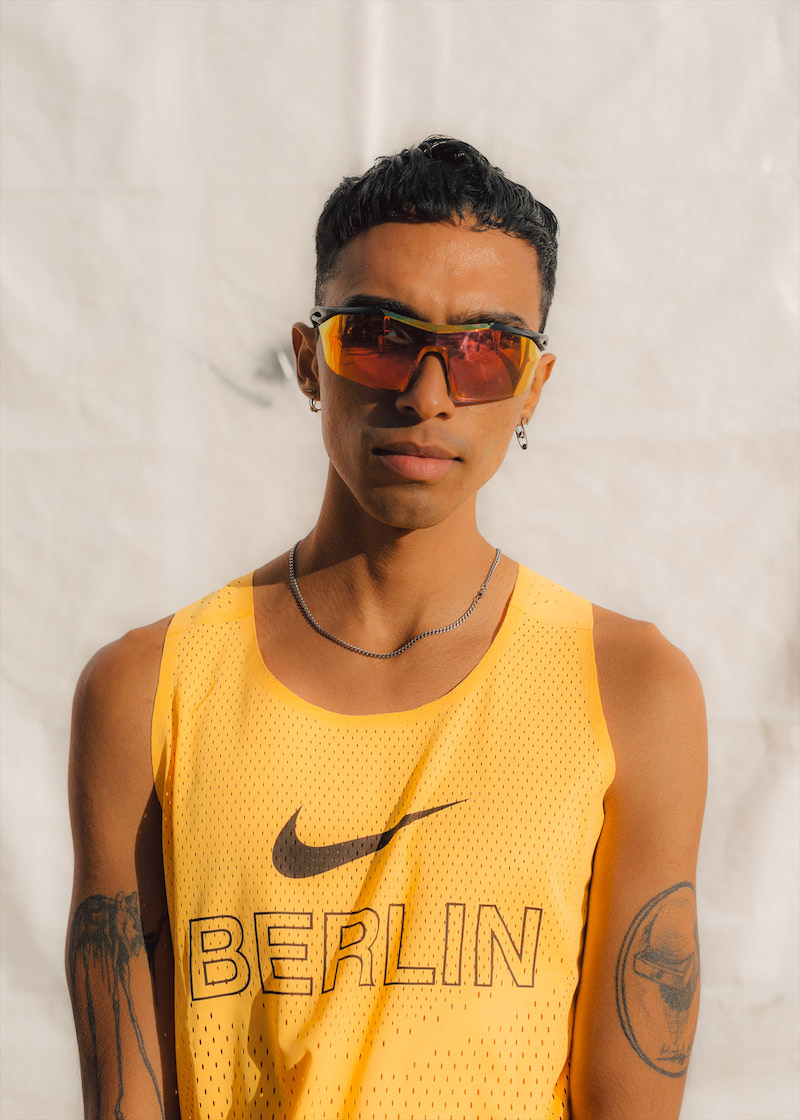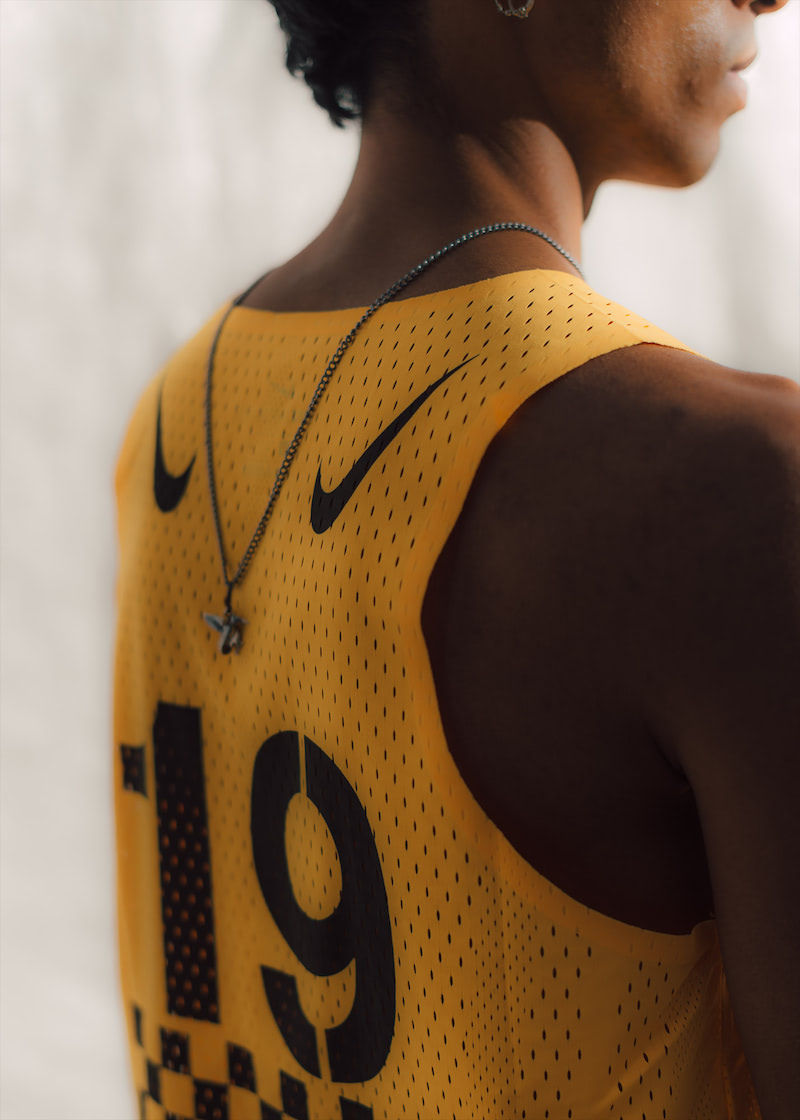 Even after the race, the sheer mental determination involved in a marathon still fascinates him. "I think it's like a self-awareness of 'I'm on fire'," he says, "but I will soon not be on fire, so let me just burn a little bit." Also part of it is the autonomous meditation on endurance. That's why he stays chasing. "You know at some point it will end, and it's either you end it because you can step off the course — you don't have to finish anything — or you get to the finish line and then it ends," he explains. "So regardless of what the situation is, whatever pain you're feeling, it will end."
Kilometer 42: Brandenburg Gate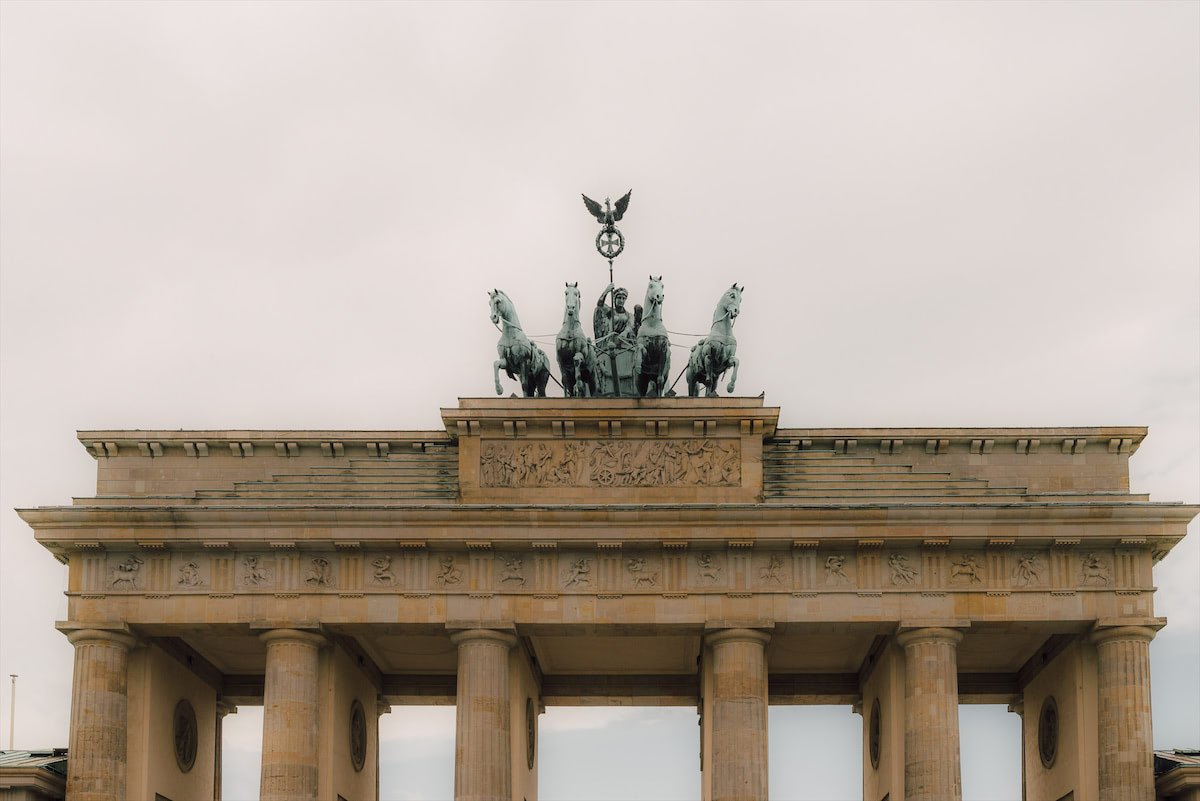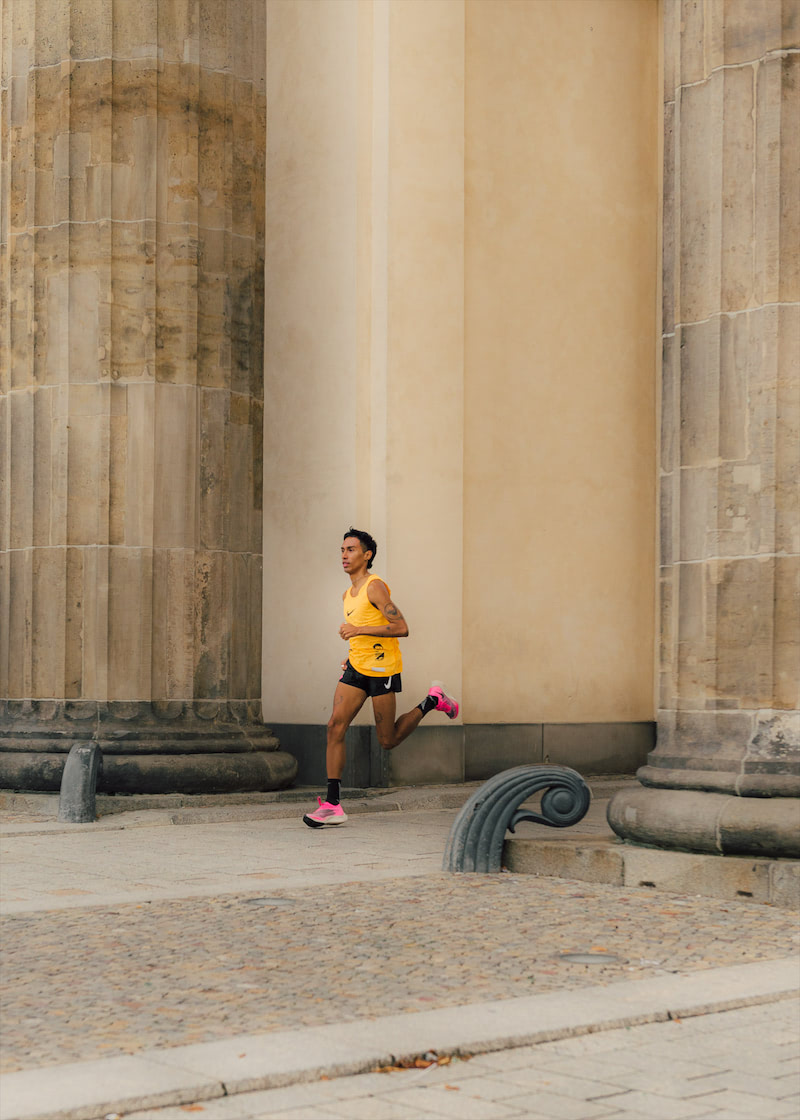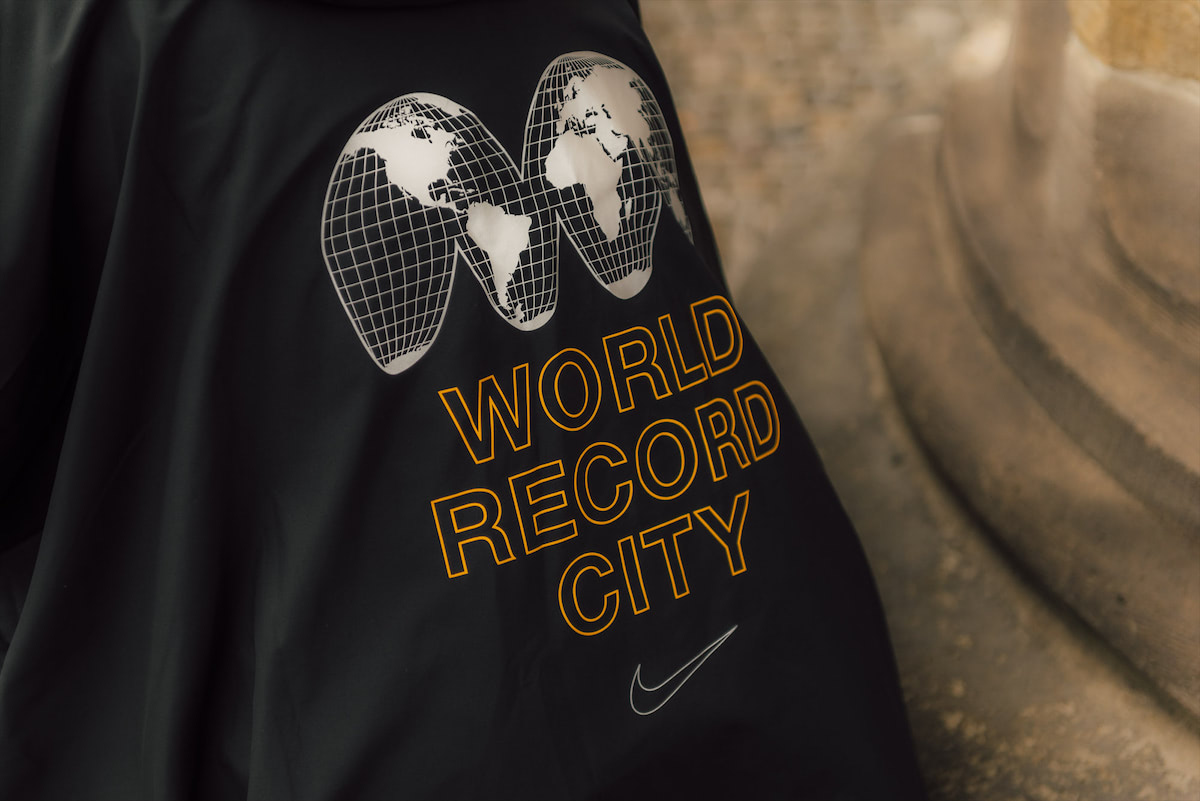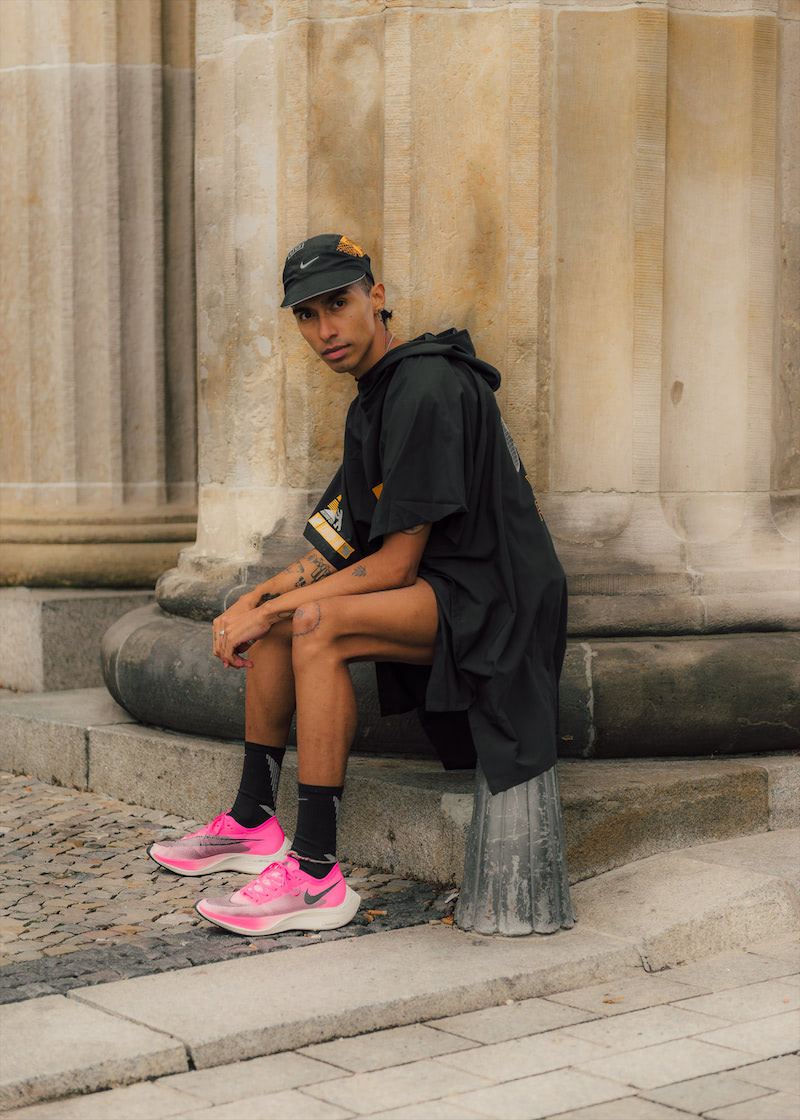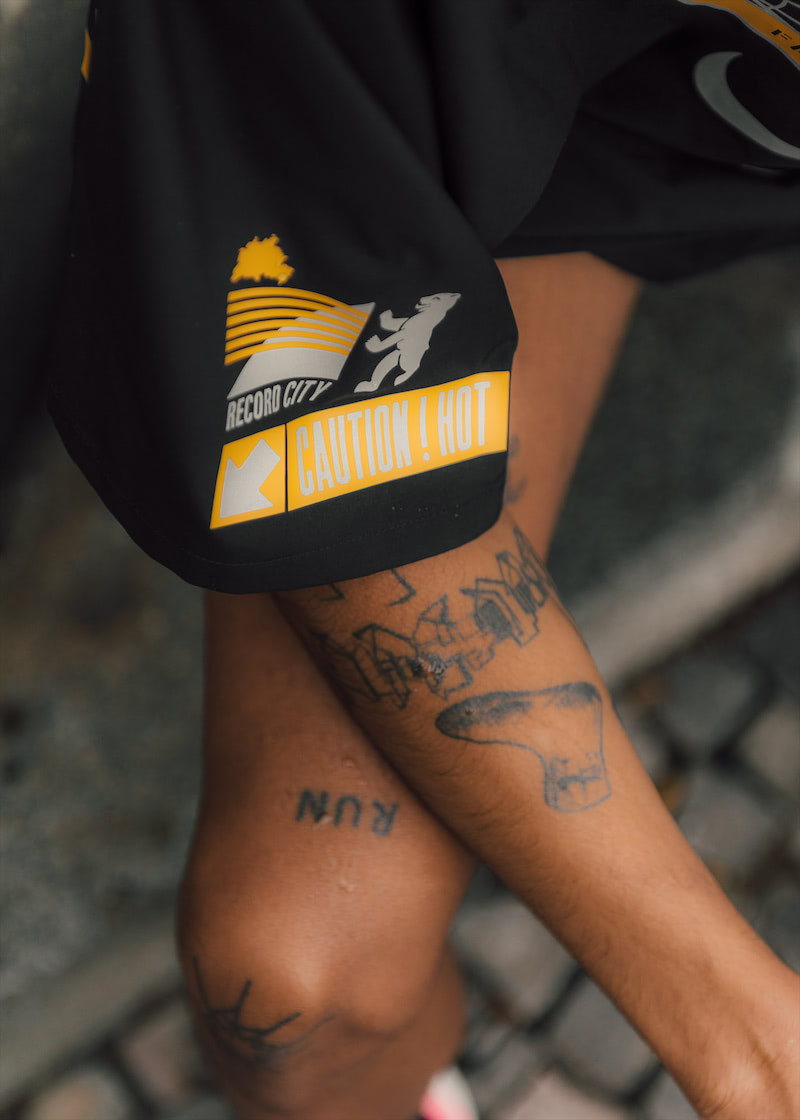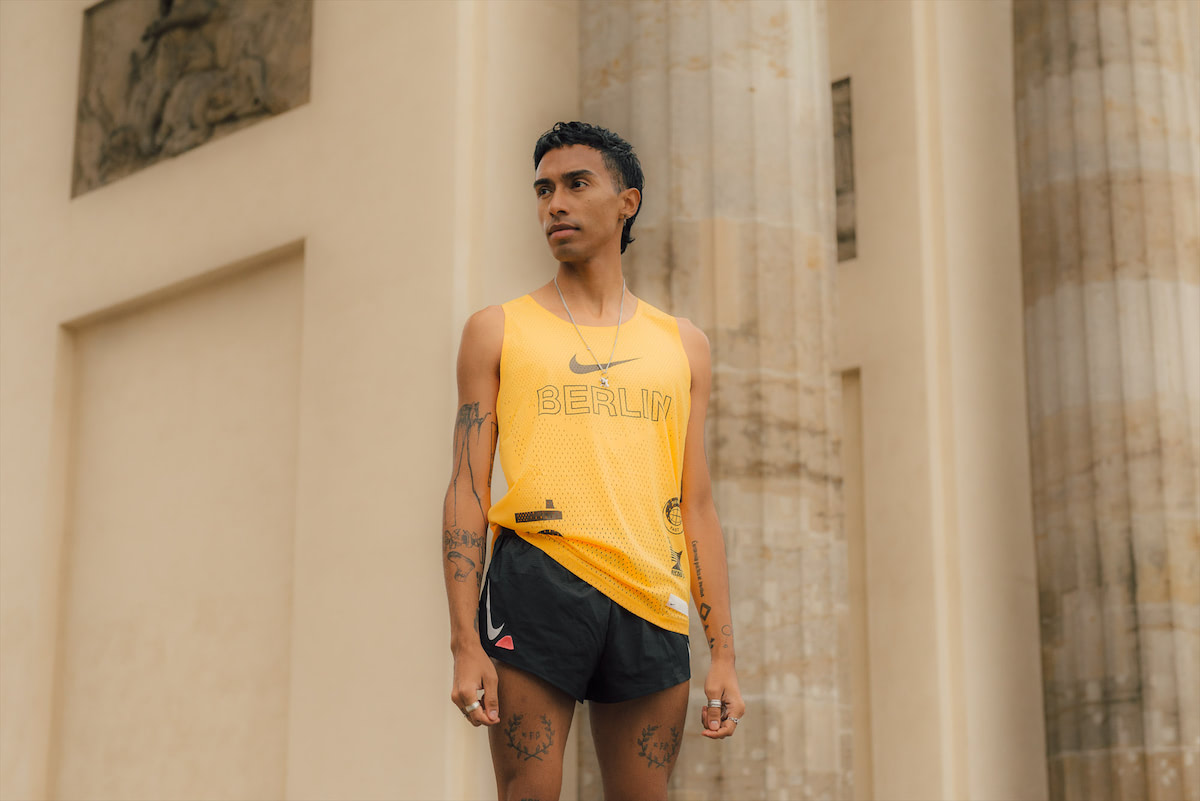 "So regardless of what the situation is, whatever pain you're feeling, it will end."
– Daniel Marin Medina
Photographer:

Daniel Müller

Stylist:

Alex MC Fadyen

Creative:

Shane Gormley & Dan Hart-Davies

Project Manager:

Eva Suchanek

Producer:

Sabrina Hubert

Editor:

Lucy Thorpe

Contributing Editor:

Whitney Wei

Digital Producer:

Shaun Roach

Talent:

Daniel Medina