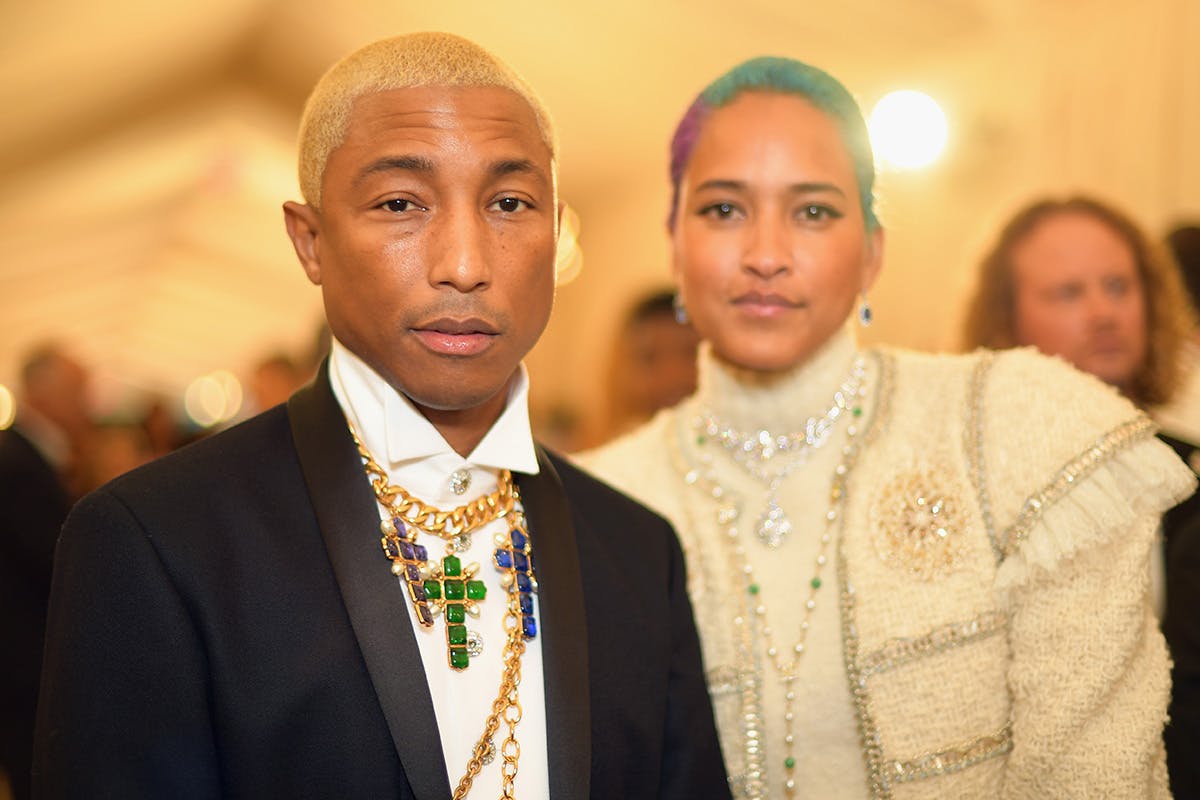 It's been a busy few months for Pharrell Williams. Not long after starring in adidas' World Cup ad, collaborating with Camila Cabello, and announcing his foray into gastronomy, he's now the subject of a comprehensive editorial in Vogue Italia.
Touching on a myriad of topics including the meaning behind N.E.R.D's "Lapdance" to his relationship with Karl Lagerfeld, the interview provides insight into William's varied career, and how he views it. Here are the best bits.
On the meaning behind N.E.R.D's "Lapdance"
"Most people don't realize but our first single, Lapdance, was about the Bush administration; about how we felt politicians were more like dancers than they were politicians – they dance around the point."
On how he's giving back to Virginia Beach, the community he grew up in
"One of the projects I'm dealing with now is building soundstages for film studios to come and work in Virginia Beach, Virginia, where I'm from – I gotta give back ... The soundstages are priority for me. I know the kind of jobs they will create; the kind of economic trajectory it can have on my city and the neighboring ones."
On his upcoming musical movie, "Atlantis"
"Fox bought our musical for a film called Atlantis – Atlantis is the name of the housing projects I grew up in. While the story isn't about my life – it's about teenagers in and around 1977; I was born in 1973 – it's written with details of how the neighborhood felt to me as a child."
On how Sean Combs' influence paved the way for his own streetwear labels — Billionaire Boys Club and Ice Cream — and for the likes of Virgil Abloh
"Coming out of the 1990s, Sean Combs broke down the walls for us. Puffy was the first to have the likes of Donatella Versace accept him as a truly formidable force. What he did with Notorious B.I.G. and the whole Bad Boy brand, and him wearing Versace all the time – he opened a lot of doors that were considered to be only for the stuffy high-end world."
On what it's like working with Karl Lagerfeld
"Karl for me is the real thing. I've watched this man sketch what I would be wearing on the runway, and a couple of months later it was done, and it's like woah! And he's been doing it for literally over 50 years. I'm just so grateful that I get to work with him and see how his mind works, and the things that he comes up with."
On incorporating environmental and health positivity into his work with Chanel, Human Made & adidas
"I can't get into what Bionic Yarn [the recycled plastic textiles company Williams invested in] is working on now with Chanel other than to say it's super luxury and they are incredibly supportive of the effort...
"I'm always wearing Human Made and adidas Hue. Human Made is a joint project with Nigo. And Hue, by the way, stands for Health Ultimatum, because you can lie to anyone but you can't lie to the person in the mirror."
Read the interview in its entirety over at Vogue Italia.
Are you a Pharrell fan? Let us know in the comments.
Next, here's everything you need to know about adidas' Three Stripes logo.