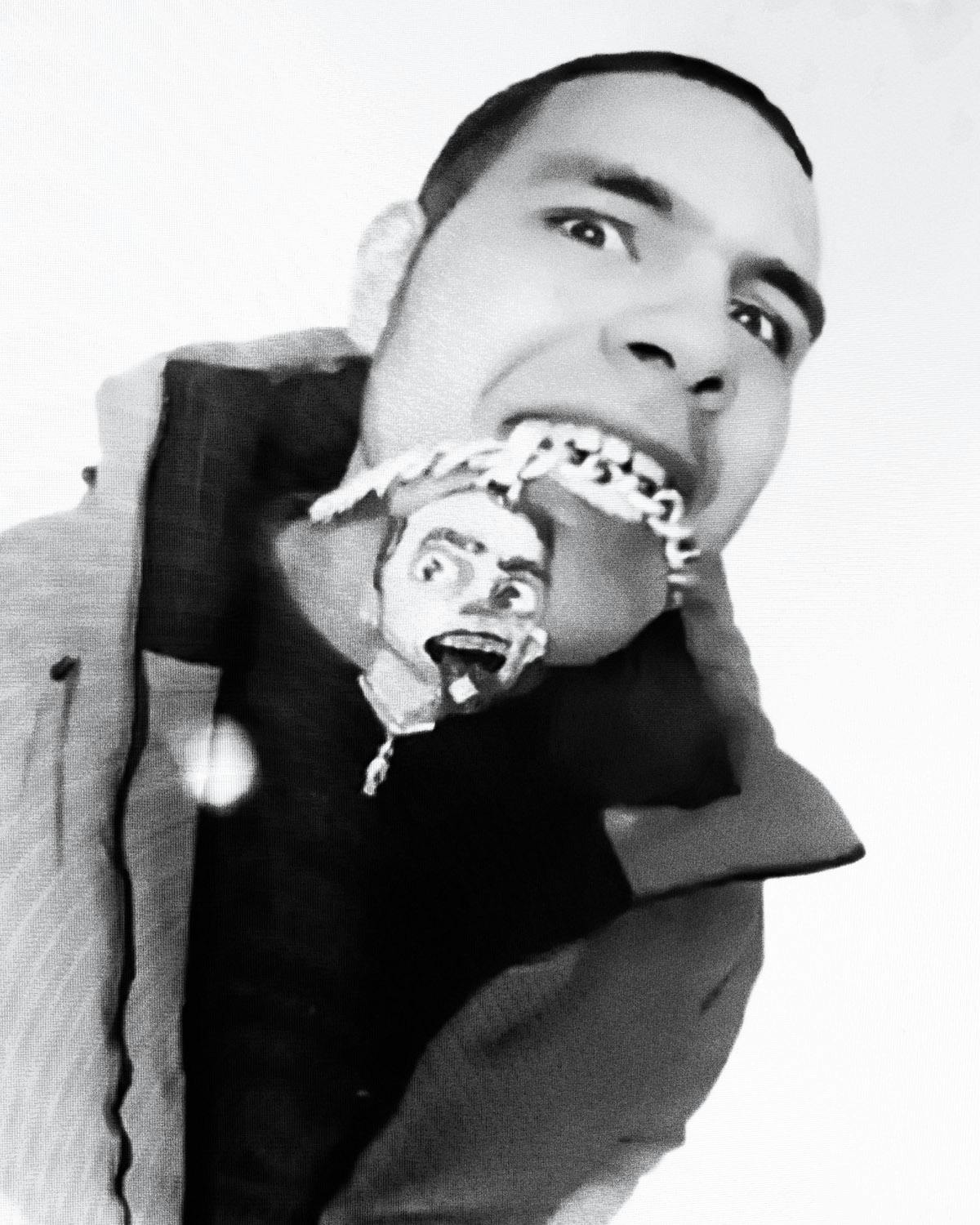 Next week, British rap iconoclast slowthai is launching his second album 'TYRON,' a double album examining two distinct sides of his personality. For this double FRONTPAGE interview, we dedicated a profile to each side.
SIDE A
"There's no point just trying to do it like somebody else. That's boring, man. Switch it up. Rip it apart. Flip it around. Make the Mona Lisa look like a Picasso painting." It's the first week of 2021, and slowthai is in the bright office space that he and his team are renting on a Northampton industrial estate. He's discussing his twisted take on rap music that has garnered him global infamy. "You've got to be kind of competitive, man. Especially being a rapper, you've got to come in and be like, 'I'm the guy, fuck this, you need to be listening to me!'"
Resting conspicuously on the chest of his black Supreme Cross Box Logo hoodie is a sparkling chain bearing a flooded diamond cartoon of his own face — a creation that's been labored over by A Jewellers in Hatton Garden since the beginning of lockdown. "It's my little baby, innit," says Ty, flashing his signature grin. Many artists as creatively disruptive as slowthai tend to shy away from the rapper clichés imposed on them, let alone go out and buy an iced-out portrait to hang around their neck; but slowthai is doubling down. "If this is what you want me to be, this is what I'll be," he declares. "Unapologetic shit!" On his new album, TYRON, we first meet slowthai in full "rapper" mode: taking on moody Memphis-inspired beats with a tirade of aggression that explores everything from car-jacking to cancel culture.
"It represents my anger, the way I feel, the front that I put on," he says of the first portion of the double album, which is themed around duality. "Be it to live up to expectations, or the world outside — it's how people see me. It's what I do, but what I'm not… Being like a pissed off teenager and growing out of that time, I suppose. So it's like, doing it, but while I'm doing it, realizing 'Yo, this is bullshit. This isn't what I need to be doing.'"
In the US, TYRON is being released via A$AP Rocky's AWGE imprint. Rocky attended Ty's first LA headline show and praised his debut album, Nothing Great About Britain, backstage. "I was just gassed that he'd heard it and it had even got to him," remembers Ty. From then, they started recording together: in Los Angeles at the iconic Westlake Studios (where Michael Jackson and Quincy Jones recorded parts of Thriller), and in pre-lockdown London where they made the album track "MAZZA." When Rocky suggested signing the record to his label, it felt like a natural fit. "I just appreciate his music and I'm like, 'Fuck it, he's on the wave,'" explains Ty. "People who see eye to eye, it's only right that you move forward with them."
It feels almost paradoxical to make an album of hype music while we're confined to our homes, but Ty believes there is still space for it. A few weeks ago, he was up at 5 a.m. on Christmas morning, bumping Playboi Carti. "I was sleeping throughout the middle of Christmas because I was up listening to Whole Lotta Red," he admits. He'd been in bed, counting down the minutes, when he realized the album was out, so he rushed down to the basement and turned up the volume. "I was just whacking it up to that point where it was like, BOOM! I think everyone knew what was going on. They was like, 'Fuck's sake.' I think my sister must have texted like, 'Can you turn it down, please?' Fuck it." Ty prescribes loud music first thing in the morning, believing that (even in quarantine) it will improve your day.
Highsnobiety / Meinke Klein
Ty admits that he's struggled to find a place to channel the energy he'd normally release during his high-octane live shows — which generally end with him moshing in his boxers. "I feel stuck in the mud," he says. "That's the one spot where you're fully free to let go. I've had to figure out how to channel it into other things." At first, he started kickboxing, but since that's also had to be put on hold, he'll pick up his guitar, spend time with his family, or read a book (Grayson Perry's The Descent of Man, Ryan Holiday's Ego Is the Enemy, and Akala's Natives are just a few of the titles he's recently enjoyed).
Overcoming the wrestling match with his excess energy has left Ty feeling hopeful, and he believes it's inspired the album. "I've always got energy and sometimes sitting inside gets it pent up — and I want people to feel that," he says. "Even though we're on lockdown and we're in this shit time or whatever, you can still have a good time. You may not be with all your friends and family, but if you're happy within yourself and you can just vibe out on your own, what does it matter? That's kind of the point of TYRON, innit? You gotta be happy within yourself to be who you are, otherwise it's just bullshit."
Originality has always been important to Ty, who felt like a "weirdo" growing up. "I would be with the road kids, I would be with the indie kids. I wasn't too closed-minded like that," he remembers. "I would try to connect with people and then I think they'd be like, 'Man, you're weird.' Cos I wasn't just one thing: I'd try and skate, and if I didn't wanna skate, I'd play guitar. If I was hustling or shotting, I was doing my thing. I just always wanted to do it in my own way." As a kid growing up in Northampton, away from the thriving music culture of the capital, this has been key to his success: offering something that wasn't available elsewhere was the only way to cut through. Ty now sits in a rare space, connected to and respected by the UK rap scene, but not swallowed up by it — the weirdo effect still stands, and on TYRON he showcases his ability to traverse different crowds without compromising himself.
"Kids," Ty says, turning his address to an absent audience. "Just do what you do, and make sure you make it your own. You see, in drill now, you've got Digga D doing his thing, it's his pattern, you've got Central Cee coming up, it's his ting — they've got their own voice, their own cadence. Unknown T, Headie One — they're all different. They're from a similar place, and they speak on the same things, but they've made it their own, and that's what's important!"
Already the most controversial track on the album — thanks to an Instagram preview doing the rounds on social media — is the Skepta-assisted "CANCELLED." The take-down of cancel culture was recorded last year, shortly after slowthai received overwhelming backlash for an incident at February's NME awards, in which a drunken joke with comedian Katherine Ryan (while he was being awarded Hero of the Year) went too far. The morning after the event, Ty issued an apology, describing his actions as "shameful" and asking that his award be forwarded to Katherine instead. But the dialogue around his mistake pushed him into a dark place.
"People have so much hate in their heart," he says, in response to some of the negative things that were written about him in the days following. "You're coming from a good place. You're trying to just put good energies out there, and people are like, 'Fuck you.' Some people say the maddest shit — you wouldn't believe [even thinking it]. But posting it on the Internet for people to see…"
On an episode of her podcast, Telling Everybody Everything, Ryan blamed a lack of context and nuance for the overreaction. "We were very much in equal positions of power; if anything, while I was hosting and I had the microphone, I was in a greater position of power. And [...] just because I'm a woman, the whole Internet goes, 'Uhh, that poor thing...'" she explained, later concluding: "The complete cancel culture is so, so deeply dangerous."
"I was in my head too much," Ty recalls, as the days turned to weeks. "You let people put you down, push you into a corner, [and] there's two ways — you can react positively, or you can have resentment in your heart. Especially when you're not what people say you are. And Skep was like, 'Yo man, come on, why you in your head? Get out.' Like my shaman, [he] guided me to the light."
Highsnobiety / Meinke Klein
"It was a wild night," recalls Kwes Darko (who executive produced TYRON alongside Ty), of "CANCELLED"'s genesis. "We were tripping! We had mushrooms, we had the whole shebang." The song was made in a Central London Airbnb that Rocky was renting. Ty was in town, so he passed through, along with a small pre-Covid gathering that included Skepta, Ciesay of PLACES+FACES, and Jesse James Solomon. "We were trying to be quiet," remembers Darko, out of respect for the neighbors. "But at the same time, everyone was moving wild." Kwes, Kelvin Krash, and SAMO got to work on the beat, while Ty and Skepta went back-and-forth, freestyling lyrics about rejecting attempts to erase their existence. "I'm gonna be better than you ever thought I could be / Because no one could tell me who I am or what I'm doing," declares Ty of the track's intention. "So we just had to cancel cancel culture."
Rebuilding his spirit required Ty to regain his focus on the bigger picture. "Knowing what it is, knowing the truth. Hashing things out within myself. And knowing that these little things are just blips on the surface, in the grand scheme of things," he says. "Rome weren't built in a day, and there's a million things we could cancel Rome for! But in the end, it created something good, I suppose. I dunno…" A smile draws itself back across his face: "To move civilization forward, you gotta go through some hell!"
SIDE B
"It's cold as fuck where I am." slowthai is in the basement of the terraced home he shares with his mother and fiancé in Northampton. He's between beatmaking and Call of Duty sessions. Bathed in red light amongst a stack of keyboards, he half jokes that he's "in search of the new sound… Like in The Mighty Boosh!" It's the same room where, after the world went into lockdown last March, Ty recorded the majority of TYRON, and is referred to as "Hell" in the album's credits. He conversationally refers to the "dingy space" before correcting himself: "Well, it's not dingy, it's pretty nice to be honest. I make out like I'm sleeping on floors. But it's banging!" In fact, since he's been getting back into the production side of things, his main issue is that he's spoiled for choice: "I've turned into one of them synth guys that just hides away in the corner of a dark space, and I'm trying to tweak everything."
TYRON exposes an aspect of Ty's personality that he believes hasn't been fully on display — until now. "This is my softer side: the side when I'm at home, the person I am to my family," he explains. "The more goofy, loveable, kind person, rather than the twat. That's the best way to put it, really." The songs on the album's second half are calmer, sonically drawing from pop and alternative influences, while Ty takes introspective deep dives into the man behind the moniker: these songs feel therapeutic for both the listener and their creator.
In the wake of February's controversy, Ty decided it was time to make some lifestyle changes. First, he stopped drinking. "I'd become so distant from myself and everyone else around me that they were getting this drunk version of me." he reflects. He thought people were acting weird, until he realized, "No, no one's acting weird. You're acting fucked! Everyone else is getting on with their life." When he started to wake up and worried about what he'd done the previous night, the answer was often to have another drink. But once he became aware of how much he was acting up in the public eye as well, he forced himself to snap out of it. "All these substances and shit, they don't make me up," he says. "If I'm out here trying to lead by example and give people a different viewpoint, I need to at least be living like that's what I wanna do. So, cut all the bullshit and start being in the real world."
Secondly, he decided to go on his first ever holiday. "In my head I was kinda like, why would you go on holiday? There's so much more I gotta do with my life. I ain't got time to just be chilling on a beach," he says of his initially cynical approach. But he knew he needed to step away and get some perspective, so he and his then-girlfriend Katya (the Russian pop star KATERINA) took a trip to Thailand. "To break a cycle, you've got to remove yourself from it, so that was just me taking a step back, coming off all this social, Internet shit, and doing a detox. If you will, it's like my rehab."
Even so, he found it difficult, and he describes taking time away from music "like breaking up with your first love." After a few days he was enjoying the feeling of being cut off. "It was definitely nice to just be like a normal person for a minute," he says. "I couldn't swim and I learned how to swim — that's always bothered me. And getting up and being like, 'Oh, it is beautiful today', rather than being like, 'Fuck this shit, get me back into the little fucking dark room and let me make some music.'"
He proposed to Katya during a spontaneous moment under the stars. "It's a commitment and I'm a person of my word," he says, warmly. "And I was thankful for Kate, she helped me through that time." The newly engaged couple had to cut their trip short when news of Covid restrictions began to spread around the globe. Ty admits he was initially skeptical: "I see people start panicking, and I was kinda like, 'Yo, as much as I do love being in paradise, I would rather be back at home when shit gets on top.'" So, with a week of planned vacation still ahead, they packed up and returned to his Northampton home, where Ty was able to resume work with a clearer perspective.
Highsnobiety / Meinke Klein
Released last September, "feel away" with Mount Kimbie and James Blake was the track that pushed Ty into album mode. It started out of the creative partnership between Ty and Mount Kimbie's Dominic Maker, who previously produced "BB (BODYBAG)." They developed a close relationship, and would talk via text most days. "He was going through a lot of trying times during the period of our friendship," says Dom. "So it was good for us to rely on someone not directly in our friend group. It was a great outlet for both of us." After initially recording together in London, Dom relocated to LA, where they'd reunite for the session that spawned the track. Described by Dom as an "instinctive piece of music," Ty came up with a verse in 30 minutes.
"You know who would be sick on this?" Ty suggested. "James — James should sing on it." Ty had met James Blake prior, and they'd all become friends (the trio play Call of Duty together), though Ty confesses he was doubtful that he'd actually get Blake's vocals on his track. "But you can hope, you can wish," he says brightly. "And my wishing's actually got me pretty far, so far." Dom sent the track to Blake, who was in New York at the time, and received his contribution a day later, with additional vocals and piano. "Everyone loves James; I love James," Ty praises, "and when his voice come in, it was like shit got real. I was like, 'Yeah, I'm not playing around, muddafuckers! I'm here!"
"The whole story of Ty is not just hard rap beats," offers Dom. "I think he was a little bit frustrated that he hadn't found something else that was going to be [the] identity of this record… until that moment."
On the following single, "nhs" (named in tribute to the UK's National Health Service), Ty highlights duality again by posing a series of juxtapositions, including: "A rapper without jewellery?" To which he answers: "Real person, surely." When we discuss TYRON's more personal side, his sparkling caricature is notably absent. "I could have it in the box forever now," he says, earnestly. The chain, it transpires, was made to commemorate a personal milestone; making a song with Gorillaz ("Momentary Bliss"), the Damon Albarn-helmed virtual band that Ty has been listening to since his school days, and it's something he hopes he will one day share with his kids.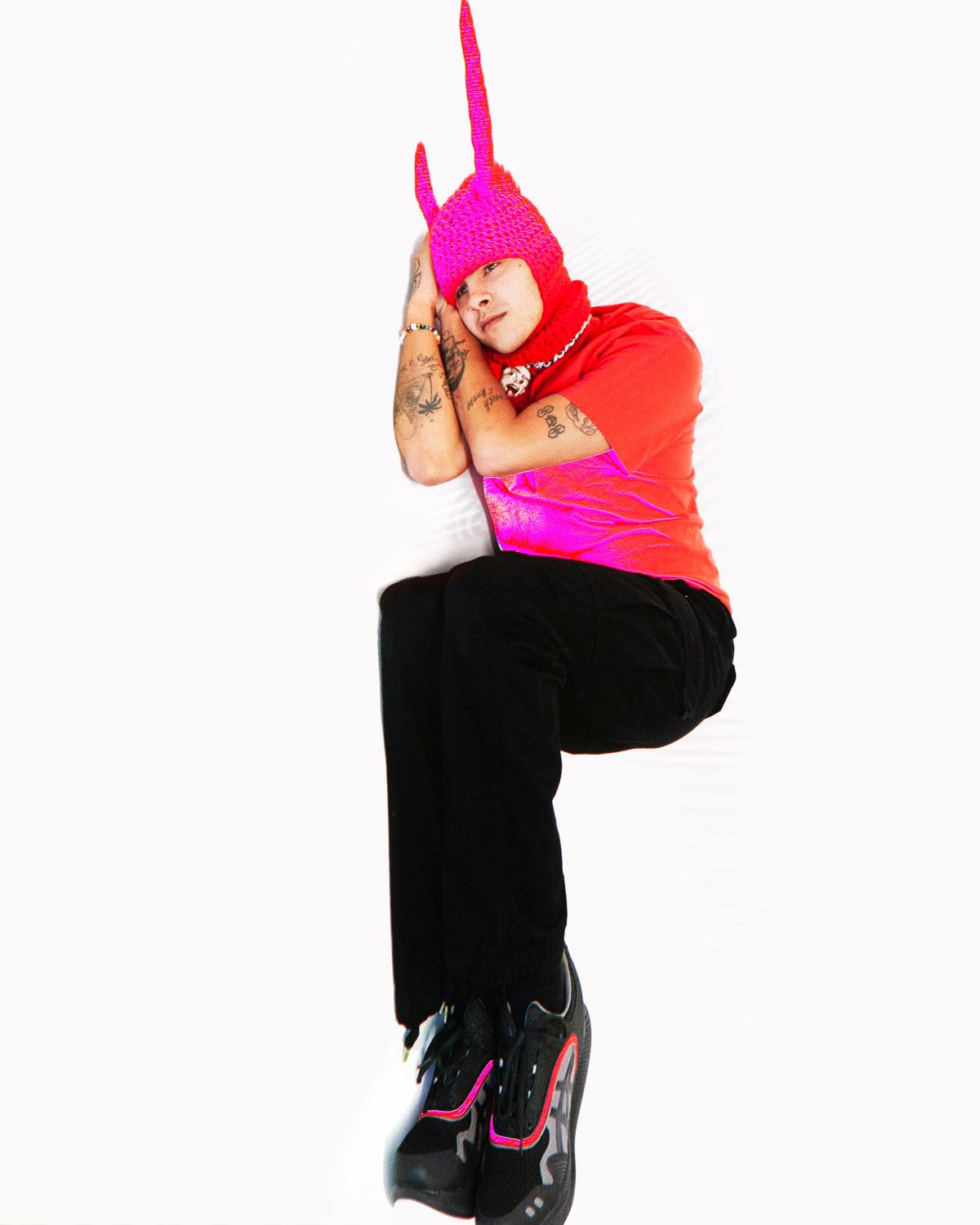 But, as the lyric suggests, Ty often feels like he's perceived as an avatar rather than a human being. "I believe anyone who's kind of in the spotlight in any way, human error is not something that you can have," he explains. "People are still people, at the end of the day, and no matter what accolades they've got or what they've done, it don't matter, you strip everything back, you're a shell."
For Ty, the highlight of the new record lies at the end. Album closer "adhd" sees him distilling the multi-layered personas of TYRON into one song. An insight into the type of cyclical overthinking that takes place in his head, he unpacks the "tough lad" face that he's worn for protection, then calls producer Kwes to tell him he loves and misses him, before relapsing into the anger of the album's first side. Ty describes the song as "the most me I've ever been." The phone call to Kwes is one of many he's been making to check in with those around him, to let them know how much he cares, admitting that he worries that he might accidentally neglect people. "You never know when your last moments are gonna be. I wouldn't want my last conversation to be like, 'Uhh, you're a lad!'" he considers. "That would be a pretty shit way to say goodbye to somebody."
When Kwes received the call, he was riding an electric scooter through LA, rocking a pair of Versace shades and enjoying the sunshine. He'd made the trip solo, to escape some personal difficulties he'd been facing at home, and had been reflecting on his appreciation for Ty just hours before. "That moment. That love," Kwes remembers. "Something that was true to me — it was definitely needed. The reason why I'm able to create certain things with Ty is because of the relationship that we have, and how open we are with each other."
"adhd" is a reminder that the journey towards self-improvement isn't without setbacks: "It shows that even though we grow and change, it takes a lot to fully get rid of these things that we hold onto. It's just hard to put the journey of life, a person, into music, without making it some multi-syllable, 100,000 words in a song." Ty hopes that his listeners will continue to grow with him, but accepts that he'll never fully get to share every intricacy of himself with his supporters. "Will you ever, even with a catalogue, get to the completion of a life?" he asks. "I don't think it's ever possible. That's the beauty of life; you won't ever fully understand it."
While Ty has been open about his feelings previously, he believes this time he's been more brutally honest than ever before. And although he's not so phased by strangers hearing his innermost thoughts on TYRON, he says that the more difficult part was actually recording them around his collaborators. "I've already been pretty open, that's why we're so close," he explains. "I always smile — I dunno if it's a defect or something, but even when I'm sad, I'm smiling. So I think, just letting them know, 'Yo man, I'm not actually feeling alright.'"
Dom has witnessed this first hand: "The thing with [Ty] is that you very quickly find out there's a fuckload more going on behind his smile than meets the eye. I've seen him in his dark moments and I've seen him in his happiest moments, and there's something addictive about being around him in both of those states."
Kwes believes that the ability to smile through everything is essential for progress. "No matter what happens, we have to smile. Even if we're not smiling on our face, inside, we have to smile to keep going."
Ty hopes that listeners will absorb some of this optimism, and find a way to tap into it even through hard times. "They ain't gotta shy away from their feelings and put on a front for anyone else," he says. "I just want people to know, whether they're going through hell in their mind or their life, that there's always a brighter side and we can make it out, we can push together and get through it."
With TYRON, slowthai leads by example, embracing everything that life throws at him; the good and the not so good. "It's like some people like the middle of the doughnut - the jam - and then some people like the sugar and the dough on the outside," he offers, with a laugh. "I'm not one of them people that's just trying to get to the middle all of the time - I like what's on the surface."
slowthai's 'TYRON' is out via AWGE on Friday, February 12.