 Highsnobiety / Jeremy Jude Lee
This story is taken from Issue 18 of Highsnobiety magazine. You can buy the new issue here.
The 2018 legalization of recreational marijuana in Canada was a cultural milestone. The move has led to a rise in new cannabis brands, but British Columbia's Tantalus Labs stands out for its dedication to growing quality plants and educating consumers on things like flavor profiles and the various benefits of sun-grown marijuana. In short, it's turning weed into wine.
As the world continues its move toward a technological society, businesses have pushed into new territories riddled with the ethical quandaries and moral implications of digitizing our lives completely. Yet amid the potential revolutions of artificial intelligence, self-driving cars, and blockchain technology, a new, more organic industry has emerged in Canada, one that has thrust a traditionally low-key nation and its politics into the international spotlight.
In October 2018, after a push by the governing Liberal Party, legal recreational marijuana went on sale in the Great White North. Not known for making headlines, Canada caught global attention as the first G7 nation and the second country in the world, after Uruguay, to legalize the drug for recreational purposes, setting it apart from the hard anti-drug policies of the 20th century, such as the United States' controversial war on drugs. Canada's Cannabis Act (aka Bill C-45) was designed to create a more liberal society, cut petty crime, and cripple the illegal drug trade by introducing legal market opportunities that would boost the economy with a legitimate, taxable, multi-billion dollar industry. The first products to be legalized were fresh and dried bud, oil, plants, and seeds, with the policy set to include edibles, vapes, and concentrate products from October 2019, the country all the while grasping to set industry standards for dosing, packaging, and labeling. Canada will serve as a case study for global onlookers as it digests the macro effects of legalization.
Long gone are the days of picking up a dime bag from the dealer down the block, smoking in the neighborhood park, and then sneakily driving home while under the influence. That said, although it's now legal to buy weed over the counter and smoke it in your home, regulation means there are restrictions in place, so Canadians aren't exactly free to blaze wherever and however they wish.
How will regulation affect the average user's daily life? Smokers in some provinces may be banned from lighting up near schools, parks, or other public areas. And police can now check to see if drivers have traces of THC in their systems and issue hefty fines. Drivers can even be fined for driving while carrying unsmoked weed in open packaging.
As with any new market, we can anticipate the emergence of new brands and a colorful range of products. Are you a Pabst brew kind of guy? Are you into a glass of vintage Romanée-Conti? Just like alcohol and tobacco, the cannabis market is sure to become oversaturated by an influx of low to high-end products for everyone from bottom-of-the-barrel users to those hunting for a cleaner high or a more exotic taste. In that vein, there is the potential for cannabis producers to offer the same level of nuance as natural wineries, small-batch distilleries, and neighborhood coffee roasters.
This is where British Columbia's Tantalus Labs steps in. The marijuana producer pursues high standards (in every sense), promising the cleanest, purest-quality bud in the industry. Made up of horticultural experts and discerning cannabis users, the Tantalus team is equipped with elite agricultural precision and a mission to create products their younger selves only dreamed of, with a strong "for us, by us" community ethos. We recently toured Tantalus' world-class facility in beautiful British Columbia, where founder and CEO Dan Sutton explained how his company is preparing the world for a luxury standard of marijuana.
Could you explain your definition of "highest-quality" marijuana, and why should consumers care?
Quality cannabis is clean cannabis. Clean cannabis is ecologically sustainable and completely free of pesticides and mold. We also use a third-party lab to test our cannabis, so that we can actually come to a new user with lab tests and results to show people that the products they're using are clean. This allows us to stand behind the purity of our offerings with third-party lab testing on every batch, demonstrating that our product is free of mold, mildew, and pesticides.
So clean cannabis is the most natural cannabis, 
like organic food.
I think it's even more [important] than what you eat, because in this context, you're smoking it. Your digestive system is designed to filter impurities in the food you ingest, but [cannabis] is straight to your lungs.
People have that justified right for transparency in the supply chain from their growers and farmers. There will always be plenty of people who buy bargain-bin products, but you can't lie to the discerning user base. If you can follow through with that high expectation of quality, the luxury consumer base for cannabis already exists. The promise to our medical patients of purity and a high production strategy was the ideal message we wanted to carry through to our recreational audience. We want to contribute to that conversation of sustainable production and we're not sacrificing on quality. Highsnobiety / Jeremy Jude Lee
I've only visited grow ops with indoor 
environments, where light, temperature, 
and whatnot are manipulated to affect the bud's growth. What exactly is the "sun-grown" 
marijuana you're offering?
We've radically revolutionized the way the best cannabis can be grown, and the combination of our technology with sunlight provides the plant its best opportunity to thrive. Historically, this was all indoors, because you have better control of an indoor environment.
I used to think [growing weed] required regulated nutrient blasts, height-restricted environments, and all that. But the most insightful cannabis experts in the province consistently tell me that the more natural you go, the better the genetics can thrive. The highest-quality cannabis is the most naturally produced.
So we've taken that indoor system, ripped it apart, taken its strengths, and rebuilt it from the ground up with more data and technology. We spent over two years researching and designing before we ever put a shovel in the ground. We then designed the facility around our growing plans. This is sun-grown, not outdoor.
Are you also experimenting with different genes 
and strains?
We're privileged that we get to talk about a new cannabis story that revolves around flavor. Flavor is a function of genetics, and we do phenotype work that creates new flavor profiles that can be far different from the typical skunky smell people associate with cannabis. We have this Blue Dream strain, and when it's flowering in its late stages, it smells just like blueberry syrup — really sugary, fruity, a bit of spice. That's something my mom or a wine expert could smell and really enjoy as a new, beautiful flavor profile.
Our genetic bank has tens of thousands of seeds, and growing them out is our favorite part of all this. We're popping hundreds of seeds a year to find plants that are unique, or have a beautiful odor, or are just something completely different that people aren't used to. Think, like, an orange peel smell or a dark chocolate color. We get to play with all these amazing genetics and nurture them in the best way possible. So how does the industry treat experimentation? Will people be patenting strains they claim to 
have created?
[/subline]
There are implications there, but it's unlikely people are going to fight over patents and strain rights. People who develop disease-resistant strains, or strains that can be produced at massive scale efficiently, are likely from a "Big Agriculture" angle. But we're not trying to do that monocropping style of production. The preservation of unique, exciting genetics is a cool thing to get behind and support, and not the homogenized approach of "How much can I grow and how fast?"
Do you see an important role for technology in the cannabis industry?
Absolutely. Historically, cannabis growers didn't even want to take notes. You didn't want to have any information against you if your grow was busted. Today, we have all kinds of digital sensors and record-keeping tools for measuring. You cannot improve what you don't measure, including environmental conditions within the grow and user feedback and satisfaction metrics derived from social media. So we're big into digital data capture.
You're also based near my hometown, Vancouver, where we generally hold a liberal, open-minded attitude toward drug consumption and support services. The last time we were in the spotlight for something along these lines was when the city launched Insite, North America's first legal, supervised drug injection site. That program has been considered a success in lowering drug-related fatalities through its provision of health-focused support services.[/subline]
I'm really down with Insite. It's been an incredible program since its initiation. I'm also aware of and have personally contributed to a substitution program called Pandu. It's an opiate substitution on [Vancouver's] Downtown Eastside, also known as "Canada's poorest postcode" and "North America's drug central." The neighborhood runs rampant with drug use, poverty, homelessness, and prostitution.
[With Pandu,] a spirited, insightful young man goes out and hands joints and cannabis prep use to drug users in and around Insite. His message is: if this keeps somebody from opiates for a day, I've done some good work. This isn't a government-backed company or study, this is just young people and a grassroots community trying to help others. I'm sure these programs influenced the city's progressive attitude toward marijuana legalization. Do you think Vancouver has influenced you at all?
I'm born and raised in Vancouver. It's a city where there's always been a huge amount of respect for cannabis and a liberal attitude to cannabis consumption — and perhaps a degree of sophistication that sets the tone for the rest of Canada.
I'm very privileged to say I'm from Vancouver as a background, but also as a responsibility. Our team knows we have to come correct with the standards. Some of the best cannabis in the world comes from BC, and Vancouver has one of the most sophisticated environments on Earth for this. We bring a degree of respect to our day-to-day because we know we're out here representing BC to the world, cycle after cycle, harvest after harvest.
But at the same time, the federal attitude isn't 
so open.
Canadian legal cannabis is the most thoroughly regulated in the world.
Leading up to legalization, did you have any idols in the industry you admired or had worked with?
[/subline]
Tyler [James] and my good friends at Cannabis Amnesty pushed really hard for the forgiveness of Canadians who held minor offences. A lot of racialized groups and at-risk populations, especially indigenous ones, have been targeted for cannabis-related crimes. Just recently, the Canadian government agreed to provide amnesty for any individuals who have been charged with possessing 30 grams or less.
Another incredible resource who's been cheering us on from the beginning is John Grow. He's a true OG grower who's been in the game for 30 years, and he's supplied so many patients in need with free cannabis. He's someone who's in it for exactly the right reasons and is probably one of the truest spirits in cannabis. Since our early days, he's been a huge advocate for us and I really appreciate his guidance through this all.
While we're on OG guys from back in the day, I'd like to bring up street dealers. Many would say street dealers opened up the market while taking the heaviest personal risk. Do you ever wonder if these guys are being marginalized with the industry opening up?
We employ a variety of people whose roots started in the cannabis industry, and I think that insight is essential. Teams like ours need people who came from that heritage for the process, and we'll mutually incentivize to create opportunities for them. We want them in our camp, together with us as a happy home. Hilary Black [and her work with medical cannabis] is an amazing example who is absolutely a white knight in pushing the cannabis conversation.
It's also critical to point out that BC's attitudes are different than California and other states. [Weed] hasn't really been a priority for law enforcement, and street dealers would have made lots of money in the last 10 years.
With the influx of marijuana companies, how do you approach your branding?
Brand is a combination of a thousand decisions we make every week. We always have to come back to why we're making certain decisions, with a greater goal in mind, and what the brand represents. If we've done our job, our users will know, "This is the good stuff, that's the quality product I want."
We love to celebrate our community and it would be fun to host events or expand into diverse products like vapes, edibles, and concentrates. But all of it comes back to quality flower. We're derived from good, beautiful, well-grown cannabis flower. People can rely on that consistency.
And what are your plans for the future?
To grow slowly and steadily. We represent the best quality of British Columbia's cannabis on a national and a global scale, with a team that can stand shoulder to shoulder with the best in the world. We want our brand to represent the absolute best-quality cannabis experience any time someone picks up our product.
We sell to both medical and recreational audiences. We don't care about the context of how you're using it. We just want to sell you the best that can be offered. We're not trying to be everything for everybody. If you're a discerning cannabis smoker, that's what we do. That might make you kinda weird, but we're kinda weird, too.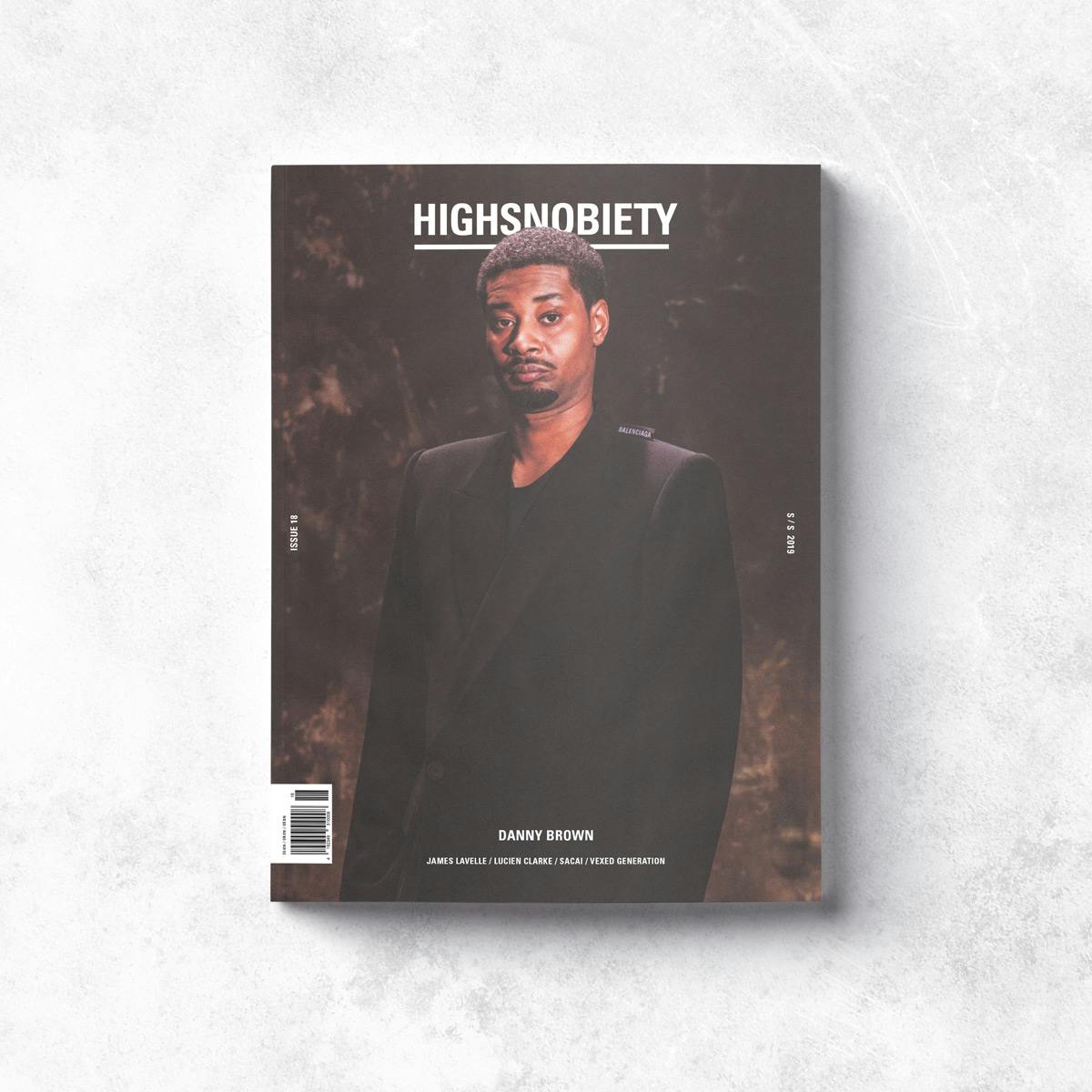 Highsnobiety magazine Issue 18 is available now from our online store and at select premium stockists and boutiques worldwide.