Earlier this week, a story emerged telling the plight of Bronx institution Frank's Sports and how it faced financial ruin after Nike, in line with its new direct-to-consumer strategy, decided to bring an abrupt end to the pair's 50-year relationship. "Let me tell you about Nike. We knew them when they had nothing," explained 92-year-old owner Moe Stein. "They're putting down the Bronx. The Bronx. It's not an elite place to them."
Sad as Stein's story may be, it's unfortunately not an isolated case. In fact, dozens of independent sports retailers are dealing with the same hardships since the new MO was announced last year. Take Nick Mavrides of London's Ace Sports, who had his account blocked by Nike for being too small-scale. "They want stores done up lovely or you are not good enough," said Mavridies. "We have been key partners for Nike for 30 years. My point is, they now feel that the people of [the London neighborhood] Kentish Town are not worthy of their products. I don't want all that fashion stuff anyway; we want the basics that the people of Kentish Town need for sport," he added.
Elsewhere in London, the same piece highlights Euro Sports — an independent sports shop run by brother and sister duo Chan and Shilpa Patel for 43 years — and how the owners had to sign up to a separate supply chain to keep selling Nike after their deal was cut. "They don't want people like our shops displaying their stuff, because we are not trendy enough," explained Shilpa. "We have been here 44 years — we are a community shop. It is more than just selling products to people."
On Nike's part, moving business online and cutting out the middleman (but for a few major retailers worldwide) not only improves profit margins but also allows them to take control of their image, ensuring brand equity remains strong. From a hard-nosed capitalist vantage point, it makes sound financial sense, but when you put a face to the real people affected — not Zappos and Sports Direct, but Moe, Frank, Chan, and Shilpa — it also fucking sucks. These days, there are just hundreds of independent sports stores left in the US and UK, and it's hard to predict a positive outlook for their future when the likes of adidas and Under Armour are reportedly considering curtailing wholesale ops just as Nike did. On top of that, there's the small matter of a pandemic that shows no sign of slowing, not to mention digital Godzillas like Amazon, whose existence threatens every company, never mind mom and pop operations.
A few months ago, Nike unveiled its eye-popping new House of Innovation flagship in Paris, said to function not only as a shopping experience but a place to unite and educate shoppers. Once upon a time, that was kind of how the independent sports store functioned in the UK — just without the bells, whistles, and integrated mobile technology. The owners knew their stuff and genuinely cared about what they were doing. It wasn't about selling a particular brand, just selling the customer (usually working-class) what they needed. Some though had genuine clout, like Wade Smith in Liverpool, which brought the adidas Trimm Trab to the UK from Germany in the '80s and became something of a legend among young casuals. Unfortunately, these places were lost over time as the high street slowly became a mono-culture governed by a certain few. With them, we lost authenticity that can never be recovered.
"The one that stands out for me as a young kid was Harborne Sports on Harborne High Street, Birmingham, where I grew up," says Ollie Evans of Too Hot Limited. "It was a proper old skool sports shop that you just don't find anymore. It was run by a family and was very quaint by today's standards, checkered parquet floor, a bit dusty, tightly packed shelves." Evans was never into sports clothing as a kid, but speaks fondly of picking up the latest adidas Torsion in the '90s and interacting with the knowledgeable staff. "I can imagine it would have been really frustrating for a lot of these guys when the bigger chains started coming along and they could no longer get hold of the good product they were passionate about," he continues.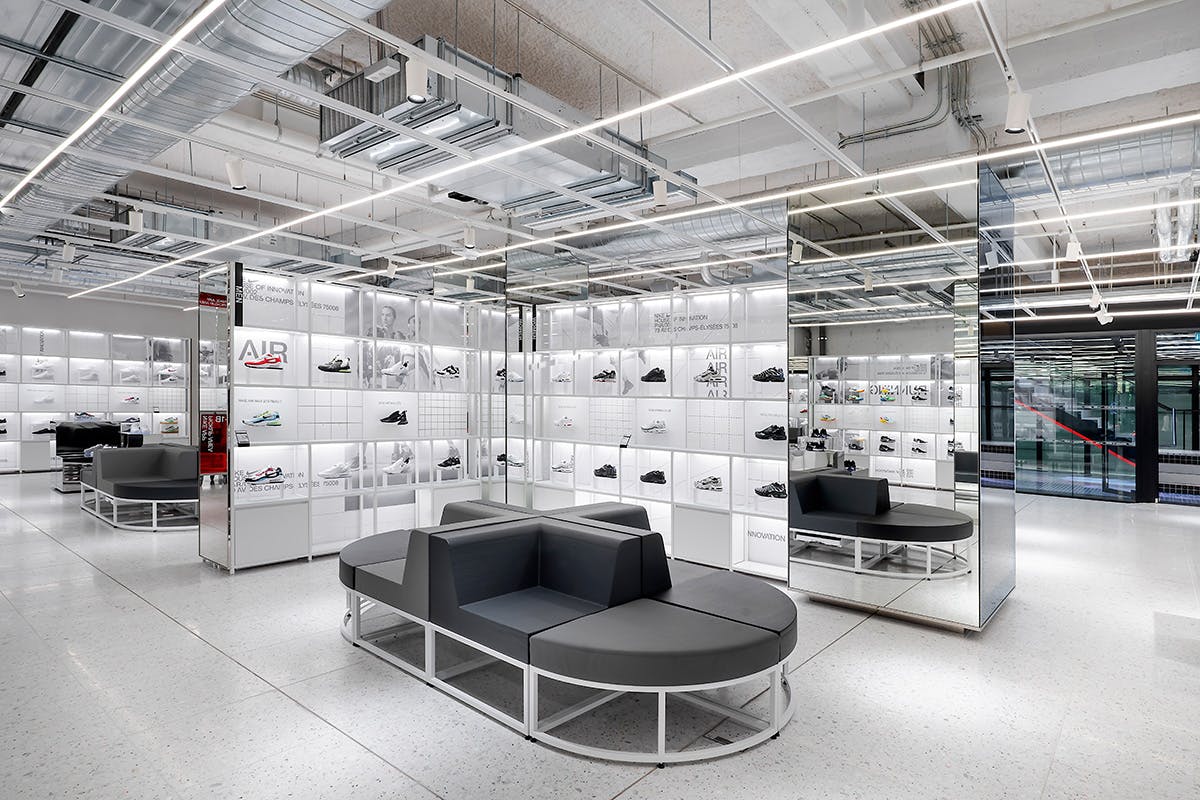 After that, Ollie moved to London, where he encountered Meteor Sports on Bethnal Green Road, a marginally more sheened setup with stock that could be viewed as exotic by comparison.
"They had all the US imports that you never saw over here — this was a time before the Internet, where you were seeing things in shops for the first time. You got used to what was available over here, so going in there and seeing all new versions of shapes and styles was incredible; every possible version of Air 95s & 97s you've ever seen; I seem to remember them selling a lot of custom airbrushed Air Force Ones. Everything was vacuum-packed and sealed; they were also extremely expensive, and well out of my price range as a student, but I used to like going in there and looking at everything. It was popular with the UK Garage heads and later the Grime guys around the area. I guess it's that uniqueness of each shop that has gone, it was never a very high-end-looking shop; it was quite normal and basic, but with killer stock."
Frank's might serve a different Meteor Sports, yet that doesn't make them any less important. Their plight strikes a particular chord in a time when buzzwords like "experiential retail" and "curation" are continually thrown around. It's easy to make bold proclamations about the future, but harder to think of the livelihoods that are being lost at the hands of such retail Darwinism when doing so.
Nike's House of Innovation has its own virtues — there's still a place for it. But does it have to exist at the expense of loyal institutions that make up a vital component of their community? Don't we have room for both? Is the company image really tarnished by such blips in the ocean stores? Does empowering people through sport — as is a favorite Nike line — only apply in certain circumstances, so long as the company can make its money? And surely there's a classier way of bringing these long-running partnerships to an end than sending an email? Ultimately, it all comes down to the indiscriminate capitalist machine. The fact that stories, knowledge, and careers are crushed in it is just part of our grim modern reality.
We reached out to Nike for comment, a spokesperson said: "Nike continually evaluates the marketplace to understand how we best serve consumers, making adjustments to our sales channels as needed to create a consistent, connected and modern shopping experience."