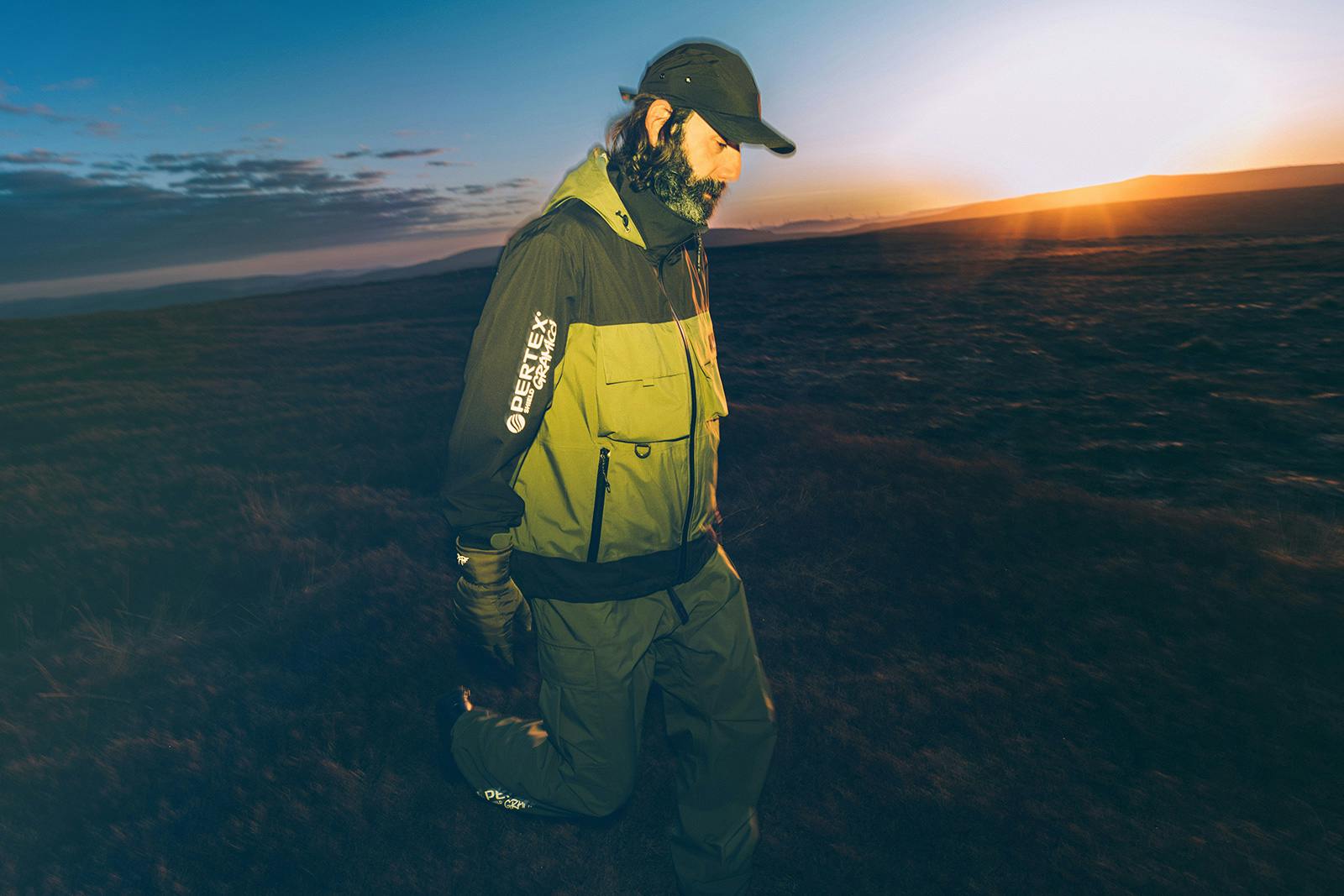 To many, their outdoor clothing brands' repertoire begins and ends with the same few brands. But there's more to functional techwear fashion than a Guerrilla Group tank.
The world of outdoor clothing brands is just that: the world. While a famous German studio might have defined techwear's styling, there are South Korean brands pushing it on performance. While a Swedish label makes bold strides toward sustainability, a legend of the French Alps is putting dad shoes on the fashion runway. And that's not even counting the Chinese extreme outdoor gear label that powers the world's most populous country's Arctic research.
Techwear is also the apparel of the future, a promise that technology can get more from our clothes. The future might be uncertain, but one thing isn't: today's clothing innovations will affect us all down the line.
Now, after weeks of research, we're proud to present our in-depth guide to the world of techwear and outdoor clothing brands.
Here's everything you ever wanted to know about the best outdoor clothing brands.
ROA
Where: Italy
Why: Named after the hiking spot Forcella della Roa, with its mountain top serving as the inspiration for the logo, since its founding in 2015 ROA has focused on creating hi-tech footwear for hiking trails. However, for all its Vibram-soled, rugged footwear, the label's relatively minimal aesthetic has also found it fans in the fashion world — which is probably why you recognize it from countless Drake co-signs or collaborations with A-COLD-WALL* and 1017 ALYX 9SM.
Initially launched as a shoe brand, it has recently expanded to also create outdoor-ready clothing with the same balance of form and function as its footwear. This includes it dropping all of the classic items you would expect from an outdoors label (shell jackets, fleeces, nylon pants, etc.) with a touch of stylistic finesse.
Salomon
Where: France
Why: In 1947, a family of metalworkers started making saw blades in the French Alps. Some 70 years later, tech runners bearing that family's name get called "the ultimate fashion sneaker."
Outdoor brand Salomon is known around the world for its Alpine ski gear, but in techwear, the brand's shoes and hikers have granted it legend. Hard-wearing and styled to show it, a Salomon sneaker radiates function — and this purity of design might have been what attracted Boris Bidjan Saberi to collaborate with the brand.
Saberi's Spring/Summer 2017 show, "Post-Humanism," put a spotlight on Salomon's twisty, morphing, bioorganic designs. The word was out and other collabs followed. Now, everyone from Paris Fashion Week attendees to members of the techwear subreddit is bound to own at least one pair of Salomons.
Icon: XT-6
Gramicci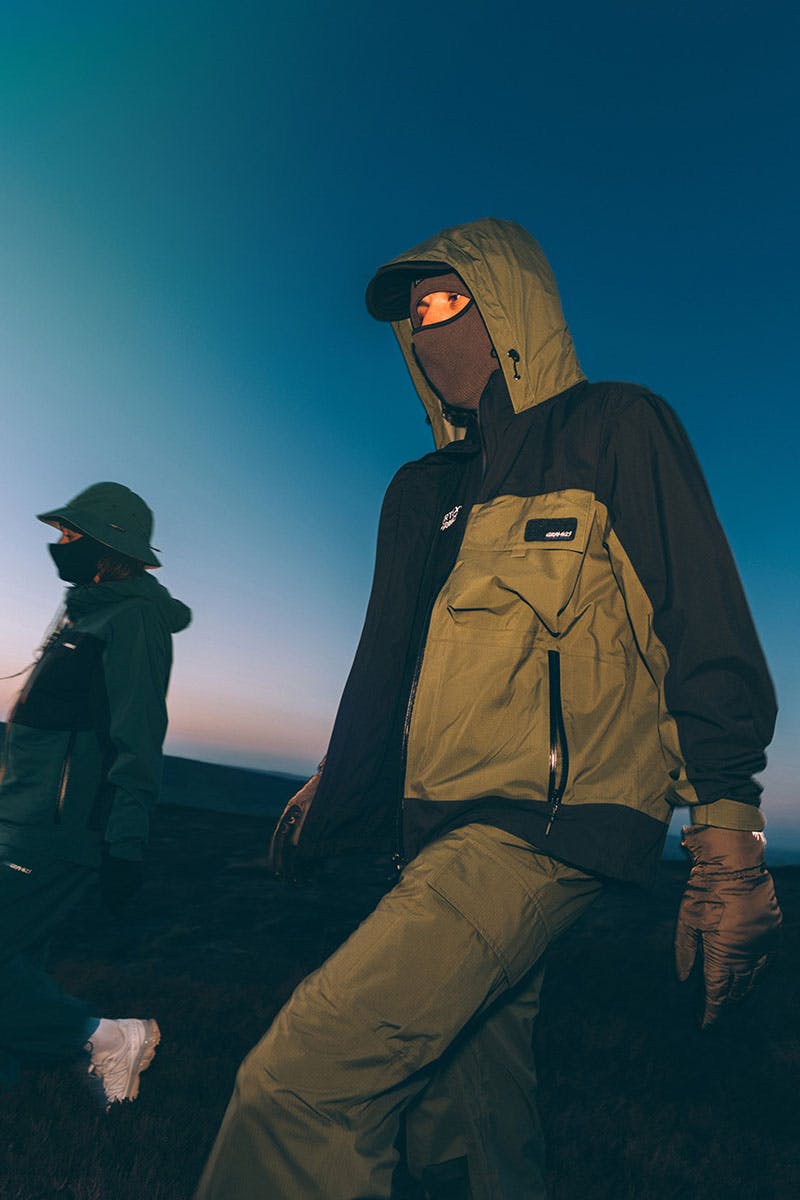 Where: Japan
Why: Originally founded by renowned climber Mike Graham in California during 1982, Gramicci is amongst the latest generation of outdoor clothing brands. While initially geared towards rock climbing, its versatile products are designed to increase mobility while offering comfort and aesthetics simultaneously.
Pieces like its cargo pants are uniquely dyed, have a built-in webbing belt, adjustable drawstrings, and provide lots of storage space. Other outdoor apparel like its lightweight down cap are water and wind-resistant, and offer a different take on outerwear. Whether you're an avid explorer, or just appreciate quality products that excel against the elements, Gramicci's collection perfectly marries streetwear with functionality.
Arc'teryx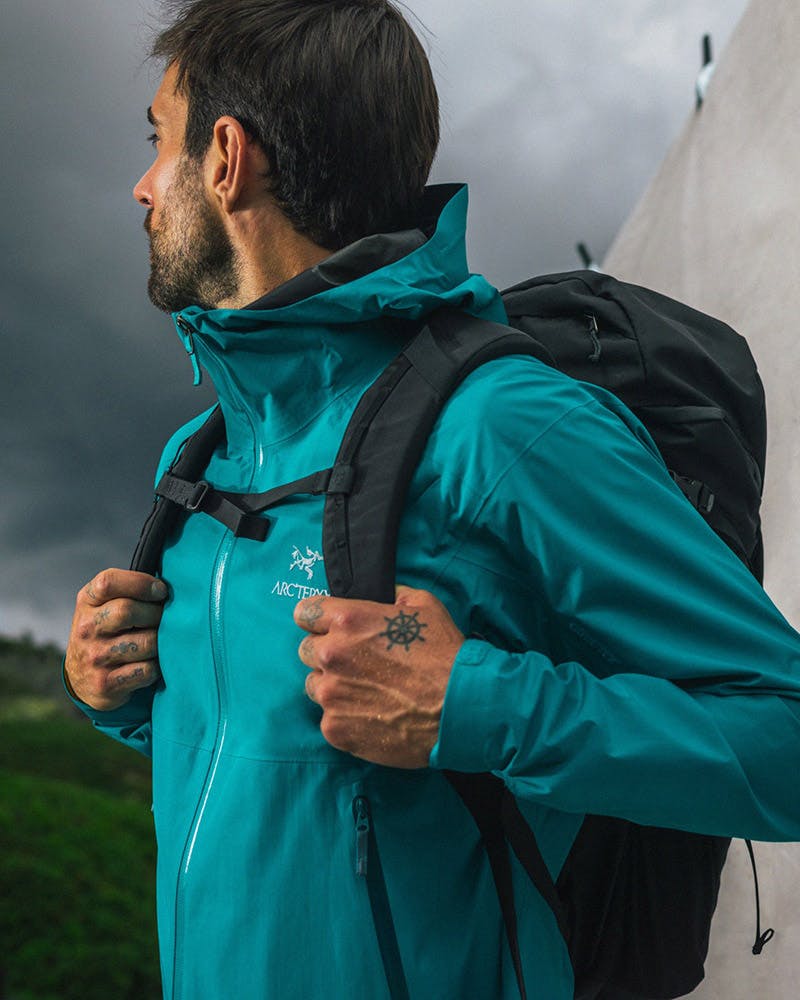 Where: Canada
Why: Founded by climbers in 1989, Vancouver-based Arc'teryx has spent 30 years building and perfecting hardcore tech apparel. Arc'teryx gear is built for outdoor extremes, from fast and light (FL) climbing gear to taped-seam, blizzard-ready severe weather (SV) shells.
Around outdoor climbing routes, an Arc'teryx jacket left unattended is likely to end up with a new owner. It's just that good. But construction creds don't secure a place in fashion. Past its super-tough rep, Arc'teryx is also famous for its devotion to design. The original Alpha SV Jacket moved the world from baggy, oversized GORE-TEX jackets to today's slim silhouettes. Recent product innovations such as slimmer waterproof zippers have continued this tradition.
With a portfolio that now includes the technical menswear line Veilance and the lifestyle-focused 24 range, Arc'teryx is perhaps the sleekest gear-maker on the market, the Range Rover of techwear. Stylish, expensive, and beastly at the core. Look for the brand's distinctive dead bird logo in many a techwear 'fit.
Icon: Alpha SV Jacket
_J.l-A.L_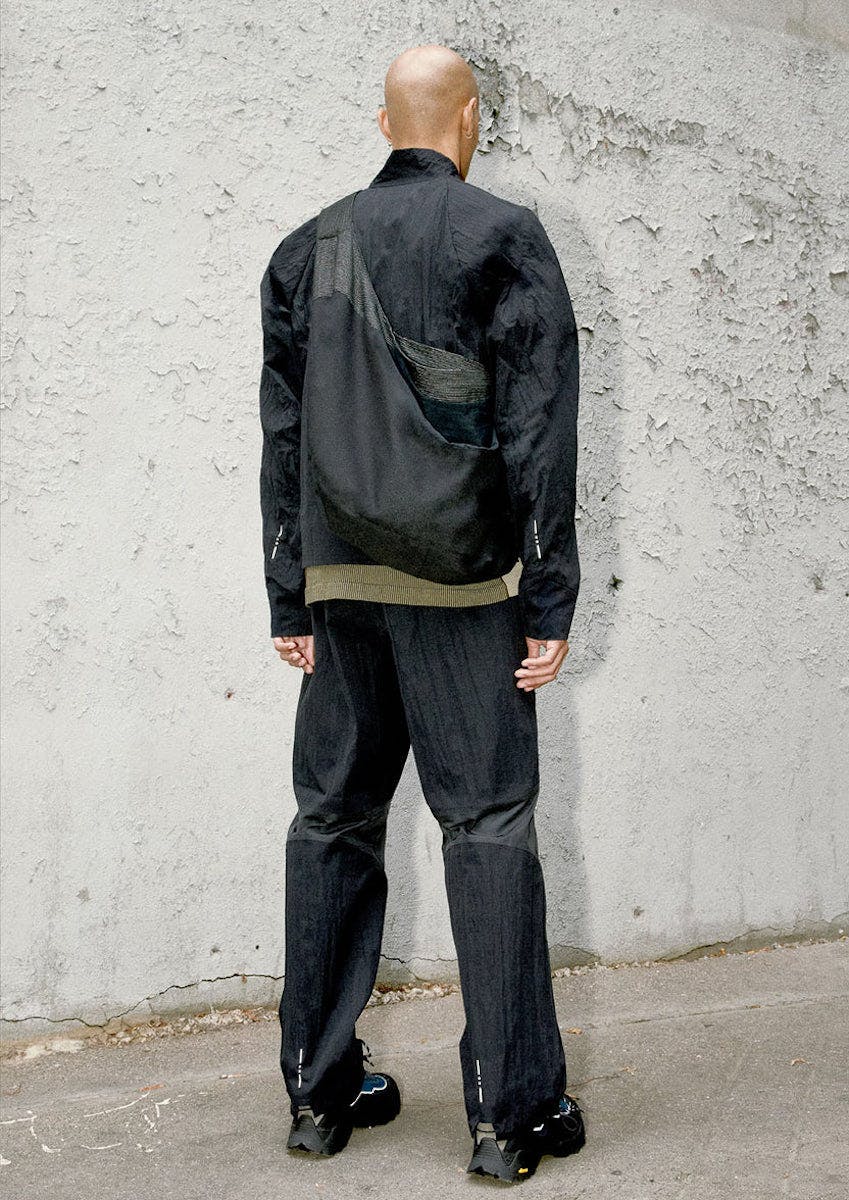 Where: London
Why: Having started as a lockdown project for designer Jean-Luc A. Lavelle, who had just completed an introduction to sewing course before the world shut down due to the COVID-19 pandemic, _J.L.-A.L_ is probably the youngest brand on this list. However, despite being in its infancy, it's already started making a big name for itself.
Kicking off the first half of 2023 with collaborations together with two established names in the outdoor footwear scene, HOKA and ROA, the brand quickly found itself not only making headlines but also recording lightning-fast sell-out times.
Having expertise in design since before ever creating clothes, Lavelle taught himself to use the computer-aided design software CLO to create his technical pieces. The brand's hi-tech design methods translate into futuristic-looking clothing featuring taped seams, reflective details, and highly functional fabrics. But there's another, less utilitarian, side to the label where you'll find its experimentations with knitwear and tailoring.
Moncler
Where: Italy
Why: With roots tracing back to the '50s ski scene, Italy's Moncler is perhaps the archetype for a luxury outdoors line.
The brand as it exists today straddles both worlds. Moncler Genius brings the craft of star designers like Craig Green and Kei Ninomiya to technical apparel. Moncler Grenoble takes the sophistication of the runway to alpine ski equipment. Between those two extremes lay the brand's functional, fashionable dailywear pieces – pieces like the Maya, a $1250 puffer made famous by a certain Aubrey Graham.
Make no mistake, Moncler is a luxury brand before anything else. But it's also, unlike many of its contemporaries, rooted in function. A Moncler jacket and a Saint Laurent moto are literally and figuratively cut from a different cloth. Plus, considering the sticker price and status signaling of an ACRONYM shell, that prep schooler's ski jacket might have more in common with that than many would admit.
Drake wore a Moncler Maya. He also wore a J1A. Maybe, just maybe, there's room for tech of all kinds.
Icon: Maya Jacket
The North Face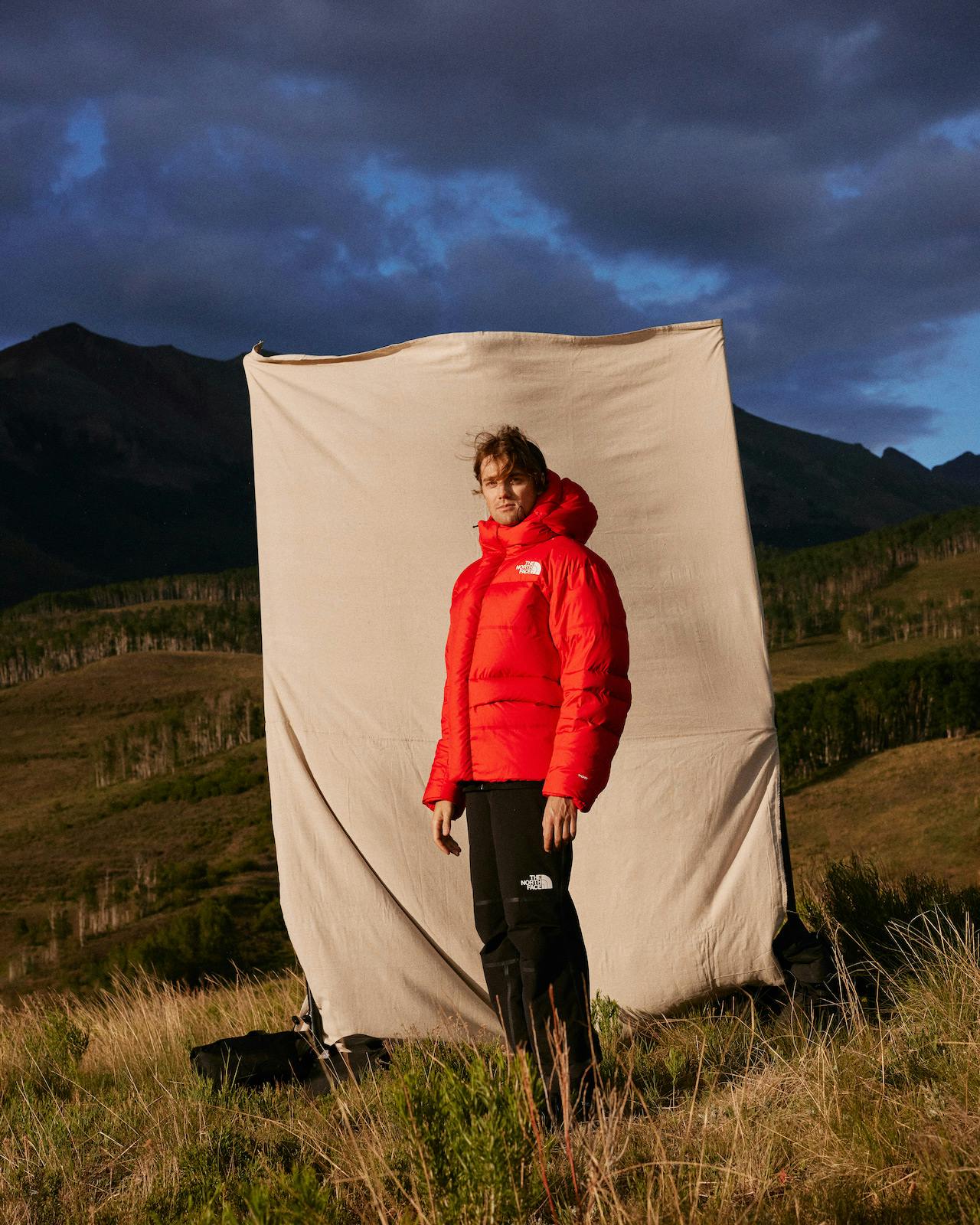 Where: USA
Why: There is no technical apparel without The North Face. Yes, there were outdoor clothing brands before 1968, and sure, Eddie Bauer invented the down jacket, but because of The North Face's genius for invention and focus on use, the idea of gear-as-fashion has become standard.
Named after the north face of Yosemite's Half Dome, the California-based outdoor giant arguably defined the shapes, materials, and technologies through which the world sees techwear. The Denali, a zip-front Polartec fleece, is the precursor to the sherpa. The Mountain Jacket, a multi-paneled GORE-TEX shell, might be the design influence behind contrasting black shoulders in general.
In fashion, The North Face produces some true standouts through direction-setting collabs. The king of them all? Junya Watanabe MAN's Backpack Jacket.
Many brands make techwear, but only one truly made it: The North Face.
Icon: Nuptse
adidas Terrex
Where: Germany
Why: Though adidas might not be commonly known as an outdoor brand it has quickly changed that narrative with its Terrex collection that has been providing outdoor gear since 2011. adidas implements durable materials like nylon ripstop that provides a wind and water-repellent finish and treaded Continental rubber outsoles that can easily navigate through unpleasant terrains. Collaborations with brands like and wander and Y-3 further put the brands Terrex collection in the spotlight, and adidas has also made a commitment to using recycled materials in its products.
Keen
Where: America
Why: When Martin Keen couldn't find any shoes to suit him while sailing, the footwear designer who already had jobs at labels such as Saucony and K-Swiss under his belt sought to create his own, and launched what would become a leading label in outdoor footwear.
From that first design, a sandal/sneaker hybrid called the Newport Sandal, the brand built up a fanbase that included the late Steve Jobs and (allegedly) the Gucci design team. And while it has always specialized in sandals, it has widened its product range significantly, collaborating with the likes of Engineered Garments and atmos along the way.
KONUNDRUM
Where: Germany
Why: With the rise of techwear comes the rise in techwear brands. What that means is that you really have to be able to distinguish between marketing jargon and the real deal. When we saw what the young German label KONUNDRUM was doing, it was instantly obvious that this was a name to pay attention to.
Founded in 2020, the label has made a name for itself by taking no shortcuts. Every aspect down to the zipper has been perfected on each of its jackets. But what really sets KONUNDRUM apart from the crowd is its modular approach to outerwear. The brand's jackets are made up of multiple components, allowing the wearer complete autonomy when it comes to changing conditions.
Organic cotton is woven into the highest-possible density to ensure that it's waterproof and windproof but still breathable. Nickel-free buttons and polyurethane-coated zippers round out the flawless designs which come in all-black only.
KONUNDRUM represents a new guard of outerwear labels that are pushing the possibilities both technically and visually. We're excited to see what's next for this burgeoning powerhouse.
Icon: GS-DACIT
Merrell
Where: America
Why: Launched in 1981 by two executives for the Rossignol ski company, Clark Matis and John Schweizer, Merrell found its success creating hard-wearing hiking boots. Thanks to models such as its Moab hiking boot, which the brand estimates to have sold over 28 million pairs of, it has remained at the forefront of outdoor active footwear while also offering clothing and accessories geared towards outdoor exploration.
While being famous for its footwear, the brand really started to get our attention with its Hydo Moc model. The slip-on water shoes have become a fan favorite not only because of their practicality but also their futuristic aesthetic.
Canada Goose
Where: Canada
Why: Founded in 1957, Canada Goose has built a decades-old reputation as the first name in extreme cold. Long before the CNCPTS collabs and Drake features, the brand supplied heavy-duty down gear to some of the world's iciest crews – like the Canadian Rangers, a volunteer Inuit army unit tasked with patrolling Canada's Arctic. There's cool. There's cooler than bein' cool. Then, there's Canada Goose weather.
In the early 2010s, the brand began a steady expansion into other tech apparel categories. While parkas like the Expedition remain their bread and butter, Canada Goose now makes everything from ultralight shells to trench coats.
While the bright red logo patches may turn off some, the Canada Goose mark has always stood behind some of the highest-ceiling tech gear on earth. Is it expensive? Absolutely. But like Moncler, the Goose is a utilitarian luxury brand with performance to back it up. If that combination of technical chops and brand equity doesn't get your goose, there's a fine Goose to get.
Icon: Chilliwack Bomber Jacket
and wander
Where: Japan
Why: The world of technical outerwear apparel struggles with a seriousness problem. It goes part and parcel with the serious tech that many contemporary outdoor labels forget to have fun. kee brings a refreshing sense of poetry into its collections. Just take its Instagram bio for example:
and wander / to be rained upon / caught in the wind / or simply trekking / the mountain is fun
But it goes deeper than the IG bio, obviously. Alongside some of the most weatherproof builds in the industry, one of the best outdoor brands And Wander lands each season with a couple of beautiful color palettes or prints as well as a lookbook even more breathtaking than the last.
Ranging from small pouches and backpacks to fully-fledged masterpiece coats and jackets, the Japanese clothing brand And Wander presents one of the most viable ways to incorporate seriously technical pieces into your everyday wardrobe and that says so much about the brand as a whole.
Icon: Diamond-Quilted Jacket
Craghoppers
Where: England
Why: In the world of modern outdoor clothing brands, it can be hard to separate the real ones from the ones just hitching a ride. Now that gorpcore is a veritable style phenomenon, there are more and more hitchers than ever. Craghoppers is not one of them.
Since it was founded in 1965, Craghoppers has been quietly making some of the best outdoorwear on the market. No frills, just good, old-fashioned, highly effective gear that will keep you warm and dry no matter what the season.
It's summited Everst and it's a favorite of none other than Bear Grylls which is about as high as praise comes for outdoor apparel.
Icon: Dustin Insulated Jacket
Post Archive Faction
Where: South Korea
Why: One of the leading labels from South Korea's rapidly rising fashion scene, Post Archive Faction is not a typical outdoors brand due to its close proximity to high fashion which saw it nominated for the 2021 LVMH prize. However, don't be fooled into thinking its penchant for creating abstract shapes and experimental details hinder its position as an uber-functional clothing brand.
With a vast selection that includes everything from transformable pants with pockets that become bags to lightweight balaclavas with internal ear loops, its most pieces item remain its puffer jackets. Crafted from performance-specific fabrics with unconventional details such as off-center zippers and holes with contrast puffy fabric billowing out, its outerwear has become something of a grail.
Veilance
Where: Canada
Why: Veilance is the sister brand of Vancouver's own Arc'teryx. Begun in 2009, this upscale offshoot merges mountaineering tech with classic garment shapes to produce "technical menswear." The materials scream Arc'teryx. The designs whisper refinement. The price tag reflects them both.
Imagine a $1500 GORE-TEX fishtail with a single defining line.
In the world of Veilance, that's "second place."
No bones about it: the Dead Bird's fashion line is sophisticated, under-the-radar techwear built for daily life. While one could theoretically go climbing in the brand's "Fast and Light" gear, Veilance grabs rack space alongside proper luxury lines everywhere from Barney's to BEAMS. It might seem a head-scratch to drop serious coin on unbranded performance wear, but the combination of understated styling and pure capability sends a message all its own.
Veilance is for the thinking and the thoughtful; for those who demand more with an inside voice. As far as tech brands go, its combination of design, performance, and price put it in a league of its own.
Icon: Arris Jacket
ACRONYM
Where: Germany
Why: The release of ACRONYM's debut KIT-001 in 2002, featuring a jacket, bag, soundtrack, concept art, and more, was arguably the inception of what we call "techwear."
Taking inspiration from military surplus, technical sportswear, and the idea of cyberpunk, ACRONYM, high up there among the world's best outdoor clothing brands, was launched as a vision statement. With functional garments as a canvas, ACRONYM paints a broad scope of references — zip sleeves, magazine pouches, the world of Akira — onto beautiful finished products sold at luxury price points.
Labels including Guerrilla Group, Stone Island Shadow Project, and Enfin Levé hold this ethos tight. Countless others have benefited from it. Whether they realize it, someone tagging their black all-Nike 'fit as techwear is a disciple of ACRONYM. By merging the worlds of streetwear and technical apparel, ACRONYM created a whole new one.
It's also worth mentioning that ACRONYM co-founder Errolson High has been involved with a number of other techwear brands (e.g. Tilak's Poutnik) and that ACRONYM has collaborated with a "who's who" of sportswear and street culture, Futura and Nike included. That Nike hook-up included Hugh overseeing the Swoosh's reboot of its ACG outdoor line from 2014 to 2018.
Seeing an ACRONYM jacket for the first time is somewhere between unnerving and sublime. Yes, the wearer looks like the type you don't trust at airports, but holy shit the cargos/chest pocket combo. It's undeniable, it's expensive, it's ACRONYM.
Icon: J1A-GT
Patagonia
Where: USA
Why: Named after one of the world's most pristine environments, Patagonia is the rare brand with its own center of gravity. An iconic logo. A telegraphed purpose. Behind it all, a dogmatic focus on doing things right.
Perhaps it goes without saying that Patagonia cares about Earth. If that last sentence didn't surprise you, they've done their job.
Patagonia is, to quote the top of their website, in business to save our home planet. Everything – literally, everything – the company does flows through this lens. From making resilient products to donating their tax cuts. From innovative waterproofing to suing Donald Trump. This singularity of purpose (alongside some brilliant products, of course) has made Patagonia one of the most well-known brands in all of techwear.
Patagonia itself might tell you "Don't Buy This Jacket", but give the SST a try. Despite its fly-fishing heritage, the oversized pockets and high-tech fabrics make it a ringer for tech fits.
Icon: Synchilla Fleece
Porter-Yoshida & Co.
Where: Japan
Why: When it comes to accessories that can do it all Japan-based Porter-Yoshida & Co. is the cream of the crop. Founded by Kichizo Yoshida in 1935 the brand quickly rose to cult status after Japan's ​​Empress Emiki Michiko appeared on national television in the early '50s carrying a white Porter bag on her arm. Since then Porter has collaborated with everyone from Marni to COMME des GARÇONS, providing pieces crafted from materials commonly found in military flight jackets. The three-layer fabric used in its products are both durable and lightweight, which compliments folks from all walks of life, especially those that enjoy exploring the outdoors.
Key pieces in its collection include like the widely popular Tanker Clip Shoulder Bag and the Flex 2-Way Helmet Bag which are made from nylon ripstop and can stand the test of time. Any item in Porter's arsenal is a guaranteed investment piece that you can use for years without a hassle.
Houdini
Where: Sweden
Why: Houdini is an eco-conscious tech brand making extreme sports apparel with a focus on sustainability. The company is famous for its innovative use of fabrics. Textiles like the brand's Surpass 2.5L hardshell perform like any other hardcore material, albeit with one key difference: they're built around sustainability the whole way through.
Many of Houdini's garments are recyclable. Additionally, the brand lets users rent its highest-performance gear, so a ski jacket used once doesn't get thrown out in a future Marie Kondo-ing.
While you don't see much of its stuff being shot in front of a Shanghai skyscraper (yet), Houdini is making waves with its planet-friendly mission and performance cred alike. Take Patagonia, swap surfboards for dogsleds, and you've got a Swedish sustainable tech powerhouse.
Icon: Rollercoater Jacket
Snow Peak
Where: Japan
Why: Since 1958, Japan's Snow Peak has produced some of the world's finest camping gear – from backcountry stoves to stainless steel kettles and everything in between. Just 5 years ago, under the guidance of the founder's granddaughter Lisa Yamai, the brand brought its expertise in outdoors design to a new arena: technical garments.
Snow Peak makes upscale techwear filtered through the lens of a campsite. Cuts are relaxed. Waterproof membranes are rare. Compared to other tech mainstays, Snow Peak might even appear casual. Under the surface, however, is a world of cunning design that makes the brand's pastoral aesthetic borderline impressive.
For example, the Takibi Coverall cut from a military-grade ripstop cotton, what looks like a refined take on the chore coat is actually a fire-resistant utility piece with enough tool hooks for Batman's belt. Discerning details like these adorn every Snow Peak piece: from the DWR Lightweight Jacket's convertible pockets to the Wanderlust's ability to pack down into itself.
While Snow Peak may be designed for a life by the campfire, it is still bonafide luxury tech. Outerwear starts around $400 per piece with seasonal standouts hitting right four digits. If the titanium flask didn't tip it, high-tech materials and good design don't intersect at cheap.
Norrøna
Where: Norway
Why: Norrøna is Norway's premier tech brand. Precisely crafted and prohibitively priced, Norrøna designs for obsessive-level quality and maximized performance. As a Scandinavian outdoor gear maker, it also scores high marks for sustainability (read our review of the Oslo Parka here). The real draw, however, is Norrøna's unique blend of outrageous aesthetics and pure capability.
Perhaps the purest representation of Norrøna's design philosophy is the recon/tamok Co-Lab Jacket. Built from GORE-TEX Pro, this jacket combines elements of the brand's iconic GORE-TEX Pro Jacket, which Norrøna designed in collaboration with the Norwegian, Swedish, and Danish Special Forces, with the build of a backcountry hiking shell. In summary: if Houdini is Northern Europe's Patagonia, this is its Arc'teryx.
Icon: Trollveggen Jacket
Stone Island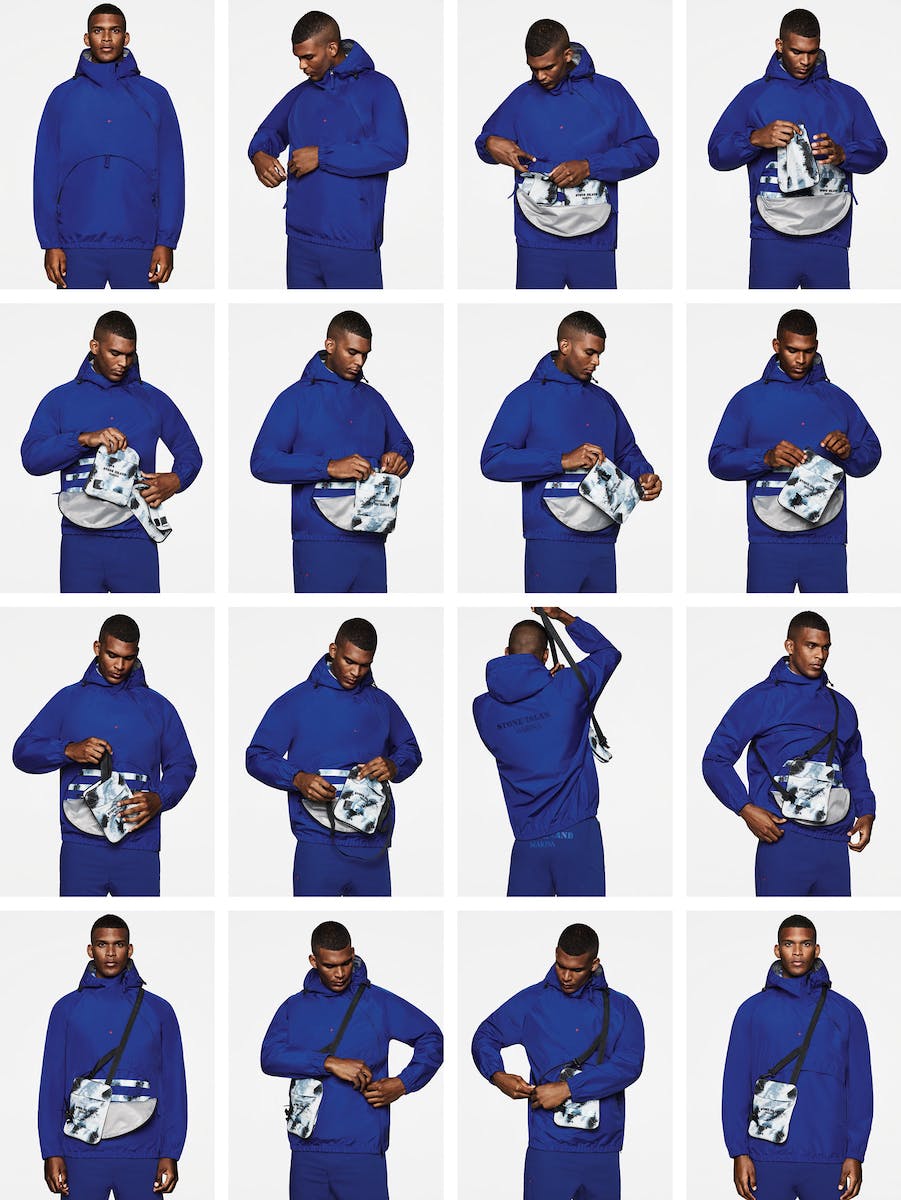 Where: Italy
Why: The brainchild of Massimo Osti, Stone Island came to life in 1982 as a diffusion line of the designer's innovative C.P. Company. The new brand experimented with colors, fabrics, and dyeing techniques to produce clothing wholly unlike sportswear-focused C.P. Unlike a Mammut or an Arc'teryx, Stone Island wasn't designed to help athletes push harder; it was meant to turn heads.
Over the brand's history, Stone Island has produced outerwear that dazzles in light, makes nylon shine like metal, and even changes colors with the temperature. A Stone Island jacket may never scale Everest, but garments like the Naslan Down Jacket reaches a height all of its own.
Combine innovative color tech with what is arguably fashion's coolest logo, and it's no small wonder that names such as Drake and the A$AP Mob all stunt Stoney.
Icon: Garment-dyed Overshirt
66North
Where: Iceland
Why: If techwear is all about utility, a brand named after the coordinates of an island named after its weather is the genre at its peak. 66North is famous for its down parkas, although its lighter gear is exceptional as well.
The Snaefell jacket is an all-season layer cut from Polartec NeoShell, a high-tech waterproof fabric built for breathability. Its air-permeable design makes it perfect for everything from spring trail runs to winter ski runs — or, in Iceland, a blistering 10-degree summer day.
When Iceland's national soccer team made it to the 2018 World Cup, 66North released a special capsule collection featuring some truly wild kit. It's no matter that the brand makes boots for mountains rather than the pitch; if adidas can celebrate Germany, Iceland's own sportswear name can do the same.
Icon: Jokla
RANRA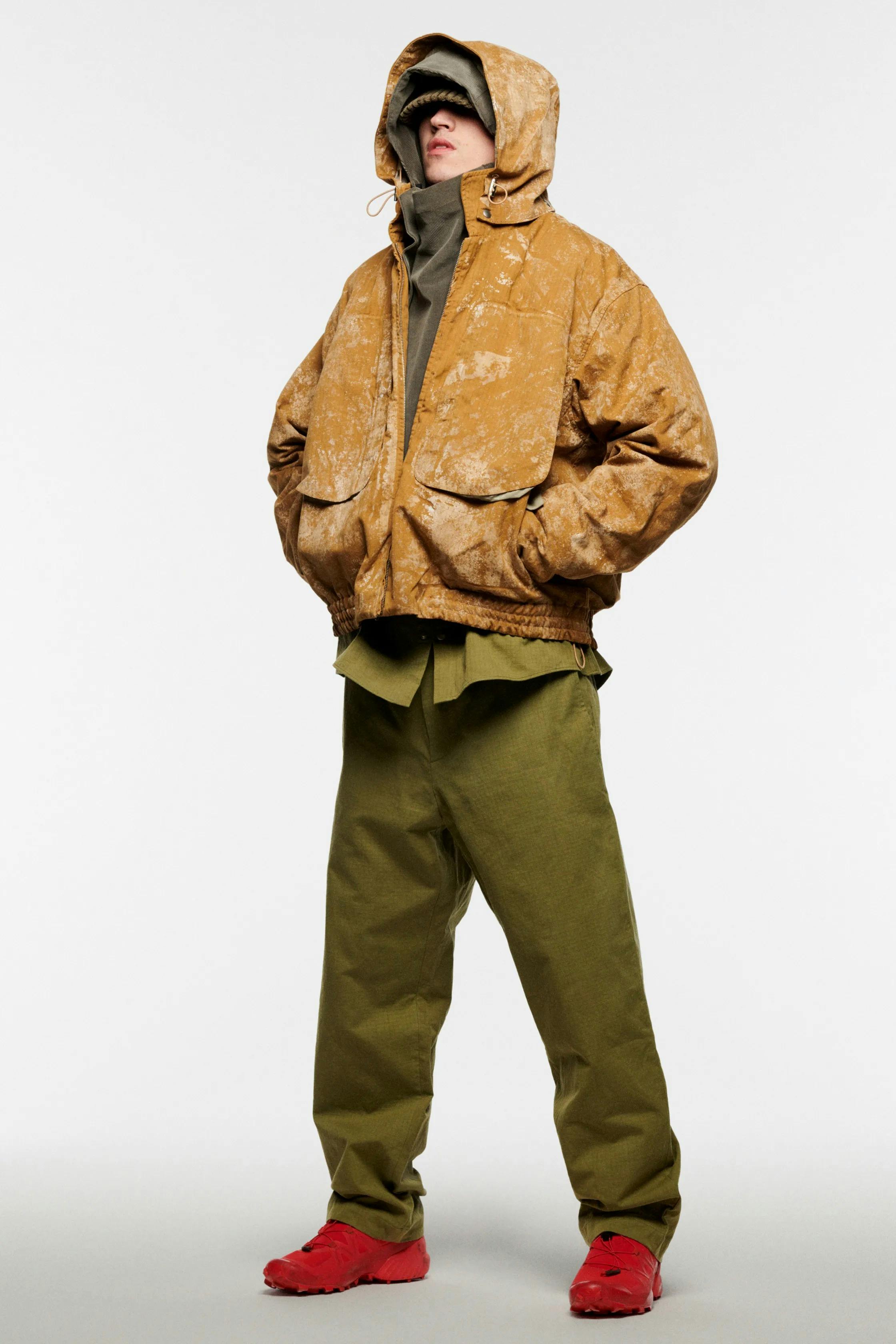 Where: London and Reykjavík
Why: Previously known as Arnar Már Jónsson, RANRA is a label that exists in the grey area between fashion and outdoor gear. Launched by the London-based Luke Stevens and Reykjavik-based Arnar Már Jónsson, it was started while the two were studying at the Royal College of Art and has gone on to push the boundaries of what outdoor-focused clothing can be.
The duo's design studio works on elevating practical wares with conceptual twists and cutting-edge techniques. Or, in the words of the brand, it is a "space for poetic yet pragmatic experimentation."
HH-118389225
Where: Norway
Why: Helly Hansen is one of the OGs of technical wear. Back when "performance fabric" meant cloth soaked in oil, the Norway-based brand (and its eponymous founder) provided waterproof garments to sailors working the frigid North Sea.
Over 140 years after its founding, Helly is still producing gear built for frozen waves –whether they be ski-hill moguls, America's Cup yacht runs, or street-style scenes the world over. Now, though, most. of Helly Hansen's top techwear comes under the HH-118389225 name. Abiding by all the same technical principles as its precursor, HH-118389225 offers an updated look at sleek visuals and innovative materials.
Plus, of all the "legacy of service" stories in outdoors techwear, Helly's rings clearest for a simple reason: it still makes legit workwear. Hi-vis tech apparel? They've been doing it for years.
Icon: 3-in-1 Modular Jacket
Jack Wolfskin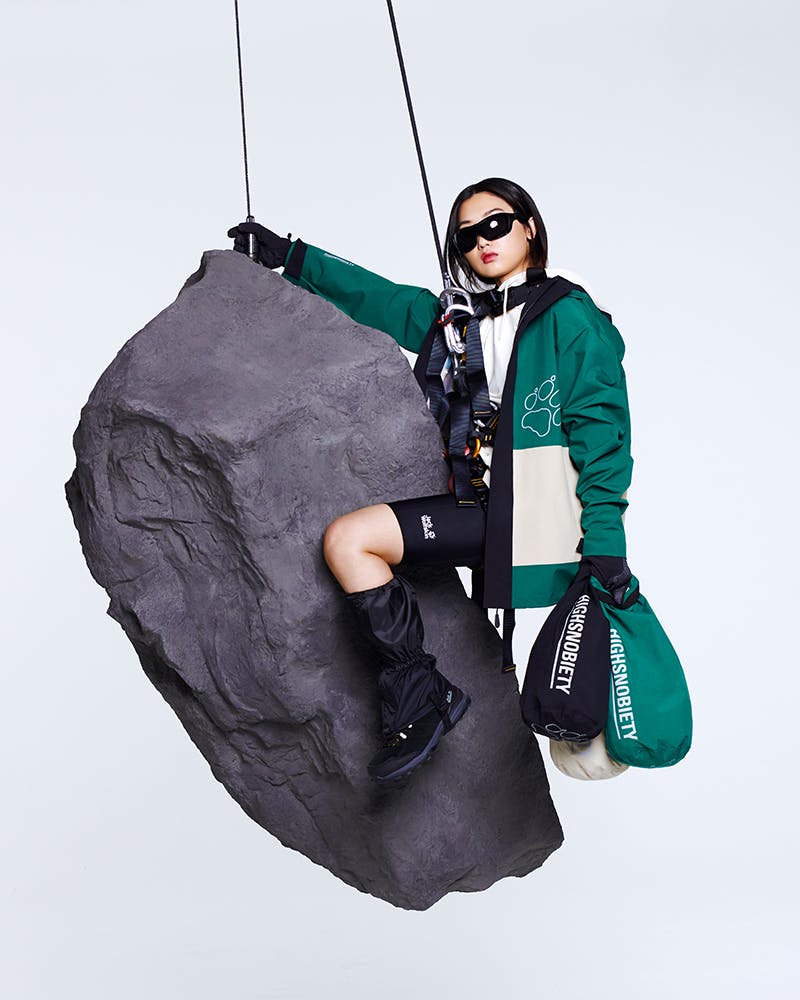 Where: Germany
Why: Jack Wolfskin is to ACRONYM what Audi is to Porsche. Both make premium products. Both play in the tech space. Both presumably know their way around a currywurst.
From there, however, the differences become stark. Jack Wolfskin is a massive, multi-million euro brand – in some ways, The North Face of Europe. But to describe it by its reach is to miss the point. The outdoor apparel label is known for its attention to quality and its focus on the environment.Entire product lines, including waterproof hardshells, are available in recycled plastic alternatives. On top of that, Jack as a whole was honored by the Fair Wear Foundation for its efforts to build and maintain an ethical supply chain.
While a Jack-RONYM partnership may never quite work out, we've teamed up with the German techwear giant for a modest collection geared towards the great outdoors. The drop features a cache of bags, caps and jackets, all primed with its signature Texapore water resistant fabric.
Goldwin
Where: Japan
Why: Much is made of the Japanese word "kaizen." This concept of "continuous improvement" finds perhaps its truest expression in sock factory-turned-techwear pioneer Goldwin.
The brand's roots can be traced to 1950, when a tiny rural knitworks opened to help locals restart their lives after the destruction of World War II. Goldwin gained a reputation for high-quality knits and that technical expertise took the brand into ski sweaters, athletic jerseys, and in 1978, Goldwin became the exclusive distributor of The North Face in Japan.
Today, Goldwin is a powerhouse, making everything from jackets made of spider silk to The North Face Purple Label. The company's two Goldwin-branded lines — a high-end techwear collection and a complete suite of Alpine gear — are seen as some of the best in their fields. From a tiny knitworks to World Cup skiing. Kaizen in action.
Icon: GORE-TEX Fly Air Jacket
Kjus
Where: Switzerland
Why: From one side of the Alps to the other comes Kjus, a Swiss company churning out some of the world's finest technical wear. Kjus is named after its founder, Norwegian Olympic medalist Lasse Kjus. The brand is famous for its ultra-high-end winter coats and the materials that enable them. Like Loro Piano wool. Or an electronic sweat management membrane that has its own smartphone app.
Yes, really.
It's called HYDRO_BOT and comes on a jacket that costs more than Manhattan rent.
That about covers it.
Icon: 7SPHERE HYDRO_BOT
Bogner
Where: Germany
Why: With a name like Willy Bogner, destiny seems set. What will Willy B. be? A test pilot? A stuntman? The world's first accidental astronaut?
With a name like Willy Bogner, speed and danger seem guaranteed. As for this Willy Bogner, it became so much more.
Bogner, the brand, is the brainchild of German ski racer Willy… well, you get it. Since the 1930s, the Munich-based gearmaker has produced some of the world's most exacting alpinewear. Way back when, German Olympic teams raced in Bogner suits. Today, the brand's $2000 coveralls are more likely to be found on a chairlift in Aspen than the medal stand.
Nonetheless, Bogner's bold designs and precision craftsmanship embody a vision of luxury technical wear where sporting ability – alongside fashion credibility – separate the best from the rest.
Icon: Faris-T Jacket
Aztech Mountain
Where: USA
Why: Aztech Mountain is a performance sportswear brand based in Aspen, CO. Like Bogner and Kjus, it has a) fancy fabrics and b) modern tech at c) eye-watering prices. But Aztech is more than the New World's lux line.
What makes Aztech special is its commitment to versatility. Technical jackets like the brand's flagship "Nuke Suit" are built to take hard falls in snow, but styled like urban staples. The same Aztech jacket could travel from a Shanghai rooftop to a Colorado ski slope with none batting an eyelash. The same can't be said for most others.
As a young brand, it'll be interesting to watch how Aztech grows. The line is already expanding into more "off-the-slope" techwear, and is currently stocked everywhere from MR PORTER to bonafide sports stores. Perhaps it's only a matter of time before the Nuke Suit blows up in fashion.
Icon: Nuke Suit
Templa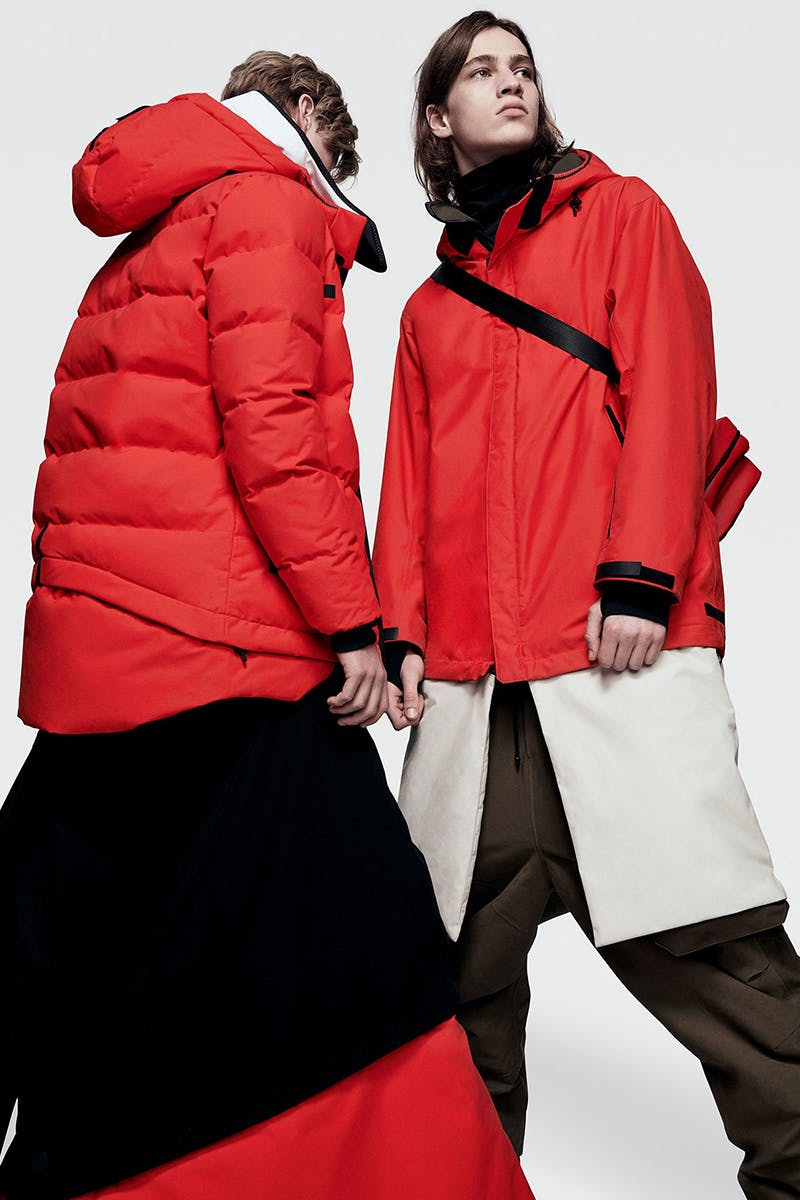 Where: Australia
Why: Founded by two snowboarders and now employing a former director of Haider Ackermann, Templa is one of the most fashion-forward tech brands today, with leather puffers, three-layer coaches, and a Raf Simons collab. What the brand lacks in heritage, it makes up in style. Somewhere between Rick Owens industrialism, Martine Rose exaggeration, and BLACKYAK overbuilding lies Australia's own luxe tech star-child.
The Templa collection is split into two halves: "Urban," which shapes street-friendly tech silhouettes through the brand's artistic lens, and "Alpine." While a jacket like the 3L Tombra might never leave the trailhead, its three-layer membrane fabric and PrimaLoft Gold insulation would be right at home on a Norrøna parka.
Whether January means walking at fashion week or skiing on Hokkaido, Templa's luxe techwear has you covered.
Icon: Nasta Coat
Mammut
Where: Switzerland
Why: With roots going back to 1862, Mammut is a Swiss gear maker as famous for its climbing ropes as its high-performance techwear. The brand's products thread the needle between fashion and function, such as on the Alvier Armor hardshell. The brand's Phase Weave tech seamlessly combines multiple pieces of fabric into a single material, beefing up high-abrasion areas without the need for exposed stitches. Plus, it looks damn cool.
While most Mammut apparel is designed around snow sports, the brand's new Delta X collection might be its first step toward a place in tech fashion proper. Billed as clothing for "pushing urban performance," Delta X includes futuristic garments such as the Teufelsberg HS, a 10-ounce packable shell cut from a single piece of waterproof polyamide. Stylish, functional, high-tech gear makes Mammut a Swiss nameplate worth banking on.
Icon: Nordwand Pro HS
Haglöfs
Where: Sweden
Why:Haglöfs is a Swedish outdoor equipment supplier with more than a century of innovation behind it, providing the Arctic Circle with durable, dependable tech apparel since the days when "waterproof" meant "animal fats." That alone is impressive, but that's not why it's a brand worth knowing.
While a long legacy may not seem too "techwear," consider this: to stick around for so long, Haglöfs had to get good at spotting new technology and reinventing its products around it. The brand's V series Raw Anorak is a performance shell made from a hybrid of recycled nylon and bound with Vectran, a fabric five times stronger than steel and normally used for everything from deep-sea cabling to inflatable spacecraft. The repairable, recyclable Eco Proof jacket, meanwhile, was a Highsnobiety pick last fall for its innovative approach to sustainability.
Haglöfs opened its doors on the eve of World War I and now designs the best outdoor garments built for the 22nd century. If that's not tech, nothing is.
Jöttnar
Where: UK
Why: Jöttnar isn't Scandinavian, as the name suggests, even if the harshness of Europe's north inspired it. It was founded by two former Royal Marine commandos and outfits record-setting British ice climbers.
The brand makes some of the hardest-wearing tech apparel in the world. No bones about it: this is gear designed for conquest. There's no "Jöttnar Urban" lifestyle line or even a fashion collab. There is instead the option to buy the brand's most expensive outdoor jacket, the titanic Ragnarok.
Some brands play up their extreme credentials to sell parkas at department stores. Jöttnar does not. If only the UK had real mountains…
Tilak
Where: Czech Republic
Why: Czechwear is real and its name is Tilak. Based in the mountains of the Czech Republic's northeast, Tilak is an outdoor brand specialized in high-performance GORE-TEX jackets. The company started out in 1986 when founder Roman Kamler made his first Tilak garments on a home sewing machine, and Tilak has remained family-run to this day.
Worried that a GORE shell made in the backyard might not hold up? Skeptics, meet the Evolution jacket. The Evolution is a hardcore shell designed for winter exposure. It's cut from GORE-TEX Pro (check), is waterproof to the zippers (check), has a removable inner snow skirt (check), and is made by Tilak (Czech).
With the recent addition of Poutnik, a lifestyle line co-designed with Errolson Hugh, Tilak is rapidly becoming techwear's worst kept secret. The brand can still be hard to get hold of outside of Europe, but its gorgeous designs and ridiculous functionality make a Tilak jacket worth the hunt.
Icon: Odin Jacket
BLACKYAK
Where: South Korea
Why: There are two ways to approach performance. There is optimizing; with constraints such as cost, materials, and body mobility, an approximation of "the best" gets created. Then there is maximizing; those same limits appear but are promptly set on fire.
BLACKYAK is a South Korean maker of maximized techwear, of gear that takes very real constraints as open challenges. The limits are still set on fire, and the fire is powered by your clothing budget.
The brand's most famous piece is the award-winning Hybrid Jacket. A Frankenstein's monster of insulators, each Hybrid contains four distinct ways of keeping you warm, each mapped to where that specific material does the most good. Would a down puffer do close to the same thing? Sure. But that's for optimizers.
Burn the money. Embrace the ridiculousness. Spend $500 on pants you'll wear twice a year. If techwear is the merging of function and fashion, BLACKYAK is a brakes-cut semi-truck barreling toward the Platonic ideals of what utility should look like.
Garuda SS
Where: India
Why: Suhail Sahrawat finds inspiration everywhere: streetwear, suiting, even his father's old military gear. In Hindu mythology, Garuda is a divine bird that carries the god Vishnu, as well as the symbol of the Indian Army battalion in which Sahrawat's father served. In 2014, the designer founded techwear label Garuda SS to distill those inspirations into clothing that pushes the boundaries of functional fashion.
Garuda forgoes both drops and seasons to release garments through what the brand calls "Kits." Each Kit covers a major genre of menswear (sportswear, workwear, etc) as interpreted by Sahrawat. A classic sportcoat is recut in Schoeller's c_change fabric to create the C4/M1 — Ubdi Jacket. A classic cotton army sweater is remade in a wool/nylon hybrid as the C7/M1 — Army Sweater.
The results are thoughtful, functional, and packed with hidden details, a blend of ACRONYM styling and Mammut thinking that makes for techwear unlike anything else.
Toread
Where: China
Why: China is one of the world's biggest technical apparel markets, but outside of AliExpress brands or the occasional immersive look at its biggest sportswear label, the country might as well be walled off. A case in point: Toread.
Founded in 1999, Toread took less than two decades to go from start-up to outfitting China's polar research and expeditions team. But while Toread sits alongside Arc'teryx and The North Face in its native market, the brand's impressive tech gear has yet to make a dent overseas.
Toread's apparel isn't exactly techwear, but it's damn cool to think that a pinnacle name for more than a billion people has yet to hit the wider culture. If nothing else, the brand's breathable waterproof fabric is made with powdered hemp, meaning you can own a mountain jacket that could potentially get you high in more ways than one.
Icebreaker
Where: New Zealand
Why: A broke, unemployed 24-year-old listens to his girlfriend and then lies to the bank. Two decades later, the world is sold on merino wool. So goes the Icebreaker story.
In 1994, founder Jeremy Moon met a merino sheep farmer who told him about the technical properties of the animal's wool. Moon, encountering the material's blend of performance, moisture control, and sustainability, realized its potential, took out a loan for a "new kitchen," and started Icebreaker a year later.
The brand originally sold wool tees, but now New Zealand's biggest technical apparel maker makes merino gear of all sorts. And due in part to Icebreaker's influence, the world at large has woken up to merino as a sustainable alternative to synthetics like polyester.
Icebreaker is unlikely to embrace the aggressive styling that defines brands like ACRONYM, but its merino blends make for some of the best layering options around.
Icon: Tabi Tech Lite Long Sleeve Pocket Crewe
First Ascent
Where: South Africa
Why: First Ascent is South Africa's leading maker of specialist technical apparel. Founded in 1989, the brand has grown to provide South Africans with adaptive, functional apparel for every activity imaginable. Plus, its logo is a lizard.
Icon: Transit Down Jacket
Montagne
Where: Argentina
Why: Montagne is Argentina's foremost maker and seller of technical gear. That's right, the home of the Patagonia region doesn't wear only Patagonia.
With dozens of stores around the country, Montagne makes more than just mountain wear. Some of the brand's less technical gear is pretty decent, too. And while it isn't a household name outside South America, if Montagne is good enough for a place flanked by the world's longest mountain range, it's probably going to get the job done.
Riot Division
Where: Ukraine
Why: The brainchild of Ukraine creatives Oleg Moroz and Andrey Titarenko, Riot Division is a techwear brand in the truest sense. Each Riot Division piece is like a William Gibson novel brought to life: vests transform into rain jackets; bombers come with modular pockets. Somewhere, a grizzled antihero guns down his last synth.
Riot's dialed-in aesthetic has already given the brand some clout within the techwear community, but as impressive as the clothing is its mid-level price point.
RedFox
Where: Russia
Why: RedFox is an outdoor equipment brand from St. Petersburg, and what Toread is to China, RedFox is to the world's largest country: a massive, all-hands-served tech apparel machine outfitting a reported half of all Russians.
Perhaps because of its sheer scale, RedFox does it all — down, fleece, GORE-TEX shells — at pretty cheap prices. The styling here is pure outdoor utility. Some RedFox gear edges toward the techwear aesthetic, but generally the brand sticks to outdoor standards.
One major difference between RedFox and a brand such as Toread is accessibility. RedFox has a store in Boulder, Colorado, so if you're looking to cop, you can do so without Google Translate.
Icon: Gravity Parka GTX
Polartec
Where: USA
Why: Polartec is a fabric innovator responsible for most of the fleece used in techwear. Brands such as The North Face, ACRONYM, and Patagonia come to Polartec for their raw materials, with Polartec Power Stretch used in everything from ACRONYM's neck gaiters to the Arc'teryx Kyanite.
After getting its start making straight fleeces, the company has since expanded. Power Air, a textile unveiled in 2018, was developed as a solution to microplastic pollution, while NeoShell, an air-permeable waterproof membrane, is gaining traction with outdoor athletes for its breathability. Polartec has even launched its own in-house clothing brand, PolarFleece.
Icon: Supreme Reversible Logo Fleece
PrimaLoft
Where: USA
Why: At the height of the Cold War, the US Army had a problem. Soldiers could potentially be sent anywhere on Earth, but because goose down folds when it gets wet, standard-issue sleeping bags couldn't be trusted to keep soldiers warm.
A company called Albany International was enlisted to develop "synthetic down" — in nerd words, a lofted, all-weather polyester filling — for the army's sleeping bags, and in 1989, the first garments to use Albany's new PrimaLoft technology hit the market.
Now spun off from its original parent company, PrimaLoft still produces high-performance insulation for everyone from Templa to L.L.Bean, with the material found in Stone Island bombers and the Allen Edmonds catalog. The company also made headlines in January 2019 when it unveiled the first garments made with PrimaLoft Bio, an insulator and tech fabric designed to biodegrade after disposal.
Icon: Houdini Mr Dunfri
W.L. Gore & Associates
Where: USA
Why: W.L. Gore & Associates is the company behind GORE-TEX, and that makes it a big deal. Rather than waste words on things already known, here's the lowdown on what W.L. Gore has done recently:
In 2018, the company launched GORE-TEX INFINIUM, a new line of performance fabrics that expand beyond its traditional breathable waterproof membranes. And recently, Y-3 dropped a new collection that features GORE-TEX SHAKEDRY, a waterproof textile that is W.L. Gore's lightest yet.
Meanwhile, nearly every tech brand on Earth, from adidas to Veilance, has used the OG GORE-TEX fabric to keep people warm and dry. Sun shines. Grass grows. Techwear brands use GORE-TEX. Some things in life are true forces of nature.
Schoeller
Where: Switzerland
Why: Rudolph Schoeller opened Switzerland's first worsted wool mill in 1868. More than 150 years later, Schoeller is still spinning fabrics, only today things have gotten a little more complicated.
Schoeller is the textile innovator responsible for technologies such as 3XDRY, c_change, and the entire category of softshells. Its creations power everything from Mission Workshop's Eiger jacket to ACRONYM's P10-CH pants. Garuda SS makes jackets from Schoeller materials. Outlier's first pants were Schoeller materials. It might not have the name recognition of a W.L. Gore or a Polartec, but Schoeller is a fundamental techwear force all the same.
Fjällräven
Where: Sweden
Why: Fjällräven is a Swedish outdoors company with a record of quirk nearly six decades long. The world-famous Kånken (think: bright square backpack) is them. The funnel-necked Anorak no.8 (think: parka straight from S.T.A.L.K.E.R.) is them. One of their arctic down parkas was even declared a protected work of art.
While the brand has a long resume of building stylish products that perform outdoors, it's not the art jackets or Acne collabs that make Fjällräven stand out. It's something a little bit deeper.
Fjällräven makes technical apparel that, by design, won't perform as well as say, something from The North Face. And they're fine with – no, they're excited about it.
Give up the third degree of waterproofing to not use plastic membranes? Awesome. Beeswax works just fine to keep water off naturally.
Charge more for a shell that will need to be re-treated more often? Of course. The Keb Eco-Shell ($500) is made from a climate-compensated fabric that uses no harmful PFC's. It can't work as hard as GORE PRO climbing jacket, but it'll smile through rainy commutes like any other.
A jacket like the Greenland Eco-Shell also has the benefit of looking, well… not like it walked off a sci-fi set. Fjällräven makes capable outdoors gear; that gear just happens to not scream "weekend warrior."
In fewer words, Fjällräven prioritizes sustainability in a way that only a Scandinavian brand can: through warm, charming designs meant to fit life as it is. If that seems a little too IKEA-y for a premium tech brand, check out the price tag on that "art parka" below. Go ahead. No rush.
Mission Workshop
Where: USA
Why: Famous for its overbuilt backpacks, San Francisco's own Mission Workshop has spent the last decade using tech and design to make city dwellers the masters of their environment.
A California company doing cool tech things. Shocker, right? Moving on.
Mission is one of the more boundary-pushing functional apparel brands out there. While their gear may not be neon green GORE-TEX, Mission's creative fabric use and unique approach to detailing turn heads all the same.
For this ethos in action, look no further than one of the brand's latest drops, The Styrman. A rebuild of a menswear classic, Mission's Styrman skins the standard issue topcoat in a technical merino wool backed by Schoeller's adaptable c_change membrane. Long lines and a textured outer mask the jacket's performance muscles. Hidden pockets and weatherproofing tech make sure those lines need not twist.
Mission differentiates through its open embrace of the unconventional. The very fact that a volcanic sand-infused techwear bomber is a midpoint for them says it all.
Alchemy Equipment
Where: New Zealand
Why: Alchemy Equipment is techwear's best kept secret. Based out of Christchurch, New Zealand, the 6-year-old brand is quietly making some of the freshest functional garments around.
A particular highlight: the AEM164 "Lightweight City Rainshell." At just $550, this sleek, everything-proof spring coat looks – and performs – like a lux tech jacket from brands twice the price. YKK AquaGuard zips and a three-layer Japanese nylon fabric round out the details on this seriously impressive piece.
Give Alchemy a look sometime. It might just lead to gold.
Icon: Insulated Tech Wool Coat
Stio
Where: USA
Why: Wyoming-based Stio is close to its roots. As an outdoors brand, it designs technical apparel meant for its hometown of Jackson Hole. As a clothing company, its bold palettes and easygoing designs reflect the relaxed "mountain life" one would find there – a far cry from the urban-inspired cyberpunk styles that compose lines like ACRONYM.
What Patagonia is to The North Face, Stio is to techwear as a whole. Rugged, outdoorsy, and built to take a beating, the brand's eye-catching apparel is every bit as hardcore as the matte black GORE shells most think of when they think "tech."
The perfect example: Stio's Alpha Alpine Pullover. Filled with Polartec's Alpha insulation, what looks like a college kid's snap fleece is actually a breathable mid-layer stuffed with material designed for US Special Forces. Take it to the office. Take it the Green Zone. Take it on public transportation without someone shooting you the side-eye.
If "chill techwear" becomes a thing, Stio gets all the credit.
Icon: Pinion Down Pullover
Nilmance
Where: Hong Kong
Why: A little bit of ACRONYM. A little bit of Rick. Mix through the lens of the Hong Kong metropolis, and you've got Nilmance.
Billed as a "perfect integration between technology and the day-to-day wardrobe," Nilmance is the brainchild of designer Mike Yeung. A Nilmance garment is a drapey, fashion-forward statement piece with tech fabric as a backdrop. The materials and construction are indeed technical – lightweight nylons and Dyneema composites feature throughout - but the real highlight is Yeung's eye for detail.
Pieces like the AN-01 anorak demonstrate this best. A slick, color-blocked pullover, this jacket is arguably more wearable on a daily basis than a GORE Pro shell. A YKK AquaGuard zipper on the neck also nods to its technical design. However, outside of an urban core, the AN-01's "wind resistant and mildly water-resistant" properties leave a lot exposed to the elements.
Nilmance makes sleek, lifestyle-inclined techwear designed with the city in mind. Find it at Berlin's Overkill.
Icon: Quilted Shell Jacket
TEÄTORA
Where: Japan
Why: A "workwear brand for modern creators," TEÄTORA is an urban-focused functional fashion line based out of Tokyo. The brand made waves overseas as part of MR PORTER's collaboration with Japanese retailer BEAMS.
"The TEÄTORA collection is created to develop functional solutions for the urban environment," explains Daisuke Kamide, the label's designer, in a video promoting the collab.
While silky nylons and travel packability may not be the first definition of "techwear," the brand's novel approach to how materials can improve life — rip-fighting fabrics, hidden RFID-blocking pockets, elastic waists — make it worthy of a mention, even if the adventure it seeks is inside.
Icon: Souvenir Hunter
Columbia
Where: USA
Why: Hailing from a city famous for its rainfall, Portland-based Columbia has staked its reputation on affordable, high-quality outerwear. The brand (founded in 1938) is symbolized by its chairwoman, the harder-than-iron "Ma Gert." Columbia's commercials sum up the brand in just two words:"Tested Tough."
Recently, the brand has made a push into the fashion space, collaborating with names like KITH and Opening Ceremony to revive its heritage silhouettes through a contemporary lens. A 2015 partnership with the former saw Columbia outfit its famous Bagaboo jacket in its OG 1986 colorway. A 2019 Opening Ceremony tie-up continued the '80s homage with a slew of anoraks and accessories. If the past few years are any indication, more trendy releases are sure to come.
Does the Columbia revival have staying power? Only time will tell. One thing's for certain, however: no matter how the fashion winds blow, Columbia's "tested tough" tech apparel will work through it all.
Shop our favorite products
Want to keep browsing? Head to the Highsnobiety Shop for more products that we love. Highsnobiety has affiliate marketing partnerships, which means we may receive a commission from your purchase.