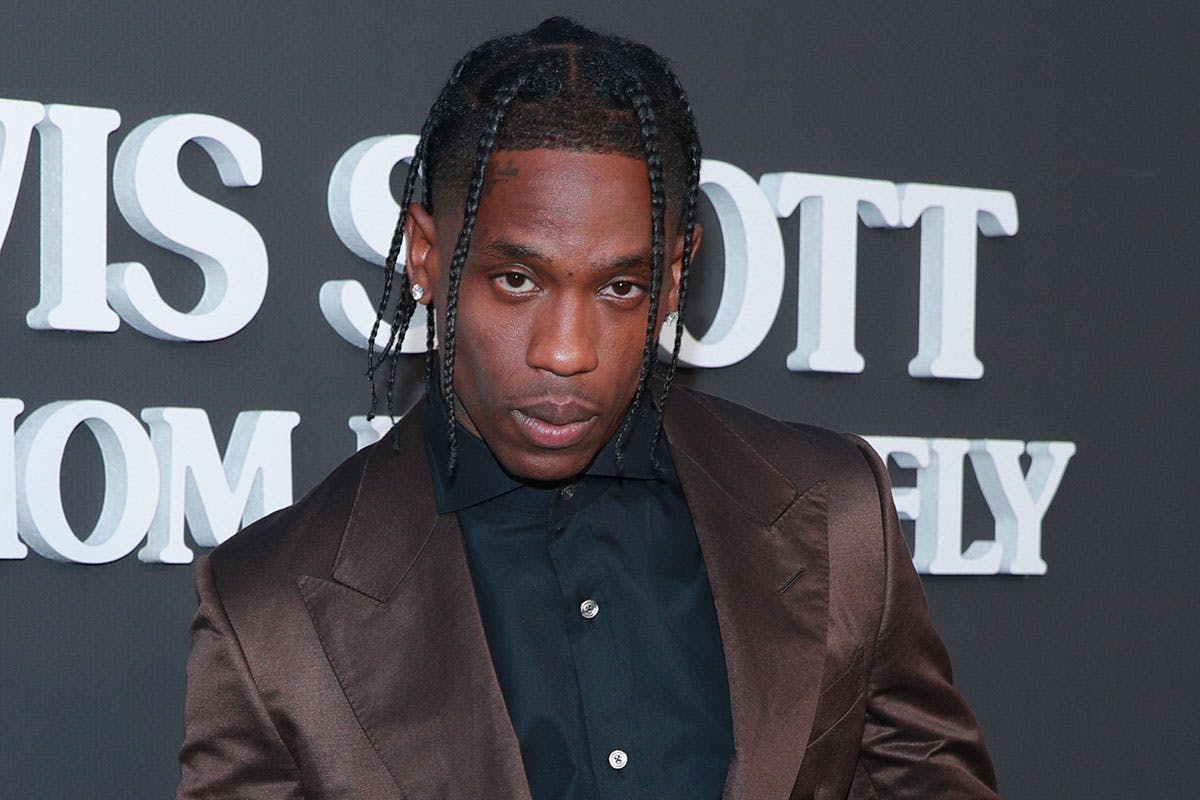 Even as he's ascended to A-list status, Travis Scott has remained one of music's most mercurial figures. That's what makes Look Mom I Can Fly, a new Netflix documentary focused largely on the creation of ASTROWORLD and the album's impact, appointment viewing. From candid moments with his old high school teachers to frenzied studio sessions for finishing his opus, we see a side of Scott rarely captured in his music or his public appearances.
The movie sheds light on his motivations and beginnings, his reaction to the stratospheric success of his third studio album, and all of the up close concert footage cements that he's one of the most kinetic performers in music today. Below are 10 of the biggest takeaways from a documentary that gives us a fresh look at both Travis Scott the performer and Jacques Webster the son, student, father, and proud Houstonian.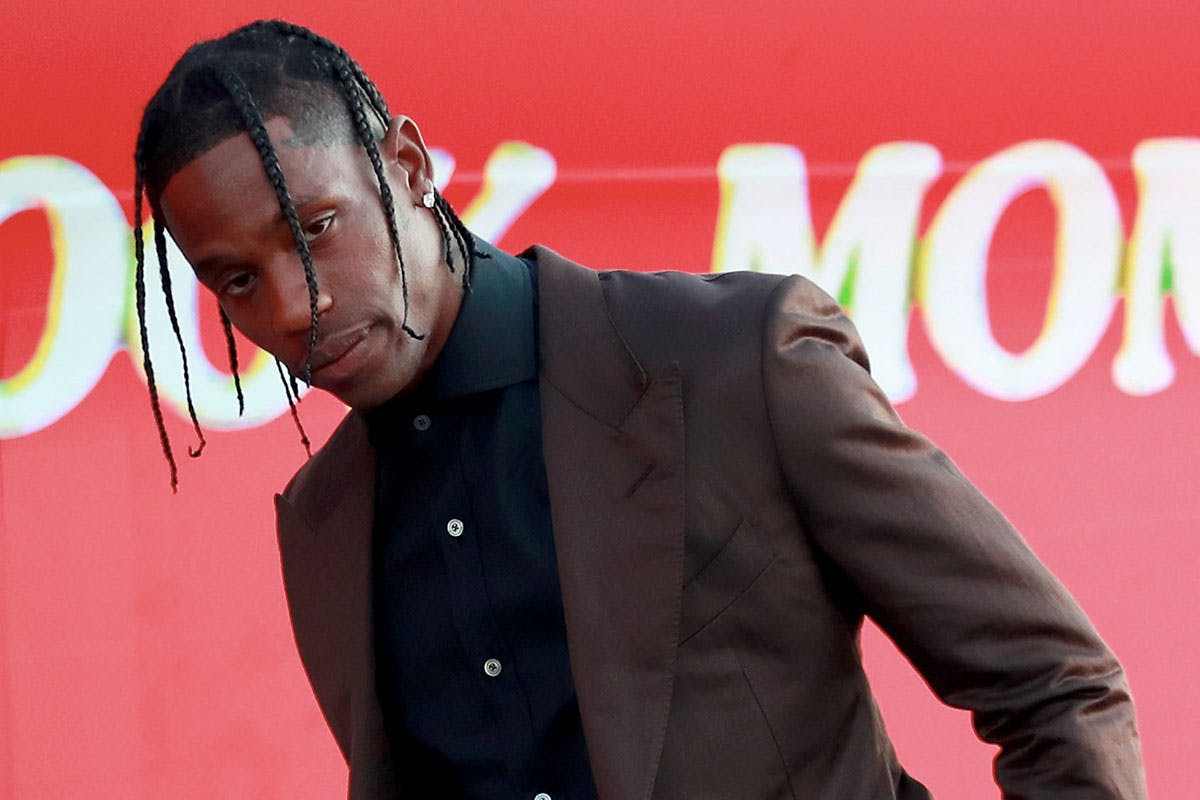 1. His No. 1 goal is to inspire the youth
Travis has always had a special connection with his young fans, and that is front-and-center in Look Mom. Not only are brief interviews with young fans featured prominently in the movie, but Scott articulates several times how he wants to motivate kid to pursue their dreams and be unabashedly themselves. "If a motherfucker tells you you're not tight, fuck them. Take a chance on whatever the fuck you've got going on," he says in an older interview excerpt. "Trust me, you can do it." During the announcement of "ASTROWORLD Day," a visibly moved Travis tells the young people in attendance, "Y'all right here, y'all hold the future. It don't seem like it 'cause you can't drive yet. Just use all the time that you can't go to the parties and the clubs to really start working on your future."
2. "Jack" was his childhood nickname
From youth football games to freestyles to amusement park trips, Look Mom features plenty of home video footage of a young Travis long before he became La Flame. The artist born Jacques Webster grew up being called "Jack," which clearly influenced the name of his Cactus Jack label. The nickname is still used by his old teachers when he sees them in one of the movie's sweetest moments.
3. Travis had a strong support system in high school
2017 footage of Scott back in Houston with his high school principal. "I'm so proud of you!" says Principal Kimberly Carroll. "So all that cursing out I did in my office worked, huh?" Scott also reacts with pure elation when he's surprised by his high school counselor, Sarah Romero. "I couldn't have graduated school unless it was for this girl right here," he says wrapping her in a hug, "She saved my life." When Travis recalls the moment Romero told him he would be able to graduate, his reaction is almost as exuberant as when he launches into a banger in front of a sold-out crowd.
4. Mike Dean confirmed that Drake's "SICKO MODE" verse came in under the wire
Travis' A&R Sickamore, who appears briefly in the film, said last November that Drake's contribution to "SICKO MODE" arrived in buzzer-beating fashion the day the album was released. Industry veteran Mike Dean, who mixed, mastered, and co-produced ASTROWORLD, appears in the film at his studio, nonchalantly saying, "We're waiting on some vocals from somebody" when asked what's left to be finished. Soon after, they cut to Scott and Dean working on the song, and a giddy Travis playing Drake's verse off his phone for what appears to be the first time. "We back!" he howls after hearing Drizzy's "Checks over stripes" bar. He also declares "ASTROWORLD done" in that same scene, implying that Drake's verse was the final component to come in.
5. Industry benchmarks are really crucial to him
Though Scott often projects an air of detachment, Look Mom actually shows how meaningful it is for the rapper to achieve major benchmarks in his career. Backstage at his inaugural ASTROWORLD Festival last November, he comments on how it feels to go from being a festival circuit mainstay to having one of his own. "We go to these festivals and shit looks unreachable," he says. "This has never been done."
He is similarly in awe when he hears that he's received three 2019 Grammy nominations—for Best Rap Album, Best Rap Performance, and Best Rap Song—which represent his first as a lead artist. "We made it on the board, man. That's bigger than what we've ever done in life," he says after hearing the Grammy nominations, still clearly processing the moment.
6. He's a perfectionist when it comes to his live shows.
Much of the documentary's most breathtaking footage comes from performances on Scott's ASTROWORLD tour, and the film makes it clear how large of a role he played in the visual element of those shows. In one scene, he's passionately directing the stage technicians on how to time the lights on the roller coaster, and later he's directing the camera on where to go while he's performing the second verse of "Stop Trying to Be God." The ASTROWORLD era has felt like Travis coming into his own as a Kanye West or Beyoncé-level auteur, and the behind-the-scenes footage shows that's been the product of careful, methodical work.
7. Big things may be on the horizon for Don Toliver
Besides Scott himself, one of the more prominently featured artists in Look Mom is his Houston protege, Don Toliver. Toliver appeared on "Can't Say" and signed to Cactus Jack in 2018, but has been relatively quiet this year, save for a couple singles. His appearance in the documentary could be a shrewd way to get his name buzzing once more in advance of new music, and he's given a more significant role in the film than Scott's other acolyte, the controversial Sheck Wes, who is mostly on the periphery during studio and performance scenes.
8. He has a strong relationship with Houston mayor Sylvester Turner
Houston mayor Sylvester Turner pops up several times in the movie, both in an official capacity when he's declaring November 18 as "ASTROWORLD Day" in Scott's honor, and in more intimate moments between the rapper and politician that shows their closeness. Turner even gives Scott a powerful pep talk when the rapper is distraught over his Grammy losses. "I was trying to bring one home," Scott says, dejected. "I've been mentally stressed, I've been down." Turner proceeds to tell Scott that it took him three tries to win the mayoral election, and that he needs to both persevere and use his platform to tell people to pursue their goals through adversity.
9. He took his Grammy losses hard
While Look Mom I Can Fly mostly looks at Travis' hard-earned success, some of the most raw emotion we see from him comes around the 2019 Grammy Awards. A distraught Scott watches on television as he loses Best Rap Performance to a tie between Jay Rock and Anderson .Paak, and when he's backstage to hear that Cardi B took home Best Rap Album, a dejected Scott skulks through the tunnel like a basketball player after the final buzzer of a Game 7 defeat. He even goes to Mayor Turner for advice.
10. His efforts might help bring a new theme park to Houston
While Scott has been obsessed with both eulogizing and recreating the AstroWorld experience that was such a meaningful part of his youth, it's alluded to towards the end of the movie that Houston may be getting a new amusement park and that he's partially responsible for generating the interest. Backstage at a hometown show, Mayor Turner is asked about the buzz. "Now folks are on me to create and bring a theme park back to the city of Houston because of ASTROWORLD," he says to the camera before turning to Travis. "That's going to be your Grammy, when I put that AstroWorld theme park in the city."