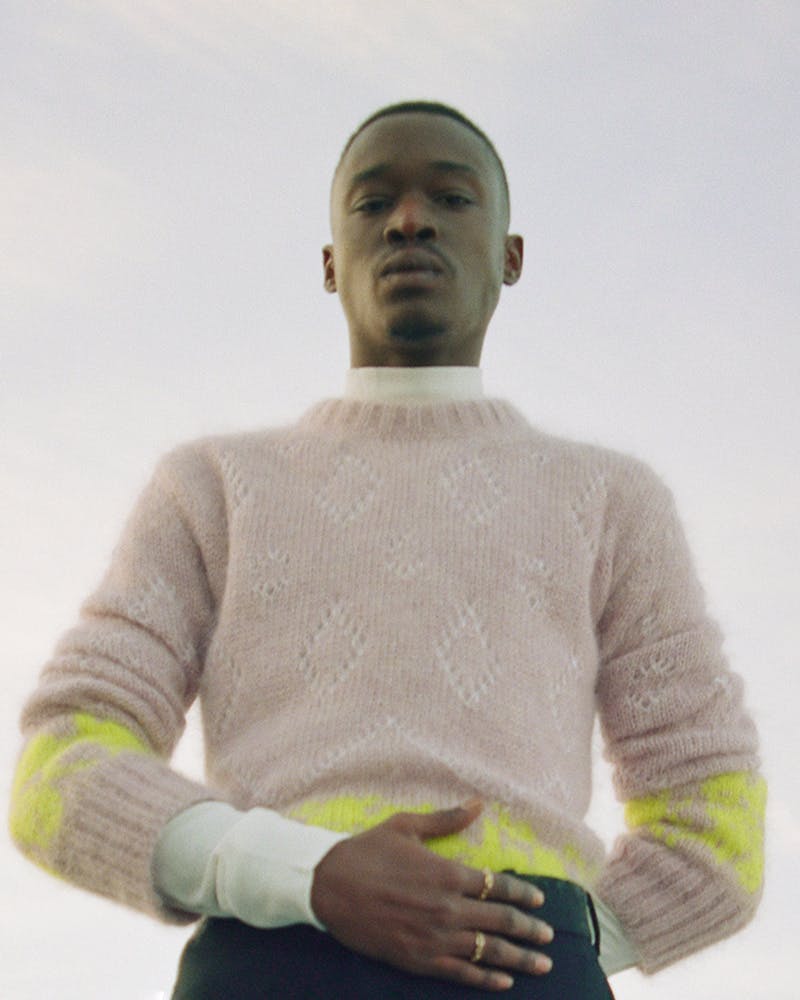 Fresh from a standout role in the new film 'Judas and the Black Messiah,' we caught up with the dashing Ashton Sanders. In this FRONTPAGE interview, the actor discusses his remarkable career in film and fashion.
Ashton Sanders has had an intense year, which I can tell as soon as he reveals all of his methods of self-care. After spending the majority of 2020 doing acupuncture, reiki, and hypnotherapy in order to "[make] sure that my mind, body, and spirit is right," the 25-year-old actor is slowly getting back into the swing of things in the outside world while on set for the production of the next season of Wu-Tang: An American Saga. Even though this inconvenient disruption meant not working for almost two years, Sanders is feeling grateful to have been given the space to prioritize his personal well-being. "I've been able to try new things and take care of myself in ways that I hadn't had the time to do before," he says. "So I guess that could be a positive thing that came out of the, as you would call it, 'Great Pause.'"
Throughout the course of the pandemic, most people have relied on the care of their community for support. Sanders found himself quarantined in Los Angeles, but has been surrounded by family, because this is where he grew up. LA is the city that molded him into the star that he was meant to be from the moment he set foot at the Amazing Grace Conservatory. "I have a close circle of people around me that I've learned to love and grow with throughout the years," he says. "That's always grounding because you need people who fully know you and fully understand your well-being in Hollywood — that's just a fact. I think that's what keeps me humble."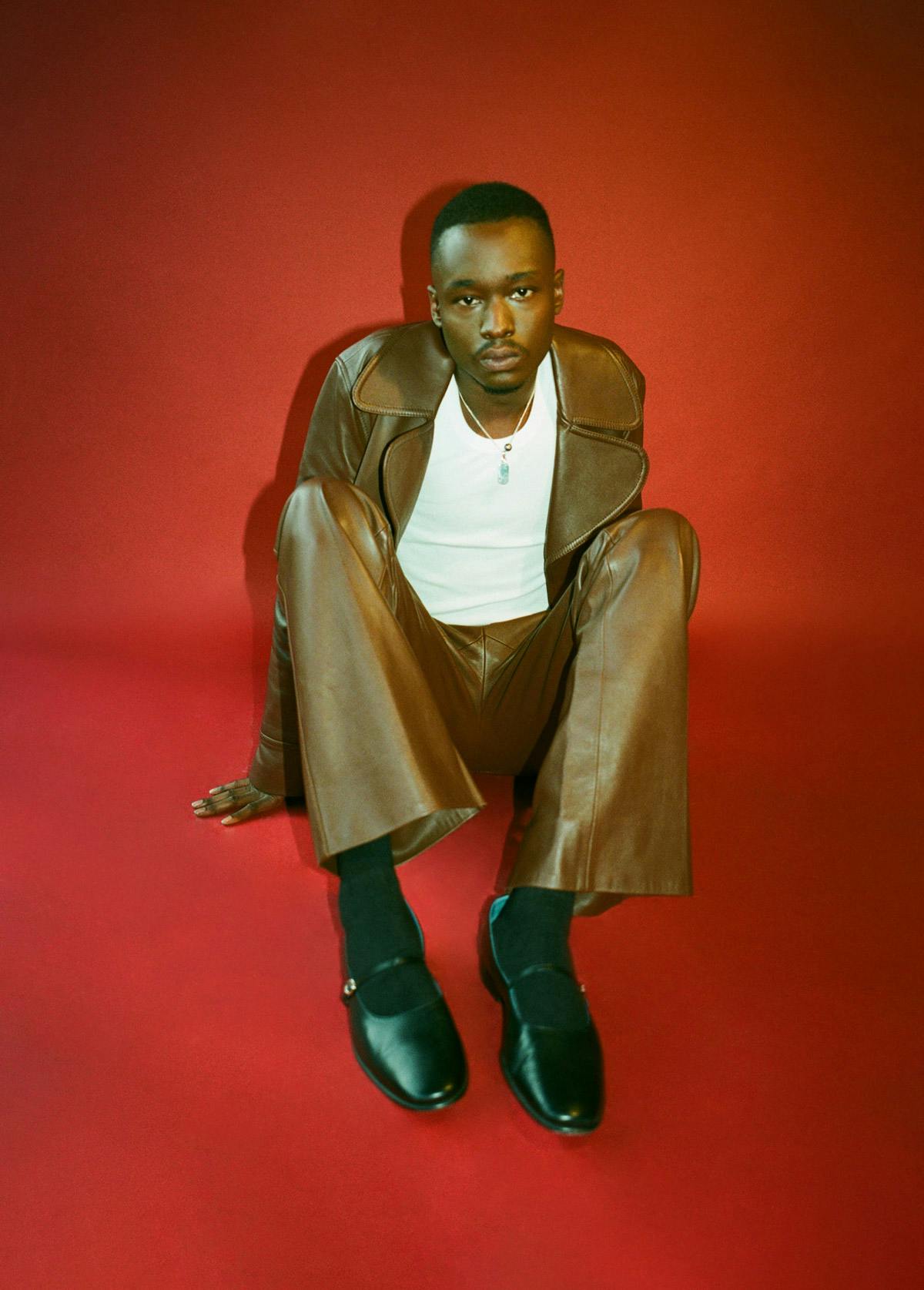 During our afternoon call, Sanders takes his time when he talks, speaking deliberately to ensure that he conveys precisely what is on his mind in response to my inquisitive questions. But it's the heavy sighs in-between the chatter that speak volumes when there are no words to describe the frustrating experiences that all Black creatives share in the pursuit of their passions. The sweeping success from his 2016 breakout role as the teenage Chiron in Barry Jenkins' Academy Award-winning film Moonlight has afforded Sanders the privilege of being highly selective about the roles that he chooses. Following the high praise from that cultural reset, Sanders went on to star as Bigger Thomas in the modern adaptation of Richard Wright's classic novel Native Son in 2018.
It's no coincidence that Sanders works with some of the most remarkable Black directors in the industry — since he's been able to cultivate those relationships in an organic way, all of the projects that he has wanted to do so far have come naturally from the establishment of those bonds. Authenticity is crucial in the telling of Black stories and nobody will amplify those voices better than our own kind. Of course, the execution of this feat doesn't work without strong direction, artists, and a script. While Sanders has managed to avoid being pigeonholed throughout these early stages of his career, he admits that it's a hurdle that he's actively trying to overcome.
"That's the thing, it's still an obstacle," he explains. "I have to be particular about the roles that I play… but at the same time, there isn't a lot of options in comparison to my white counterparts. So there is this ongoing 'I need to work 50 times harder to be seen.' Luckily, when I'm seen, I can be seen. It's weird, man. I've spent time talking about it before, but we know what's going on. I'm blessed to be doing this and I'm happy that people see me and want to work with me. That's a blessing within itself, but it's still a climb."
Highsnobiety / Luke Abby / Full look by LANVIN Jewelry by MARTINE ALI
Whether you see him on a screen, on a red carpet, or minding his business on the streets, Sanders is hard to ignore. It's not just the clothes that make him stand out in a crowd — there's something about his energy that hits different. Sanders steals the spotlight as soon as he shows up in a space. Even his depiction of an angel in Chloe x Halle's 2018 music video for "Happy Without Me" felt like a pivotal performance. Though it's a minor part on his growing list of impressive credentials, that particular period saw the emergence of the Black angel, with Blood Orange also using this iconography on the album cover for Negro Swan. Whether or not it was his intention, Sanders made another case for challenging outdated perceptions of the Black identity.
Back in 2017, Vanity Fair nominated him as the "secret style hero of awards season." When Sanders pulled up with Telfar Clemens at the Met Gala in 2019, he fully embraced the "camp" theme while honoring its Black origins, in an ensemble that looked as if he stepped out of a lost painting from the Victorian era. (Not casting him in the Netflix show Bridgerton was a major missed opportunity.) He's also been the face of campaigns for Louis Vuitton, MatchesFashion, and Calvin Klein. Sanders prefers to describe his style as "ever-evolving," disinterested in confining himself to a specific aesthetic. "I don't think I'm in the same place that I was at last year, in terms of fashion or how I think about life," he explains. "The way I dress is a reflection of what's going on in life right now. For example, I'm in quarantine all year, so I've been wearing sweats."
As the son of a men's fashion designer, Sanders was exposed to that world from an early age and given the freedom to comfortably experiment with his wardrobe at home. Attending Grand Arts High School is what really influenced him to develop his own distinct taste in a way that was more about using fashion as a form of self-expression. As he likes to say, "I'm not looking outward for inspiration, I'm just pouring it." Sanders' style is an extension of who he is as a person, but not in a deep way. He adds, "People tend to put a definition on that, but it's just me doing whatever, which is interesting."
Sanders happened to meet the director Shaka King about a year before they went into production for Judas and the Black Messiah and was initially intrigued by Fred Hampton's profound story. Serving as the deputy chairman of the Illinois chapter of the Black Panther Party, the late revolutionary was killed at the age of 21 in a police raid that was orchestrated by the FBI, Chicago Police Department, and Cook County State's Attorney's Office. Sandwiched between some archival footage from that period — Agnès Varda's Black Panthers documentary and the PBS program Eyes on the Prize II — King's film attempts to preserve the legacy of a radical leader that was robbed of completing his mission to mobilize a racially integrated community toward liberation on a national scale. Hampton's assassination is a historical event that is often omitted from the curriculum when teachers sweep through the Civil Rights Movement to demonstrate how far America has come in terms of its deplorably racist past.
"As the cast started to round out and everything got into place, I decided I knew that it was going to be something special and that's what it was," he says. "I'm excited for people to experience this and learn about the true nature of the Black Panther Party, and not what was fed to them through history books and this false idea of what they represent."
Sanders is featured alongside leads Daniel Kaluuya (Black Panther, Get Out) and LaKeith Stanfield (Uncut Gems, Sorry To Bother You), both of whom have positioned themselves as standout actors with the talent and range to personify any archetype that is demanded of them. His character, Jimmy Palmer, is part of the Panthers' security cadre and loosely based on Larry Robinson, a man who only had a picture and death certificate left to his name from what Sanders could find on him. With that background in mind, he could sense that "this was a character that was very much lived in."
Although he had a loose idea of what he wanted to embody, Sanders credits the energy on set and his in-depth conversations with King and producer Ryan Coogler as the source of what ultimately "brought the character to life." He lightens up talking about portraying someone so passionate and devoted to the cause that they are "ready to risk it all for the party." No spoilers, but he's one of the many members willing to take a bullet for the movement — and he does so while dripped out in the freshest fits, with a cigarette tucked behind his ear and a gun strapped on at all times.
During filming, the cast had the honor of meeting Hampton's partner Akua Njeri, and their son, Fred Hampton Jr., which was an emotional experience for everyone. "Obviously, those types of moments will definitely connect you more to the story," he explains. "Shooting this movie about Fred Hampton and talking to his son about his legacy was something that was really special. It was even more special that he was on set to make sure that things were being told and shown the way that it needed to."
In 2017, the visual artist Sadie Barnette debuted the exhibit Do Not Destroy as a tribute to her father's legacy as a Panther in Compton — the work displayed photocopies of the 500 pages worth of official documents created by the FBI that she obtained through the Freedom of Information Act. Sanders is only a generation removed from that era, so he doesn't lose sight of the facts in regards to why this side of history has yet to be told. While this film is an important step in course-correcting by keeping Hampton's memory alive, we as a society have barely scratched the surface of the gravity of his work. The inconvenient truth is that, until systemic racism has been fully dismantled, oppression will continue to live here.
"It's intentional that it's continuing to be erased," Sanders says. "I would say that this is a new era of civil rights, or a continuation of it. We're still fighting for the same things that we [were] fighting for 50 years ago. Fred Hampton was shot and killed in his bed 50 years ago and the same thing happened to Breonna Taylor… it's sad to even think about."
Last year, the Black Lives Matter movement finally gained more momentum after a series of uprisings in response to police brutality with the inhumane deaths of George Floyd, Breonna Taylor, Elijah McClain, and so many others that tragically followed. Sanders gets quiet for a moment before elaborating on the extent to which the current state of our sociopolitical climate upsets him. "I'm angry. It makes me angry, it makes me sad," he pauses. "All we can do is be there for one another though. Obviously, I express it through my art, and that in itself is a form of activism."
At a time where this country couldn't be more divided, Sanders is hoping that this film will remind people of the strength in numbers and the power of community. One of the biggest takeaways for him was realizing that many of the leaders on the frontlines of the Black Panther Party were even younger than him and had their whole lives ahead of them. "We have so many young Black leaders now who are doing things," he adds. "I just hope people get inspired to continue to fight, whatever that looks like for them, and to continue to have a voice."
The outdated concept of the American dream is not a trope that Sanders subscribes to. He's less concerned about the pressure to live up to anyone else's expectations of who he should be and more focused on his vision for what he wants out of life as a working actor — a path that also includes happiness. "To continue to build in a positive way within myself and through my art, right now that's what I'm really working on," he concludes. "It comes from within, so you got to work on yourself. You can have everything going on, but you can still be miserable. I want to fully experience this life and my wins. I think that's what life looks like… it's not always one thing, life is forever changing. That's just me being real."