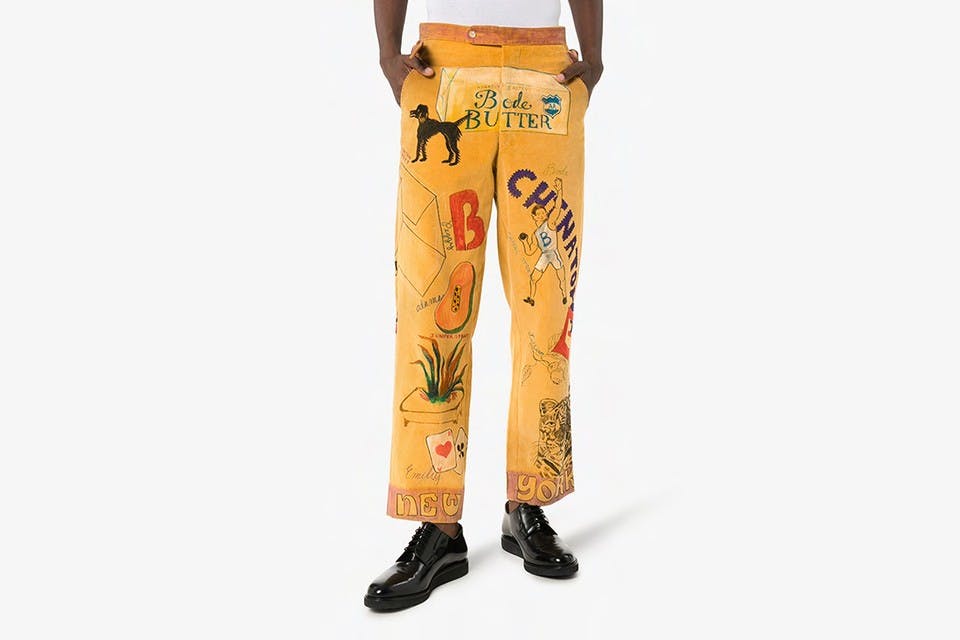 For as long as screen printing technology has been available, graphic tees have been an immoveable fixture of modern fashion and fanatic expression. Just about every graphic imaginable – from David Lynch movies to European erotica – has been printed, embroidered or hand-painted on T-shirts and long-sleeve tees everywhere.
However, there's not really enough attention paid to the realm of graphic pants and it's a shame. There's a strong argument to be made that if you have interesting, well-made pants and good shoes, all you really need beyond that are clean white T-shirts and and you're good to go.
With that in mind, check out some of our favorite graphic pants for FW19 below.
Devil's Eye Cargos
NASASEASONS, the label founded by Alexandre Daillance (AKA @millinsky), has included a pair of clean wide-legged cargo pants in its FW19 drop. Recently seen on Big Sean, the pants are adorned with a pair of occult-looking eye graphics at the thigh.
Graphic pants for Lo-heads
These 100 percent nylon pants from Polo Ralph Lauren are a must-cop for any lo-heads out there. The limited edition duo-tone pants feature zips at the ankle so you can switch between a slim-fitting or loose pant leg to work with different kinds of footwear.
Ancient Greek
These white jeans from Parisian brand Casablanca feature pencil-thin graphics of an Ancient Greek bust (with a moustache) and complementary stone columns throughout, as if someone took a pair of pants to a stick 'n' poke tattoo party.
The Wild Wild West of Khakis
Polo Ralph Lauren's interpretation of khaki pants this season come with a litany of cowboy and equestrian prints including a sepia-tone cow skull, a lasso, a cowboy riding into the sunset, and other Americana-inspired artwork.
Embroidered Illustrations
These drawstring-tied cotton pants from New York-based designer Kid Super include a range of artistic illustrations with contrast stitching, and drawstrings on the ankle cuff too.
Cozy Python Print

Loose Snake Print Silk Trousers
(Available at 2 Merchants)
(Available at 2 Merchants)
Snakeskin – one of our favorite animal prints of the season – has been developed into a super cozy pair of loose fitting 100 percent silk pants from London-based designer Edward Crutchley.
BODE University Pants
These corduroy pants from New York label BODE are the crème de la crème of graphic pants. Inspired by the traditions of Purdue University, whereby student would doodle on their clothes to demonstrate their fraternities e.t.c., BODE's pants feature sketches of food, wild cats, and athleticism and are even integrated into the pants themselves with the back pocket flap acting as a hat brim for the illustration behind it.
Our designated Selects section features products that we love and want to share with you. Highsnobiety has affiliate marketing partnerships, which means we may receive a commission from your purchase.