BOSS & Russell Athletic Combine for a Collection of Off-Court Classics
Blending years of expertise in their respective fields of tailoring and sportswear, BOSS and Russell Athletic have created a homage to the off-court fits of yesteryear filtered through a modern lens that hits all the right notes.
Suiting and a more debonair look have already been creeping back into our wardrobes, but the pandemic has mutated the trend towards a need for garments that are more tailored to our new daily habits, mainly consisting of doing everything from home. Sportswear has taken a positive shift in popularity just when it was starting to reach its epoch, and many brands in the suiting and tailoring categories have adapted. Not only are they relaxing their cuts and using softer materials but also doubling up on their sportswear offerings. The pendulum has swung both ways, too — brands more associated with their causal streetwear offerings, like Stüssy and Noah, released suits of their own. The '90s heyday of relaxed suiting is also facing something of a resurgence. Pillars of BOSS's popularity during the decade, such as the slouchy suit, oversized polo jacket, Oxford shirt, and pleated pants, have all filtered back into the vernacular of trend forecasters on Clubhouse calls the world over.
Exploring more casual silhouettes associated with sportswear is nothing new to BOSS; it was doing this as early as the '80s. But with the relaxation of our day-to-day attire, its casual offerings have become more important to the brand. Ingo Wilts, Chief Brand Officer at Hugo Boss AG, explains: "Casualization is increasingly important to BOSS, so it is the perfect time to collaborate with Russell Athletic. With the overarching idea of 'tailoring meets sportswear' in mind, Russel Athletic was the natural fit as an iconic brand with an instantly recognizable aesthetic of American sportswear. There has already been a shift within our collections to increasingly casual styles, often combined with tailored pieces. Therefore, this collaboration is a continuation of our search for new ways to embrace a more relaxed aesthetic."
The influence of both brands' heritage can be seen throughout the collection. Russell Athletic invented the sweatshirt back in 1926 before moving on to outfitting college and professional teams with on and off-court warm-up gear. The famous V on its crews' collars became a sign of quality and is a feature on the tees and sweatshirts in the new collection. The brand's popularity boomed in the '90s, and the Eagle R logo added an air of prestige to any hoodie, sweatshirt, or tee. BOSS also found its mojo around this time, and their suiting epitomized that off-court '90s NBA star look. Like Russell Athletic, BOSS was also not shy of prominent, bold branding on its casual wear. Branded spell-out sweatshirts, tees, and hoodies run through the collection, as does the new hybrid BOSS and Russell Athletic logo, comprising the iconic Eagle R and BOSS's instantly recognizable typography.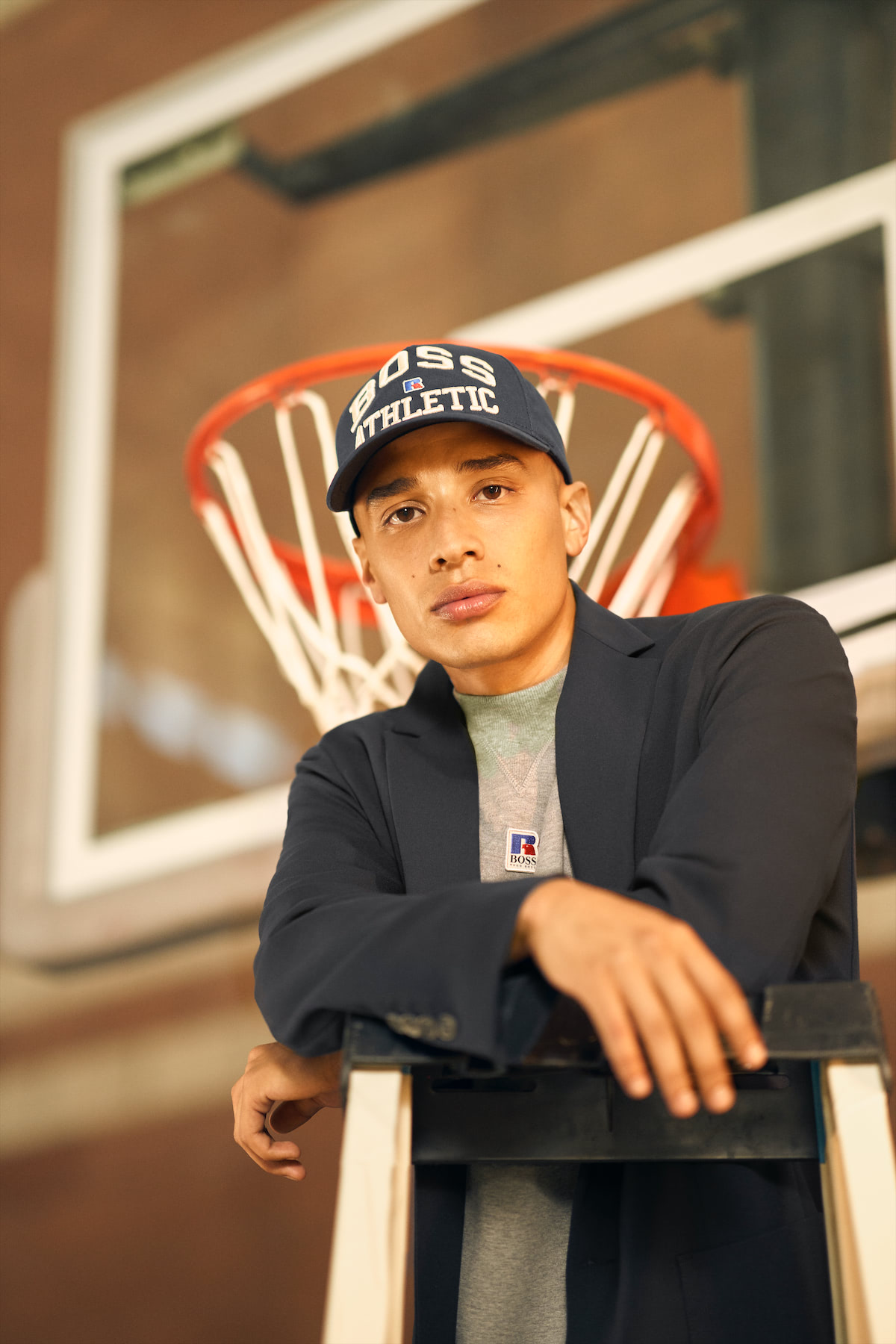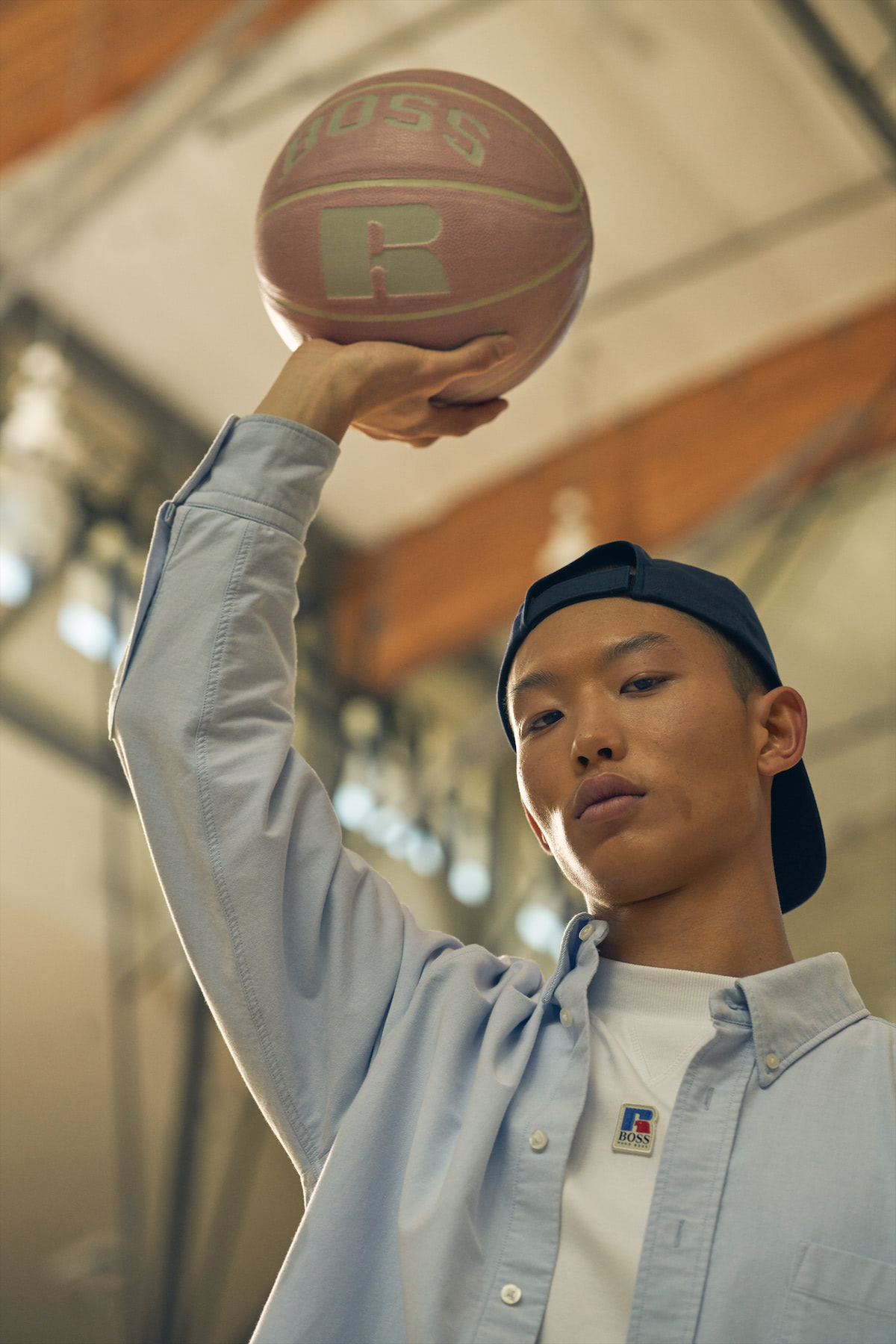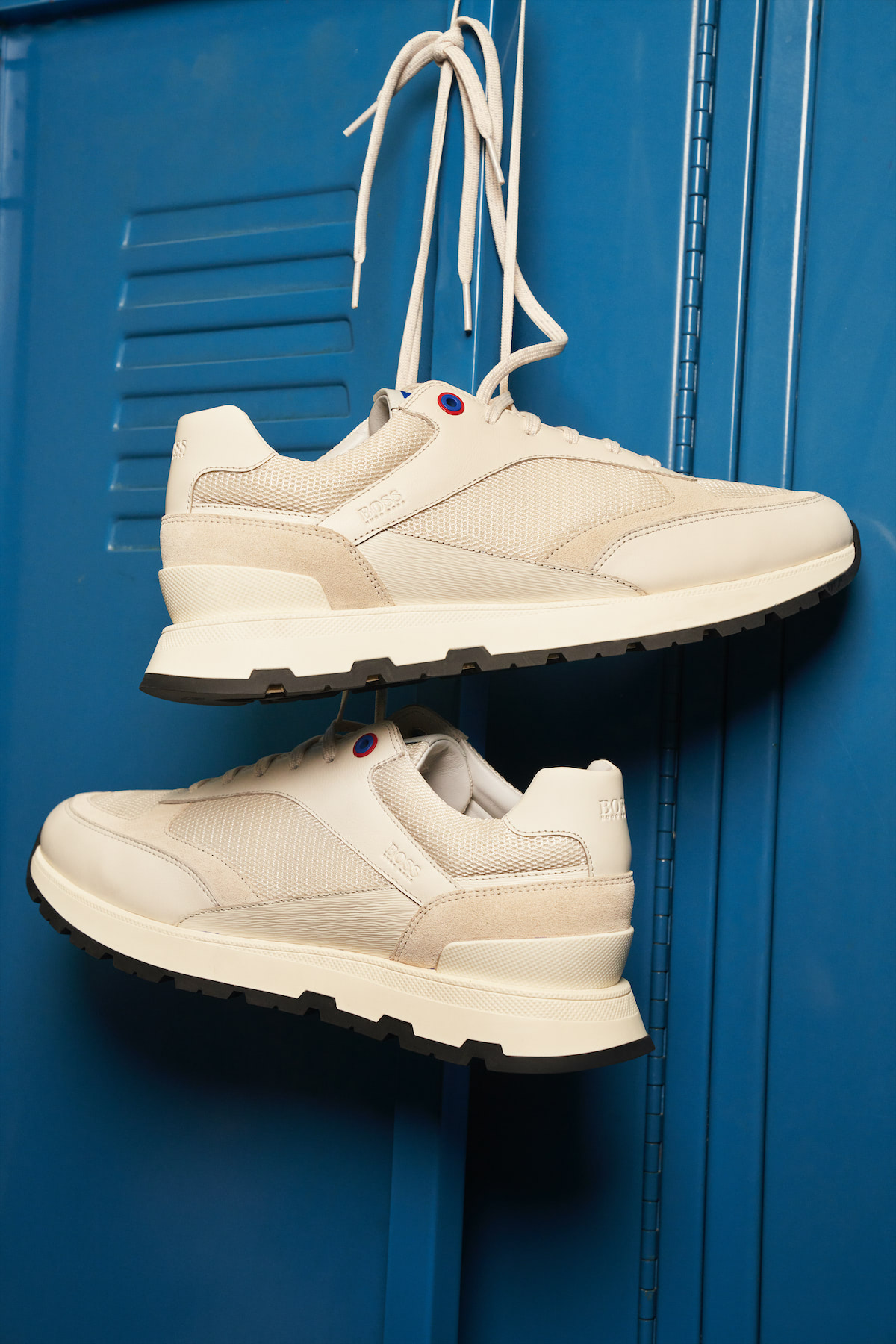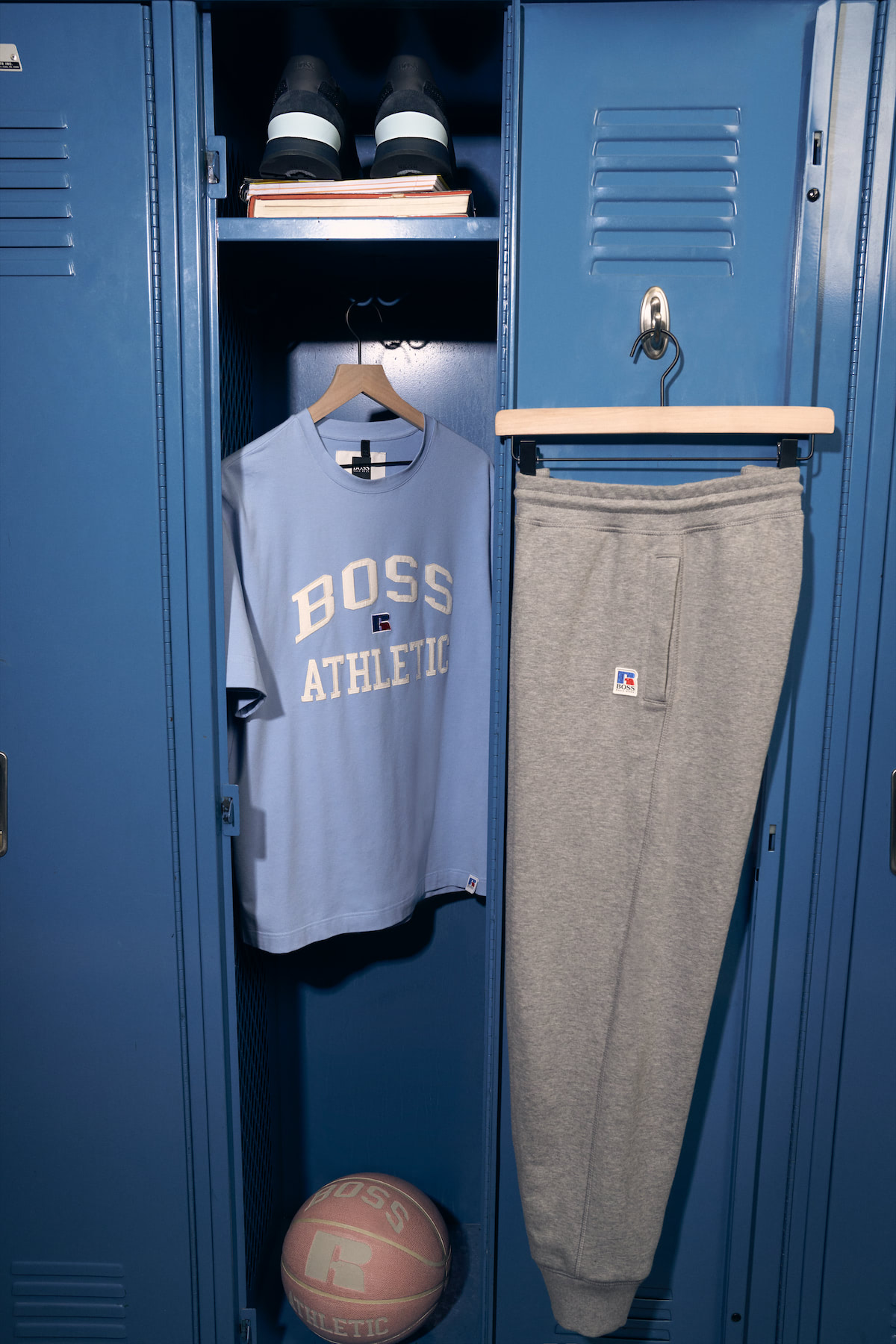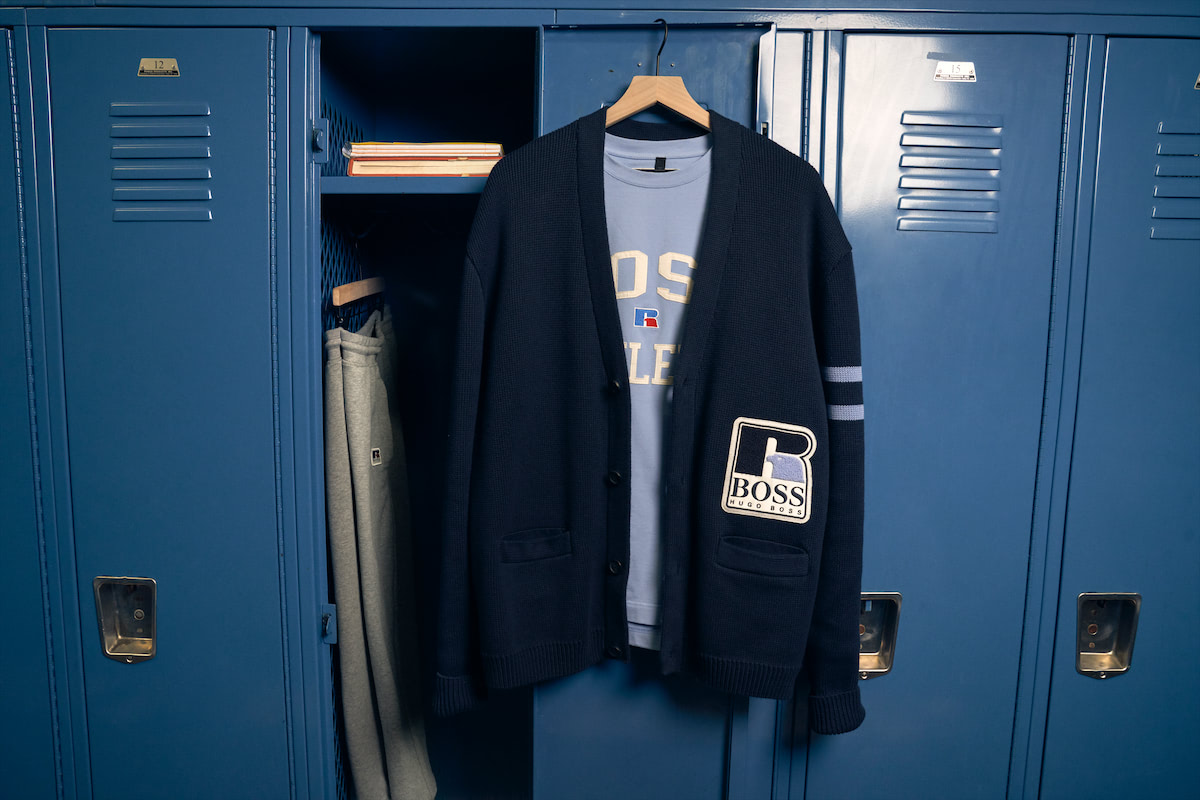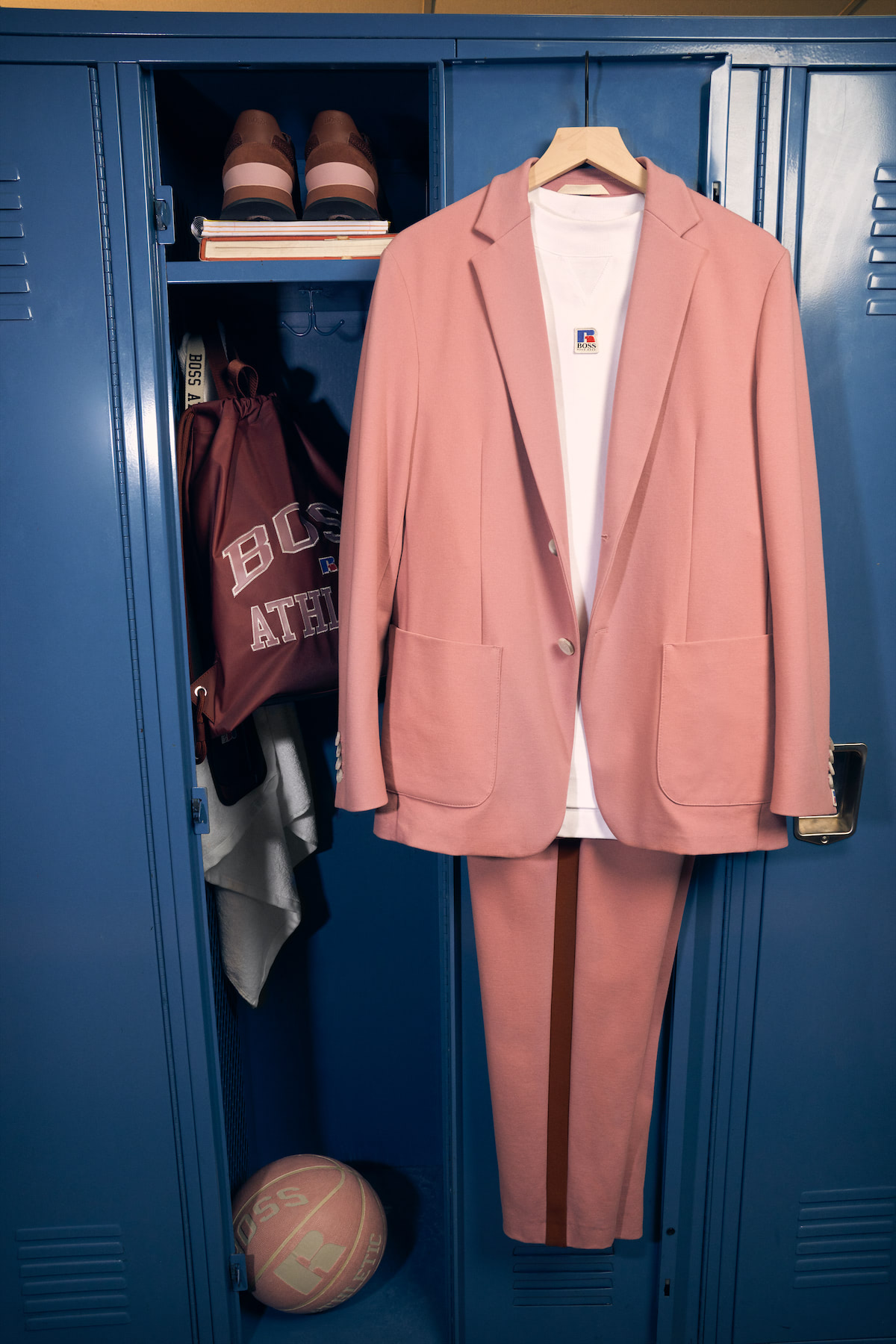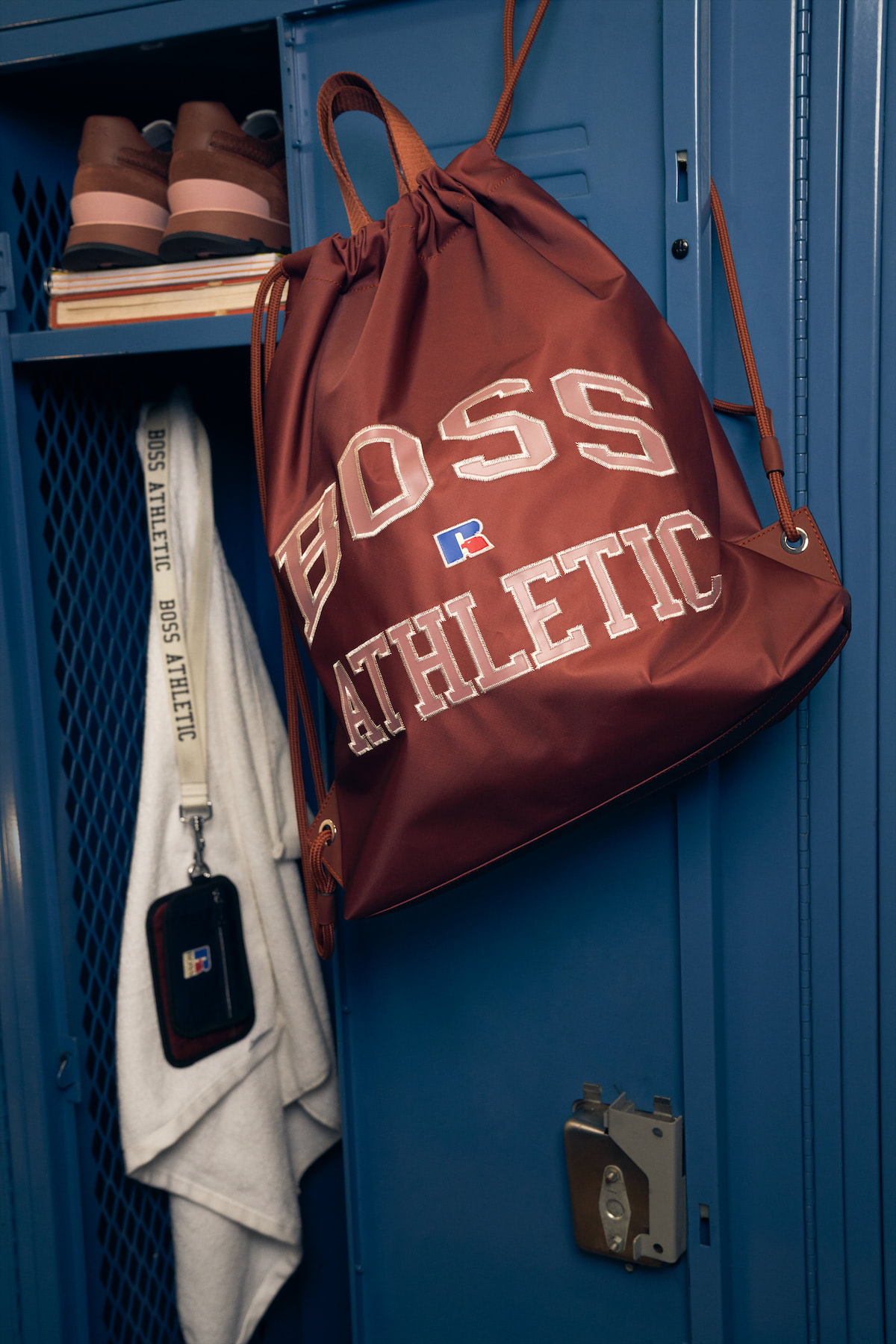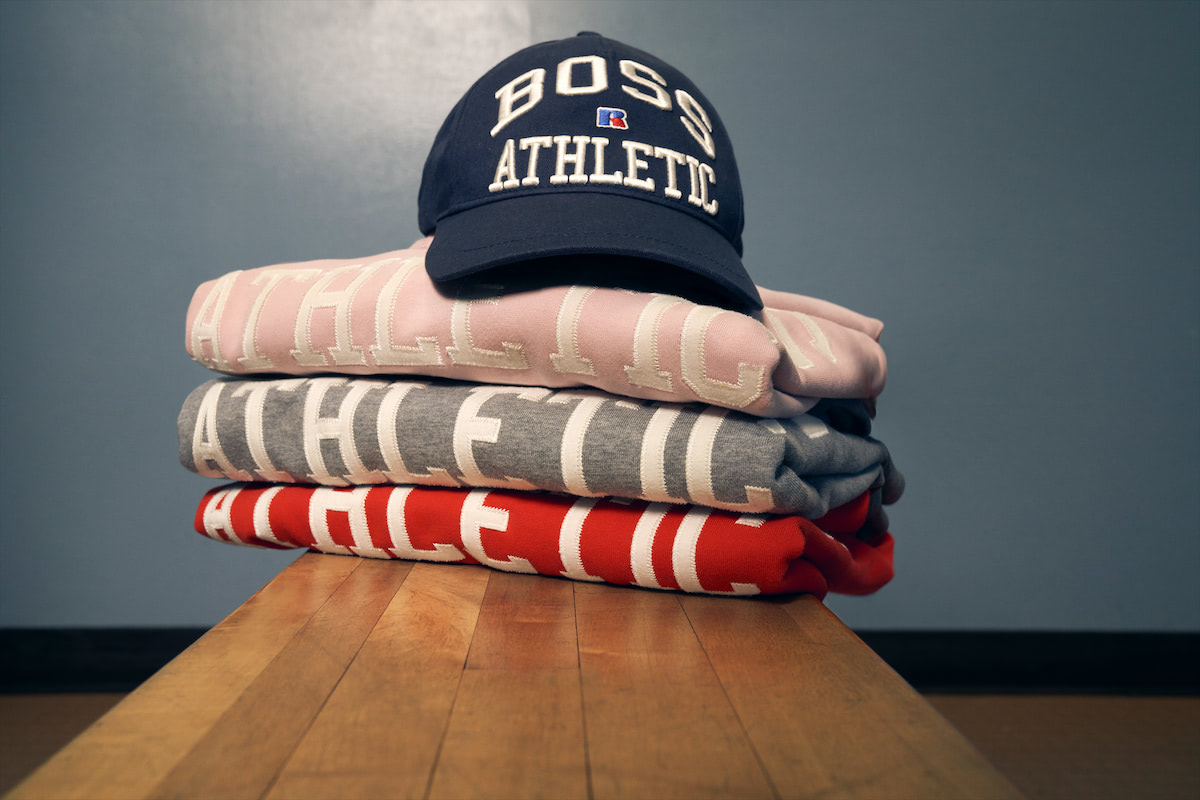 If bold '90s logos aren't your thing, the collaboration also boasts some smarter sporty staples, including an Oxford shirt (first worn for playing Polo) and the classic streetwear icon, the coach jacket. A key piece in any sports team's off-court ensemble, the coach jacket is a Russell Athletic mainstay and became popularized in the '90s, thanks to hip-hop and, in particular, NWA, who would wear them on the daily.
The unisex collection comes in collegiate tones such as heather gray, navy blue, and red, and also offers pastel pink and baby blue variations and touches to some of the pieces. While the combination of the logos brings a '90s feel to the collection, specific items transport you back to other eras of sports history. The varsity cardigan with signature flocked patch and hoops to the left arm will transport you back to a 1965 Ivy League football game. The spell-out embroidered sweatshirts teamed with some stonewash denim and the collection's signature sneaker will drop you into the front row of a 1996 Bulls game.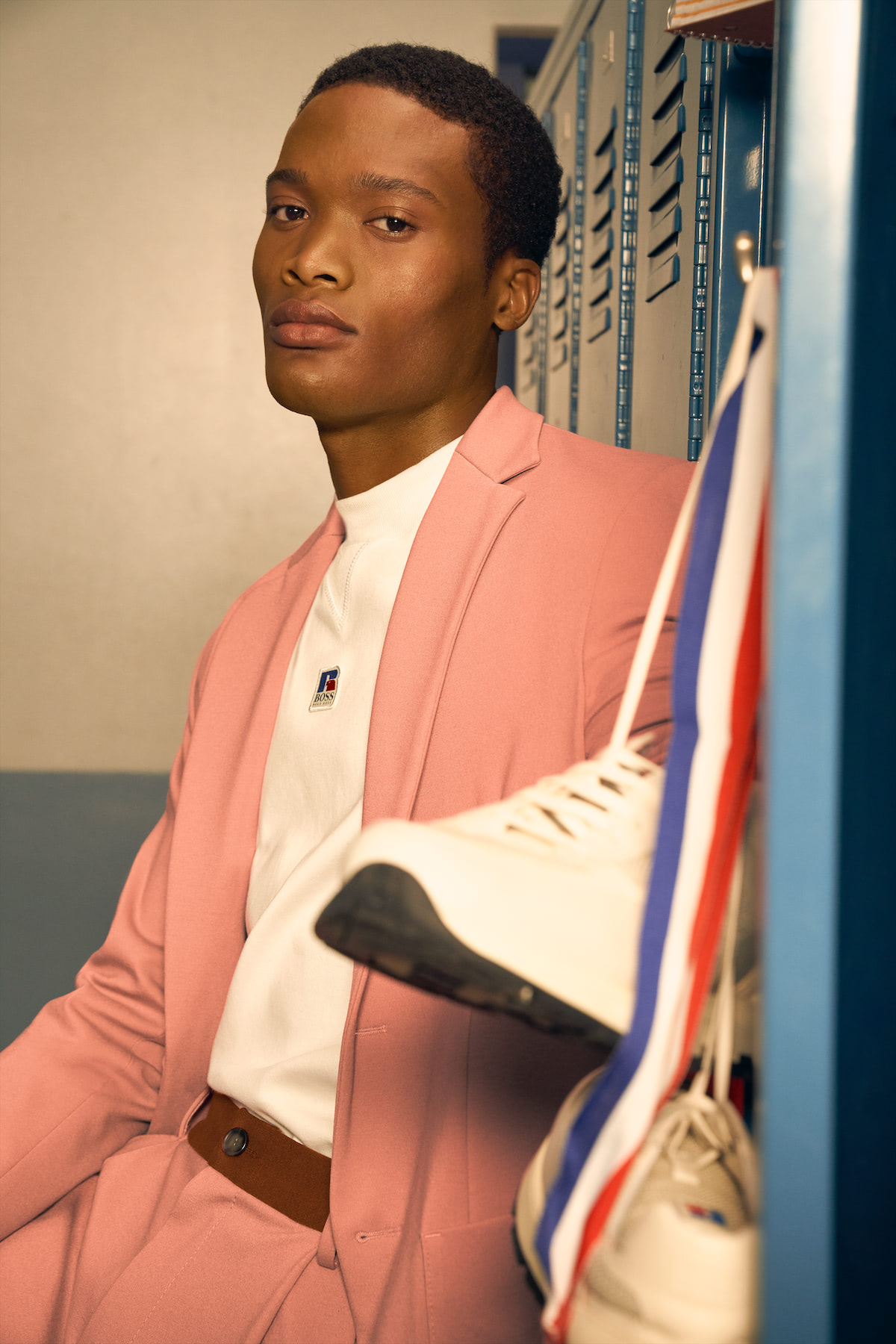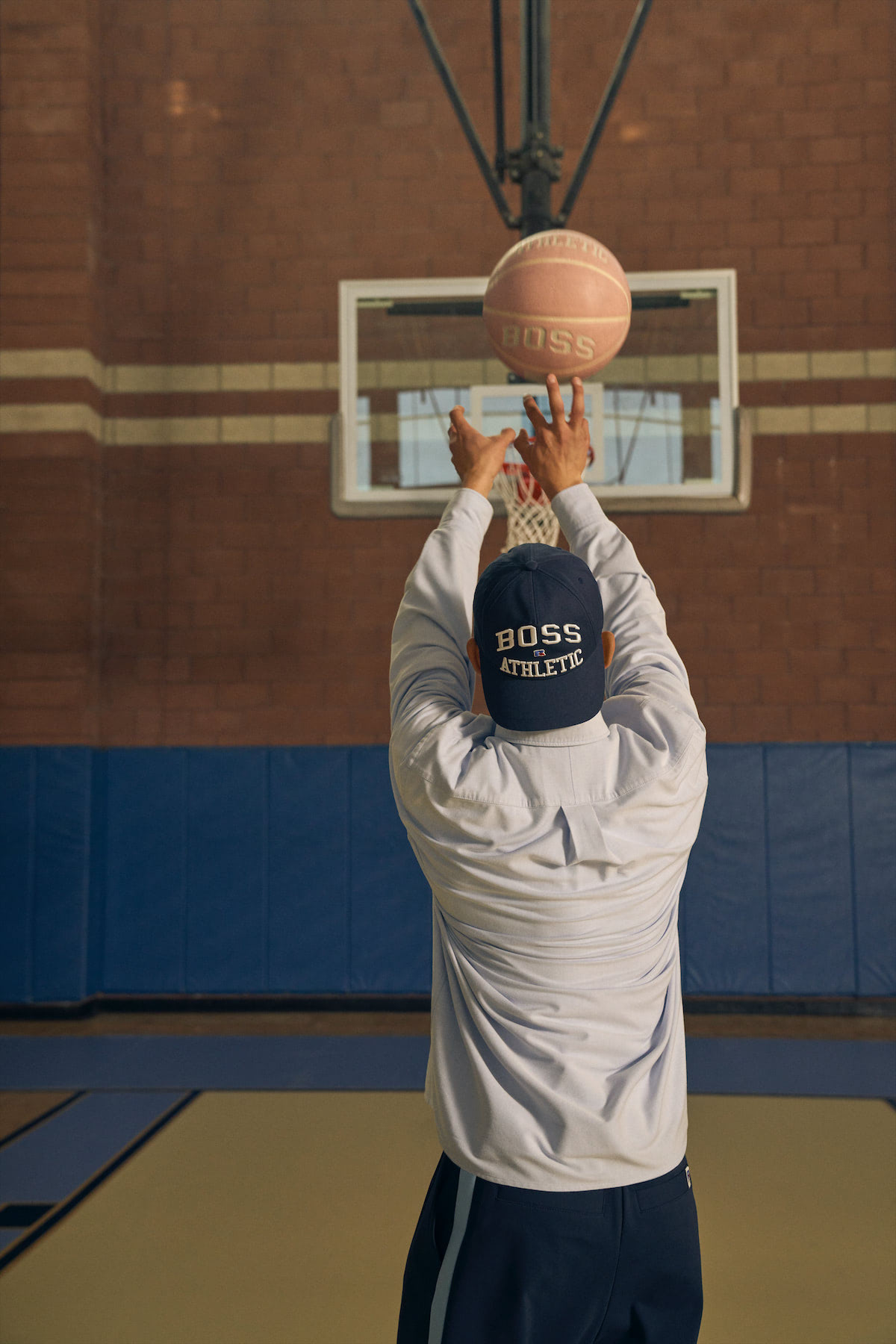 It wouldn't be a BOSS collection without a suit, and this collection boasts two iterations. One is the shell tracksuit that clearly comes from the Russell Athletic archive side of inspiration, reminiscent of sideline NBA styles of the '90s. But the collection's highlight is the tailored jersey suit. Coming in either a soft salmon pink or navy variation, it's as relaxed as they come. The cut is clean, simple, and classic. Tailored for comfort and made from materials usually reserved for sport, it's the ideal antidote to the slouchy and slobby fits we have become accustomed to over the last 12 months. The collaboration also features a track pant, a chino and sport short, and a range of off-court accessories, including a bucket hat, baseball cap, drawstring bag, and sports socks.
Accompanying the launch, photographer and director Joshua Kissi shot the lookbook and campaign video, bringing a sense of personal nostalgia to the collection. Kissi, who is known for his passionate and personal creativity and art direction, is himself a huge basketball fan. His love for those candid on and off-court moments is captured in his work, reflecting memories of our obsession for our favorite teams — from watching the press conferences to emulating our heroes out on the court.
Agency: Highsnobiety
Executive Producer: Klaudia Podsiadlo
Creative Director: Shane Gormley, Janak Jani
Brand Partnerships: Momo Kim
VP Client Services: Katarina Zalovic
Project Management: Dirk Walendy,Katie McNicol
Editor: Kevin Soar
Product Manager: Shaun Roach

Production Company: Division7
Executive Producer: David Richards, Kamila Prokop
Director/Photographer: Joshua Kissi
Director of Photography: Chris Ripley
Producer: Matt Day
Styling: Rita Zebdi
Hair: Tiago Goya
Make-Up: Alana Wright
Casting: Tallulah Bernard
Movement Director: Nana Yaa Asare Boadu 
Art Director: David Browne
Production Supervisor: Ashley Roberts
Comm. Coordinator: Patty Courtland
1st AD: Fred Childress
2nd AD: Don Johnson
1st AC: Jacob Perry
2nd AC: Joe Ash
1st Photo Assistant: Clark W
2nd Photo Assistant: Steve Yang
3rd Photo Assistant: Jesse Belvin
Digi Tech: Pamela Lopez Grant
Gaffer: Mathias Peralta
Best Boy Electric: Jason Sachse
Key Grip: Jon  Coyne
Grip: Shaun Giordano
DIT: Ian Spohr
VTR: Jacob Bass
Prop Master: Scott Adler
Leadman: Josh Kanan
Set Dresser: Camilo Castano
Post-Production: Final Cut & Significant Others V
Executive Producer: Suzy Ramirez
Post-Producer: Taylor Rousseau
Video Editor: Anthony Goméz Pan
Colorist: Adam Scott at JAMM
Print Retouch: Mark Crisostomo

Music Supervisor: Maxwell Gosling 
Score: Oh No - Flight

Models:  Jase Battiste, Annahstasia Enuke, James Baek and Alan Soule @Select Models
Elizabeth Salt @Next Management