The first season of *Bel-Air* is almost fully released on Peacock, and while it may have a similar spirit to its iconic predecessor, this chapter has proved to stand entirely on its own.
Will Smith's character, played by Jabari Banks, still gets his life flipped-turned upside down and goes to stay with auntie and uncle in Bel-Air, but the show defines itself as a drama this time around. Bringing a new dimension to each of its characters who we already know and love, Bel-Air further sets itself apart through heightened topics of discussion that don't shy away from modern-day struggles.
To commemorate its premiere, we caught up with a few members from the show to talk about its highly curated elements throughout themes like food, style, sneakers, art, and music as well as their personal hopes for the future of Bel-Air.
Read more below and stream Bel-Air on Peacock.
Hilary has changed a lot. She got more goal-oriented and even though she comes from an upper scale environment, she's aiming for something that you can't pay for, you have to earn it. Hilary juggles her social media platform all while trying to be a chef and create her own empire. Simultaneously she is also trying to prove herself to herself.
I drew a lot from my own personal experience in the industry. I've been acting since I was a kid and that transition from child actor working on Disney Channel to being a young adult is difficult. I needed to think about what that looked like exactly and be clear about what I wanted to say so that I could rebrand with my fan base. That takes a lot of tenacity and in that sense, I pulled from my own persistence to portray Hilary.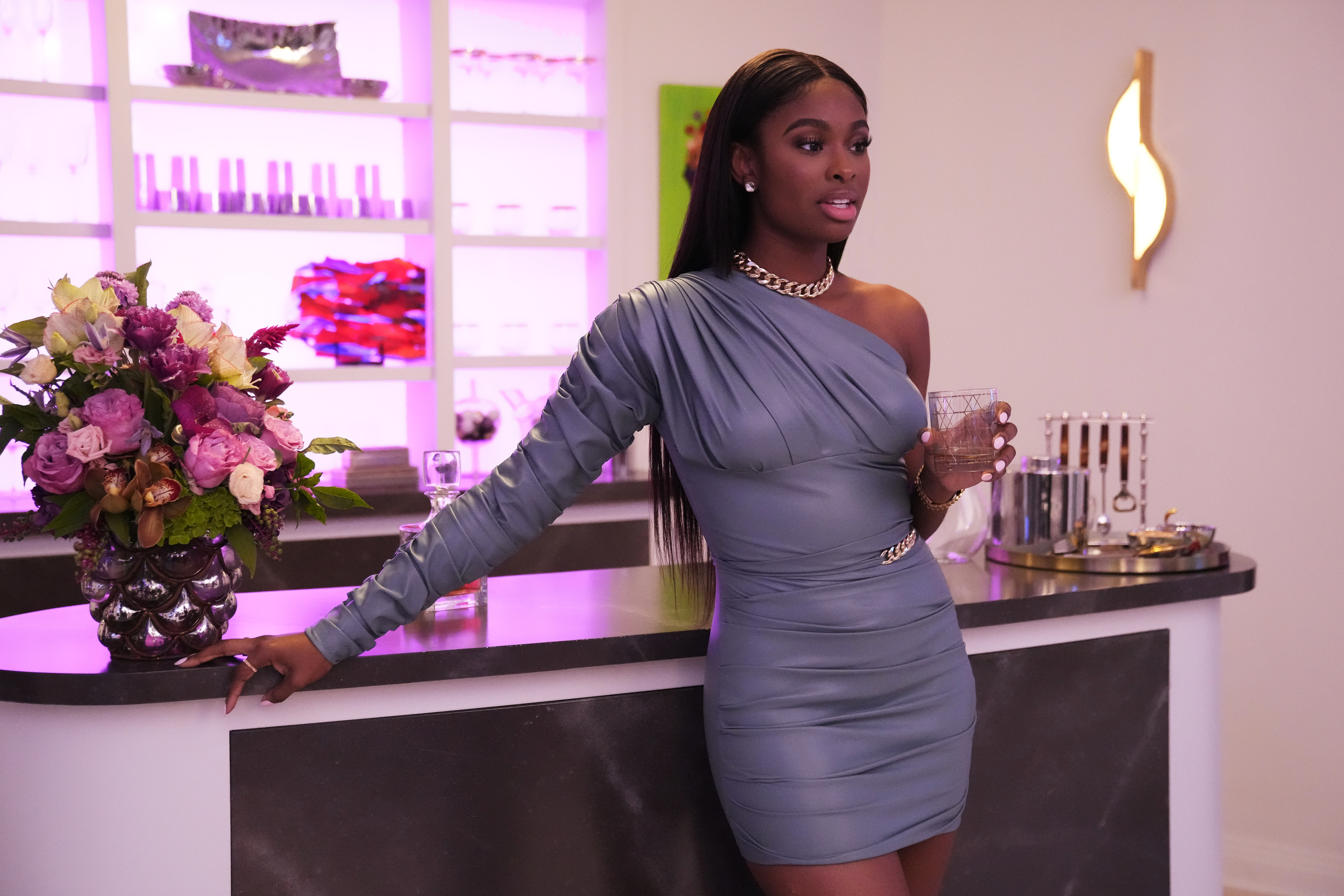 It's definitely a different approach when the shows you are used to doing are more lighthearted because Bel-Air is definitely a drama. It can get really intense at times. You learn what works and what doesn't when you fail – trial and error. But that's just anything in life. When you've been told for so long that what you're doing is correct and then you get in a different environment it won't likely work and you have to adjust. But I think that's what makes you a true artist – when you can reemerge as something different from who you were and learn from your past, but not be defined by it.
Well, Hilary draws a lot from her culture and that's something I do too. I'm from Nashville and I've learned a lot from my grandma and my mom on cooking classic Southern dishes from scratch. My grandma makes this incredible pound cake, I feel like I've been trying to perfect it since I was a kid.

But on a more personal level, I drew a lot of inspiration from my own passions as well. My music is such an important form of inspiration to me because when I create, I tap into my culture as well. As a Black woman that's a source of inspiration that Hillary and I share, whether it be through my music or her cooking.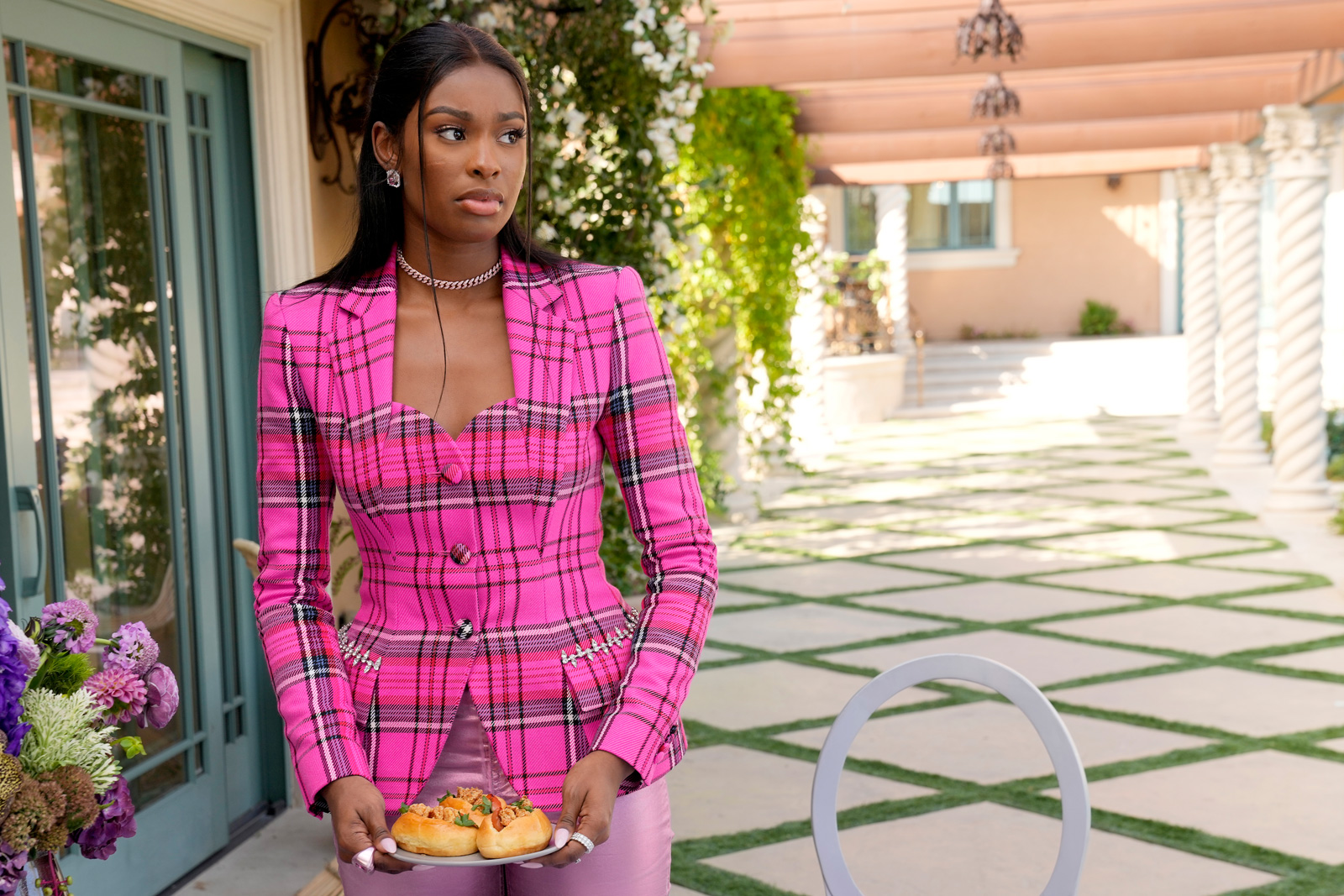 Hilary is extremely connected to social media. Whether she's venting or sharing her hardships with her followers, she's very transparent online. I feel it's necessary for any show to have a character in the influencer role since it's such a prevalent topic in today's world.
You can definitely see these themes played out throughout the show, especially in bigger scenes like our family meals together. This sense of comradery that brings about love and support is crucial to the show. We have these sticky situation moments, but we always find our way back to one another.

You also get to see how grounded Hilary is through her values. In the show, she gets great opportunities, but people ask her to change her recipes and go against her culture in a sense to become more marketable. Ultimately, she sticks to her traditions in a sense by not folding in the name of excelling.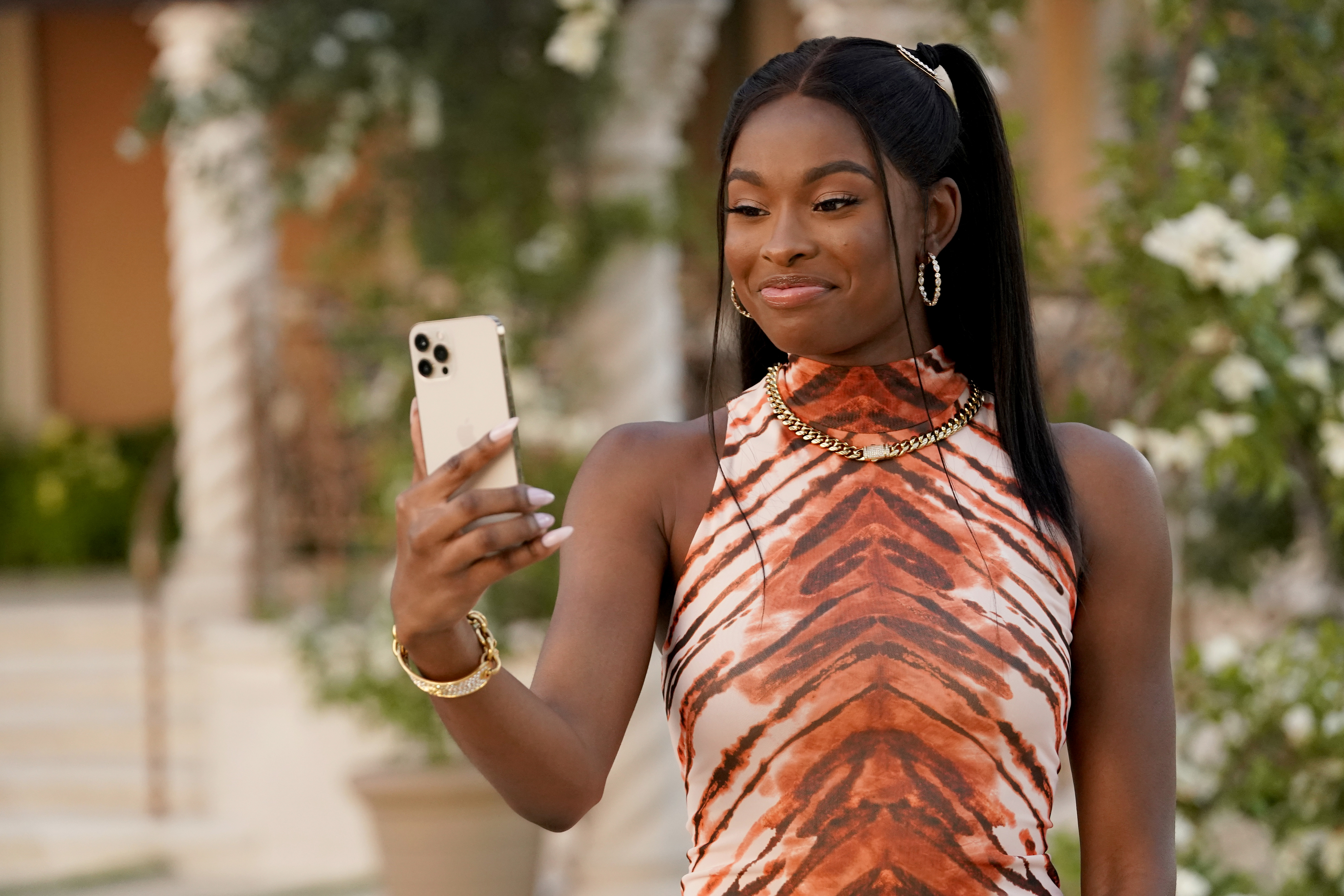 I would say Hilary and I are both one-track-minded. When we want something to happen, we just can't focus on anything else except for that. We are also both very fearless. Hilary drops out of college and goes against the status quo. Hilary could have a much simpler life if she decided to just follow the script that her parents worked so hard to give to her, but she takes these risks in pursuit of her passion instead.
Just like anyone else, you may have preconceived notions about what the show might be, but we're not trying to recreate history – we're here to make our own. I hope people are inspired too by my journey as an actress. A lot of my fanbase was so happy to see me get this role because they know how long I've been striving for an opportunity like this. I hope the people can look at how my life has panned out and continue to chase after what they want. Even if at times your dream feels hopeless, it never really is unless you give up.
Jordan L. Jones, also known as Jazz on Bel-Air jumped into his interview before its recording even started. His contagious personality and undeniable enthusiasm made him the obvious choice for Jazz's character – even with only three years of prior experience in the acting industry.
So while Jones wasn't convinced throughout the audition process that he'd land the role, he was self-assured of a deeper bond between him and Jazz: "Sometimes when you feel a character you can't help but kind of get attached and feel like you're meant for it," he adds.

With commonalities so great one can't exactly pinpoint where Jones begins and Jazz finishes, especially when it comes to their shared fashion sense. Nodding to the vintage style that defined this iconic story back in the '90s, Jones worked closely with the wardrobe department in Bel-Air to utilize a bright palette, baggy fit and wide-range of rare Air Jordan's (often Jones' own pairs) to portray Jazz's character in what he dubs as an "effortless swag".
No. I'm just being honest. But guess the thespian answer is yes. Well, maybe at the beginning, because I didn't really understand it yet, as in the whole show. I knew it was a drama, but once I started getting the lines, after the first day, I knew where I was going with the character, and, honestly, the majority of Jazz, for real, is really me. People ask me the time, "Were you trying to tap into Jazz?" Not really.

When it comes to the physicalities of Jazz, or the shades and all that, of course, I tap a bit more into the character, the way he moves and all that – but even when it comes to the comedy, I'm just kind of doing my own thing. On screen I'm just being myself, and that translates as the new Jazz.
Well, it's a mixture of both, you know? In the second episode, I've got iconic the yellow and the pink shirt and the purple pants. That's kind of my swag. I wear a lot of J's, looser fits and maybe I'll pair it with a designer shirt. Jazz is more of a button-down-type swaggy guy – it's kind of like a mature swag. So, I kind of mesh those together. What I also love about our wardrobe department is that you can kind of tell them what you want. So there are times where they'll come up to me and be like, okay, so episode six, what do you want to do? I'll be like, let me actually get some blue jeans with this top, and if you can give me the Jordan 3's, that would be cool. Overall, what I would rock is nothing too far off from the original Jazz's style.
For sure. I mean, Jabari is texting me right now, actually. Our cast and crew are so close, and it's not fake either. I mean, at the end of the day, this is a job. But my mom always says if you love what you do, you'll never work a day in your life. Everybody on the show is a fan of each other, seriously. When we hang out together on weekends it's not like someone is making us go bowling together. No, we do it just off principle, just off-rip. We all mesh together, so that strong foundation translates on screen. I mean, I'll put it this way, there are days when I'm not working and I still go to set.

Beyond the cast, the main reason why this show is so great, is also because people said that Morgan Cooper couldn't pull this off. But Morgan would tell us, "don't let anybody tell you what you can't do. If something's on your heart, then do it." This is the idea that came to him, and look where we are now.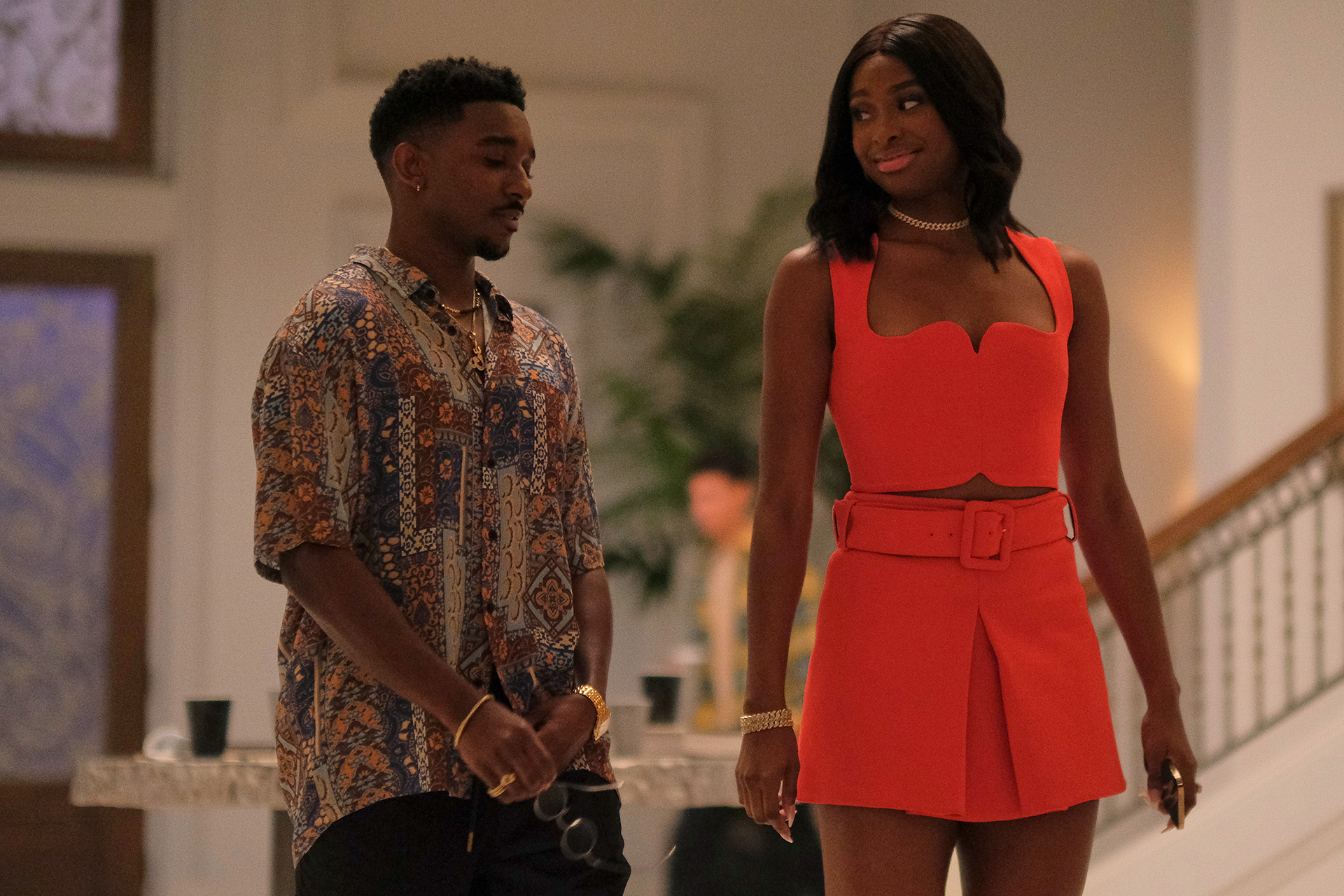 It's a huge responsibility to take on when people are expecting this same show. Because at the end of the day, if we did a comedy again like The Fresh Prince, then we would just be compared to one of the best shows ever, so I'm so glad Bel-Air is a drama. Of course, we do nods to the original and stuff like that, but I can't wait until people detach this from The Fresh Prince and stop watching it like, "Well, I hope this is the episode where Carlton does the Carlton dance."
Jordan. It's just so iconic. Certain shoes go out of style, and come back around, but the Jordan shoe has never not been popular. There were instances while filming where I told wardrobe, "Look, y'all don't even have to get this shoe because I got it already." At the end of the day, I'm a big style person. I do have a lot of brand-named pieces that I wear, but at the same time, I'm not the type of dude who wears a lot of box logo stuff just because it's a box logo.
I would like to trade closets with Carlton.
You're like, "Really?" Right? Watch this.
You've got to look at the shoe rack in his closet. The sneakers that he has in his closet he probably won't even wear, but I would. I have a grip of shoes that he has in that closet. My favorites are the Off-White Air Force 1's and Off-White Jordan 5's.

I feel like the only reason he has these shoes ties into his personal storyline in the show where, at the end of the day, Carlton's character is trying to just please his family and fit in. There's one scene where Will is hooping outside with Uncle Phil, and he is like, "I bought this for Carlton, but then he fell in love with lacrosse and race cars." And so I feel like his closet has certain pieces, including the sneakers, to make him feel more a part of the family. But I would actually wear them. He's got some fire in his closet.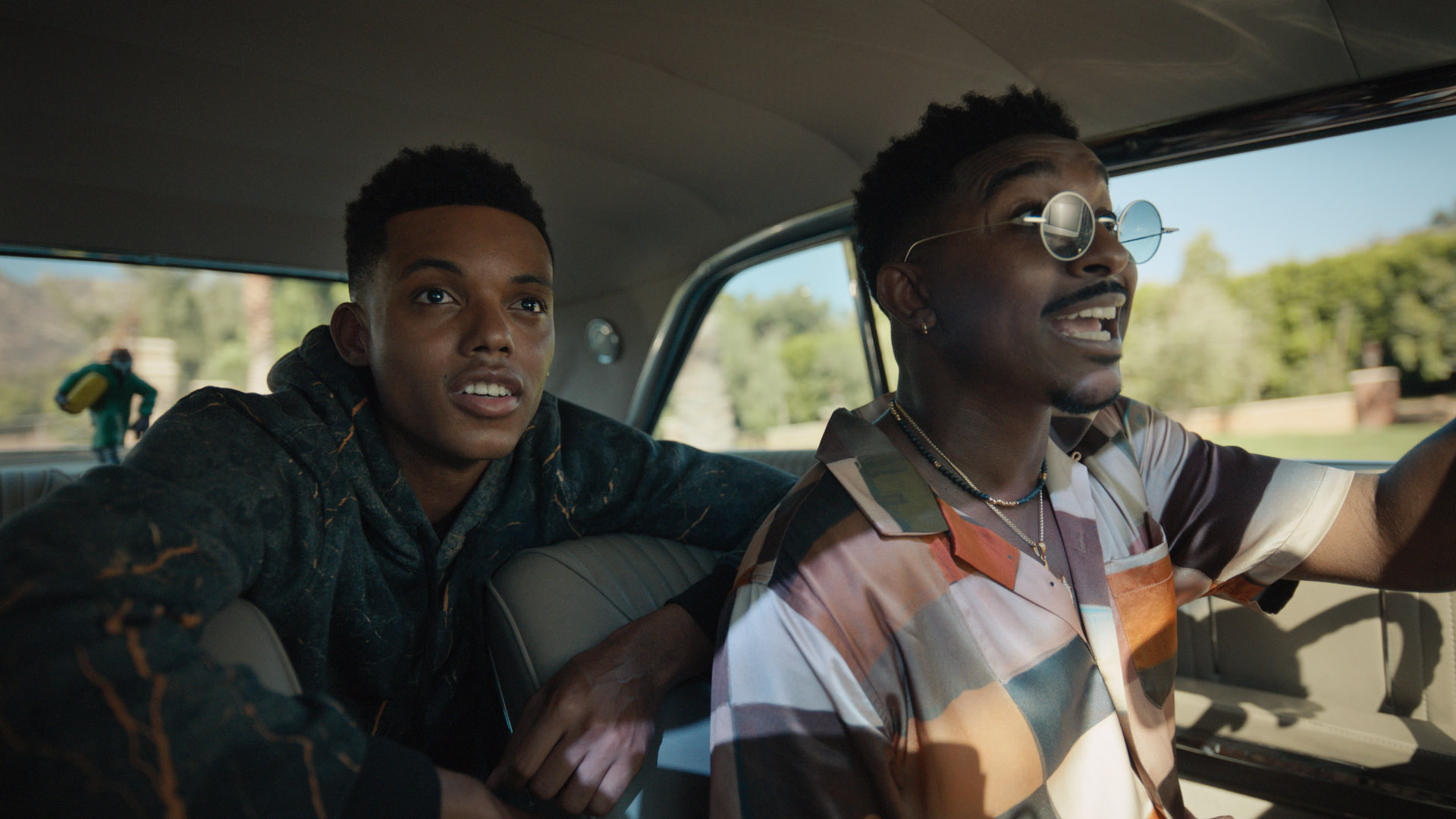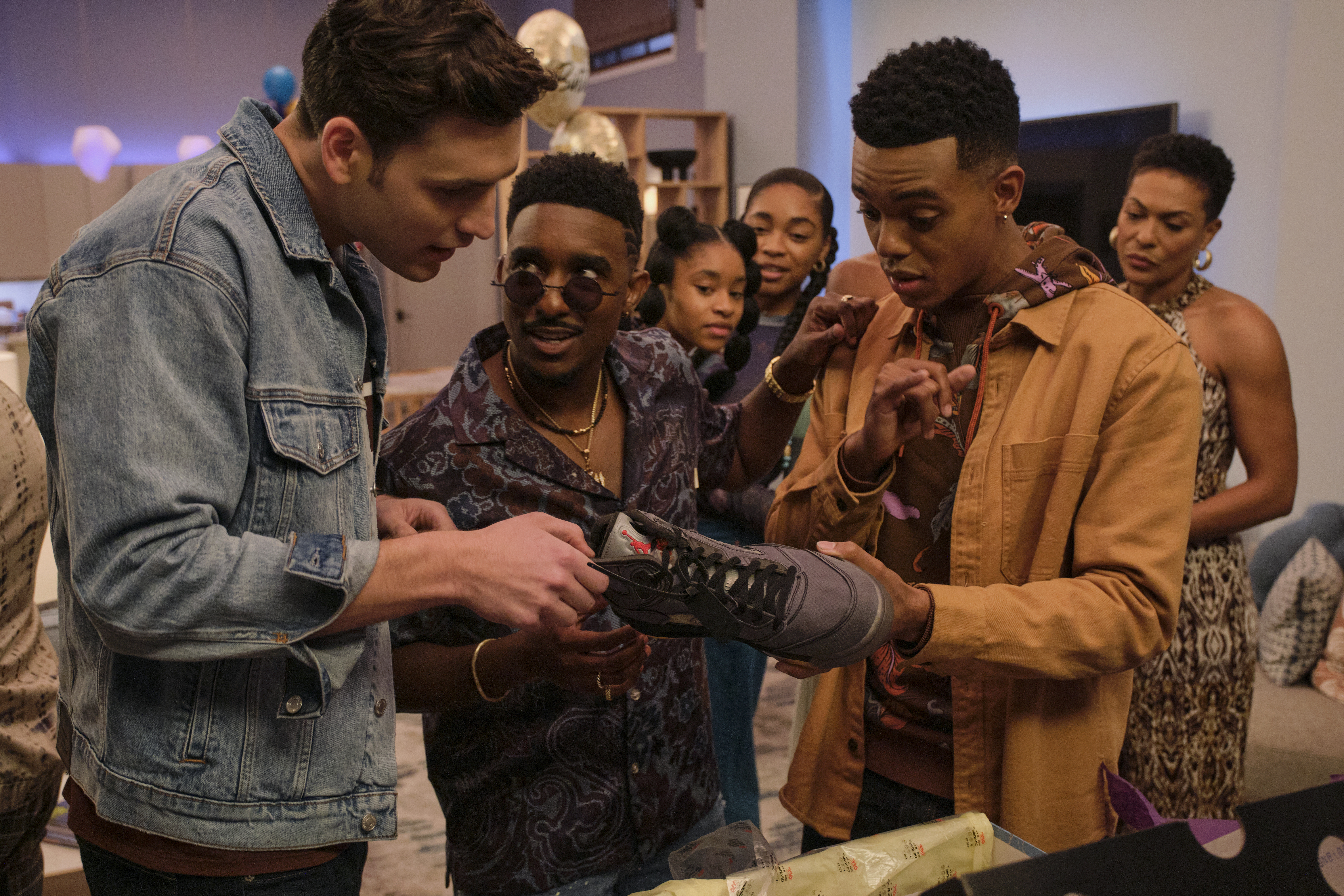 I think the most impressive sneakers, and rest in peace Virgil, are the Off-White Fives. I think I'm a shoe head. We have so many items of clothing, but I'm always looking at the shoes.
Well, I just hope that viewers can tap into these real issues that we're tackling. There's something that everybody can relate to. One of my favorite conversations in the show, and this is very small, is when Hilary's asking me in episode four, "You don't have Instagram?" I'm like, "No". She looks at me like I'm crazy, like I'm not a human. People assume that everybody lives online and if not, then you're not even doing anything. I know that was kind of small, but social media plays a really big role in our lives and mental health today so to see that conversation on screen is important..

Lastly, I just want to say that I love The Fresh Prince. I love it, it is my favorite show of all time, but I just hope slowly and slowly that people start detaching the two shows. The Fresh Prince is The Fresh Prince, and Bel-Air is Bel-Air. We get it, all the characters are named the same, but they're different than who they were in the '90s. Hilary is different, Jazz is different – well, Jabari and Will Smith are the same people, but that's a different conversation. Sit back, watch and enjoy, without being like, "I hope Jazz gets thrown out by Uncle Phil."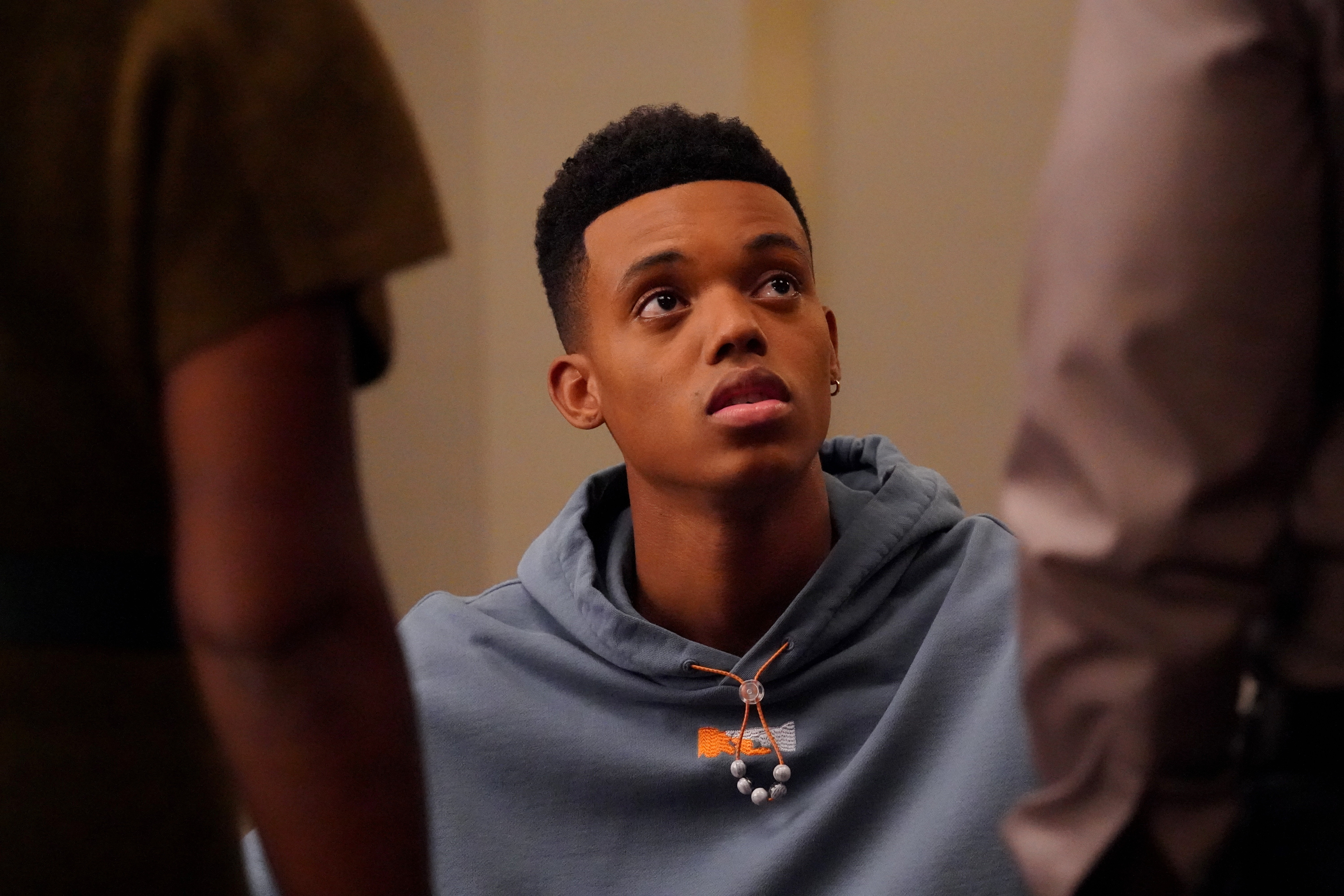 Jabari Banks never thought he'd end up here, but as fate would have it, he proved to be the perfect fit as his high-energy, yet easy-going nature matched Will Smith's own. In this sense, Banks brought a much-needed familiarity to the show, while still developing the character through a modern lens.
Like Will Smith, Jabari Banks is also from West Philadelphia, but that's only the surface of the pair's undeniable similarities. From small nuances like their shared sense of humor to larger, less definable parallels that can be chalked up to charisma, Smith and Banks are truly two sides of the same coin. Even Banks admits, "I feel like I don't know where Will starts and Jabari ends." But that's not to say one should expect the expected in Will's storyline from The Fresh Prince to Bel-Air – this is a new chapter.

Defining its own history as a drama rather than a comedy, Bel-Air comes with many powerful messages. "People want to see something that's real," Banks adds, "our biggest goal when starting the show was to be authentic and to not shy away from the harsh realities of our world." Although the show's conversations might feel different than the ones we are used to in The Fresh Prince, certain themes had to be honored.

One aspect that was purposefully carried into Bel-Air was the importance of style, more specifically sneakers. Highlighting sneaker culture, you see everything on the show from rare Jordan 3's to Off-White Air Force 1's. Bel-Air even pays homage to the OG Fresh Prince after Bank's Will receives a package from his mom in the mail containing a pair of Jordan's Fresh Prince 5's.
To learn more about his perspective, we caught up with Banks to talk about growing up along with the show, sneakers, and his personal hopes for Bel-Air.
When Morgan dropped the trailer in 2019, I was definitely skeptical at first – it's The Fresh Prince, you don't really touch the classics like that. Once I saw his interpretation of the show and the spin that he put on it, I was all the way down for the ride. It's funny that I'm here now, I never thought that I'd be a part of this project.
We needed to say something in this story and I knew when I read the script that the show had something to say when it comes to mental health and even the conversation about the n-word that's brought up in the first episode. It was important for us to open up this new dialogue for the world. I've loved everybody's different take on what these themes mean to them, it proves that there's definitely something for everyone to relate to. People want to see something that's real and that was our biggest goal with the show – to be authentic and to not shy away from the harsh realities of our world. It's also really interesting to see the characters we know and love go through these elevated circumstances.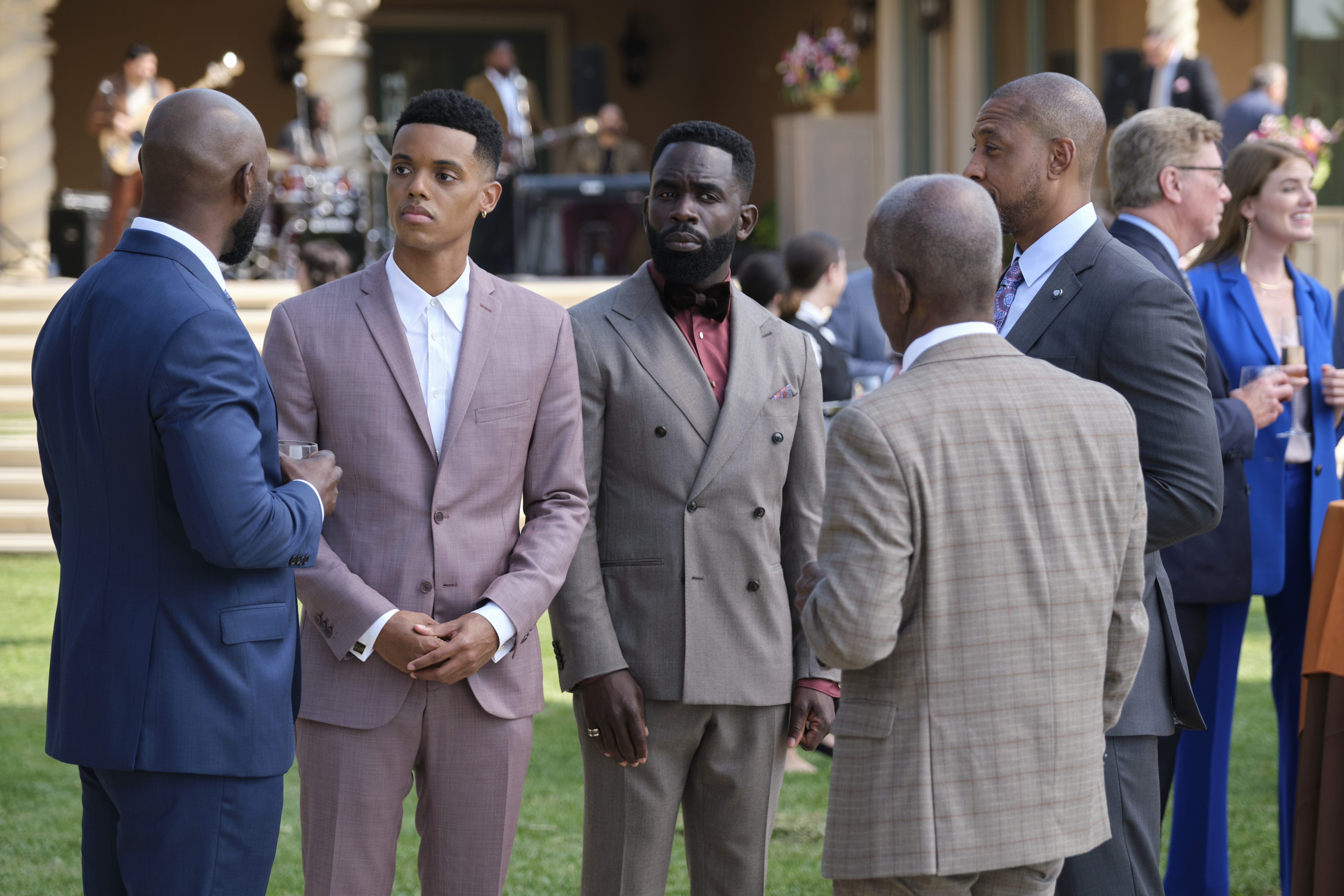 Absolutely. Will has this earring that he wears and since we've wrapped I've just kept it in. I feel like I don't know where Will starts and Jabari ends. I didn't have much time to prepare for this role, it all happened so fast, and I love that. I really had to bring who I was to the table and in that sense, it was more authentic. Rather than me being in my head questioning, "How would Will do this?"

There are moments in the show that directly paralleled my life. In the first episode, you see Jazz and Will standing on Mulholland Drive and while that's Will's first time on Mulholland Drive it's also Jabari's. Jazz continues to tell Will, "This city will try to make you forget who you are and where you came from." That line felt very real to me.
It's all about the way you carry yourself because Will can really put on any outfit and make it work. That was my experience too because growing up I didn't have the money to buy everything that I wanted, I had to make it work. I feel like that's what Will does in this series as well.

The wardrobe team for Bel-Air is also very collaborative. This is my first show, but I've heard it's rare to have input as an actor when it comes to what you wear on screen. They always ask which shoes I like best. From the beginning, there was a lot of conversation about wardrobe on the show and its importance, but I feel like we're definitely going to take things up a notch in season two. We're going to start topping what we did in season one for sure.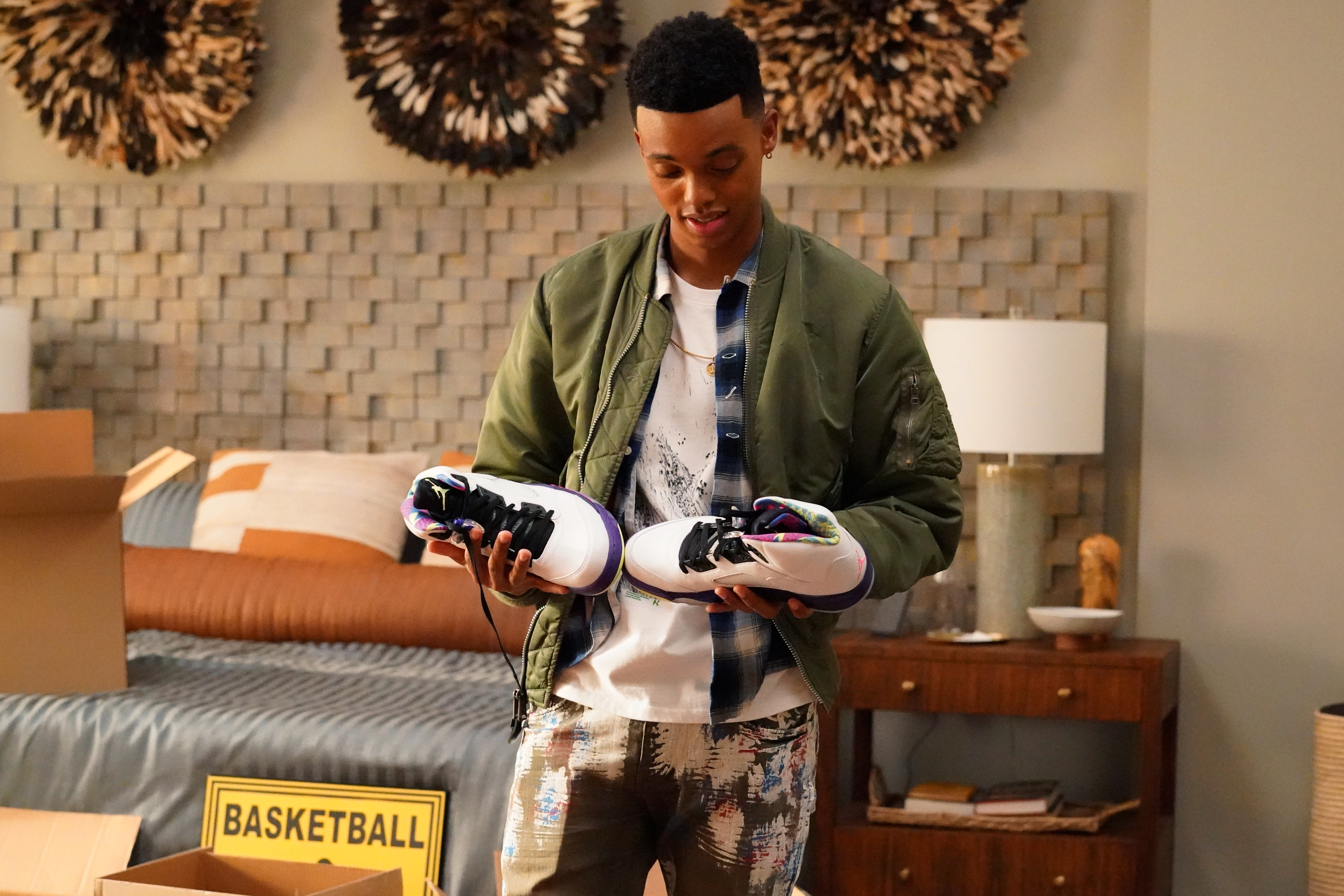 I've got a couple with me right now actually. My favorites right now are the Travis Scott Mocha's and the Off-White Jordan 1's. In the next season, I hope we can highlight more Jordan Off-White collabs. But also, a little bit of a spoiler alert, you'll see the Off-White 5's later in the season.
Honestly, a little bit of both. I haven't worn any of my own sneakers in the show, but I have definitely taken a couple of pairs home with me.
What we've created in season one stands on its own. I hope that further down the line we get to see these characters expand in ways that we never thought they could. Right now, we're sort of fitting the mold in a way, and moving away from expectations little by little – but I want to take it to outer space. In the seasons to come, I want people to think, "I never knew these characters could feel this way, or talk this way." That's what I'm most excited about.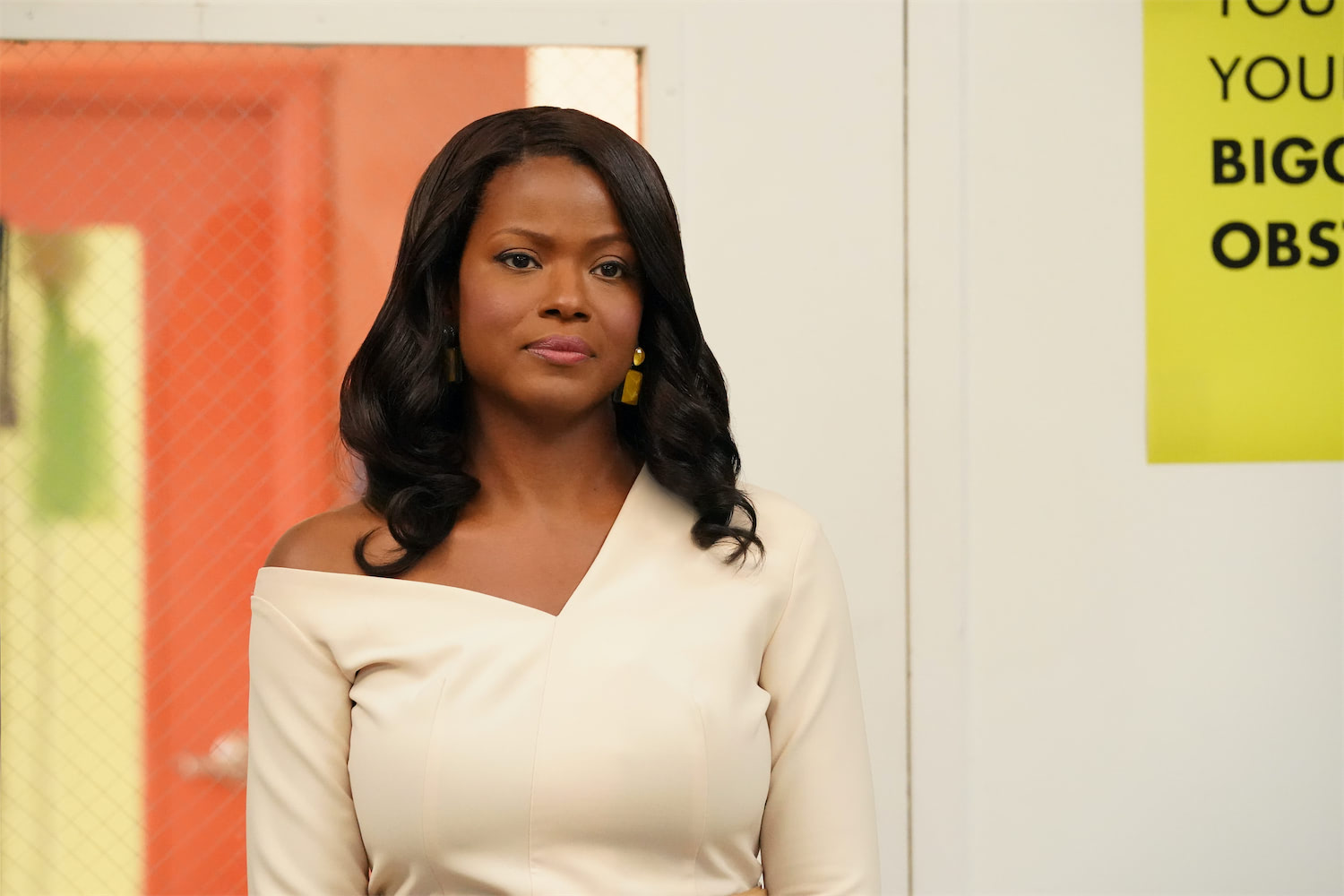 Cassandra Freeman Helps Vivian Banks Break Free
The Aunt Viv we know and love remains the matriarch of the Banks family in Bel-Air – and rightly so. Independent, nurturing, and talented, she is still the character who everybody in the show turns towards for trusted guidance.
Played by Cassandra Freeman, we are re-introduced to Viv through new character developments, most notably her updated passion as an artist and art collector. Through this lens, we get to see Vivian Banks in a different, more exposed light as she begins to question her roles in life as a wife, mother, and artist. Speaking on the pressures that Viv feels throughout the show, Freeman adds, "What happens in America is, if you are a woman, you get born into a very specific cage of what it means to be a woman…Then, if you're a Black woman you get another cage put onto you. Then you become a mother, and you get another cage."
These themes of vulnerability, strength and the pursuit of personal expression are integral to the purpose of this story's newest chapter and its defining shift from a comedy in The Fresh Prince to a drama in Bel-Air. Freeman adds, "if this show does nothing else but portrays Black excellence, Black love, and normalizing those conversations, then I feel like it was brought to life for a good reason."
Read more below on our conversation with Freeman on Vivian Banks' new identity as an artist, their similarities as mothers, and the power in starting over.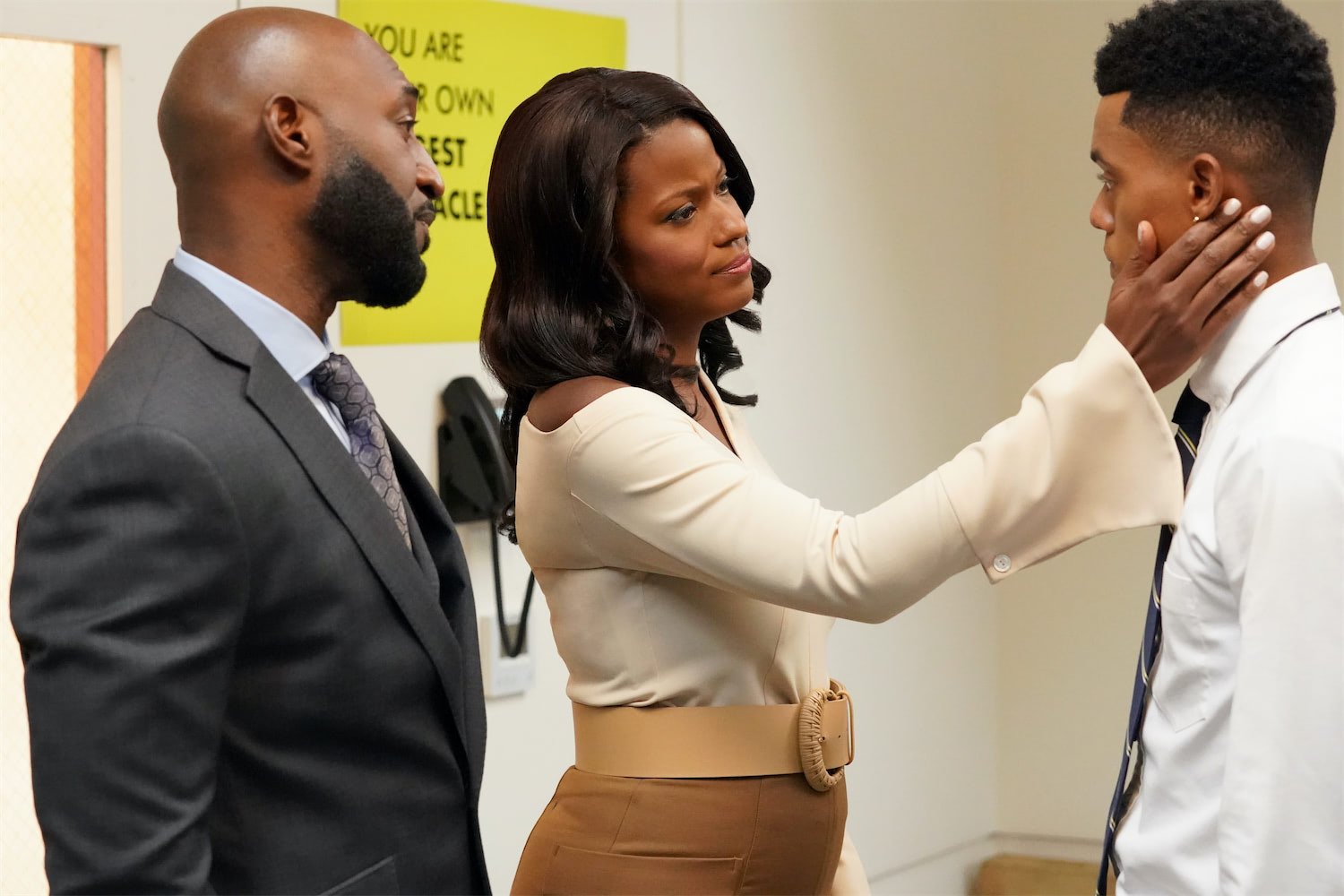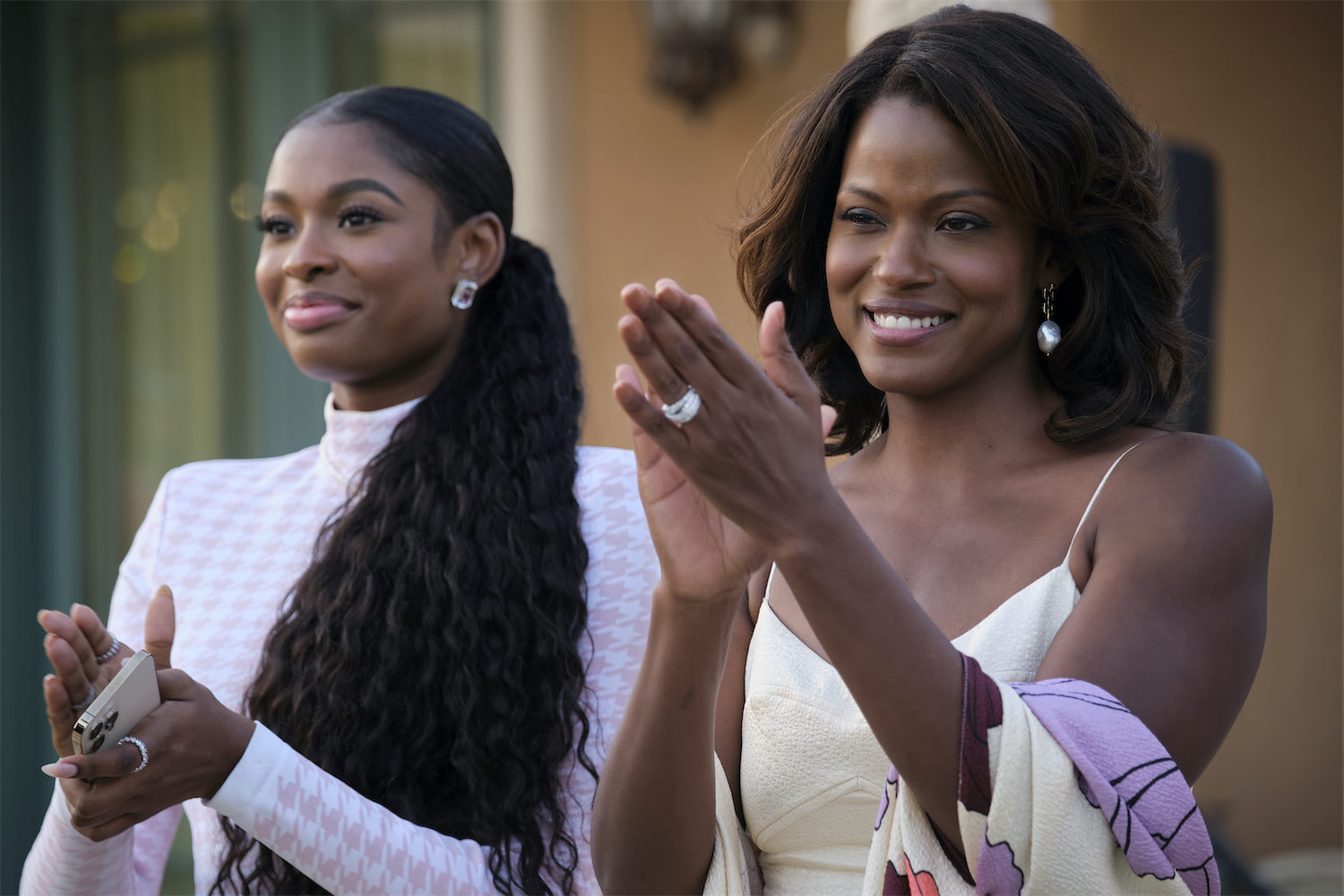 Well, the core of who Viv is remains the same – she's still the Queen, the Auntie, that loving person. The biggest change to her character is that instead of a background in dancing, in this story, she has a background as an artist. On a more personal level, another difference is that Vivan is a woman who isn't fully self-expressed yet.

When you see Viv in those first few episodes of Bel-Air, she feels like a paper doll cut out of what the perfect Bel-Air wife would look like, especially since her husband is running for DA. I feel like she's trying to fit into this world. But no matter who they're trying to dress her up as, the root of who she is stays intact. On the surface, she's from West Philadelphia, just like her nephew. But in her core, there's a part of her that's a deep listener – she's still very much the consciousness of the show.
It's so mystical to be an actor. You're like, "Oh, this role sparked this thing," and it inspires me to go in a specific direction. So for Viv, the thing that was sparked in me was, "I should go watch some documentaries on African American artists." I also did research into other African American female artists who are in their 80s now. The common thread through all of this was the sentiment of, "Oh, it was so hard to get an exhibit." Even if it was an African American space, the men would get first privileges before the women.

In general, I feel like if you see an African American woman in any room, they're probably a superhero. They're probably overly educated with so many accolades and titles, but very few people actually seek them out. So what happens is these women have to either create their own space or constantly just wait and wait. Hopefully, if they wait 20-30 years, they'll finally get their moment – this feeling is very much part of Viv's character. You'll notice that if anybody tries to dismiss her, you can feel it's a sore spot for her because she's so passionate about her work. She's actually a brilliant artist, she just got exhausted from it. There was another job at hand – motherhood.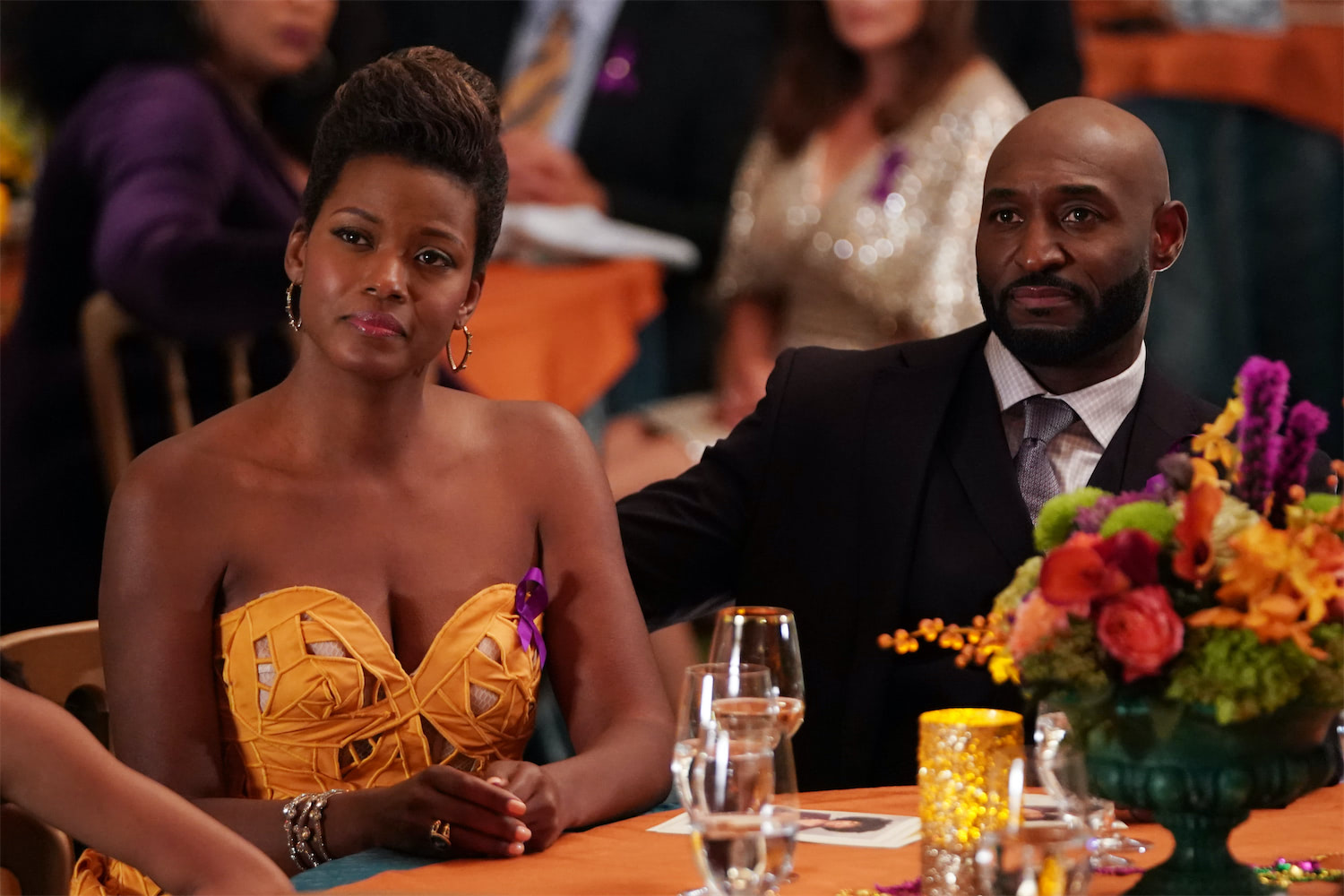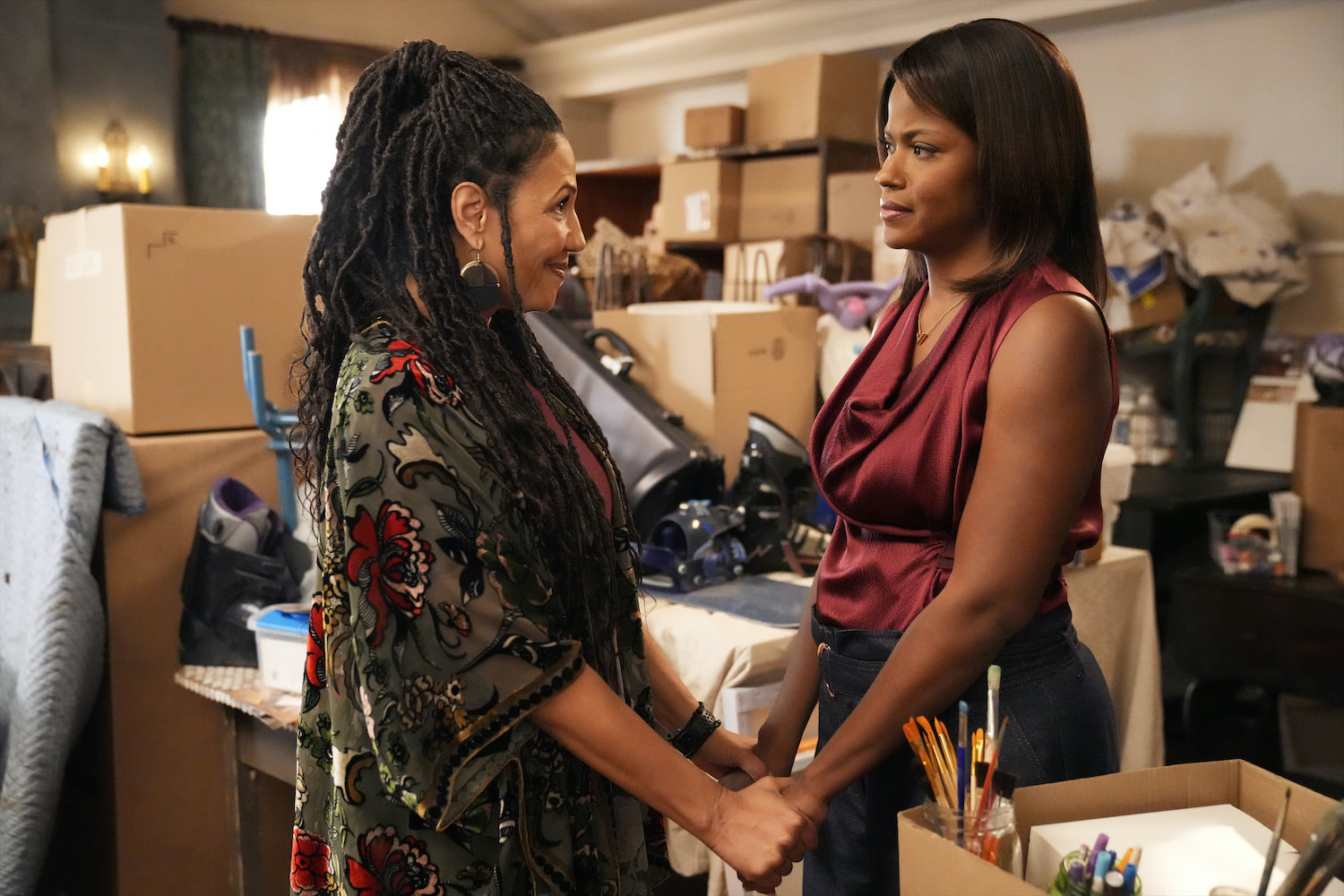 What happens in America is, if you are a woman, you get born into a very specific cage of what it means to be a woman. How smart can you be? What jobs can you have? Then, whatever endeavor you get, that stays with you. Then, if you're a Black woman you get another cage put onto you. Then you become a mother, and you get another cage. But the truth is, we don't really know the full potential of an African American woman, because the white gaze is so oppressive. You want to fit in, not make people uncomfortable. You want to do your best job of assimilating.

You really get to see this play out in the first season with the tension between Viv and her daughter, Hilary, as there are two different roads one can take to be successful. One is if someone punches you, you swallow it and take the high road. That's very Michelle Obama. When they go low, you go high. That's exactly how I was raised. But the other road is inspired by this new generation's mindset like, "No, they went low. Now everybody needs to know that they are low."

What's interesting is, when you're a young person, you'll naturally see the world differently than your parents do. So what you'll start to see is Viv discovering that there are other ways of being through her kids' actions. There are other ways of being a wife and being in a relationship with her own children. Sshe also learns that if she can start to really find herself as an artist, it might soften her triggers and make her happier. Even though these feelings are suppressed, and she keeps them under control, you can't help but notice that dis-ease in her.
She and I have some things in common. I do too love the finer things in life. I travel as much as I can around the world. My aunt and uncle are also huge African American art collectors, so my taste in art grew from them. Actually, some of the art on the walls in the house from Bel-Air comes from the influences of a lot of the artists that I grew up around, such as Jonathan Green, Bisa Butler, Charles White, and Phoebe Beasley. I feel like our taste in art is very much the same, whether it is expressionistic or not.

Viv and I also share the desire to deeply listen to people and make them feel seen and heard. Viv really does want to do that for people, but it just comes at a cost, because no one really deeply listens to her so she's always trying to fill her own well. I also know what that is too, and how challenging it is to ask for help. I don't know if that's a gene in women or what. I have a three-year-old, so I'm a mother too, and who I am as a mother is very different than who I was before motherhood. It's the same thing with Viv. They have done a lot of research on moms' brains, and there's some hormone that happens to women which will make you want to give your life for your kid. It's such a strong, powerful drive. So I would think, if I had three kids like her, honey, in a minute I would just stop painting for a while. The best art you could have are your kids, and that's one of the reasons why I became a mother.
The thing that grounds me when I take on a role is that I think my character stands in the possibility of showing certain things in the culture – in the microcosm and in the macro of like who a person is. So one part of it is that I hope women, no matter what age they are, 20 to 90, that they feel like they can always start again. You can always uncover a part of yourself that hasn't been nurtured, and you can nurture it yourself. You can find people around you to help you to nurture it. It's legit never too late. I'm 42 now, and I'm so shocked to see how much energy I have. But when I was a kid, and I was 20, I would've thought 40 is the end. Nope. It is literally the beginning because 40 is when you start to feel like, "Oh, I'm allowed to take up space. I've earned space." To be a Black woman in the culture is the definition of strength. It's like, "You know what? No, I'm fragile. I need someone to take care of me. I'm a deeply wounded person who is looking for someone to love me too. I get weak." I think it's great because you get to see Vivian get very fragile in this show, and realize she needs people to take care of her too. That's what family is for. So if this show does nothing else but portrays Black excellence, Black love, and normalize those conversations, then I feel like it was brought to life for a good reason.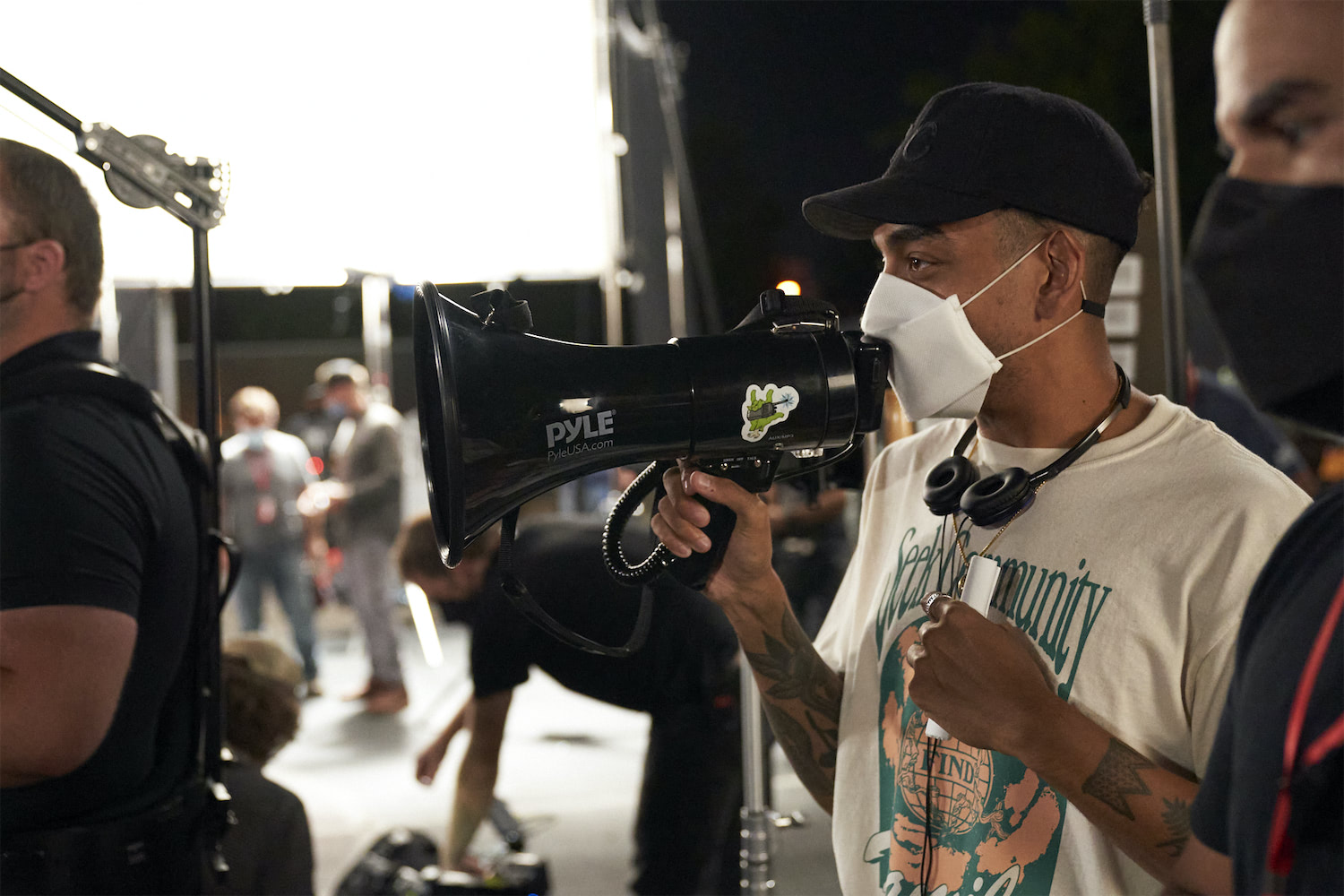 A Labor of Love: Morgan Cooper on the Making of "Bel-Air"
"I was driving down the highway and the entire vision hit me at once to reimagine The Fresh Prince of Bel-Air as a drama. And I really ground these iconic characters that we knew love from the sitcom in modern-day life. Artistically, that's the way my mind works. I see it as a whole thing – the look of the show, the sound, the texture, the tone, it all really just hit me at one moment."
Morgan Cooper creates from a true conductor's standpoint: giving direction, setting standards, and maintaining focus. But the true beauty of his craft lies behind his ability to then let go. As the artist explains, "although you have to plan very meticulously in the filmmaking process, there's space to ask, 'how can we allow room for the human component?'" Allowing this sort of breathability and trust amongst the cast and crew on the first season of Bel-Air has proved to make all the difference, creating a heightened sense of authenticity which allows the show to stand on its own.
We spoke to Cooper on the importance of following your intuition, the intentionality behind Bel-Air's soundtrack, and loving the process.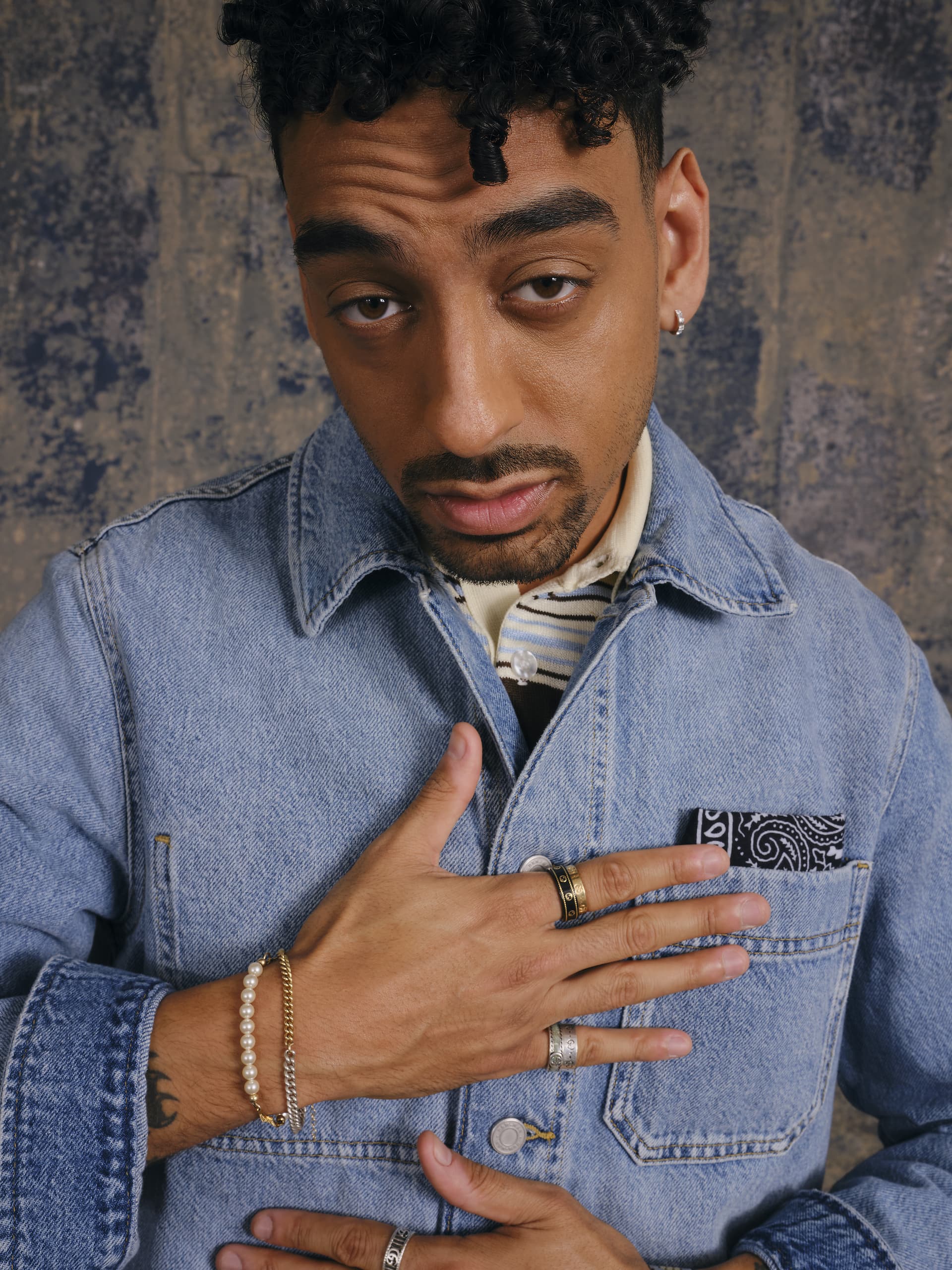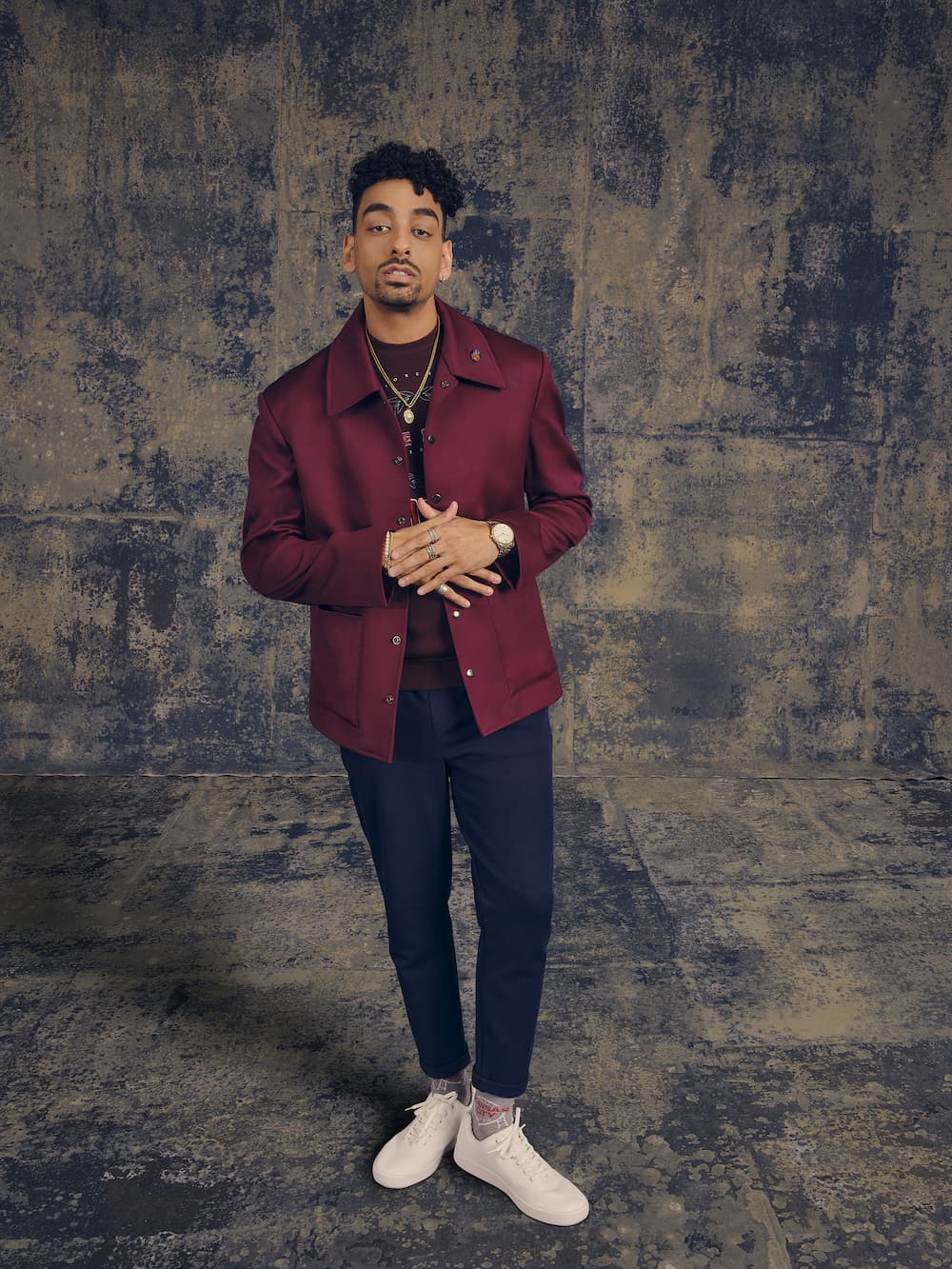 I love the cast. They're just the best. As an artist, I think it's important that you give your collaborators authorship in what they do. My job as a director is to put my talent in a position to shine and be great. It's not to stifle them in any way, it's to embrace what they bring to the roles. So for me, it's all about empowering them to go for it and swing big. I'm just here as a coach to put up the guardrails if we go too far, I'll always help you bring it back. I encourage them to let it all go.

Giving actors that level of trust, you really see it hit the screen and you get this magic that you won't otherwise find if they feel stifled or in their head, it's like giving them an opportunity to really express at a deep internal level. This is very important for the process and I think people feel that in the show, and in the pureness of these performances. It's what makes this show interesting – because there's a level of deep authenticity and honesty through the stories that we're telling by the incredible actors who are inviting these roles.

Overall, I try not to put a box on the process. Although you have to plan very meticulously in the filmmaking process, there's space to ask, "how can we allow room for the human component?" It starts from the top down and that's my job. This is something I communicated a lot to Jabari. Affirming his confidence was key and telling him on that very first take, "don't play it safe – do it for my honest place, but within that, hold nothing back, be fearless, be bold, it's a safe place. You're going to have another take, so just go for it." I really think setting the tone with that very first take was crucial to making sure that Jabari was in a position to succeed, and ultimately the show was in a position to succeed.
My north star is always Juice by Ernest Dickerson. That movie left an indelible mark and still to this day is my favorite, even though I was very young when I first watched it, way before I ever had aspirations to be a filmmaker. I just knew there was just something really special about how it was captured.
A big part of the development process was me making each character a playlist. First, got on Spotify and made very extensive playlists for Philly and LA. For example, what we hear while Will is waking in Philly is different than the music we hear when he goes to Bel-Air – different instrumentation palettes, tonality, and vocal textures were used to contrast both of those situations. And then each character also got a 60 to 70 song playlist as well.

Will's playlist touched on themes of his life, but also had sounds that expressed his flavor and his bounce. Same thing with Viv – she had a lot of Lauryn Hill, Sade, and TLC on her playlist because those were sounds that she grew up on. Phil got Souls of Mischief, Tribe, and Big E. That was the music of his era. Jazz, is from Compton, so you're hearing NWA, Snoop, Nipsey Hussle, MF Doom, Jay Dilla – he idolizes those guys.

We gave the actors those playlists before we even wrote a take. They told me that was really helpful in their process because if you can look at somebody's playlist, you can really get a feel for who they are.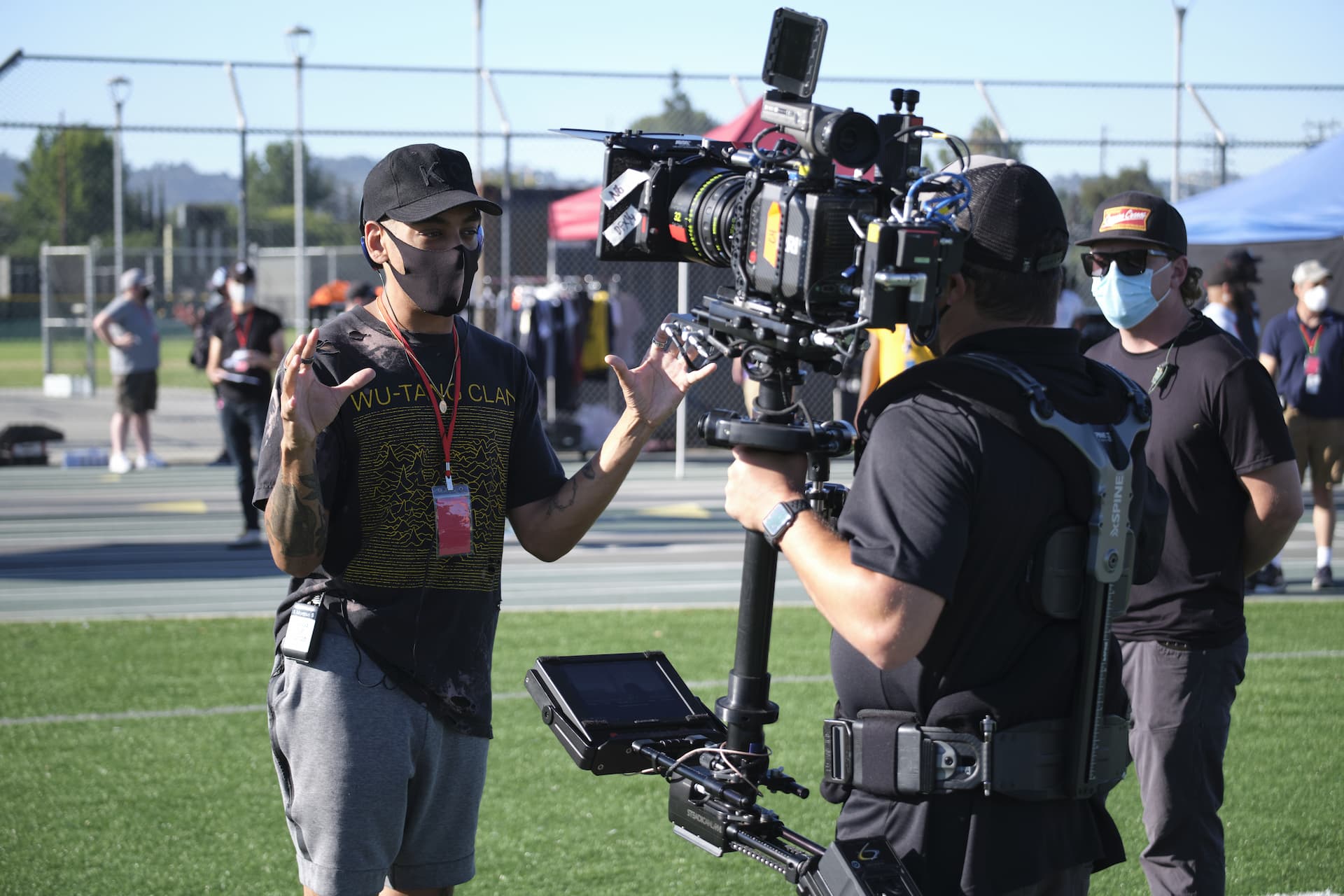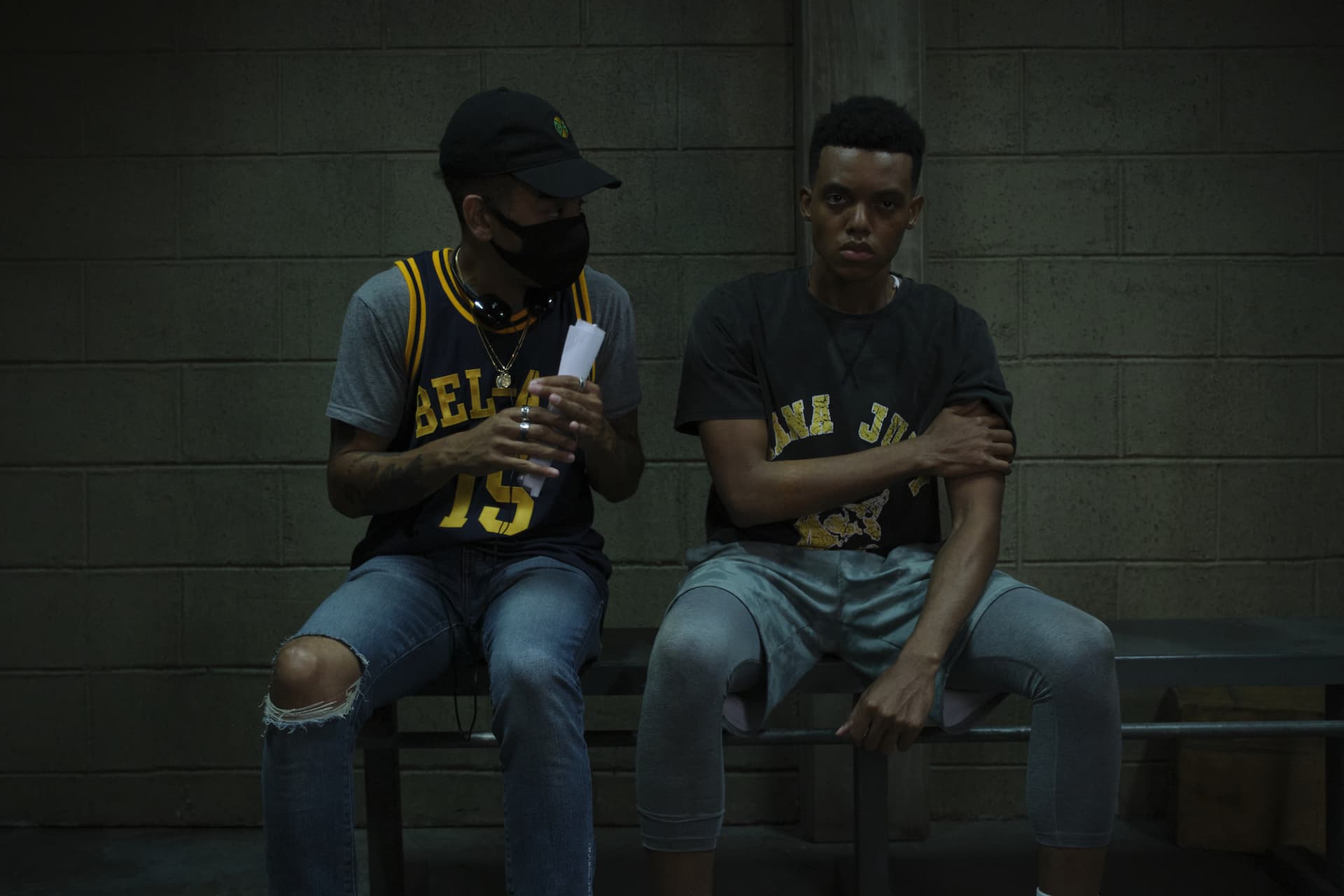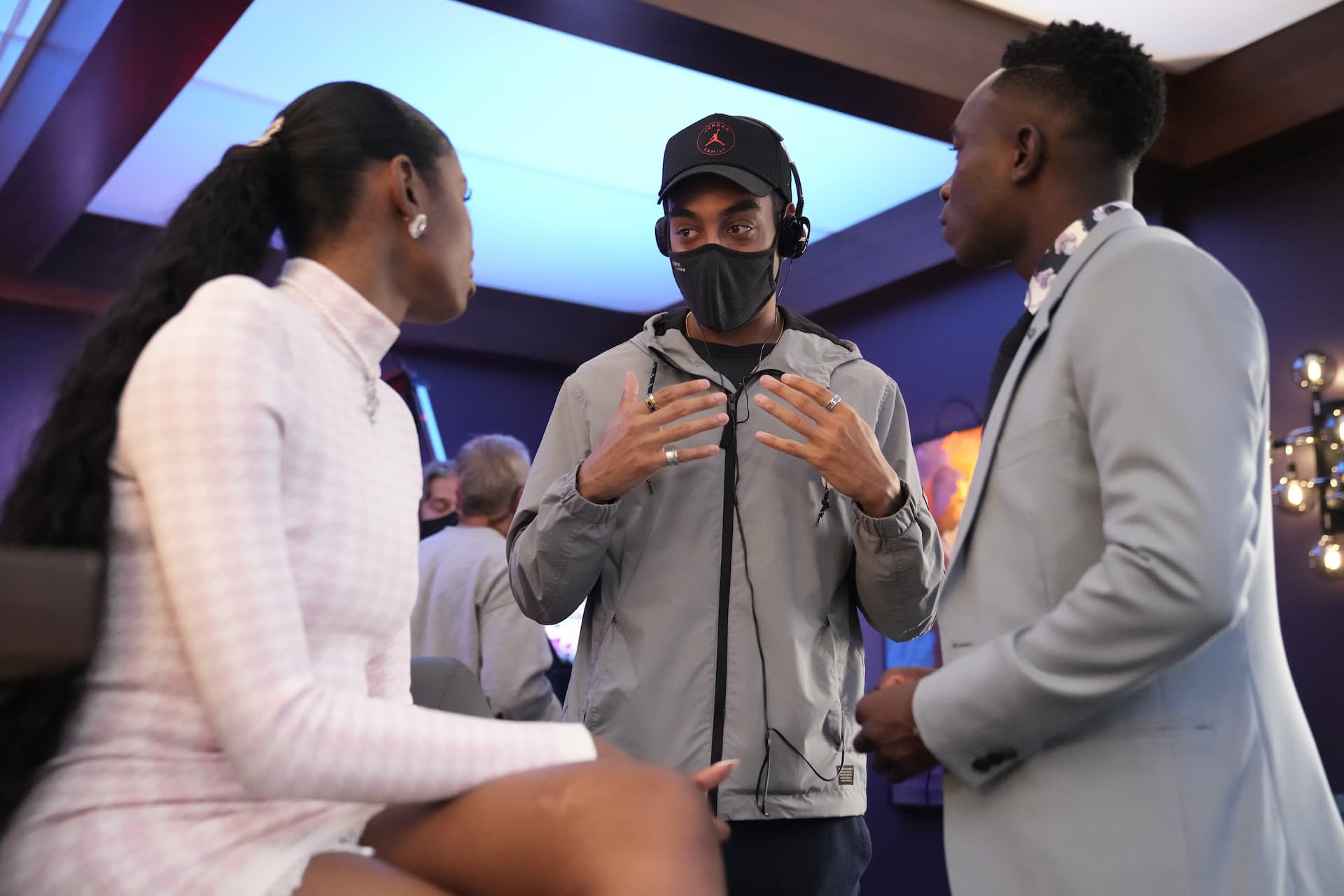 That's a very good question. You would find Westside Gunn. You would find Conductor Williams. This is fun. You would find MF Doom, Jay Dilla, Nipsey Hussle, Robert Glasper, Miles Davis, Frankie Beverly and Maze, Marvin Gaye, and you would find Otis Redding.
Oh, it has, big time. Growing up in the Midwest in Kansas City, we're consuming a lot of different types of music because we're in the heart of America. So we're listening to southern rap, and we're listening to a lot of east coast Philly stuff. Growing up, me and my friends would pass around smack DVDs and get a glimpse into the Roc-A-Fella artists, State Property, Peedi Crakk, Beanie Sigel, Freeway, Young Gunz, and Jay-Z.

So when it was time to think about, "Oh, what is Will waking up to every morning?" It was easy for me to choose the song "What We Do", which is what I consider to be the overture of Will's origin story in Philly.
Three things. I think the first is the process itself. I love making art, but I think it's very important to not put the cart before the horse, you still have to make the thing. I've thoroughly enjoyed the process of making this first season, and the family that we built from the cast to the crew is really special. I just have so much gratitude for that.

I think the second thing is seeing how brightly this cast shines. I mean, one of the biggest parts of creating this show is making sure that we got the right cast and I'm so proud of this cast and I'm so proud that the world is embracing them. It's incredibly exciting to see their lives changing right before our eyes as the show is being viewed by the fans.

The third thing, last, but not least, is being able to empower artists from my hometown to be involved in the show. There's a lot of Kansas City music, art, fashion, and personnel involved in Bel-Air. My barber from Kansas City, who worked on my original short film, is now a barber on the show. My good friend Johnny is working on the show as well. Wlaa, who's done costume design on past projects, is working on the show. I think being able to empower people is the best part of this job. We have to make art with intention, and I think people feel it, even if they don't know what it is. They can feel that the show is coming from an inspired place, coming from a place of love.

That's how I try to create and work, from a place of love and honesty. To be in a position to create with people from my hometown, and to showcase their talent and brilliance is very exciting. I love Kansas City with all my heart, I've got 816 tatted on me, and that's what has made this process ... What is the word that you used?
Rewarding. Yeah, it's been incredibly rewarding.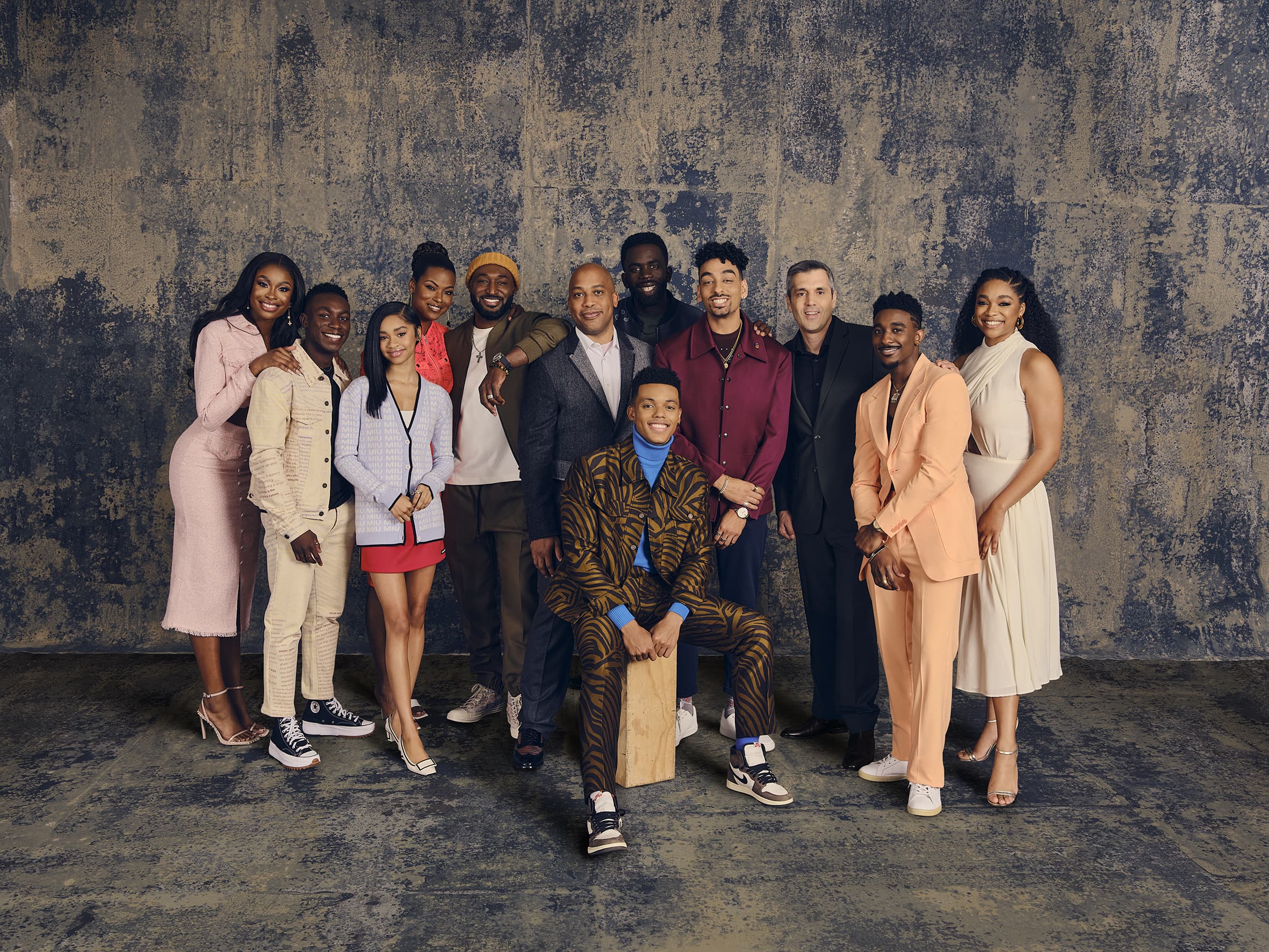 {"shouldDisplayHeader":false,"shouldDisplayArticleFooter":true,"shouldDisplayPresentedBy":true}