In 1959, Italian tailor Leonardo Servadio launched ellesse in his small hometown of Perugia, Italy, with its name deriving from Servadio's initials.
Developing style-conscious skiwear and tennis wear, two quintessential Italian sports at the time, was and is the core goal underpinning the brand ever since its birth. Coming from a family of textile merchants, Servadio had an appetite for a more craftsmanlike aesthetic, which he applied to redefining sportswear in a fashion-forward sense. ellesse helped pioneer the overlap of tailoring techniques to the manufacture and design of sports apparel, and many of these qualities are still ingrained in the brand's ethos today. ellesse has become a globally renowned powerhouse in the industry, recognized for its high-quality, bold, and colorful garments and footwear. The brand has come full circle in 2021, launching its new upcycling program, ellesse Tailors, which spotlights aspiring young designers. The Tailors project encourages emerging talent in the fashion field to put their stamp on the ellesse legacy through the assimilation of modern perspectives and old stock and fabric. The brand is keen to open up the industry by providing this unique global platform for designers in this field. Tailors gives these creatives an inclusive space to authentically tell their stories, from their inspiration and heritage, to the design process and final collection.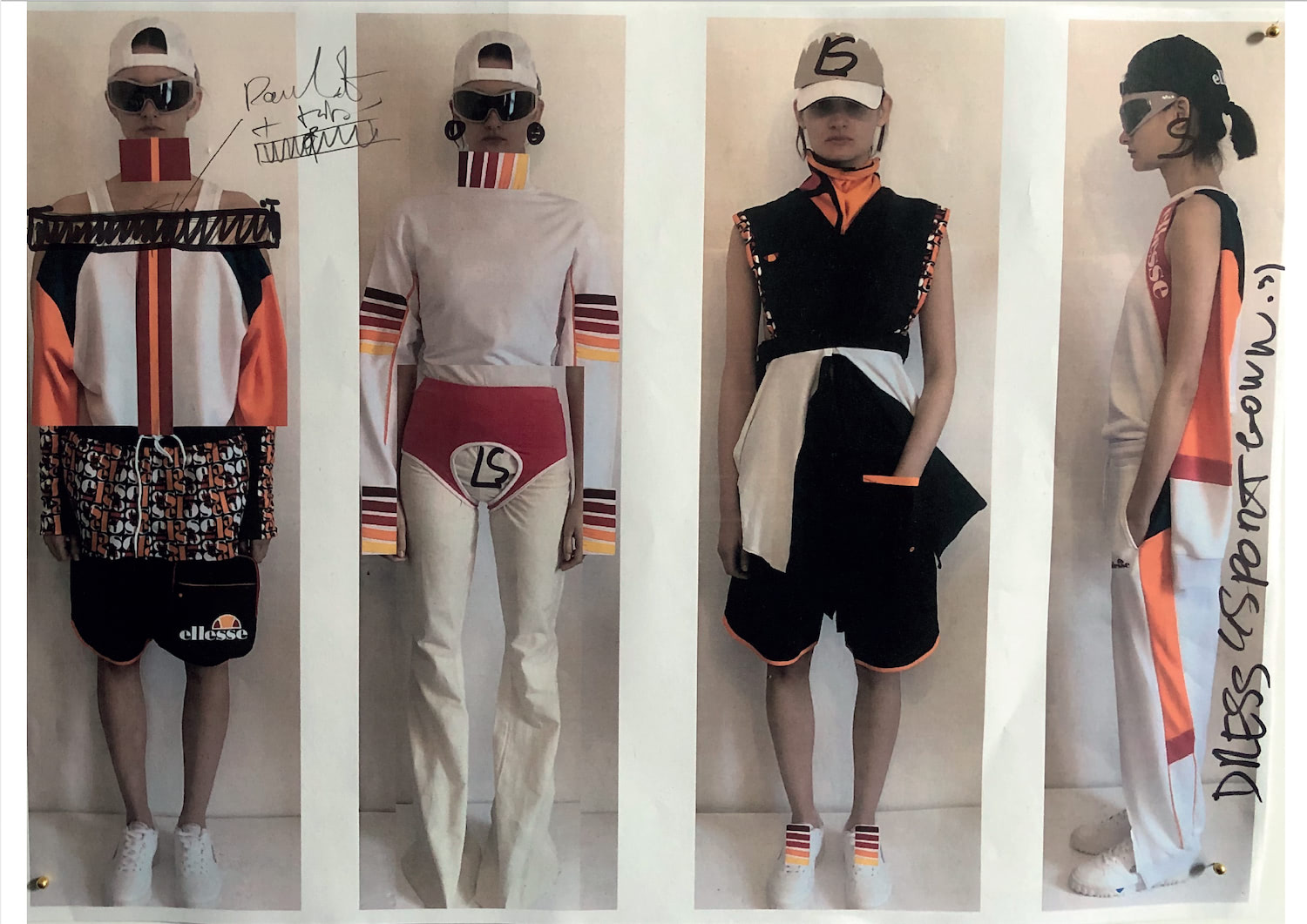 ellesse teamed up with Highsnobiety to showcase three designers, who, through the utilization of ellesse dead stock and upcycled vintage fabric, have created a capsule collection inspired by the brand's tailoring heritage. With a sharp focus on inclusivity and individual voices, Tailors tackles the lack of diversity in the fashion industry and reaffirms and demonstrates that diverging talent should always prevail. ellesse Tailors will showcase the three creatives' final designs and capsule collection to a panel of industry insiders who will decide on the winning collection. ellesse will then work with the winning designer to create pieces, inspired by their collection for its SS22 range.
Nomin Zezegmaa is a Berlin-based multidisciplinary artist, writer, and designer of Mongol heritage. Recently graduating with her BFA from the Gerrit Rietveld Academie in Amsterdam, Zezegmaa not only designs clothes but jewelry and sculptural figures too. When asked about her practice, Zezegmaa shared a poignant and eye-opening commentary. "Mongol shamanism, its history, and violent suppression during Stalin's regime are pivotal themes in my current research. I focus on collective history-making through the condensation of lived and embodied accounts of diasporic movements. My sculptural and tactile works find fluid expression in an amorphous multiplicity of medium and material, where applied and unapplied arts meet on equal ground—with the urgency to blur and diffuse the rigid borders and boundaries between art, design, crafts, and histories." Coming from a heritage that lacks just portrayal isn't easy, yet Zezegmaa's persistence and work are a testament to herself and her community.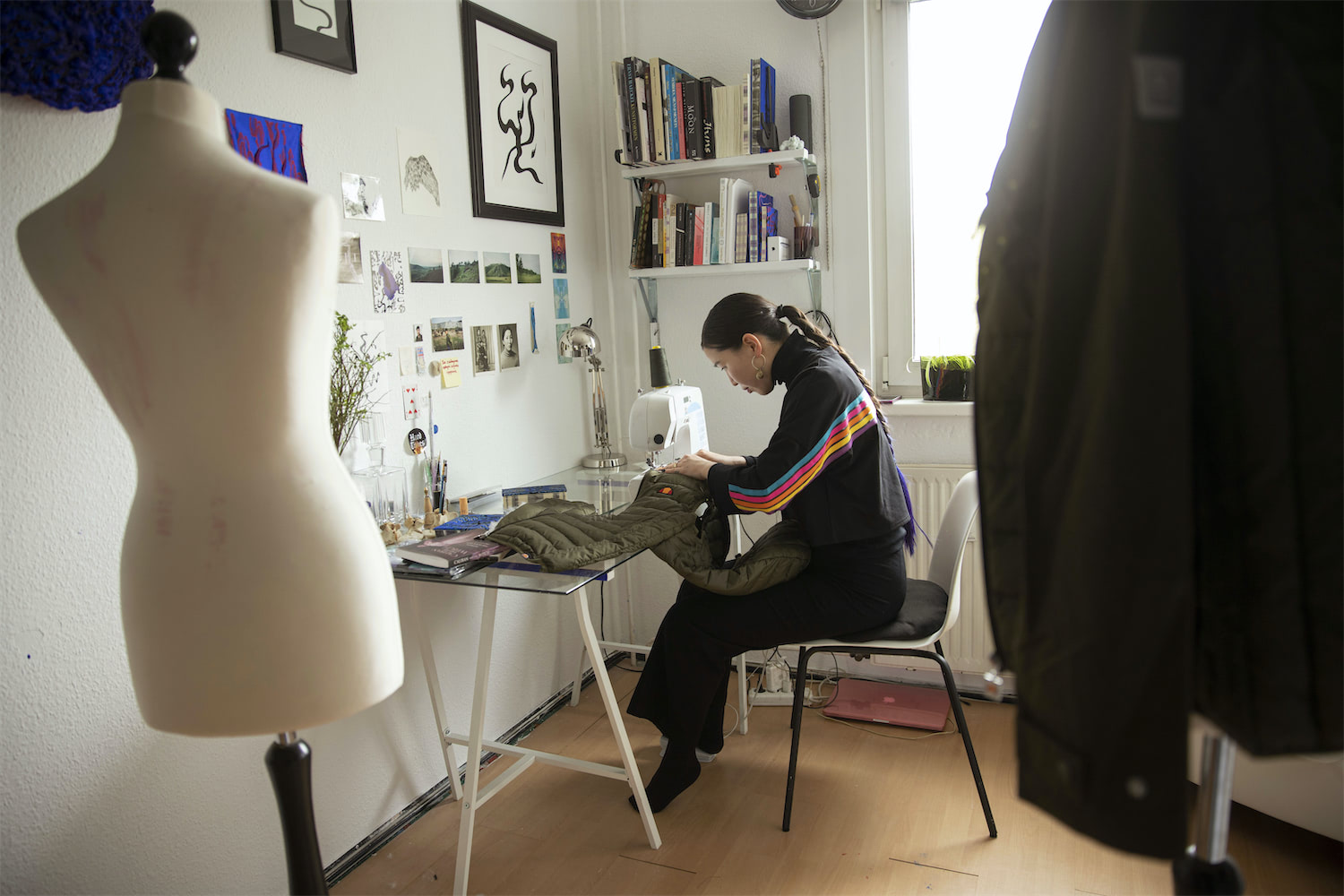 The way ellesse navigates various fields and combines craft, passion, and heritage with modernity and a focus on quality are all elements that drew Zezegmaa into this project. Directly overlapping with her own creative practice, Tailors was the perfect structure for her to delve deeper into the fashion side of her artistry. When asked about the process whilst working on Tailors, Zezegmaa says, "I work a lot in the 3D sphere with a focus on craft and detail. In conjunction with this project, I've been working on a series of sculptures, and it was quite exciting to understand that methodologies can be quite similar, but that only the materials and the focus of the medium shifts - both are inherently body-related. It's very fascinating when you shift the cognitive qualities of how we read things, objects, and materials."
Within the framework of this project and the key idea of up-cycling and sustainability, my entry point was definitely to focus on trying to embed and re-use the garments fully
Swipe Through The Gallery: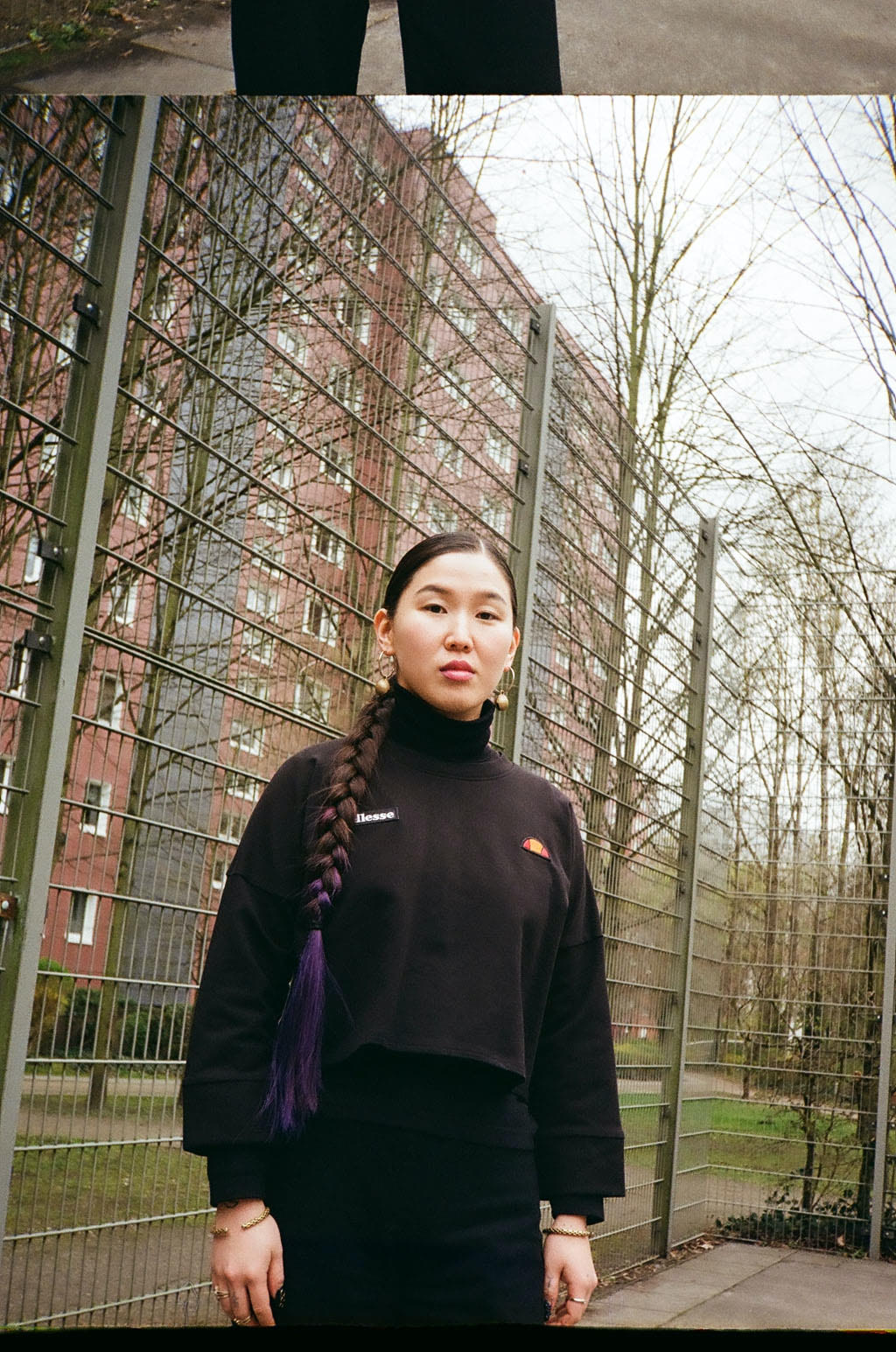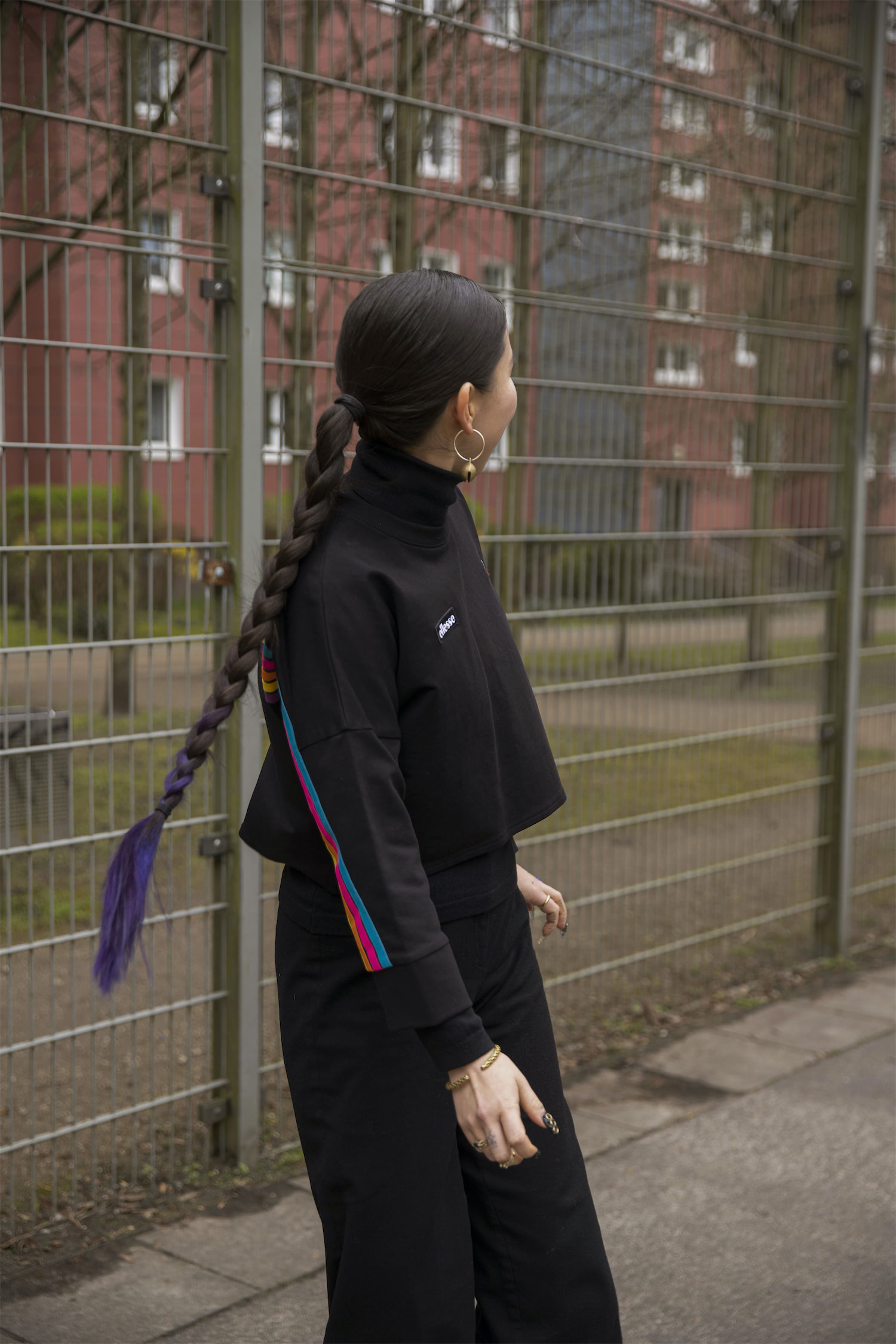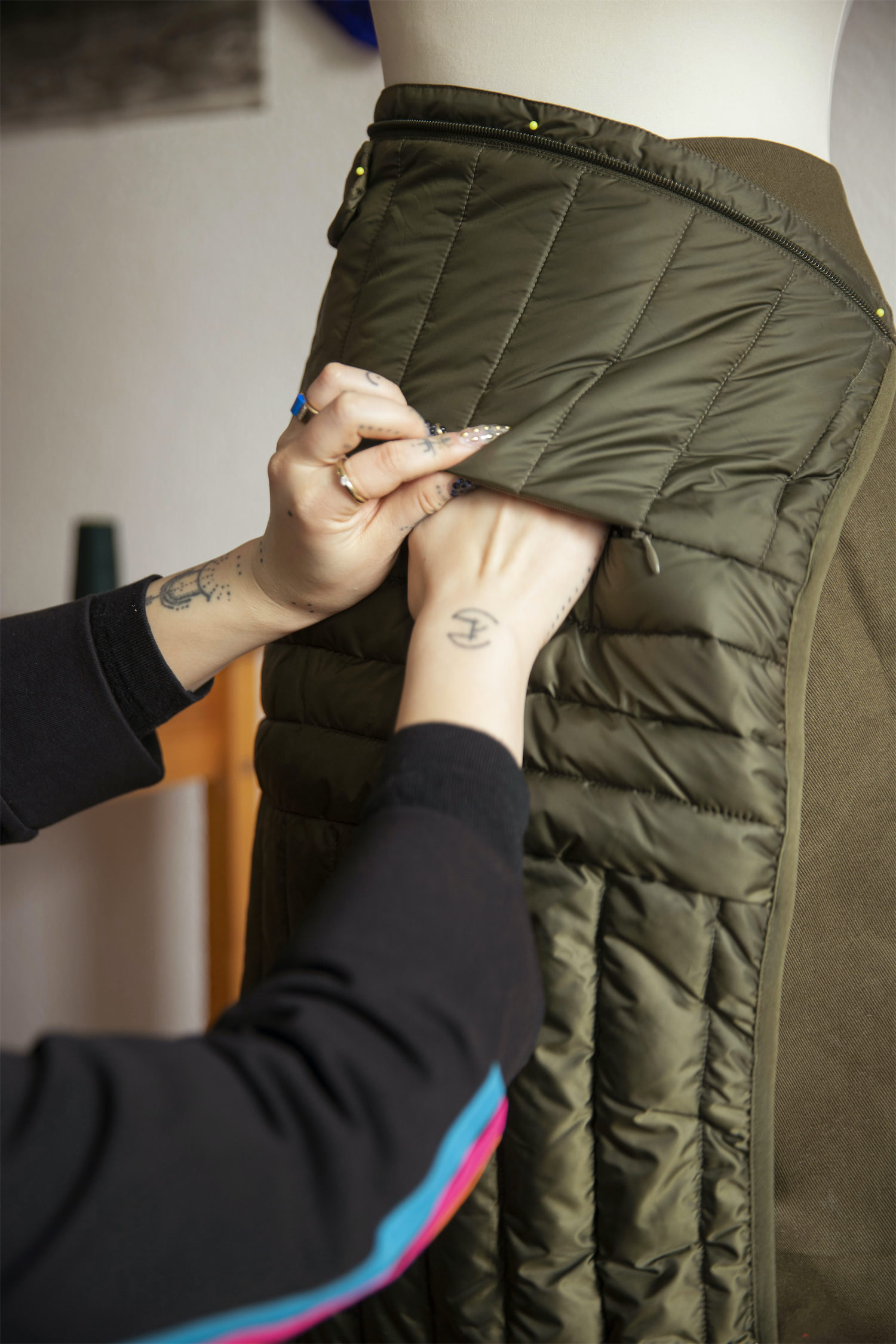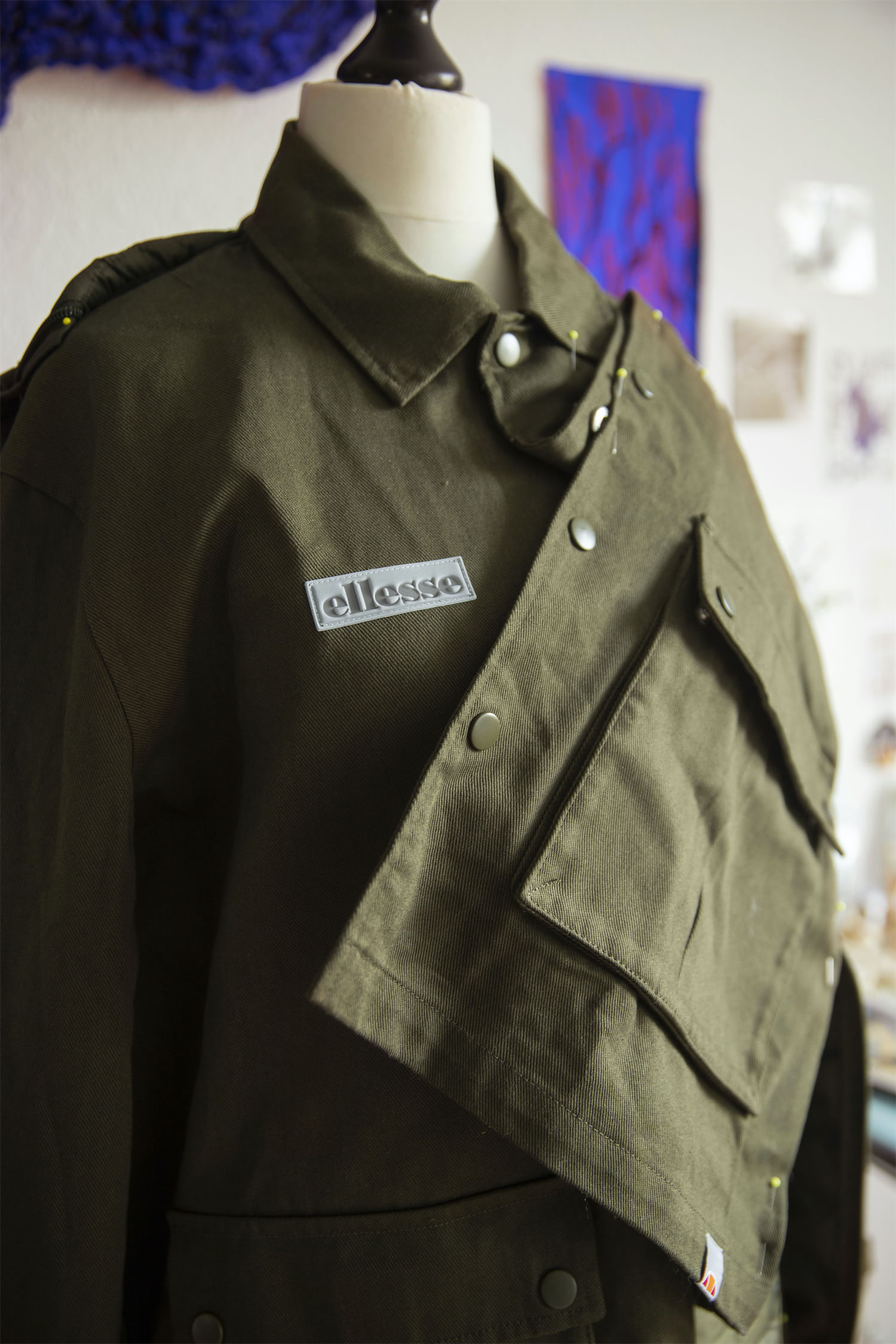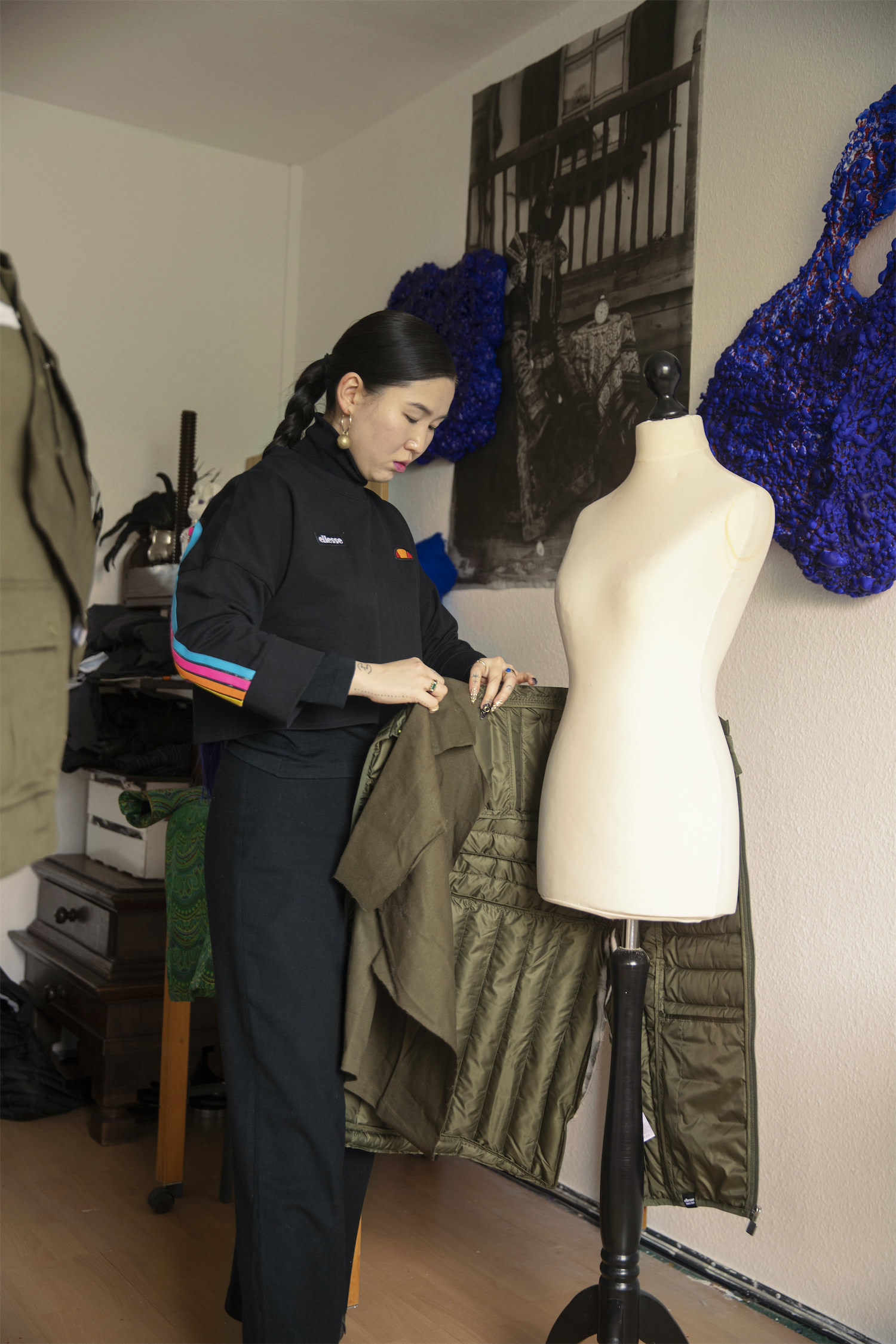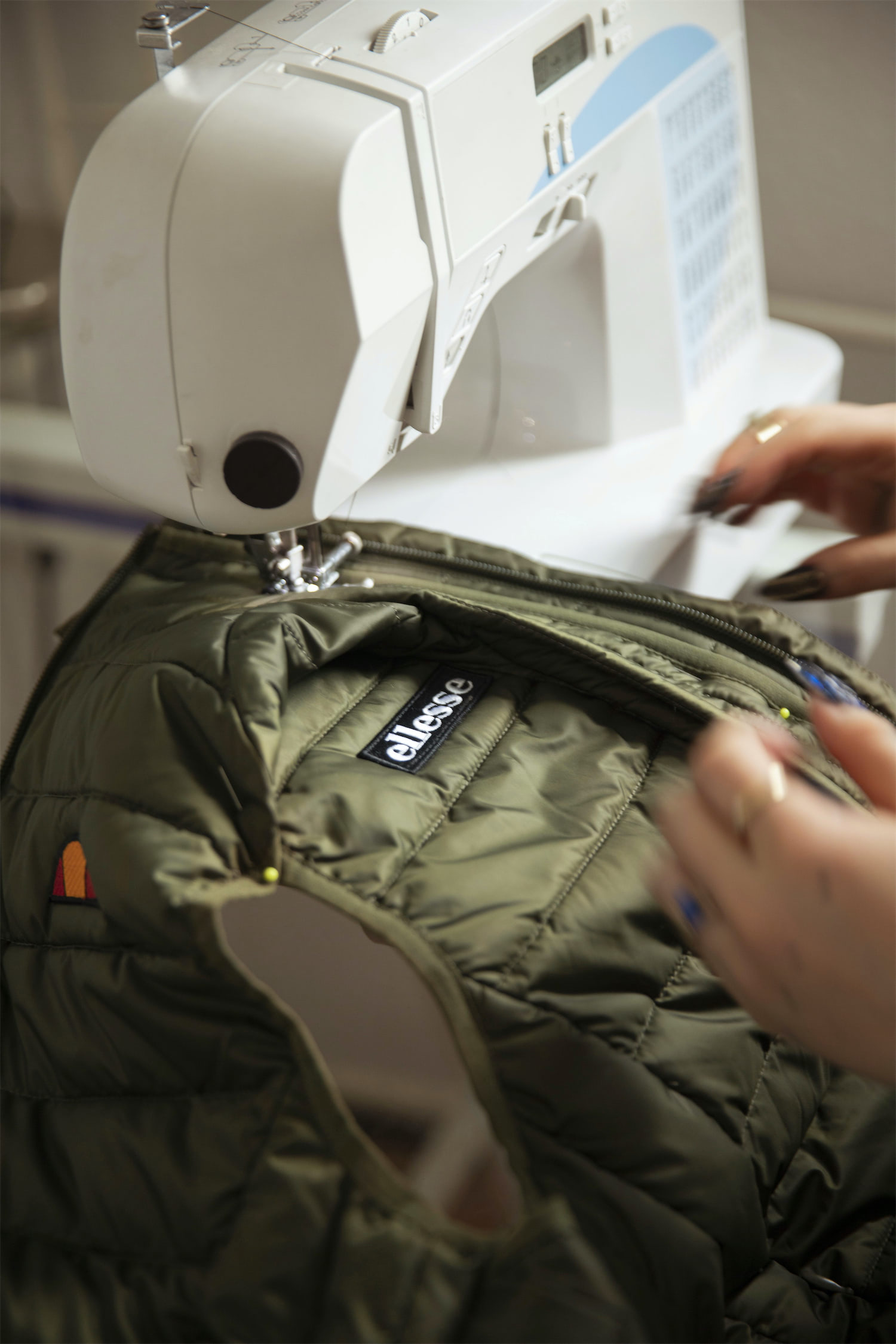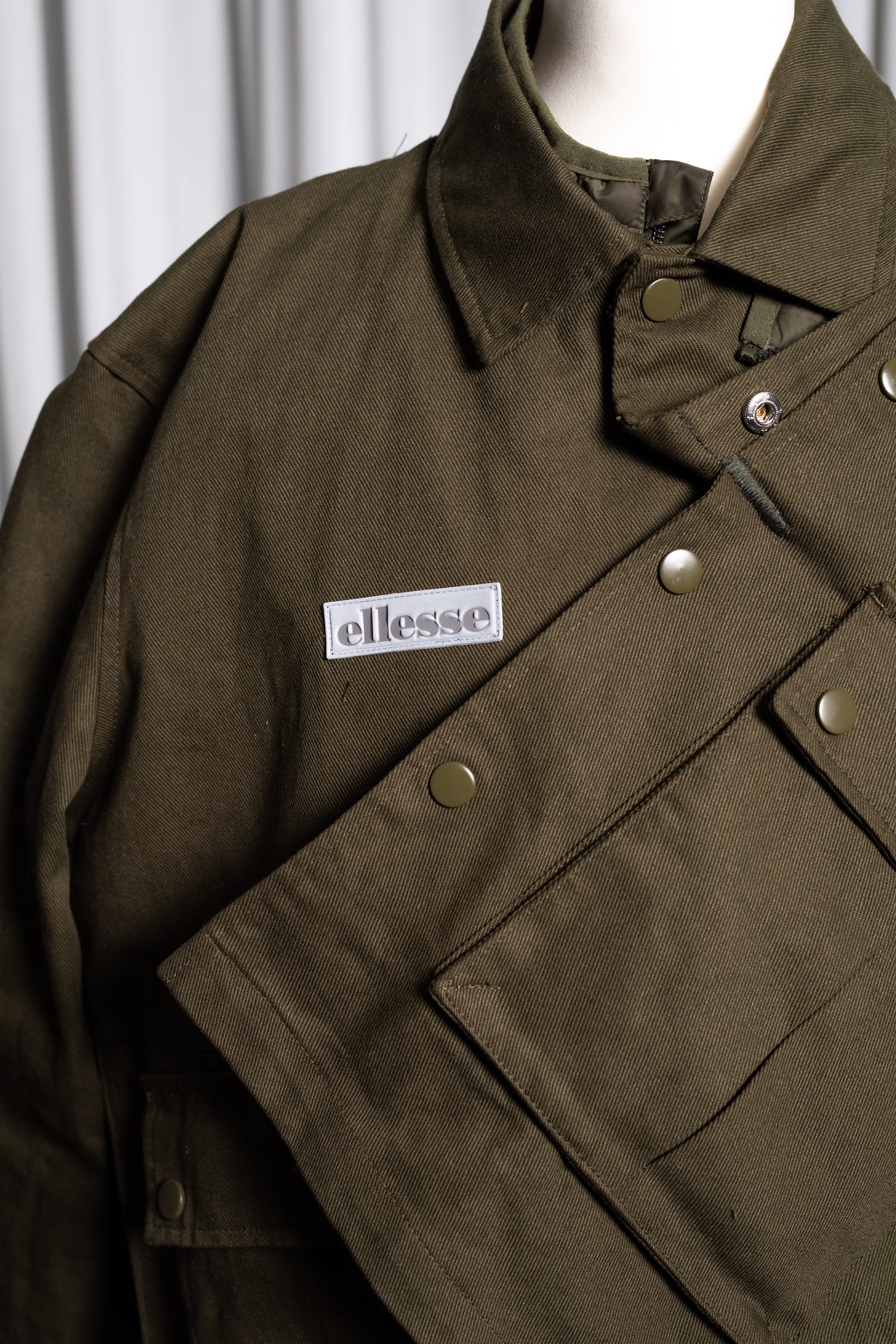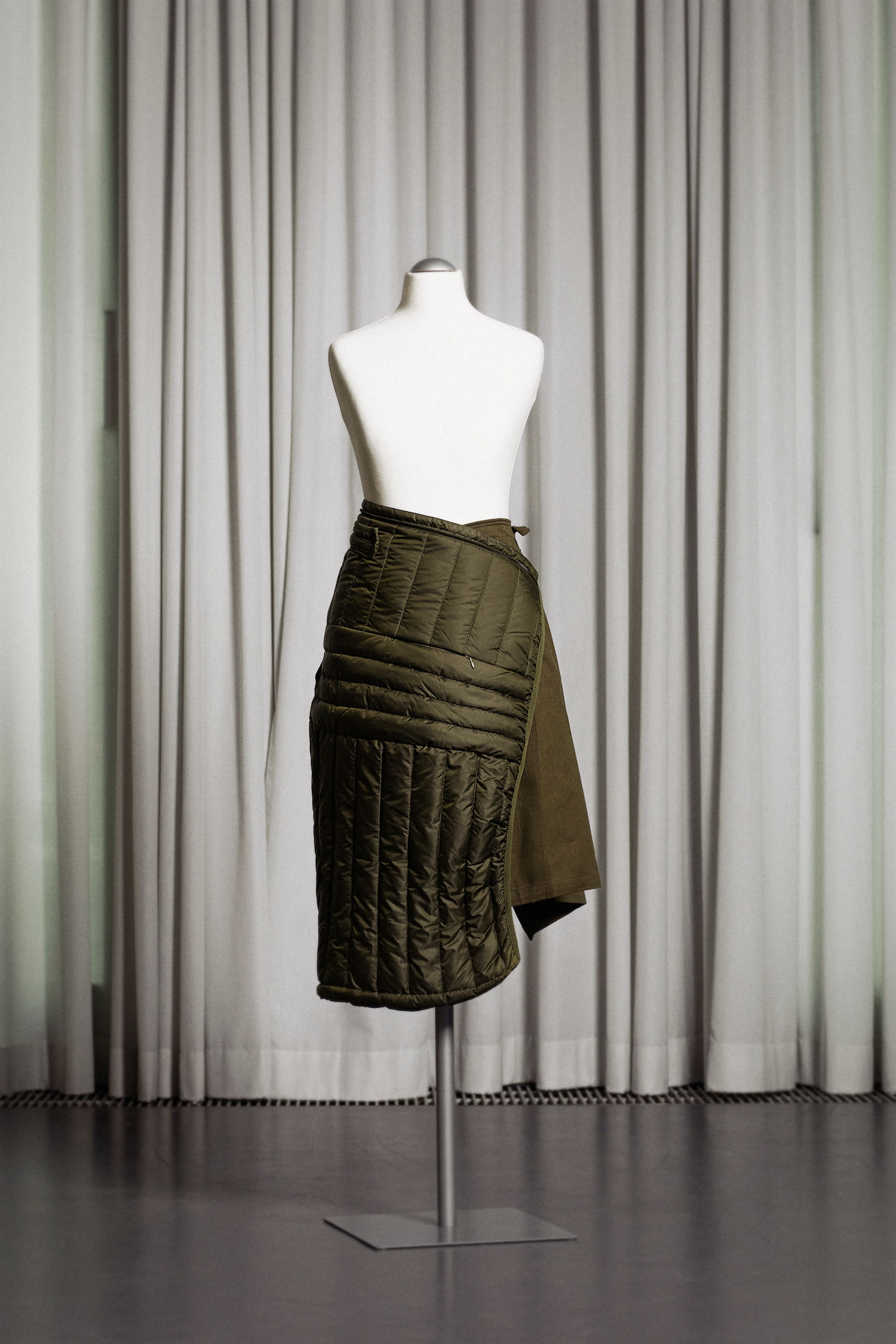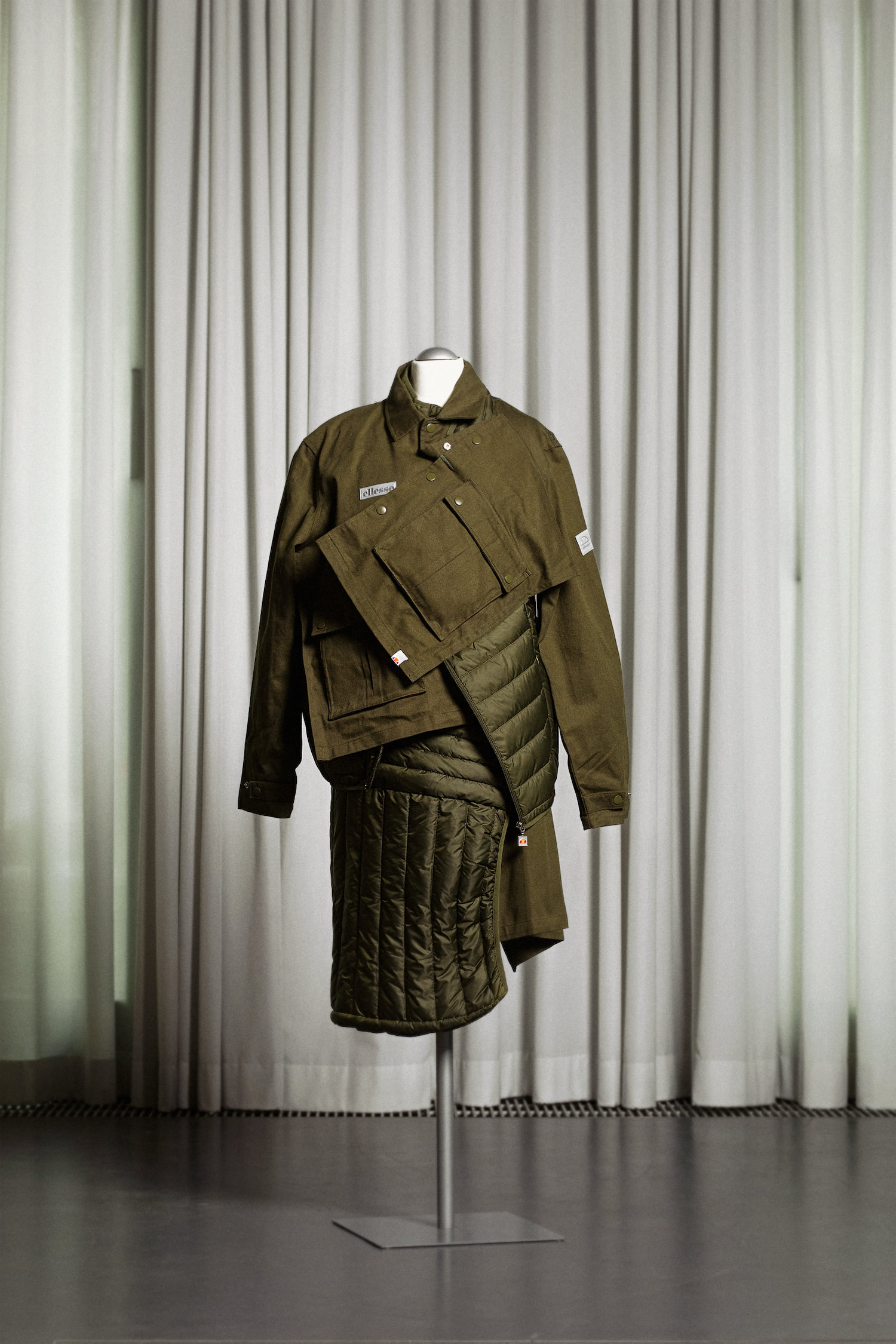 "Within the framework of this project and the key idea of up-cycling and sustainability, my entry point was definitely to focus on trying to embed and re-use the garments fully, meaning deconstructing and breaking down the original garment to fragments of what they once were," says Zezegmaa. Draping is one of Zezegmaa's favorite techniques to use and can be seen filtering throughout her practice. ellesse's padded vests and jackets are some of her favorite pieces from the brand and can be seen reborn in her capsule collection. Inspired by her mother, her ancestors, and seeing the world with a shamanic gaze, Zezegmaa highlights how representation for her community is still severely lacking, and that actually Tailors "is a matter of representation, visibility, and accessibility, allowing for different voices to be heard and seen."
Young fashion designer Grégory Assad recently graduated from Institut Francais de la Mode in Paris. Combining his Martinique roots and what he learned during his studies, Assad has a unique style resulting in elegant silhouettes that honor his everyday experiences as well as the notions of past and future - "I always remain sensitive and attentive to the world and cultural evolution" he explains.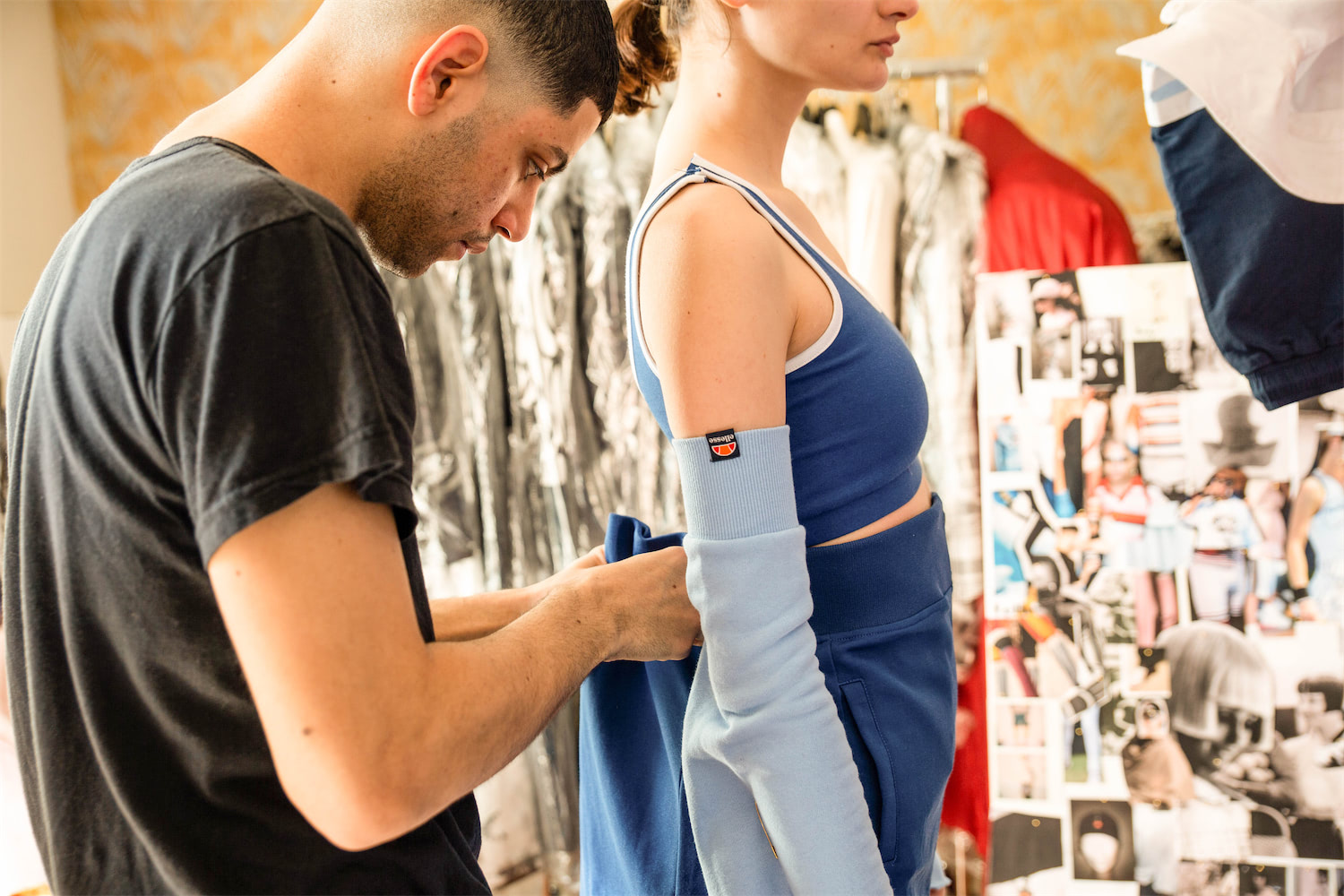 When asked how he got into fashion design, Assad takes us back to his childhood on his native island of Martinique. "I always asked my mother to buy me dolls and then dress them, swap their outfits, customize them with whatever I had on hand. During these formative years, I realized more and more what my dream in fashion was." Making sure his heritage and roots shine through in his work is extremely important to Assad. "I'm always referring to my origins in my designs and using retro popular pictures from black history. This gives my work consistency and inspires me to learn and care about the attitudes and habits of my culture. As a young mixed designer in our current time, I can say that there has been a great general evolution where we are feeling more and more empowered by the day. It feels like a new wave." Assad emphasizes the need for projects like Tailors by saying, "I think it's important, particularly in this weird time, that brands like ellesse provide a platform for young creatives to showcase their works because we are the future. We belong to this new era where fashion and art can speak for a better tomorrow. This type of collaboration can help us show who we are through a brand that has a credible history and visibility."
Swipe Through The Gallery: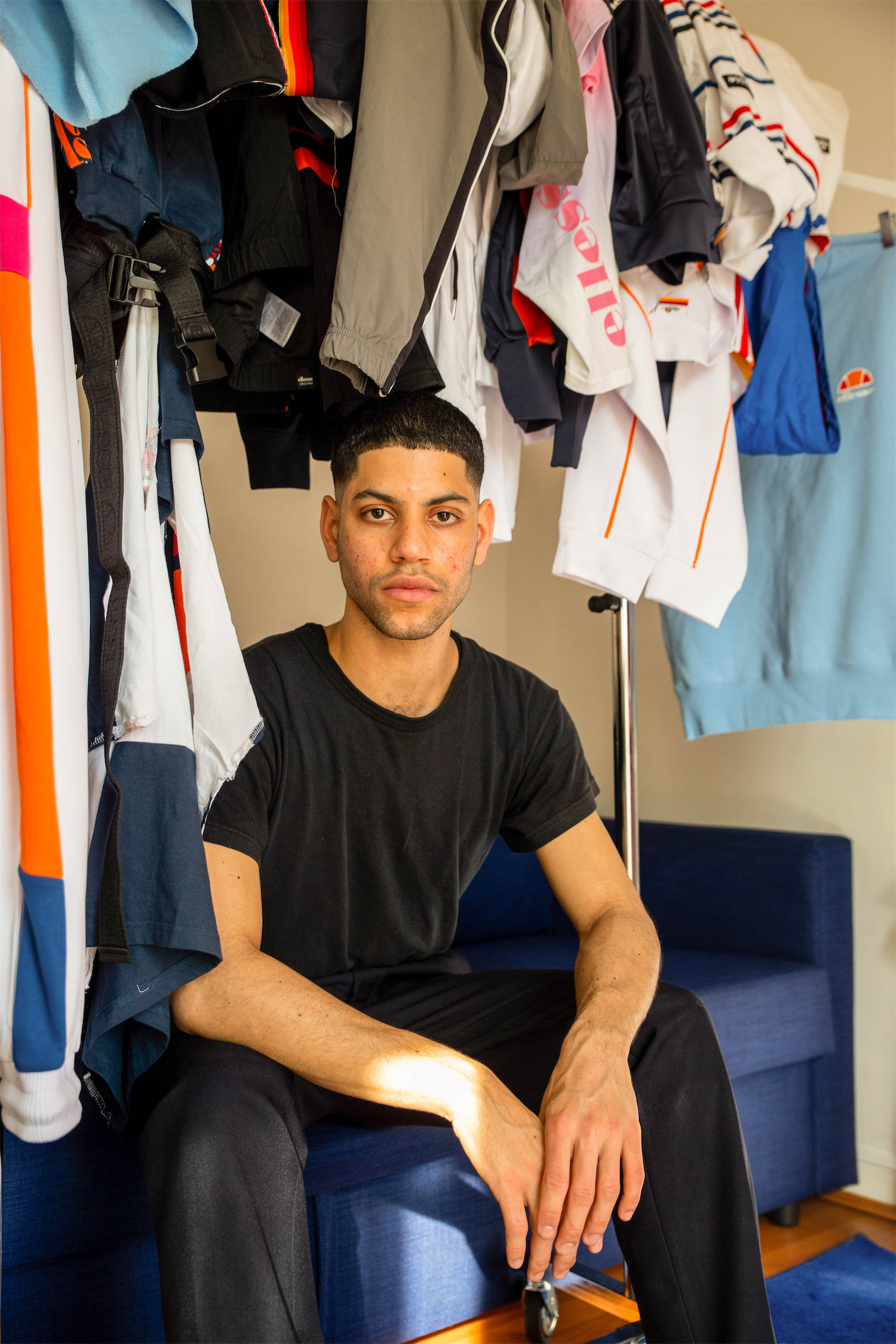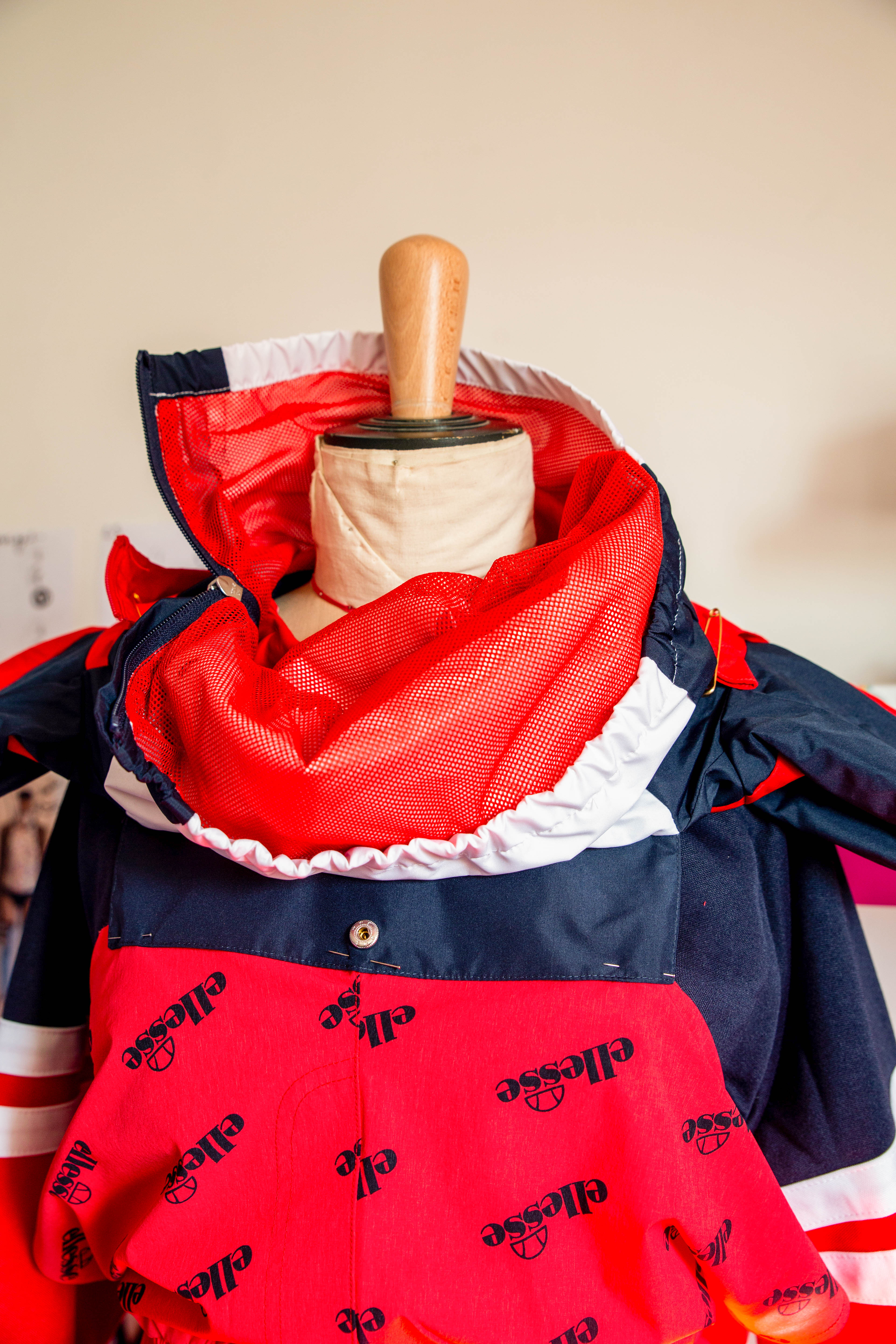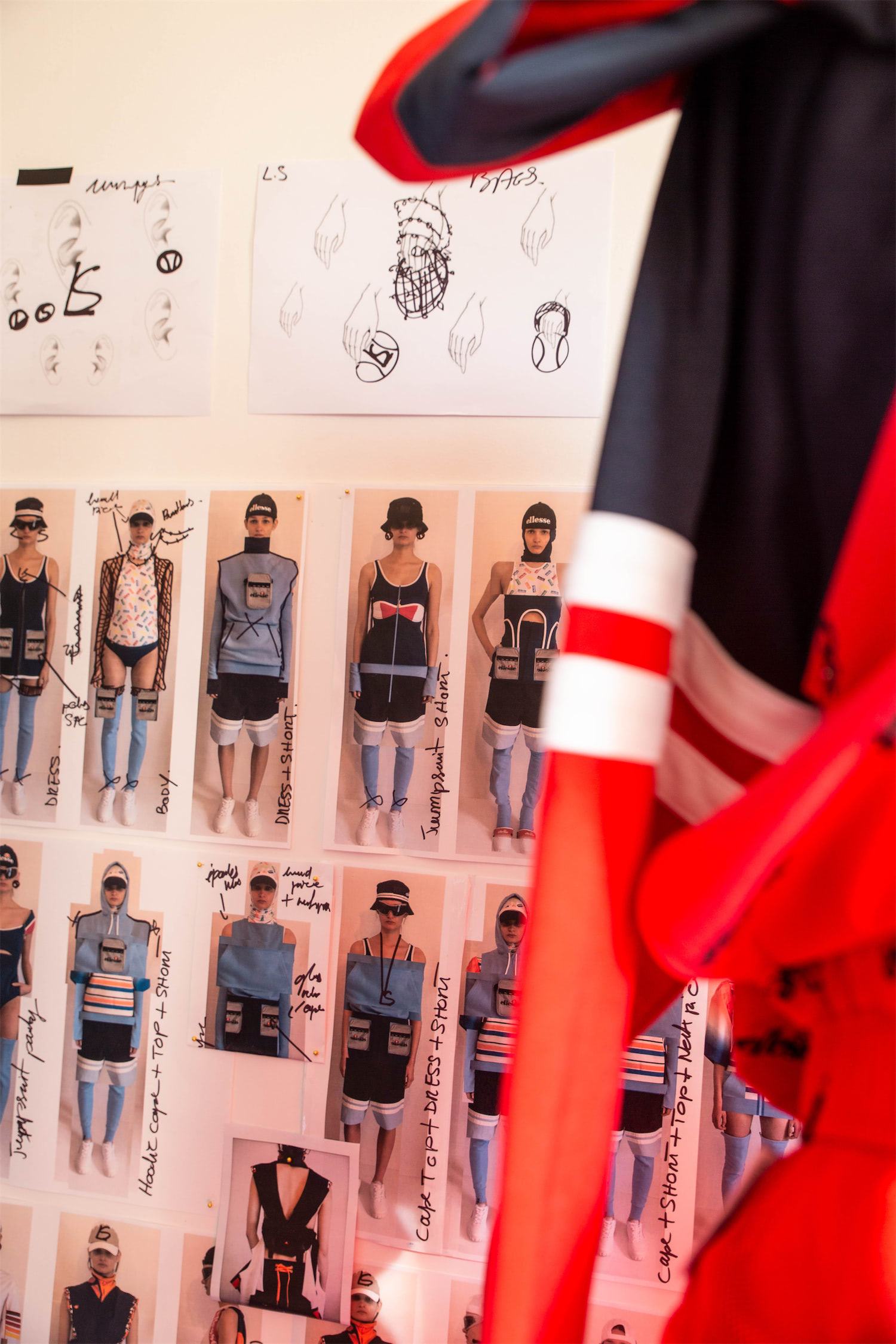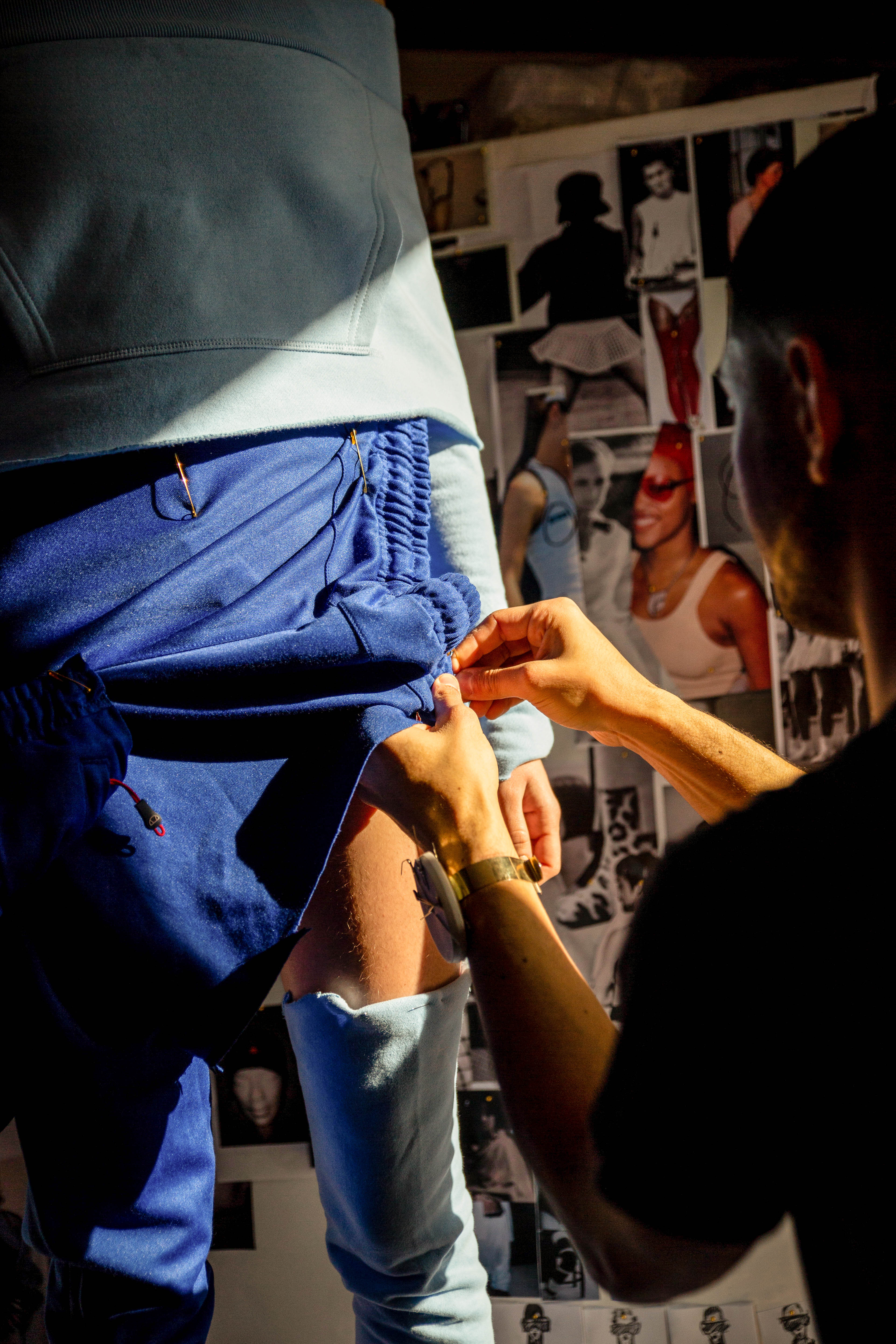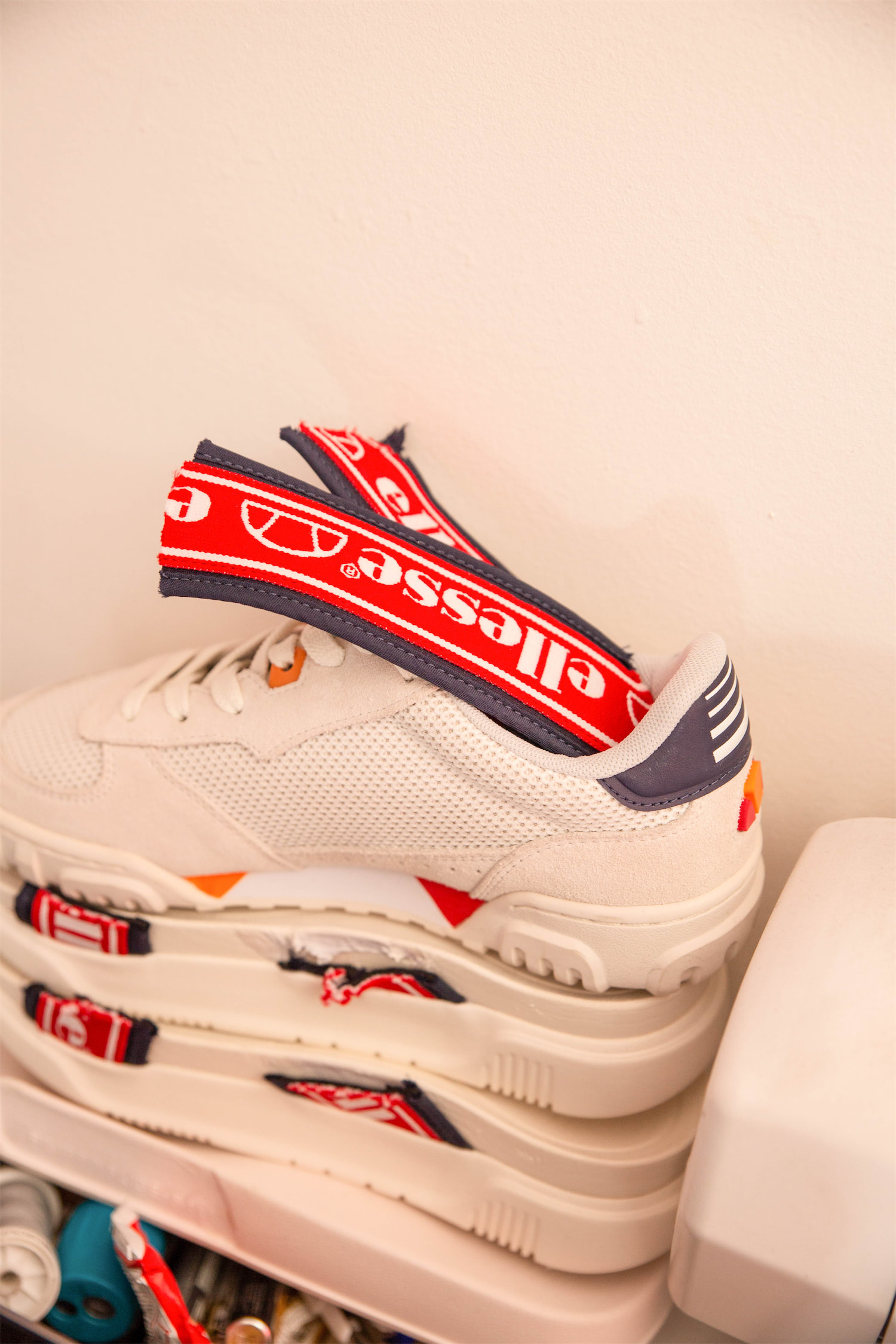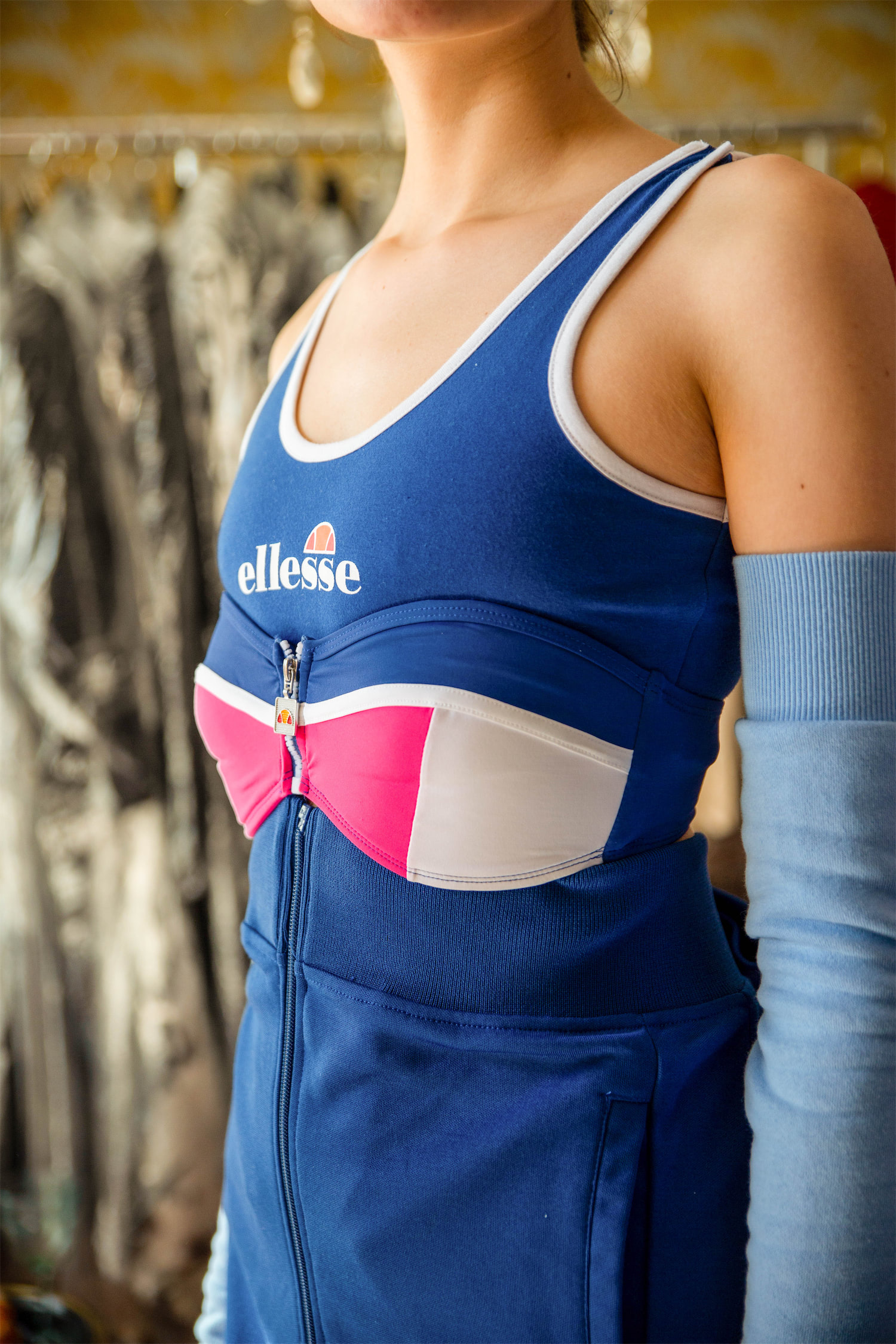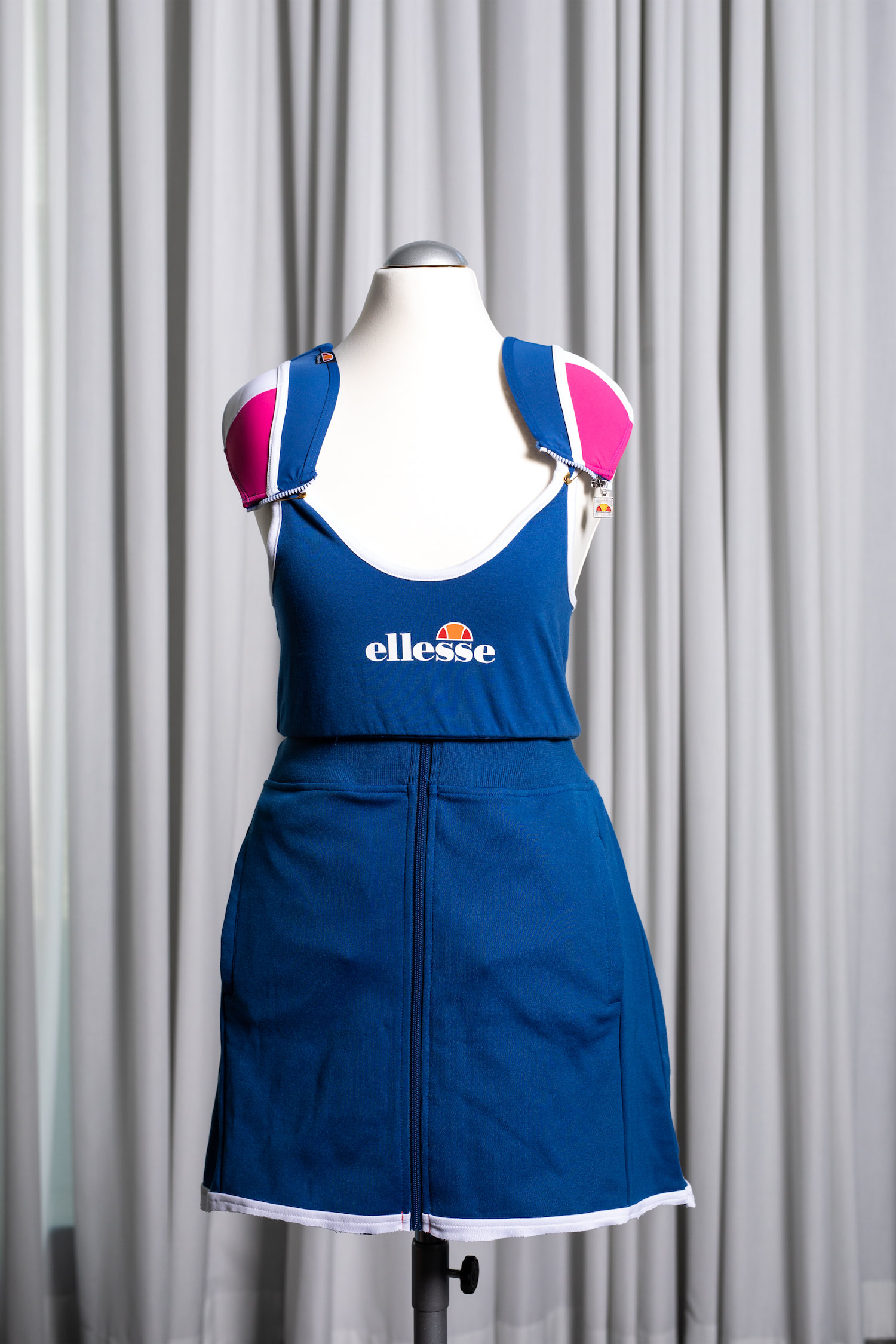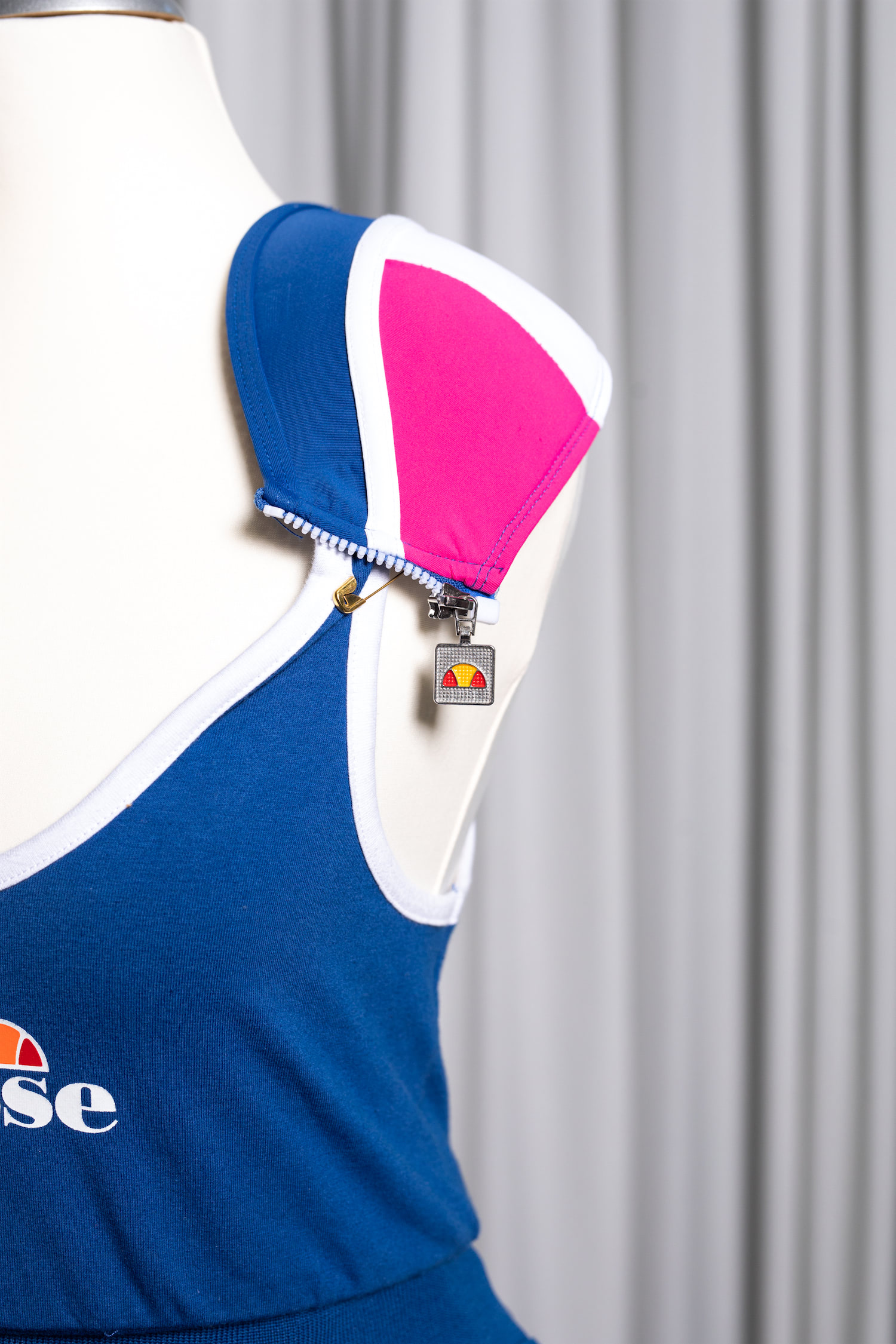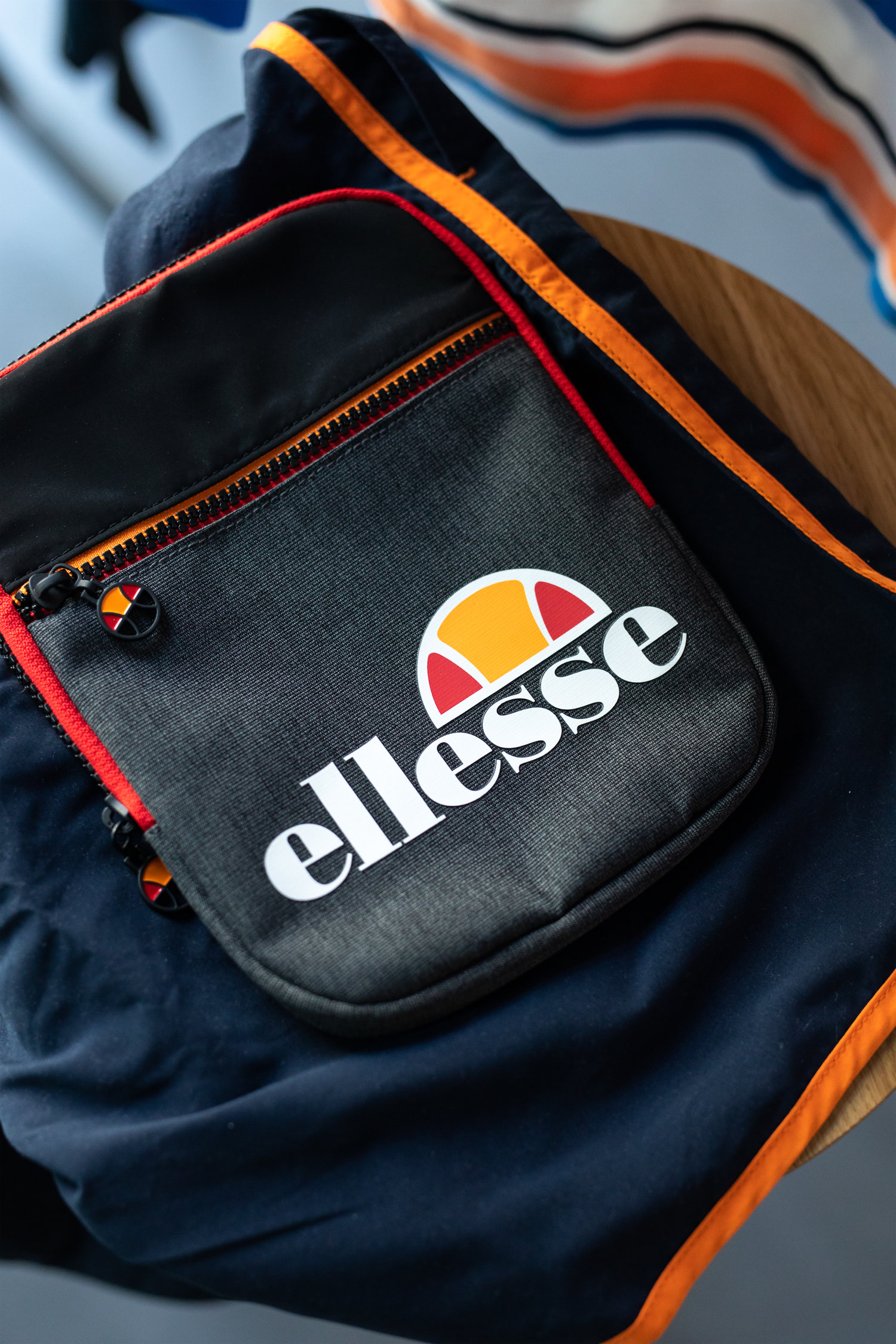 This project is an opportunity for me to go outside of my comfort zone through creative innovation
The process of using deadstock, fabric samples, and upcycled garments was something that Assad embraced fully, even though it's not similar to his normal approach to tailoring and designing. "This project is an opportunity for me to go outside of my comfort zone through creative innovation," he says. "I still feel a sense of creative and sartorial liberty while using these materials because I get to detach myself from the obvious result that would maybe have been obtained had I started with fabrics I'd chosen." No stranger to tailoring techniques, Assad says that "the specific techniques that are paramount to my work are the mockups, collages, styling manipulations, and of course draping. I love to work with a variety of materials but I do have a preference for stiff materials like leather goods, skai, cotton. I enjoy misappropriating unsuitable materials for clothing to bring a type of unseen freshness." The Tailors project helped Assad develop his practice in a new and exciting way as it was his first time collaborating with a brand. Guided by the ellesse DNA and energy, he will soon present his first official collection under his own eponymous brand in a digital format soon.
Kemi Gbadebo was originally a model, actress, and singer; however, she quickly found her passion in designing, especially upcycling. Through her eponymous project and depop, GBADEBO, she has made it her goal to make fashion more sustainable, with her designs catering specifically to the streetwear industry. Describing her aesthetic as '90s, street, and androgynous, Gbadebo's dual Nigeran-Spanish heritage plays a huge part in everything she does, from work ethic to styling and design. "I'm very passionate about giving back to my community and helping those in need. Since I started my business, I've been donating a percentage of my monthly profits to a charity in Nigeria that provides food and care packages to families in need during the lockdown," she explains.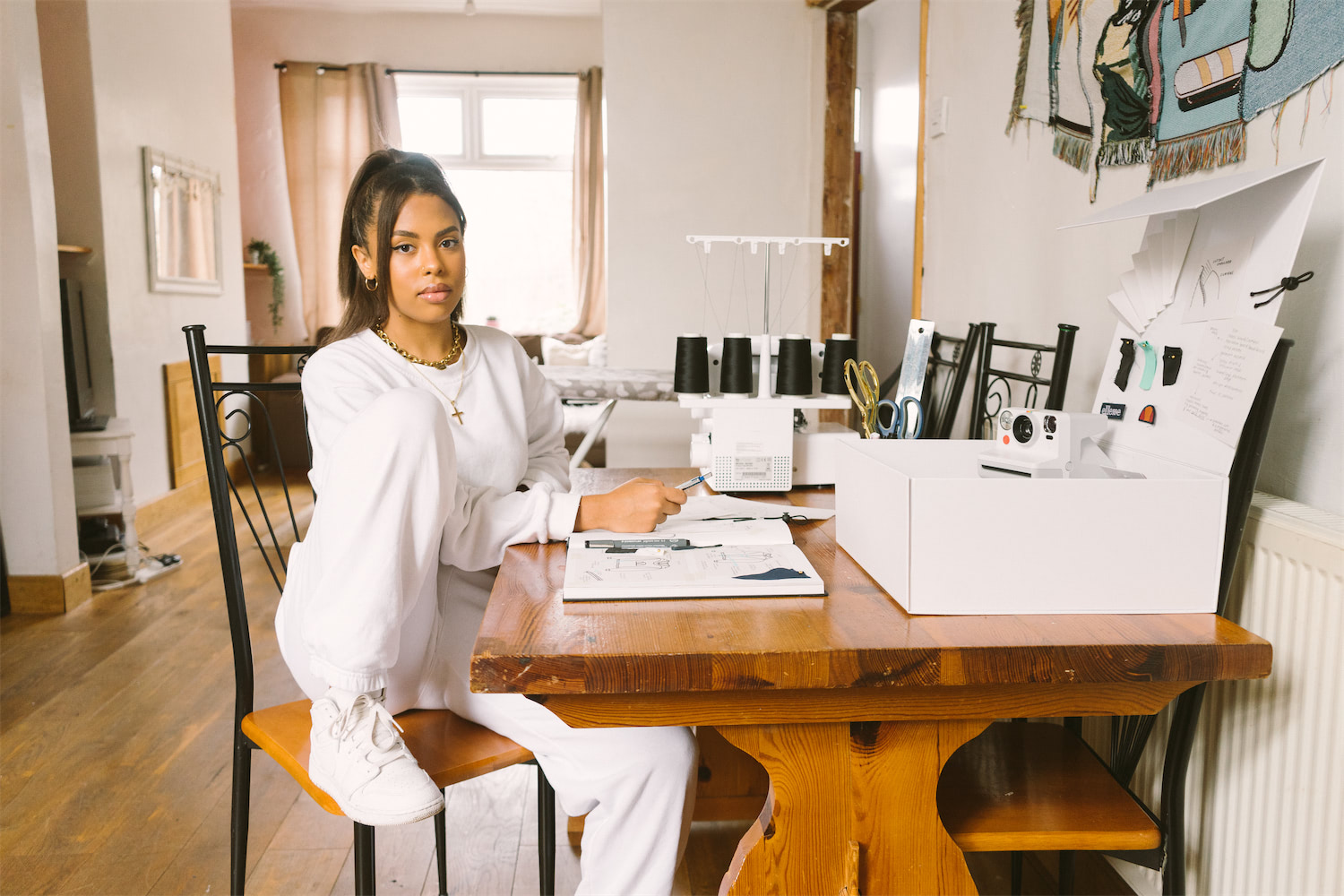 Growing up as a POC designer, Gbadebo comments on how there wasn't much representation for her growing up but that she sees a shift coming. "Things have changed over the years, and I'm being offered more opportunities. The BLM movement really sparked a need for reflection and reform in all industries. A lot of businesses (especially in fashion) saw their lack of representation and thankfully took ownership of it. I know that as a young mixed-race girl if I'd seen that kind of representation growing up, I would feel as though the sky was the limit."
Oftentimes a lot of people allow the clothes to "wear" them, but ellesse encourages you to truly be yourself without judgment. Its bright, bold, and energetic style reflects the playfulness of clothing that I believe has slowly got lost over time.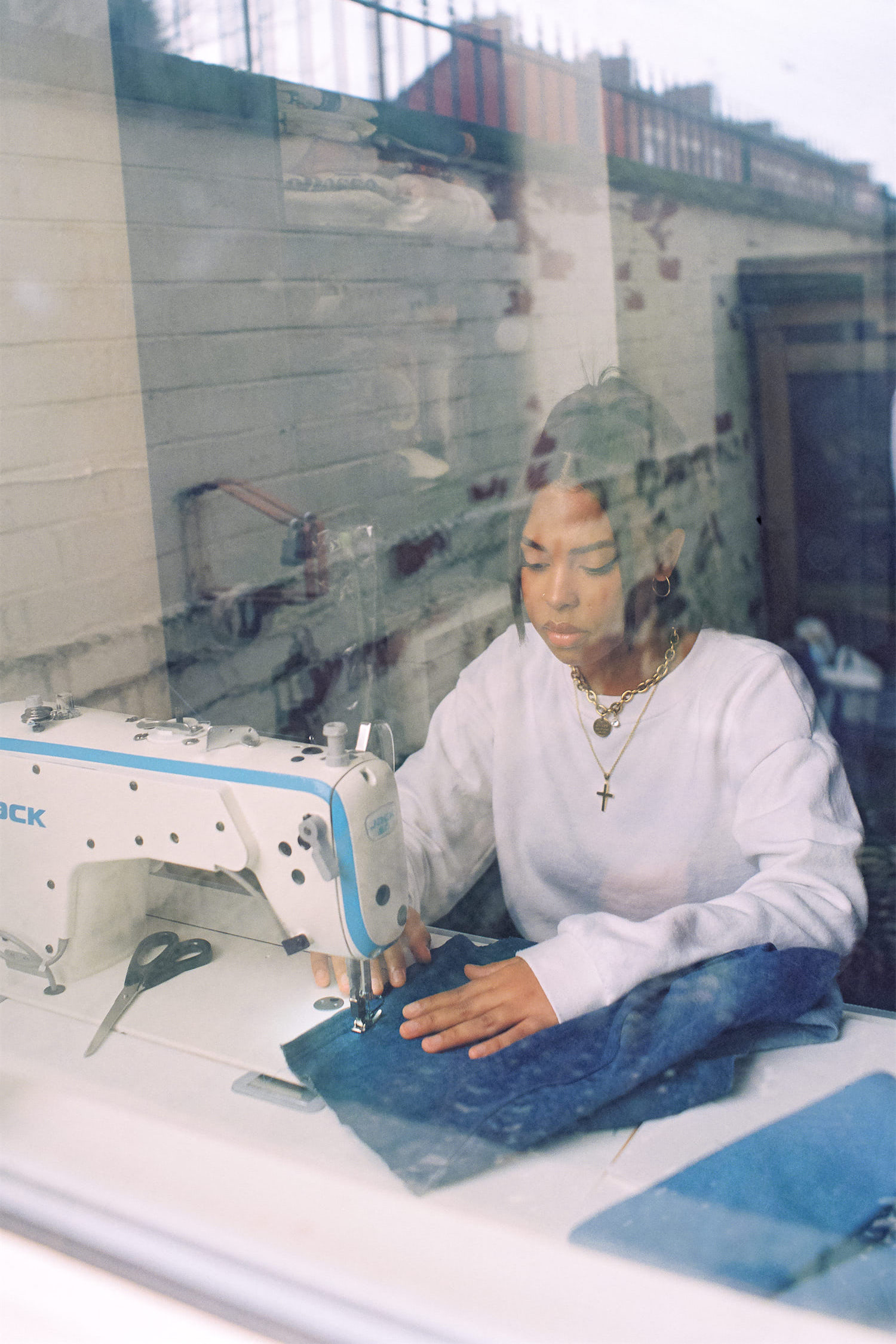 ellesse's ideology is what Gbadebo finds most inspiring. "ellesse believes that 'when you look and feel your best, you always win.' Oftentimes a lot of people allow the clothes to "wear" them, but ellesse encourages you to truly be yourself without judgment. Its bright, bold, and energetic style reflects the playfulness of clothing that I believe has slowly got lost over time. Clothing should be about your identity rather than conforming, and it's inspiring to see ellesse encourage that." she explains. "My favorite piece has to be the ellesse x Tag Heuer x European Ski Federation - 'the winner of the world' ski jacket. It's so beautifully crafted, and each detail from the decorative zigzag stitching to the double zip makes it a spectacular garment even just to research." When it came to the actual process of designing her collection, Gbadebo's focus on sustainability was ever-present. "I think using pre-loved fabric is beautiful in itself, it adds a story to each upcycled garment. A majority of the garments I make are created from upcycled or unwanted fabrics that have been donated to me by a variety of people. I find excitement in repurposing and the fact that you can create a new fabric from something that already exists. I wanted to create a collection that was sustainable, street and resonated not only with me but other individuals in their consumer demographic."
Swipe Through The Gallery: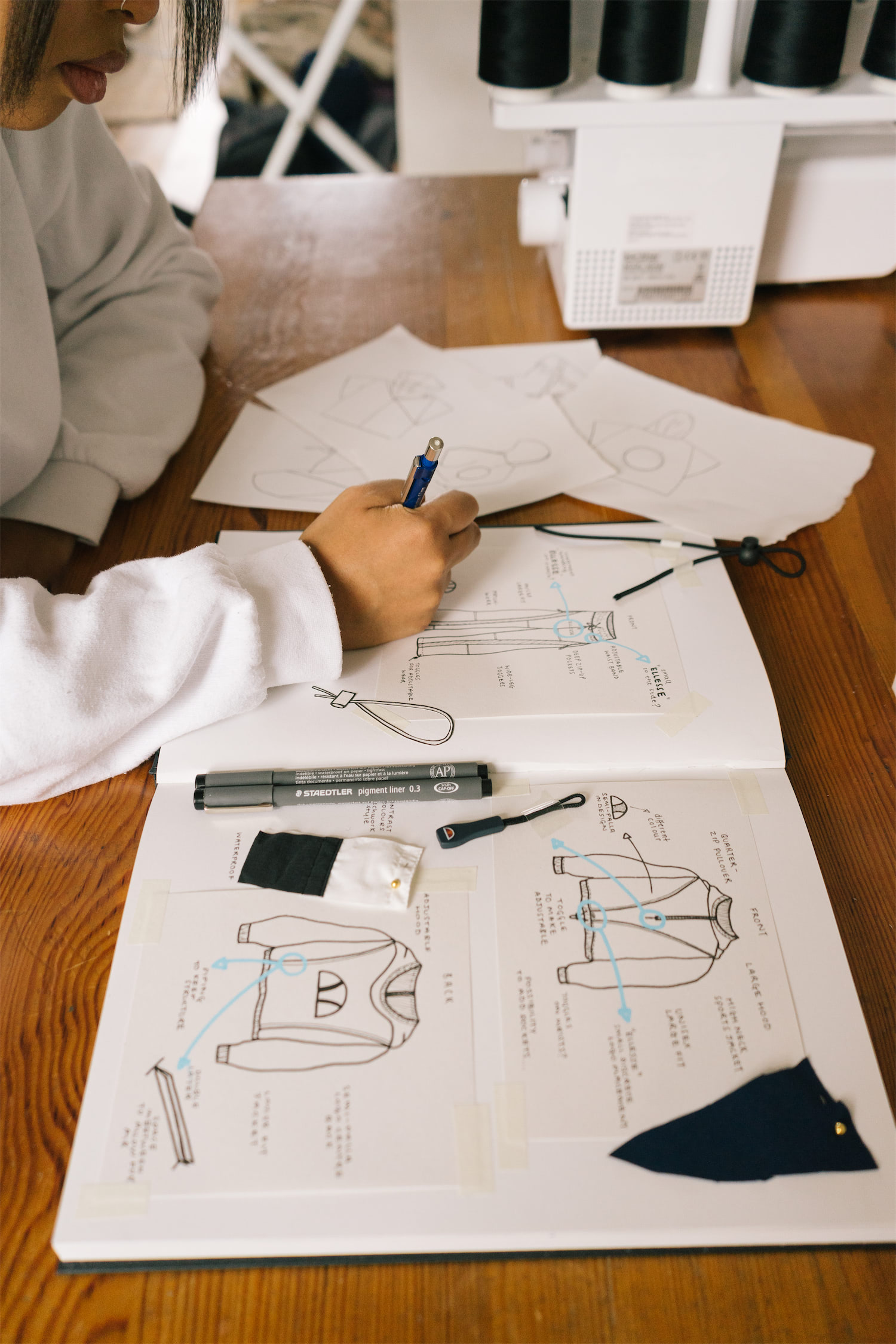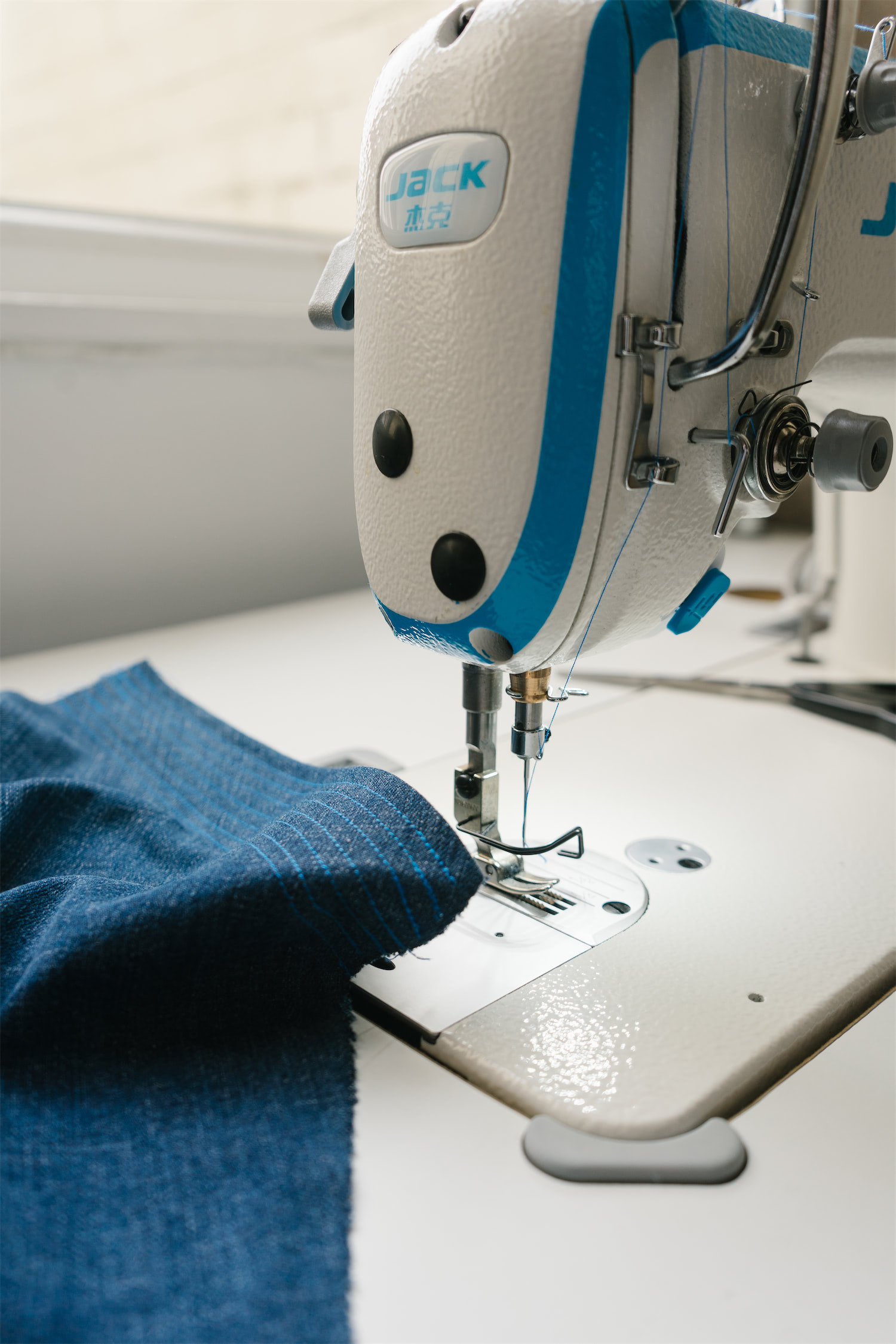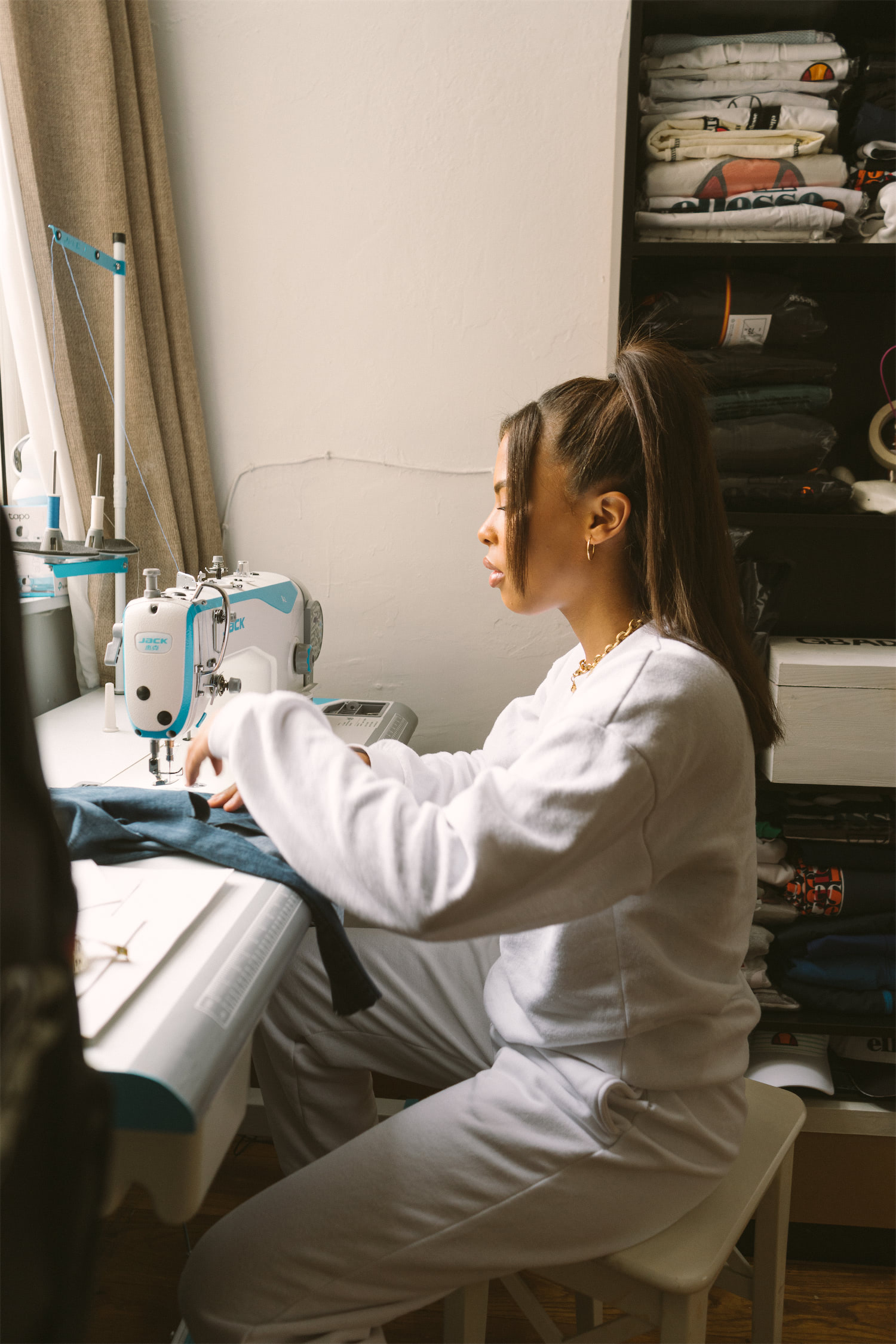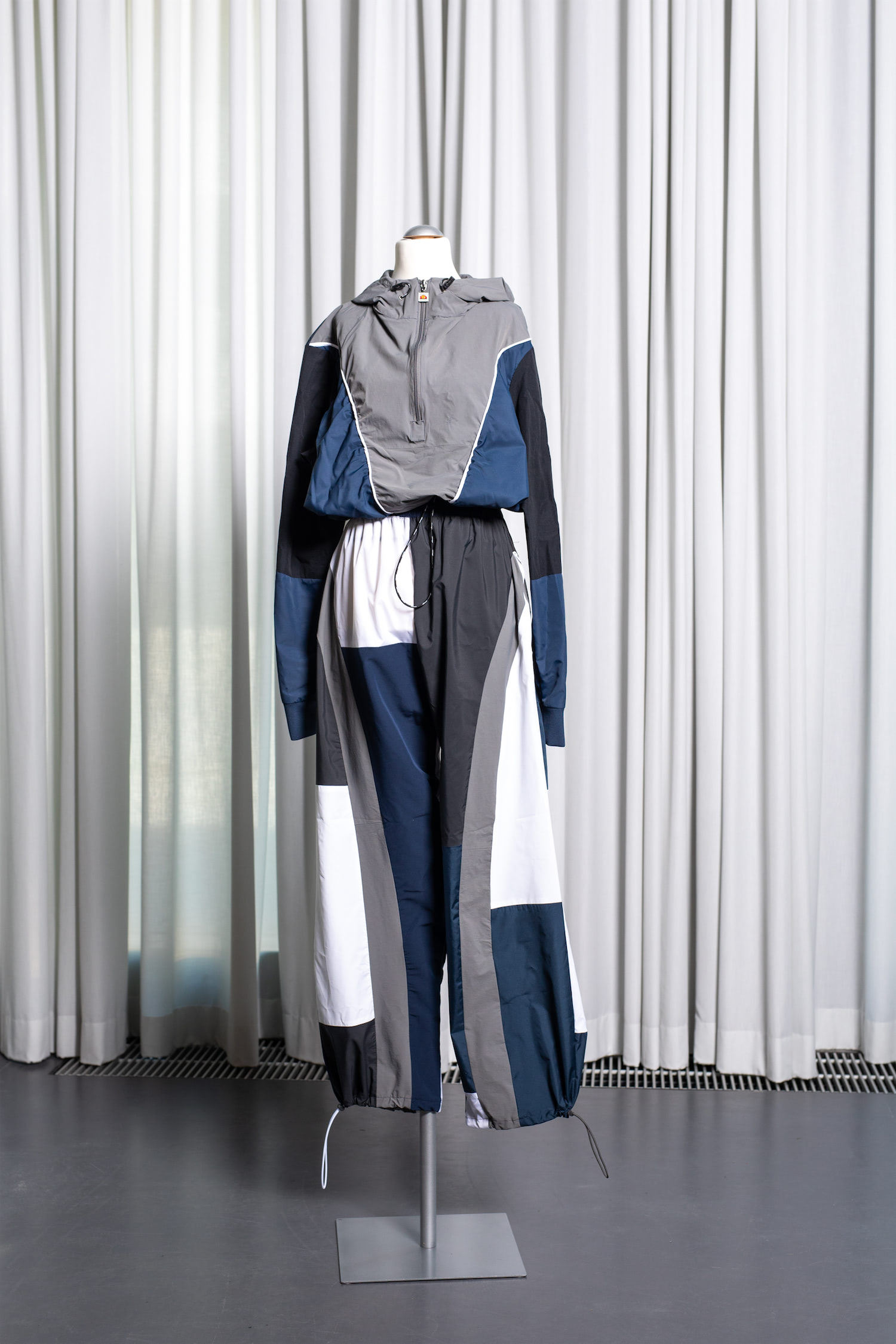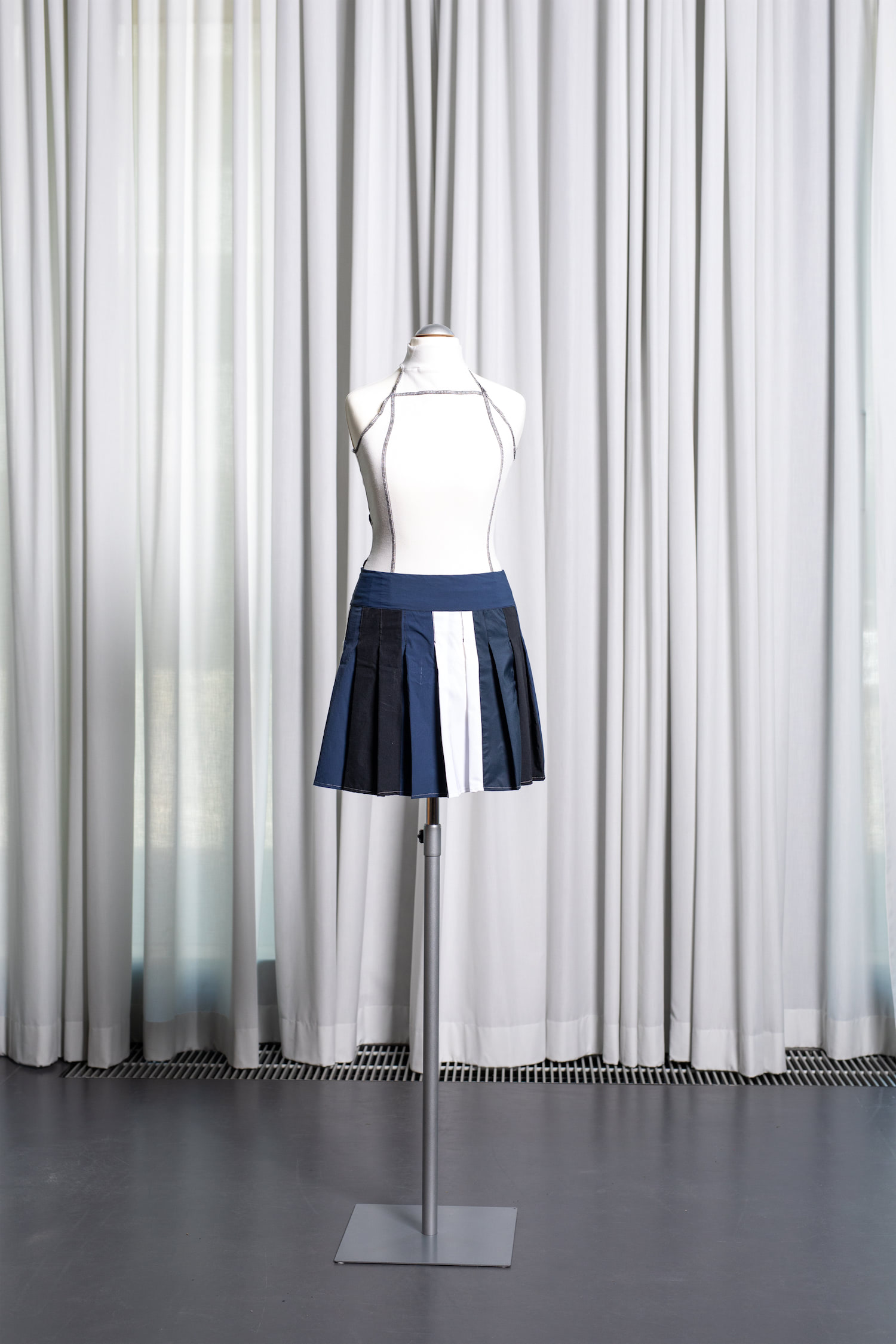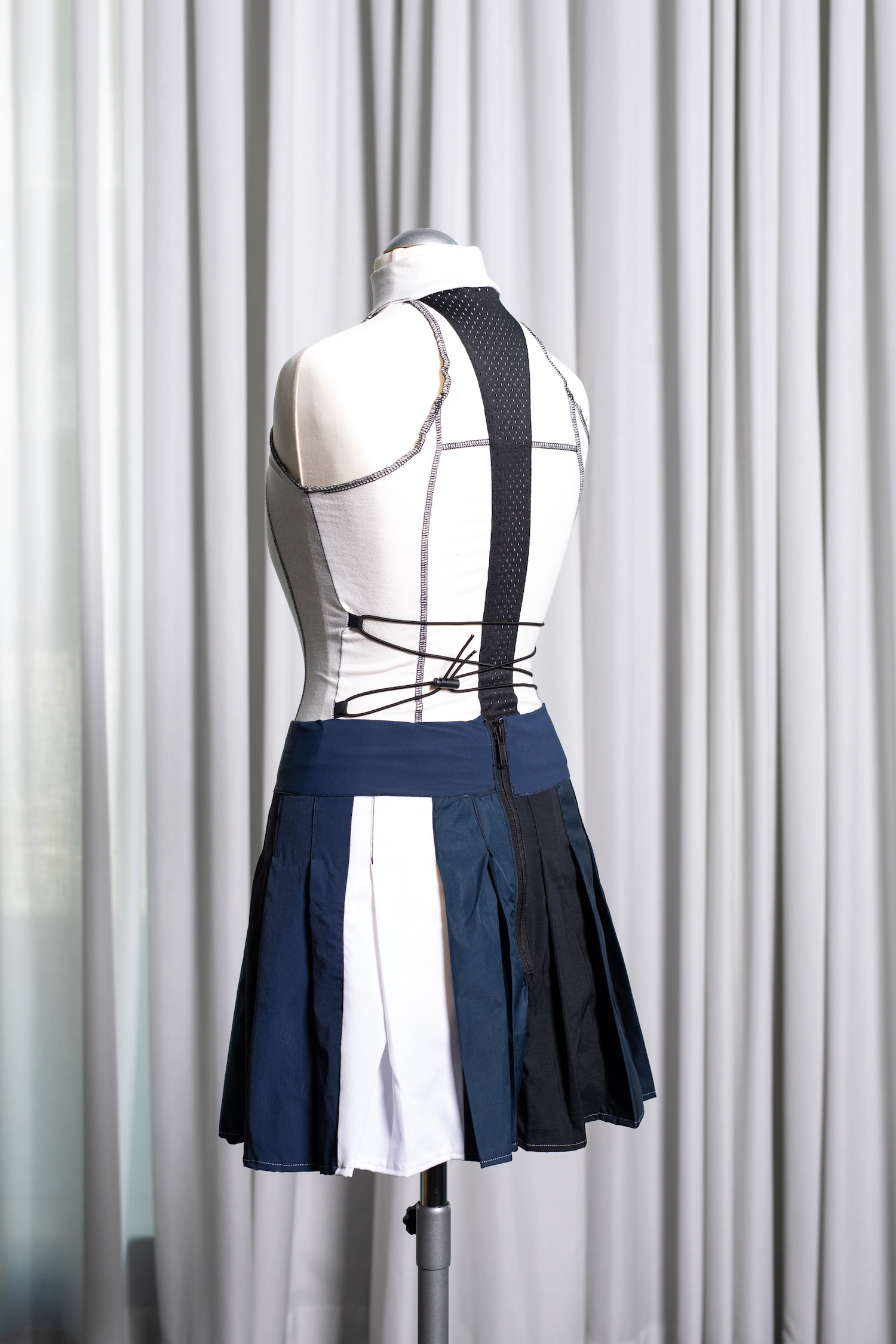 Tailors helped Gbadebo discover more about the designer she is and where she sees her career trajectory in the future. "Learning more about ellesse's heritage and values has really given me great respect for the brand and everything it stands for. The fashion industry is fast-paced and waits for no one, so it's important for new designers to collaborate with big brands like ellesse to help define the next steps for the fashion industry. This Tailors project highlights how ellesse is a brand of the people and for the people."
{"shouldDisplayHeader":true,"shouldDisplayArticleFooter":true,"shouldDisplayPresentedBy":false}