If there's one thing all Berliners love, it's hanging out to eat and drink. From local Späti beers in the park or on the canal to cooking big meals in each other's apartments, communal gatherings are an intrinsic part of the buzzing culture of the capital.
The recent explosion of the Berlin-born grocery-delivery app, Gorillas, has offered endless opportunities to the city's residents to get food and drinks practically anywhere, and in under ten minutes. It's not just the speedy delivery that entices the locals, but the variety of products that the app actually provides after having teamed up with local bakeries and offering seasonal and organic ingredients.
To highlight the city's creativity, in and out of the food scene, Gorillas teamed up with Highsnobiety on a three-part meal series that sees different Berlin-based creatives and collectives explore what Gorillas has to offer, whilst telling us what it is that draws them into the German capital.
First, meet Sucuk & Bratwurst. If you haven't heard their name, then you may have seen some of their outrageously bold 3D designs and renderings. The five-person artistic collective comprises ​​David Goenner, Alessandro Belliero, brothers Lukas and Denis Olgac, and Josephine Kinsey. With a shared studio-apartment space in the center of Berlin, the Sucuk & Bratwurst crew are pretty much always around each other.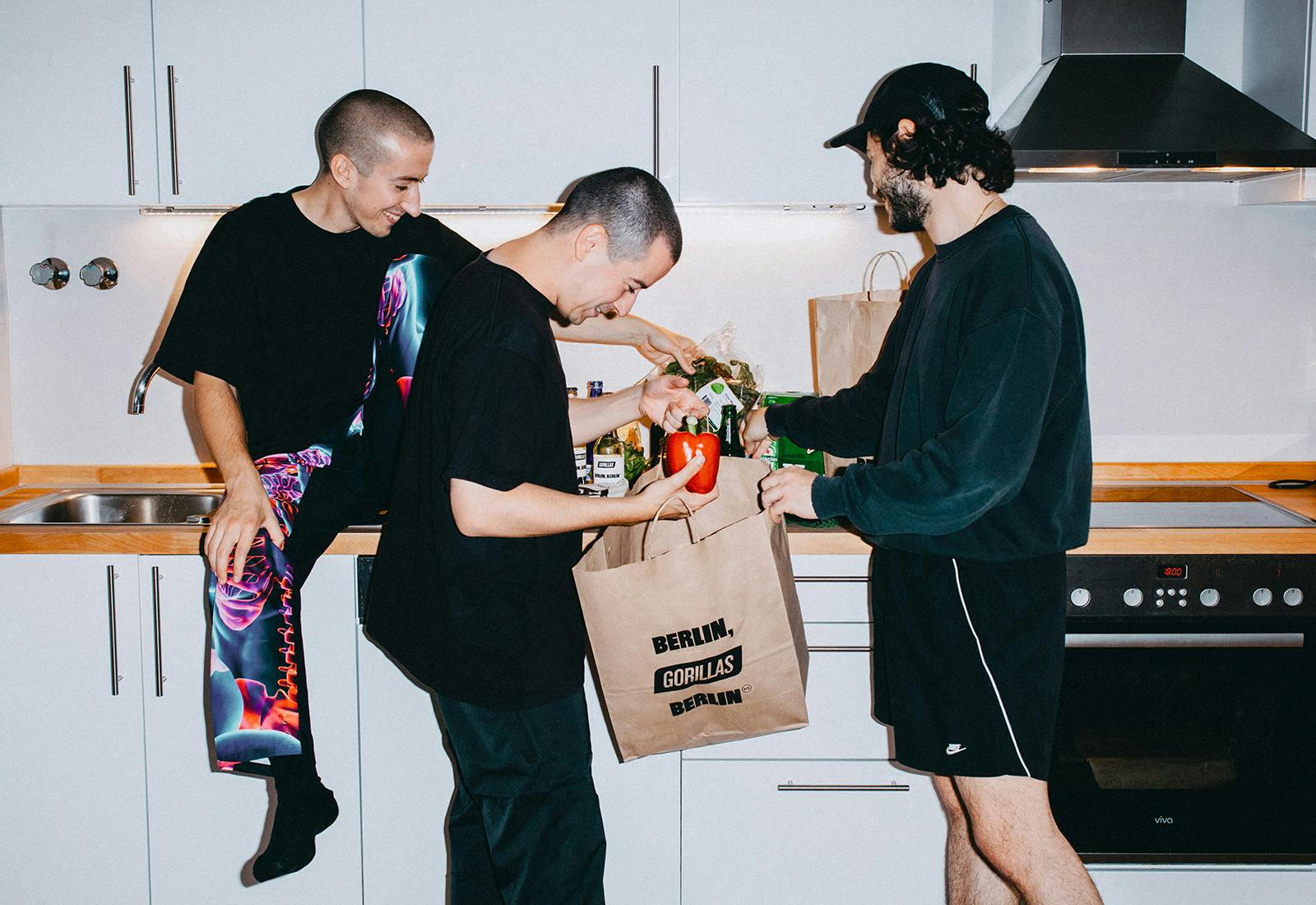 "My perfect day involves meeting everyone and having dinner all together," comments Belliero — it really is as simple as that. In fact even both the Olgac brothers explain how their perfect day would somewhere and somehow involve food and friends, most likely around Kottbusser Tor in Kreuzberg. "I wake up early and go for a run, and then order from Gorillas on the way home so that I arrive at the same time as the delivery driver. Having a proper breakfast is key!" explains Denis Olgac. "In the evening we have dinner together and after digesting we do some deep stretching and chill in the sauna."
The gang received a mix of ingredients from Gorillas, from fresh vegetables and fruit to beers and the exclusive BERLIN, BERLIN x Gorillas Mate (try it for yourself, here). Experimenting in their kitchen, they revealed their most ordered Gorillas items. "Oh, definitely Coca Cola, Haribo and Ben and Jerry's," says Belliero. "For me, it's always water and ginger shots," explains Denis Olgac, whilst his brother flat out says, "frozen pizza for sure."
When it comes to why the collective believe that Berlin is the prime petri-dish for creativity, Sucuk & Bratwurst, like many others in the city, comment on the eclectic backgrounds and open-mindedness of the people living here. "You can live out your creativity and also develop your own style in Berlin. No one looks at you weirdly if you design something totally unusual and you can really test and realize a lot of different things as there are many printers and producers working in all fields," says Lukas Olgac. "You also just have more opportunities here. If major brands around the world search for creatives in Germany, they're usually only looking in Berlin, so it's the perfect place to be," comments Belliero. "We don't take ourselves too seriously, the same way this city doesn't take itself too seriously. This is how we rep Berlin and Berlin reps us. We just power ahead and do."
Next, we catch up with the female-led team at ISLA. Founder Charissa Chioccarelli opened ISLA's doors in 2017 promising "a space for beauty and independent artists."
"We are a community space, nail salon, and retail destination. The idea of ISLA started with the nail studio as there were no places that existed where we could get the nail art we really wanted. We also sell clothing and beauty products that we found were missing in the city. On top of that, we offer a safe space for female-identifying and queer people to come and hang out, use our CDjs or partake in one of our workshops. Berlin is an amazing place for our concept as there is a strong sense of community within our scene and a city full of curious, international creatives," explains Chioccarelli. "Our concept has broadened now, and we are a space for everyone that loves music, beauty, and different types of fashion," says Magdalena Bonamin who works at the shop. "A lot of people come to this city to find themselves or be truly who they want to be. The diversity and freedom of the city trigger meaningful connections and creativity, and we are proud to be a part of that."
The ISLA team received some of Gorillas' ready-made salads and healthy bowls as well as champagne and other fresh vegetables straight to the shop for a little down-time group hangout. "My go-to order is always this ready-made option," explains Bonamin, whereas Chioccarelli on the other hand says, "for me, it is breakfast components, so bread, yogurts, fresh fruits, and juices." Saige McNeal, another member of the team, always goes for Mate. "My perfect day in Berlin would involve meeting up with friends, grabbing a Späti beer or Mate, and then heading to an open-air party with afrobeats or trap music."
Chioccarelli comments on the capital saying, "Berlin is still pretty affordable compared to other popular European cities, which was one of the reasons we started ISLA here; we could afford to take the risk. I think this is the case for a lot of creatives and collectives here. There's also no pressure to work 24/7 and there is still a lot of room for creativity, Berlin doesn't have gatekeepers in that sense." Similarly, McNeal says, "in many cities, the creative scene is really exclusive to the point it is almost not accessible. However, I feel that Berlin offers space for new ideas and concepts to really come alive."
Finally, we chat with three freelance creatives, Lawrence Adu, Nigel Minani, and Christian Sauerland — all of whom are heavily involved in different facets of Berlin's thriving sartorial landscape, and who got together to share some Gorillas snacks and drinks.
"It's hard to say what my perfect day is, but it's always best catching up with family and friends after long days of set productions," says Adu. Sauerland comments on his ideal day by explaining how "over the last nine months I used every Sunday to shoot new images and work on personal projects for my portfolio — and as much as possible I spend those days with Nigel and Lawrie to make these projects unique in their own way. If good coffee is around and in the end, everybody is happy with the work we've accomplished together it's the perfect day for me."
When it comes to why they've chosen to stay in Berlin and continue their creative practice here, their opinions are almost identical to the crew at Sucuk & Bratwurst and ISLA. "The most obvious reason is because of the different cultures from all over the world coming together in our city — we have an unbelievably huge melting pot of creativity on our doorstep," comments Sauerland.
"The history of the city certainly also plays a part," says Minani. "There was a time where there were a lot of empty spaces for people to explore and claim as their own. Even though these spaces are disappearing, the mindsets and the DIY attitudes remain the same and people are happy to work with what they have. Berlin, to me, is my home of choice. Here I can do whatever I want, I can dress and express how I want to without getting judged. But it is also a huge bubble, let's not forget that — the outside world might not be evolving as fast."
With their most ordered Gorillas items spanning from peanut butter to San Pellegrino limonata, and their go-to spots being well-stocked neighborhood spätis, Adu, Minani, and Sauerland are true Berliners who enjoy eating and drinking well and being in each other's company.
Get your hands on Gorillas' fresh produce, snacks, and the exclusive BERLIN, BERLIN x Gorillas Mate on the app here.