Experience this story and others in the new issue of Highsnobiety Magazine, available from retailers around the world and our online store.
Julia Fox is having her eyes done. Not surgically, no, but with near-surgical precision for the better part of an hour. The hair on her brows has been colored a milky white to blend in with her skin, and a makeup artist named Kennedy is drawing, with a blunt burgundy pencil, a pair of sturdy lines over them that look like streaks of crayon. Two pieces of tape are stretching the corners of Fox's eyes up tautly to her forehead, and she is wearing a nylon cap encasing her hair, on top of which a wig will be placed.

A maroon shadow is being painted around her lids like wings reminiscent of Natalie Portman's villainous Black Swan ballerina. And right at the center, holding it all together, are Fox's wide, bright blue-green irises, which Kennedy calls "two crystal balls." Thanks to Fox's predilection for adventurous brow-makeup moments like this, it's these steely eyes that have become nearly as notorious as Fox herself. And, because of a confluence of strange and spectacular events this year, that is very notorious indeed.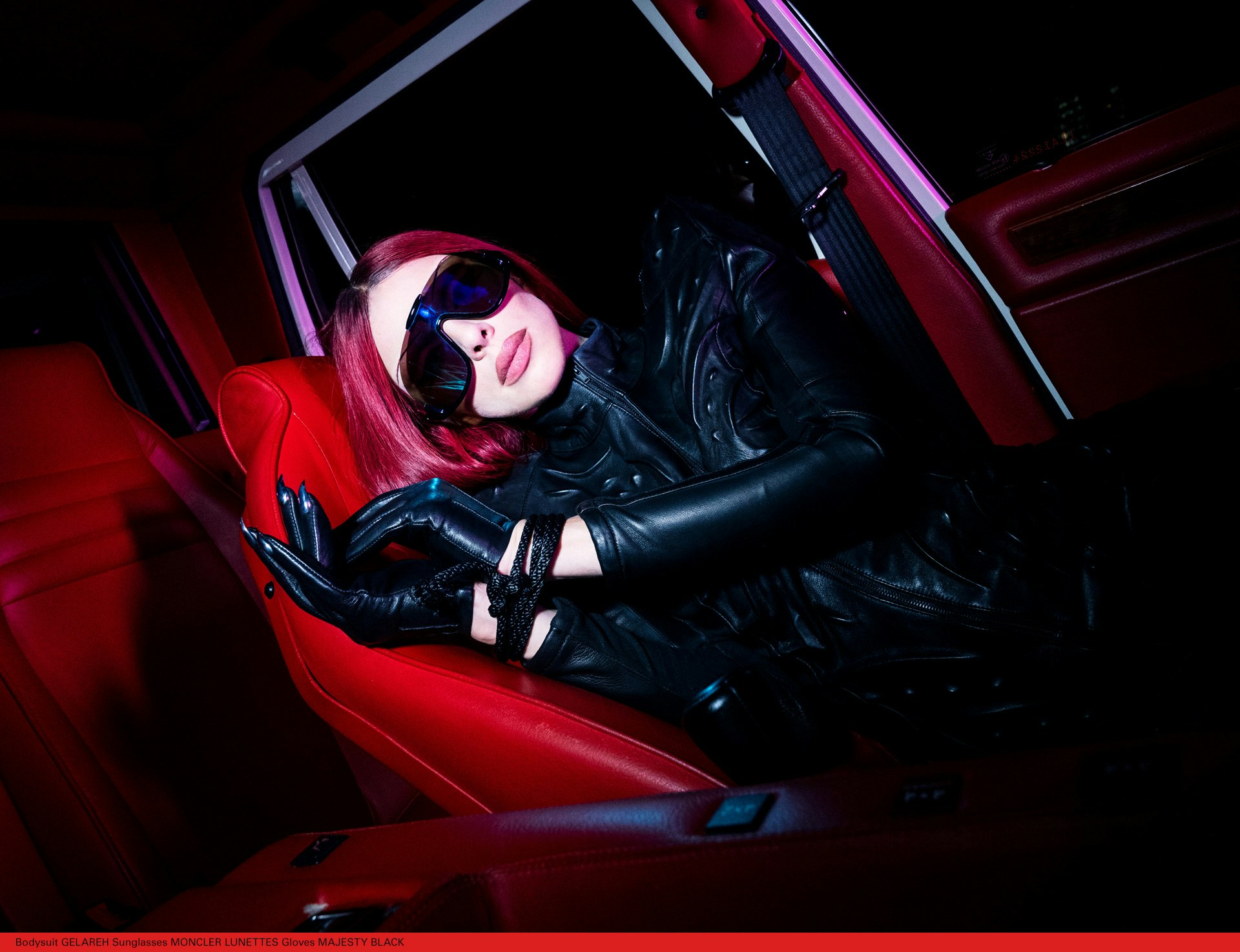 By now, you've heard the story: Fox was an actress from New York best known for a medium-sized but pivotal role in the movie Uncut Gems, the Safdie Brothers' jittery 2019 masterpiece about a diamond dealer hustling his way through Manhattan. Then, at the turn of 2022, a whirlwind and very public romance with one of the most famous people on Earth, Kanye West, made her a celebrity overnight. They met at a New Year's Eve party in Miami, hit it off, and were soon photographed gallivanting around Paris and New York hand-in-hand, Fox done up in head-to-toe avant-garde clothing — latex, leather, crop top Canadian tuxedos — to coordinate with Kanye's own unusual fashion sense.

Her dramatic eye makeup, inspired by photos of an old Helmut Lang runway show, was a flashpoint and a signature, so distinctly smudged and smeared that it became an indispensable part of the new meme that was Julia Fox: a fresh, curious it-girl who was instantly everywhere all at once, forever rocking that wild, weird eye. "Look, I was losing weight from being so busy, and my ass went away," she says half-jokingly from the makeup chair, picking from a gold bag of Haribo gummy bears with metallic silver nails. "And so, I had to focus on my second-best feature — my eyes."
Fox has an admirable sense of deadpan humor — which she delivers in a languid vocal fry — about all of the insanity that has ensued in her life. The relationship with Ye lasted only weeks, and now, months on, she's had a bit of time to reflect on what the hell just happened. "It was unsustainable. It couldn't go on. I'm not at a point in my life where I can dedicate 100 percent of my life to somebody. I'm just not there. I don't have the bandwidth," she reflects. "Some people come into your life for a reason and that's it, and you got to keep it moving. Our paths crossed, we needed each other for that brief moment in time, and when we both got what we thought we needed, it was time to move on." And what exactly did the two of them receive from each other? "Well, I was getting out of a breakup, he was getting out of a breakup, so I think we were just rebounding. Simple as that," she responds, referring both to her breakup from her husband and the father of her two-year-old son, Valentino, and, of course, to Kanye's breakup with Kim Kardashian. "It was the most lit rebound ever."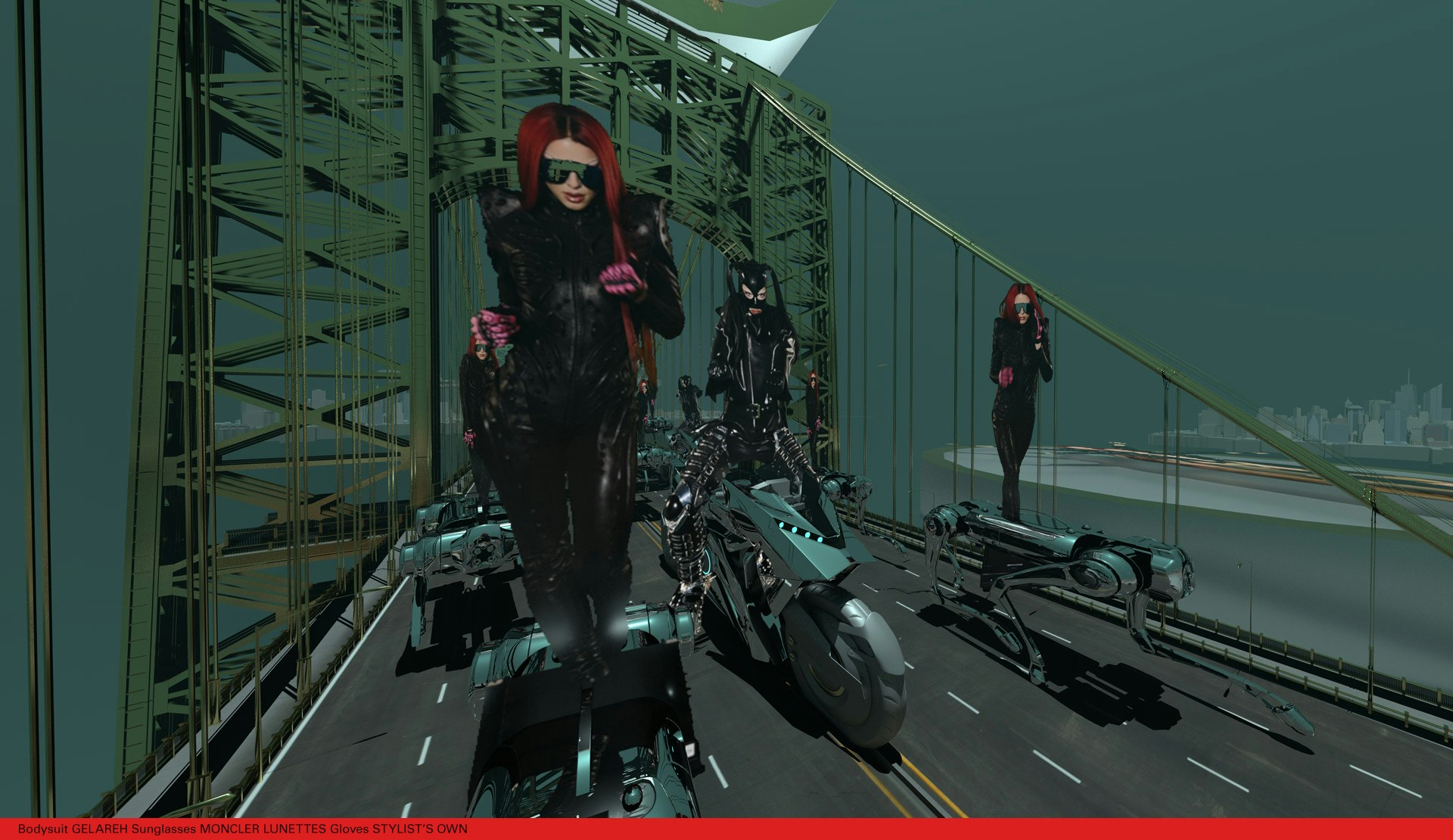 Indeed, being a new mom to Valentino was one of many reasons why Fox was, as she describes it, mostly nonplussed about the whole Kanye craziness. She is someone who has always attracted a bit of chaos, and global notoriety was merely a bizarre chapter in an already unconventional existence. "I had other shit to worry about. I had a friend who just passed away. My friend's husband had just committed suicide. I was in LA by myself with my toddler son. I think being a mom really puts a lot of things into perspective really quickly," she says. "So it's like, 'Am I going to be upset that paparazzi followed me and got shitty photos of me?' No, I'm honestly not. They want me to be feeling some type of way. Well, I'm not going to give them that satisfaction. No. Hashtag unbothered. Hashtag unbothered."

Fox has lived on the edge on and off throughout her life. She was born in Italy (her mother is Italian) but was mostly raised in Manhattan with her father, a contractor. She has described periods of relative homelessness. "I always knew growing up, 'Go after money. Find a rich man,'" she says. She worked as a dominatrix at a dungeon in New York as a teenager, humiliating men to make a buck.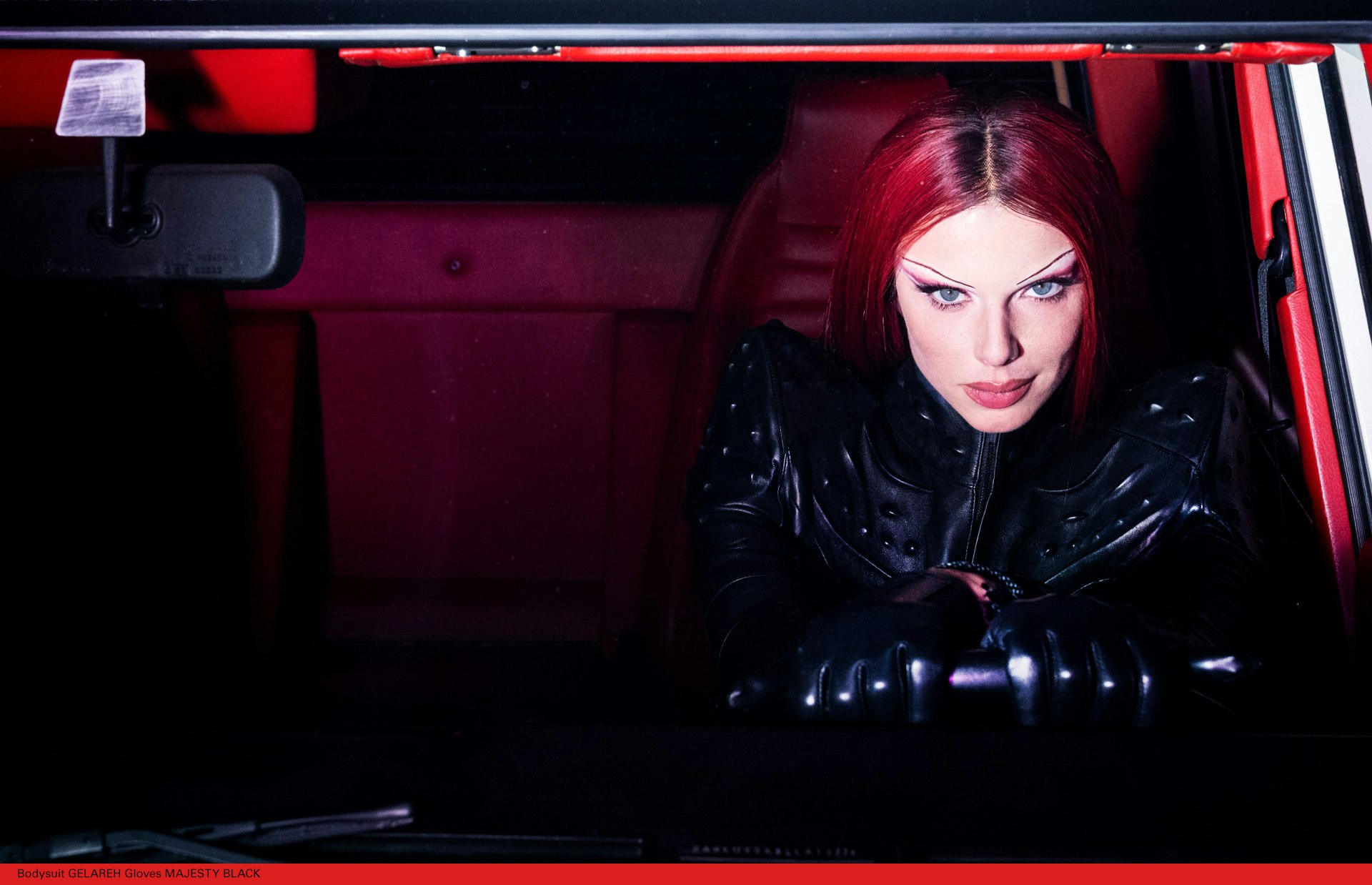 She picked up her enduring love of latex and patent leather there, and she says playing various roles as a dom — nun, school teacher, nurse, whatever — was good practice for becoming an actress. She got into drugs — telling another publication in 2021 that she developed a problem with heroin and pills — though she declines to discuss it in detail now for fear of glamorizing narcotics. She had an older, wealthy client who paid for her apartment and tried to dress her in preppy clothes, but she couldn't stick with it. "Something switched," she remembers. "I wanted to be independent for real, for real. I wanted to get out but didn't know how to leave. I was scared. I had been having side pieces and doing drugs. So I did things to subconsciously try to get him to dump me. And then eventually, he did."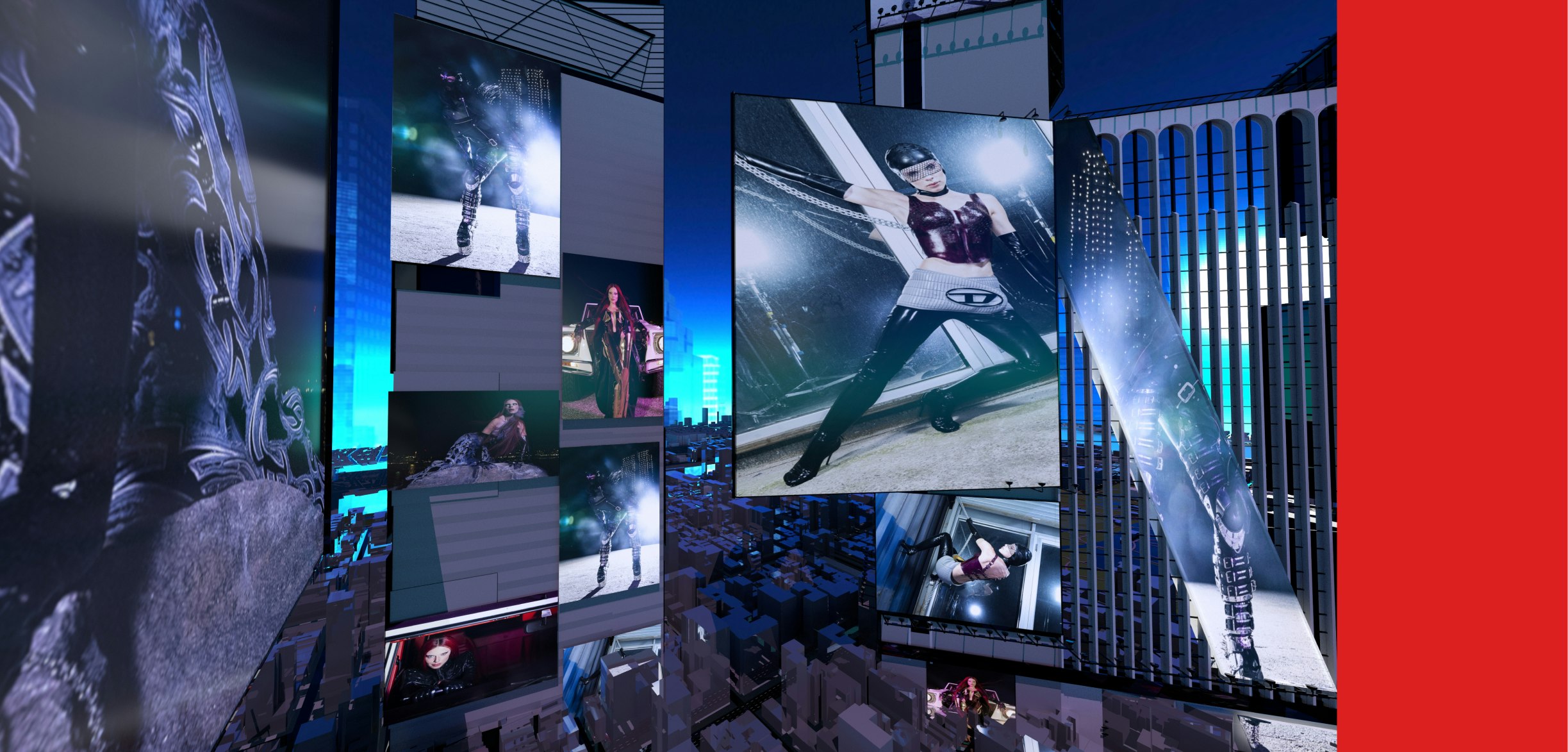 She moved to Louisiana for a time to live with her friends Jack and John of the band SALEM. "We were on the Bayou," she says. "We lived in a house on stilts that would sway in the wind when there were hurricanes." She eventually went back to New York and fell into the downtown Manhattan party scene, publishing books of her own photographs and having art shows with canvases painted in her own blood. Somewhere in this time she got sober (though she still smokes weed and has the occasional glass of wine) and met Josh Safdie, who, along with his brother Benny, was ascending the indie film circuit with edgy, anxious features about the New York underworld. At the time he was writing the movie that would end up being Uncut Gems, and he was inspired in some part by his interactions with Fox, eventually creating a character for the film named Julia and casting Fox in the role even though she had never really acted before. He asked her by text message to play the part.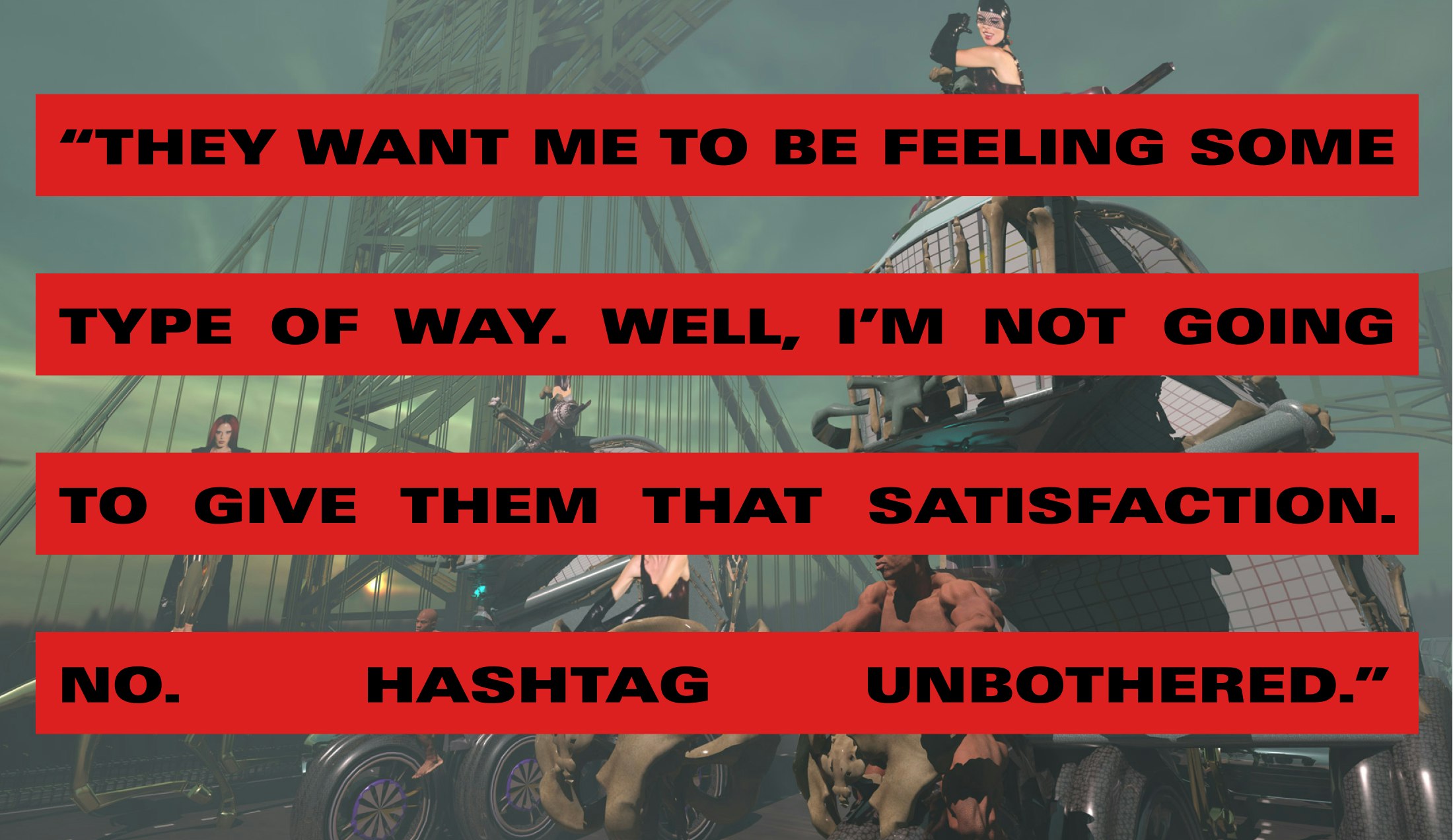 Fox's role was of the girlfriend of the main character, Howard, a chancey gambler and jeweler played by Adam Sandler. Fox plays it with perfect heart, bringing some of her own story into the role both emotionally and literally: Julia is a party-hopping cool girl who lives in an apartment paid for by Howard. She's a wild child who fights with him outside nightclubs, but she genuinely loves Howard, too, and by the end of the movie, does what she can to redeem him after his fall into disrepair. The movie was a critical and commercial smash, and Fox is one of the more memorable aspects of the film, a standout star in a movie filled with standout stars. Plus, she found on set the bit of direction in her life that she was looking for. "It felt like, 'Wow, this is what I was always meant to do,'" she says. "It finally hit me."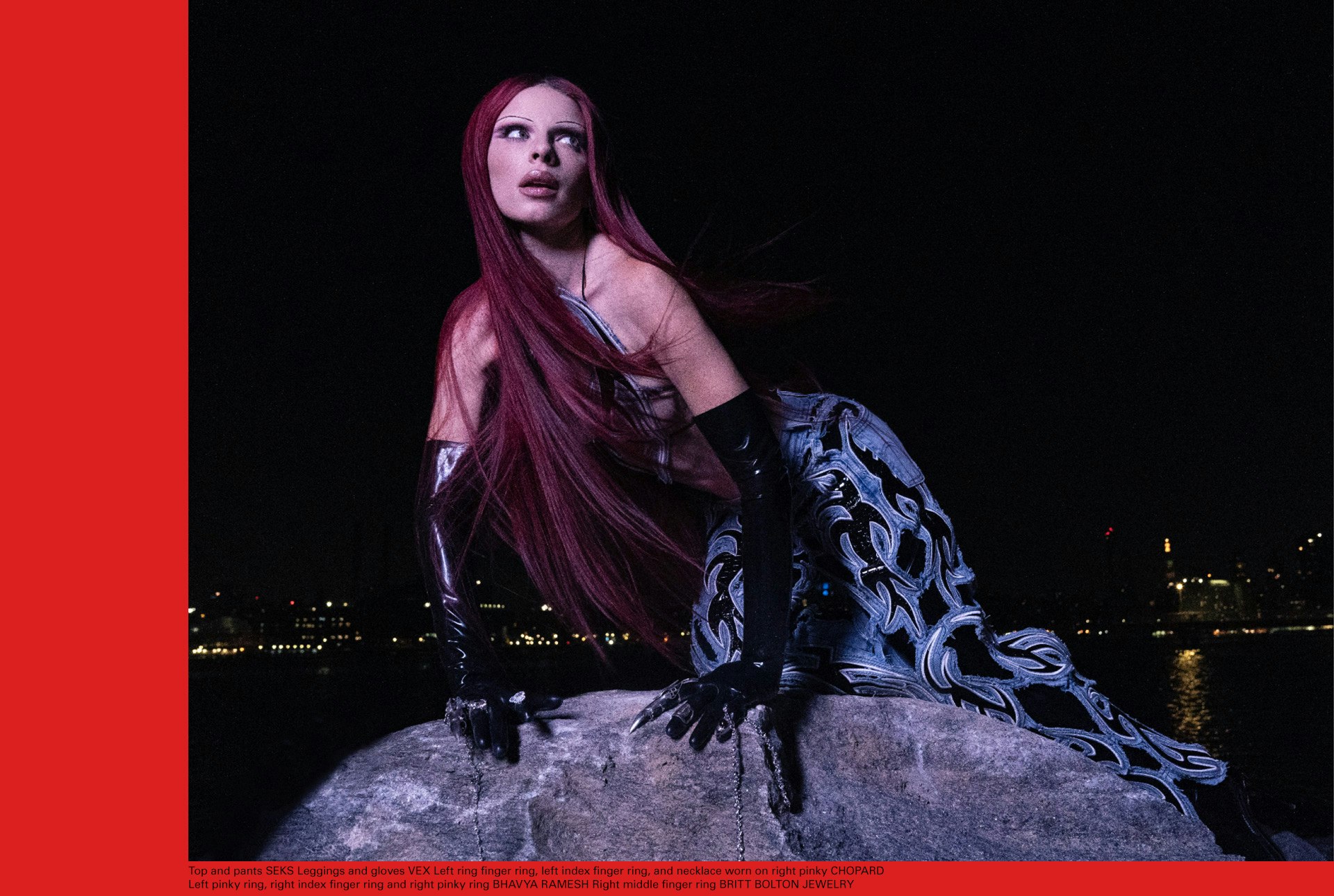 After being in an acclaimed film and apprenticing in the art of fame from no less than Kanye West, Fox has a big opportunity to turn her newfound renown into a major career. What did she absorb for her own Hollywood ambitions from her brief time with Ye, the celebrity of all celebrities, a Warholian mastermind of his own image and art? "Just to be fearless and authentic and keep it real. Because I feel like he really keeps it real, you know?" she says. "Maybe it can land him in hot water, but at least he fucking said how he was feeling and he wasn't scared, and he's not afraid to be vulnerable. That's a lot more than you can say for a lot of celebrities who put up a front and are fake."
She also learned more practical things, like how to orchestrate paparazzi images to tell a story about your life and brand, as she and Kanye did for tabloid images of their courtship. "He was the first person that I ever saw call the paparazzi or stage situations. I would've never done that," she says. "Self-promotion. Shameless. Don't be ashamed to call the paparazzi. When I would hear about celebrities doing that, I used to be snobby about it. 'What losers. LOL.' But now I'm like, 'No, that's how it works.' It's not the most flattering thing to admit. But it's the fucking truth — and they all do it."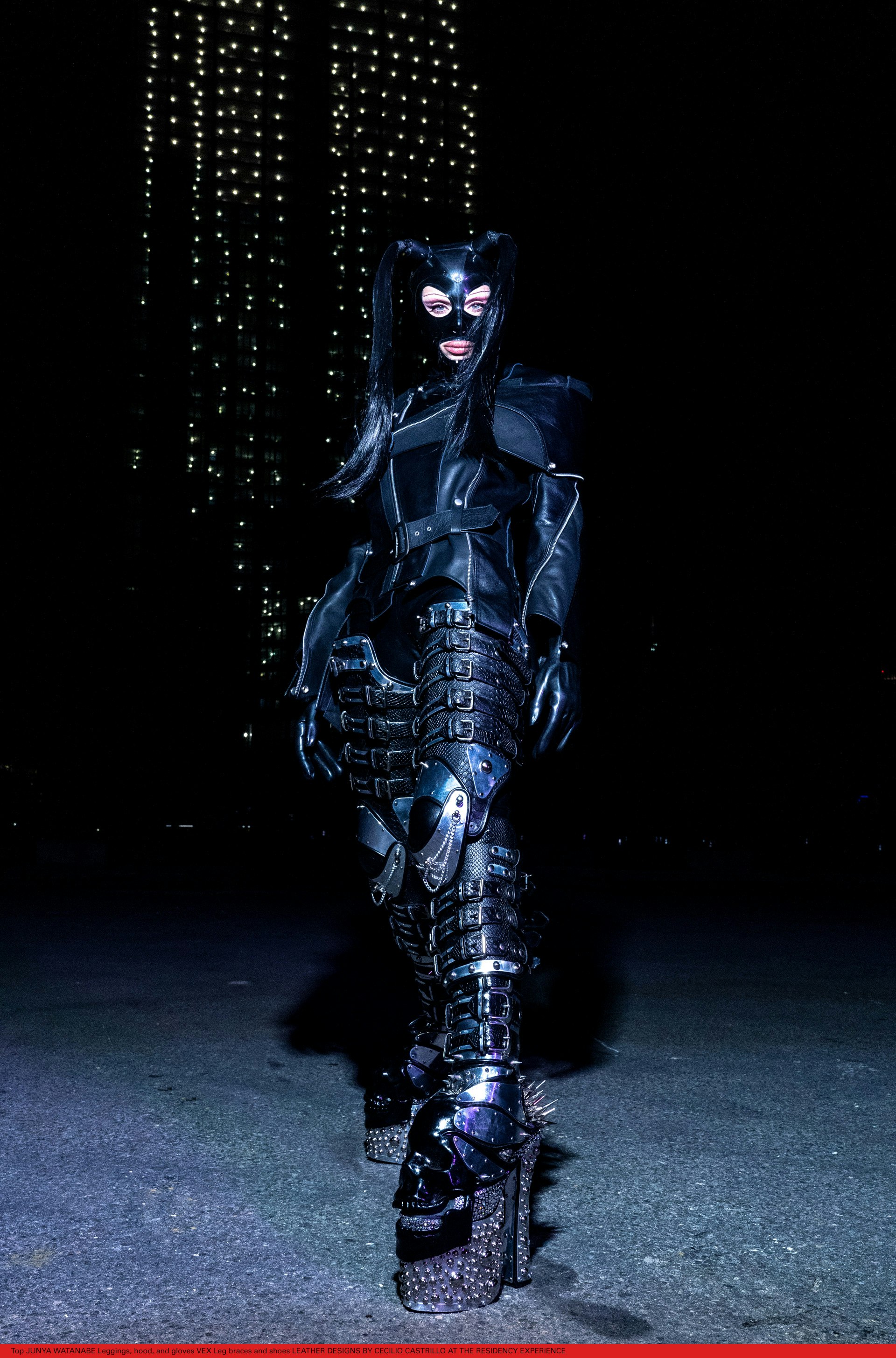 Now, Fox will call the paps herself or walk in areas ("especially SoHo — they'll always get you in SoHo") where she knows she'll get snapped. Images of her outfits have been catnip for the Internet, including an uncanny series of candid photos showing her loading groceries into the back of her car in a bra and underwear, with only boots and an open jacket in matching stonewash denim to complete the ensemble. She's worn clothes that defy description: leather platform boots with a heel at least a foot long, a purse fringed with human hair, a dress held up by a sculptural black fist closed around her neck as if it was choking her.

Almost every outfit is complemented by her famous flamboyant eye makeup. And she sees all of this adventurousness as a service, in a way. For one, she's providing the restless public with ever more over-the-top fashion images. As the pop singer Charli XCX has recently been quoted saying of Fox, "​​She gives us what we want. She works the paparazzi like Paris Hilton did in the 2000s. She gives us viral quotes. She's funny. I just think she's truly seizing the moment with no fear."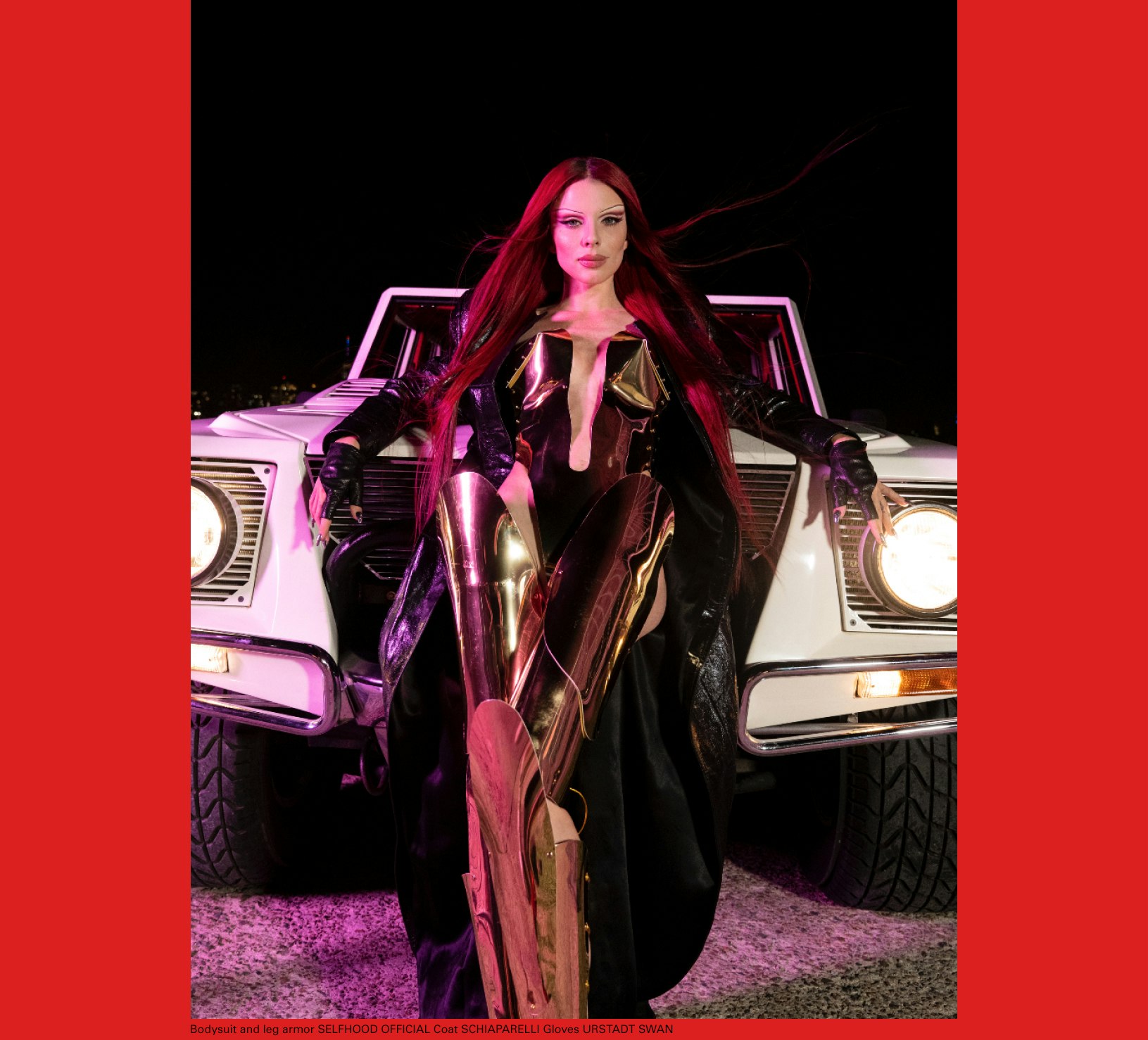 And secondly, she gets to shine a spotlight on the young designers who make her clothes. "I can get a photo taken that'll get reblogged a bunch of times, and this designer's going to get put on and I'm going to look fucking amazing in this amazing outfit. I'll wear their stuff and then they'll get their first write-up in Vogue or something. It's a win-win. Stuff like that gives me fuel because it's like, I can do good with this," she says. "I would never put on a head-to-toe Dolce & Gabbana 'fit and call the paparazzi. Like, what a douchebag."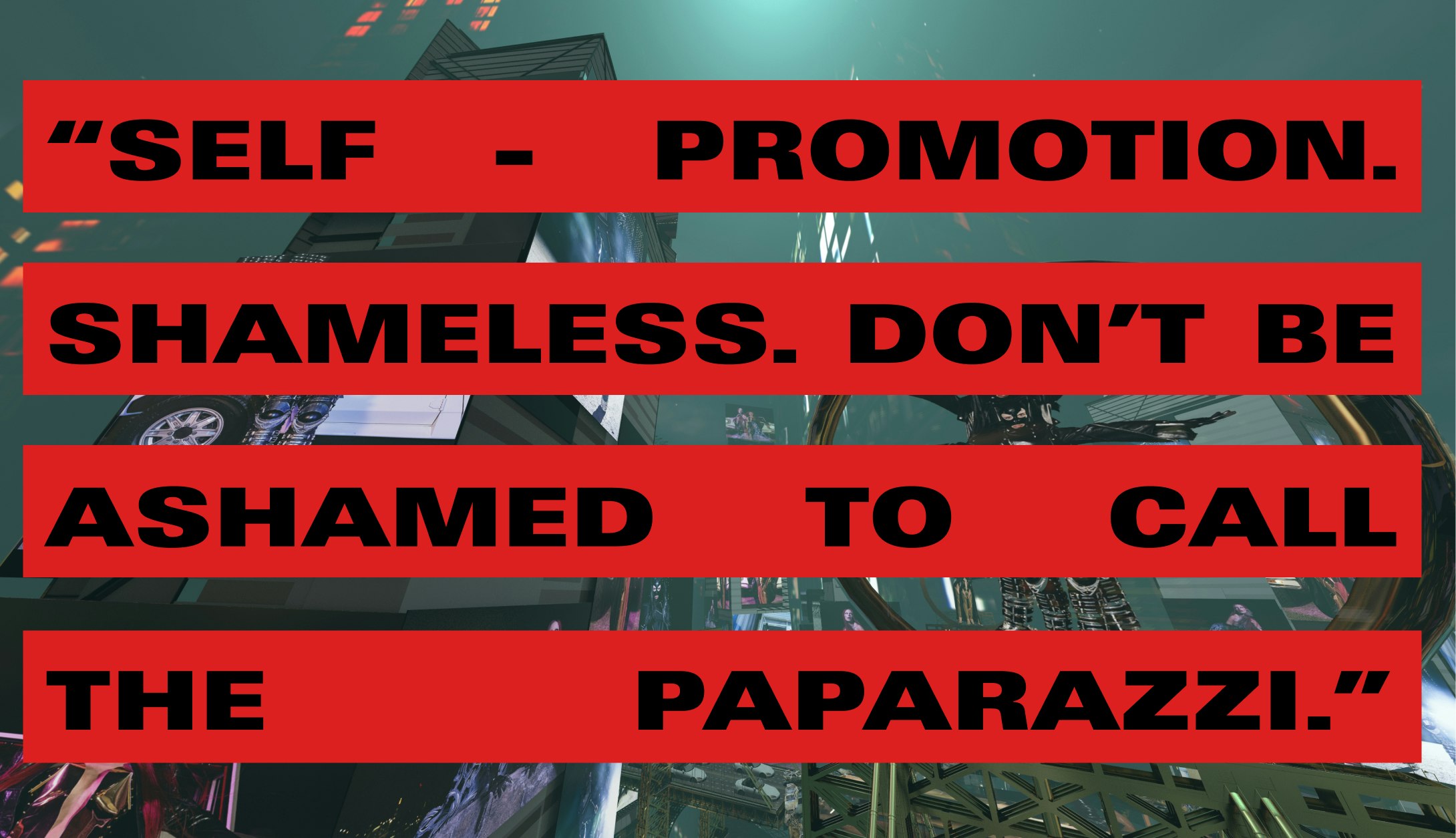 She was recently in LA to film The Trainer, a dark comedy from American History X director Tony Kaye that also stars Steven Van Zandt and Vito Schnabel, but she doesn't always sound entirely convinced that film is her full future. "I'm an offbeat person. I have a history that's public and out there. I understand that I'll probably never be in a holiday Christmas movie," she says. When I ask her if she hopes to win an Oscar some day, she's self-aware about the prospects. "I don't know about all that. That's really far-fetched," she replies. "I don't need that type of affirmation. I'm a little more indie." And yet she's supremely self-assured as well, feeling as though she can accomplish anything she puts her mind to: She'd like to direct, maybe, and right now, she's about halfway through writing a memoir. "Everyone's like, 'You should go to a ghostwriter,'" she says. "I'm like, 'I really don't need one. I'm good.'"
She lives in the East Village and sneaks out to bars with friends when Valentino goes to sleep. "It's like I live this double life," she says. There were rumors that she might end up on a rebooted version of The Real Housewives of New York alongside her friend Leah McSweeney, who was Fox's AA sponsor and is already on the cast of the Bravo reality show. "That seems like such a big commitment. I don't know if I have it in me, but you know, never say never, who knows what the future holds. Maybe I'll really want to fucking just do that," she says. "I had a call with the producer and I said the same thing. Maybe in a couple of years, get back to me. Where I'm at in my life, it doesn't fit. There's no time for that."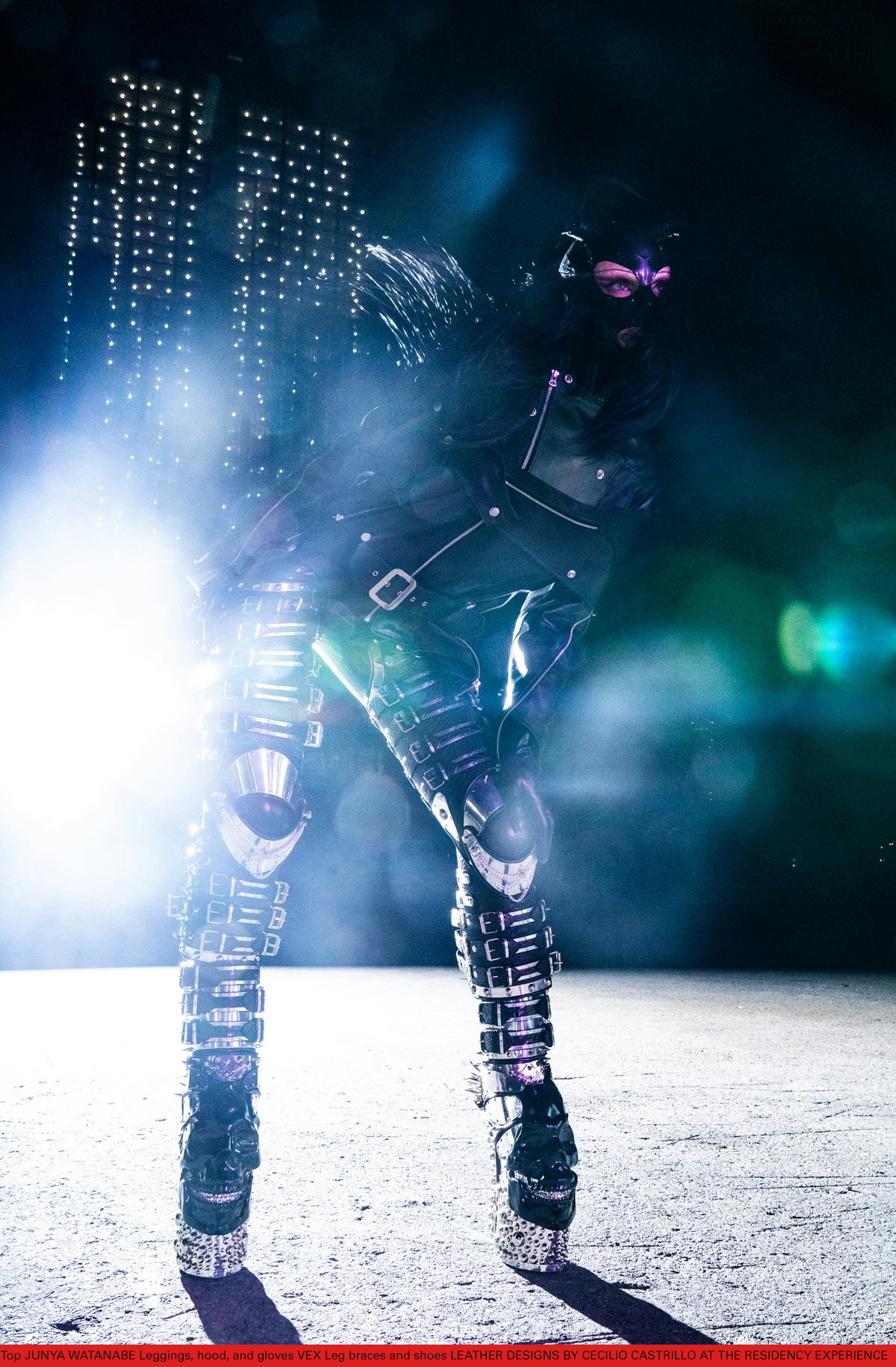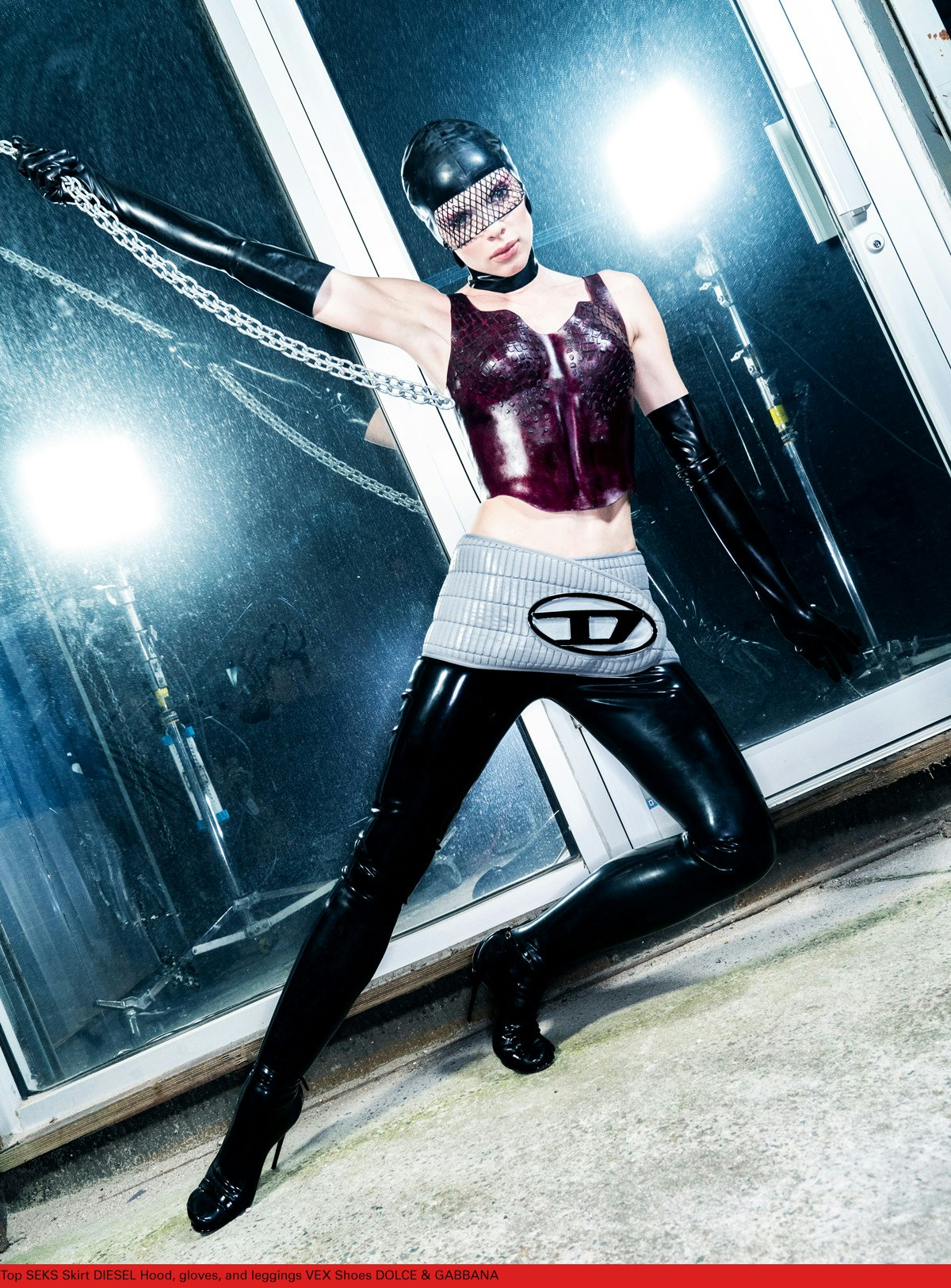 I wondered aloud if her instant infamy in the Kanye chaos produced a kind of whiplash effect, stunting her or scaring her or, because the whole world is watching now, making it difficult to decide on what to do next in her life. "I know people aren't going to believe this, but it really didn't feel like anything," she answers. "Maybe in the beginning I was like, 'Oh my God, I can't believe this is happening. This is insane.' But then I adjusted pretty quickly. I'm very adaptable and I embrace change very well. And whatever the circumstances are, I'll rise to the occasion and deliver."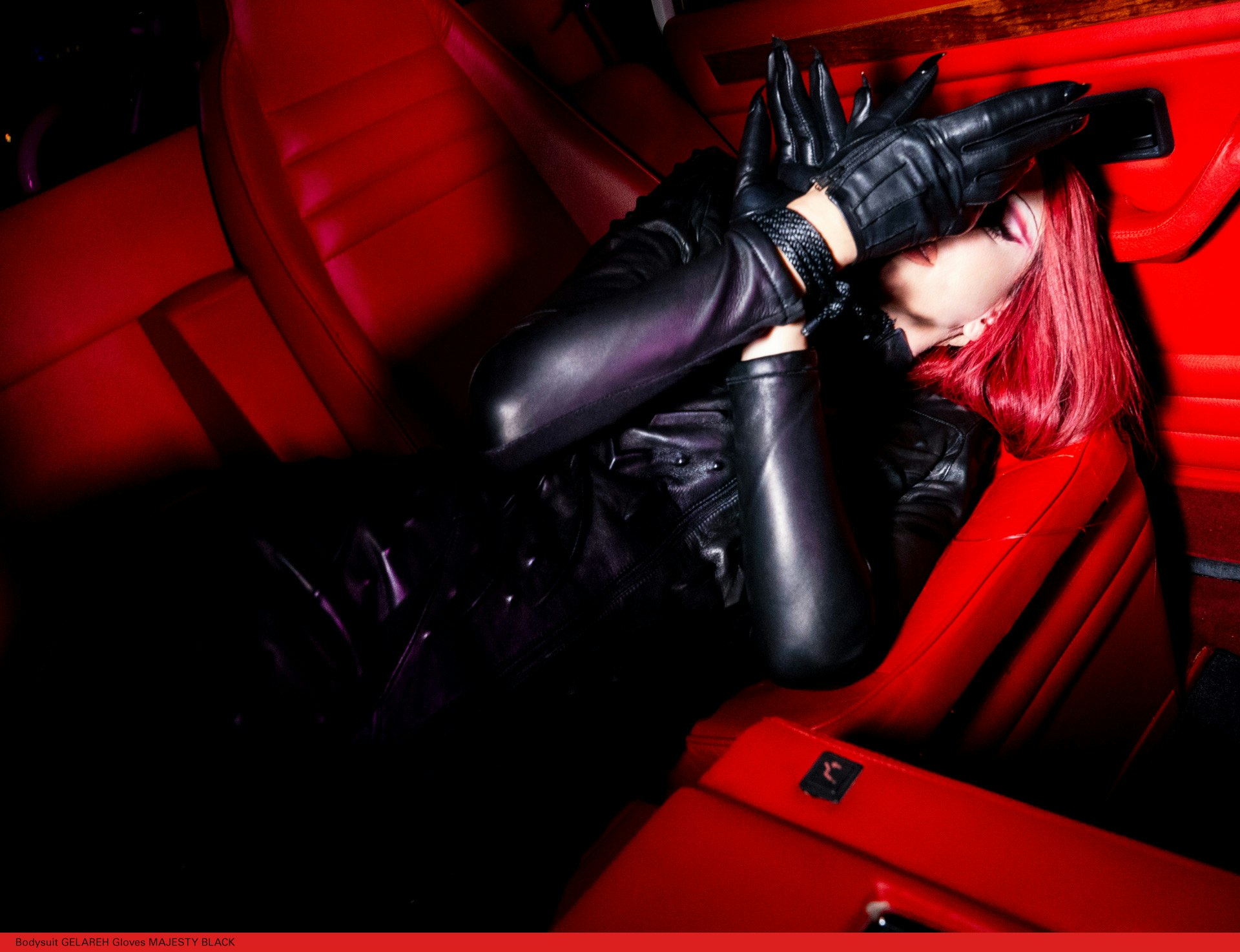 Which seems true, at least here on set: Right now, when everything is said and done, all that seems to matter is tonight's shoot, and Fox is dead set on making it a good one. Soon, the makeup artist will need to put the finishing touches on her face and apply the rest of the paint in peace, so Fox, turning her focus more seriously to her look, politely but definitively shoos me away from the chair when she feels the interview is over. "I think we're done. We're done, right?" she asks me before answering her own question, turning her firm eyes right on mine to let me know it's time to go. "Yeah, we're done." Fox's most important work, after all, is right there in front of her, gazing back at her in the vanity mirror, a pair of eyes in desperate need of the right kind of drama. "This is all just fun," she says of the pageantry of fame. "It's just… distractions."
Experience this story and others in the new issue of Highsnobiety Magazine, available from retailers around the world and our online store
Buy Now
Photography by : Ricardo Gomes
Visual Art by: Jacolby Satterwhite
Styled by : Eyob Yohannes
Production: Taylor Brown and Perris Cavalier at The Morrison Group
Casting: Greg Krelenstein at gk-ld
Hair: Andy Lecompte at The Wall Group
Makeup: Kennedy using MAC Cosmetics at Forward Artists
Manicure: Naomi Yasuda using OPI at Forward Artists
Videography: Courtney Harvier
Lighting Technician: Evadne Gonzalez
Photography Assistant: Hunter Stark
Styling Assistants: Aliyah Christmas and Sam Knoll
Styling Intern: Darius Redmon
Production Assistants: Ciara Beverdige, Andy Martinez, and Cole Mercier
Car Assistant: Sean Robinson at We Are Curated
Tailor: Shirlee Idzakovich
With Thanks to:: Seret Studios, Automobili Lamborghini S.p.A
{"shouldDisplayHeader":true,"shouldDisplayArticleFooter":true,"shouldDisplayPresentedBy":true}