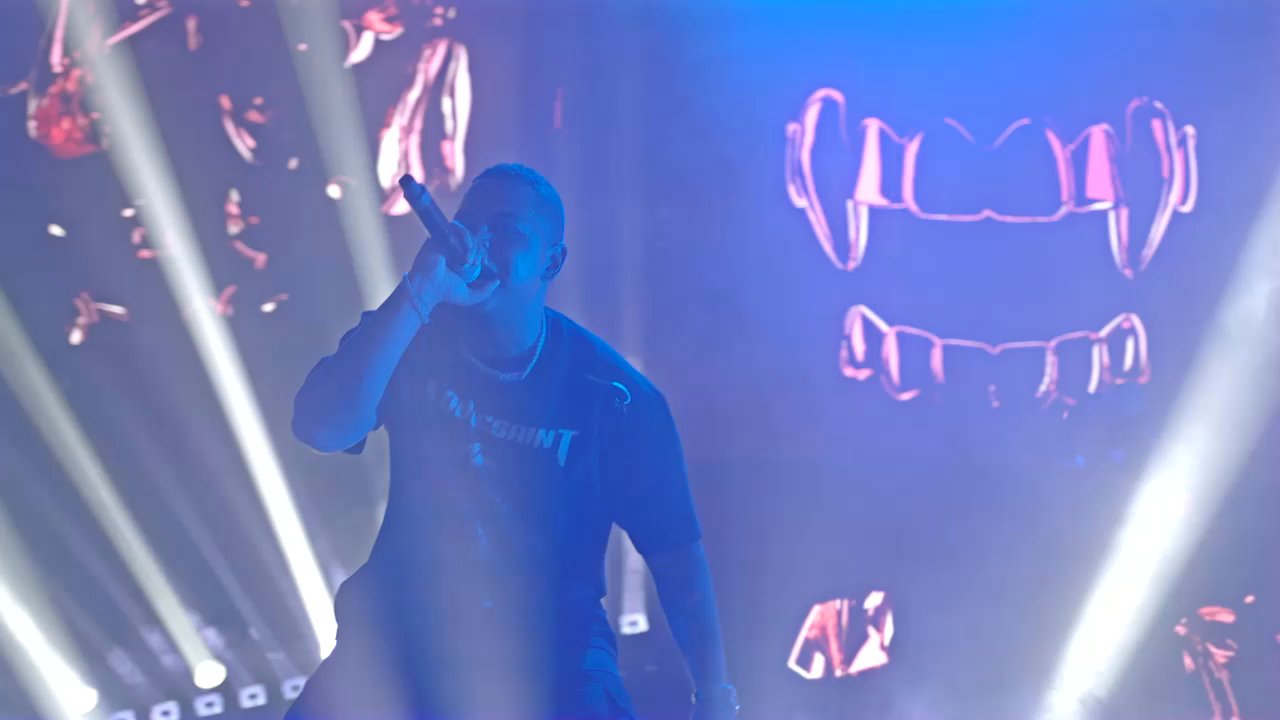 Before I set out to interview Luciano, a Berlin-born rapper with a German mother and Mozambican father, I am told by multiple people that he is polite, attentive, and professional. When I give him a tour of Highsnobiety HQ in Berlin's Schöneberg district (where Luciano grew up), and later interview him at the historic Café Einstein Stammhaus around the corner, I find that all to be categorically true. Above all else, Luciano leaves me with the feeling that German hip-hop is in good hands.
Well-known in Germany, yet still a relative unknown internationally, the 25-year-old is heralded as the frontman of German hip-hop (or Deutschrap, as it's colloquially known). Our 40-minute conversation proves that Luciano not only lives and breathes his profession, but also that he is smart, laser-focused, and has a plan — not just for himself but for his community. After rising to the top of the charts in Germany, Luciano has his sights set on something bigger: Deutschrap's world domination.
It's perhaps fitting, then, that Luciano sold out Columbiahalle in Berlin the night before I interview him. The venue was built in the '50s and was originally designed to be a sports hall for US soldiers following World War II. Since then, it's become one of the city's premier concert halls. "It was an unbelievable feeling because selling out Columbiahalle as a Berliner is a dream come true," Luciano tells me. The show was also special for another reason: It was the first time that his sisters and mom saw him perform live. "Usually I don't really get nervous before shows. In the minutes before going on stage, I get really hyped," he says. "That's where I get my energy from. Then on stage, everything disappears. You just want to give [your family] everything you've got and put on a great show."
Luciano had a tough childhood. "I was, as Javier [his manager] always says, a real terror baby," Luciano laughs. "The energy I now put into my music wasn't focused when I was younger. In school or with my gang, I used that energy for the wrong things. That naturally can lead to problems. Problems with the police." Luciano's parents split up when he was 12, and he went to live with his father, while his mother took his sister, splitting up what had previously been close-knit siblings.
When the rapper was 16, Luciano's father told him he had to move out and find his own place. "I'm 16, no idea how to get an apartment or how to apply for the job center," he recounts. "Then one day, my dad said we had to be out in three months. I didn't believe him. It wasn't real for me until I saw all his stuff in boxes by the front door." Through friends, Luciano found an apartment in West Berlin's Moabit neighborhood. "That's where shit hit the fan. I had no job, no income, and my dad came by maybe once a week and gave me money — maybe five or ten euros — 'cause he felt sorry for me," says Luciano. "And so you start doing stupid stuff."
Luciano says he always knew he wanted to be a rapper, but it was the lack of motivation and, above all else, weed that led to a slow start. "When you smoke weed, you're dead. You have no motivation, stupid thoughts, and dumb dreams," he says. "When I turned 18, I moved to Schöneberg. That's where everything got a lot more serious. The things I did on the street were more serious and brought me more money."
"That's when I started to use my energy for the right things, in the studio," he continues. "We were uploading videos to Facebook and getting 100k, 200k clicks. That was crazy. Then we posted "Kapuze Tief" and had around 500k, and then you start getting recognition in the underground scene. I did a lot of underground performances in Berlin. Those were real hood shows. There were more people on stage than in the crowd," he laughs.
From there, Luciano got bigger and bigger, performing as the opening act for ScHoolboy Q, though Luciano laughs at the fact that they never actually met since he and his team traveled in a separate bus. The increased clout and platform brought bigger crowds and more opportunities, but it also revealed who his real friends were. "You just start cutting out certain people that were only holding you back," he tells me. "At some point you just realize the people that are there for you are the people that respect every decision you make and stand behind you every time." Luciano believes that was one of the most important points in his career.
As charming as the rapper is, he's also not afraid to make difficult decisions. "I just sold out Columbiahalle, and those guys are still on the street, and that's not somewhere I want to be." Still, Luciano recognizes his roots. "I come from the street. I have characteristics from the street, and the streets can teach you positive lessons as well," he says. "But in general, I can say that I'm not street anymore, and I don't want to be either. I'm a rapper now. You can't wear diamonds on the streets — they're all fake. [Now] I can walk with diamonds, because I'm a rapper."
After spending some time in the US recently, Luciano is big into ice. "I like bling and diamonds," he says, explaining his penchant for mixing sportswear or streetwear basics from brands like Nike or Daily Paper with luxury items from the likes of Burberry and Prada. "You know, be approachable, but also not."
When I ask Luciano how he would compare American, British, and German style, the rapper has a clear favorite. "If you're not just considering celebrities but also normal people, the UK has by far the best style," he says. "In America, everything is too colorful for me. It's always about flexing, and everyone wears diamonds even though you know half of them are fake. Everyone wants to be a star, and it's not really fun anymore."
Luciano describes his personal style as as a mix between street, sportswear, and a little bit of high fashion. He admires Skepta's energy and stage presence; the London MC often serves as inspiration when it comes to the way Luciano dresses. "Skepta's style is untouchable, and the crazy thing is that he can wear whatever he wants and still look street," Luciano raves. "To me, he's the boss of streetwear that has gone into high fashion."
I ask Luciano what he thinks about another rapper who is into fashion, Mr. Fit Pic himself, Lil Uzi Vert. "His style is almost too silly for me. He makes great music but for my taste, I can't really rock what he puts up on Instagram," he says. YG, on the other hand, is someone whose style Luciano admires, so much so that he could see himself working with him musically. "A feature with him would be dope. He really knows how to blur that Compton style with high fashion."
During our interview, Luciano is wearing an intricate Craig Green vest, which he's reminded not to get dirty while eating lunch. "Don't worry, if anything happens I'll just buy it afterwards," he says with a laugh.
"Last year I was on the vest drip," he tells me. "Drake started that whole thing for rappers and — I don't mean to be cocky — I was the first one that did it in Germany. Now I want to find myself something new, though."
Luciano is a big fan of Nike, and the love goes both ways — the rapper received gifts from the brand while we were conducting our interview. "When we were younger, we did certain things just to make sure we had one or two Nikes in the closet," he admits. "The white Air Force 1 is one of the nicest shoes there is. Where I grew up, the Air Max 90 was also a special shoe, but it had to be either all-white or all-black."
Luciano surprises me when I ask who his biggest hip-hop inspirations are. "I'll be honest: 50 Cent. From around 2003 to 2010, I watched every single live performance of his on YouTube," Luciano says, though he does admit Fifty's not known for his stage presence. "I don't want to personally attack my idol, but he was never the best live act. In that regard, I would have to say Travis Scott. His energy and creativity are unmatched."
Originally, Luciano was a drill rapper. "Back then I was really into that Chicago style, the drill scene. In Germany, no one knew what trap was. I was already rapping about Tatiana on my first song and then last year 'Tatiana' comes out and is a huge hit," he says. "Those are all influences from Chicago. I always told people I don't do trap, I did drill."
Now Luciano says he doesn't want to do drill anymore. Instead, he's focusing on other types of rap. "Drill turned into trap thanks to Migos, and then half the world was doing trap. Everything was being called trap," he laments. "That's why I'm not a drill rapper anymore. I want to do reggaeton. I want to do a Luciano song. I just want to do music I enjoy."
Luciano's sound has evolved over the years, something he credits to the changing landscape of the music industry and what the listeners want. "I'm so thankful that German rap has evolved like it has. The way style has become more important. The experimentation. You can do things today that weren't possible back then," he says. That's also reflected at award shows, according to Luciano. "Previously, German media blocked Deutschrap, but now they have to accept us. Regardless of the award, there's always a rapper in the mix. Why? Because we have the strongest numbers."
Hip-hop has long been plagued with a negative reputation in Germany, something that has only started to change recently, as Luciano points out. Criticism ranges from a lack of originality and cultural appropriation to misogynistic lyrics and attitudes of the genre's biggest stars. And while much of that is justified, Deutschrap has also become more progressive, creative, and — most of all — radio friendly. Of course, there is always a minority that "misses the good old days of Deutschrap." To those fans, Luciano says, "The people that say German rap is dead are deadwood to me. They're standing still as everything around them moves forward. They don't understand that we're opening the genre up to more opportunities, fans, and playtime on the radio."
Ultimately, Luciano wants Deutschrap to infiltrate America, the epicenter of hip-hop and the birthplace of many of his idols. After spending some time stateside, Luciano believes that Germany's hip-hop isn't too far behind America's. "Of course there are things we [German rappers] take from America, but honestly, some of the German producers are on a level that is just crazy," he tells me. "If I go to an American studio and put on a Miksu Macloud or OUHBOY beat, it turns a lot of heads."
Luciano believes that German rappers and producers have come leaps and bounds in the last five or six years, but there's still work to be done. "The reason why German hip-hop isn't really resonating with an international audience is because our language is too harsh," he explains. "But we're starting to solve that problem by bringing in melodies and flows, and words from all across the globe — Spain, the UK, America. We're mixing it all together, and it's starting to sound a lot more international, which is why I think we're well on our way."
"The next hurdle for us German rappers is Europe," he tells me. "You have to think big, and Europe is big. Some of us are already popular in various European countries, but it needs to go wider. You have to play club shows there, be part of a marketing campaign there, go to an event, be seen."
He has set lofty goals for himself and believes that German hip-hop will continue to grow. "German rap is going to keep growing because all the major players are on their own flow and will certainly keep improving. All of the guys around me are on such a high level already, which means the newcomers are going to be feeding off of that and aiming even higher, which can only be good for Deutschrap in the long run," he says. "You never know what the next year will bring, but we're all looking forward to it."
Before we end the interview, Luciano has one last message for some of the younger fans and aspiring rappers out there. "Forget about the stories and social media. Sure, it's cool that you guys show us love, but the posts won't disappear, you can always scroll through in the evening," he says. "Don't forget to go outside and enjoy life."
This interview was conducted in German and translated by the author.