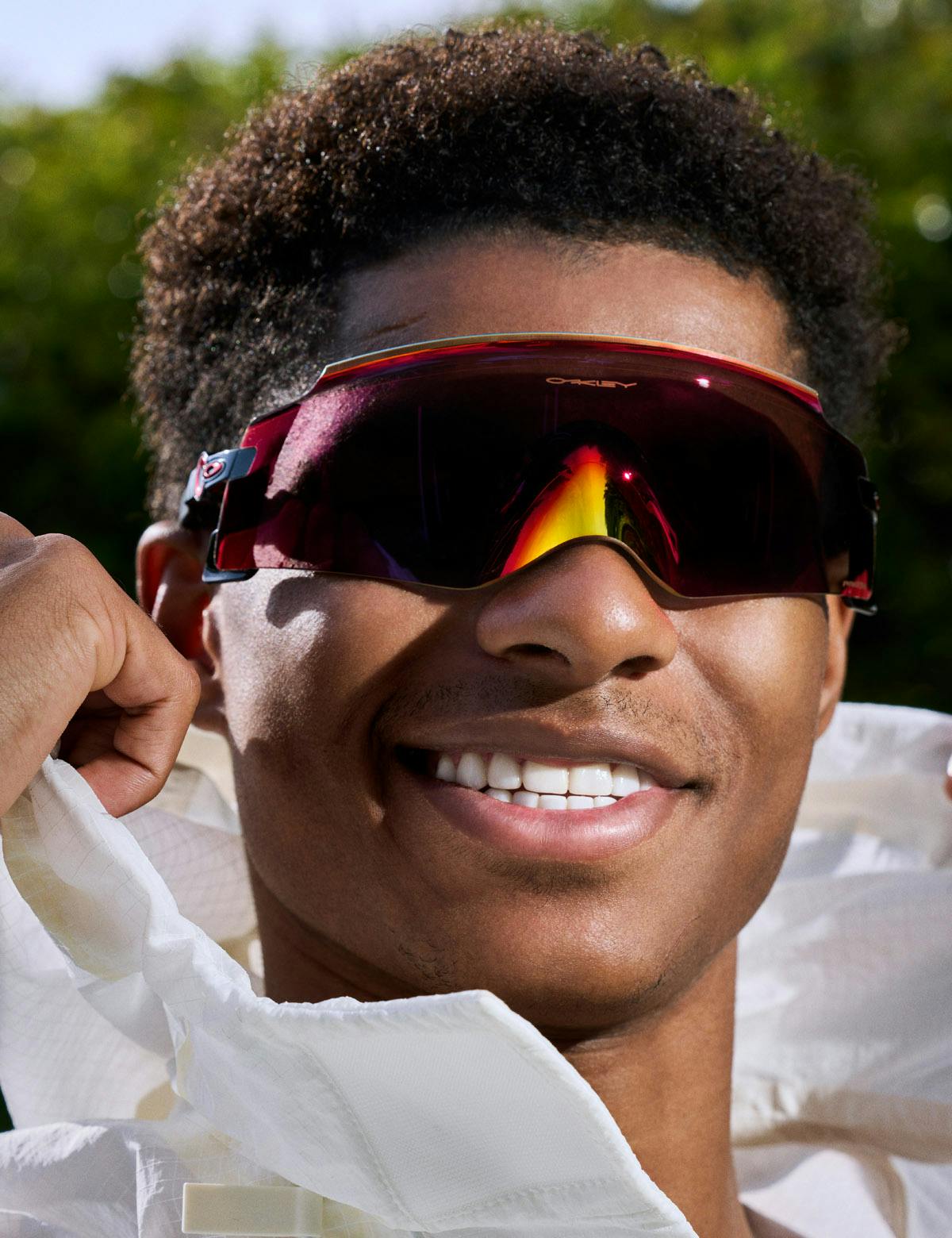 We are thrilled to announce the release of HIGHEnergy, our new magazine now available from our online store and retailers around the world. For this week's FRONTPAGE, dive into our cover story with international sports superstar, community organizer, and eternal optimist Marcus Rashford.
"I don't call it 'activism,'" insists Marcus Rashford, his soft Mancunian twang beaming into my London living room from his kitchen in Manchester. "I'm just being me. I've never stopped helping people."
Clearly, the 23-year-old is playing things down. How else would you describe trumping British Prime Minister Boris Johnson not once but twice, David and Goliath style, with a disarmingly intuitive campaign to secure millions of meals for vulnerable people during a pandemic? And what about doing so while juggling the demands of being Manchester United's academy-honed star striker in the most disruptive year for English football, ever? Oh, and while also teaming up with a Michelin-star chef to teach families how to cook via dynamic digital content, co-writing his first book, and launching a book club? Yes, the Gen Z multi-hyphenate is really underselling his accomplishments.
It happened organically, but "activist" is now a constant refrain attached to Rashford's name, and the story of the footballer's applaudable progress is well-worn in the British press. On June 15, 2020, he published a damning open letter to all MPs in Parliament for the Guardian and on his social media accounts. The message vividly detailed his own personal experiences going hungry as a child, along with eye-opening insights from struggling parents. Needless to say, it went viral, and lines like, "As a black man from a low-income family in Wythenshawe, Manchester, I could have been just another statistic. Instead, due to the selfless actions of my mum, my family, my neighbours, and my coaches, the only stats I'm associated with are goals, appearances, and caps," hit home hard. Prime Minister Johnson U-turned on a government policy ending the vital £15-a-week meal voucher scheme the next day, ensuring that 1.3 million schoolchildren were fed over the summer holidays, doing so again in November to extend the scheme for low-income families over the Christmas holidays. Rashford is quick to share credit for the policy change, maintaining that "everything that has been achieved in the last year has been guided by conversations with families, teachers, and carers."
A tsunami of admiring accolades and special awards followed: an honorary doctorate from the University of Manchester, an MBE from the Queen, and a spot on the Forbes 30 Under 30 Europe 2021 sports and games list. Dr. Marcus Rashford, MBE, keeps his honors at his mom's house; the youngest of five, his single mother, Melanie, worked three jobs to try to make ends meet. She now runs his fan club. "In my mind, they belong to her," he says, describing their unbreakable bond. "Without learning my morals from my household, none of it would have been possible."
Keeping it all in the family, Rashford's older brothers, Dwaine and Dane, are his agents. "I have trust issues," he says of his arrangement. "Growing up where I come from, you only trust certain people. [Could] I trust someone to run my money or my life? No, so I told my brothers to start learning to do it for me."
More than anything else, the forward has been leveraging his wealth and global platform to give back to his close-knit community and help individuals get out of hardship long before it entered the public consciousness. "As soon as I got into the first team, while I was doing things for my family, I was always helping the homeless," he recalls. In 2018, the young footballer and his brothers created gift boxes for those in need in Manchester, which led to a 2019 "In-the-Box" campaign with Selfridges and local homeless charities. "People will tell you, even now, they'll see me in the town center and I'll just be giving out money to the homeless, putting them in hotels. Seeing the individual improve makes me happy."
Then the pandemic struck in 2020, making those situations, and other socio-economic inequalities, more apparent and desperate. Had things been different, the forward would surely have been lining up for England against Albania in the 2022 FIFA World Cup qualifier the very evening we spoke, likely to add to his tally of 11 goals in 40 senior caps. Instead, undistracted by the people and dogs wandering past in the background, he talks me through his schedule, emphasizing how random it can be. "I'm a big fan of routine. I struggle without it," he shares, adding that a period of total shutdown (complete rest) last year allowed him and his team to plan the targeted, coordinated continuation of his off-the-pitch activity that we're seeing now, two years in advance. "On an average day, I get up, drive to training, have breakfast, and get to work. I'll listen to music ahead of a game and just escape a little. Days off are an opportunity to spend time with my friends and family. I'll get a good rest and try to eat well. I do the odd bit of yoga, but I enjoy walking the dogs to clear my head. Not very exciting, I'm afraid. The life of a footballer: You don't actually do much. You have to take care of your body, recover, and prepare for the next game."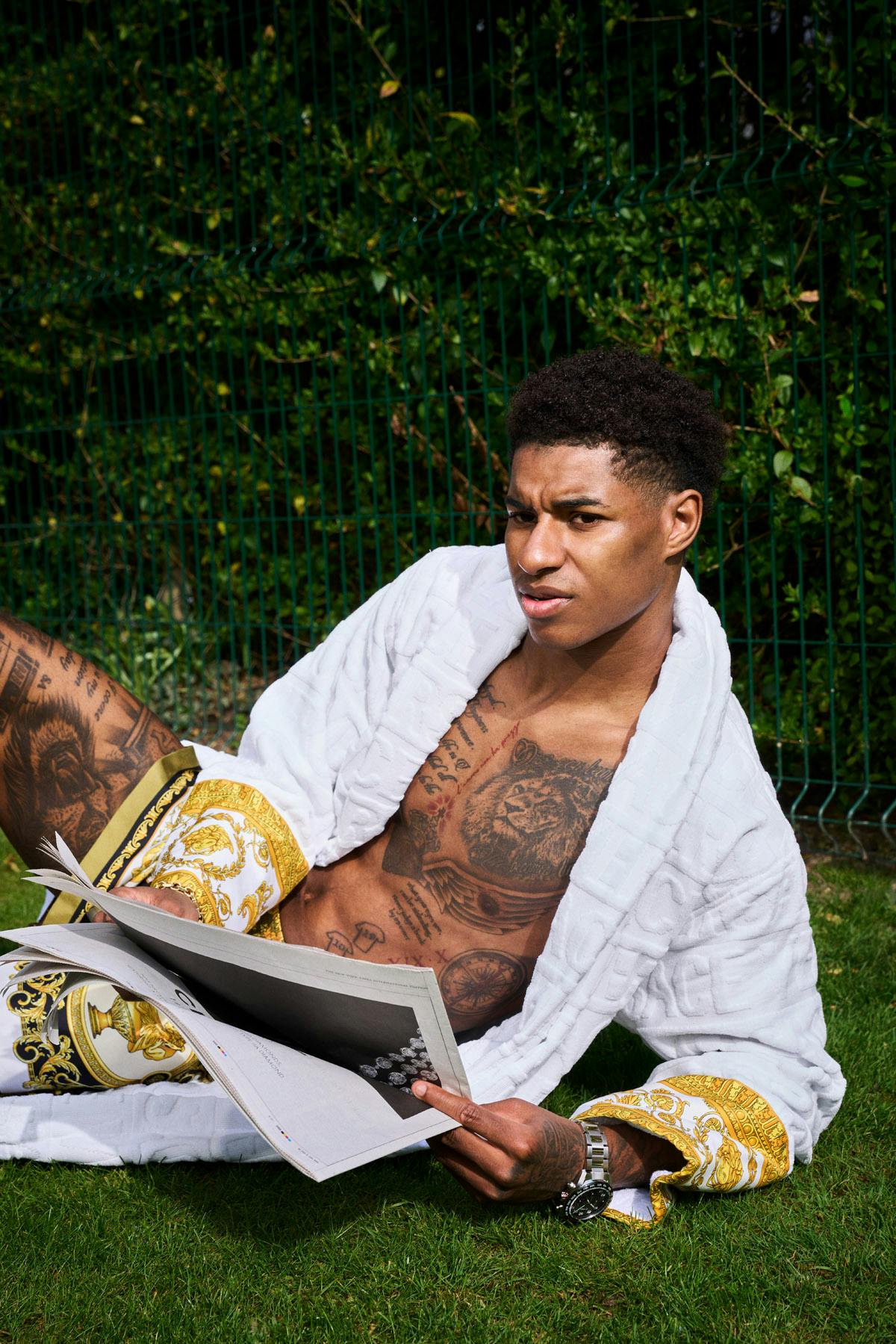 Step one for Rashford was raising awareness about food poverty and dispelling the associated shame and stigma. Making his partnership with food distribution charity FareShare official in March 2020 helped his deeply personal mission gain momentum: "My family are fully behind it. We just want to give children in similar positions to us, maybe in worse positions, help to get out of that situation." By June 2020, 3.7 million meals a week were being distributed by FareShare to some of Britain's most vulnerable families. But it wasn't enough, and in September, Rashford launched the Child Food Poverty Taskforce to bridge the gaps in the National Food Strategy with a powerful group of food retailers and suppliers. All in all, he's helped raise enough money with the organization to provide more than 21 million meals to date.
Rashford's Full Time Meals — launched in April 2021 with Michelin-starred chef Tom Kerridge — is also "making sure no-one goes hungry" by teaching families how to make healthy meals from scratch in video tutorials. The footballer excels at many things, but cooking isn't one of them, so he's the beginner in the video tutorials the duo filmed together for 52 low-cost recipes. After telling Twitter that his favorite cuisine is Italian, his favorite dish comes as something of a surprise: "My Nana's corn porridge, to this day. No one has been able to replicate it." A gaming ritual, whenever he walks onto the pitch, is looking skyward to speak to his late Nana.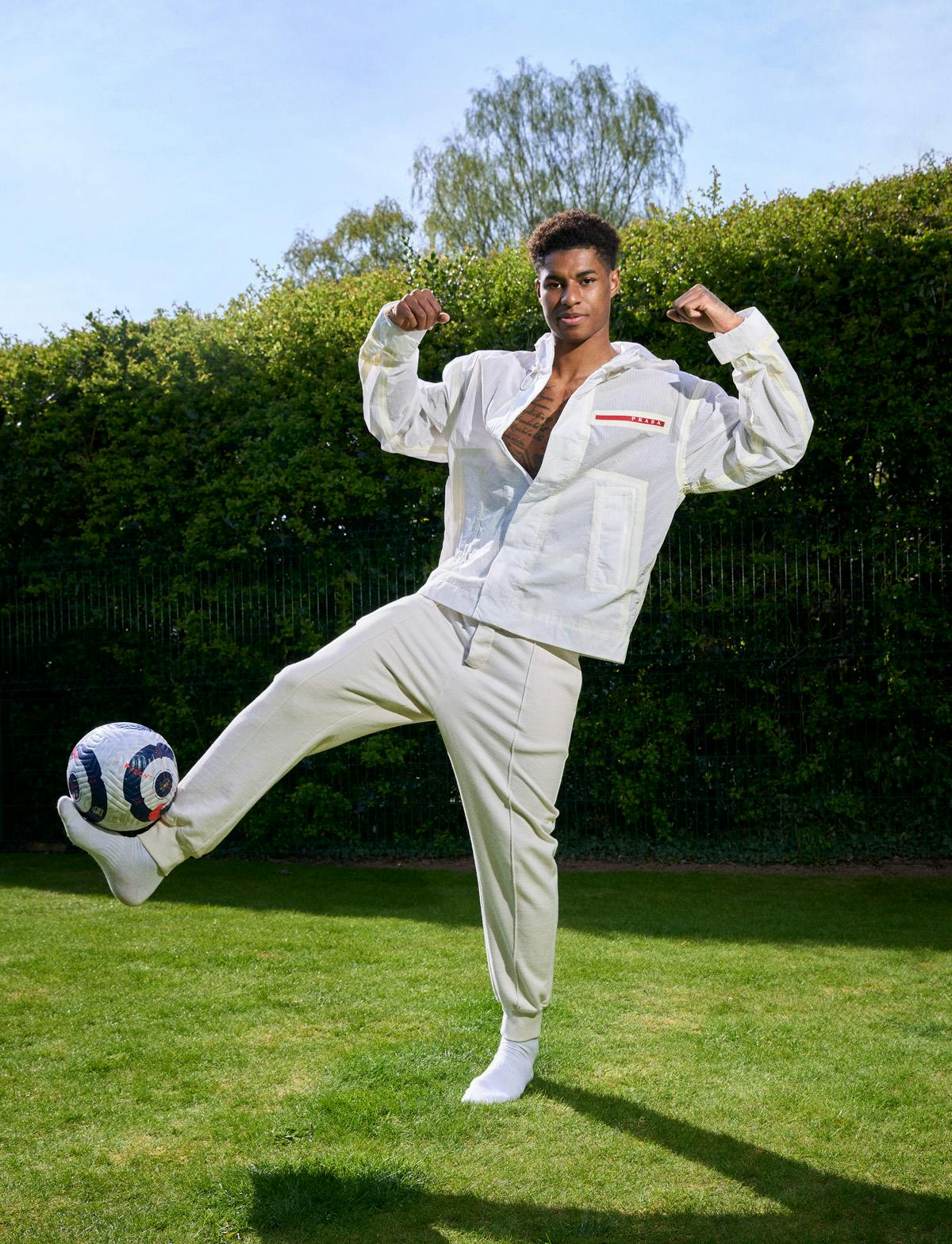 To get into the nitty-gritty of what the passionate player has achieved for this cause so young, give the BBC documentary Marcus Rashford: Feeding Britain's Children a watch. It's an unflinching trip down memory lane, challenging viewers to re-scrutinize the publicized wins in light of the setbacks and new insider information. The air-punch worthy moment when Rashford takes a phone call from Boris Johnson himself about the second government U-turn comes at the end. "I'm not into politics, so I can only speak on the guy that I've spoken with, and I've got a lot of respect for him," Rashford notes. "It's difficult to hold your hands up and say, 'I was wrong. I apologize. Here's what we're going to do looking forward.' And he's done that. We've created a relationship where I feel free to talk to him about different topics. Because all of this boils down to [giving] these children stability so they can go on to achieve things that they don't think is possible."
Marcus Rashford is living proof of this possibility. Overcoming ridiculous odds (less than 0.5 percent of the boys who enter football academies aged nine will make a living in the sport, according to Sky News), and his own child poverty, he broke into United's first team in 2016. Debuting at age 18, he netted a brace against FC Midtjylland in the Europa League. Behind Rashford's laidback and polite demeanor, lies the dogged determination of a super-talented forward who, at the time of this writing, has scored 87 goals in 263 appearances and won four trophies in five years. "Some might describe me as shy, but I wouldn't necessarily say that. I am quite reserved in unfamiliar settings because I like to listen. I'd say that's one of my stronger points," he muses. "On the pitch, I'm a completely different personality, high on the emotion and adrenaline of the game."
Crucial to his adrenaline, and overall mood, is music, which Rashford says soundtracks everything that he does, on and off the pitch. It's rare to see him without it — Lil Baby, Meek Mill, A Boogie Wit Da Hoodie, Stormzy, Santan Dave, and Fredo mainly. In the fashion world, Rashford has carved his own niche with ambassadorships for Nike, Levi's, and Burberry. Though his personal interest can run hot and cold: "I just wear relaxing clothing. I'm always tired — training's hard!" he laughs. "But if I wanted to be extravagant, I could be."
"I do like fashion, and I have a lot of clothes upstairs…" he continues. "It depends on how I'm feeling. I just wear whatever I want to wear, and I don't think about it too much." Decidedly relaxed, Rashford's style swings between training gear and black and white streetwear, with a dash of denim. "I'm from the hood, we just dress normal in black and a hoodie. Around the house, you'll find me in a Nike tracksuit, which is what I've grown up wearing." A low-key sneakerhead who likes jewelry, too, he tells me about some exclusive Nike x Drake shoes he got at the Portland HQ that he swears he's never going to wear or remove from his collection. "I've always been addicted to shoes from when I was young," he adds. "If I've got a pair of nice shoes, I like to keep them clean. I take pride in them."
A signature of Rashford's appearance are his copious tattoos, which are incredibly revealing. "I have the jersey numbers I have worn at Manchester United so far [39, 19, and now 10], the date and time of my birth, my childhood houses...," he lists, physically pointing them out and pulling up his plain black T-shirt to show me. He is quick to stress that none of his body art is meaningless. "I have three lions — one on my hand, my leg, and my chest that obviously represent England, something I'm very proud of. I like art, simple as that. I have a lot of messages, experiences in my life, and putting them on my body through art means a lot to me."
As articulate as he is in person, Twitter, in all its paradoxical glory, has proven to be Rashford's greatest tool. At a time when footballers with social media teams have made gaffes (ahem, Phil Foden), the young striker appears to (re)tweet himself. He barely leaves his digital soapbox, whether he's wishing teammates a happy birthday, publicly questioning campaign partners to keep them accountable, promoting his own community-serving projects, or asking his millions of followers to fill gaps in his knowledge. It feels real, maybe planned but uncontrived, and, most importantly, in his voice. He sprinkles in glimpses of his personal life, too, his love of Mr Kipling Viennese Whirls, for example.
The downside is that Rashford is reportedly Twitter's most trolled Premier League footballer and has been subjected to the online racist abuse that is currently rife in the game. But he still tweets, undeterred: "In all honesty, it goes straight over my head. I don't need validation from others if I know that what I'm doing is right. As a footballer, one game you're the greatest thing since sliced bread, the next you don't deserve to be at the club. For me, helping just one family is a reward that will always outweigh the risk of negativity or criticism." Would he follow Arsenal legend Thierry Henry's lead and have a permanent social media blackout? "I admire Thierry, he's a player I watched YouTube clips of for hours when I was a kid, but my platform is what keeps me connected to people," he tweeted in response.
So do his newest initiatives, which are part of a bold five-year vision. "Food, books, lifestyle centers in communities which enable kids to learn new things and express themselves… then expand it," he says, counting the steps on his fingers. The footballer is very aware of how influential and bankable he is now that his recognition rating is through the roof. One of his partners, Burberry, has already given donations to FareShare and to his team to build the first two lifestyle centers. It helped get Rashford on board given his aversion to cameras. "I've learned that it's just part and parcel of what I'm doing," he says. "I have to be able to do something positive off the back of a commercial shoot, otherwise I probably won't do it."
There has been a shift, he believes, as more footballers use their powerful voices to speak out about important issues unapologetically, a "catalyst" being Manchester City's Raheem Sterling, who has lamented racism over the past few years. Last October, former teammate Odion Ighalo posted about the #ENDSARS movement against police brutality in Nigeria, and various players, including Rashford himself, publicly opposed the proposed European Super League. "Why shouldn't we speak out on things?" he asks. "Just because we play football, it doesn't mean we don't have an opinion. People like Muhammad Ali set the pathway for us to do things like that, and I definitely feel like this generation is going to do something special."
Even so, "role model" is still a more comfortable fit for Rashford than "activist." "[It] is a nice feeling, because if I do things the right way, kids nowadays watch football that much [and] they will follow what you do. Man United is huge on that," he explains, naming Cristiano Ronaldo, Lionel Messi, and Sergio Ramos as serial winners he hopes to emulate. "The most successful people don't let fame or money change them, and I'm going to make sure it never happens to me."
A Euro 2021 win could inspire Rashford's next tattoo, should England fulfill their exciting potential. Expectations are sky-high, as the Three Lions reached the semi-finals of the 2018 FIFA World Cup, and the semi-final and the final matches of this year's tournament will happen on home soil at Wembley. It's an added incentive for the team, and Rashford is quietly confident. "We're a young team, we're hungry, the talent is unquestionable," he says. "The one thing we lack is experience, but we can do amazing things if we put our minds to it."
Hopeful that he'll be playing football for the next 15 years, what's driving someone forward-thinking and action-oriented as Rashford to keep pressing social issues in tandem? "I'm doing what I'm doing to make sure that kids from underprivileged backgrounds and kids from very stable backgrounds start at the same place, so they have the same chances of being successful." From one Black person to another, given Britain's systemic racism, does he think that's possible? "We're going to find out," he chuckles. "I can make things happen for these children, so I'm going to do it while I can. If something's right, it should be possible."
Order HIGHEnergy, a magazine by Highsnobiety, via our online store.