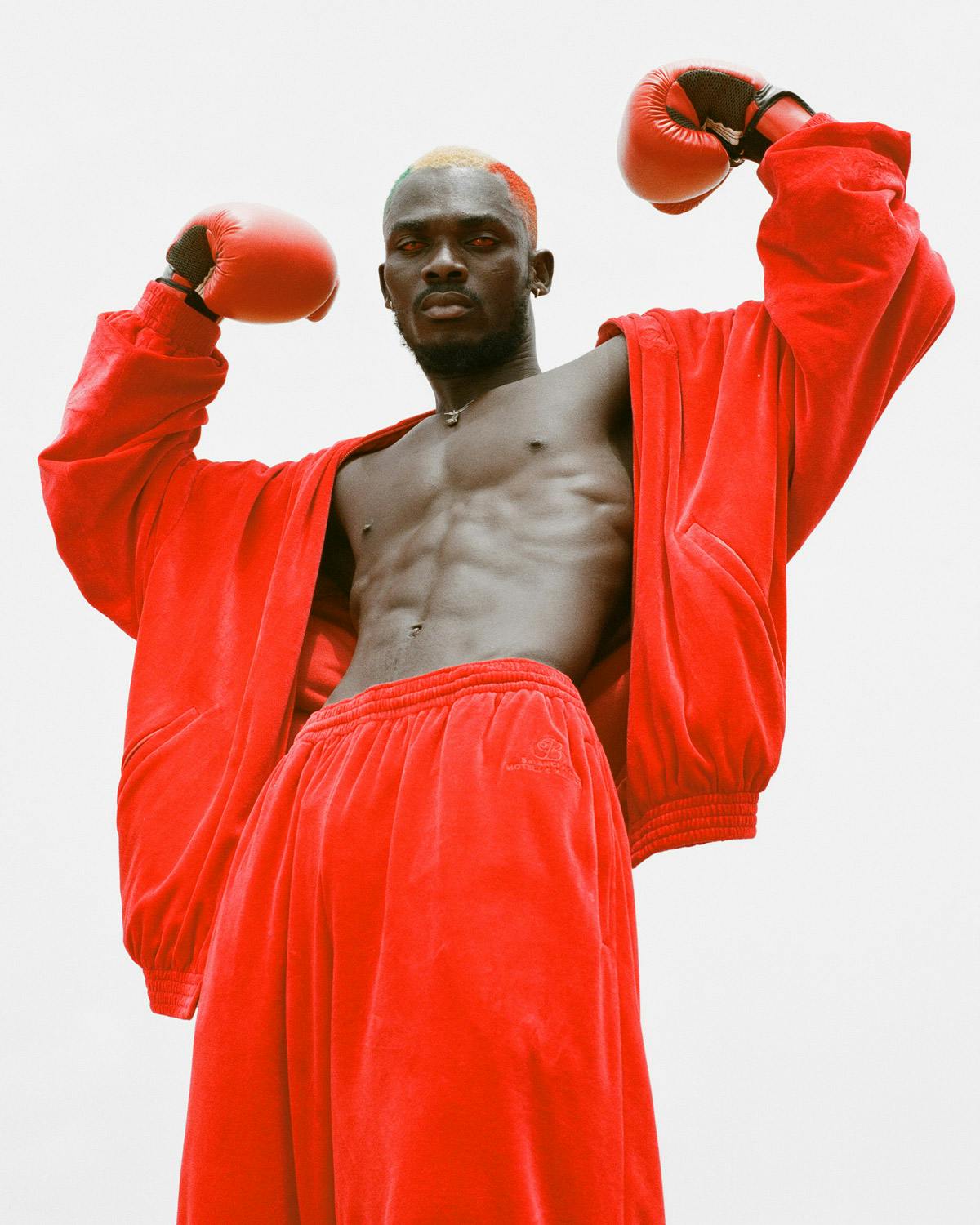 In this week's FRONTPAGE, dive into one of the standout pieces in our new magazine HIGHEnergy: The Sweet Science, an intimate tour through Jamestown in Accra, Ghana.
Photographer Kenny Germé and stylist Edem Dossou go way back: "We're working together… eight years now, right?" Dossou guesses. The thing about collaborating for so long is that you have to be discerning about what moves you and what you want to create. Dossou calls that spark their "personal obsession," and nothing happens without it. So when the duo got the assignment to shoot for our print issue — with nothing more to go on than our theme, HIGHEnergy — they went in search of that magic something.
"We knew the theme of the whole issue was about sport and performance. So, we were first thinking about fencing," Germé says. But he explains that fencing just didn't feel personal enough. "In our work, we always touch something that is close to us. We were looking for a story to be based in West Africa, because of our roots. We thought that to show a community sport there would be perfect. It had to be something powerful and beautiful."
What a happy coincidence that, on the West African coast, where the Gulf of Guinea sends tidings from the Atlantic Ocean, sits a community known as a cradle of champions.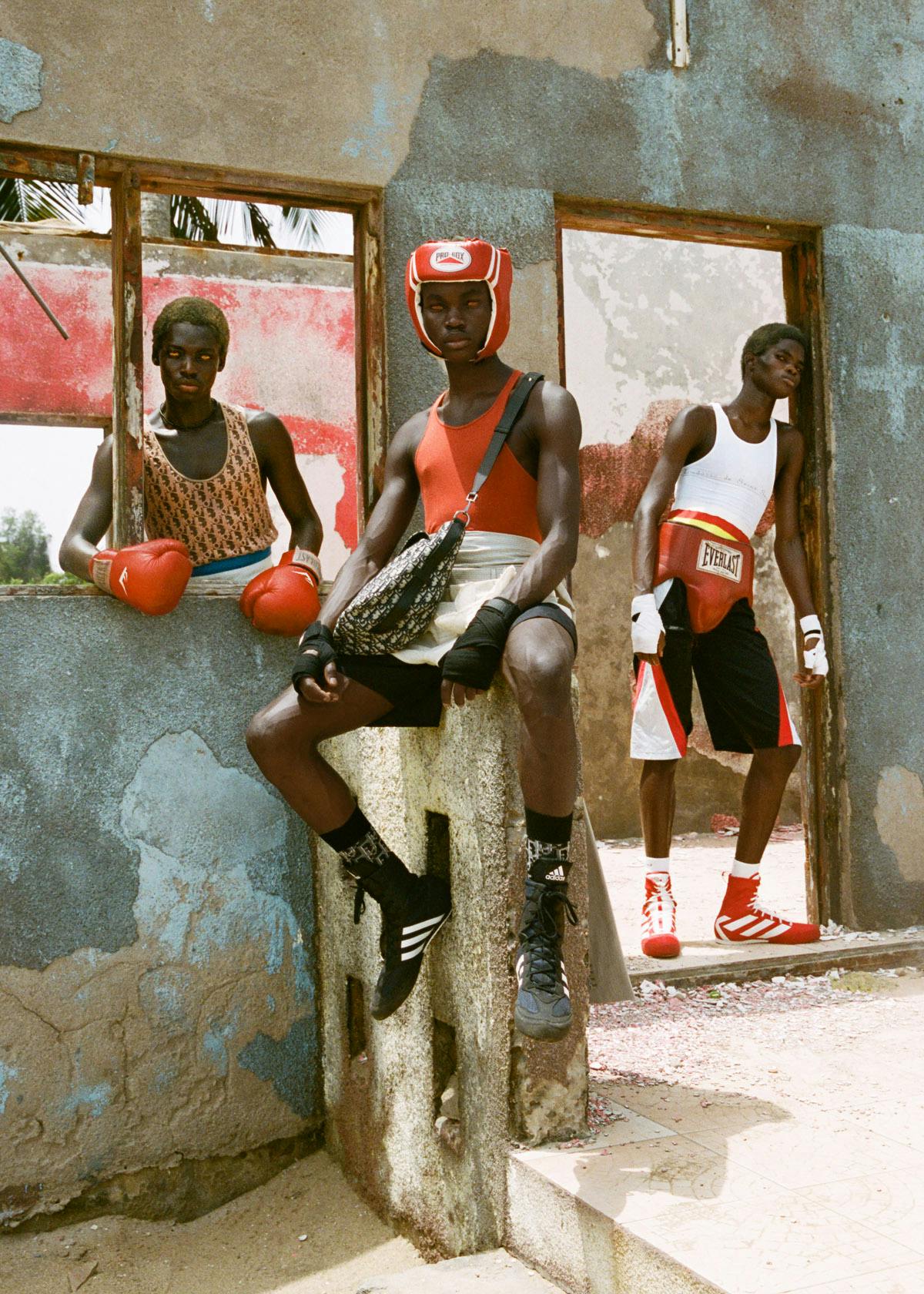 "The [magazine] issue is about energy, right? Then I feel like this is the best place for that," model, artist, and Jamestown native Kwame Acheampong tells me, matter of factly. And he's right. Jamestown (in the Ghanaian capital, Accra) is busy, noisy, and somehow special.
For some reason, these few blocks have produced some of Africa's finest fighters; among them, five world champion boxers with three Olympic medals. Jamestown delivers a perfect set of circumstances for great fighters: poverty and the motivation to escape it. The activity and entrepreneurship of a community that hustles hard is at its most potent in the over 50 boxing gyms crammed into the small coastal district. It's a science to move with positivity and grace through trying circumstances. And for the kids of Jamestown, with its formula of cunning and restraint, boxing is the sport most loyal to that reality.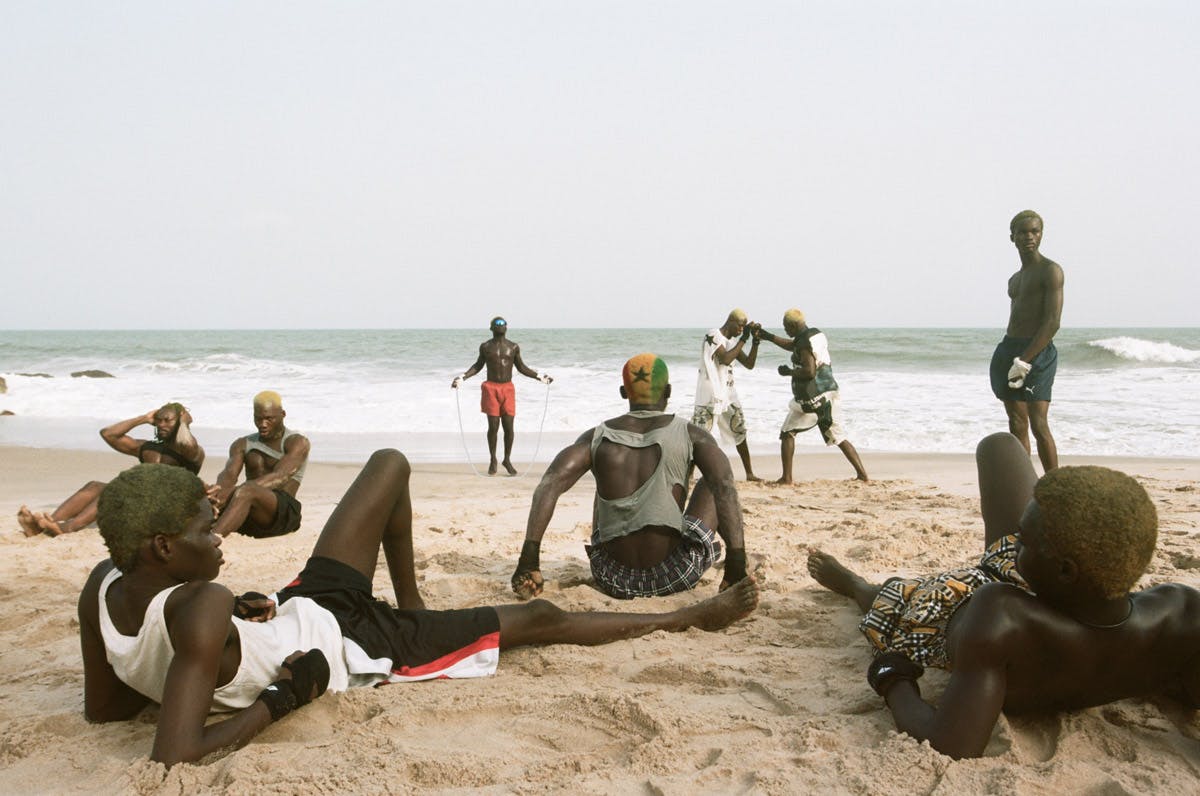 Highsnobiety / Kenny Germé / From left AYAT & PHILIP ESHUN Tank top RICK OWENS Shorts PUMA QUAYE Tank top AMI PARIS Shorts STYLIST'S OWN SAMUEL ARYEE Shorts RICK OWENS Glasses OAKLEY KWAME ACHEAMPONG Tank top RICK OWENS Shorts BURBERRY ROBERT TAGOE & SAAMUEL ARYEE Top and shorts BURBERRY KWABENA Shorts BURBERRY SETH Shorts PUMA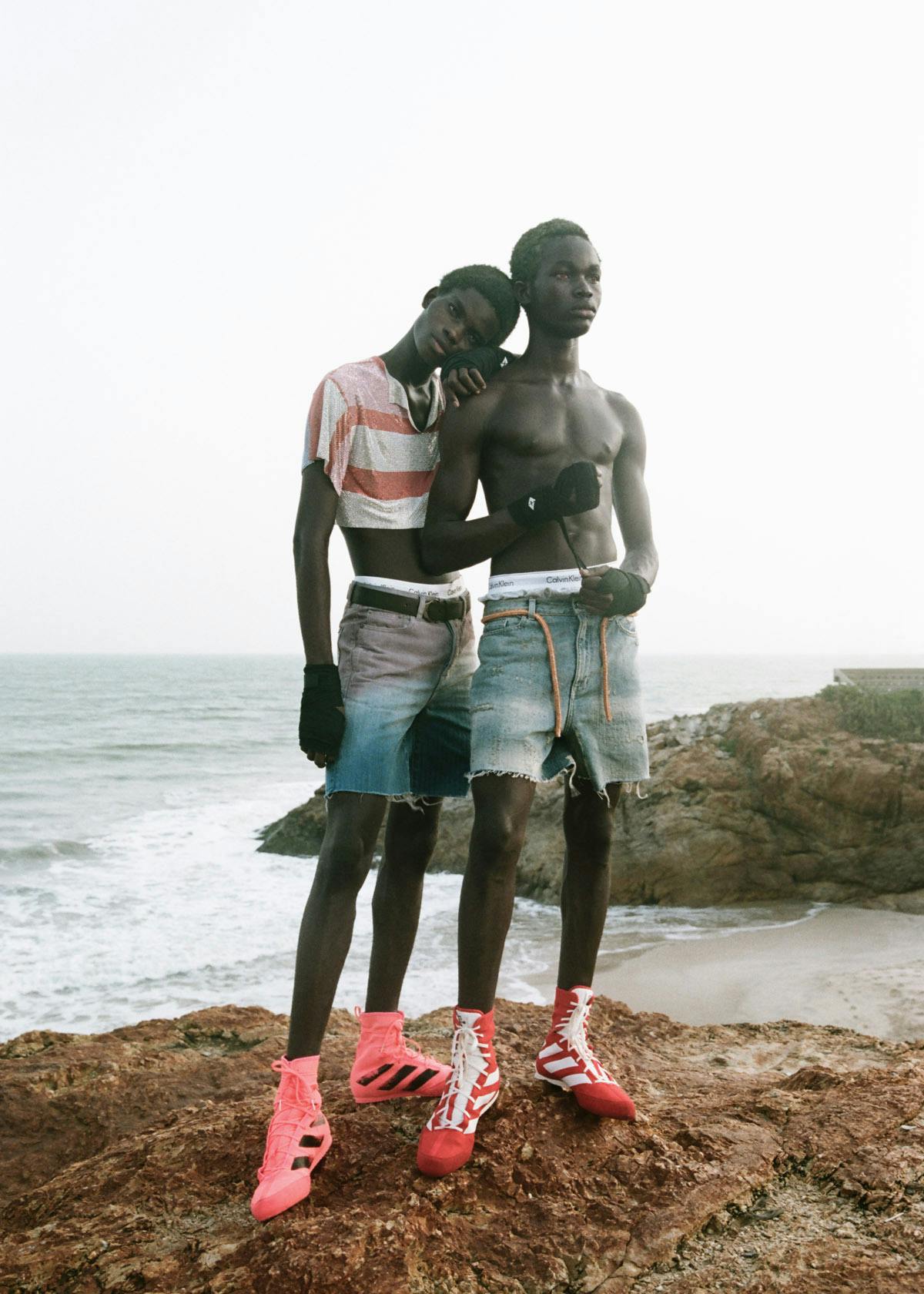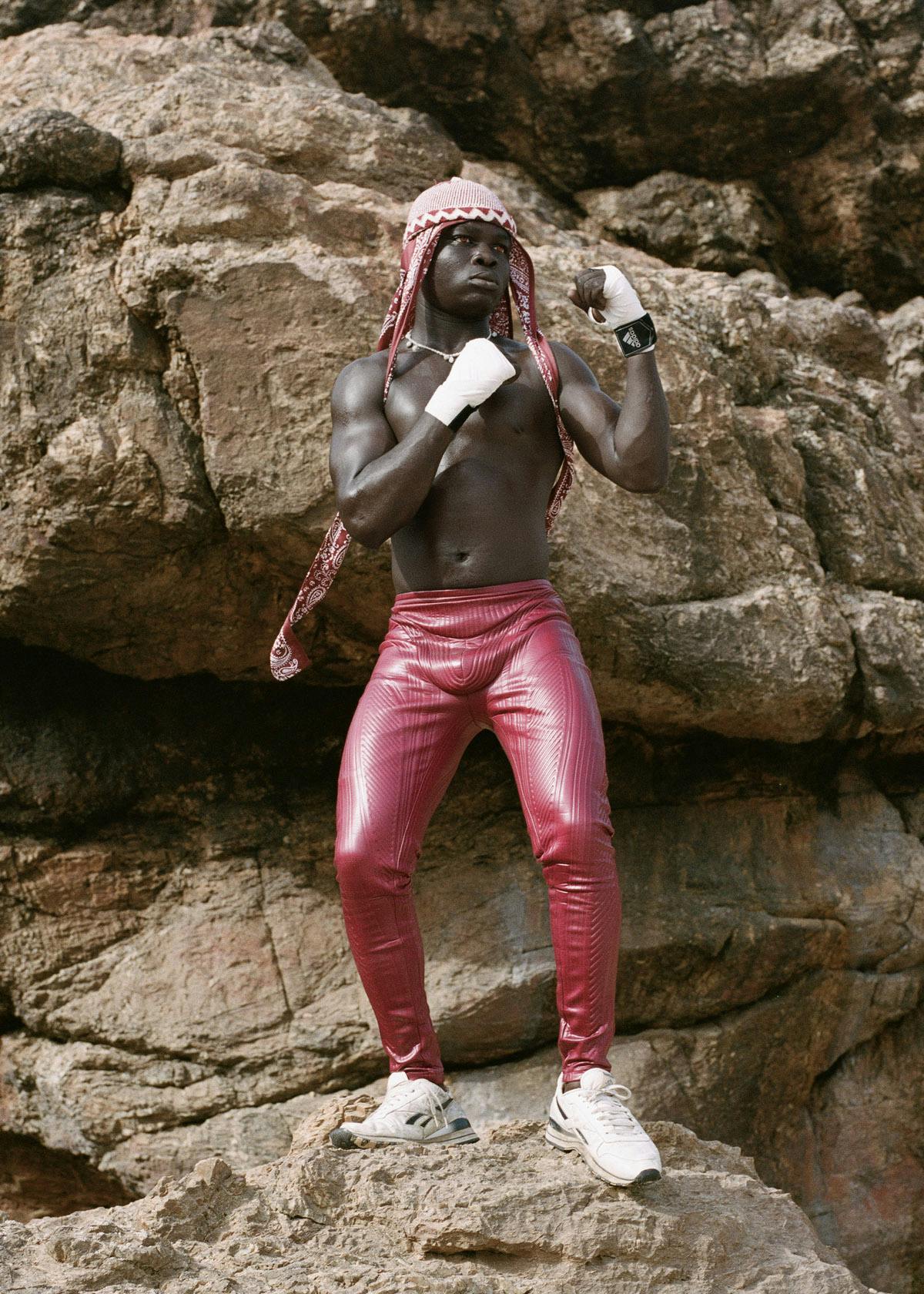 "It's like dancing," Dossou's voice trills into my living room from the laptop. "It's something that requires some sort of elegance, some sort of softness, even if the hits are hard. But watching these boxers practice, you realize that boxing isn't just a fight. It's their life. They've calculated everything; like, the distance from your hand to the face of the opponent is so narrow and difficult that you need to be delicate and precise in what you're doing. Otherwise, you're not a good boxer." In the ring, it's not about roaring punches, but about that mix of fierce ambition, dangerous tactic, and graceful anticipation — they don't call it the "sweet science" for nothing.
In Jamestown, I feel, this science is at its sweetest. "I'd already worked in Ghana a few years ago," Dossou explains. "It was really amazing; I think I called Kenny straight away, like, 'We need to go there. There's so much to do. It's so inspiring.'" Ghana has that allure, especially in recent years; it's been drawing in creatives like the Pied Piper. In Dossou's case, Jamestown's survivalist energy did the rest. "My first time in Accra, Jamestown actually, I met some boxers. I didn't stay a long time, so I didn't really get deep into who they were and what they were doing; I just noticed the devotion they have for this sport, the fact that they were training every day, and spending so much time together. I felt like it was something we needed to explore."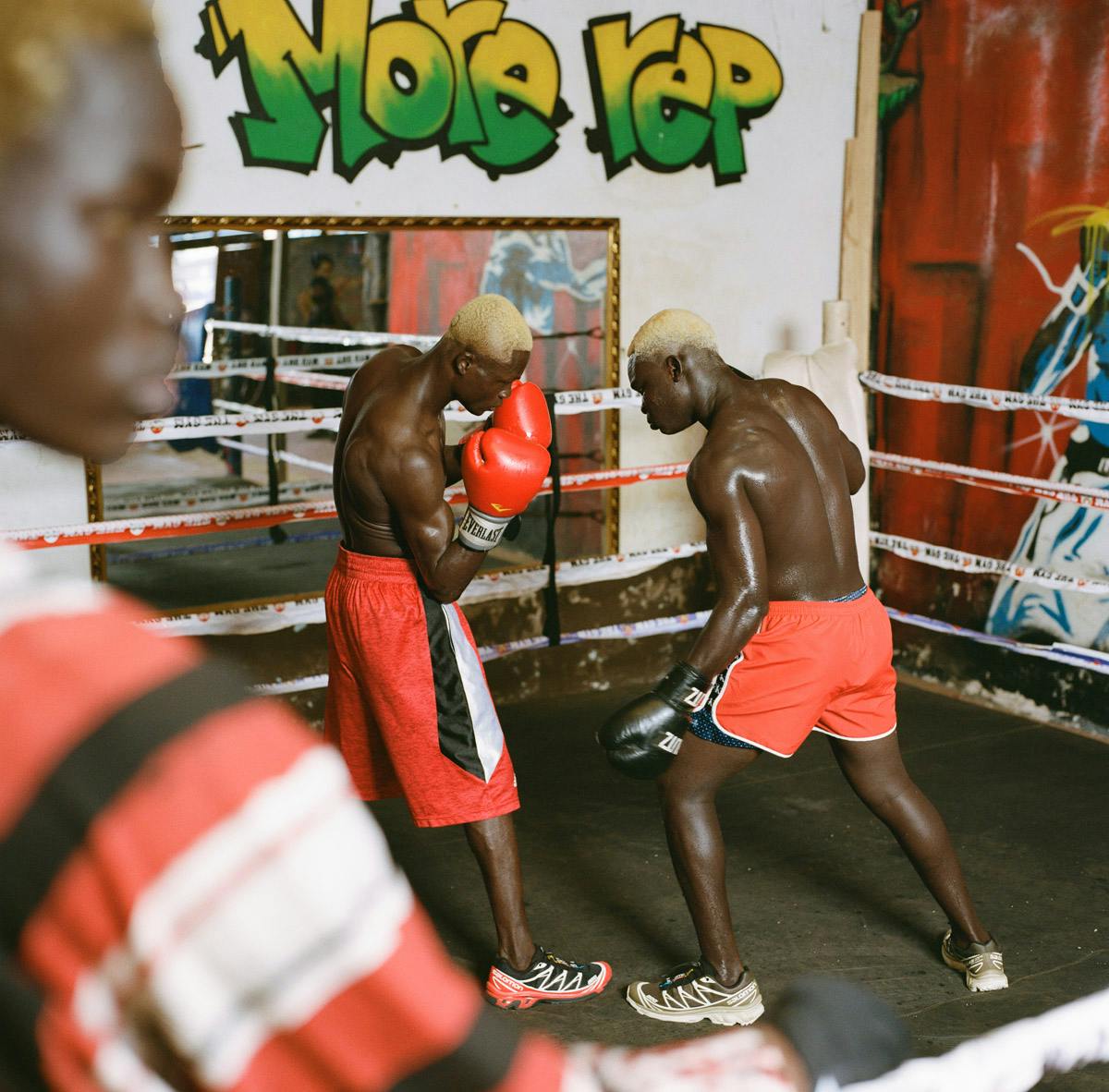 So, do you just walk into one of Africa's most notorious fighting neighborhoods and ask for fighters to do a fashion shoot? Ordinarily, the answer would be a hard no. But Ghana… Ghana's a bit different.
"I feel like the Ghanaian mentality is more like, 'Yes, it's possible. I'm going to make it happen.' On set, but also on the street, it's always yes," Germé's voice enthusiastically crackles over the Zoom call. "I was struck by the positivity the people have in general. It was a chill positivity... it's not that it was not expected, but that really slapped us in the face, like, 'Wow, people here are really 100 percent positive, uplifting.'"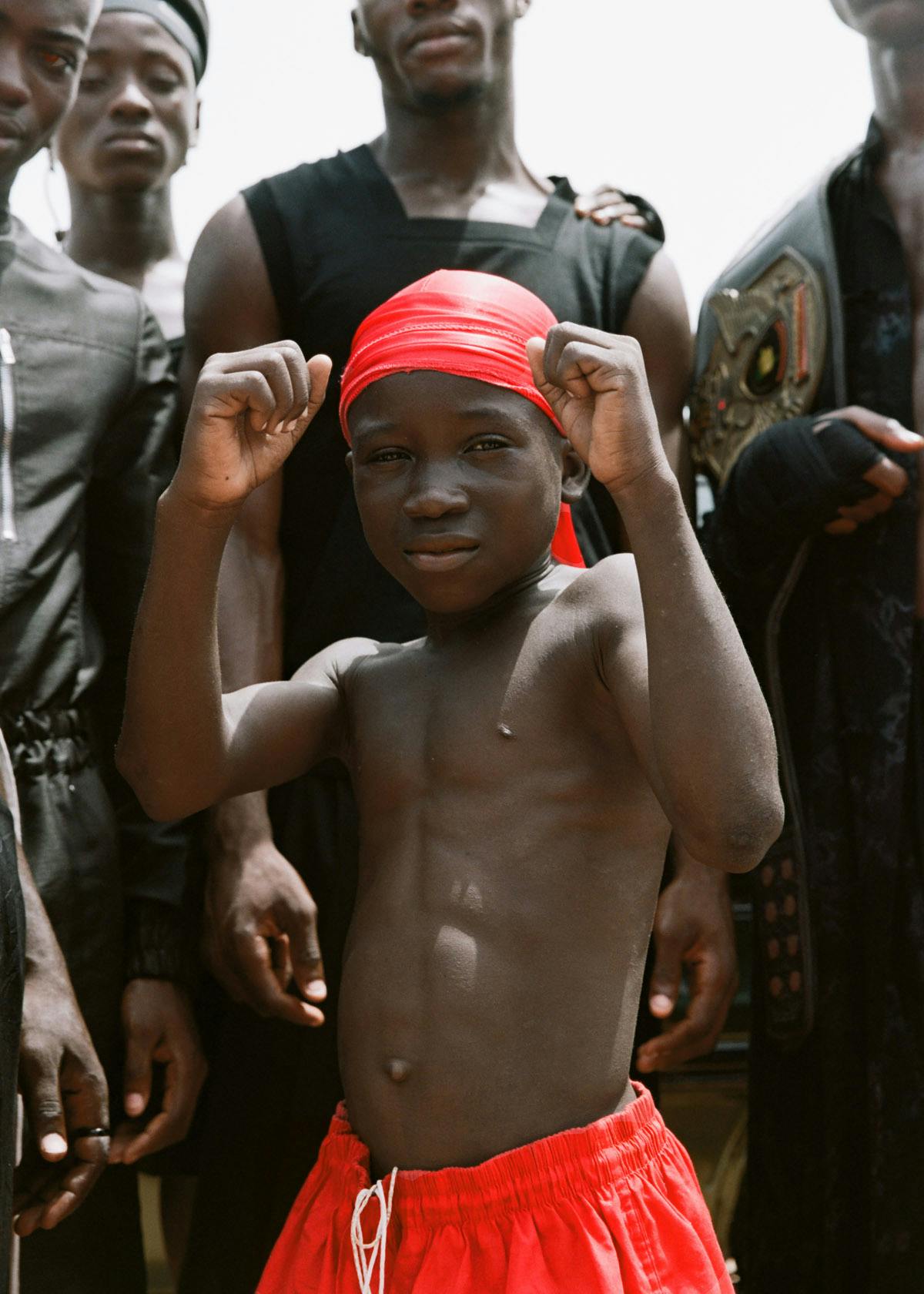 Highsnobiety / Kenny Germé /from left QUAYE Shorts MODEL'S OWN Shoes PUMA BEDZO T-shirt COOL TM Shorts FACETASM Socks OFF-WHITE Shoes VANS PHILIP ESHUN Top PUMA Pants NATHAN MARE KWABENA Tank top AMI PARIS Shorts PUMA Shoes MODEL'S OWN ROBERT TAGOE Top NIKE Shorts DRIES VAN NOTEN Shoes MODEL'S OWN KWAME ACHEAMPONG Top and shorts PUMA Shoes MODEL'S OWN SAAMUEL ARYEE T-shirt COOL TM Shorts FACETASM Shorts worn underneath CALVIN KLEIN Shoes MODEL'S OWN
"Yeah, when we brought the visual concepts of blond hair and red eyes, we were a bit scared that they would not be willing to play along. Like, how will we convince them to wear these contacts and dye their hair?" Dossou laughs. "But they were so dedicated. Kwame, one of the models, really committed. He dyed his hair in crazy colors for us. They were all really playing the game. At the end, they all asked if they could keep the contacts."
"The contact lenses were my favorite," Kwame confirms when I speak to him in the swanky Jamestown Cafe. "Because that was my first time putting on lenses and they were so cool. A guy with red lenses, here. Yes, that's very strange. But the children were amazed, like, 'Hey, what's this?' I think they're just really cool." With his hair dyed the colors of the Ghanaian flag — red, yellow, and green, with a black star smack-dab in the middle — Kwame is the focal point of the editorial, so I'm disappointed to see he's ditched the colorful hairdo for his usual black crop. He shrugs: "It was growing out." I ask him about going colorful for the shoot, expecting to get a retelling of a nerve-racking salon appointment, but he just shrugs again. "Of course. I had no issue with it," he says, and I'm reminded of Germé's words about Ghanaians' happy-go-lucky attitude. "I think we just go with the flow," Kwame explains, coolly. "We just do it naturally. Even with foreigners — especially with foreigners, we really embrace them. We have no second thoughts about it."
Kwame's nonchalance doesn't betray just how deeply conservative Ghana is; for Ghanaians, foreigners often get a pass. While Ghana's fearless youth and thriving creative scene is pushing the envelope in terms of fashion and self-expression, this is the same country where a tattoo gets you looked at sideways and schools could refuse to admit you because you have dreadlocks (seriously, look it up). So a guy meandering through one of Accra's oldest districts with colorful hair and red contacts is bound to cause a stir. "I think, these days, this generation, we are really getting out of the conservative lifestyle. We are getting used to different things. There's no fear." I guess when you're walking in the footsteps of giants, defiance comes naturally.
Yes, you can put a guy in leather leggings or a bedazzled bodysuit and dye his hair. But what you're not gonna do is disrespect the game. That's where Jamestowners draw the line. "I asked one guy briefly to teach me some moves," Germé recounts. "He told me, 'Yeah, I could teach you, but boxing is not a game. It's a fight. It's serious. So don't play with it.'"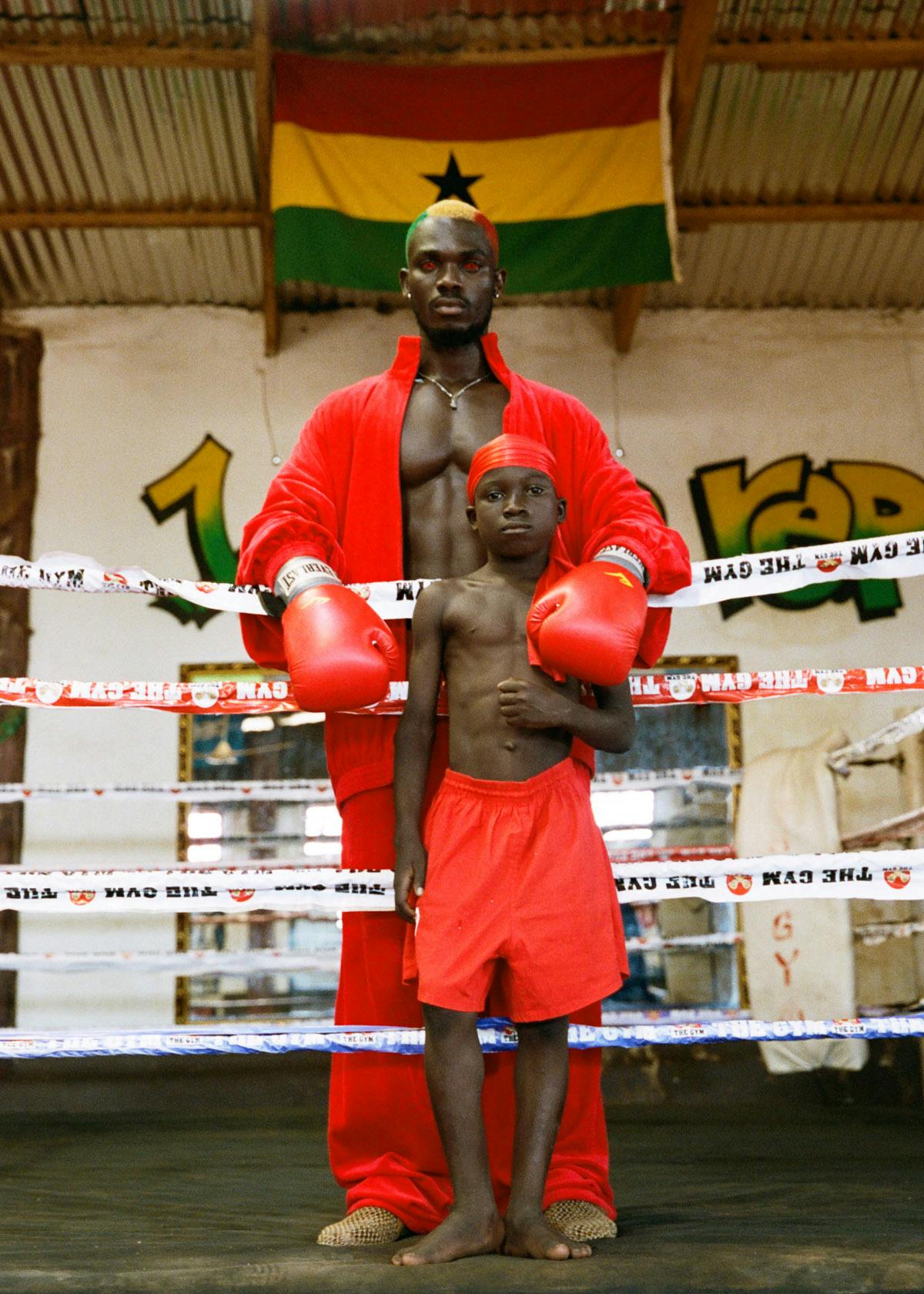 In Jamestown, the fight doesn't start and end in the ring. The grit and bite of everyday life and boxing are one and the same, whether you've got your gloves strapped on or not. Yeah, the glamour might stop when it's no longer lights/camera/action, once the red contacts are removed, or the hair dye grows out, but the hustle… the hustle never dies. "We are receiving so much attention and so many tourists are coming… But when you go back, we're still here. We can't just go away," Kwame explains, intently. "With the pictures that Kenny and Edem took, I want people to feel the vibrance of the whole atmosphere here. And yes, for the people seeing the magazine, I want them to have an even better response, for them to come and view it for themselves. Because we're here, you see? This energy, as you said, that is being portrayed in the issue, it's real — this is our life."
Order HIGHEnergy, a magazine by Highsnobiety, via our online store.