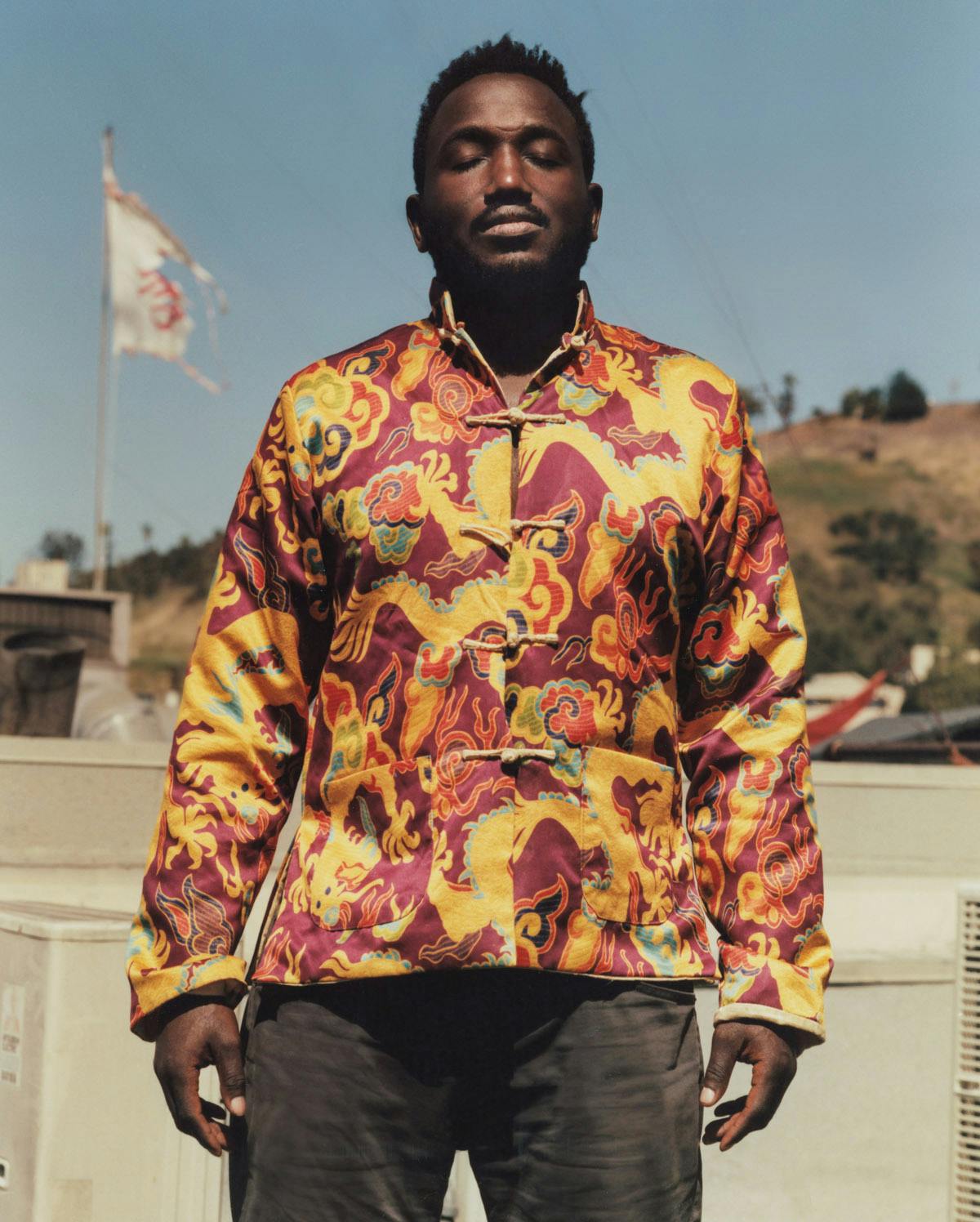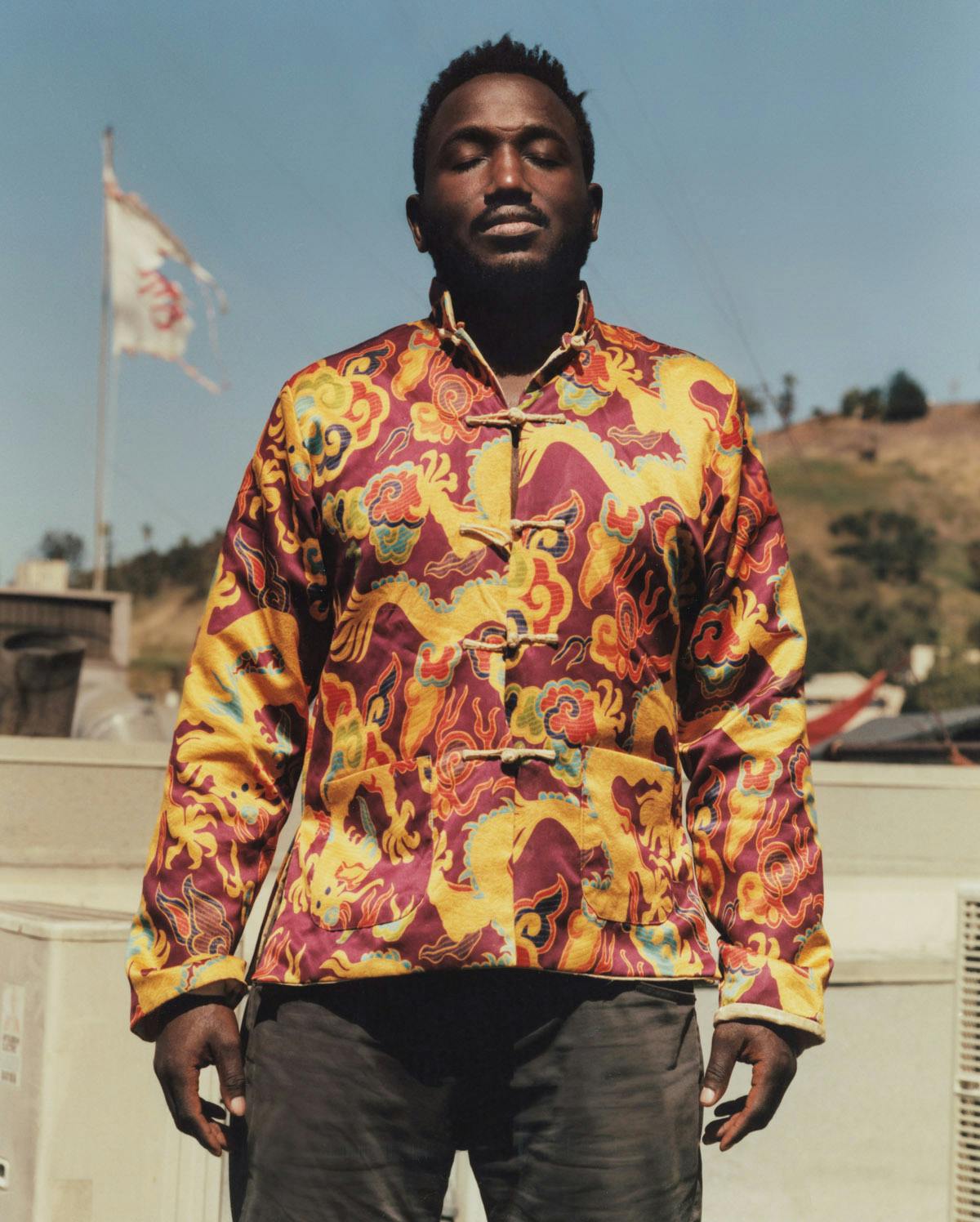 In this esoteric FRONTPAGE interview, we caught up with the one and only Hannibal Buress, a comedian whose persona has become almost transcendently emblematic of a specific sort of oddball in all his projects. It is, however, not who he is anymore...
Any day that is sunny in LA can feel like summer; it's more a state of mind than anything else. I say that to stress that it's one of those days when Hannibal Buress, a photographer, his assistant, and I are shooting the shit on Buress' rooftop, the San Gabriel Mountains casting a craggy countenance from afar. It's here on this roof that Buress finally realizes I am here to interview him.
An hour earlier, I had knocked on his door. He answered and asked if I was a name I couldn't quite decipher, but because it wasn't my name, I instinctively just said, "No."
He still let me in.
***
In the basement studio of his personal Dexter's Lab, a sprawling back-alley compound designed for unbridled creative experimentation — green screens, cameras, and ring lights everywhere — Buress says, almost as an after-thought, "I don't love acting."
The comedian, writer, and producer is confessing to feelings that started coming up on the set of 2018's Tag, because I'm asking him the kind of question he doesn't like to be asked — namely, "How are you like all these characters you play?"
Hannibal Buress is destined to answer that question forever. His persona is so distinctive that audiences don't register his characters as much as they register him. They believe every inch to be a reflection of who he really is. Where other actors disappear into roles, he can't help but break through them. It's not just the absurd sense of humor, or his wry, searching squint — it's all of them together, the whole package. We're desperate for him to be everything we've seen him play. We want him to be Broad City's Lincoln and Eric André's demented talk show sidekick, and maybe even Buddy the dachshund in The Secret Life of Pets 2. The thing is, we're all wrong.
"I'm working for hire, you know what I mean? Those are shot by somebody else. And conceptualized by someone else. They're not mine," he punctuates.
So, what is his? Sitting in front of multiple lit screens, scanning through countless audio clips, he reveals: Hannibal Buress wants to be a rapper.
"Rappin' gets you a pure view of something — of an idea," he says. "I know I'm solid. I've been working on shit for years. I did music — I recorded music before I ever recorded comedy."
This is surprising to hear, to say the least. While creativity can take any number of shapes, we'd have to be reading between the lines to find any indication that Buress has been working on his rhymes (one deliriously bonkers Morpheus-bit notwithstanding).
There are things that rapping and comedy have in common, though. "There's a similarity in having to be quick on your feet and responsive, because whether it's literally being heckled, or really just firing off jokes, you got to be super quick. Especially early on, because if people don't know you, they'll start to yell shit. It's just the nature of being a comedian in the first couple of years, and the gigs you're doing," he explains.
Performing, an audience — these are things he's always been drawn to. In college, Buress battle-rapped to get stage time. "I did alright, because battle rap is about getting a reaction from the crowd. But the flow part is important, and my flow was decent because I had a moment of adrenaline, mixed with the crowd, mixed with knowing some stuff about my opponent. It was a combination [that led me to] beat somebody that people didn't think I could beat."
Zoom out, just once. After getting past the idea of Hannibal Buress as a comedian who raps (and the fraught examples we have of those), it's actually easy to see why he loves it. Dicking around on different programs, experiencing the joy of shaping an idea as soon as you get it — rather than waiting for months, if not years, for a studio or a production team to decide what it will actually be — is joyous. Especially for someone who had to experience so much of the opposite.
"There's some people that are kind of protective of their process, but there's so many people now that really break it down, especially in music. T-Pain makes music live. He tells crazy stories on his Twitch. Kenny Beats will make beats live and you can watch and share his screen," he rattles off while searching intensely for something on his screen.
It's a video he made of some Hawaiian escapades (golf cart included). Really, it's just a video of a guy (fucked up, perhaps) having fun with his friends. It's shaky and has superfluous effects, a lot of the visual tricks TikTok has taught us.
We keep talking about making things and how, these days, that feels more important than ever. I tell him that I have my own list of excuses — why can't I get my shit together?
"There's only a couple answers to that. One of them is, do you really want to do it? Or do you think you want to do it? Or you're supposed to be doing it because you're adjacent to it? The other is the fear of it not being to the level that you want it to be. Those are the only two answers, especially when it's something creative; it's the fear of judgment."
Buress is onto something. Not just about how I run, but how he might, too: "You make it and then move on, because then it's just something to look back on. Creation for the sake of creation is great. I'd forgotten that for the premiere of [2020 comedy special] Miami Nights, I had this Grilled Fresh food truck. So we made a song to be played at the food truck. We didn't even have Bluetooth speakers — it wasn't even banging like that, but it was nice. Like, 'Oh, shit, we made a fucking Grilled Fresh EP with interludes and everything.'"
***
Maybe he's growing up, or maybe quarantine has refocused him, or maybe Hannibal Buress is entering his enlightened Madonna-Ray of Light years.
If you look at his history, there are a few temper flares. These don't seem like they're about anger per se, but more about principle, about being right. There's the run in with the cops that one time, there's squabbles with TSA agents. All, honestly, relatable. But Buress isn't in that headspace anymore.
"You have to focus and realize what's there," he says. "I just realized the value of my time and mental energy. I don't work with my hands, I don't build shit. I make shit out of nothing. And that requires collaboration with others or contacting folks. Any time spent on some bullshit, I could be making a hit instead. Coming up with something for the tour, connecting with that animator, supporting somebody else on their idea — any time on bullshit is wasted time."
This is what these days is called building, and he has enough stories to help him rise above ground level.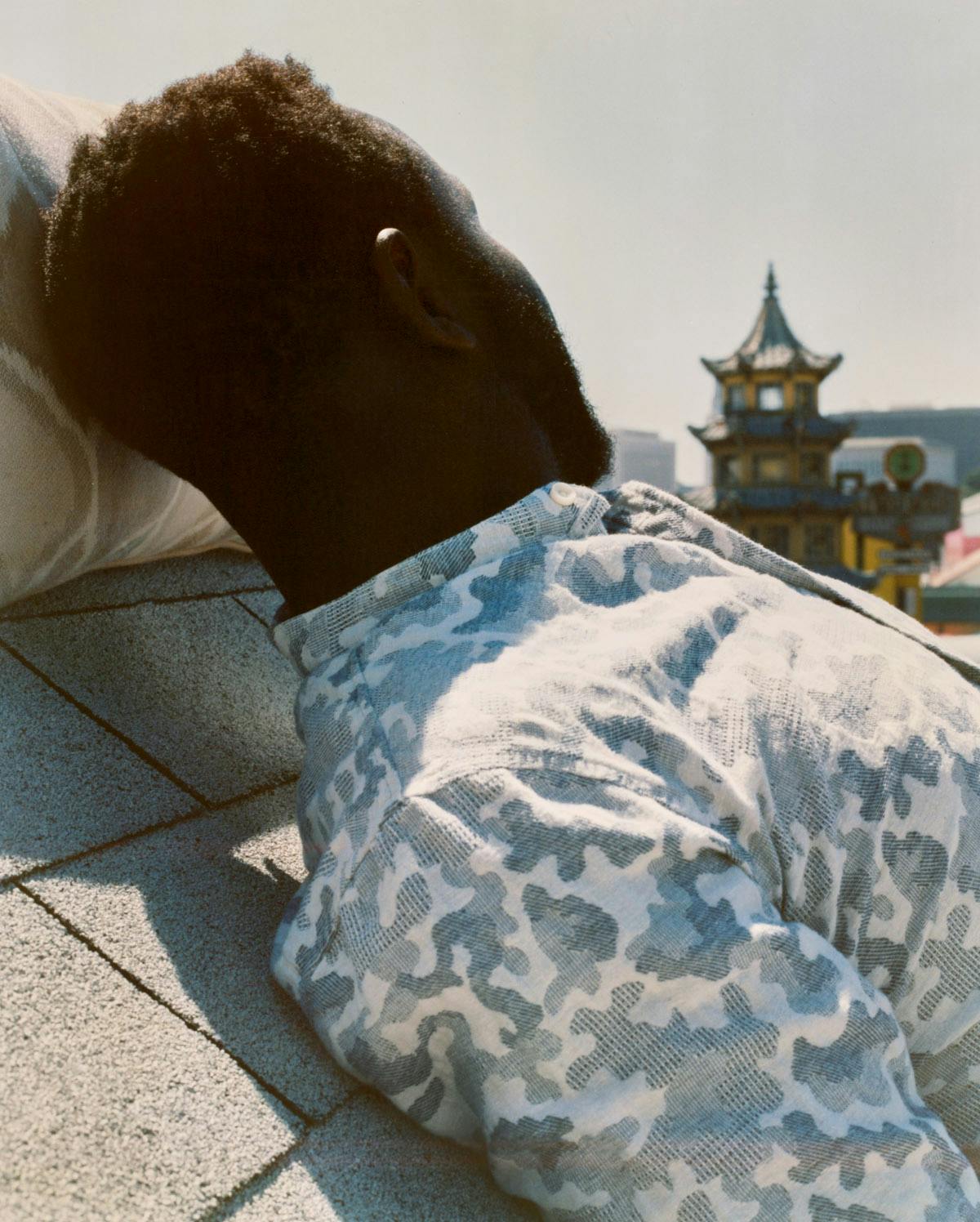 "If I'm ever like, 'Oh, I'm doing nothing' — okay, let's focus on this project and what I can do. There's always something to do that's better than the bullshit. I think it's my interest in a lot of different areas, feeling like you can move something forward. We'll see. As I close the loop on a lot of stuff, I'd like to see how things get narrowed, meaning I'm only doing two things."
The Hannibal of yesterday moved in straight lines, the Hannibal of today (and tomorrow) is thinking more broadly, as his work expands to include not only more control of his own projects but the direction of other voices as well.
"It's an ongoing lesson on delegation and creating systems and really, truly budgeting the time. The first official project was probably My Name Is, and then Hannibal Takes Edinburgh, which was co-produced with Judd Apatow's company. I had the idea to do the Edinburgh special and I budgeted it at 60 grand. I called up Judd and was like, 'You want to put up half on this?' And he was like, 'Sure.' And then his company handled the whole post."
This was a different Hannibal. Even just a few years have changed his perspective on creative ownership and how much it means to him.
"Looking back, because I just didn't have the focus — I could have done it, if I was like, 'Okay, I'm going to spend one hour each day or a few hours per week dedicated to post production.' But I was just scattered. I would never give up that much control on a project now, without even viewing it in the middle. But that's where I was then."
***
Hannibal and I talk a lot about music. We discuss the songs he had worked on in Hawaii, the song he made for the music festival he throws in Mississippi (which features a clip of him talking about a girl he was dating in Hong Kong), a song that's supposed to be a deleted track from the Godzilla vs. Kong soundtrack, and a freestyle about Nightrider getting approached by a gang at a Miami gas station. That one he told me was currently with an animator he contracted for $1000 on Fiverr.
Comedians who are rappers are treated with a grain of salt, at best. But rappers who happen to be funny are a different story: "There are rappers that really lean into humor. Redman is hilarious. Eminem is insane and tells crazy stories — he just happens to be really technically good. Even Jay-Z has moments of humor."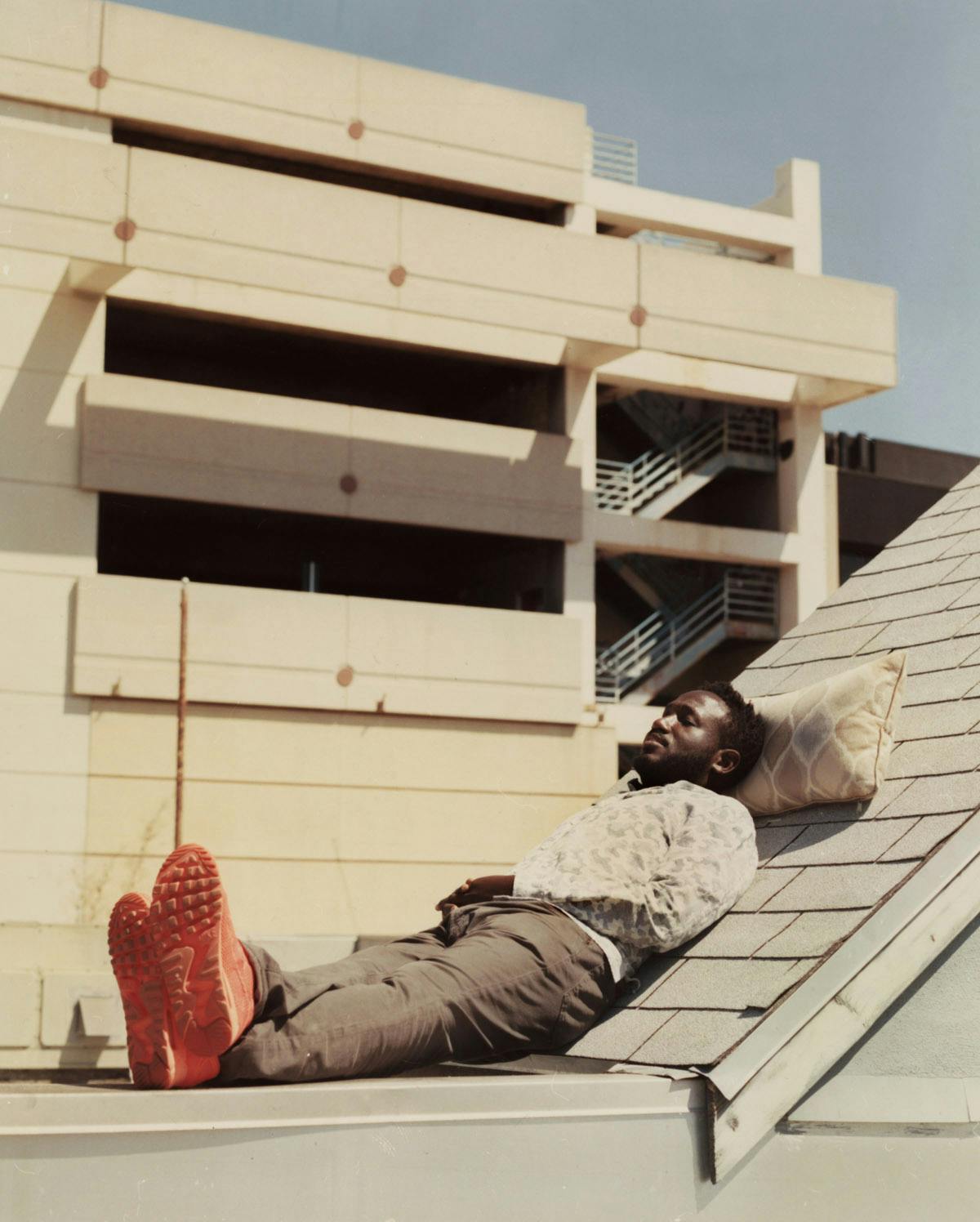 The silver screen is never too far away, though: "Comedy and music have always been [a unit]. The way people talk about silent films, it's like, 'No, the movie was driven by the music.' The comedic moments were driven by the music."
And then, for 30 seconds that feel like at least 90, Buress vocalizes the melody of the Benny Hill theme song, while asking me repeatedly, "What does that mean?"
[Silence]
"What does it mean when you hear that?" he asks again. I really don't know what it means. So I sit there watching him hum, until I say, "Is it a rodeo or something?" Buress gives me one of his signature squints. "Huh?"
After waiting until it's truly clear I won't arrive at an answer, he says, "They always use this when motherfuckers are running around…" To which I say, "Right, right right," and, "Oh, that's true."
"In comedies, the scoring determines the timing," he continues. "Boom, say something, boom, beat comes back in. In rap, drop the beat out. 'I think this line is important. Listen to this.' A capella, beat comes back in, just to emphasize shit." Reaching for a deeper connection, I suggest that rap is like observational comedy.
"Yeah, everybody pretty much does the, 'This is where I'm from' song. 'Started out here and now I'm here.' People want to hear that story. 'Oh, they came from this. This is what they did.' Some of my songs are going to be about what starting out in comedy was like because that's my story. Like, 'Oh, I used to do shitty jokes.' You know what I mean?"
Hannibal Buress has proven that he can play a lot of other people. Now, he's finally ready to play himself.
Experience this story and others in HIGHEnergy, a print magazine by Highsnobiety, available from retailers around the world and our online store