Shepard Fairey's UNO Collaboration Is the First Artiste Series to Go Sustainable
Street art legend Shepard Fairey has been tapped by Mattel Creations for its latest UNO Artiste series. The series was created to pay homage to iconic artists of our time, such as Keith Haring and Jean-Michel Basquiat, and UNO has recently turned its attention to contemporary artists who are actively producing works today, including Nina Chanel Abney.
You might recognize Fairey's oeuvre from his early sticker and OBEY street art campaigns and as the founder of OBEY Clothing, a label that combines progressive graphic design with messages of social activism — particularly his signature propaganda-inspired graphics. OBEY's tagline is perhaps one of Fairey's most famous slogans, a perfect summation of the label's mission: "Manufacturing Quality Dissent Since 1989."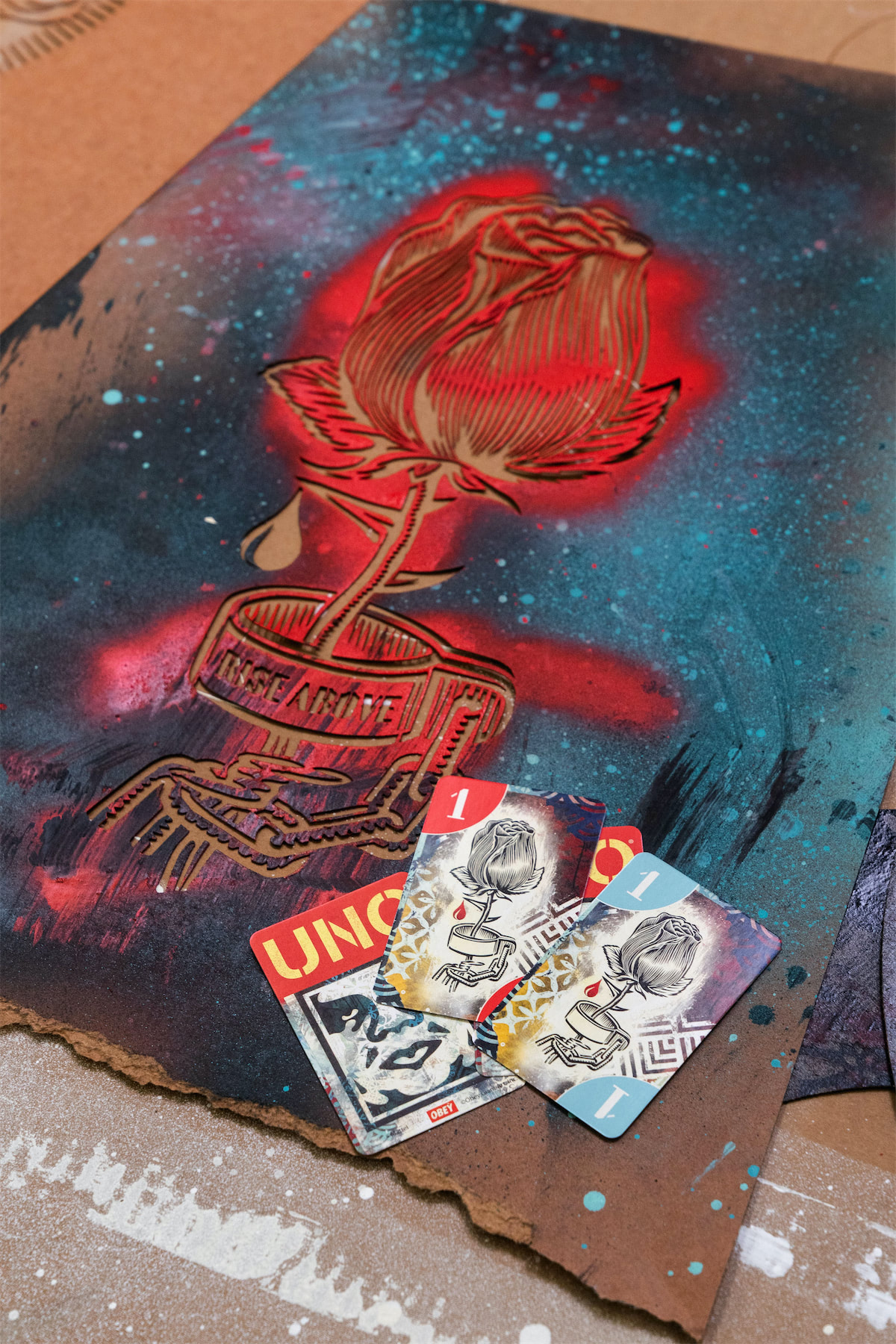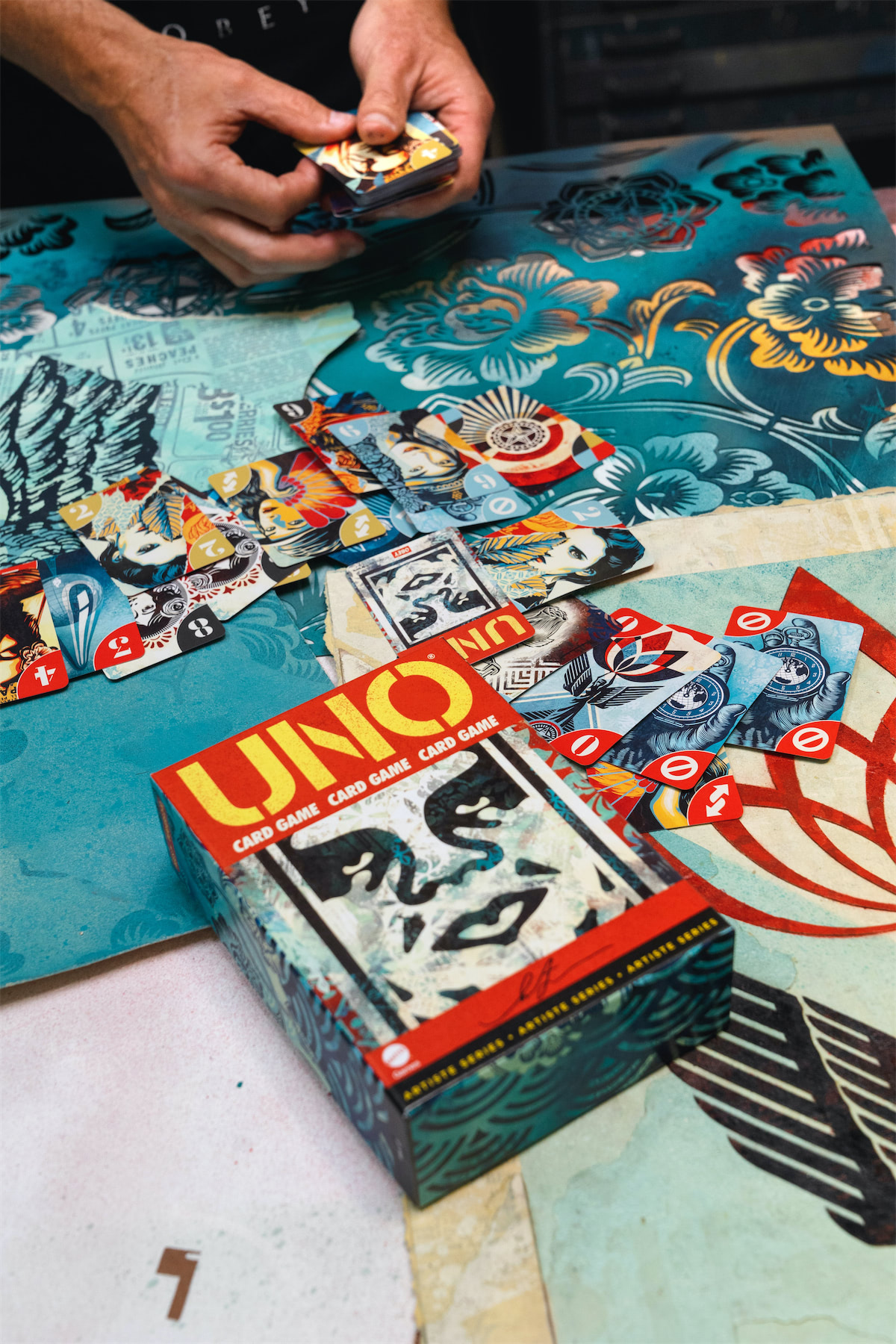 The Shepard Fairey x UNO collaboration is another example of Fairey extending his activism in ways that could effect change for the better. "I'm always looking for ways to connect my art with people in unexpected ways, and I loved the idea that my art could be a conversation starter," he tells Highsnobiety. The collab is the first deck in the UNO Artiste Series made from sustainable materials and methods, like using wood-free paper for the instruction sheet, the removal of cellophane wrap on the packaging, and using paper trays. UNO's Nothin' But Paper edition is the new standard for all decks moving forward and part of Mattel's efforts to use 100% recyclable materials by 2030.
"We can all make a small difference by changing some of our habits," Fairey says, "but it's also important to encourage large corporations to become more environmentally responsible with their products and manufacturing." To bring the partnership full circle, Mattel will be making a donation on behalf of Fairey to the Ocean Conservancy , a nonprofit organization dedicated to protecting the oceans through federal and state legislation.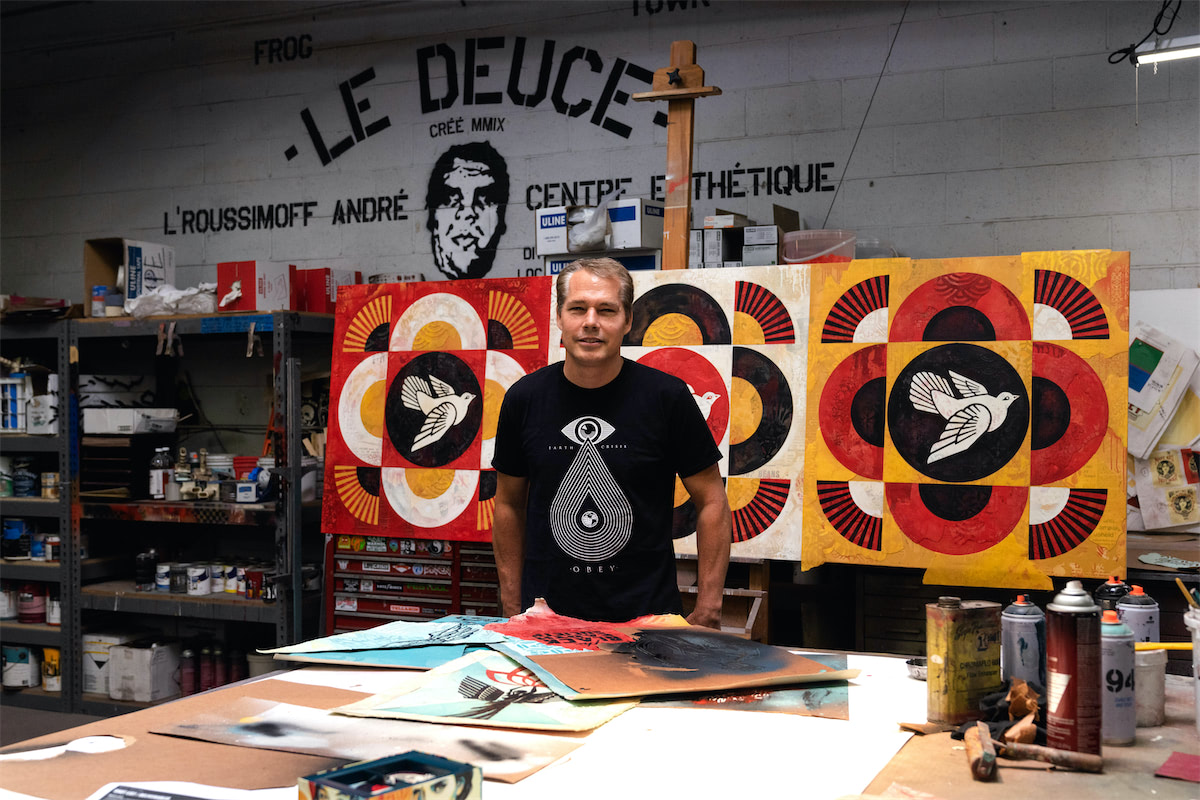 We spoke to Fairey to get a better understanding of how the collaboration with Mattel came to fruition, his design inspiration for the deck artwork, connection to the UNO game, and more. Read our interview below and look for the Shepard Fairey x UNO Artiste deck available only at creations.mattel.com.
Describe your artistic style, especially for someone who's never seen your work.
In the simplest terms, my work is very graphic and stylized, combining abstract ornamental and geometric elements with representational imagery that has been simplified to its most potent essence. My influences come from various places, including pop art, propaganda posters, album covers, skateboard graphics, and street art. There are nods to many different artistic genres in my work, but the consistent throughline is my limited color palette and illustration style.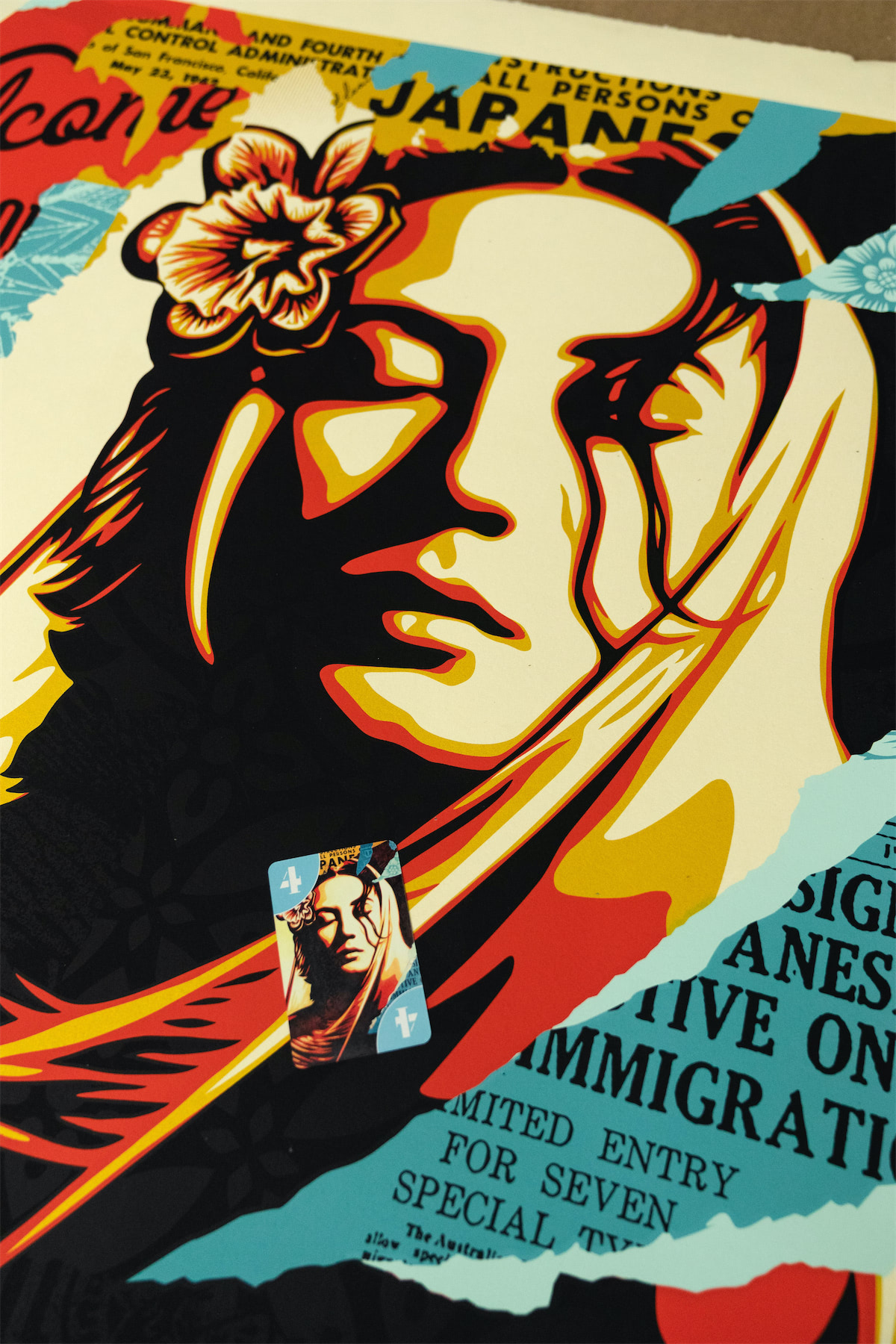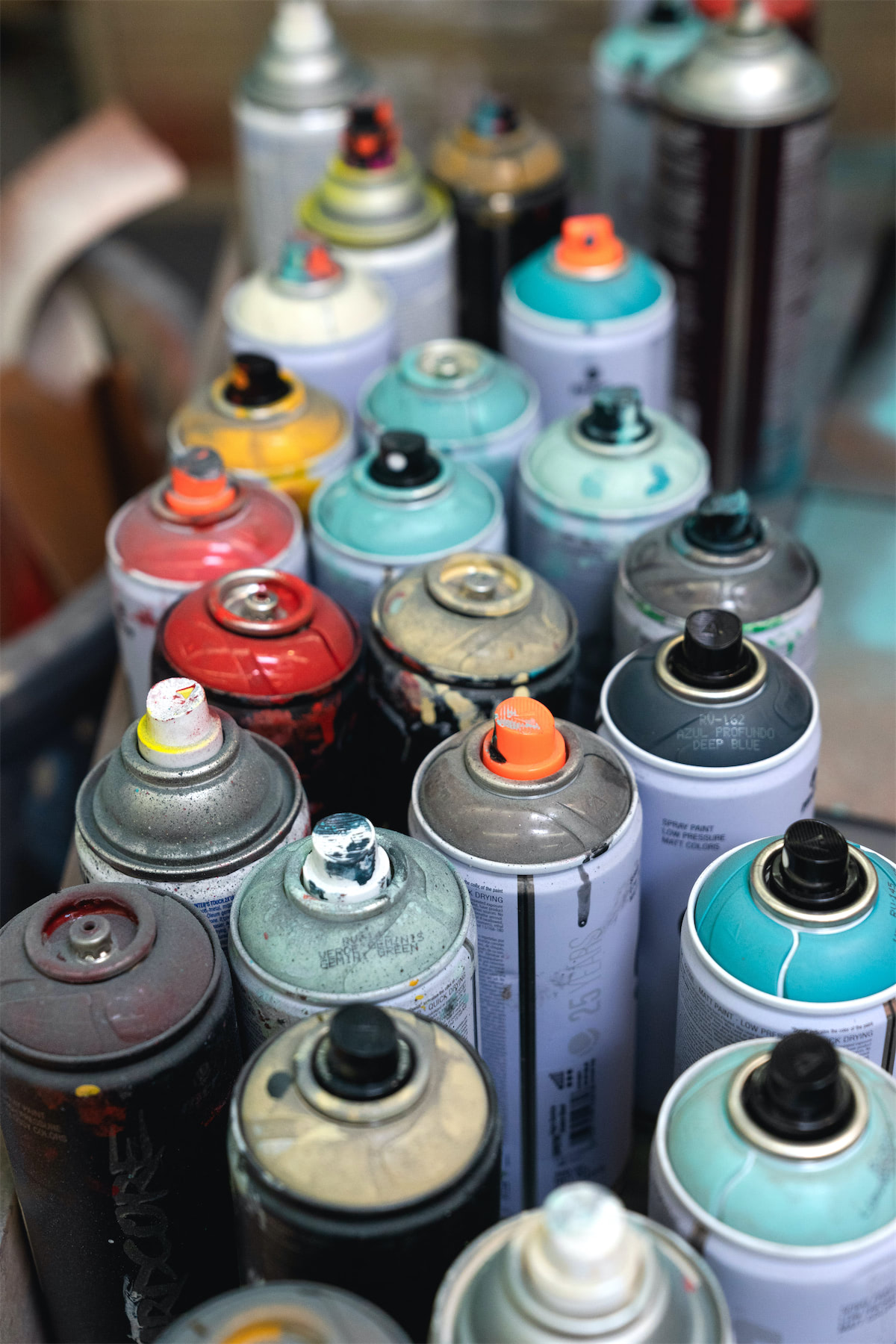 What are some previous projects you're most proud of?
In 2015, I did a project called Earth Crisis, which was the first time an artist was invited to do a three-dimensional installation at the Eiffel Tower. I created an almost 40-foot high spherical piece of art that included a mandala with decorative floral elements and imagery cautioning the use of fossil fuels. The Earth Crisis piece was timed to coincide with the COP21 Climate Conference and spotlight the need for more responsible environmental policy globally.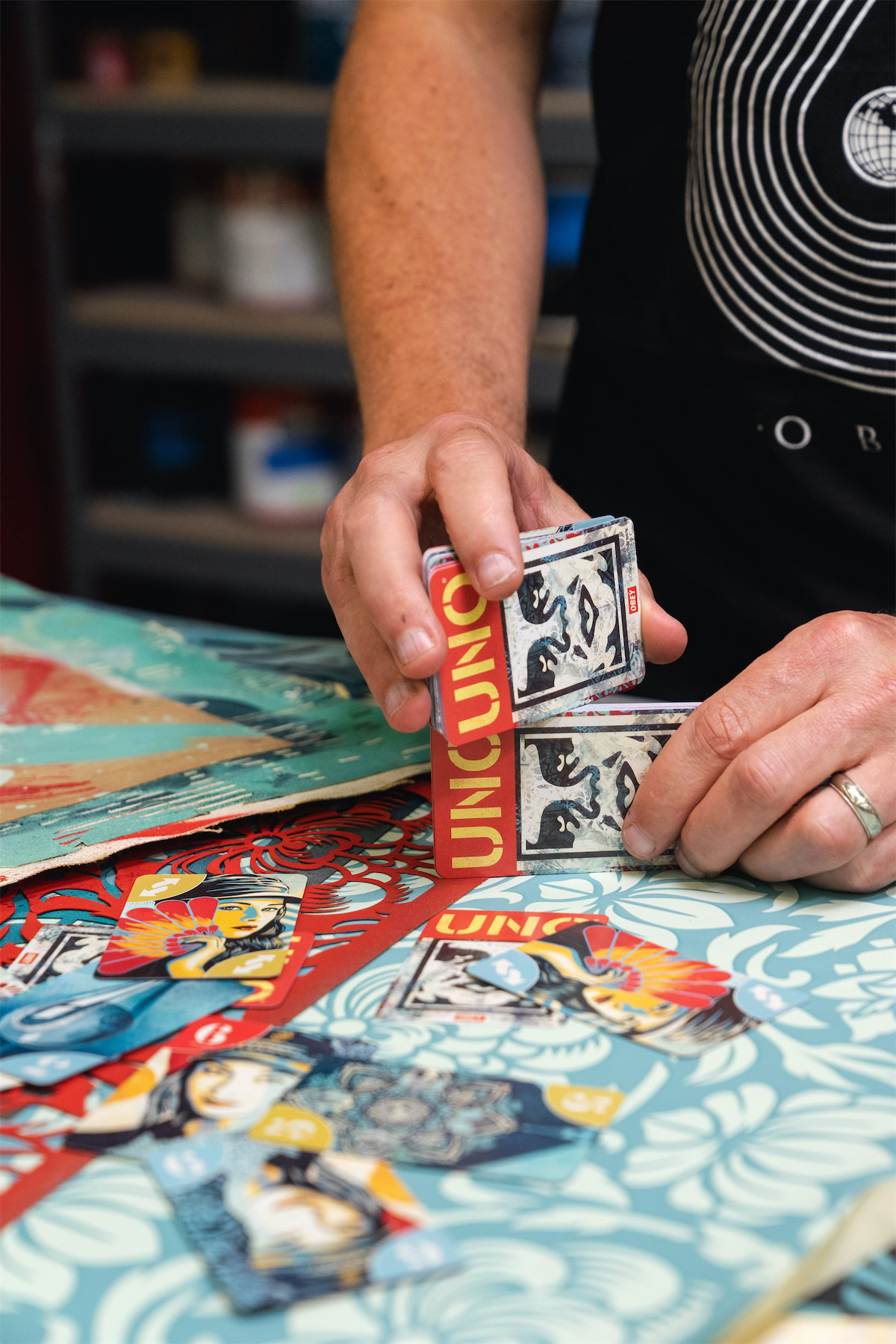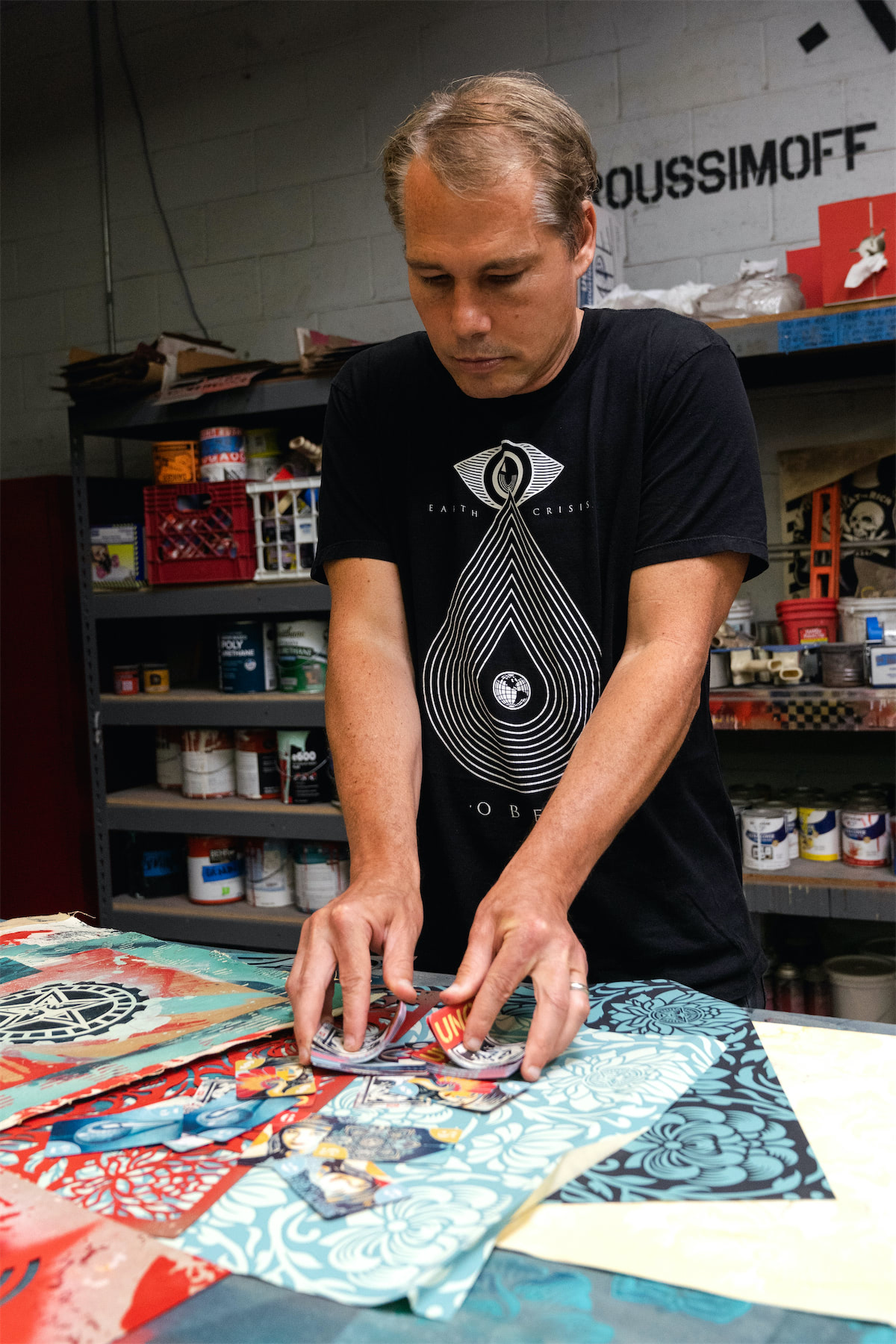 How did this collaboration come to be and what's your experience been like working with Mattel?
We had an initial meeting with someone from Mattel and got to talking about UNO, and he put me in touch with their team, and they were excited to do an Artiste Series with me. Working with Mattel has been great. The team was very receptive to my suggestion that my collaborative set uses sustainable materials. The UNO team was very receptive to that idea and my idea to make the imagery on the cards related to environmental responsibility.
Talk to us about your connection to the UNO game.
I played UNO with my family as a kid, and so the game holds a nostalgic place for me, and I know that it is still played by young people and families globally. I am always looking for ways to connect my art with people in unexpected ways, and I loved the idea that my art could be a conversation starter in combination with people enjoying a game of UNO.
What does it mean to be able to create your own interpretation of such an iconic game?
I'm always honored to collaborate with brands and iconography that have an iconic history and a loyal following. Because I've been working as an artist and designer for many years, I felt I could rise to the challenge of finding a balance between my voice and visual language combined with the recognizable visuals of UNO. I think the blend of my style with UNO is exciting to the UNO audience and my audience in a different way than either just by themselves. I love that collaborative x-factor.
(Click and swipe to explore The Shepard Fairey x UNO Artiste deck)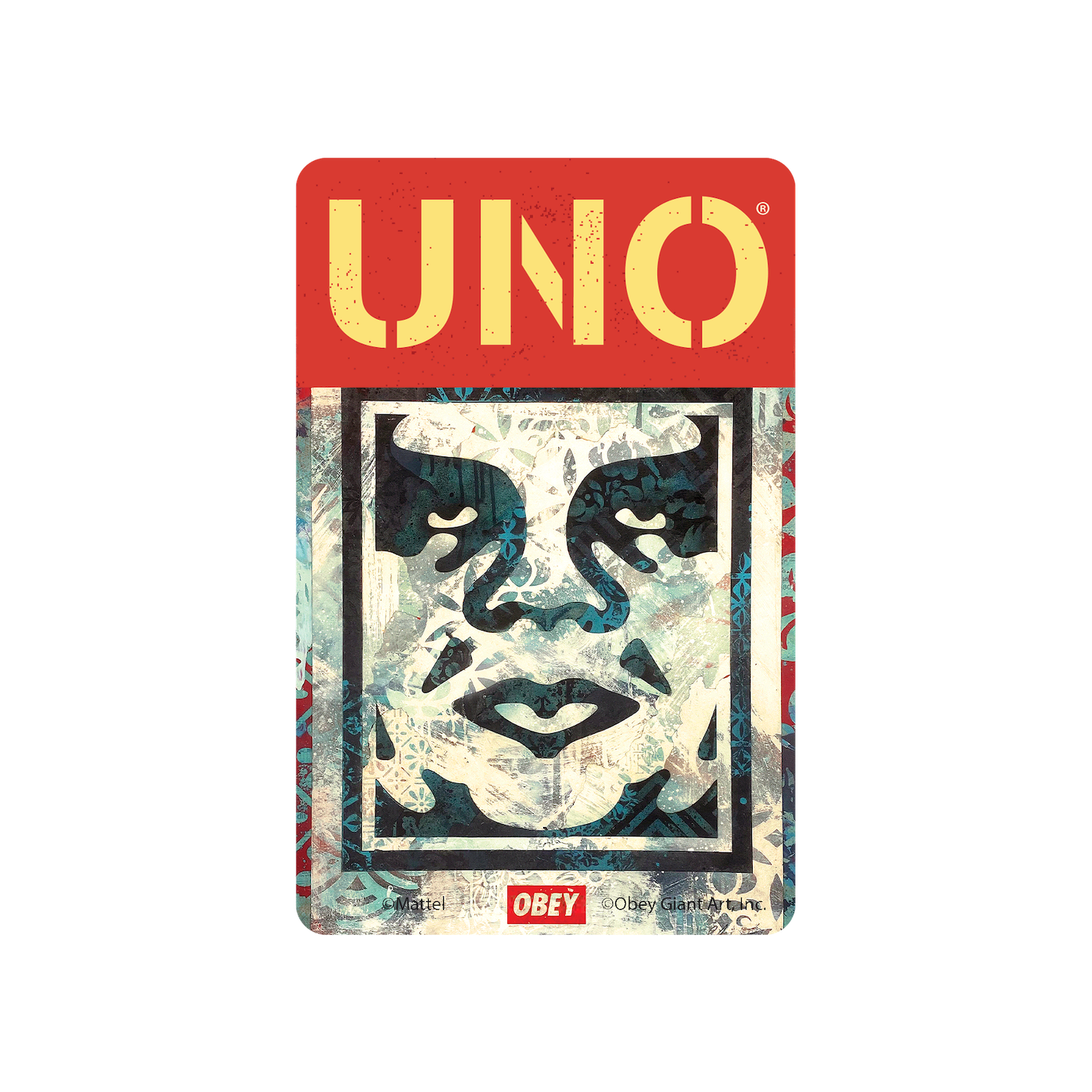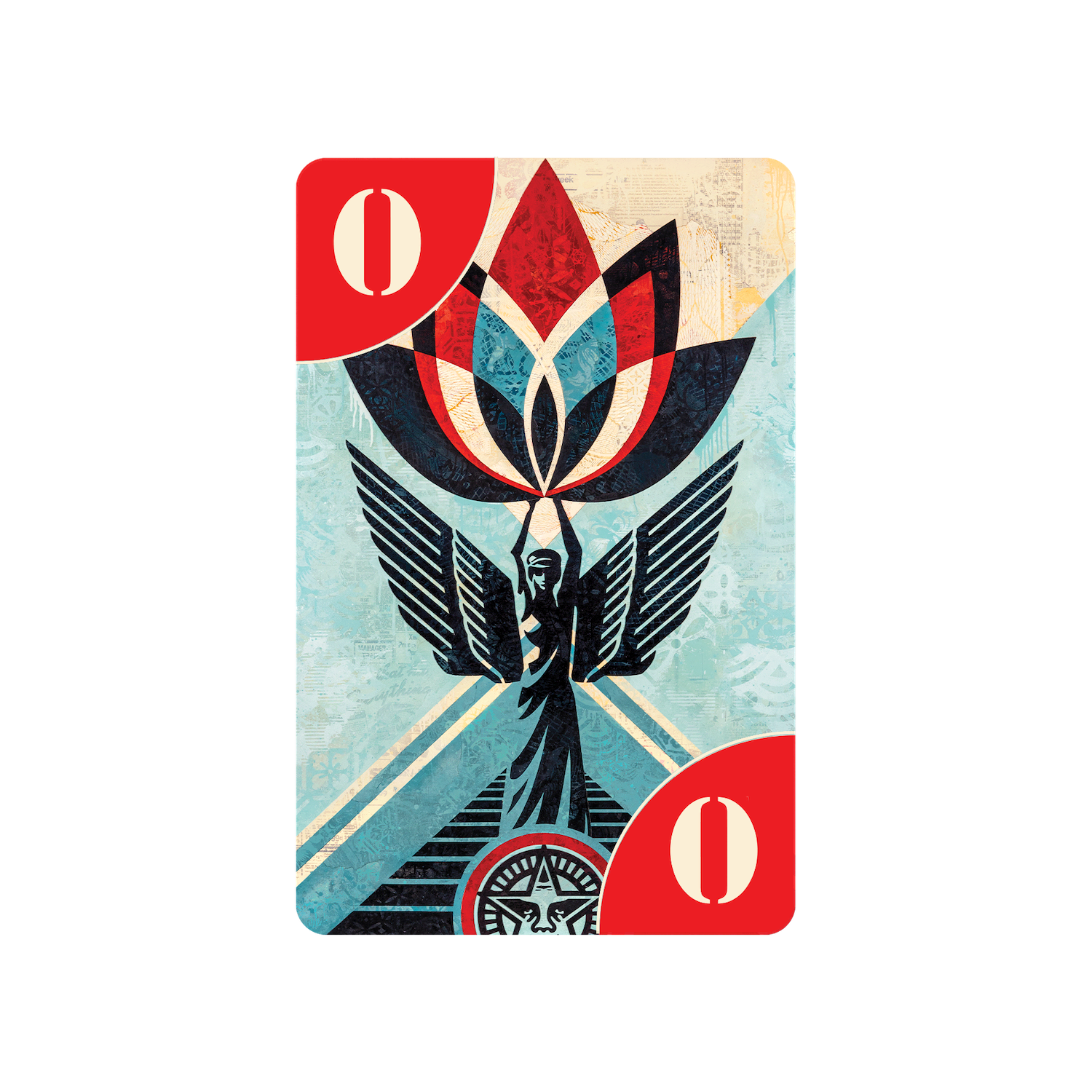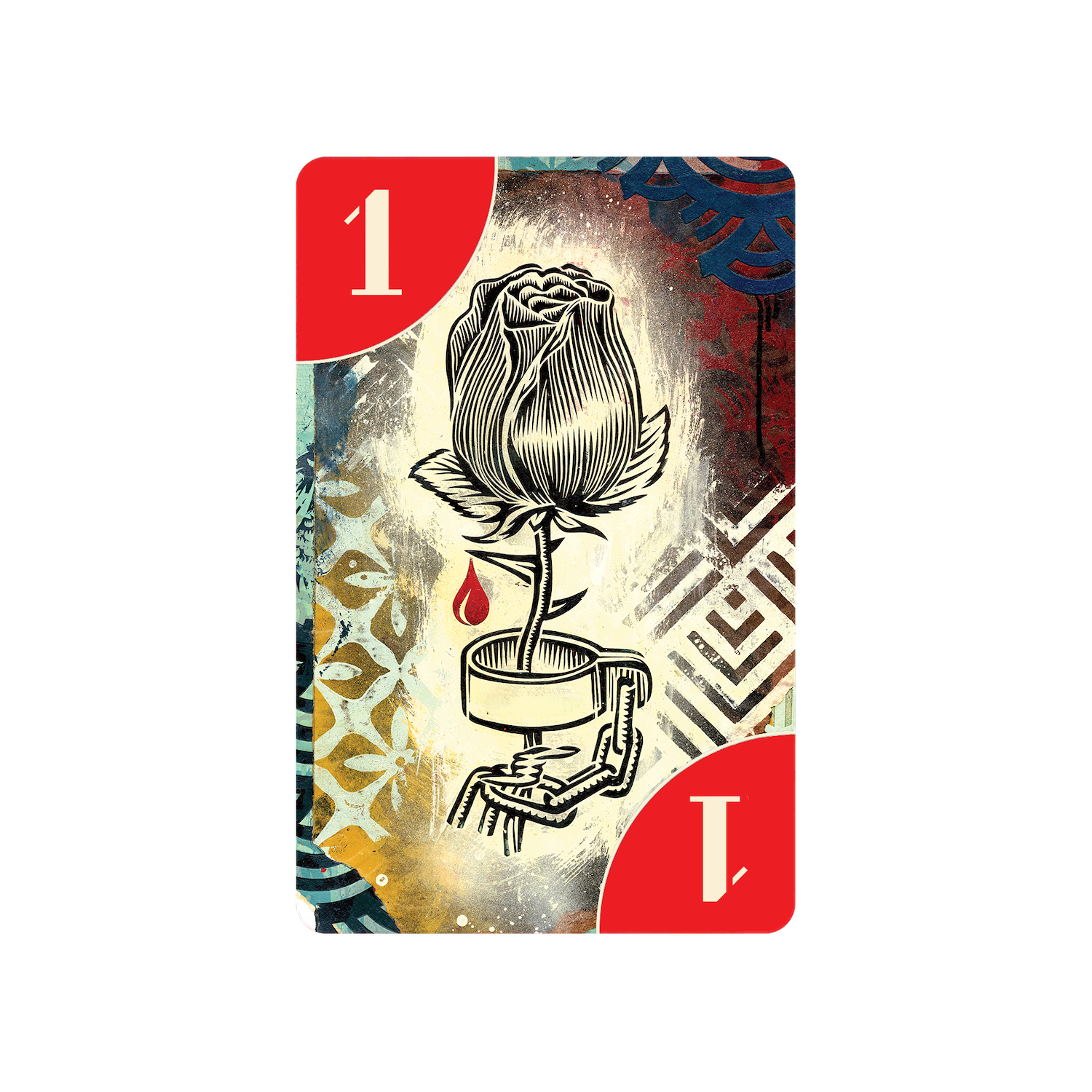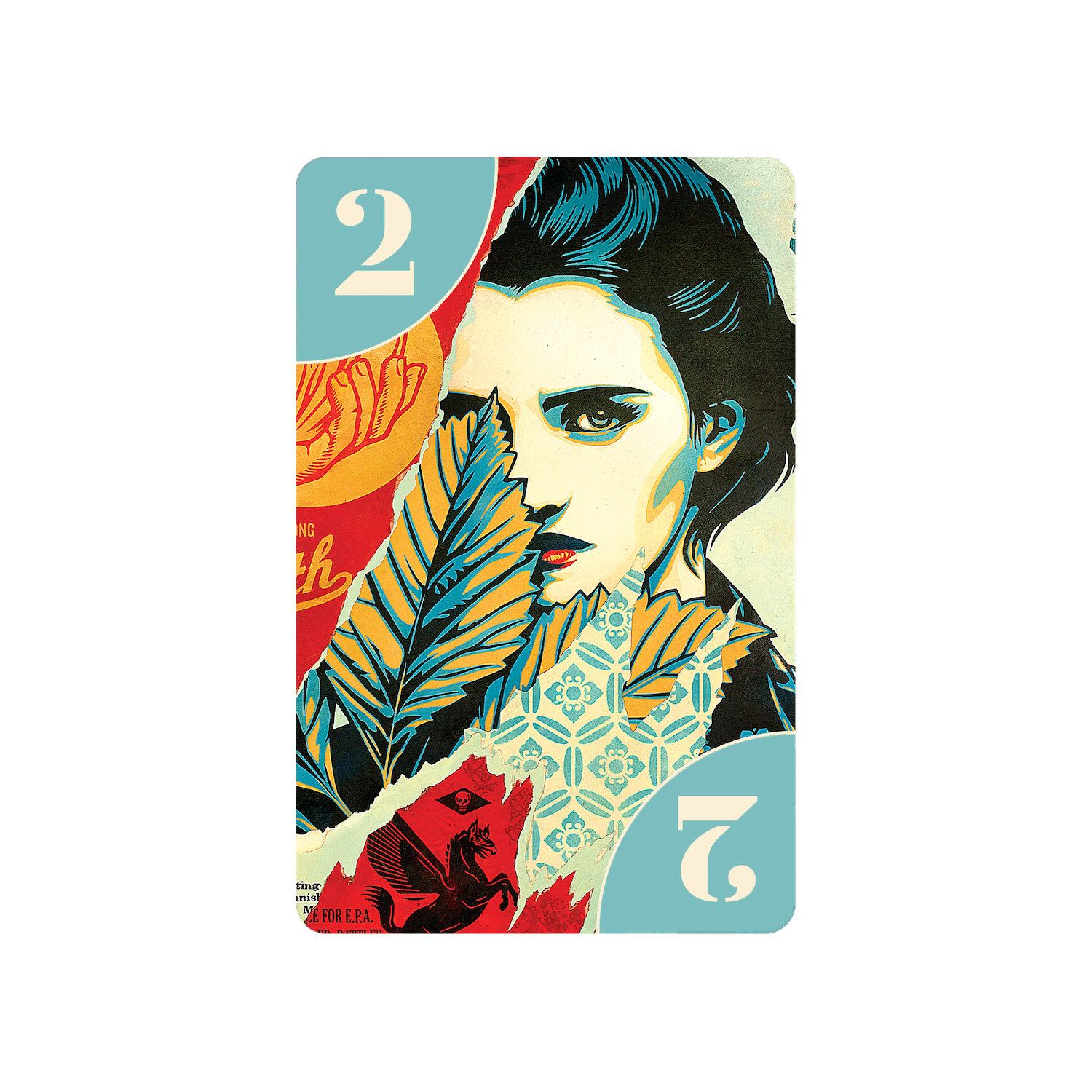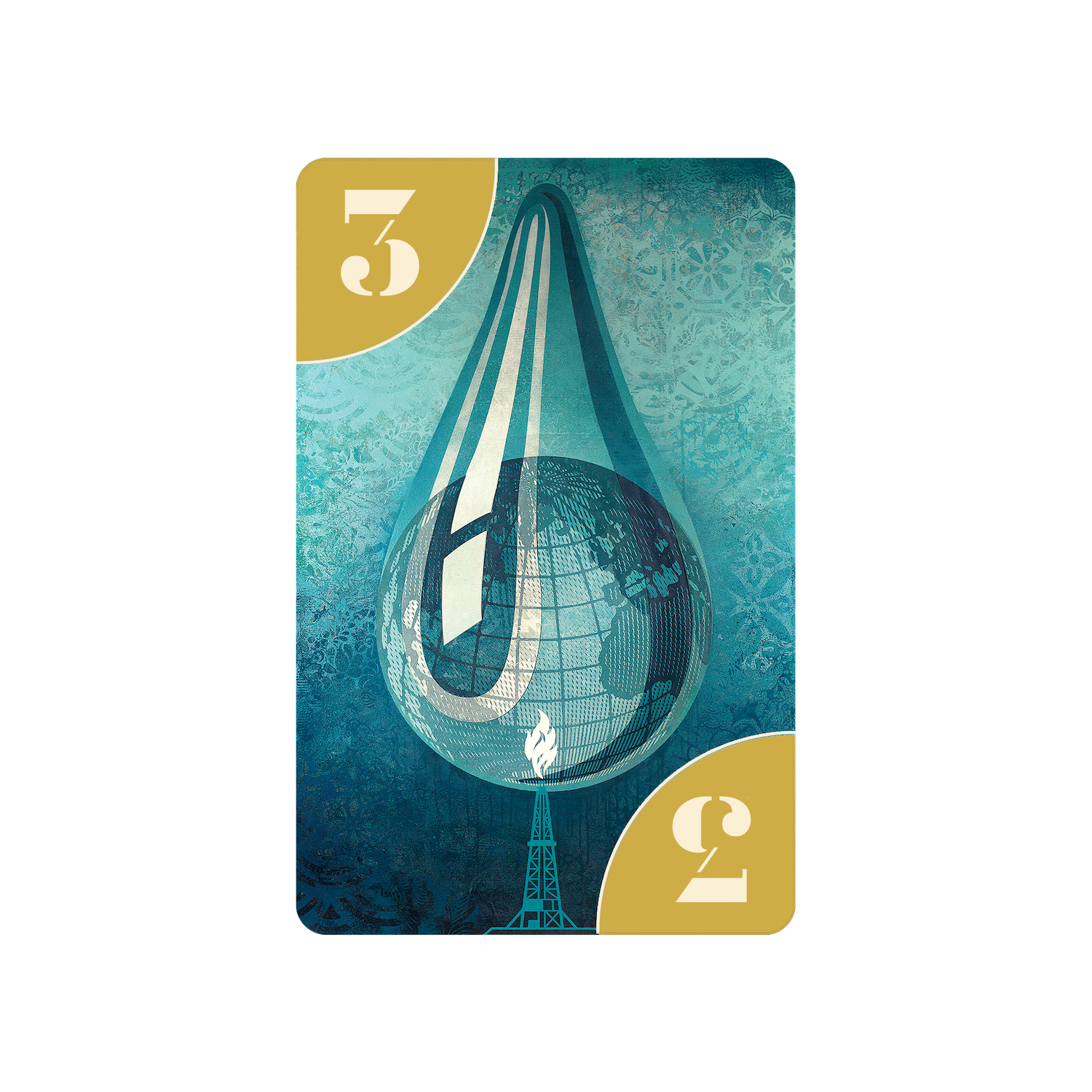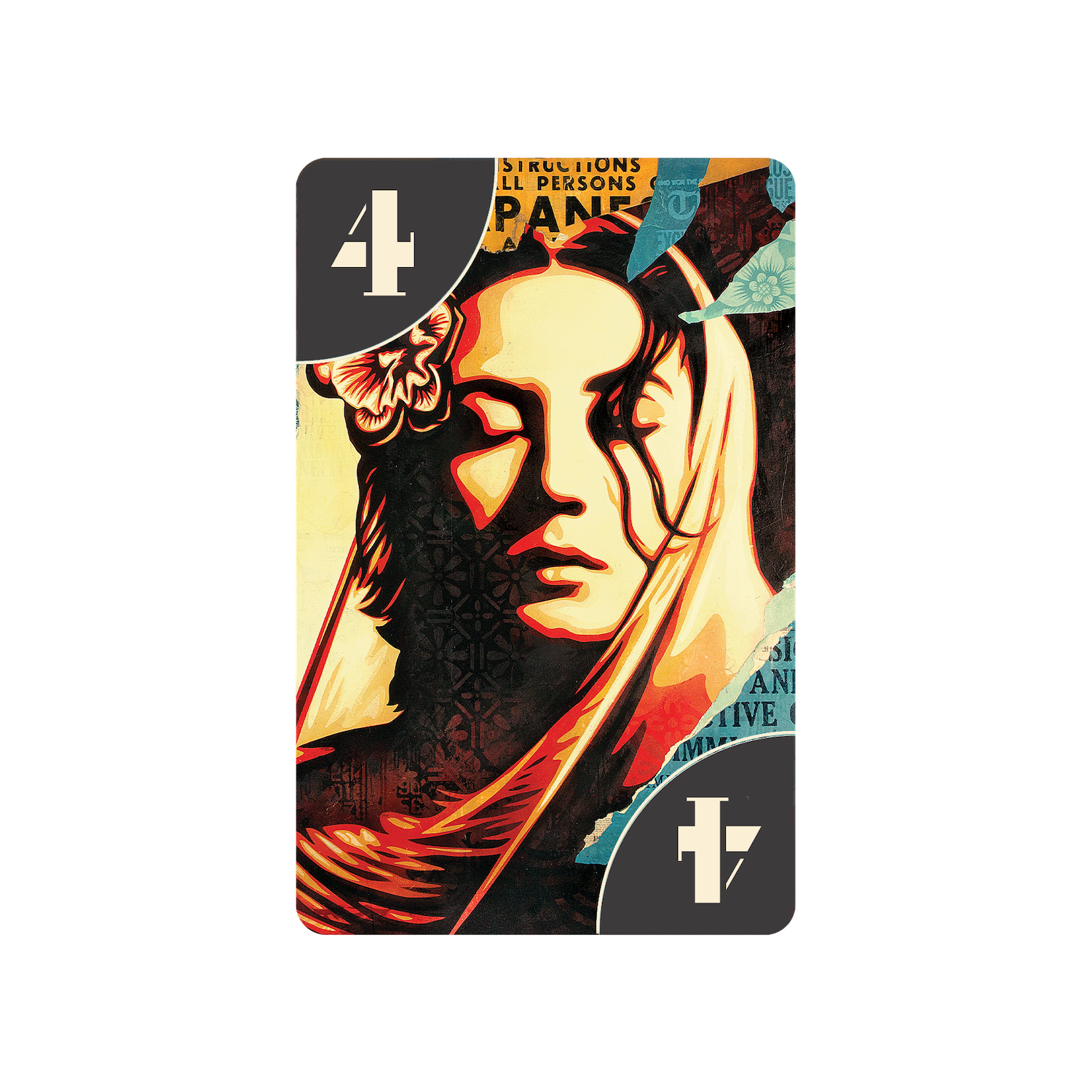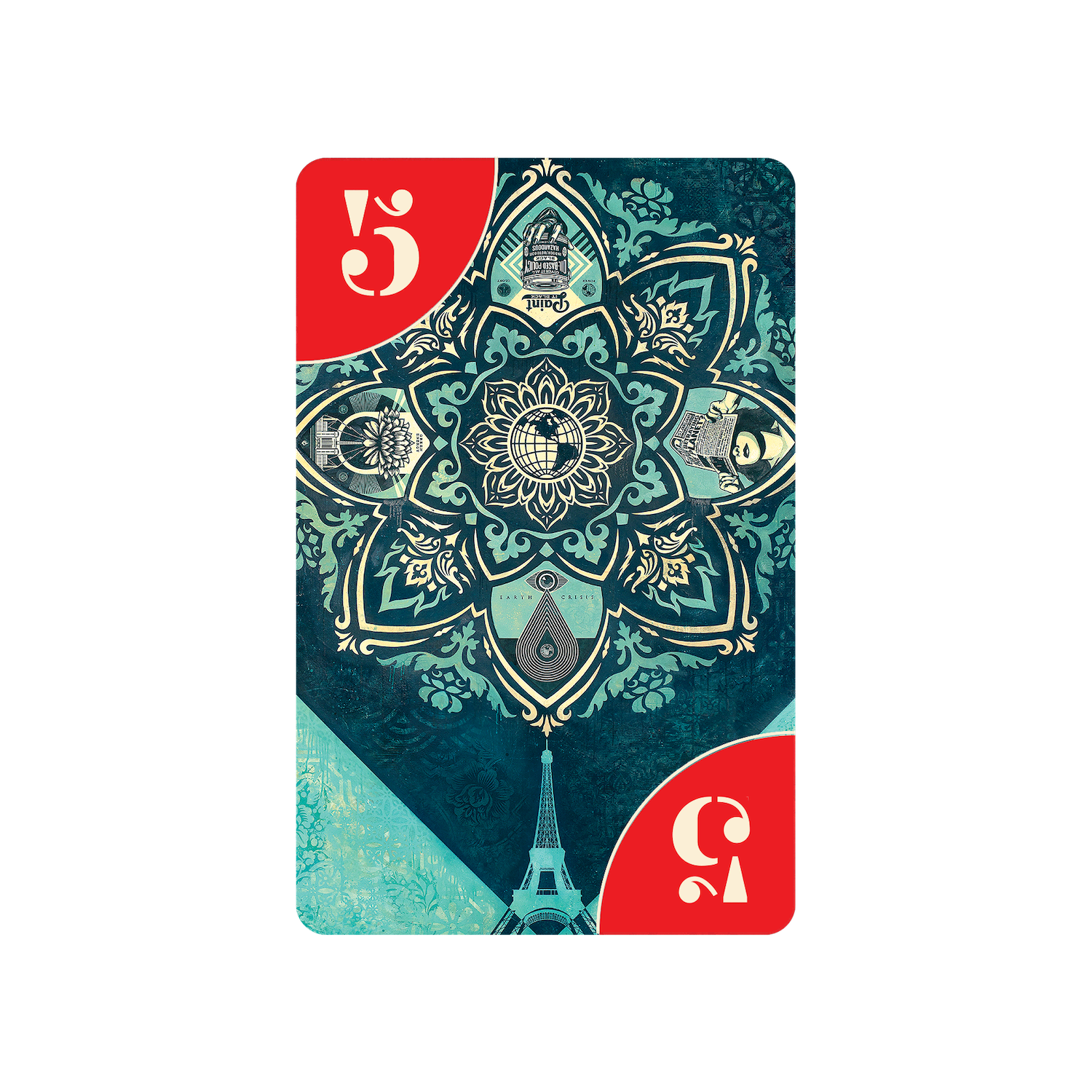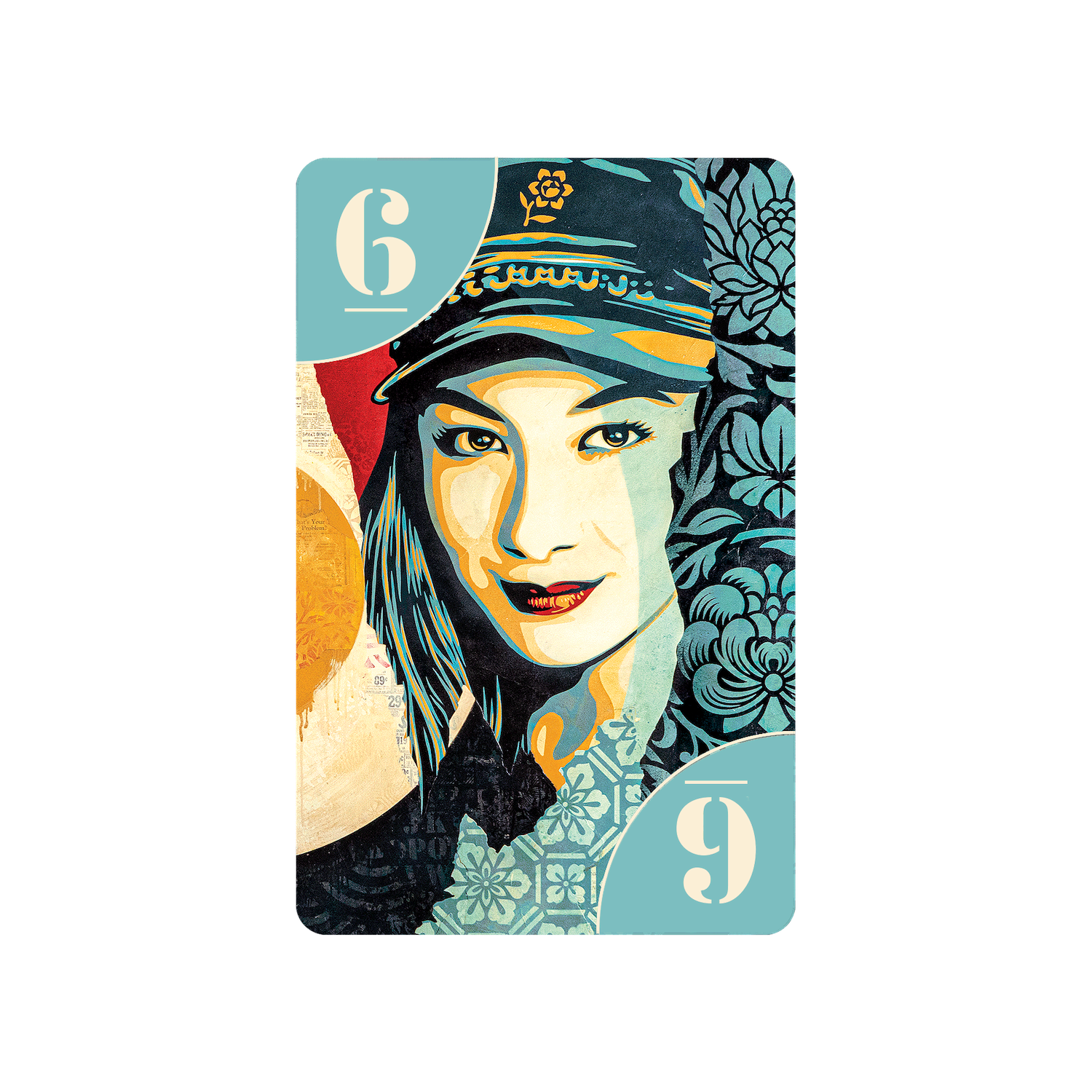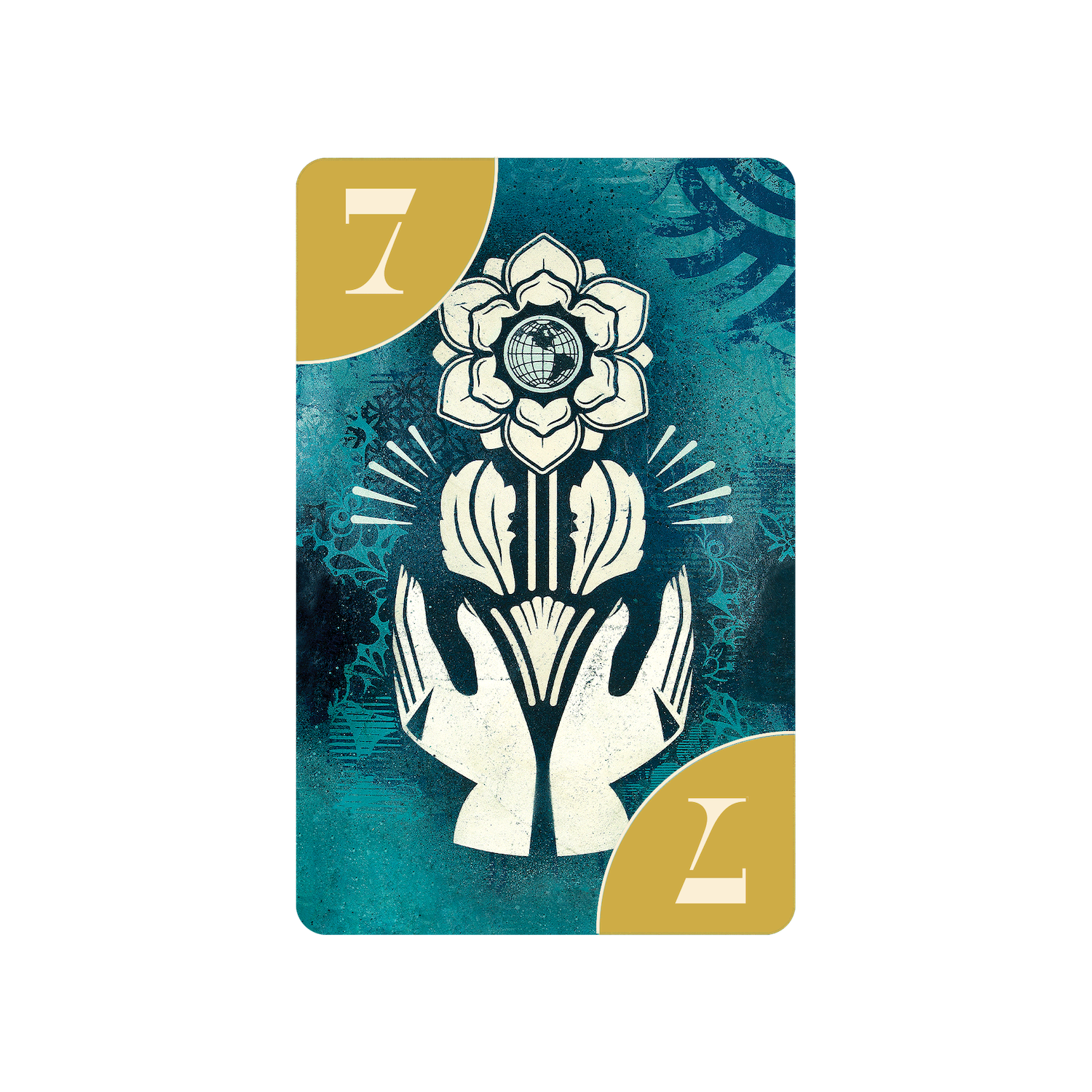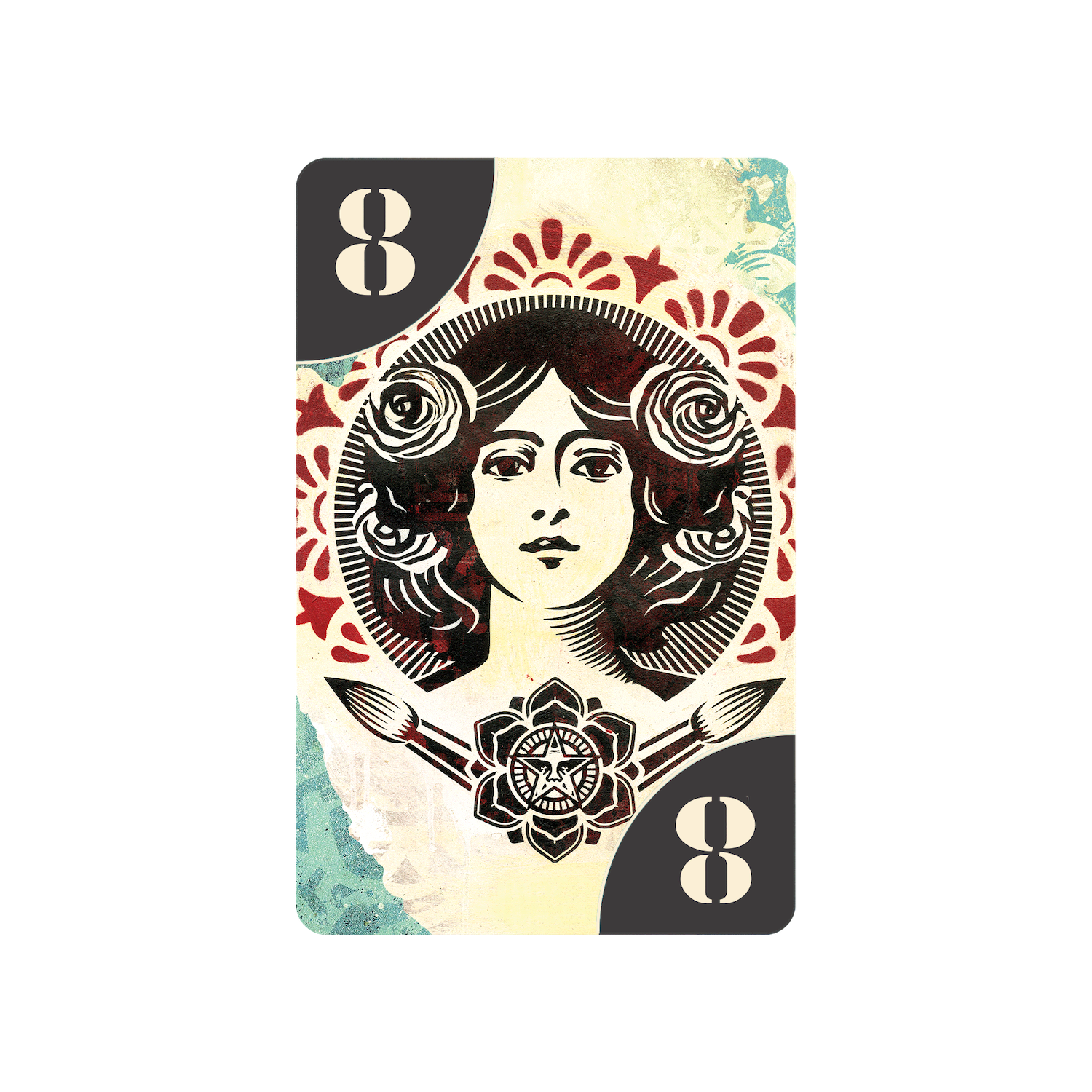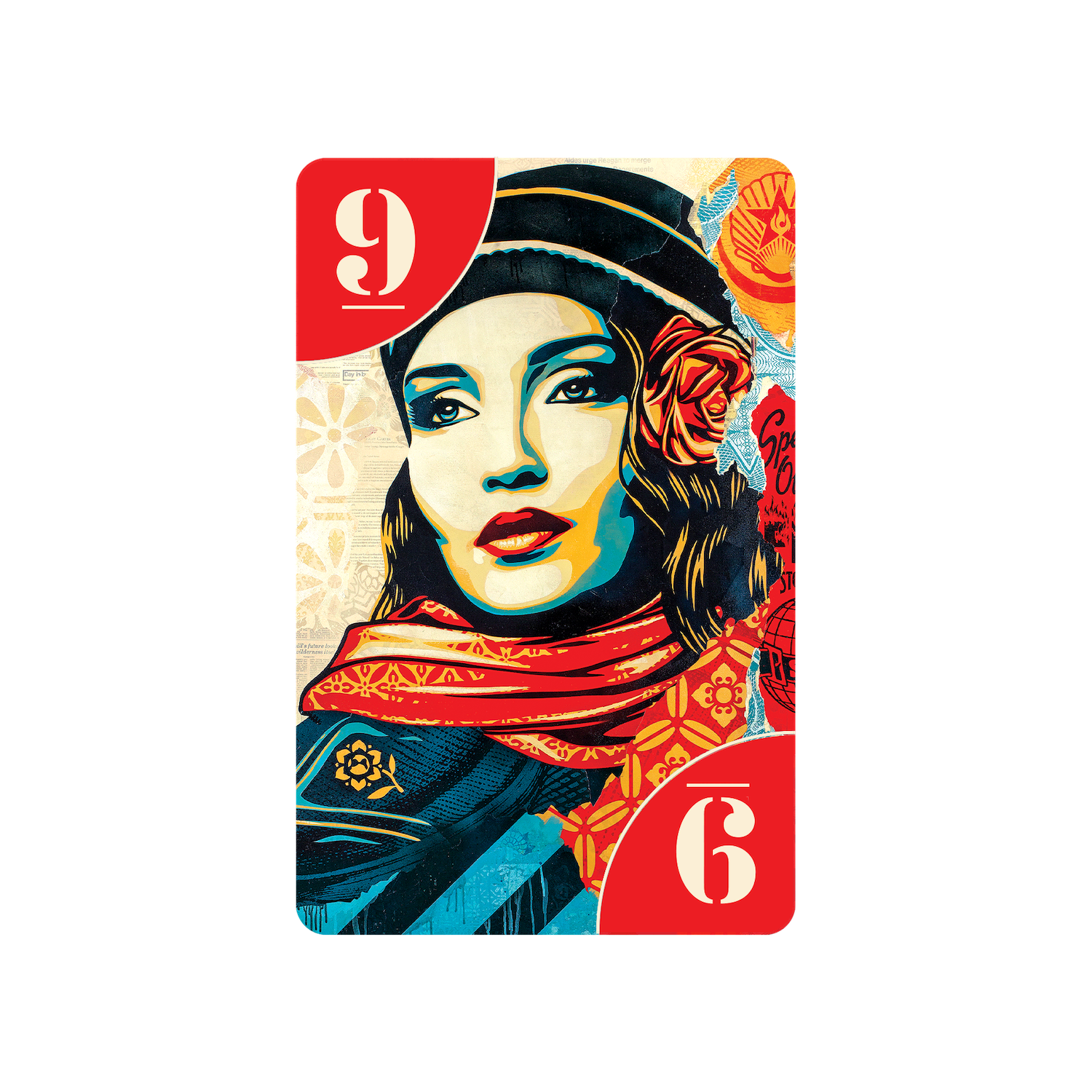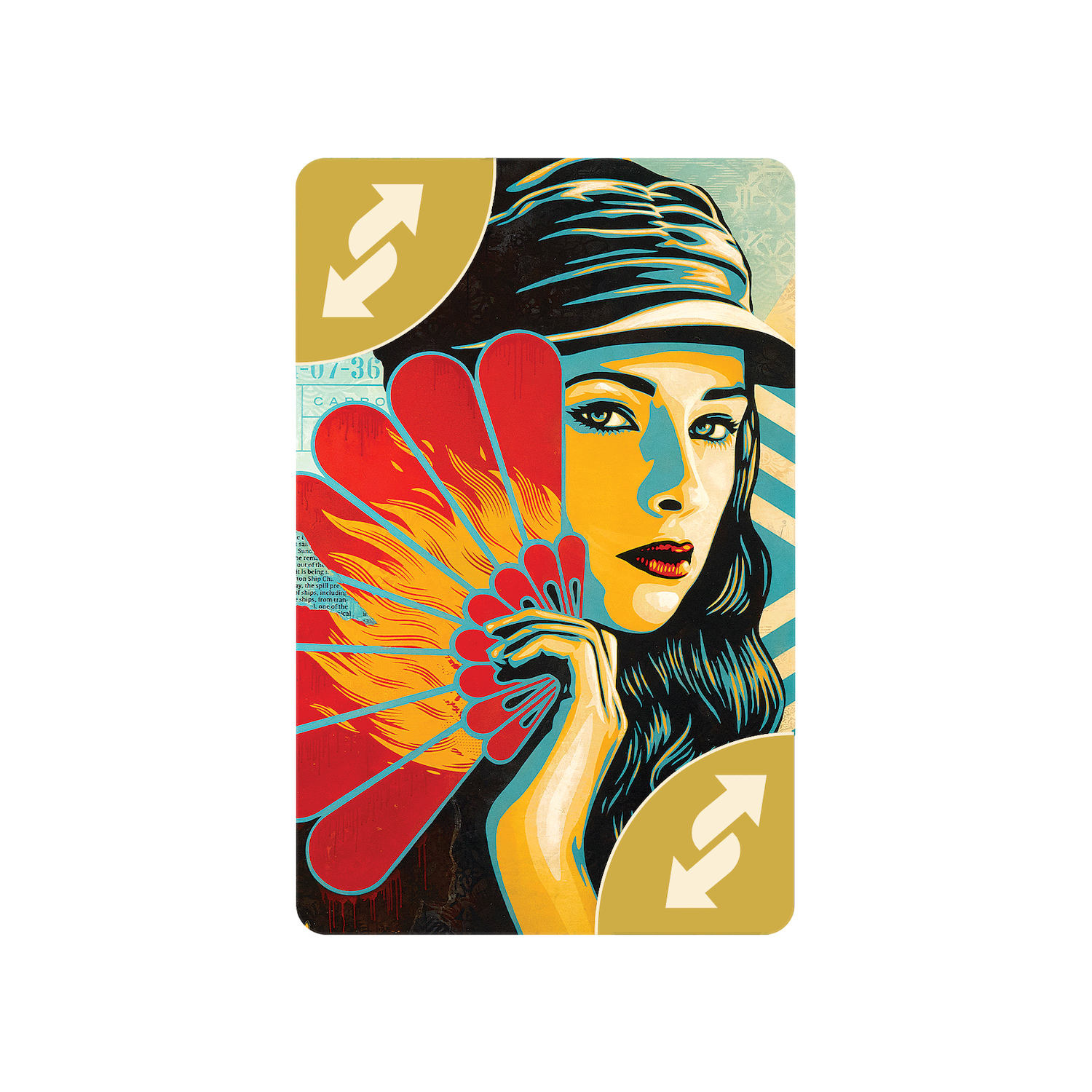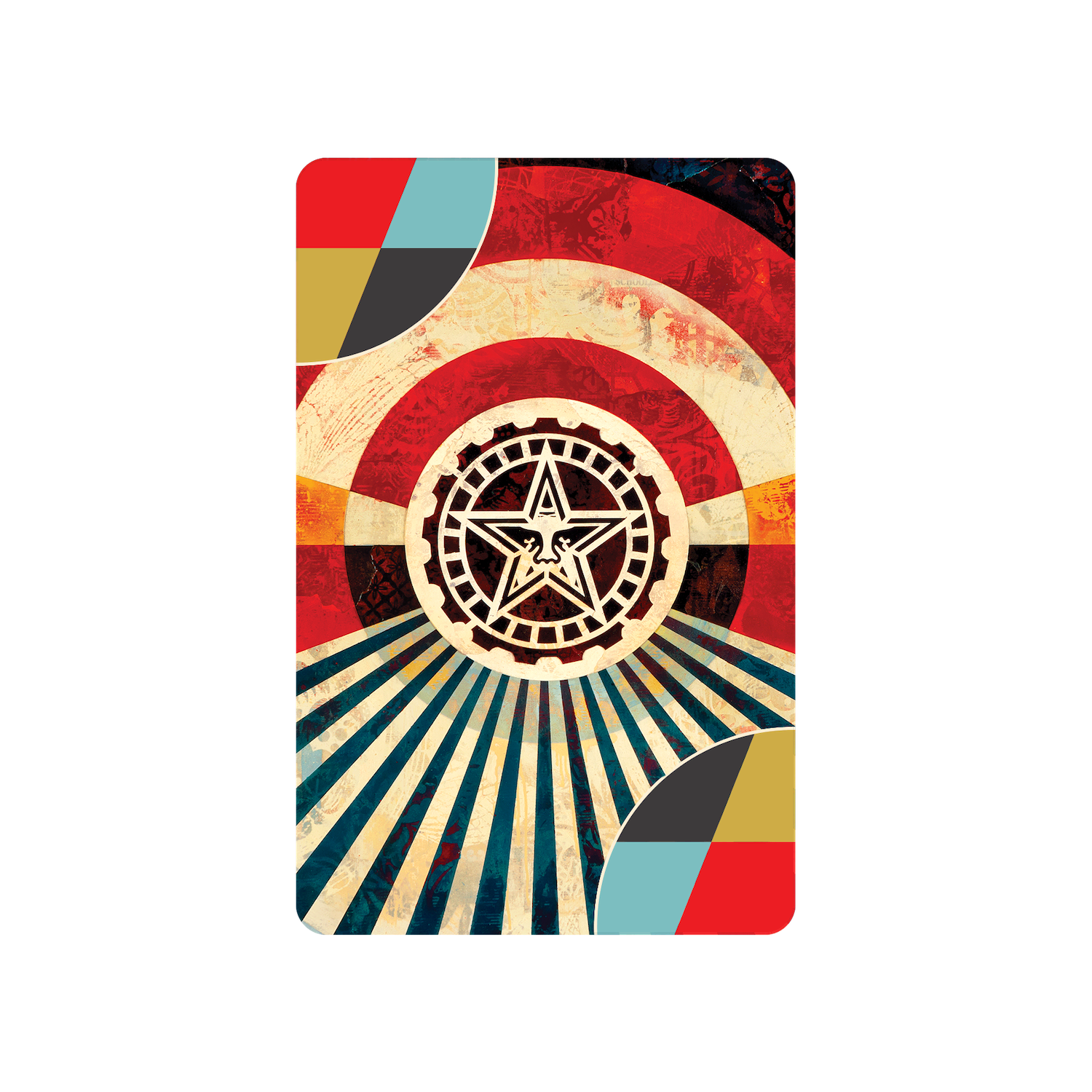 Could you explain your design process for this deck?
First, I decided that I wanted to showcase environmentally-themed imagery to accompany the sustainable cards and packaging so that the entire project would be aesthetically and conceptually cohesive. Then I looked at the consistent color palette for most of my work and broke that down into color swatches that would work with UNO.
This collaboration is UNO's first sustainably made Artiste Series deck, talk to us about that connection and your environmental activism. Why did you choose to partner with the Ocean Conservancy on this project?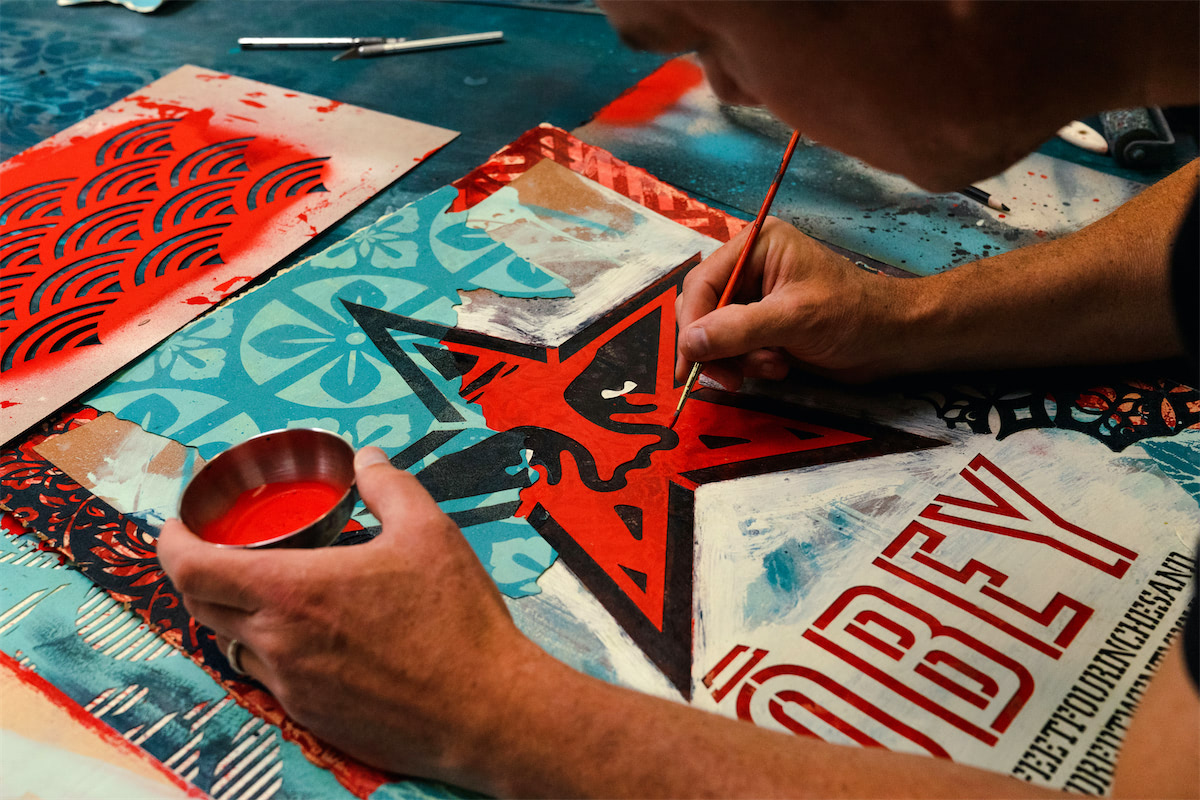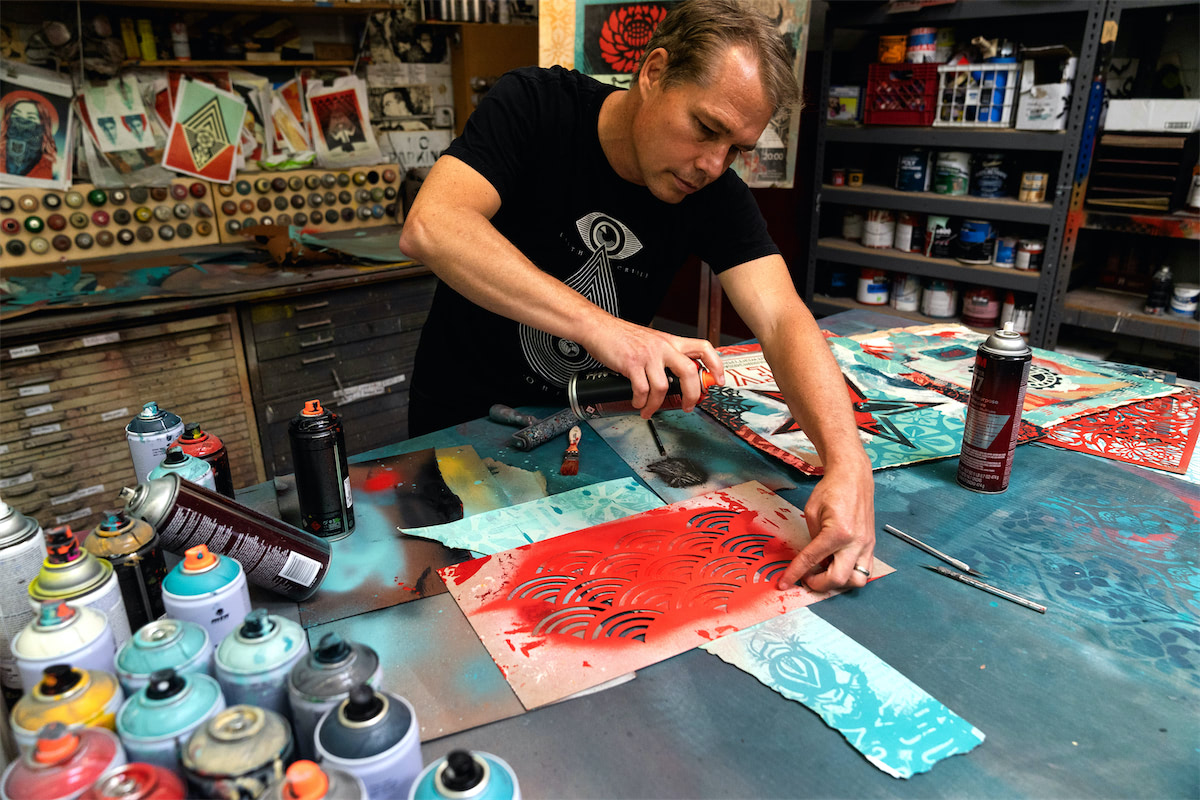 Protecting the planet for future generations of humans and other species is very important to me. We can all make a small difference by changing some of our habits, but it is also important for us to encourage large corporations to become more environmentally responsible with their products and manufacturing. By using sustainable materials for this project, UNO has shown the courage to say that things can evolve in a better way. The charity component partnering with the Ocean Conservancy was important to me because even though we are land dwellers, ocean health is extremely important to the entire planet's health.
Anything else we should know about this UNO collaboration?
I'm very grateful to UNO for partnering with me on this and going sustainable, and to anyone who likes my art and likes the game, your support means a lot symbolically because if people are enthusiastic about this sustainable product, it can encourage more of the same.
{"shouldDisplayHeader":true,"shouldDisplayArticleFooter":true,"shouldDisplayPresentedBy":false}