Sotheby's made history last night with its inaugural hip-hop auction. Bidding is now closed on 120 lots celebrating the phenomenal cultural impact of hip-hop — with items such as Biggie's crown, Tupac's love letters, and Salt-N-Pepa's "Push It" jackets.
Spanning the late 1970s, to the "Golden Age" of the mid-1980s to mid-1990s, and up until today, the auction boasted some of the most legendary artworks, jewelry, luxury items, and rare ephemera in the history of hip-hop.
We've combed the lots and selected some of the most significant, extravagant, and unusual of them all — alongside their estimated prices and the wild $$$ they fetched (if listed).
Find our top picks from Sotheby's hip-hop auction below.
Drake's Unreleased Air Jordan IV Retro
With over 170 million records sold under his belt, Drake has proved that he is a serious hip-hop icon with unparalleled pop appeal — a fact that has made him a major fixture in the sneaker game. This exceptionally rare promotional Air Jordan IV prototype was initially teased by Drake in fall 2017 before his relationship with Nike reportedly ended and the rapper was close to signing with adidas.
Estimated Price: $10,000 - 12,000
Sold: $32,760
Slick Rick's diamond eyepatch
Slick Rick pioneered the convergence of luxury and street style — nothing embodies his incredible endurance, flare, and extravagance like his custom diamond eyepatch. The deeply personal piece was made by the "King of Bling" Jacob the Jeweler, according to the custom design of Slick Rick's wife.
Estimated Price: $20,000-$25,000
Sold: $25,200
The Wall of Boom by DJ Ross One
Roc Nation DJ and hip-hip collector DJ Ross One provides the largest lot with his Wall of Boom. The imposing installation comprises some of the rarest and most recognizable vintage boomboxes in history, including the radio used by Radio Raheem to blast Public Enemy's "Fight the Power" in Spike Lee's classic Do The Right Thing.
Estimated Price: $70,000-1000,000
Sold: $113,400
Salt-N-Pepa's Personal "Push It" Jackets
Salt-N-Pepa's iconic "Push It" leather jackets were so sought after that the originals were stolen right out of the band's dressing room many years ago. The first ladies of hip-hop tracked down the original designer, Christopher "Play" Martin of Kid 'n Play, to help recreate them for a 2015 Super Bowl commercial. Martin oversaw their production at the atelier of Dapper Dan.
Estimates Price: $12,000-18,000
Sold: $23,940
Fab 5 Freddy's MTV Ring
When the groundbreaking music video show, Yo! MTV Raps! first aired in 1988, hip-hop jewelry was mostly thick gold rope necklaces, crucifixes, and heavy medallions. The show's host, Fab 5 Freddy, wanted to stand out from the crowd, and he teamed up with Tito the Jeweler — aka "Manny", the first hip-hop jeweler — to realize his vision. The unique piece has since become one of the most exemplary pieces of jewelry from that era.
Estimated Price: $20,000-30,000
Sold: $35,280
Custom Juneteenth Nike Air Force 1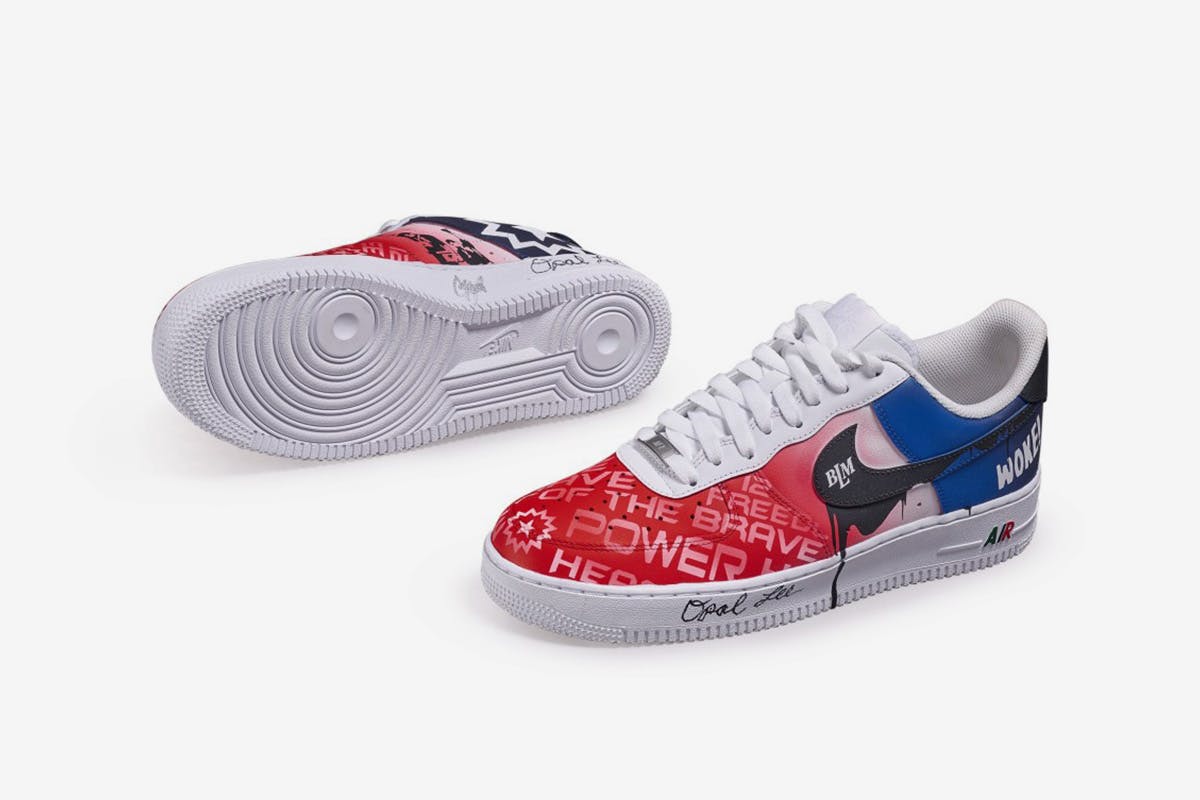 This Niko Brim collectible Air Force 1 is imbued with symbolic imagery honoring the Juneteenth holiday campaign and its ambassador, the 93-year-old Mrs. Opal Lee. Designed by famed sneaker customization artist Sierato, the pair features a red, white, and blue color scheme, incorporating a unifying theme of freedom for all while honoring the contributions of African-Americans who "built the country."
Estimated Price: $5,000-10,000
Sold: $6,048
Biggie's K.O.N.Y. Crown
The assassination of Biggie Smalls remains one of the most significant events in the history of hip-hop, and his "K.O.N.Y. (King of New York)" portrait session, just three days prior, provided one of the most famous images of the late rapper — one that would immortalize him as the "King of New York." The crown he wore has remained in the possession of Barron Claiborne since the legendary 1997 photoshoot took place. The interior of the crown bears the inscription "Crown from Biggie KONY Shot NYC 3-6-97" and is signed by both Biggie and Claiborne.
Estimates Price: $200,000-3,000,000
Sold: $594,750
Love letters written by teenage Tupac Shakur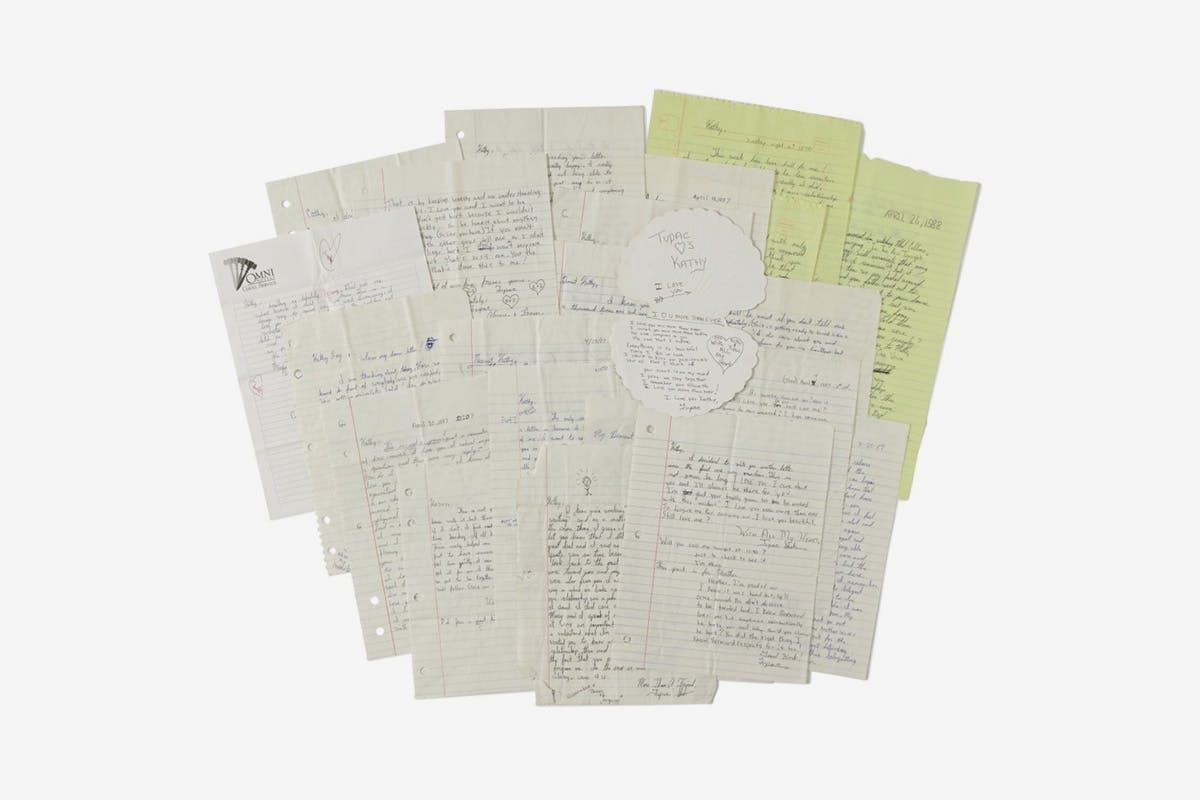 An archive of 22 love letters written by a teenage Tupac Shakur to his highschool sweetheart bears witness to a two-month-long romance and reveals a poet in the making. The letters offer a rare window into Shakur's life as a 16-year-old — his home life, his friendship with Jada Pinkett Smith, and the doubts he had about his career in music.
Estimated Price: $60,000-80,000
Sold: $75,600
"Ladies First" four-finger ring by Johnny Nelson
Fast forward to today, and Johnny Nelson is one of the most exciting jewelers in hip-hop. His one-of-a-kind ring, custom-designed for this sale, depicts some of the greatest female MCs of all time: Queen Latifah, MC Lyte, Lady of Rage, and Roxanne Shanté.
Estimated Price: $22,000 - 24,000
Sold: Unknown
Dapper Dan's Louis Vuitton leather jacket
Dapper Dan pioneered streetwear in the early 1980s and his eponymous store on 125th Street outfitted the biggest names in hip-hop. This Louis Vuitton logo leather jacket made around '88 demonstrates how he co-opted luxury branding to design original garments with high-end details, and why he would go on to outfit Eric B. & Rakim, LL Cool J, Salt-N-Pepa, Mike Tyson, Missy Elliott, JAY-Z, Beyoncé, and Aaliyah.
Estimated Price: $3,000-5,000
Sold: Unknown
A virtual wine tasting with Big Daddy Kane
This auction offers a number of unique experiences with hip-hop royalty, from writing lessons with Rakim Allah to a private atelier experience with Dapper Dan. But the chance to sample a selection of European and Californian red wines with Big Daddy Kane is an unexpected highlight. Arrangements for the purchase of six bottles of wine from a local retailer for delivery to your home will be provided as part of the experience.
Estimated Price: $20,000-30,000
Sold: Unknown
Take a look through all of the lots here.
A portion of Sotheby's proceeds will benefit the Queens Public Library Foundation, to support their Hip Hop Programs, coordinated by "Uncle" Ralph McDaniels, as well as Building Beats, a non-profit community organization that teaches tech, entrepreneurial and leadership skills to underserved youth through DJ and music programs.