C'est l'amour in Paris with adidas x Gucci
(SPONSORED STORY)
WORDS BY Ruhi Parmar Amin
© Highsnobiety
The award for the biggest tease of 2022 goes, without a shadow of a doubt, to adidas x Gucci's anticipated collaboration. For most of this year, adidas x Gucci was on the tip of our tongues and fingertips, but that all changed when the sought-after line dropped a couple of weeks ago.
I don't need to go into the details of why this meeting of masterminds has dominated our headspace since its debut during the FW22 'Exquisite Gucci' Milan runway show. All you need to know is that when the two sartorial titans combined their sentimental nostalgias and unique heritages, the visual story and outcome were nothing short of retro-sportswear genius.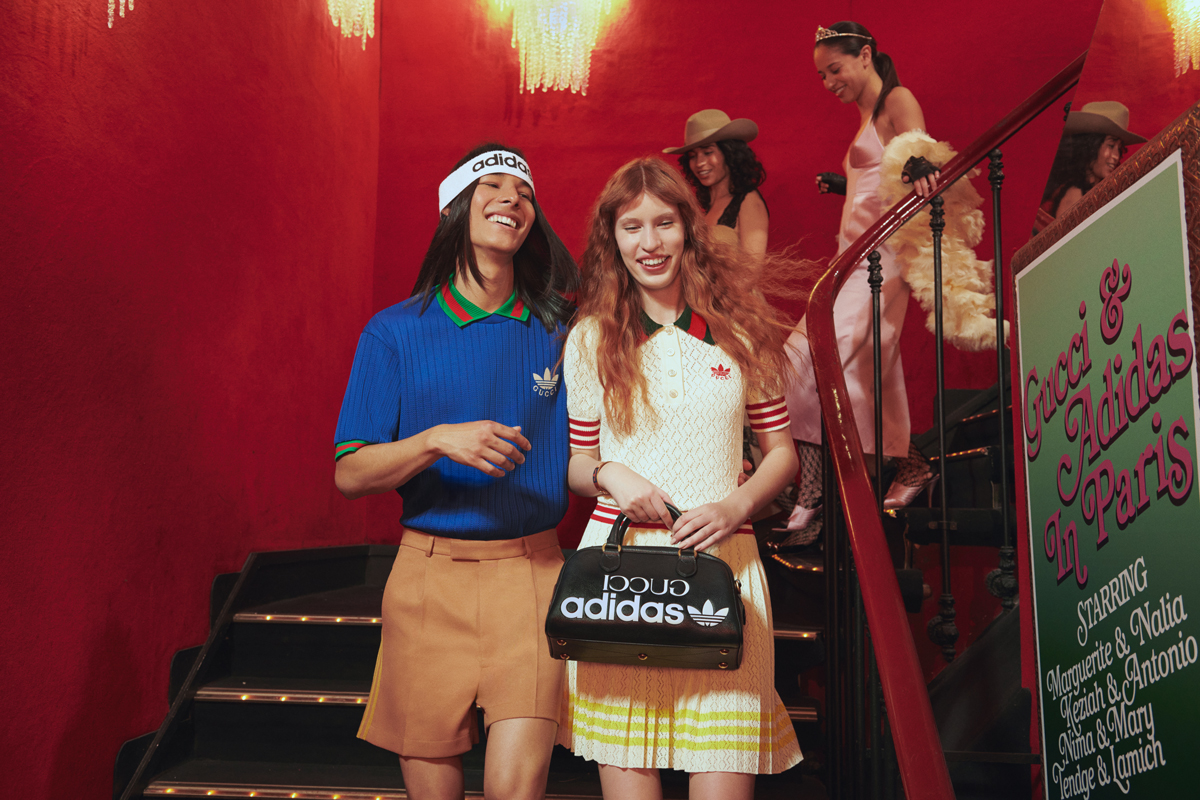 Last year Gucci celebrated its 100th anniversary under the tenure of Alessandro Michele, who since coming on board has propelled the brand to new heights, creating internet-breaking collaborations with the likes of Balenciaga, Comme des Garçons, and The North Face — and this latest adidas partnership is no different.
Merging longstanding Gucci emblems with adidas' archival sports heritage, this new line has it all. From trefoil monogrammed tracksuits and oversized jackets to tennis-inspired polos, hybridized bags, and of course, the widely spoken about Gucci-fied Gazelles, the collection is a trippy and vibrant homage to not only Michele's love of a '70s aesthetic and genderfluid silhouettes but to both brands' love of breaking the status quo. Deconstructed and revamped, the pieces do up adidas and Gucci's reworked emblems in a way that screams 'I'm here,' — so if you're looking to blend in, this collection isn't for you.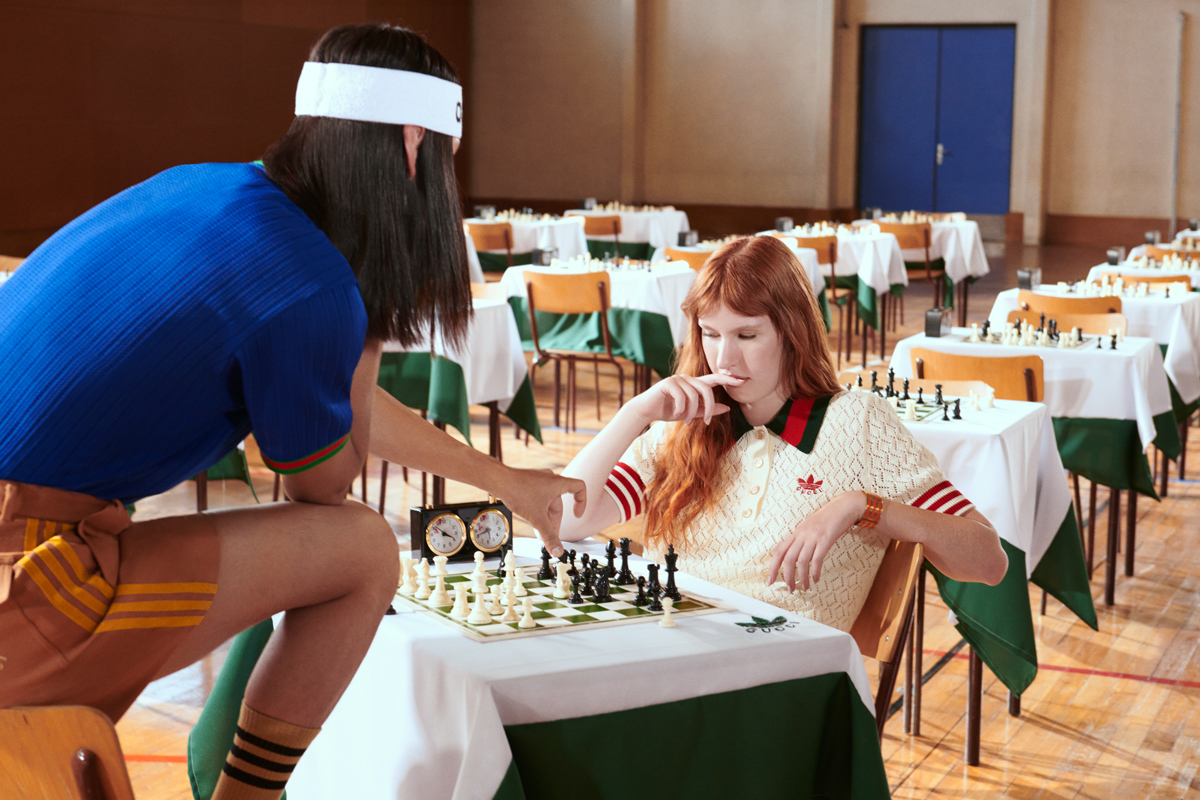 Let's face it, the collaboration is a multi-faceted narrative and pure adoration of all things Gucci and all things adidas, with every piece identifiable back to its pedigree.
Referred to everywhere as a 'marriage' between the two brands, the collab is truly its very own love story. To capture this, we went to the one place in the world where romance grows, couples bloom, and hearts run free. Yes, you guessed it, say bonjour to our very own adidas x Gucci love story coming in hot from Paris.
Who better at the helm of our campaign than two Parisian inhabitants who know the city and its culture like the back of their hands? Through a series of conventional and not-so-conventional duos, director Simon Cahn, and photographer Reto Schmid, bring the adidas x Gucci union to life. With Paris and its culture creating the perfect backdrop and rich tapestry for our story to unfold, Cahn and Schmid take us on an era-bending metamorphosis through the ages, showing love and connection in all its various forms.
"Gucci is Italian, adidas is German. What better place than France and its capital to be the mediator of this love story?" - Simon Cahn, Director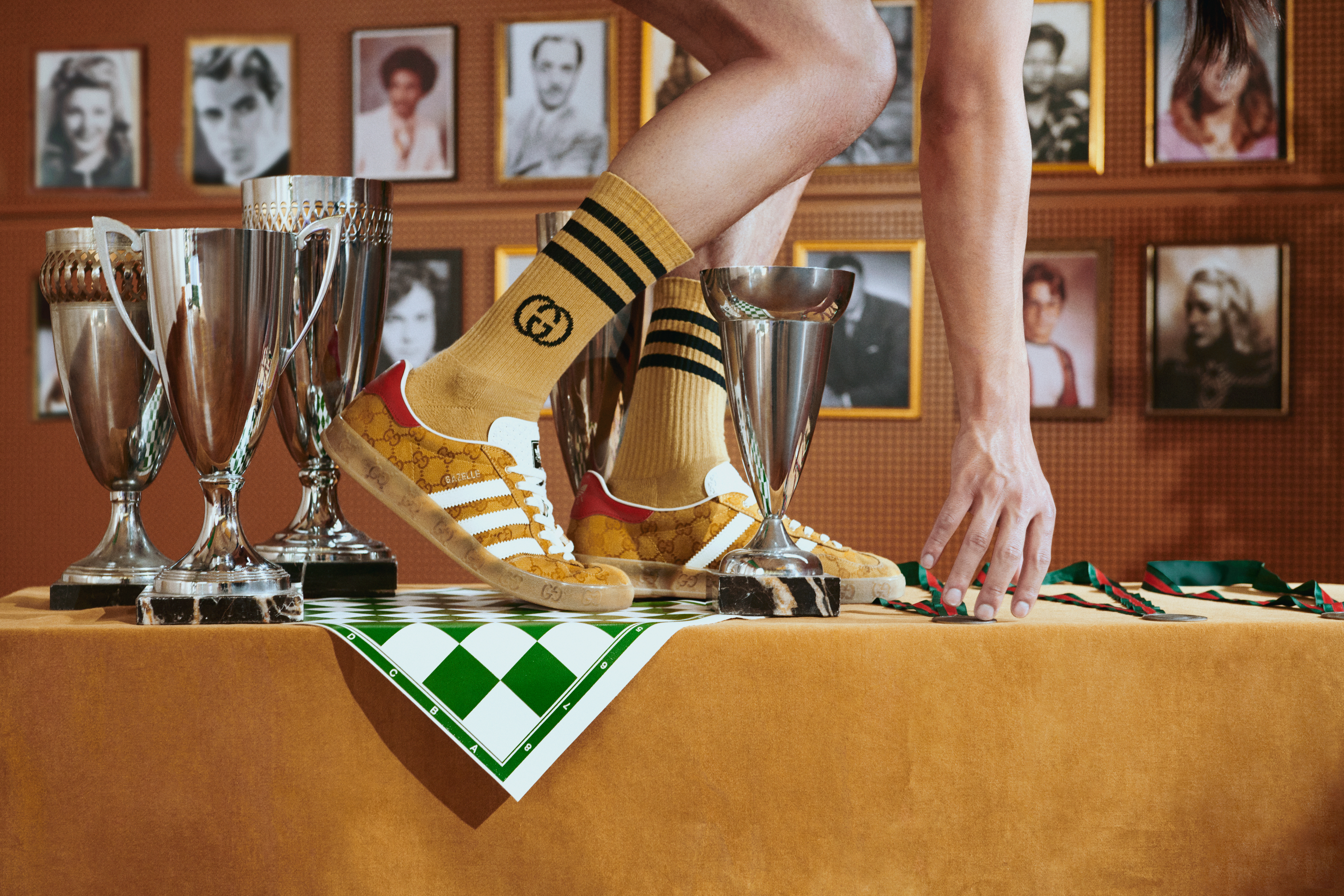 Cahn, who started directing at 19 and has since produced a short film with the legendary Spike Jonze, always brings a fresh eye to his work, dissecting the relationship between art and pop culture. Inspired by '60s and '70 cinema and La Nouvelle Vague, adidas x Gucci in Paris traverses the emotional journeys of our character duets. In an almost mosaic-like structure, Cahn takes us on a surreal yet energetic and vibrant whirlwind that unravels amongst the city's streets, cabarets, and the twinkling night sky.
"The visual style of the video echoes the retro DNA and bold colors of adidas x Gucci through these saturated colors and a glorious Super 16mm film," explains Cahn. "We also used some '70s editing gimmicks like freeze frames, whip pans, and zooms." The idea to use these Golden Age Hollywood tropes is Cahn's way of putting the collaboration at the heart of the modern Parisian playground. Speaking of the Golden Age, it was the time when sports luxury started to boom, and this collection keeps that spirit well and truly alive.
"What stands out to me about this collection is that it draws liberally from all kinds of fashion eras. The '70s, '80s, and '90s. It's what makes it so fun to work with." - Reto Schmid, Photographer
Starting with unexpected lovers and partners running through the grey, cobblestone streets and playing chess to family and friends driving down Place de la Concorde, culminating in a grand finale of all duets partying in Paradis Latin, our adidas x Gucci campaign is a melting pot of different characters and counter-cultures.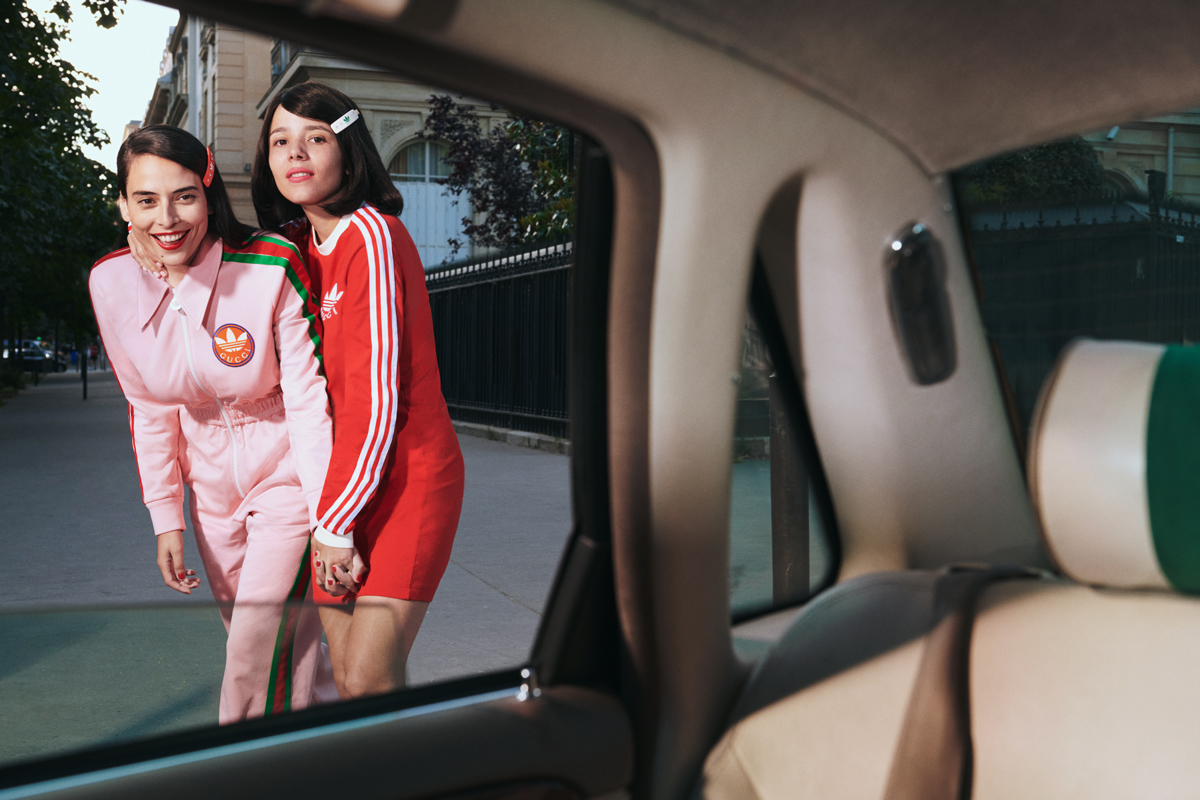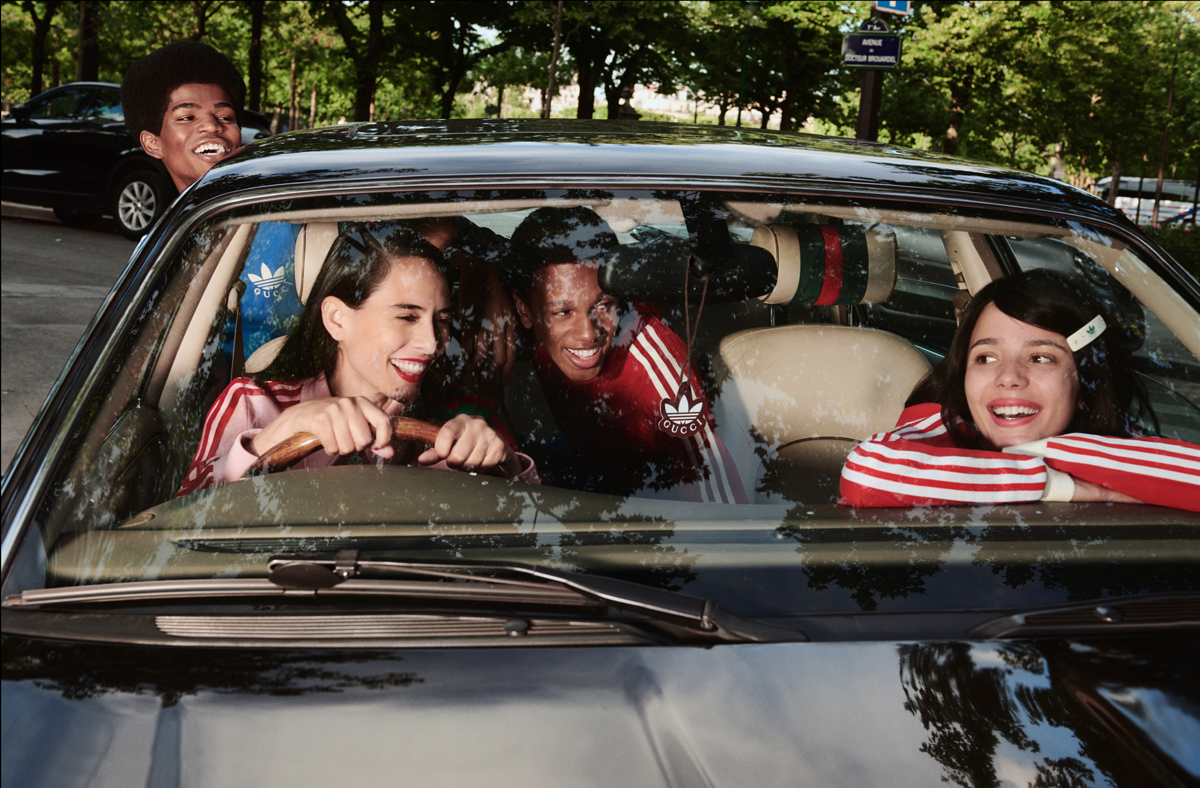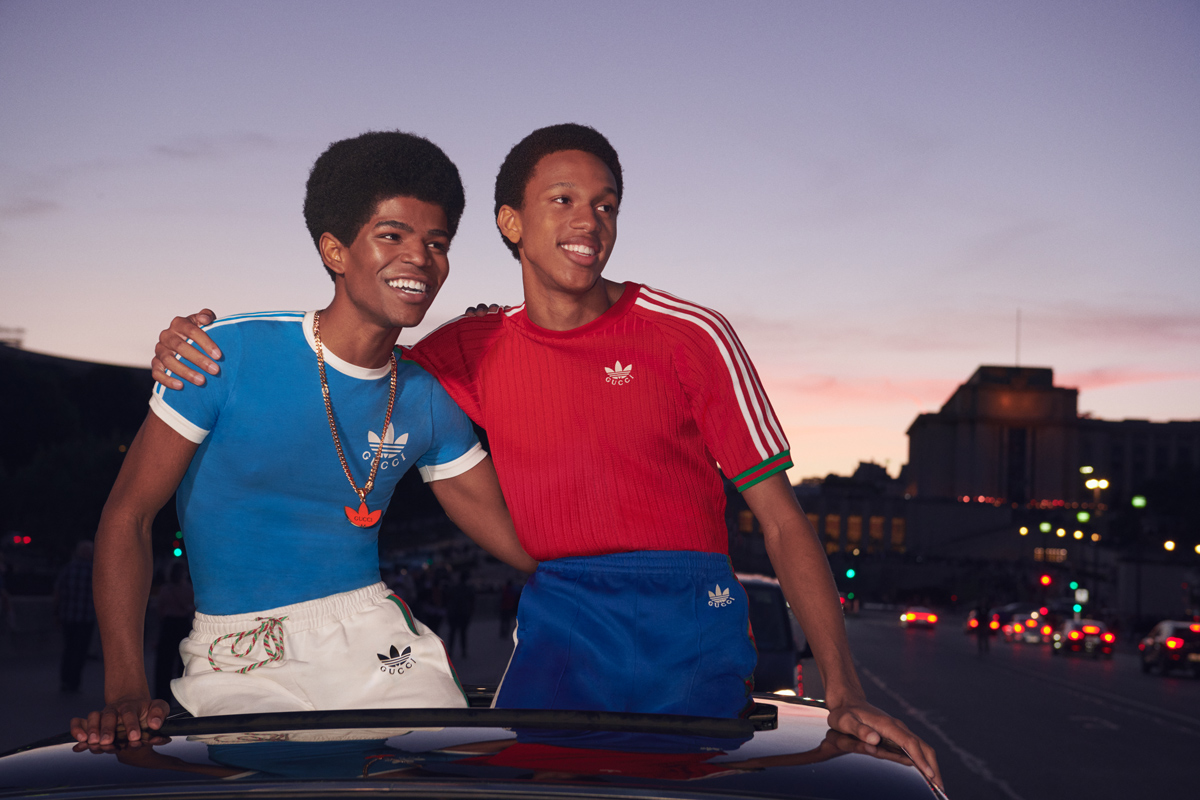 "I really loved that we shot in the iconic cabaret Paradis Latin. It's a majestic place that we haven't seen so much in Parisian videos," says Cahn. The hero film encapsulates a lot of what the adidas x Gucci collection stands for — fun — which can be seen through our dancing duos and the catchy soundtrack that is sure to have you tapping your feet (maybe one day in those Snakeskin Gazelles, leather loafers or clogs?). It's not just Cahn who has an affinity for the more playful side of things but Schmid too, who is known to have an eye for subtle hilarity. "I like to welcome elements of the unexpected into my work, and I think photography is essentially that, a controlled combination of hazards," he says.
Both connect with Michele's flair for whimsy that is translated through the collection's polished yet stand-out style — "I think the reversed Gucci logo on the bags is a really fun little detail," comments Cahn. In fact, the twinning of logos weaved throughout the pieces spotlight Gucci's previously known predisposition for bootleg culture that we've grown to love over the years.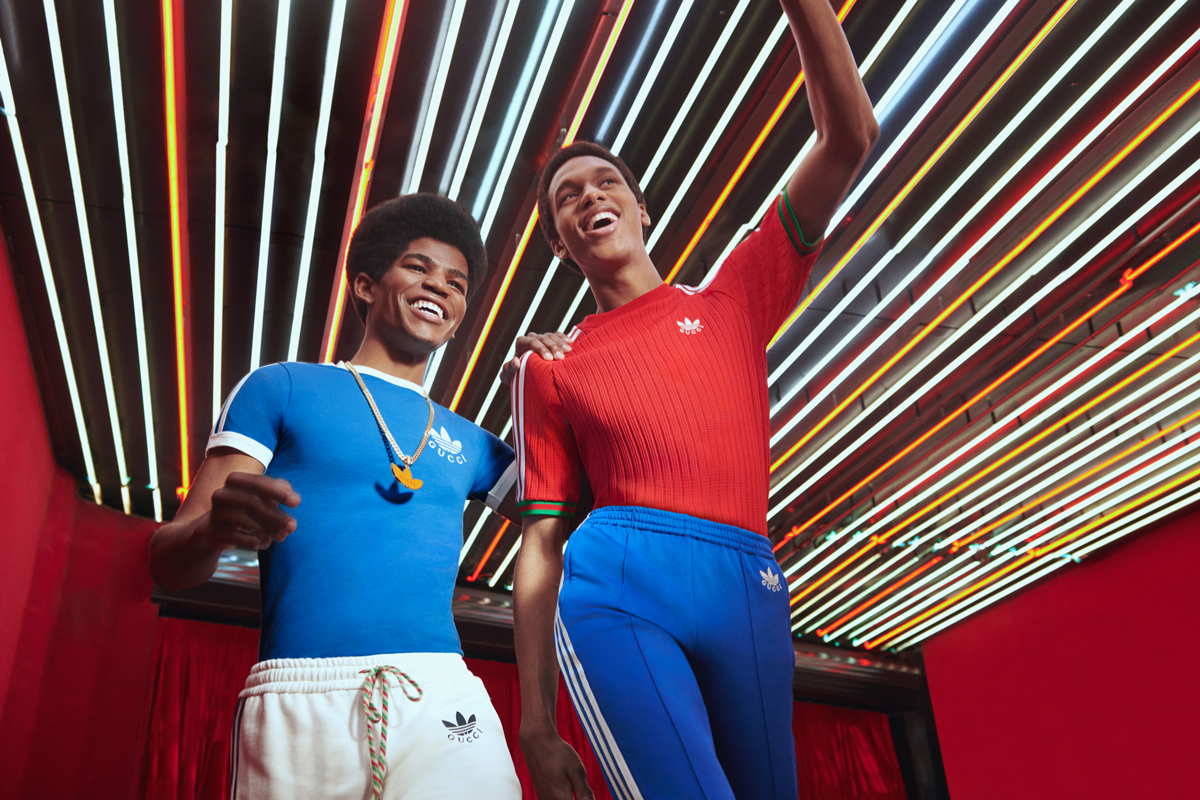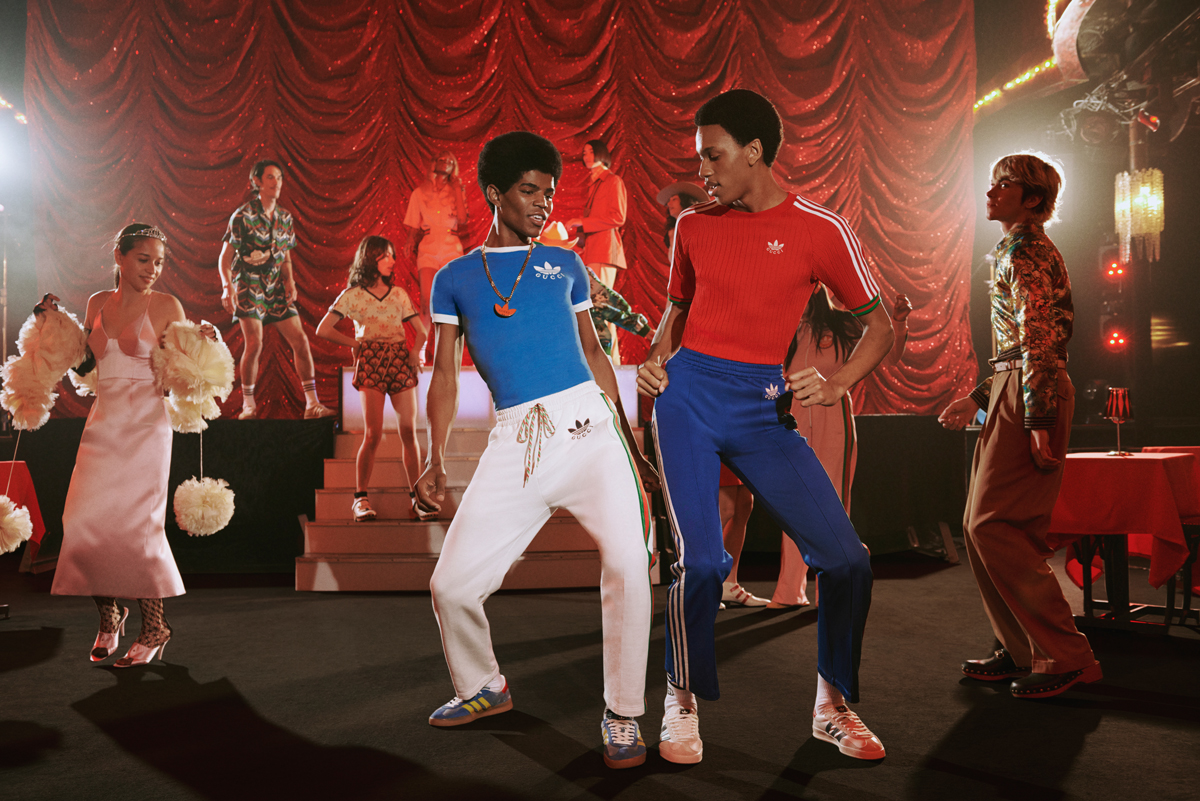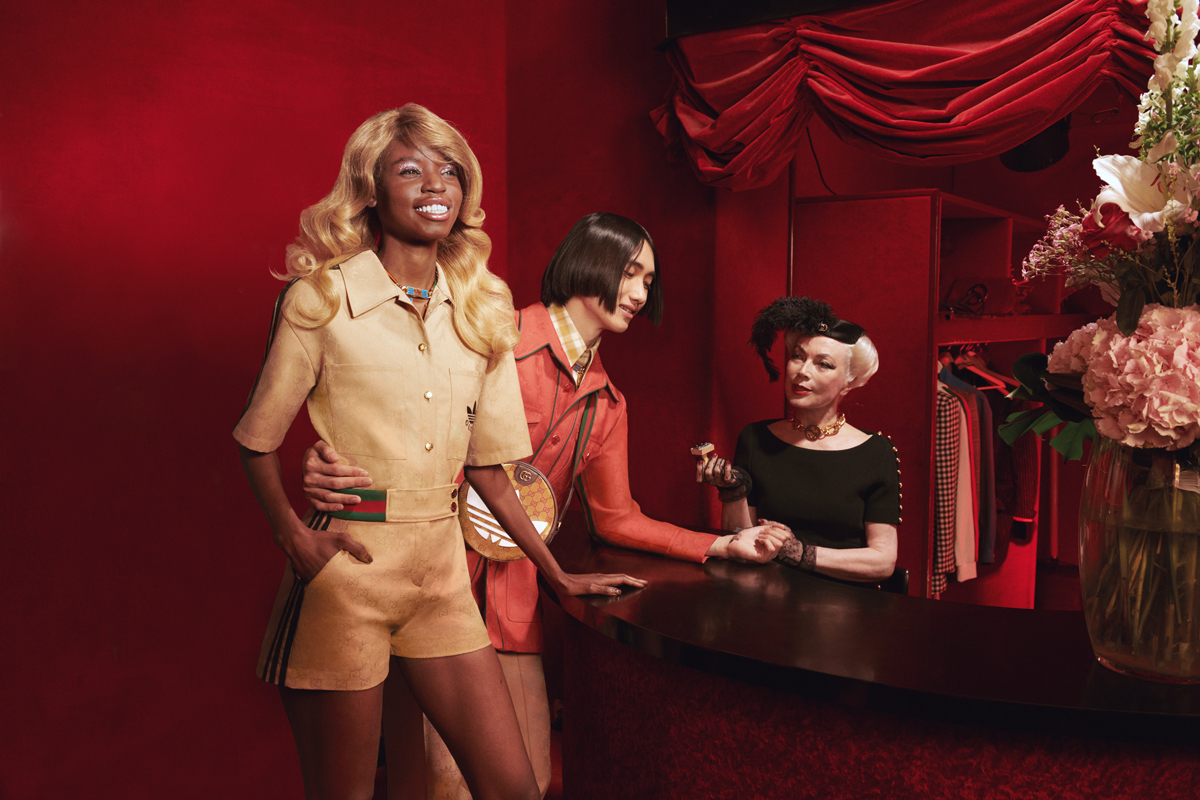 "The feeling that comes to my mind when looking at this collection is the one I have when I don't want to spend lots of time in front of the mirror when getting dressed. I put on my favorite shirt and trousers, and know it will look just right." - Reto Schmid, Photographer
Similar to our campaign video with Cahn and Schmid, when you really take a moment to sit and look at the adidas x Gucci collaboration,you can't help but imagine that both teams must have had the time of their lives digging through their archives, bouncing off one another and merging their individual stories to create something so bold, full of energy — and now, so in demand and viral. The crux of the collection and our hero film is simple — that the age of bold, sports luxury is here to stay.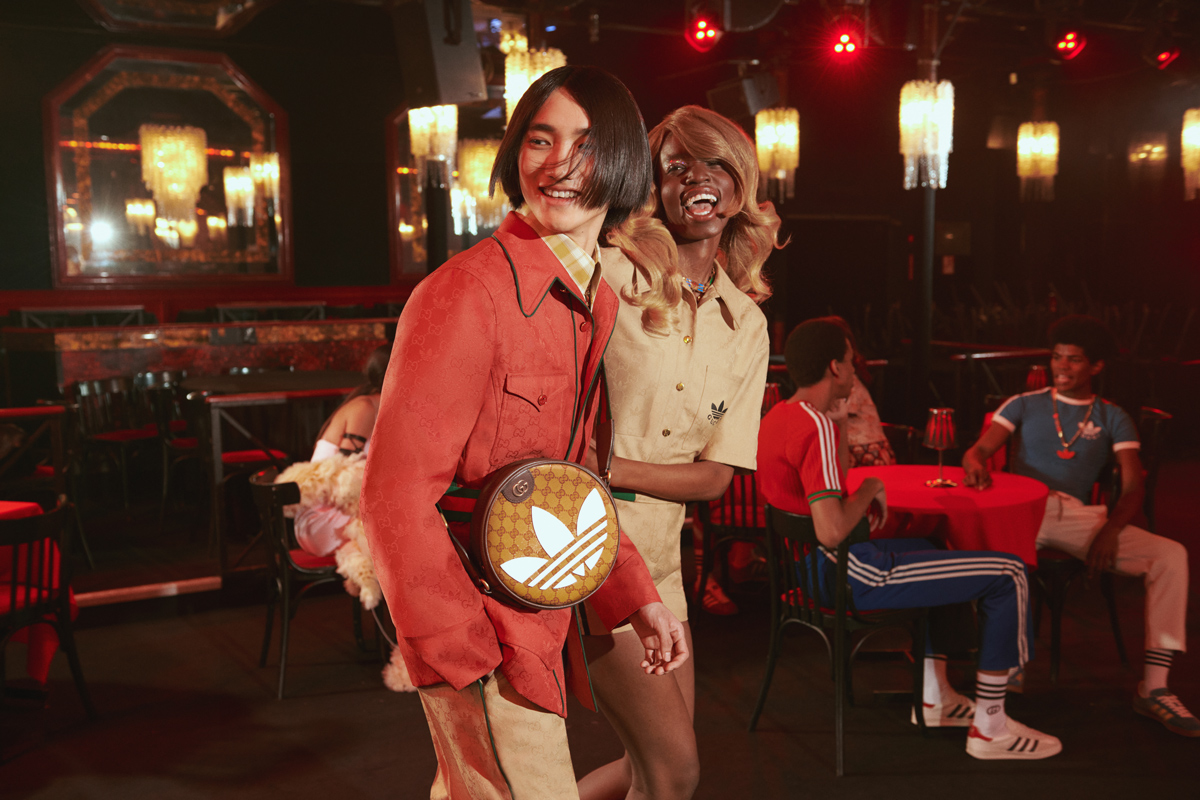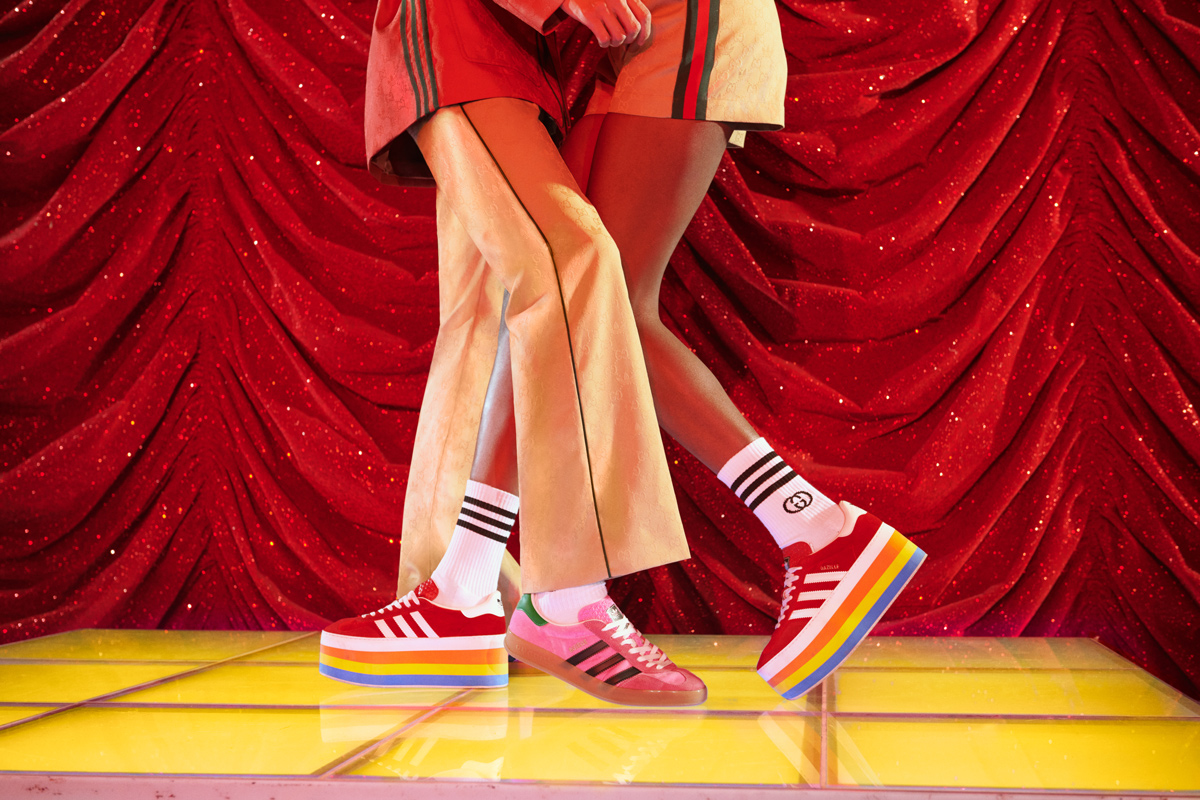 Get your hands on the adidas x Gucci collection in select stores and online here
shop now
Highsnobiety
Creative Director:
Dimitri Hekimian
Associate Creative Director:
Sian O'Flaherty
Senior Art Director:
Oliver Dickson
Creative Production Lead:
Ufuk Inci
Senior Producer:
Rochelle Bambury
Branded Content Editor:
Ruhi Amin
Digital Art Director:
Luca Banchelli
Senior Product Manager:
Shaun Roach
VP Client services:
Katarina Zalovic
Junior Account Manager:
Julie Barnasconi
External
Photographer:
Reto Schmid
Production Company:
Division
Stylist:
Georgia Pendlebury
Make-up:
Patrick Glatthaar
Talent:
Mary Duleu, Nima Machado, Marguerite Thiam Donnadieu, Nailia Harzoun, Antonio Stephon, Keziah, Tengde, Lamich Kirabo
{"shouldDisplayHeader":false,"shouldDisplayArticleFooter":false,"shouldDisplayPresentedBy":false}