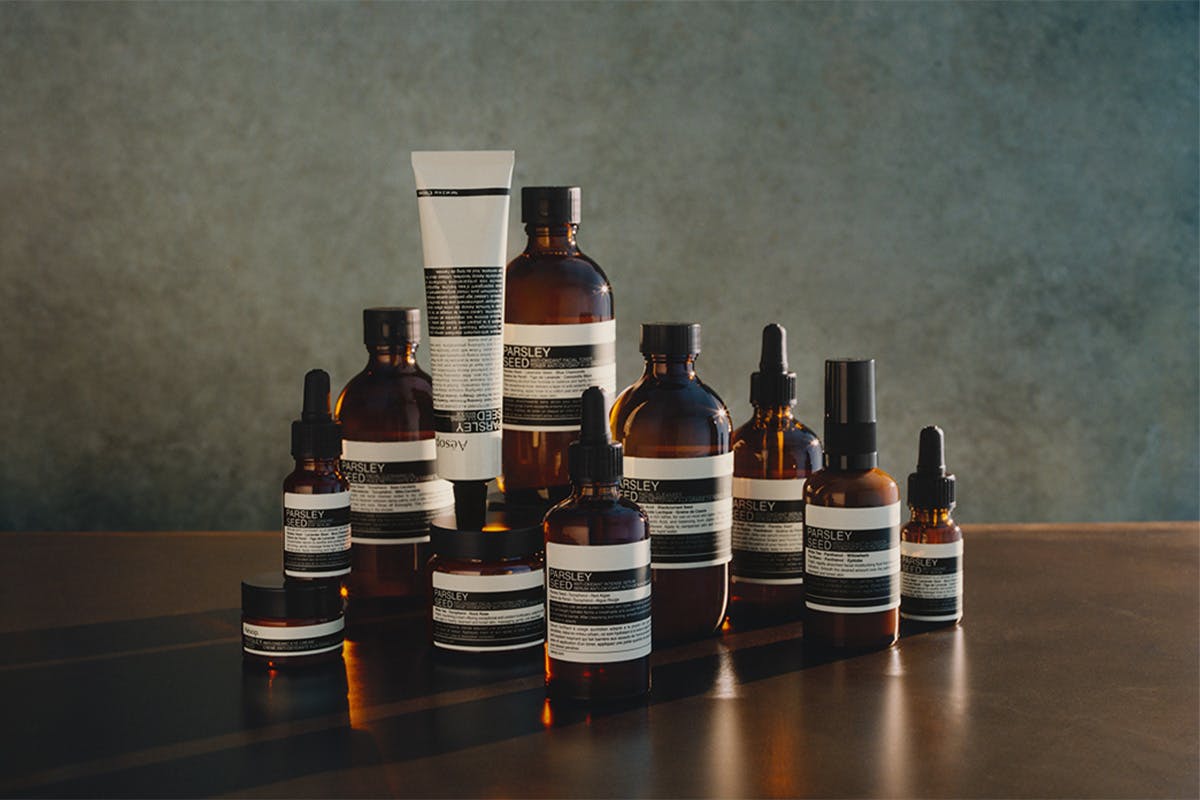 This piece is part of our GATEZERO hub — a travel-focused content series celebrating GATEZERO, our concept store at Zurich airport.
Traveling is basically a nightmare for your skin. An early start often means that you don't have the luxury of time to go through your unabridged skincare routine before leaving. You can be traveling for up to a day without a moment to apply creams, plus the dry air of a long-haul flight — there's just no let-up.
By the time you arrive at your destination, your skin is crying out for replenishment. There's no quicker way to satisfy its need than with Aesop products.
With the help of Aesop, we've pieced together a streamlined yet highly effective team of skincare products. From the brand's Parsley Seed formulas to a versatile Geranium Leaf Duet, this selection proves that you don't need a wash bag bursting at the seams to rehydrate and replenish properly after a long flight.
So, for the sake of your skin, keep scrolling to see our four essential Aesop products for post-flight skin paradise.
Shop the best Aesop products for perfect post-flight skin below.
Parsley Seed Anti-Oxidant Facial Hydrating Cream
This potent, soothing cream features emollient botanicals and anti-oxidant rich ingredients to ensure that your poor post-flight skin gets a boost when it needs it. The hydrating cream fortifies and replenishes skin for a soft and supple, matte finish. Best of all, while many products are off-limits for specific skin types, this cream works for the whole spectrum.
Parsley Seed Anti-Oxidant Intense Serum
Aesop's Parsley Seed Anti-Oxidant Intense Serum has a three-pronged approach to skin protection which makes it the kind of all-rounder that's ideal for travel. It fortifies, hydrates, and imparts a breathable film to guard against airborne pollutants. As the name suggests, this is an intense treatment for your skin, but don't conflate that with aggressive: it's perfectly suited to sensitive skin, too.
Parsley Seed Facial Cleanser
It's all well and good putting protective layers on top of your skin, but after a long day traveling, the first thing you should be reaching for is this Parsley Seed Facial Cleanser. Removing surface impurities and offering mild exfoliation, it's designed to maintain immaculately clean skin in urban environments.
Geranium Leaf Duet
When you've got limited suitcase room, you need to make sure that you're packing as much punch per square inch as possible. Opt for the Geranium Leaf Duet, in that case. It's not only your face that suffers when traveling, it's worth paying some attention to your body, too. This duet features a cleanser and a finishing body balm to cleanse and hydrate from top to toe.
Want to keep browsing? Head to the Highsnobiety Shop for more products that we love. Highsnobiety has affiliate marketing partnerships, which means we may receive a commission from your purchase.