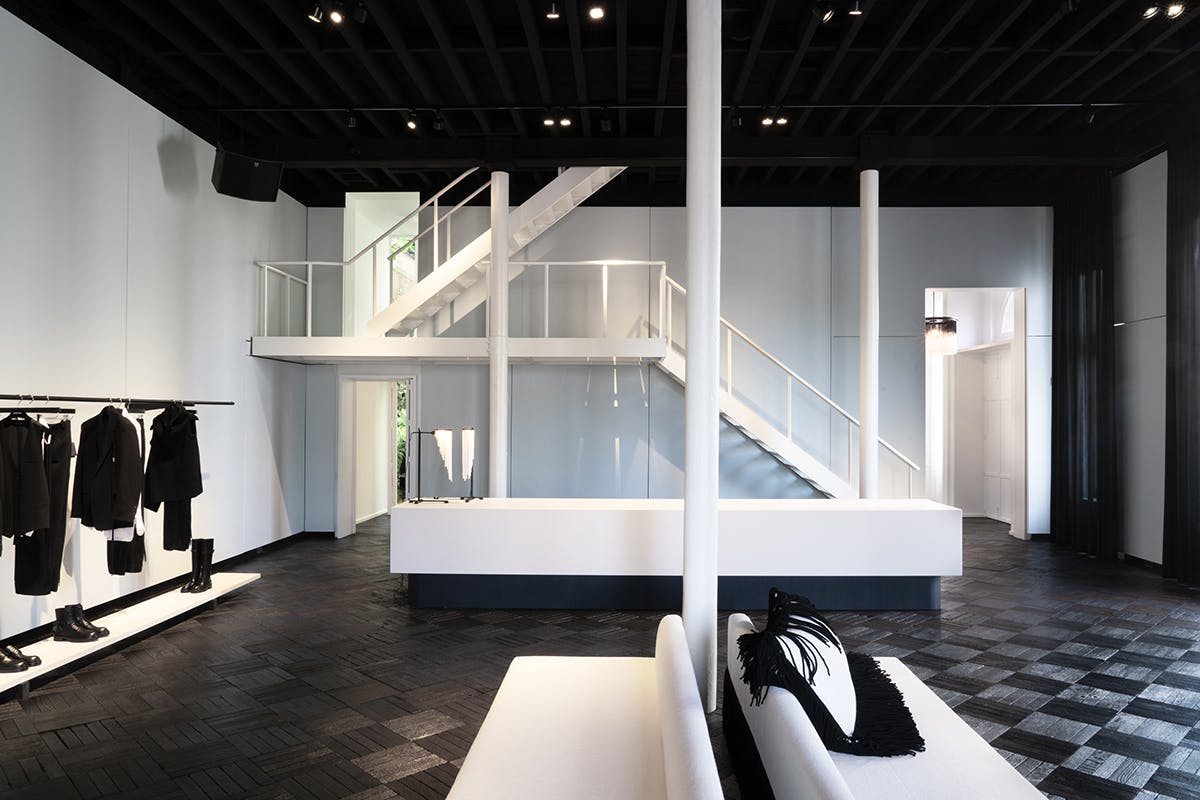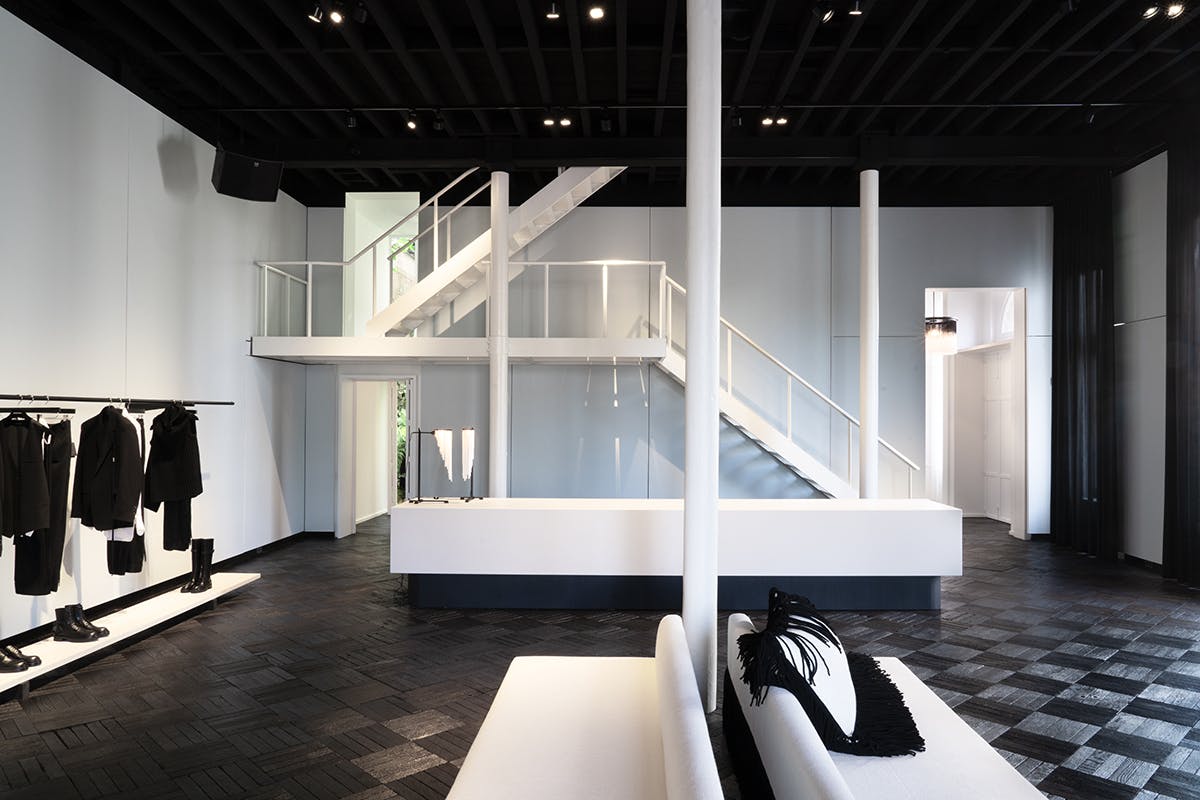 "Is it uncouth to wear a Dries Van Noten shirt to an Ann Demeulemeester dinner?" This is the kind of loaded sartorial question that a person would only contend with in Antwerp. Summer might be on its last legs in Belgium's fashion mecca, but the sun is still burning brightly, making paint-it-black clothes feel like a curious, even inappropriate choice. As if Demeulemeester's dogmatically color-averse fans would pay any heed to such things.
A stone's throw from the Royal Museum of Art in the stylish Zuid neighborhood lies the Antwerp Six designer's famous flagship boutique, which reopened its doors last week following a recent buy-out of Anne Chappelle's BVBA 32 stake by New Guards Group mastermind Claudio Antonioli. It is a quite gorgeous setting. The former government laboratory still retains its huge arched windows and tall, spacious ceiling, but has been Demeulemeester-ed with floors drenched in arcane Chinese ink and shadowy lighting sorcery. Think of it as the world's most tasteful dark room.
"I don't know if chic is the right word, but I wanted to introduce some feeling of luxury, which was not really a concern the first time," explains Demeulemeester's husband Patrick Robyn, who overseen the refurbishment.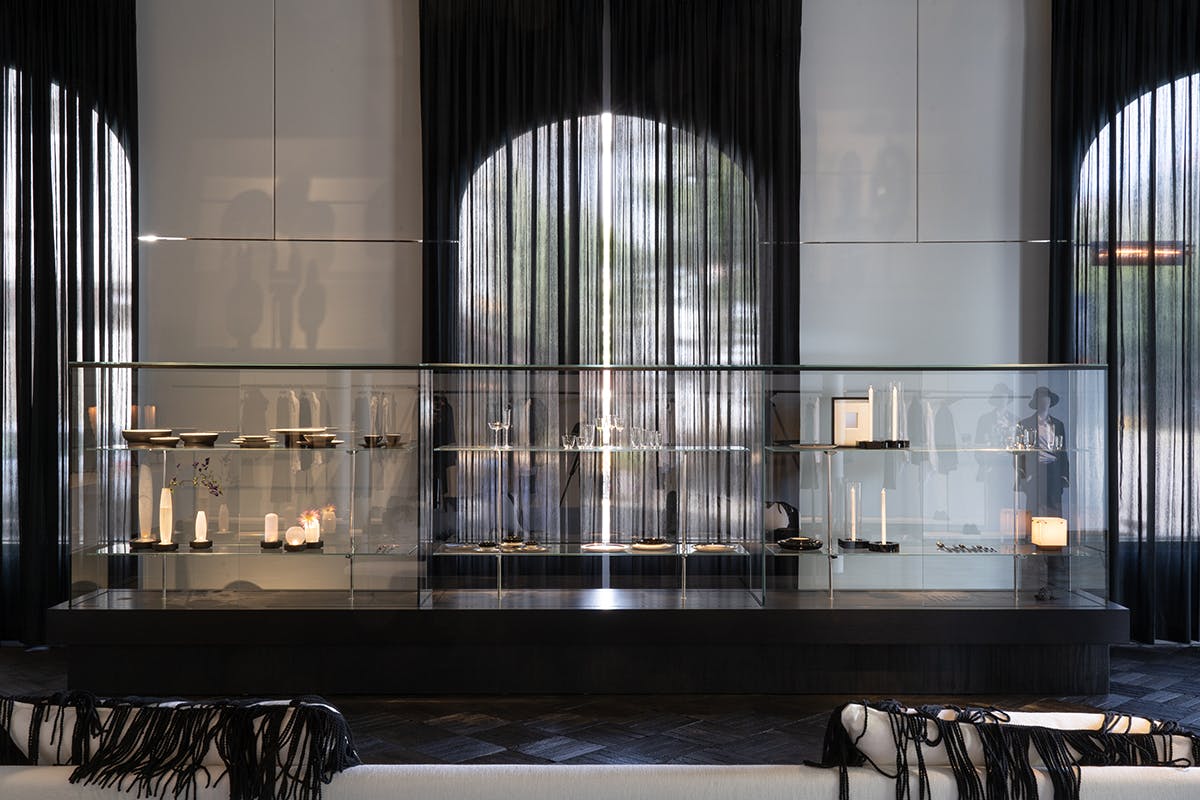 "I wanted to show a different kind of luxury," he continues. "I have nothing against 'noble' materials like marble or chrome, but have always been impressed by people who can make beautiful things with humble materials." Robyn's point is pronounced by the fact that we are sitting on hand-crafted wooden chairs that were only finished yesterday, the smell of resin no doubt still fresh. Everything, from pillows to tables, has been designed by the pair. Antonioli — a self-confessed obsessive of the brand prior to his acquisition — afforded them carte blanche to do so.
While some inaccurate reports suggested Demeulemeester would return to designing, she will instead assume an advisory position, helping to guide the wider brand vision. Robyn and their son, Victor, will also remain involved.
Upon walking through the entrance door, one is immediately struck by the imposing, 20-foot long rectangular cabinet that houses Demeulemeester's crockery — think Damien Hirst's Physical Impossibility of Death in the Mind of Someone Living only with ceramics and crystal instead of a shark and formaldehyde. Yet even if the case is intimidatingly grand, the prices for the plates and glasses inside are anything but.
In fact, you would probably pay more for a second-hand shirt in one of the city's disappointingly overpriced thrift stores. In the post-pandemic, homeware-obsessed era, it seems inevitable that this arm of the label is only going to grow in popularity. Particularly among tourists and younger fans who stop by looking for some kind of souvenir.
If I had to pick a favorite thing about the new store, it would be the changing rooms, which just might be the best anywhere. A planet removed from the claustrophobic high street nooks that include hellish funhouse mirrors and migraine-triggering lights, these spaces are bigger than most Berlin city-center apartments, and look out onto a covered garden blooming with luscious greenery planted by Demeulemeester herself. Taking understandable pride in the fern-filled courtyard, she comments that it would be impossible for her to replicate such a brilliant, natural green in her collections. It's an unintentionally perfect comment that offers another perspective for her obsession with all things monochrome.
"Buying clothes or trying on clothes is an intimate moment," adds Robyn. "You are confronted with how you are, what you want, how you want to present yourself to the world or to yourself."
As night falls, we head out to dinner, where Coccodrillo founders Geert Bruloot and Eddy Michiels join us, along with publicist Michèle Montagne, all legends of the industry that have been working with Demeulemeester and Robyn since before I was even born. A table opposite is Victor. Despite talk of expansions (Antonioli plans on new locations in Europe and Asia), growth, and whatever other business jargon is thrown around when these takeovers happen, I'm struck by how, at its heart, Ann Demeulemeester remains such a close-knit operation. The business may have changed, but their integrity and mission of bringing cool design into reality remain the same.
"We just follow our feelings and we take the decisions as they come," says Demeulemeester. In a magical place like Antwerp, it seems a wonderful way to live.