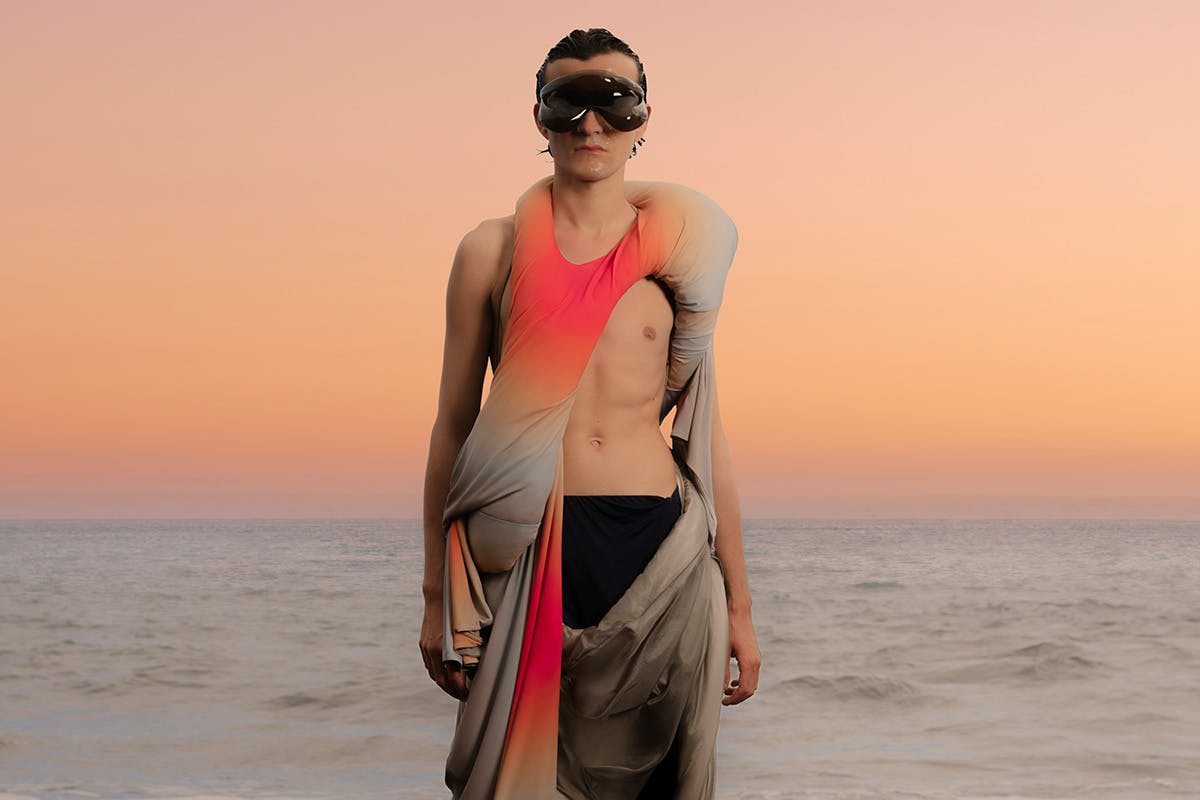 In the past few years, we have seen many young designers taking over the fashion-sphere one collection at a time. Maybe it was the pandemic and moving towards more digital strategies with lockdowns and restrictions put in place, or it might have been that established brands had nothing new to offer their consumers. Whatever the reason, we're all thankful for it. This diverted attention to innovative and ground-breaking creatives has been a blessing to fanatics far and wide.
Covid prompted many designers to look into functionality over eccentricity, but not these designers, as they take us into their exploration of phantasmagoric realms and personified universes. Now, we want to spotlight these revolutionaries, the designers experimenting with silhouettes and our perceived notions of the body. Meet this generation's trailblazing creatives, the ones who are disrupting the industry with their avant-garde work.
New York-based Chinese multidisciplinary designer and artist Terrence Zhou founded his label Bad Binch TONGTONG, radicalizing silhouettes with his exaggerated geometric designs that play around with volume and block colours.
Zhou had started pursuing a Bachelors degree in Mathematics and Engineering before finding his home in fashion design. Having completed a degree in Fashion from Parson School of Design with a year abroad in Central Saint Martins, he is a designer to look out for when it comes to blurring the line between dress and art.
Fascinated by Modernism, the designer strips away unnecessary decorations from his work and refocus on the garments shape as the essence of his designs. Inspired by an idealized world and moments throughout his life, his feelings and emotions are organically translated into his work. This is what connects Zhou to his audience.
Opting to highlight individuality and creativity, he revamps garments into body sculptures made up of pear-shaped balloon suits and double hooped dresses. This is his unusual and extraordinary take on fashion as we know it. Defying the seasonal fashion calendar, his pieces are released sporadically.
The designer has been documenting his creations on Instagram where he has accumulated a massive following. He often comes together with his friends in his New York apartment to play around in his designs, making content and uploading them on his socials. By creating a limitless space with no filters or restrictions, he can present himself in any way he wants, wear whatever he likes and design indiscriminately.
Zhou describes his label Bad Binch TONGTONG in three simple words, "humorous, spiritual and personal." His work might not be for the masses, but those adventurous souls who would love to rock a pearly white shark tale, voluminous hoop dresses, and exaggerated tea hats can purchase these creations on his e-store.
What more does the baddest binch in fashion have in store for us? He lets us in on a secret, "To be quite honest, after four years in fashion, I never thought I wanted to work in fashion or for any brands. I think what's more exciting to do as young designers is to disrupt and optimize the system," he continues, "so people who are as passionate as I am can see the different possibilities besides what's available in the established system that many of us don't necessarily agree on. That is the ultimate goal for me."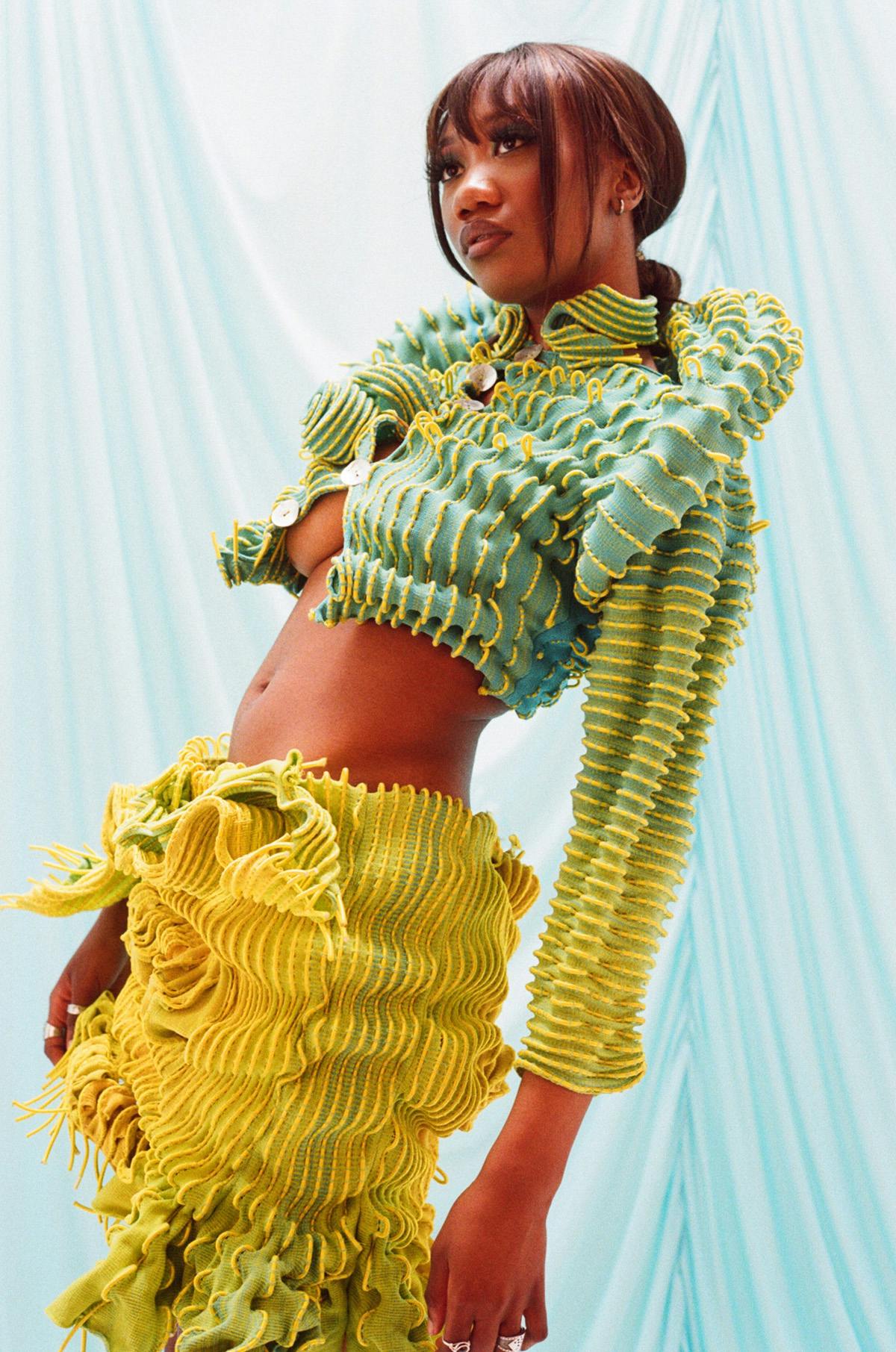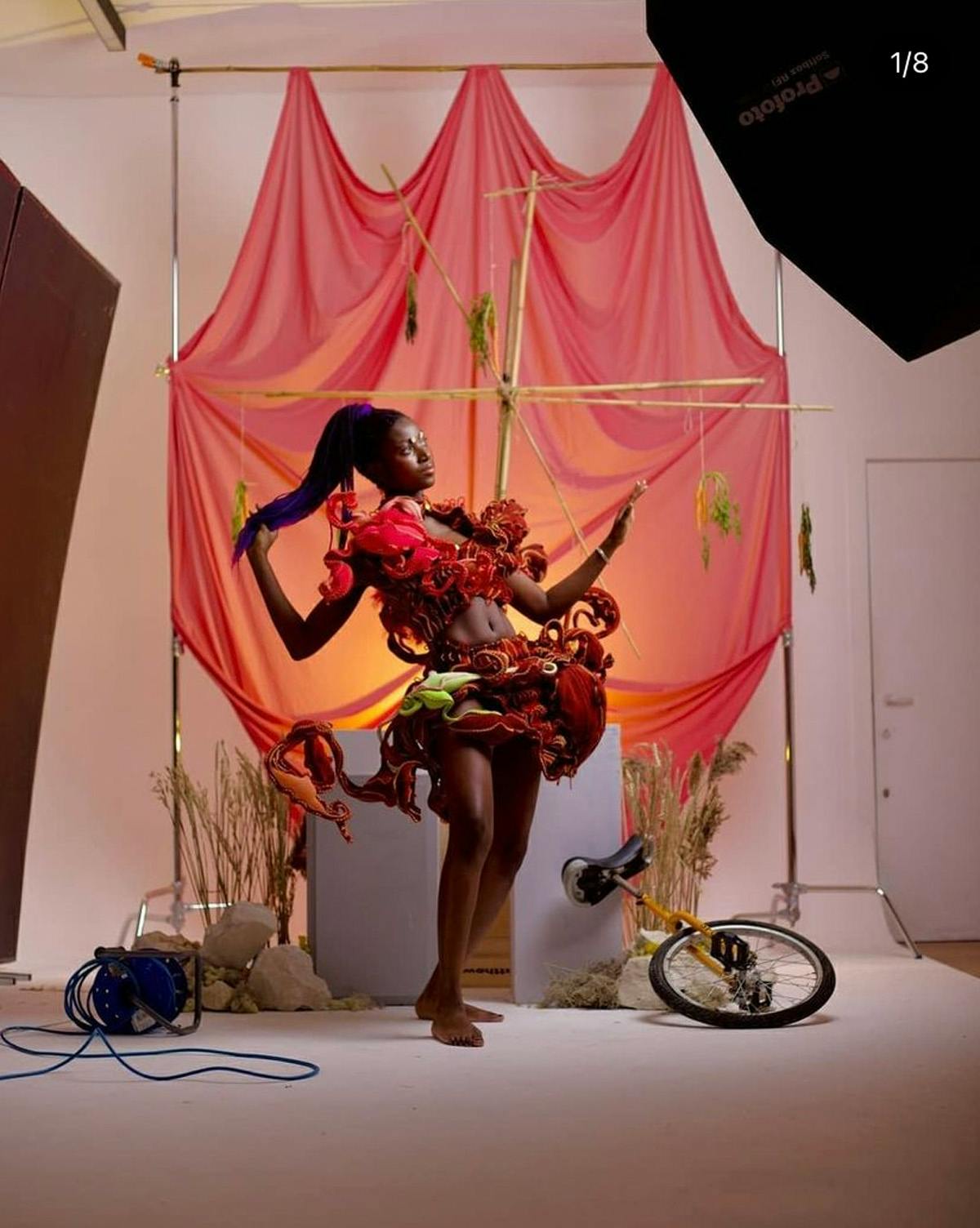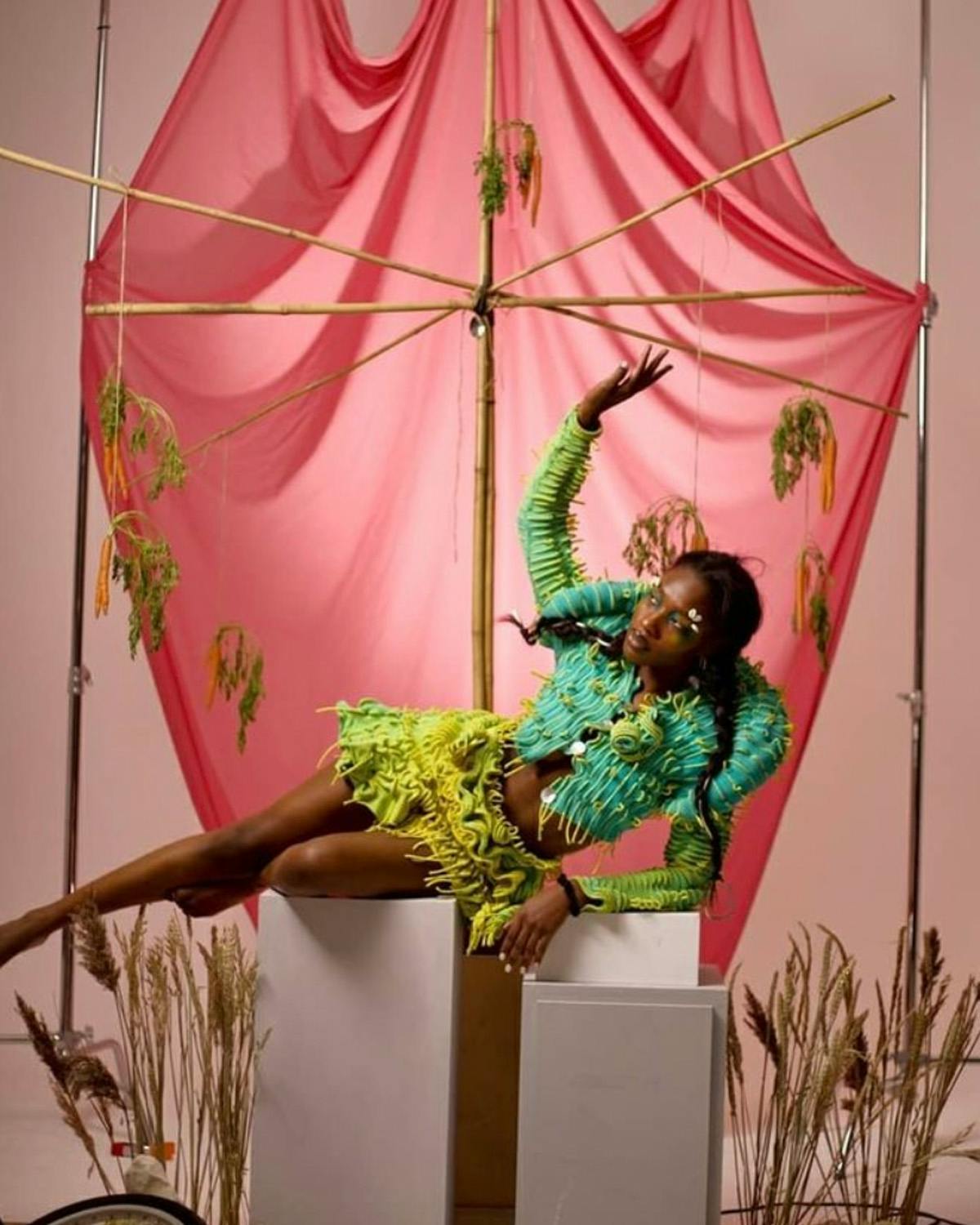 South London-raised Nigerian fashion designer Gregory Ojakpe made his imprint in the fashion industry with his graduate collection presented at Central Saint Martin's, the hut for innovative and emerging young designers. The collection, titled "Biomorphic Surrealism," awarded him a Sarabande Foundation Scholarship.
The designer's love for fashion started at the age of 6 from an obsession with Henri Matisse's infamous artwork, The Snail. He reminiscences as he recalls, "I was obsessed with the idea of an image being abstract and the infinite ways you could interpret a seemingly random bunch of lines, marks, shapes and textures on a page."
Ojakpe had been honing his intricate knitwear and textiles by developing new techniques that became the genesis of his graduate collection. The selection he created consisted of sculptural and woven cords made into elastomeric to create shapes within the fabric that add to the unique silhouettes, drawing most of his inspiration from fine art, sculptures and childhood fascinations.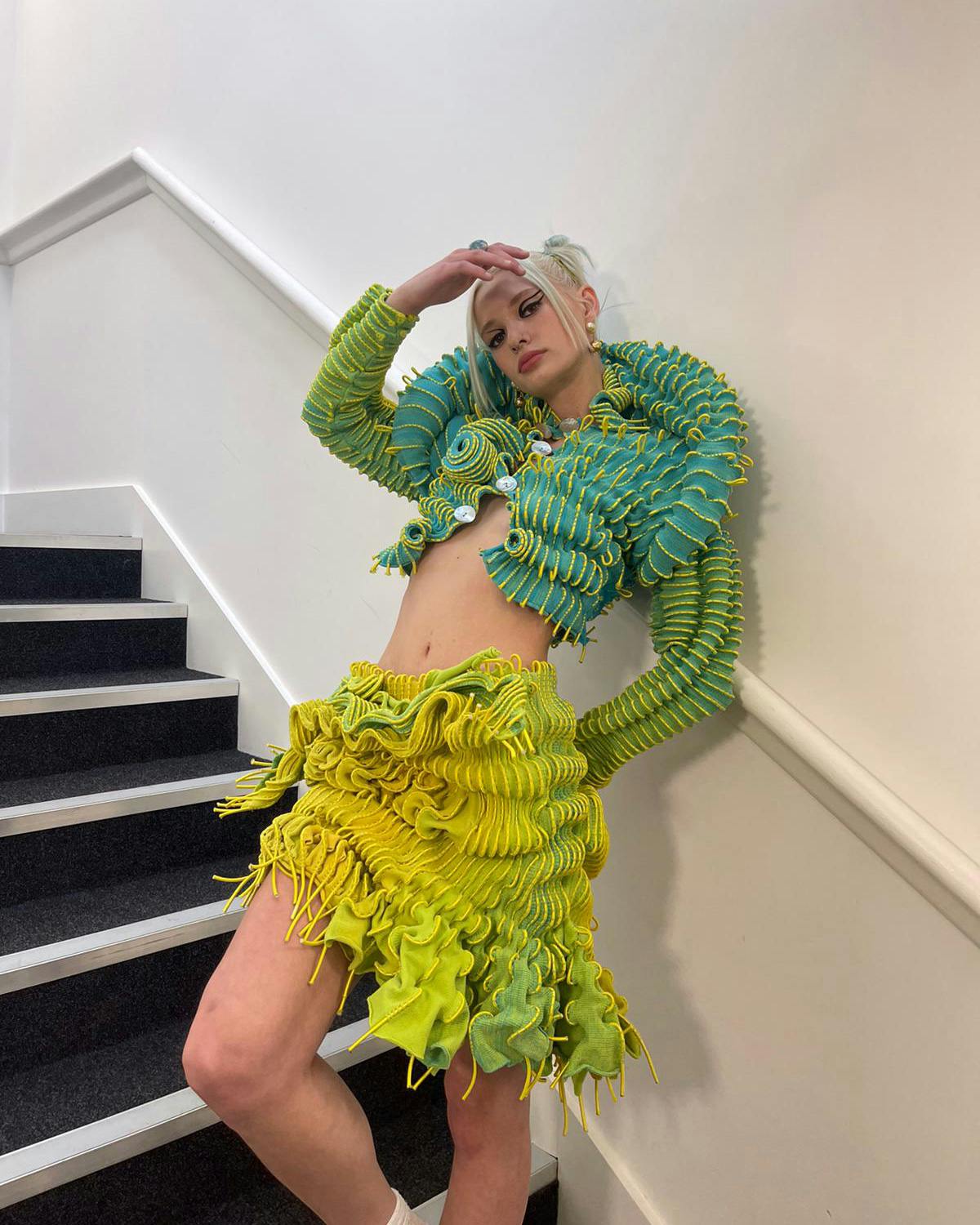 The collection has heavy surrealism implications, referencing famous sculptors such as Henry Moore and Barbara Hepworth, especially the surrealist beasts that make up Max Ernst's artwork The Barbarians. The designer emphasizes that the core of his creative vision consist of these main elements: craftsmanship, fantasy, surrealism and identity.
As a knitwear designer specializing in three-dimensional constructed textiles, Ojakpe has been fascinated by automatism for as long as he can remember. He tells us how this started by looking back at his childhood, "I started to create artworks using different mark-making techniques allowing the marks I made to dictate what the image would be," he adds, "At the time I was just experimenting as kids do but now looking back, I say that was the beginning of my relationship with the concept of true automatism." This has allowed him to play with the forms of his garments, creating as he folds, pins and drapes the knitted fabrics, producing extraordinary pieces.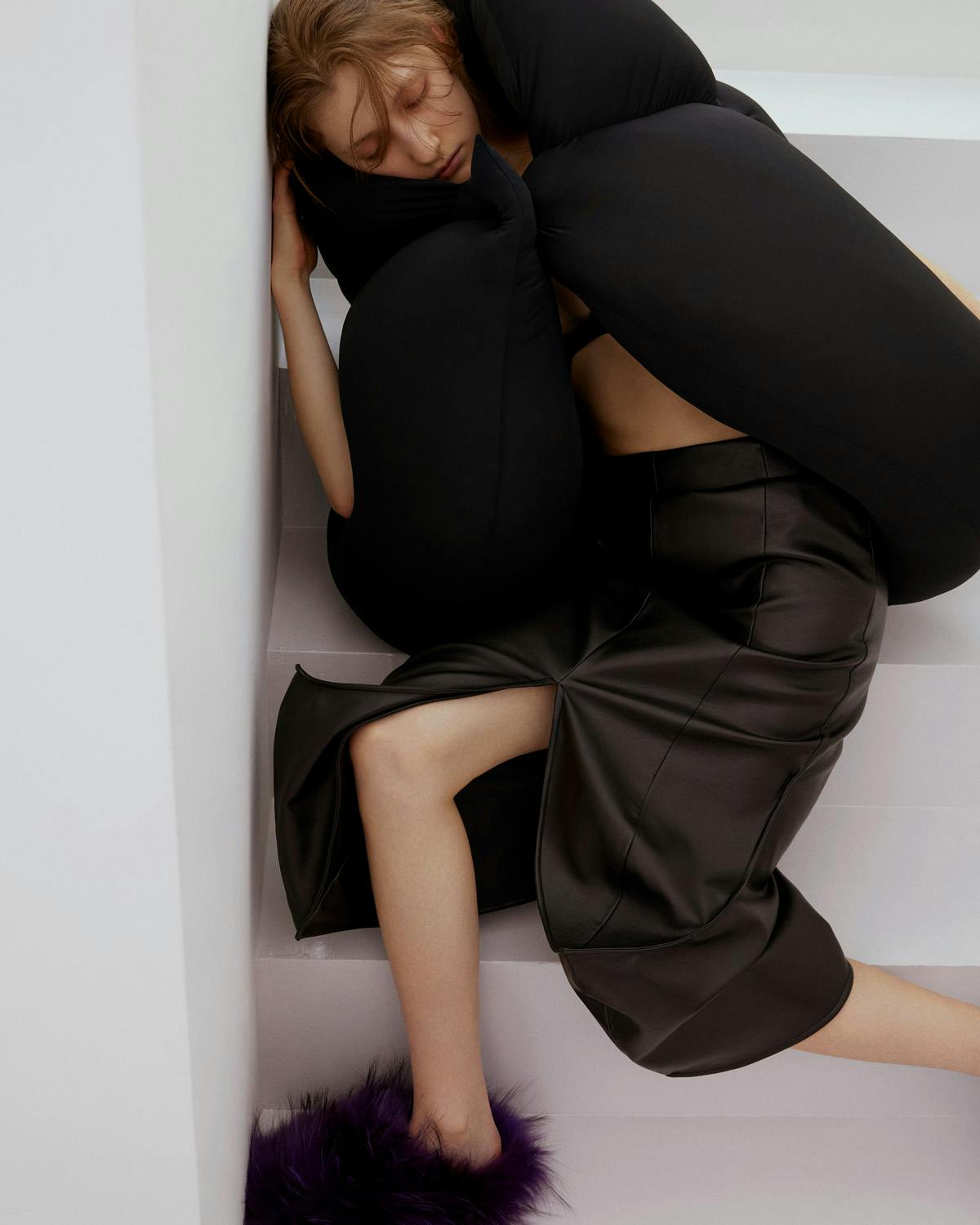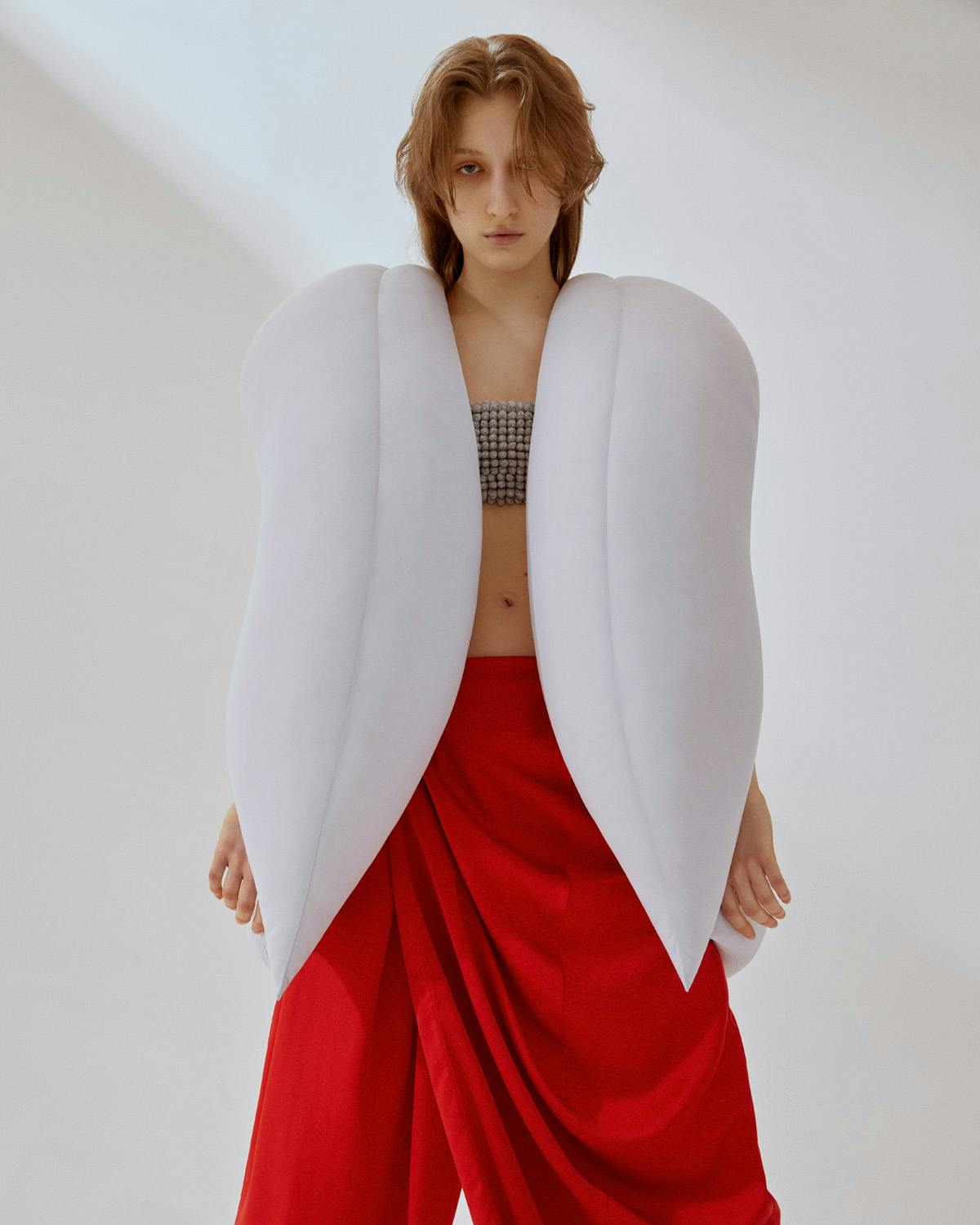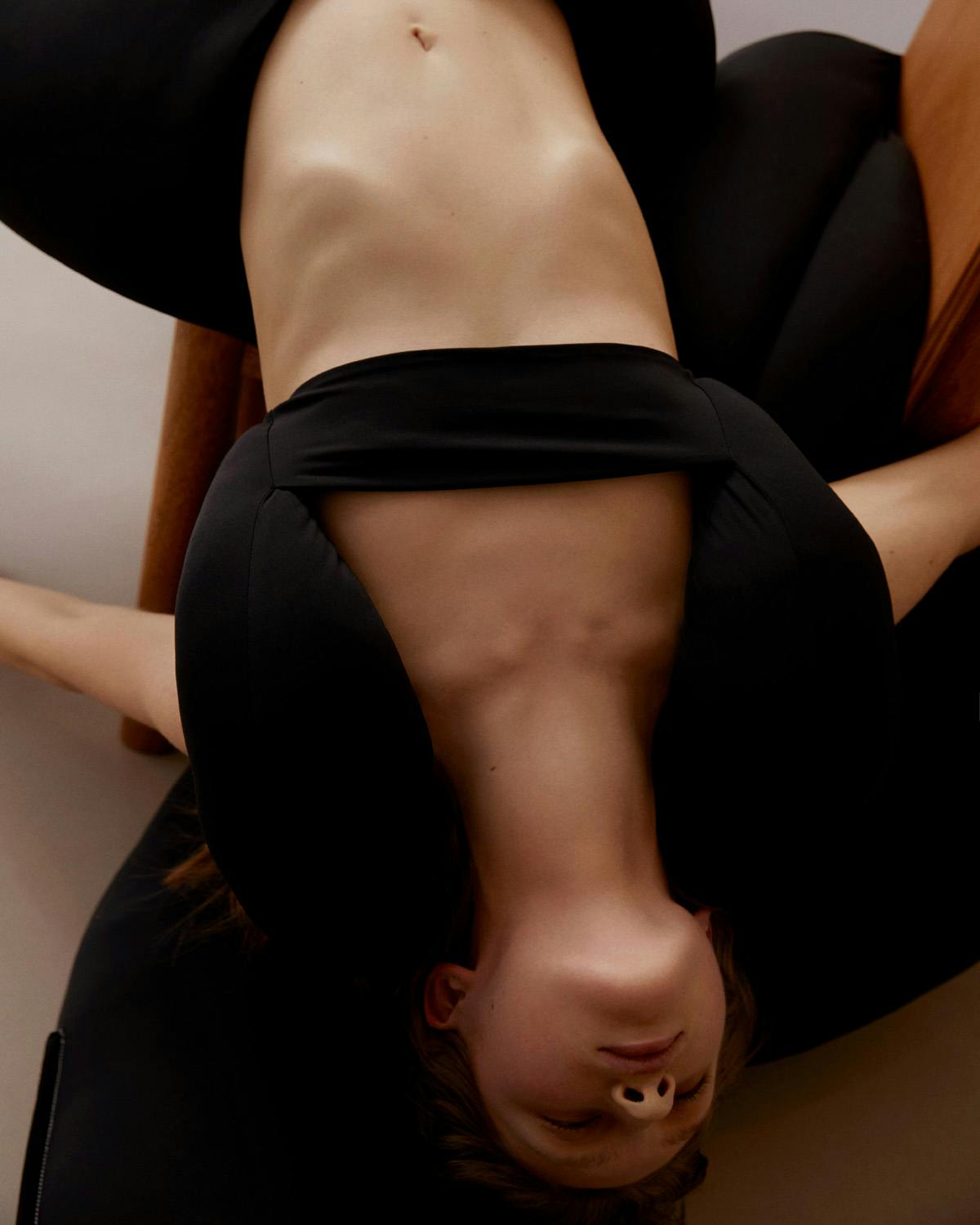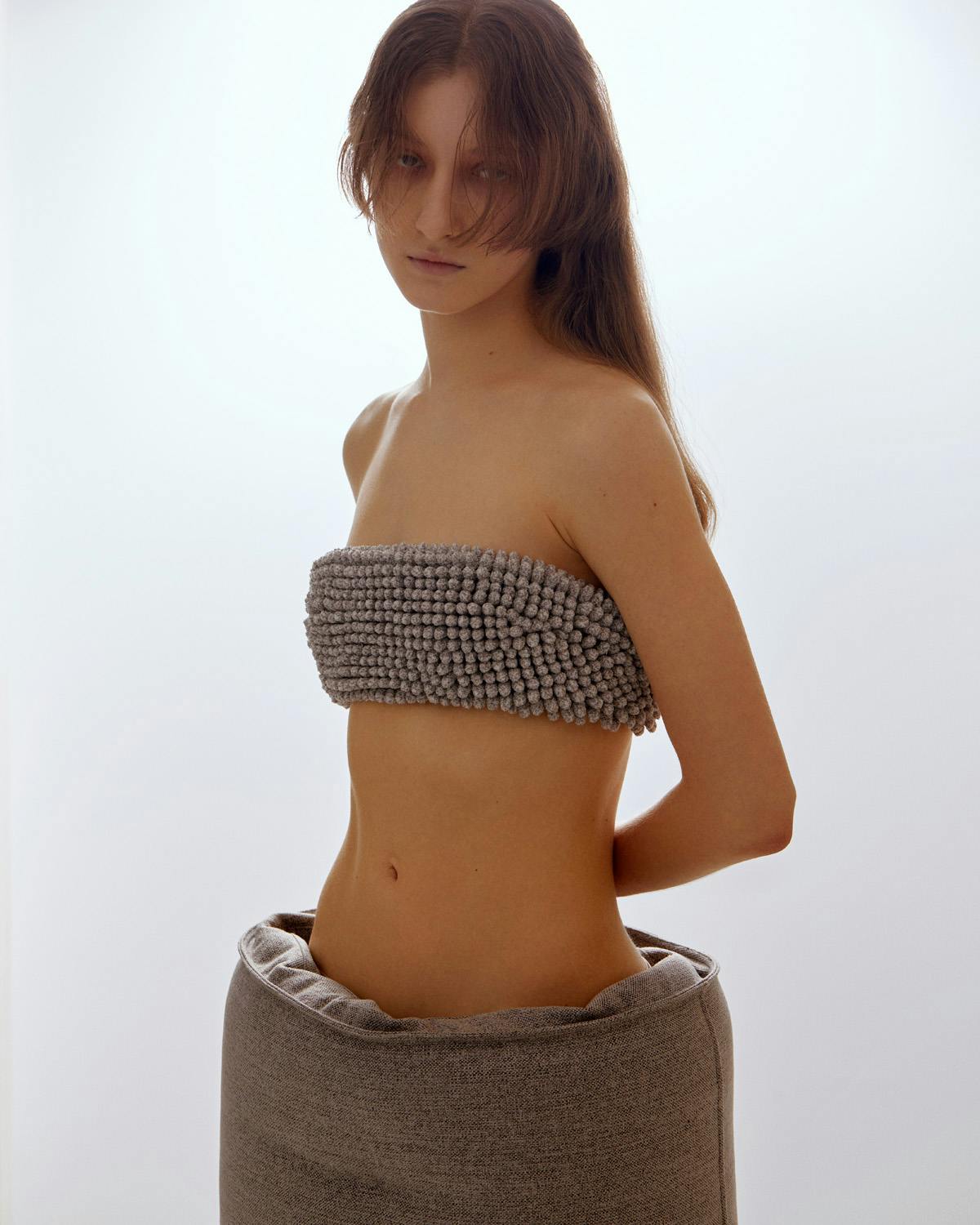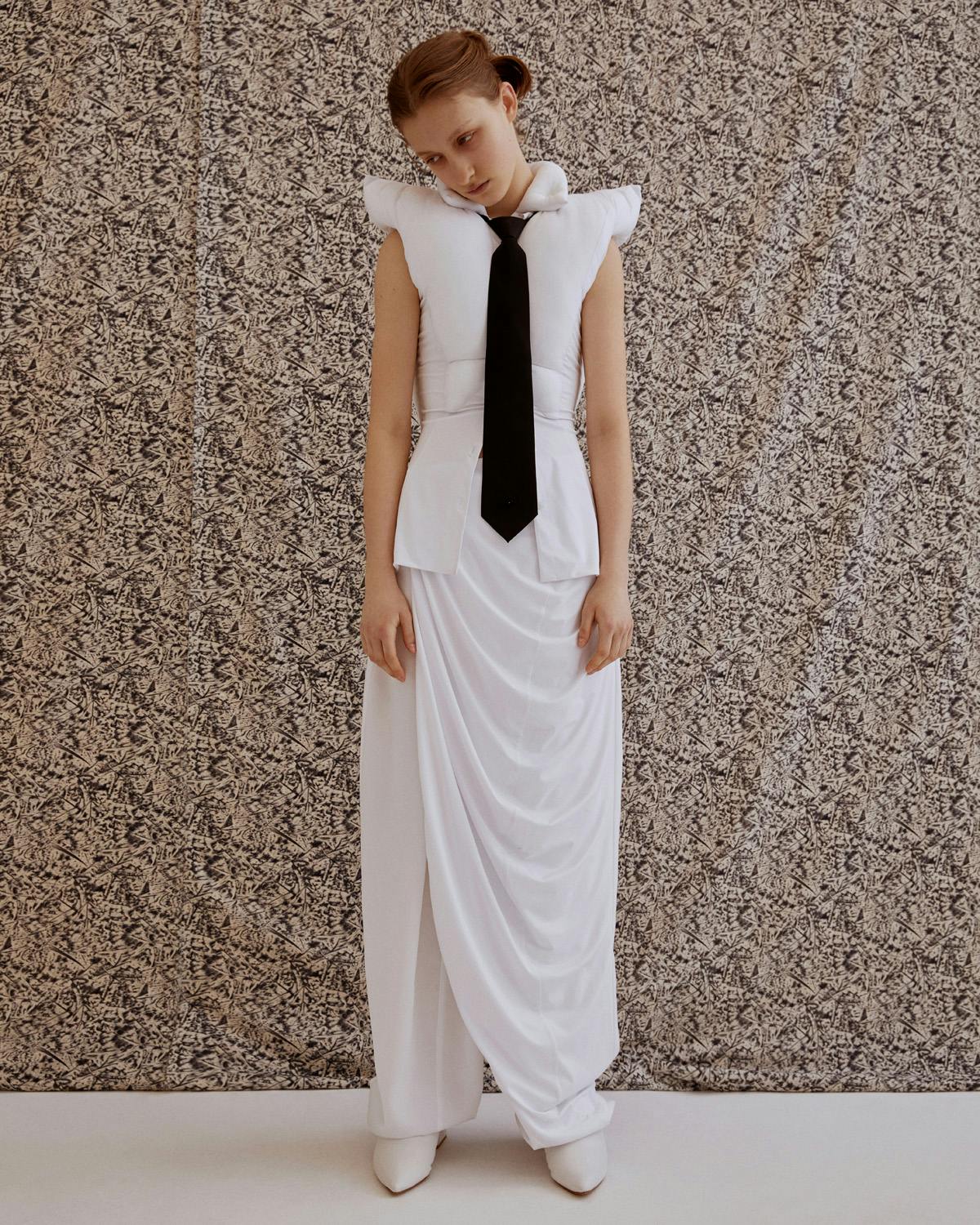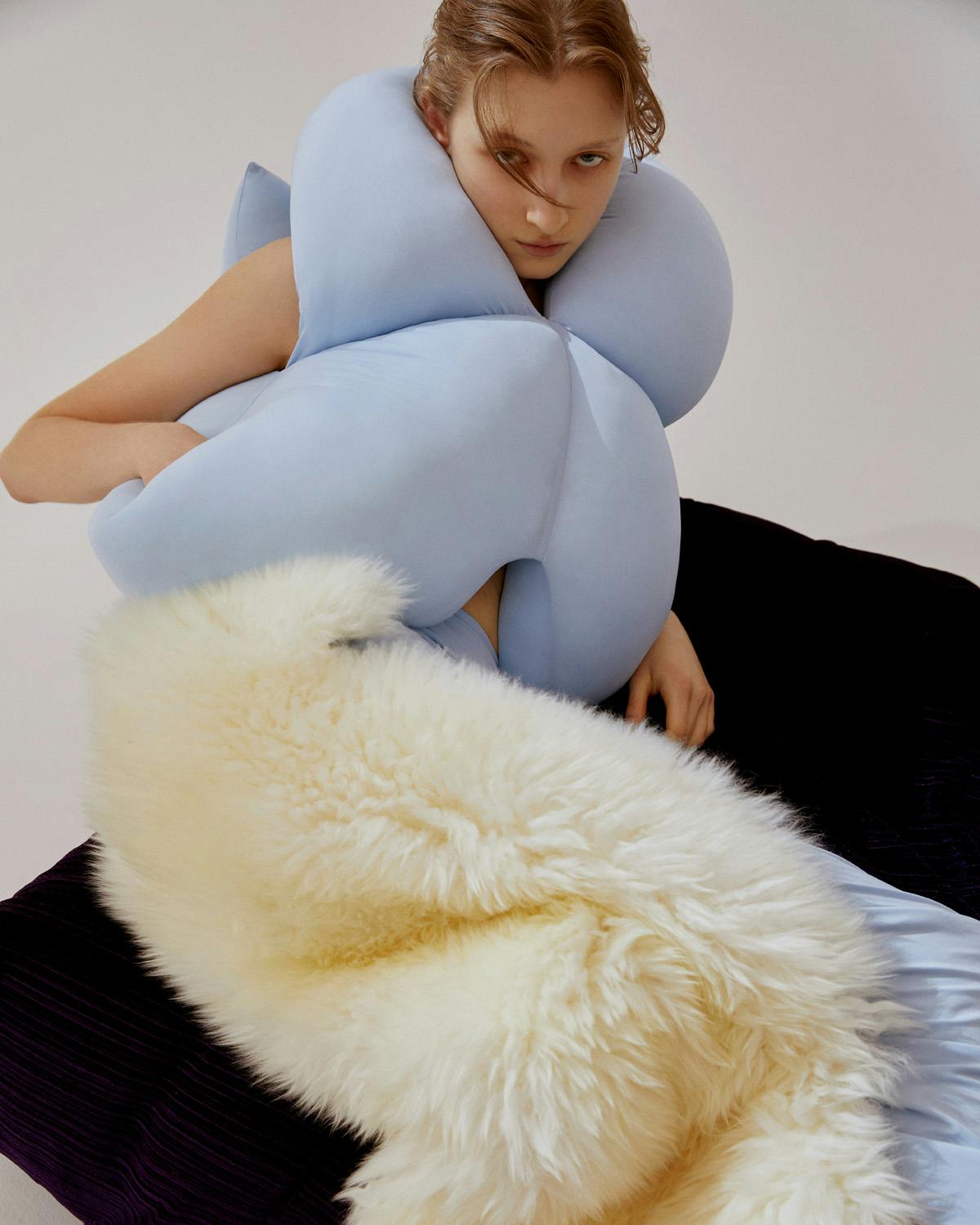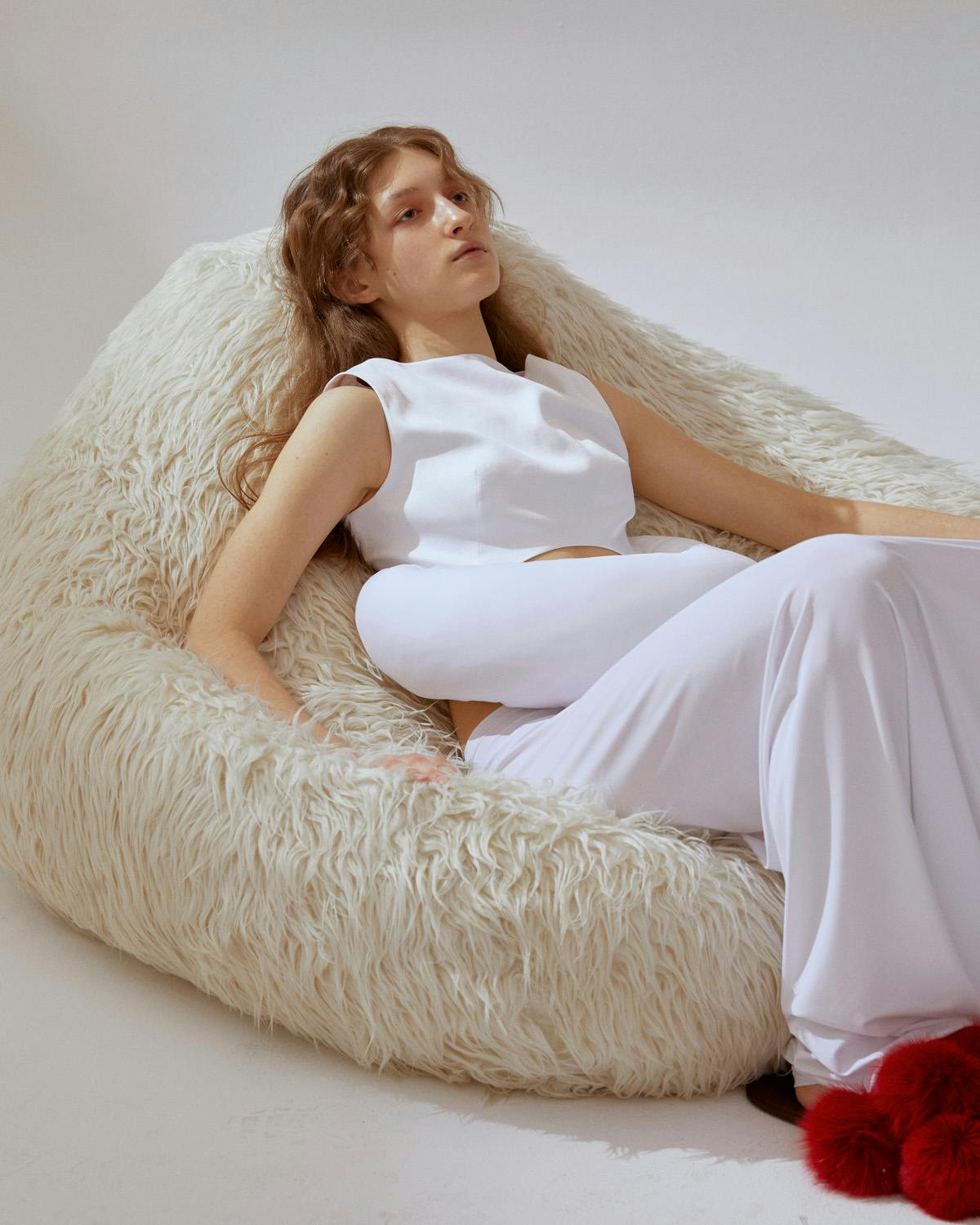 Myung Eun Cha is a womenswear designer and founder of her namesake label Cha Myung. Born and raised in Anyang, South Korea, Myung grew up surrounded by architecture because of her father's career. It is no surprise that when designing her collections, they are heavily inspired by postmodern architectural theories such as modernized deconstructivism.
At 21, Myung attended Parson's School of Design in New York City where she graduated with a Bachelor's in Fashion Design. Paving her way as an emerging designer she pursued a Master's degree in Womenswear Fashion at Central Saint Martins.
During isolation, Myung ideated her Fall/Winter collection titled "A Journey of Seeking Comfort." She experimented with pillows and cushions as clothing and how they "cover" the body for a different yet literal take on loungewear. For this collection, the designer has made 22 garments that offer the same comfort and use but instead transcend our collective idea of clothing. The pieces are reminiscent of 1990s Commes des Garçons looks and Barbara Hepworth's sculptures.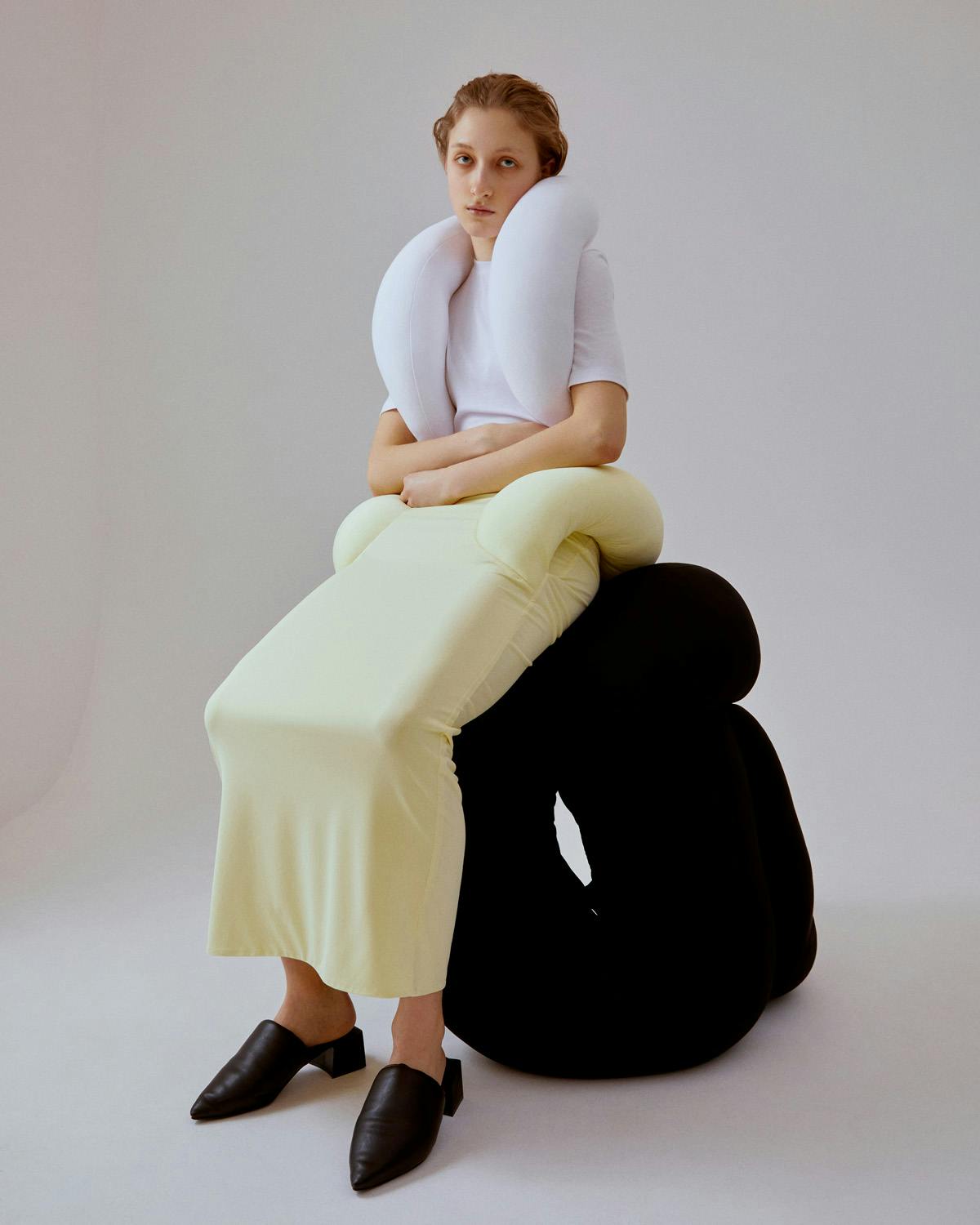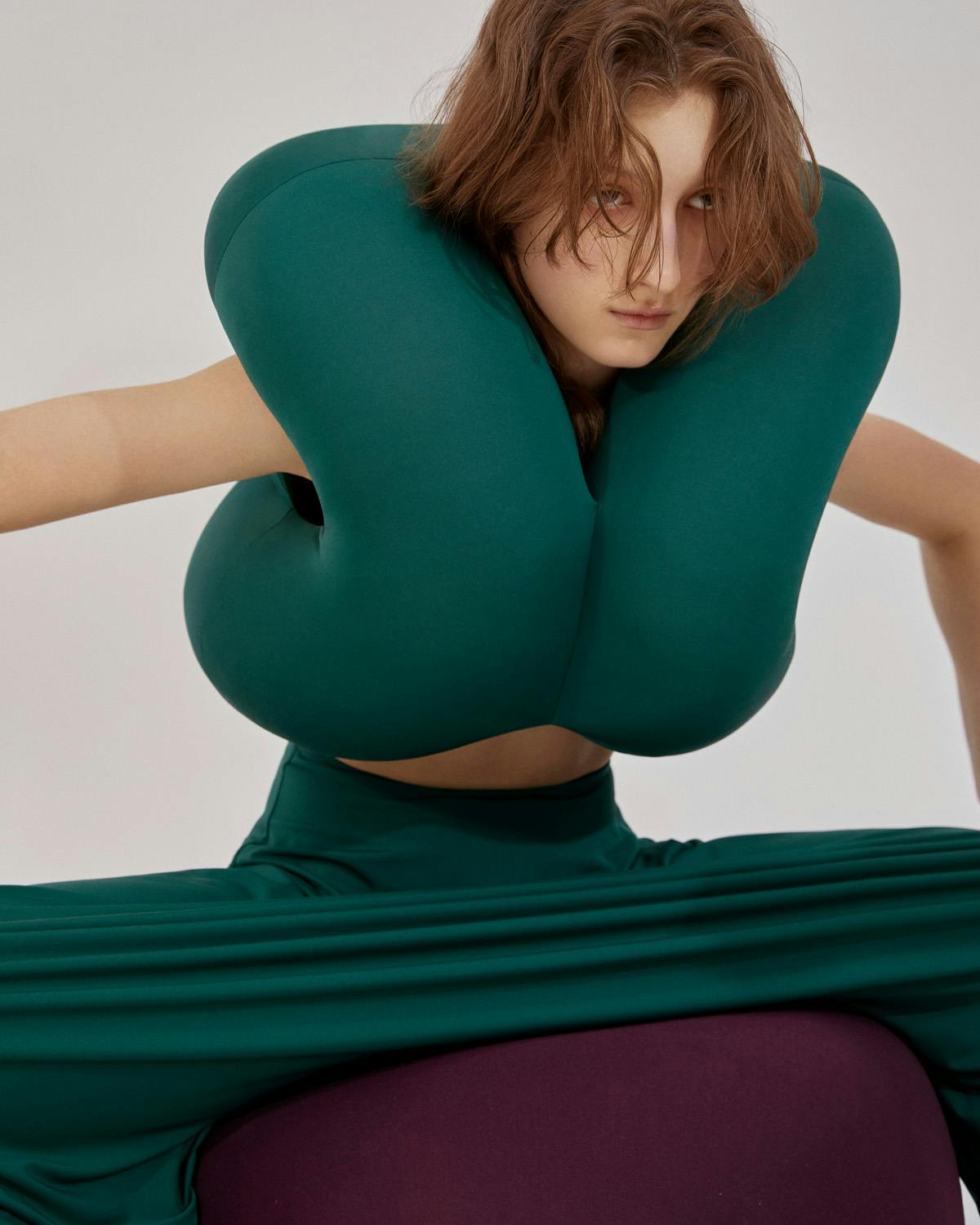 Myung harmonizes geometrical shapes and the natural forms of the human body to find balance between them. She sheds her garments of unnecessary decorations and centres the attention on the details, the core of her brand. She states, "I create soft structures and put them on people and see how it moves and works with them, which fascinates me a lot," adding, "fashion allows me to explore my identity and reflect it to make artistic challenges."
Influenced by her favorite artist, Le Corbusier, his visualization of the female body in his paintings has been an infatuation of hers. When asked why his work is of importance to her, she says, "I could not feel any sense of eroticism or sexualization that were indispensable in the representation of femininity and the female body in paintings at that time ."
Cha Myung is a label that explores what it means to be a woman and helps idealize an image through minimalistic yet bold silhouettes to create garments that break free from existing womenswear. The brand is not aiming to redefine femininity but desires to form a new image of women today and give vitality to the female body.
"I've focused more on the conceptual side rather than wearability, so far, because expressing what I want to say through fashion motivates me to continue and develop my work. In the 'A Journey of Seeking Comfort' collection, there are clothes that can be uncomfortable to wear in real life due to their large and bulky shape. But there are also some pieces that are comfortable enough to be worn day-to-day. In the future, I want to create a collection that's more developed in both wearability and concept."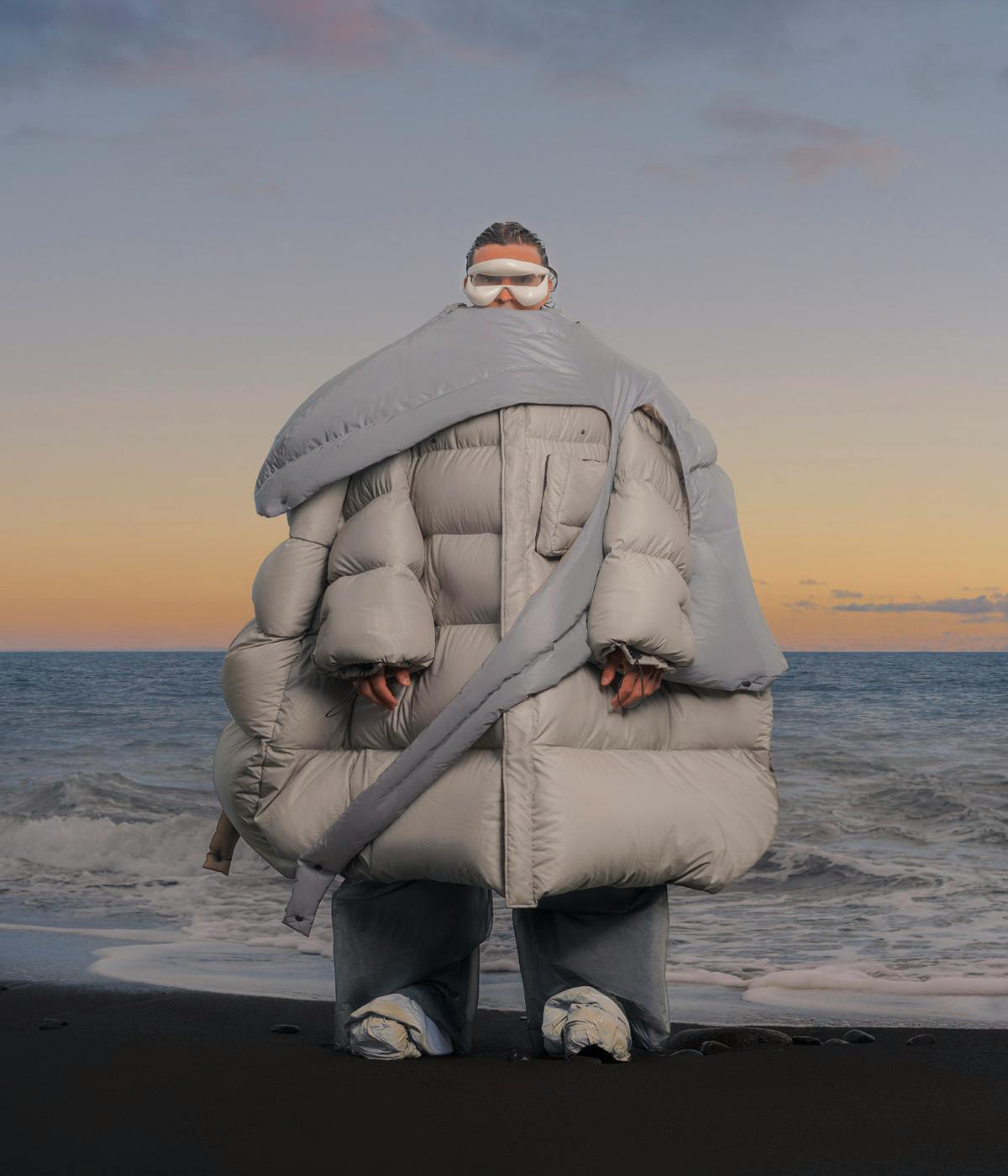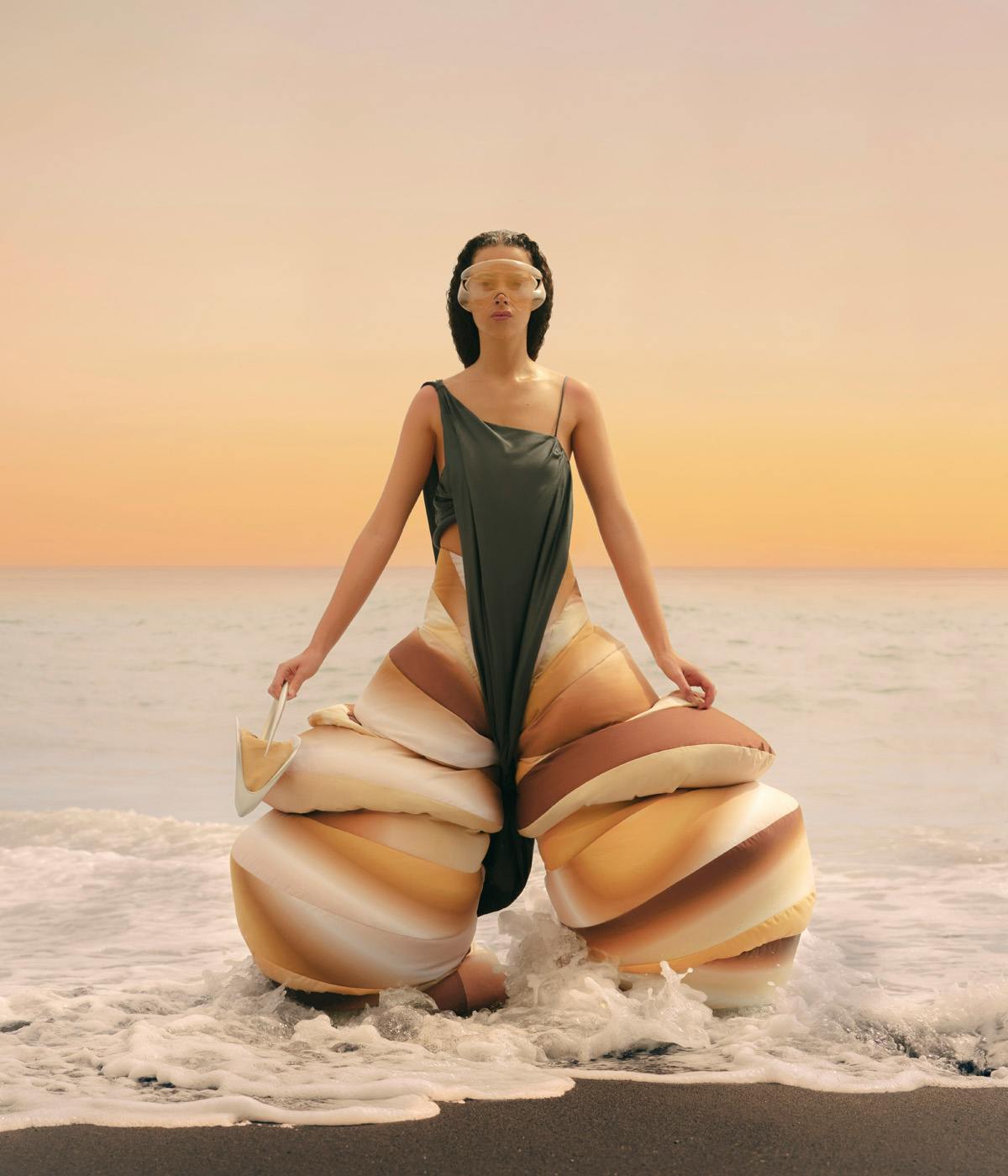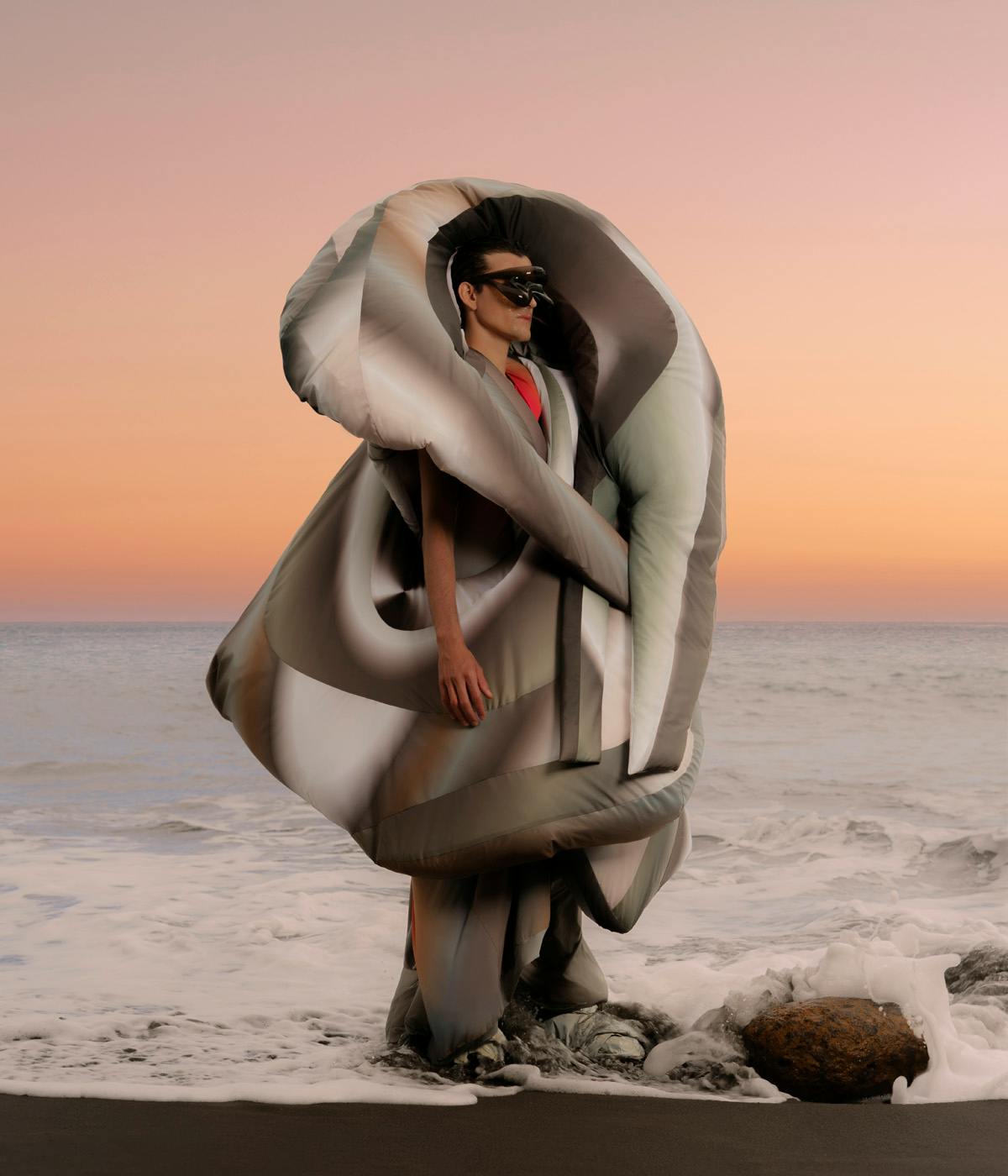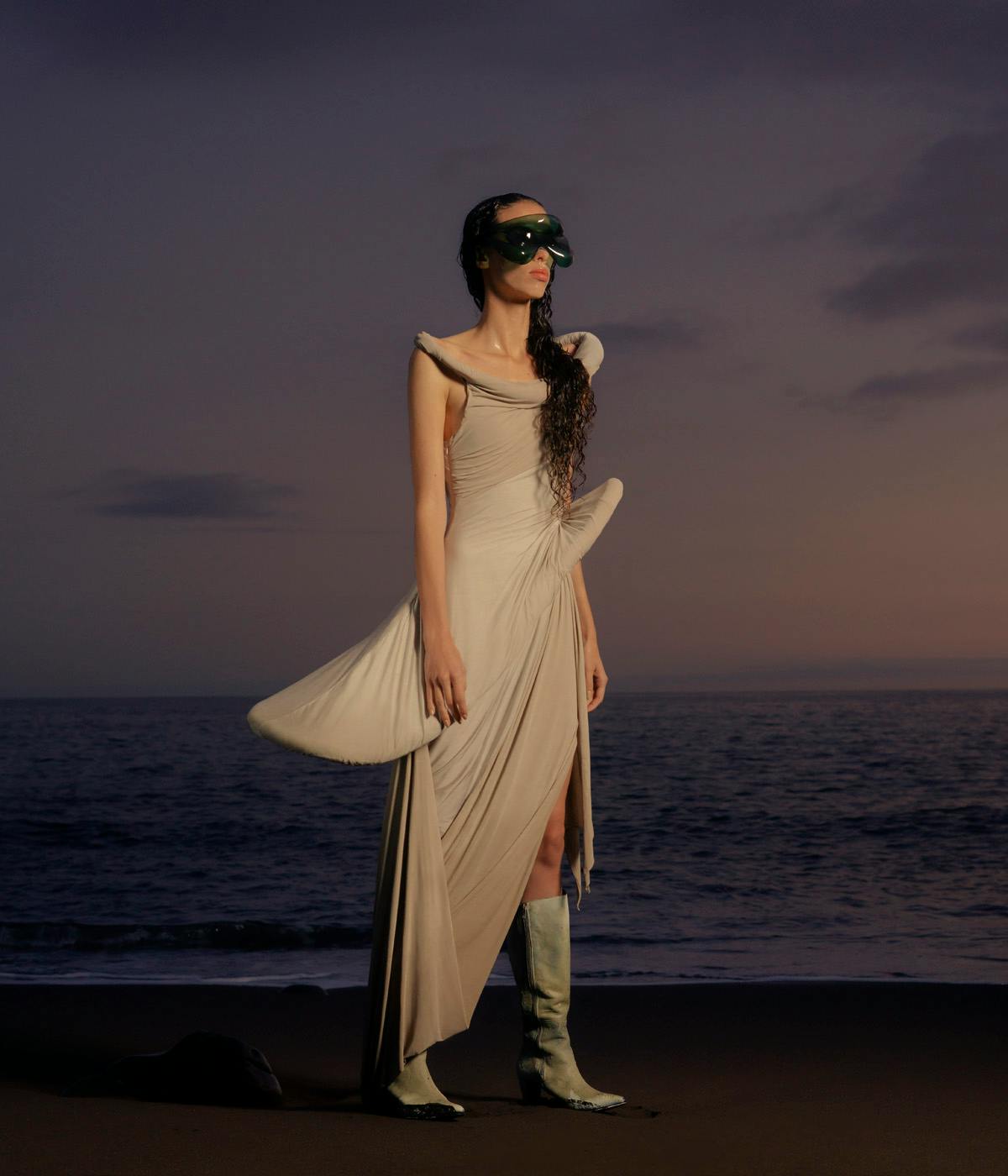 Izzy Du (@izzydu)
Born in Chengdu, China but raised in Canada, Izzy Du has been named one of the new Antwerp 6. Du has recently graduated from the Royal Academy of Fine Arts in Antwerp, completing a degree in Fashion Design. However, before her endeavour to Belgium, the designer had completed her foundation year at Central Saint Martins, where she was able to be fully immersed in her passion.
Her high-end co-ed label, Izzy Du, focuses on quality, innovation and taste. The quality is expressed tangibly through the materials, creation and fit, but also by the concept, originality and idea. The brand aims to be visually stimulating, unconventional and a breath of fresh air for us all. "In complexity, I seek maximum simplicity," which perfectly encompasses the essence of the designer's work.
Her latest collection, which took seven months to make, consists of smart garments made of solar-enabled fibres and hydrophobic technology. These helped create the gravity-defying and exaggerated silhouettes she likes to call "wearable energy". When asked for her choice of materials used, Du responds, "With the future in mind, the goal is re-evolution in garments and strategies of change. To not only fulfil our urgent and dire need for restorations through innovation and utility but to surpass that exponentially."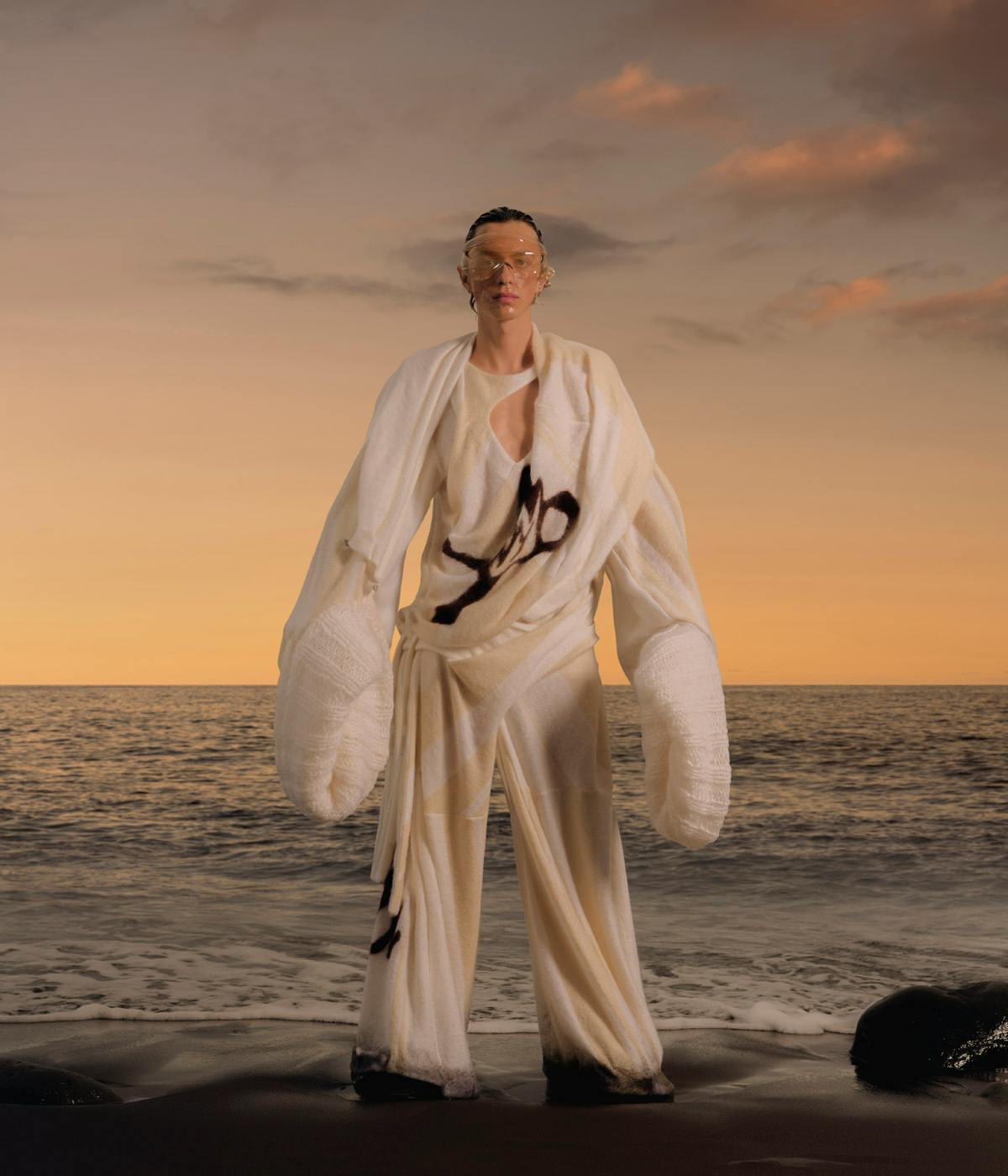 The clothing, or work of arts, combine frozen movements of drapage and under-structured materials to make for the dimensional contrast between the garments and the negative space they create. "The presence and absence of light and shadows make the soft spectrum of visibility between luminosity, transparency, translucency, reflectivity, to an opaque glow," Izzy states.
The designer tells us how she wishes to bring people happiness with her creations, inciting powerful emotions "in an over-stimulated world." Her work is the physical preservation of moments, her outward expression in rejecting the physical limits of traditional clothing and a call to nuance and creativity. She is tackling this challenge one collection at a time.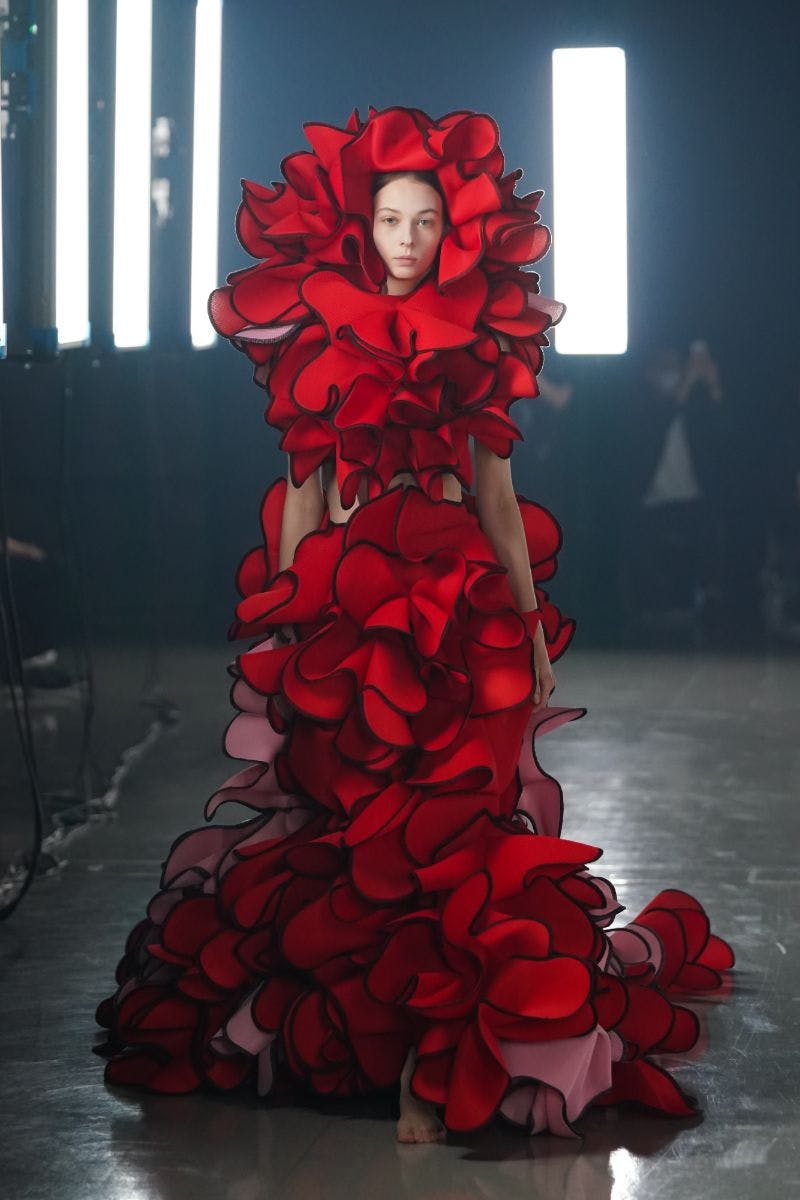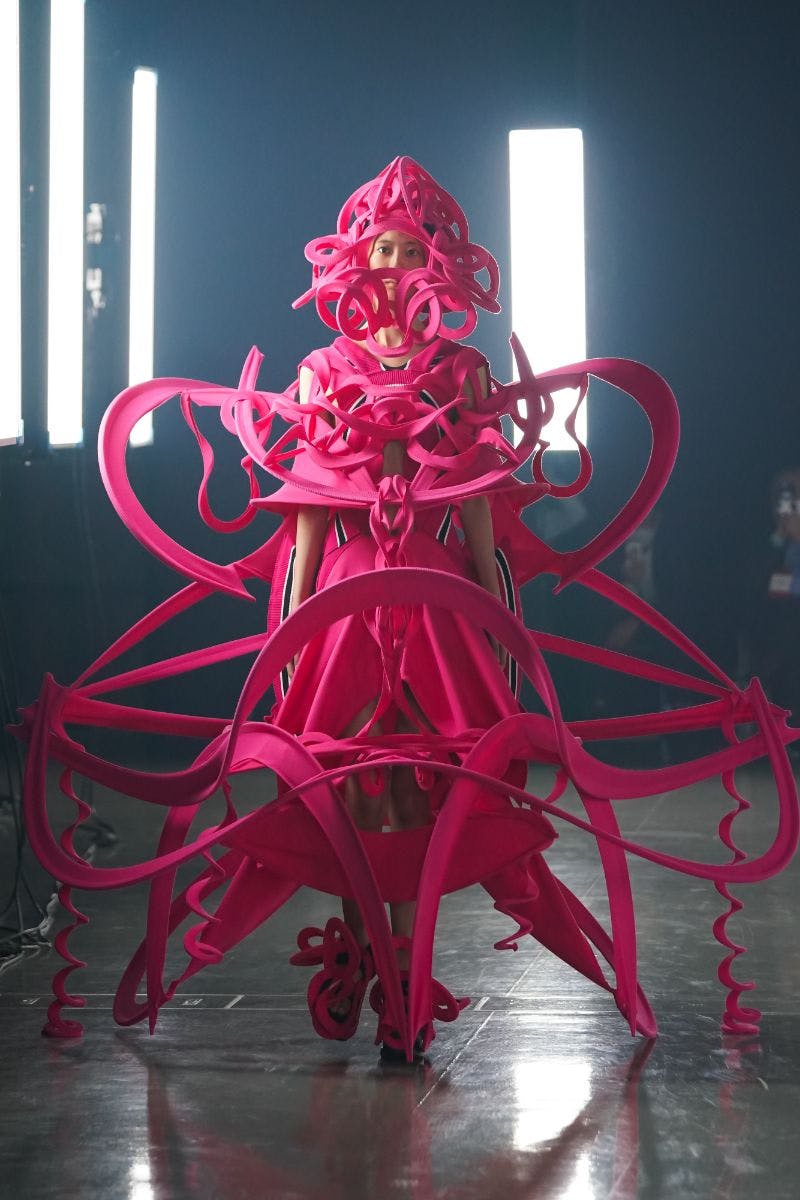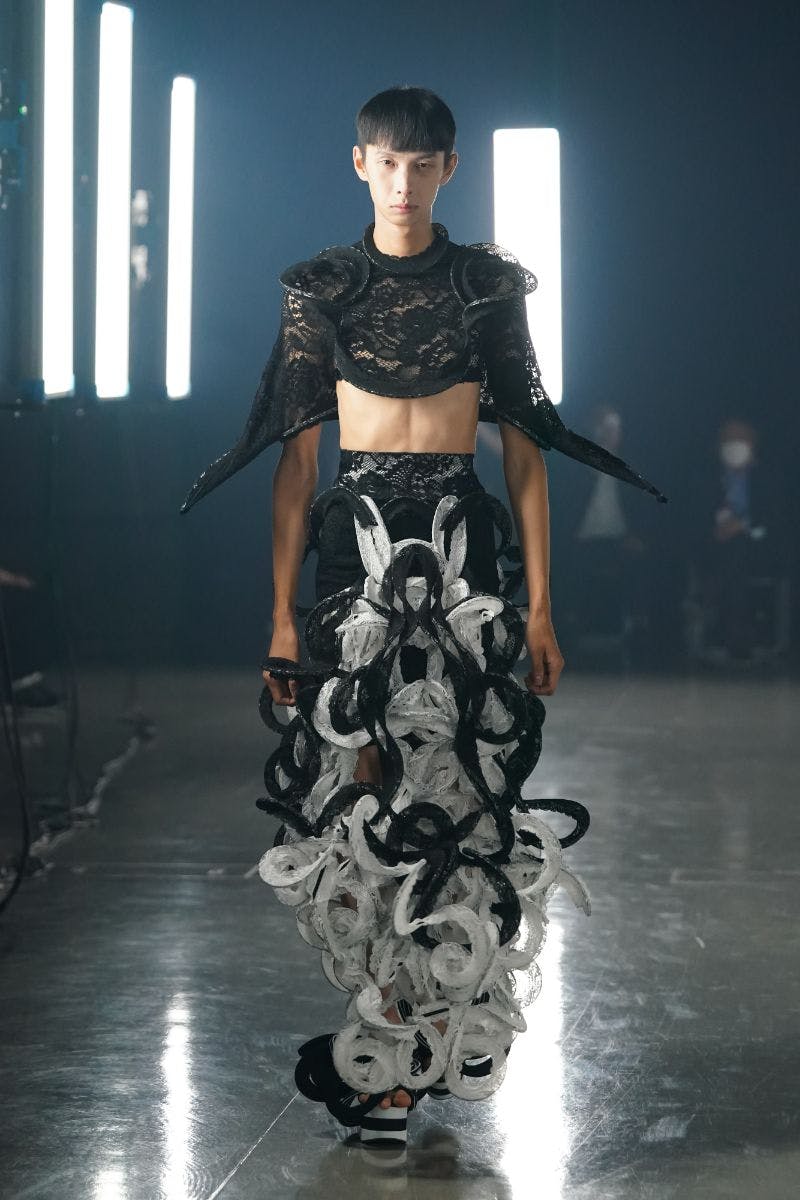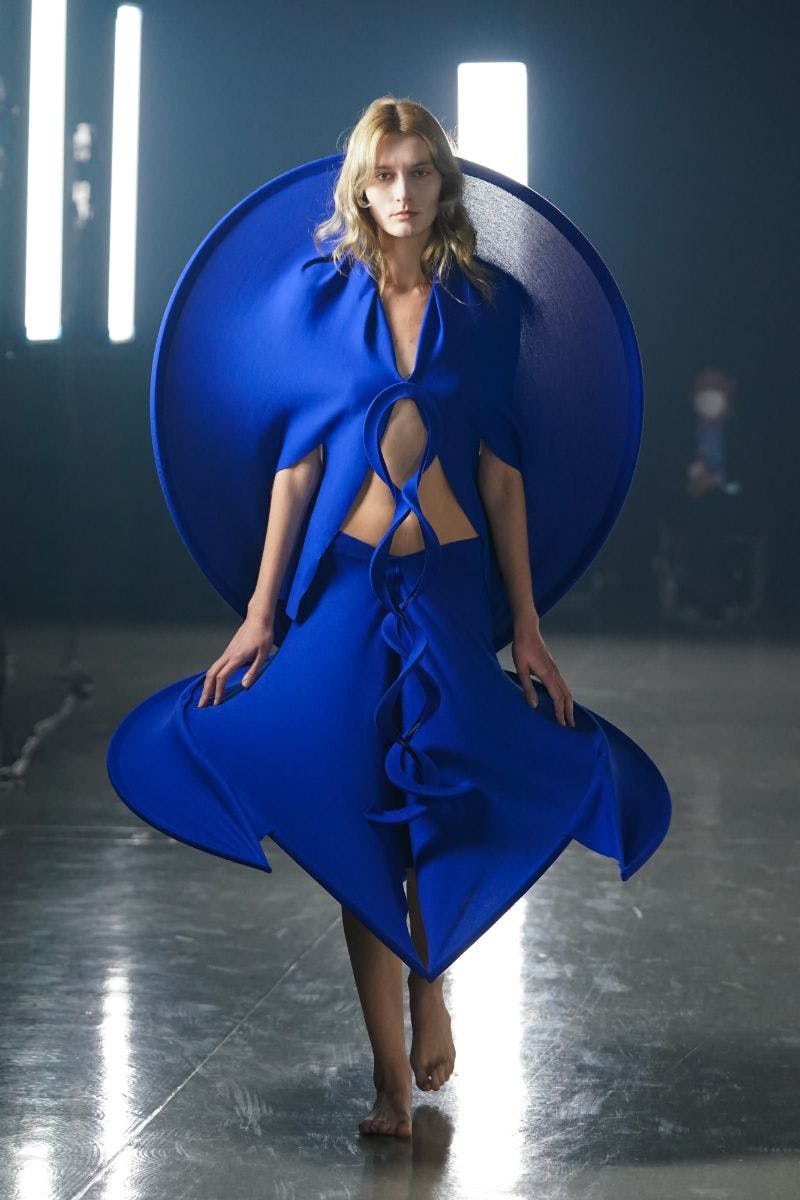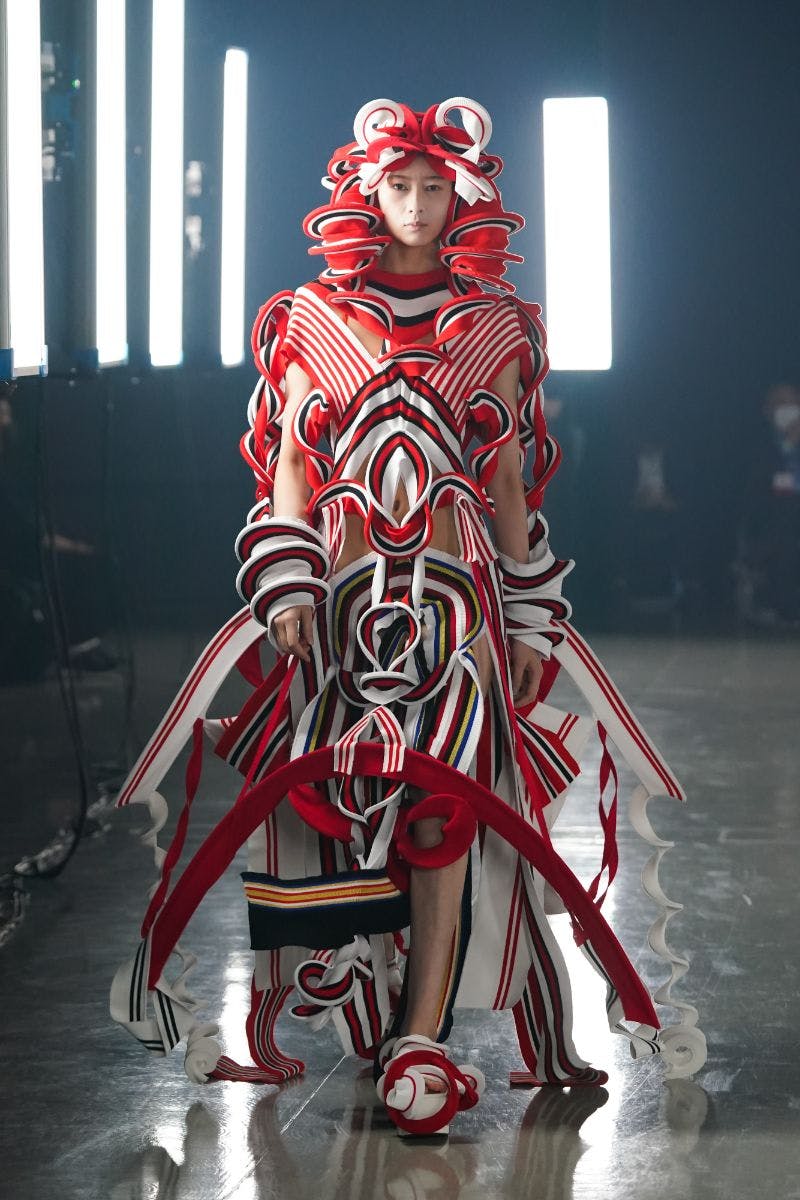 Born in Hiroshima, Ryunosuke Okazaki is a Japanese couture designer based in Tokyo who carries his hometown's tragic history in his avant-garde designs. He graduated from Tokyo University of the Arts in 2021 and has since created astounding piece with a great appreciation of Japanese culture.
Okazaki presented his debut show at Tokyo Fashion Week earlier last year, apropos radical themes such as Pray, JōmonJōmon and Automatism. All his previous works made up his debut collection titled "000". Okazaki's first runway show recapitulates themes of his works from his time at university to his latest work.
His graduate collection titled "JōmonJōmon" draws inspiration from, you guessed it, the Jōmon-era pottery and Shintoism, the ancient Japanese religion. Jōmon pottery used to channel hopes for life and fear of death which the designer reimagined for his collection. The showcase is an ode to the residents of Hiroshima who embraced a life of peace.
These notions embody the silhouettes of his earthenware and the use of ribbed materials and lightweight knitwear. The fabrics' elastic properties are sown in bone tape or interlaced to make the beautiful curved and rigid lines that reminisce Jōmon pottery.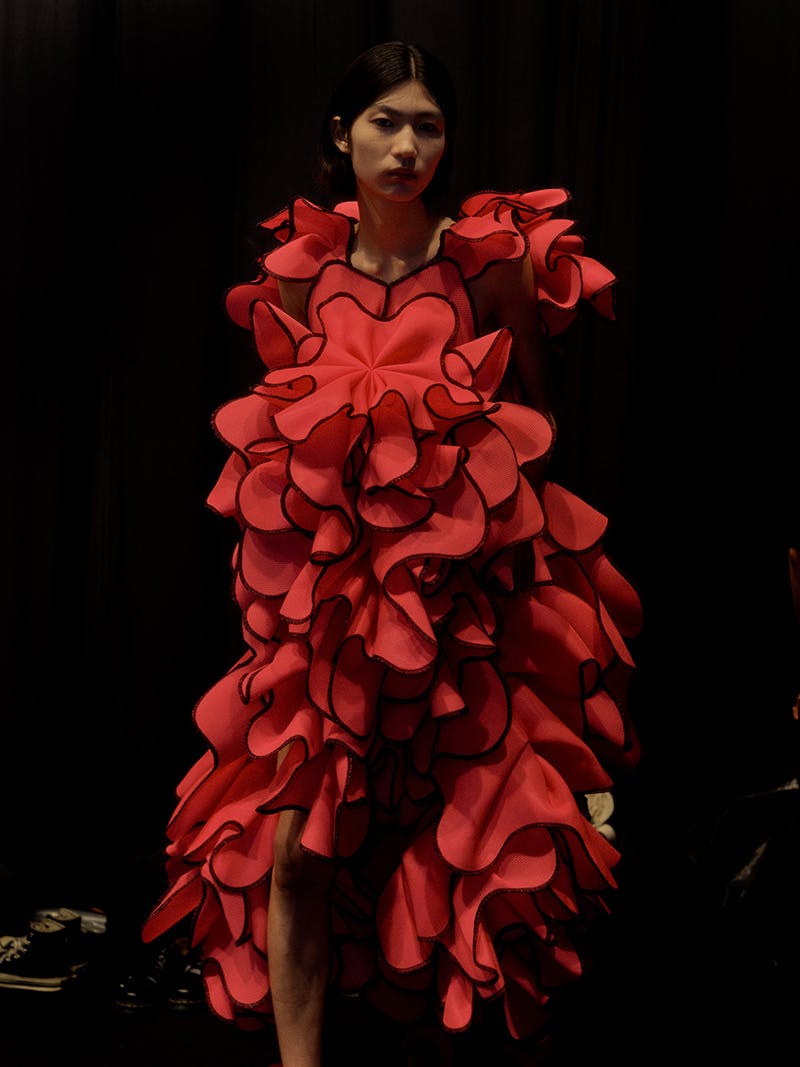 Peace is a predominant part of Hiroshima, and is incorporated in their prayers. The designer being one of them. Okazaki explains, "As I continued to work on the theme of 'Prayer for Peace', I became interested in the depth of the relationship between people and prayer."
The act of finding God in nature and the act of praying are prevalent aspects in the Japanese culture and can be traced to centuries ago, Okazaki says, "I feel that it is one of the most primitive acts in our relationship with nature," he adds, "I am inspired by the ideas and decorations that have emerged from this relationship between nature and man." And so comes the birth of his collection, "Nature's Contours," the worshipping of nature through forms echoing organic shapes found all around us. Filled with outlines that emphasize petal-like blooms, the rich hues of insects and marine life movements co-exist in the line. In describing this collection, Okazaki expresses, "By people wearing the elements of nature, the image of embracing nature, mimicking nature, and returning to nature, which is circulating, comes to life in their head." Indeed, the creative's garments seem to wrap around the body in a way that melds it into nature's contours.
His more recent collection, dubbed "Automatism," comprises a series of eight sculptural garments inspired by the surrealist art method of automatism – specifically the automatic experiments by André Breton. The patterns and shapes of the clothing are made at the mercy of Okazaki's sewing machine as the designer opts not to sketch his arts because it limits his imagination. Instead, he plays around with colours and shapes; still his creations are not arbitrary. Each piece is regarded with care, from the material to the ranging colour palette.
The label is not only a fashion brand but a place where the designer can express personal and artistic statements through clothes; his love of nature, his intrigue with God and religion, his ideas of peace and his studies of people and prayers. By looking at his work, we see the connection and feelings embodied in each piece. We become immersed with nature and the designer's emotions, unreal yet organic.