Over the past decade, the way we think of cars has changed dramatically. The basic concept of a car as a representation of freedom in the American psyche has been largely replaced by a utilitarian necessity defined by the way Silicon Valley views the future of transit and its impact on climate change.
Going forward the idea of a car will increasingly be seen as a relic of the past, a shell, and a piece of design. It's a way of thinking about cars that BMW got a head start on through their Art Car Project that, since 1975, has seen artists like Jenny Holzer and David Hockney design their own one-off versions of BMW race cars, in effect creating mobile sculptures.
This week, BMW is releasing an app in collaboration with Acute Art that will let people view a number of the art cars in AR on their phones for free. Initially, seven of the cars will be loaded into the app, with new cars being added every two weeks. The virtual app is BMW's second collaboration with Acute Art. last year during Art Basel, Acute Art collaborated with artist Lu Yang and BMW to create an AR feature letting users place "Giant DOKU" (a giant dancing AR avatar of the artist), where they please, turning the virtual artist into some sort of Godzilla-like creature tramping through a city of your choice.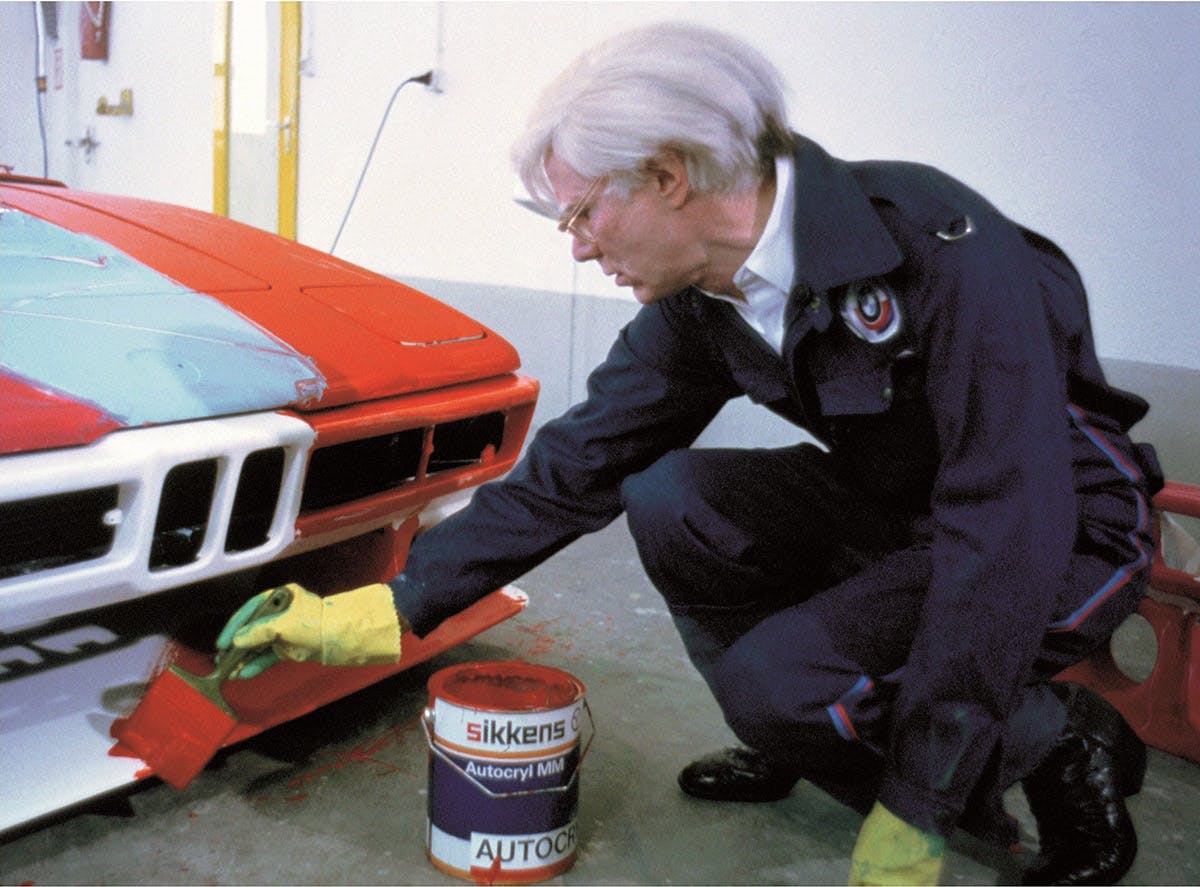 It's hard to say exactly why the Art Car project was started, though it was initiated in 1975 by Jochen Neerpasch (founder of BMW M), and Hérve Poulain (a racing driver). That year the inaugural Art Car by Alexander Calder was raced at the famous 24-hour race Le Mans in France, driven by Poulain himself. Since then, the cars have been released every few years without a set interval of time in between—basically whenever the international jury that selects the artists decides. The Art Cars themselves range widely in style, from those like Jeff Koons, which is slick to the point of almost looking like a normal racing car, to Andy Warhol's, that he hand-painted directly on the car, to the effect of looking like a botched car from Pimp My Ride.
Art Cars are the epitome of an obsession artists have always had with cars, from painters like Gerhard Richter and James Rosenquist devoting entire series to them, to Yngve Holen quartering a Porsche and displaying it in Kunsthalle Basel in 2016. The Art Car series represents the time we live in where art, marketing, technology, and corporations have become a puddle of intertwined entities, each playing on the interests of the other. Expression often comes at the hands of, or is seen through the lens of some sort of interested entity, for good or ill. But even so, Art Cars are one of the best outcomes of that intertwining, considering the quality of the work produced. Not to mention being able to see that quality race around Le Mans at 120 mph.
We spoke with a number of people associated with the project to try to wrap our heads around the legacy of these mobile, and now digital works of art. You can experience the digital Art Cars over at the Acute App store here (Apple) and here (Google).
Walter Maurer: Designer and artist who painted many of the Art Cars
"It was certainly a challenge to translate the artists' designs and ideas for the BMW Art Cars and to transfer them onto the cars. It is important to note that the majority of the artists in question had never worked with automotive paints before and thus developed artistic concepts that were highly complex and very demanding in their execution. ​​It is almost impossible to compare the design of a BMW Art Car with that of a traditional race car.
In advertising, paint jobs usually replicate key design elements one-to-one. With artistic projects such as the BMW Art Cars, however, the focus lies on the message of the design created by these great artists and it is the idea that has to be transferred to the art object. Art speaks its own language, which needs to be translated to fit the object while the integrity of the original idea of the design should be maintained. Being the artist executing the concept, I have certain artistic freedoms which I make use of, but always in consultation with the original artist."
Jochen Neerpasch: Founder and then Director, BMW Motorsport
"The idea for Art Cars came about by pure chance. Because of the energy crisis in Europe at the time, we had relocated all our BMW plant's motorsport activities to the U.S. At that time, speed limits were imposed and a ban for driving on Sundays introduced; the anti-car movement was at its height, which in turn meant that advertising with motorsports was counterproductive. For that reason, we had originally decided not to participate at the 24 Hours of Le Mans in 1975. In January 1975, I received a phone call from Jean Todt from Paris – he was under contract as our rallye copilot.
Hervé Poulain, an art auctioneer and amateur race car driver had approached him with an idea to have a famous artist design a race car, which he would then race at the 24 Hours of Le Mans. When I learned that the artist in question was Alexander Calder, who had invented kinetic sculpture, I saw an opportunity to present our race car as an art object at the most important long-distance race of the world and to generate international coverage in the features section rather than the sports section only."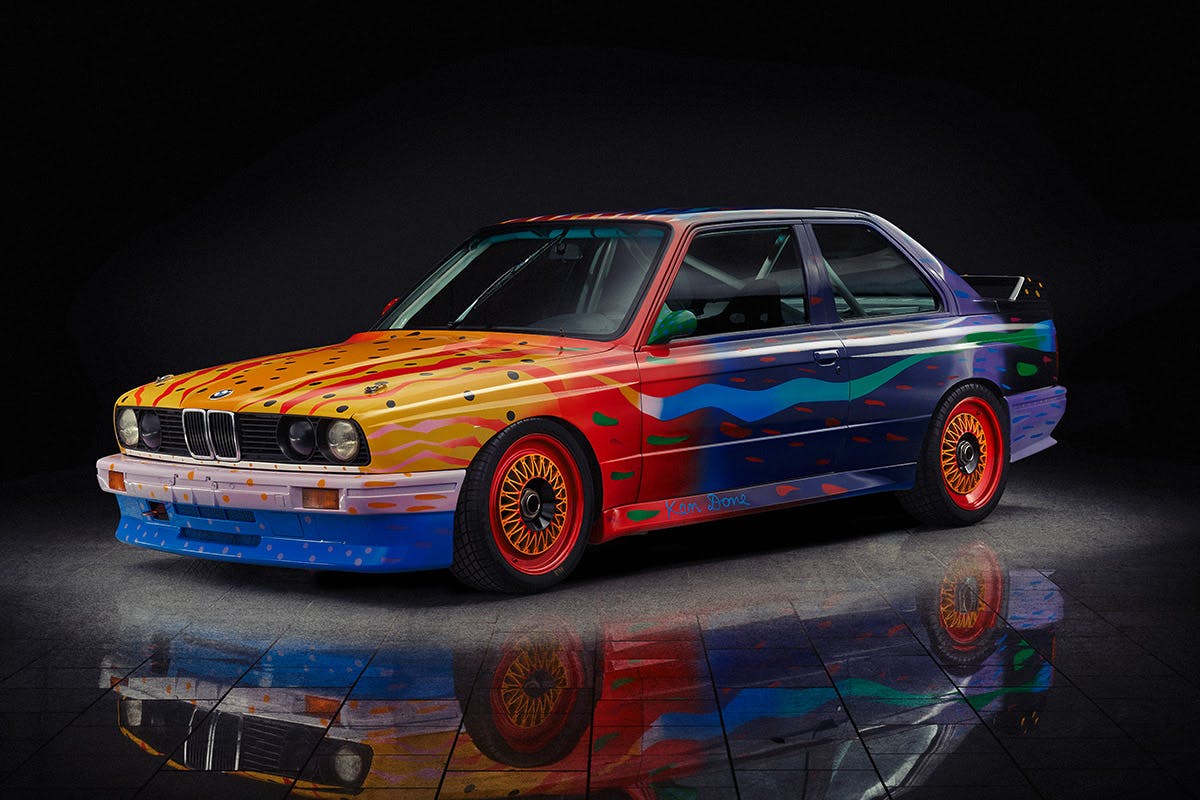 Ken Done: Artist who designed the 1989 Art Car
"Art, I think, is always searching for new expressions and I'm sure it's the same with technology. In art, you essentially have to please yourself before you can look for a response from other people. In technology, you are striving to solve a designed problem. My car was simply inspired by Australian parrots that are beautiful and I wanted the car to look as though it was about to take off and fly, even when it was standing still. However I felt incredibly honored to be included with such illustrious artists. Eventually I had the great fortune to race in a celebrity race, in a BMW Z4 at the Melbourne Grand Prix and all I can say is it was only four laps. I wish it had been 40."
Daniel Birnbaum: Artistic Director, Acute Art
"In every century something new appears, like photography, film, or the internet. And in our century, I think it's uncontroversial to say that the new mediums are AR and VR. When something like that arrives, there's a few years of confusion and exaggerations, but also a window of experimentation, and that's where we are right now. It's very interesting curatorially and from a perceptual point of view for artists, as VR is totally overwhelming, more than cinema even. And AR has other great qualities, it's so easy to distribute, you can reach enormous amounts of people. With this Art Car project, you can have the Art Car anywhere. Of course, the original Calder car will always be a little bit different, the physicality of it is not something that can be totally transformed into an AR realm. But you can do exhibitions or presentations of some of them or all of them in many, many places at the same time."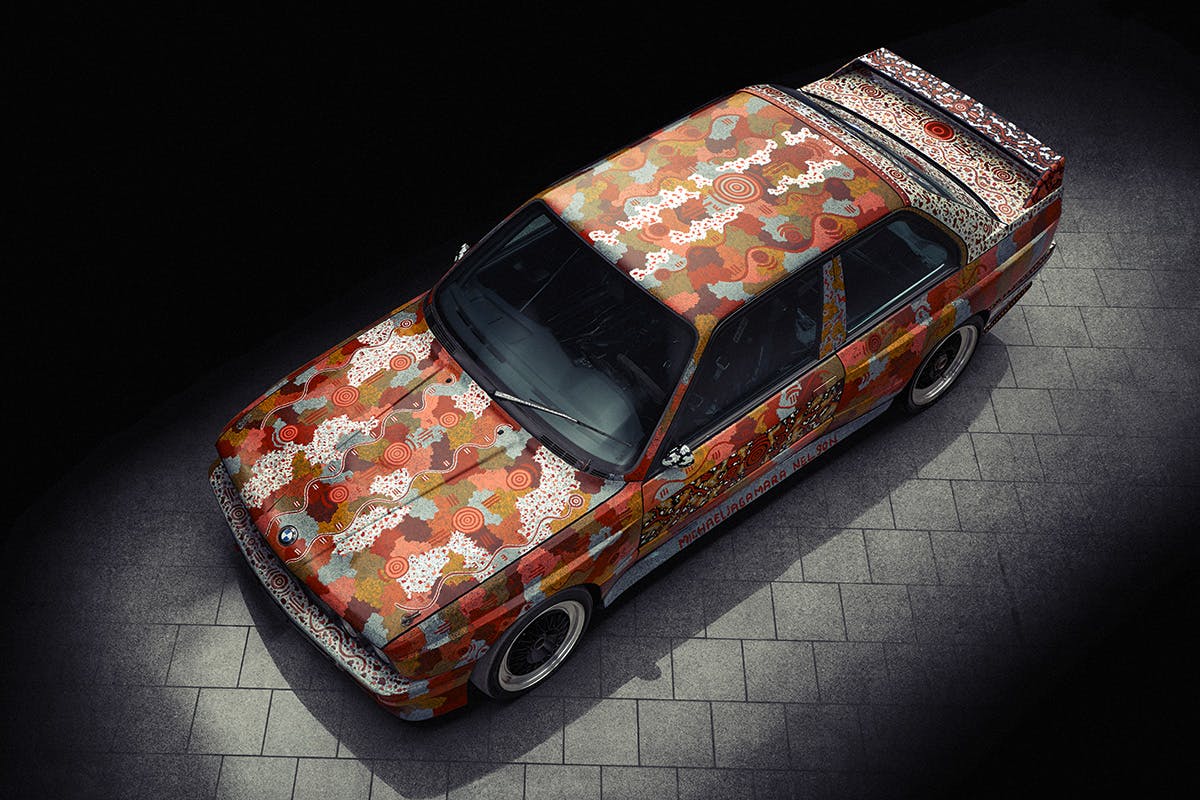 Augusto Farfus: BMW Works Driver
"John Baldessari was originally supposed to have the 18th car, but Cao Fei asked for number 18 instead because it's a lucky number in China. When she asked for number 18, I knew there was a special connection there. I'm also Brazilian and also very... I wouldn't call it superstition, but religious in a sort of way. After I presented the car to her in China, we went to Macau and she completely fell in love with racing.
For the final race she decided to show up at the greet and then she just came to my door when I was completely suited up. She held my hands, looked into my eyes and I could see the connection we had at that moment. Being a sportsman, there is preparation and all the work you put into the sport. But there is a time with every sportsman—no matter what sport—the superstition, the energy, the interaction, the connectivity you have either to the team around you or to the people around you, has an impact. I'm pretty confident in saying that that car was probably the most emotional or the biggest connection between the artist and the driver. It was incredible."
Thomas Girst: Head of BMW Cultural Engagement
"The car industry is going through bigger changes than going from horse carriages to the actual car. Freedom has been sacrificed for security somewhat. But there are still ways and means to express yourself. Art historians will probably always wonder why John Baldessari put a huge red dot on the hood of the car with a white background. Does it symbolize a Japanese flag and why? But when I asked John Baldessari, He said, "Thomas, when I watch the 24 hour Daytona race in LA because I can't travel there, at least I know exactly where my car is going when I watch it on the telly." He branded his car the way that otherwise commercials and advertisement brand cars when you think of racing, he branded his car with his own brand. So it's all these fun things that are about personal creativity which should hold nobody back to create their own car because it is still a possibility. And that freedom should not get lost in the process."
Hedwig Solis Weinstein: Head of BMW Brand Cooperations Arts & Design
"Make no mistake about it, the concept of the car is changing. At the moment we're asking ourselves what's going to happen as cars start driving autonomously. Will the driving experience be different, more artistic? Will the cockpit become your living room? Will the experience inside the car be something artistic that can enrich your experience? Being able to drive those BMW Art Cars around could be happening sometime down the road. But the great thing is now when you use the app, you can actually get behind the wheel and you can put up the art car in your own living room or a place you dreamed of. You can also fiddle with the size of it. Art needs to be haptic and physical, but I think it's all about this combination of technology and accessibility. We have seen it also with NFTs, what is happening there and how can we create maybe something like a hybrid between physical and virtual. Cao Fei's car, which had to be experienced through virtual reality, was looking at a lot of these questions, and that was already a few years ago now."
Cao Fei: Artist, designer of the 18th Art Car
"The rapid speed of a car and the rapid changes taking place in Chinese society were my inspirations for creating the 18th BMW Art Car. But my Art Car adopted an expressive form completely different from previous ones. It was an interpretation of the century's theme, namely that we're entering a new age, where the mind directly controls objects and where thoughts can be transferred, such as unmanned operations and artificial intelligence. Which attitudes and temperaments hold the key to opening the gateway to the new age? Technology should be used to benefit human life, increase our leisure time and enrich our spiritual life—it shouldn't exist just for the sake of profit and machine worship. My work has been focusing on the people—an observation of society and how urbanization and technology advancements brought changes to us, to society, and the world as a whole."
Esther Mahlangu: Artist, designer of the 12th Art Car (1991)
My design was all about sacred geometry and the natural order of things. I approached painting on a car in the same way that I approach any medium; the fact that the item was originally produced for a different purpose becomes immaterial and I see it merely as a medium on which I will create an artwork. I was also the first woman and first African to be invited to participate in the Art Car collection, and I think that sent an important message. This was even more material considering that very few black South Africans had the opportunity to expose their works to international audiences during the Apartheid period."