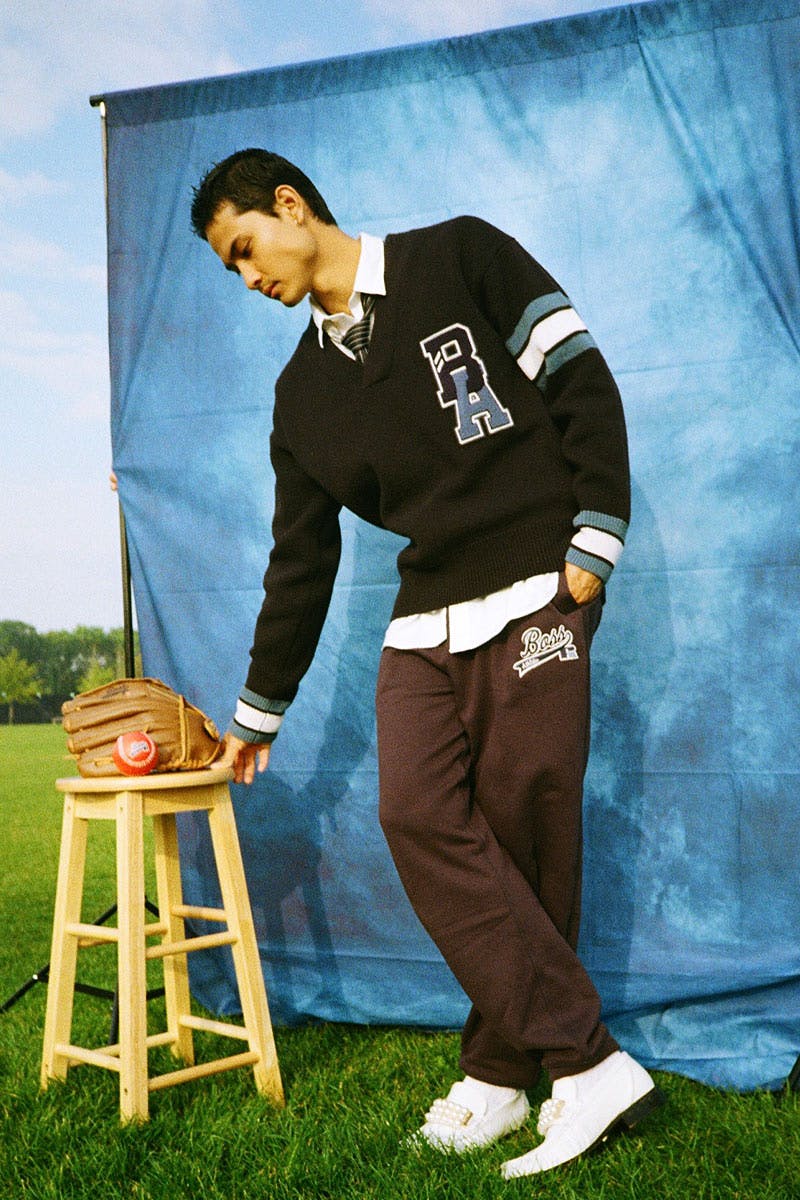 For the first season of BOSS and Russell Athletic's collaboration, the two brands took inspiration from off-court basketball styles of the '80s and '90s. The collection was the ideal blend of preppy tailoring and sportswear, capturing the essence of both brands. For the second season, they've turned their attention to baseball, keeping the retro collegiate aesthetic and team sports spirit of the previous collection.
This season's team-up brings a selection of elevated casualwear in an Americana-inspired color palette that matches the collaboration's varsity theme. From sweatshirts, crewnecks, and tracksuits to tailored pants, cardigans, and overcoats, this collection is yet another seamless fusion of BOSS' sleek tailoring with Russell Athletic's sportswear style. The varsity jacket, an iconic silhouette with a long history in streetwear, fashion, and sports, makes for a standout piece in this second drop.
If this BOSS x Russell Athletic collab has got you feeling nostalgic for some '90s yearbook vibes like it has for us, keep on scrolling to see some of our favorite fits featuring the collection.
Daniela Buck
Daniela looks game-ready in the grey set and black leather varsity jacket.
Rachael
The versatility of this collection makes for endless pairings. Here, Rachael mix-and-matches for a clean yet casual look
Benji Colson
Benji takes yearbook pics to another level. His look perfectly combines preppy staples with joggers for the full '90s ivy league sports team vibe.
Mark Nguyen
Mark changes things up by styling a full sportswear fit with loafers — because no shoe says preppy like loafers do.
Obed Dagger
Obed elevates the red tracksuit with a checkered overcoat for the ultimate pre-game look.
Jerome Parker
Jerome with another clean and casual pairing.
Hera Pradel
Hera's fit is a prime example of BOSS x Russell Athletic's fusion of preppy and sporty and shows the adaptability of the pieces.