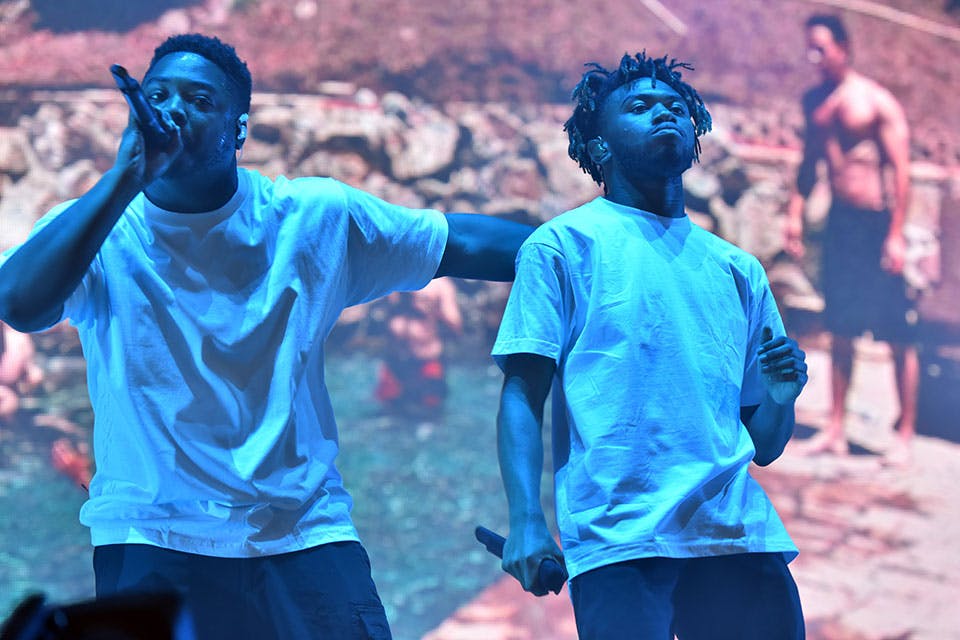 After sharing the title of their new album Iridescence a few weeks back, BROCKHAMPTON have revealed the official album artwork and tracklist for the project, also letting us know that it will drop Friday, September 21. The group took to social media to share the news. Check out the album artwork and tracklist below.
Iridescence Tracklist
01. "NEW ORLEANS" 02. "THUG LIFE" 03. "BERLIN" 04. "SOMETHING ABOUT HIM" 05. "WHERE THE CASH AT" 06. "WEIGHT" 07. "DISTRICT" 08. "LOOPHOLE" 09. "TAPE" 10. "J'OUVERT" 11. "HONEY" 12. "VIVID" 13. "SAN MARCOS" 14. "TONYA" 15. "FABRIC"
According to the album artwork above, Iridescence is the first instalment in a trilogy called "the best years of our lives,"  a name BROCKHAMPTON previously used to refer to the new project. While the All-American boyband previously released singles called "1997 DIANA," "1998 TRUMAN," and "1999 WILDFIRE," they will not appear on Iridescence. "TONYA," debuted on The Tonight Show Starring Jimmy Fallon, is included in the tracklist, however.
In addition to their highly-anticipated new album, BROCKHAMPTON are set to tour North America this fall, followed by Australia and New Zealand. They also dropped an Iridesecence merch line a trailer for their new documentary called The Longest Summer in America, screening around the world starting September 20.
Revisit "1997 DIANA" below.
In other music news, RAY BLK is all about female empowerment in her new music video for "Empress."