The great sustainable sneaker race is upon us and Nike is set on leading the charge.
In the past six months alone, The Swoosh has dropped the Mercurial Vapor Next Nature, Pegasus Turbo Next Nature, Nike Air Zoom Alphafly Next Nature, and the modular ISPA Link, all of which fall under its carbon-reducing plan, Move to Zero. As well as these north star releases, Nike has also ramped up its efforts in scaling environmentally preferred materials across some of its most commercial styles. All Air soles, for example, are composed of at least 50 percent recycled manufacturing waste.
Although it sometimes feels like sustainability-driven innovation has sprung out of nowhere, at Nike it hasn't. As early as the '90s, the sportswear giant launched Nike Grind, replaced petroleum-derived solvents with water-based adhesives and began phasing out SF6, a greenhouse gas used in all Air cushioning. Then came recyled polyester World Cup kits, ColorDry running vests, and the advent of Flyknit and Flyleather.

Along the way, there were also lesser-known innovations like the Zvezdochka, one of the first modular shoes that inspired the recent IPSA Link. As Nike pushes further towards a more sustainable existence, we look back at the milestone products that have played an integral part in its journey to date.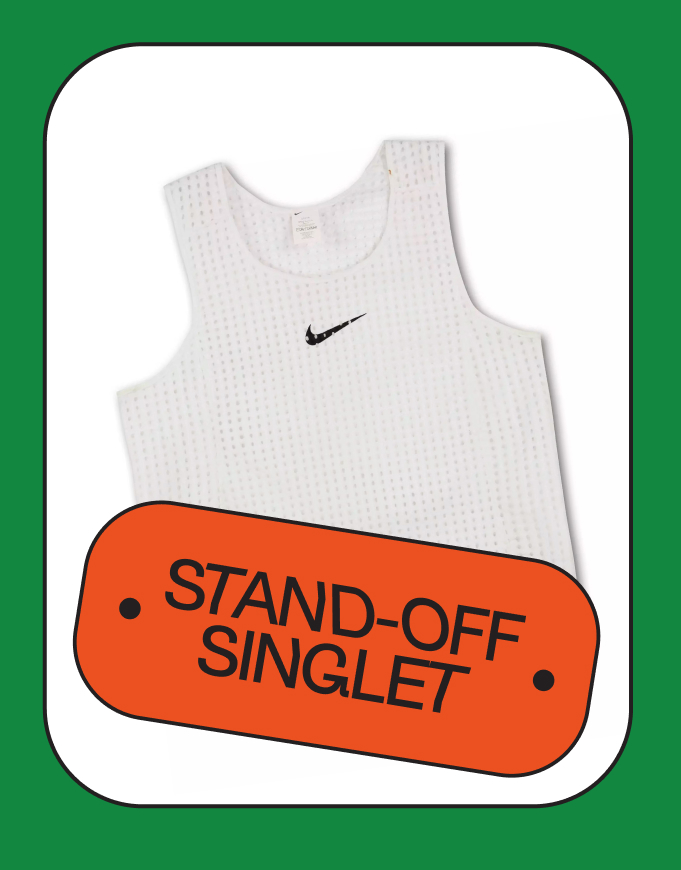 2000 Stand-Off Singlet
At the 2000 Sydney Olympics, Nike debuted its first product using recycled polyester. The Stand-Off Singlet took two years to design and manufacture and was worn in the Olympic marathon by competitors from Kenya, Australia, and Portugal. After the event, it evolved into a line of textured performance fabrics known as Nike Sphere.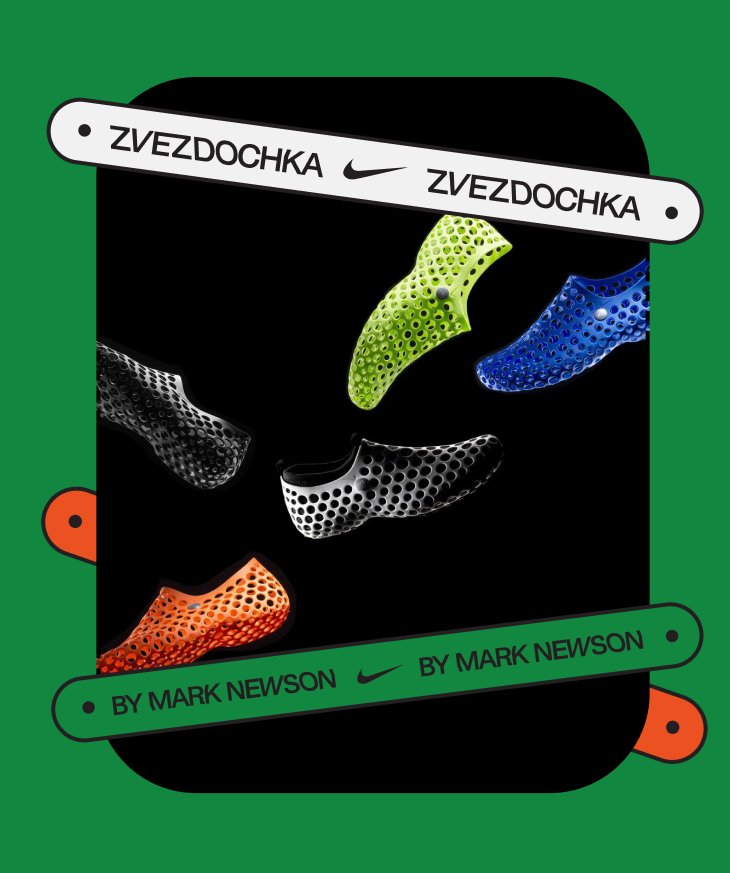 2004 Zvezdochka
The Zvezdochka is probably one of the most overlooked models in Nike's archive. Designed by industrial designer Marc Newson as a multi-purpose shoe for cosmonauts (hence being named after a Russian dog that traveled into space), Zvezdochka was the first model entirely designed on a computer and featured an interchangeable modular design. Its four interlocking parts could be worn in multiple combinations or even on their own. Not only did its modular design eliminate the need for adhesives, but its individual parts were also recyclable, making it one of the first attempts at closed-loop design. The shoe was way ahead of its time and sparked a new way of thinking about sustainable innovation at Nike.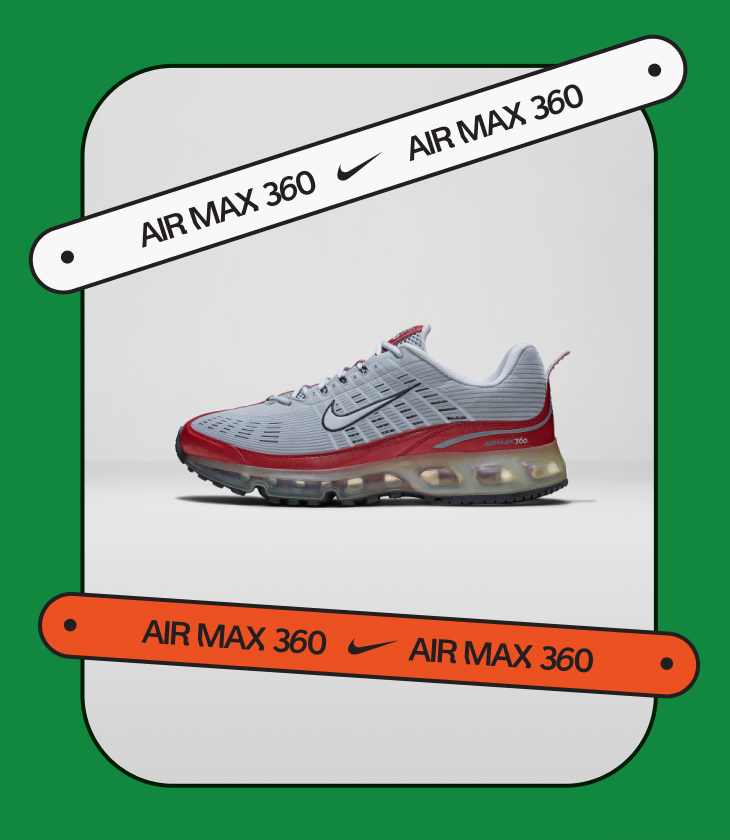 2006 Air Max 360
When Air was created towards the end of the '70s, it was praised for its ingenuity. Little did they know, it would also present unexpected challenges. At first, two gasses were used to inflate the Air capsules, but a decade later, they switched solely to sulfur hexafluoride (SF6), which was later discovered to be a greenhouse gas. When the damaging effects of SF6 surfaced, Nike transformed Air to contain just nitrogen. The Air Max 360 debuted a full bed of Air, a design tweak that not only brought in a whole new aesthetic and way of constructing soles. Nike Air is now one of the brand's most ecological footwear franchises.
"Nike Air is one of our most sustainable innovations because we're able to reuse more than 90 percent of the waste from Air manufacturing, often turning it into new Air bags" – Noel Kinder, Nike chief sustainability officer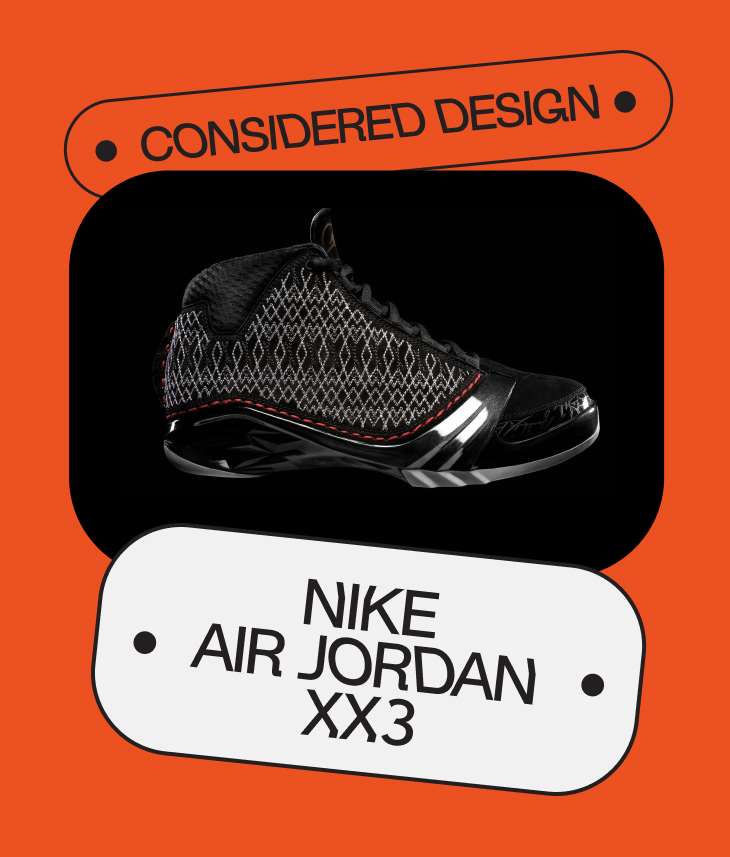 2008 AIR JORDAN XX3
A first for Nike performance footwear, the Air Jordan XX3 debuted a ground-breaking technology that allowed the carbon plate to be attached to the upper without the use of toxic, solvent-based cement. Given the significance of the number 23 to Michael Jordan, this model featured his thumbprint on the tongue and autograph on the toe.

The Air Jordan XX3 also marked the launch of Nike Considered Design, one of Nike's first company-wide programs to minimize the environmental impact of its performance products by reducing waste throughout the design and development process, using environmentally preferred materials, and eliminating toxins.
2008 The Trash Talk
The Trash Talk was the first performance basketball shoe made from manufacturing waste. The sneaker was created in partnership with Phoenix Suns' guard Steve Nash and modeled after his shoe at the time, the Zoom BB II Low. Made to meet Nike's Considered design standards, the Trash Talk's upper was made from leather and synthetic leather cutoffs, the mid-sole contained ground-up scrap foam leftover after factory production, and the outsole used a new type of rubber with 96 percent fewer toxins than those used previously. Even the laces and sock liners were replaced with an eco-friendly alternative, and the box was made of fully recycled cardboard. The following year, Nike and Nash teamed up on a second "trash" hoops sneaker, the Zoom MVP Trash Talk.
2010 World Cup kits
For the 2010 World Cup, players of Nike's national teams, including Brasil, Portugal, and The Netherlands, took to the pitch wearing jerseys made entirely from recycled polyester. Each jersey contained yarn produced from up to eight recycled plastic bottles recuperated from landfill sites in Japan and Taiwan. Manufacturing the jerseys with recycled polyester saved raw materials and required 30 percent less energy than it would with virgin polyester.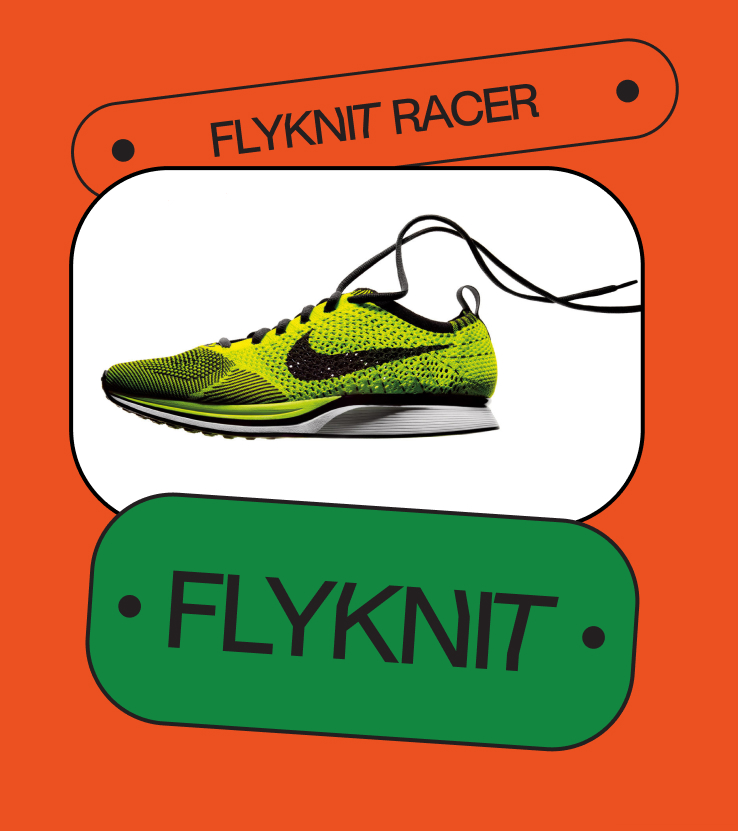 2012 Flyknit Racer
February 2012 marked an important milestone for The Swoosh: the launch of Flyknit. After over 10 years of development, the game-changing technology debuted on the Flyknit Racer and kickstarted a knitting revolution in footwear.

The beauty of knitting is that it reduces manufacturing waste by, on average, 60 percent compared to conventional cut-and-sew methods. When it comes to performance, Flyknit can be micro-engineered down to the stitch to create a supple, supportive, and virtually seamless upper that hugs the foot's form. Flyknit is still one of Nike's most lauded and widely used materials.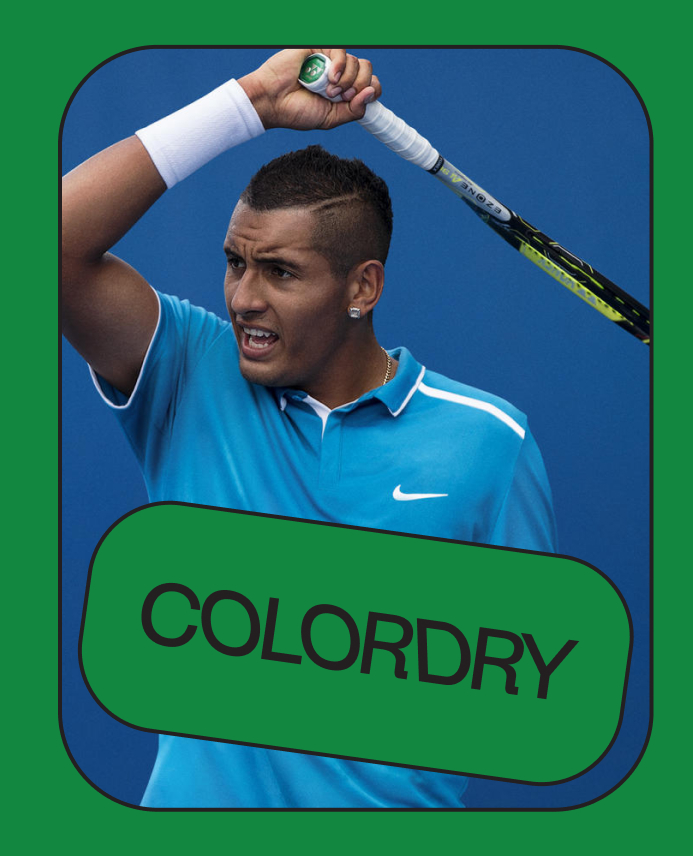 2015 Nike Colordry Polo
In 2015, Australian tennis pro Nick Kyrgios took to the court at Indian Wells wearing the ColorDry Polo, a 96 percent recycled polyester polo shirt made using no-dye technology. Dyeing a regular t-shirt uses on average 30 liters of water, whereas the ColorDry polo uses no water at all, which also saves energy and eliminates the number of chemicals used in the fabric dyeing process.
2017 Flyleather Tennis Classic
Following in the footsteps of Flyknit, Flyleather revolutionized leather at Nike. The leather manufacturing process is notoriously polluting and wasteful, and Flyleather was developed as a way to better it. The innovative material is made by fusing recycled natural leather fibers (up to 50 percent) with synthetic fibers, creating a material that is more durable than full-grain leather and produced with a much lower footprint. The Flyleather Tennis Classic was the first model to feature the leather alternative, succeeded shortly after by the Cortez.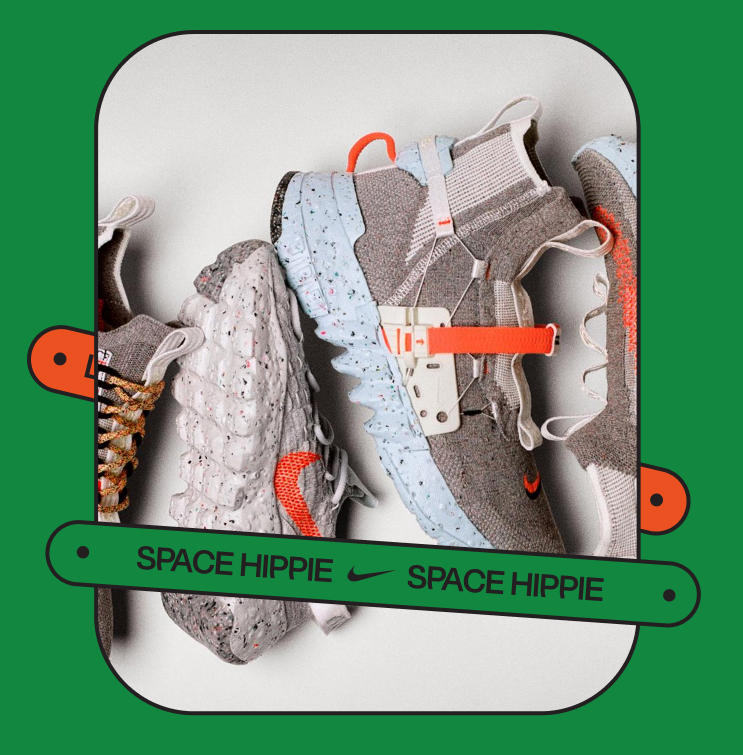 2019 Space Hippie
The Space Hippie broke new ground, demonstrating what is possible when sustainability is put first. John Hoke, Nike's Chief Design Officer, said at the time of its launch: "I'd say Space Hippie attacks the villain of trash. It's changed the way we look at materials, it's changed the way we look at the aesthetics of our product. It's changed how we approach putting product together."

The Space Hippie collection featured four models – 1, 2, 3, and 4 – all of which boasted Flyknit uppers made with 90 percent recycled content by weight, 100 percent recycled foam midsoles, and 15 percent Grind rubber in the soles.
2021 Air Zoom Alphafly Next Nature
The Air Zoom Alphafly Next Nature was the first Nike running shoe to be made with 50 percent recycled material by weight. Repurposed waste from Nike's factories was used in the midsole, plate, and Air units, and the Flyknit upper uses yarn made partially from recycled water bottles. On the trailblazing silhouette, Rachel Bull, Senior Footwear Product Director for Nike Running, shared: "We don't want to be about making shiny objects — we wanted to set our concept car as the intent for how we think about performance and sustainability." These could well be the future of low-carbon and high-comfort running.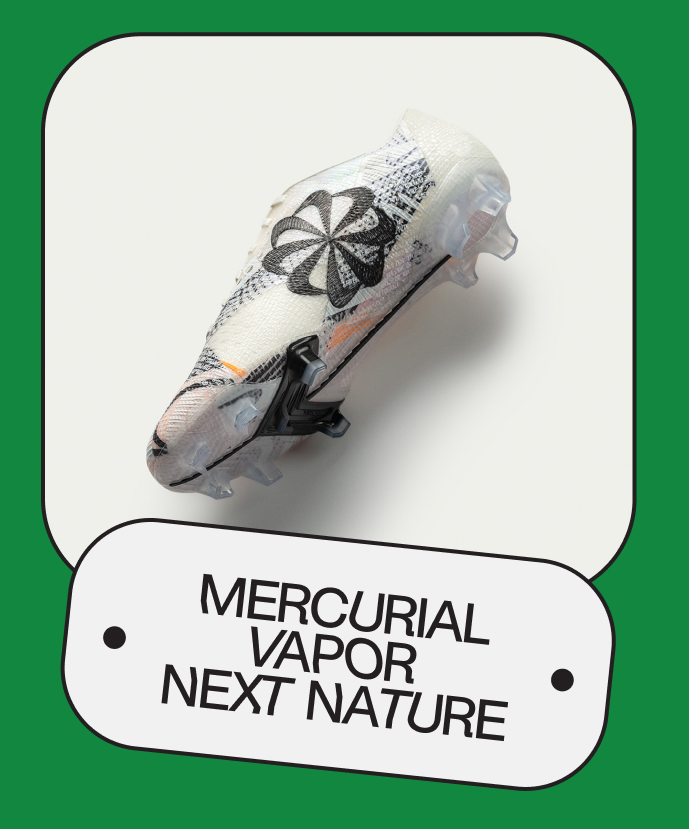 2022 Nike Mercurial Vapor Next Nature
Building off the momentum for the Air Zoom Alphafly, Nike launched the Mercurial Vapor Next Nature, a high-performance football boot made with 50 percent recycled material by weight. The boot's chassis, heel counter, midsole plate, and upper are created solely of materials made from recycled manufacturing waste. The learnings from Mercurial Vapor Next Nature are being scaled throughout the Mercurial line-up, and the majority of Mercurial boots releasing in fall 2022 will be made with at least 20 percent recycled content.
{"shouldDisplayHeader":false,"shouldDisplayArticleFooter":false,"shouldDisplayPresentedBy":false}