Experience this story and others in the new issue of Highsnobiety Magazine, available from retailers around the world and our online store.
Rome wasn't built in a day, nor was OUR LEGACY. Since its founding by Jockum Hallin and Cristopher Nying in 2005 — with Richardos Klarén joining two years later — the brand has been a meticulously crafted passion that has not only created a home for its internal family, but one that has welcomed an international community.
Its cult following is no fluke — in just shy of two decades it has retained a strong focus on custom-developed fabrics across a line-up of signature silhouettes. From the brand's Classic Shirts to trompe l'oeil vintage-printed denim, OUR LEGACY has fast become an exemplar of a fine-tuned modernist wardrobe across both men's and womenswear. By all accounts a master class in Scandinavian style, the OL team's efforts take the leg work out of dressing by building year-round looks, piece by piece, without making the mistake of oversaturating itself.
Each of the pieces in this carefully considered puzzle is the product of the space that OUR LEGACY calls home. WORK SHOP, which most will know as the birthplace of collaborative projects with Stüssy, Dickies, and Denim Tears, is the heart and soul of OUR LEGACY.
Considered "symbolic in many ways" by the team, the physical space has been refreshed, strengthening the brand's base of operations as it looks forward to any new challenges that await. At the start of a new chapter, OUR LEGACY's family shares an intimate look within its walls.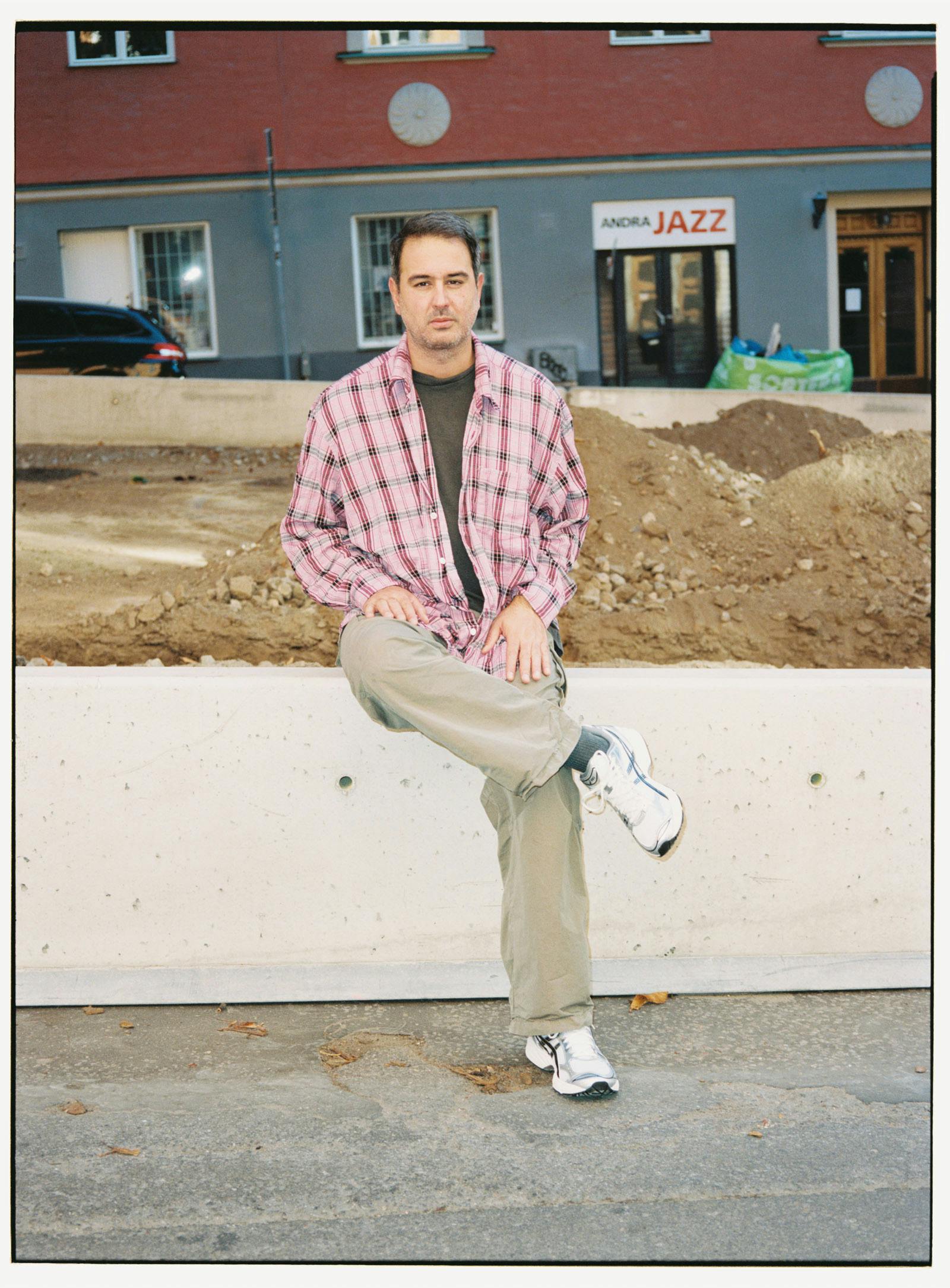 Jockum Hallin, Co-founder and Creative Director of WORK SHOP
"We are doing the OUR LEGACY family shoot in WORK SHOP in Stockholm, where we usually have the store and atelier. Unfortunately, there was a fire in the shop earlier this year, and it's been closed for sanitation and renovation; [it's] now clean and crisp, ready to be built into WORK SHOP 2.0. Symbolic in many ways, the space was good before — it had a lot of soul — but it was not really functional for operations.
The new WORK SHOP will be optimized for us to do all the dyeing, treatments, and whatnot, and also to handle the increased demand. OUR LEGACY, the big mothership, was also a bit like this pre the pandemic: beautiful but not effective enough for the market we were in. We had to trim down our staff and overheads, staying focused and to the point, still being able to move faster and adding layers.
Now, do I dare to say, 'on the other side of the pandemic,' we are in a very healthy place with an amazing team, making beautiful OUR LEGACY men's and women's mainline collections, alongside WORK SHOP partnerships and projects. We are really blessed to have all these talented people around us."
Cristopher Nying, Creative Director and Co-founder
"We are working with having an inclusive culture recognizing ideas, whoever they come from, and utilizing them in the best way possible. It gives a good dynamic between and within the departments and an open space for people to share ideas."
Patrycja Raczynska, Designer
"OUR LEGACY is special, because we have this carefree spirit mindset for everything we do. We do what we like and what we feel like in the moment. We like quality over quantity, and these haven't changed since the company was founded. We like sticking to the roots."
Johannes Weiser, Designer and Product Developer
"The brand's success comes from constant evolution and the daring to take directions and decisions that companies who are driven by profit and investors would not. OUR LEGACY has never 'sold out' except for the product selling out (LOL). People working here don't work for money, but for a genuine love of the brand, and that's something precious."
Mimmi Björklund, Account Manager
"Maybe not my fondest memory, but I will never forget the day the penguin showed up at the office…"
Sanna Flemmich, Head of Studio
"To me, the success of the brand lies partly in being really good at finding and putting together talent and environment. If we believe in an idea, a project, a person, or a space, we find a way to work with it."
Fredrik Pettersson, Image Director
"It's like family working here, so the people within and surrounding the brand are the extended family we're working with. And, of course, the clothes make working here special, too."
Isak Berglund Mattsson-Mårn, Photographer, Friend, and Longtime Partner
"Shooting the spring 2023 show in Milano was a lovely experience I'd happily relive! And I believe I bought a really nice pair of jeans at an OUR LEGACY sample sale on my very first day in Stockholm, in 2009, thanks to my connoisseur friend Tein, who led me there."
Jakob Haeggblom, Image Production and Visual Communication
"At OUR LEGACY, there is the possibility and encouragement to try out any idea that comes to mind."
Richardos Klarén, CEO
"A cherished memory is when we went to Tokyo for inspiration with the entire company. Amazing! My funniest memory there was probably when we spontaneously went to a karaoke-masquerade bar, where we all dressed up as fast food and had a view over the whole of Tokyo."
Baba Stiltz, Musician, Producer, Model, and Partner
"OUR LEGACY is special to me due to the fact that the brand is run with such intent and care. Having had a relationship with the brand both as a consumer and now as a friend and collaborator, I've been able to see the fearless evolution of a brand — an evolution full of artistic integrity, a brand that prides itself in always staying true to its core values.
I think [back on] buying a few pieces at their old Stockholm location, or my mother spending some hard-earned cash for my high school graduation. I felt untouchable. The success of the brand harkens back to the investment in their team and relationships, focusing on building rather than a direct financial payoff — something rather difficult to come by these days when speed and trends is valued above all across all artistic fields."
Nina Kihlborg, Friend and Former Office Manager
"I started working with OUR LEGACY as a stylist assistant and really appreciated how human they were on set. The in-house photo studio, located in an old bourgeois apartment, felt like a home. There was a sense of allowing. Work could be relaxed and fun, not too serious. For me, the respect and acknowledgment of the creative human behind every role on set were what made OUR LEGACY a cool brand."
Harry Peter, Designer
"It feels great to be so warmly welcomed into the imaginative, confident, and open-minded family at OUR LEGACY. There is a collectiveness and happiness that translates into every aspect of the brand."
Shop Our Legacy Below