Under the Radar is Highsnobiety's weekly celebration of upcoming talent brought to you by Avión Tequila. Each week, we're spotlighting an emerging brand that's bringing something new to the worlds of streetwear and fashion.
Antonio Ciongoli grew up skating in New Jersey. Along the way, he's managed to befriend some of the most talented dudes in the game, from Brian Wenning to Gino Iannucci to Jimmy Gorecki. But what some may find strange is Ciongoli's storied career as one of the best designers of contemporary American menswear today.
The whole "classics with a twist" trope—a bit of vintage Ivy Style with outdoors inspiration and subverted preppy staples thrown in—has become par for the course ever since Ralph Lauren wrote the book on it, but Ciongoli comes from the school of Uncle Ralph himself. Ciongoli got his start in the unlikeliest of places—Vineyard Vines.
Not that Ciongoli had his sights set on working for the purveyor of super-preppy goods—he recalls his first proper design job was helping Brian Wenning sketch his second shoe for DC, a basketball-inspired skate shoe that never came into fruition as Wenning's signature model, but eventually became the Biltmore. He found trouble getting a job without a design degree, so he decided to enroll at Parsons.
Right before he sent his security deposit for his first semester, he got an interview for a call center job at Vineyard Vines. Bringing his portfolio with him, he finessed his way to a gig on their graphic design team before moving onto kid's clothing and accessories.
One of his most memorable products speaks to what Ciongoli does best: infusing a modern sensibility into time-tested classics. He was tasked with turning Vineyard Vines' weather-resistant Nor'Easter Jacket into a series of bags—and the Nor'Easter Tote, part-beach bag, part-techwear remains a hot seller for the company.
Eventually Ciongoli moved onto work for Ralph Lauren's now-defunct Rugby label as the associate designer of cut-and-sew knit. There, he worked on Rugby's tees, rugbies, and cozy offerings like fleece. Growing up in the northeast, the whole "ivy league" aesthetic spoke to him, and he wanted to bring that same sort of appeal to his products.
"Rugby was so many different things to different people, which I think is a good thing and a bad thing," he recalls. "Everybody that worked there had their different idea of what they thought Rugby was. And for me, I spent most of my career trying to take logos and branding off."
Post-Ralph Lauren, Ciongoli went to work for another RL alum, Michael Bastian. It was the heyday of young dudes flexing in tailored clothing, and he honed his craft working with Bastian on his main line and collaborative collection with heritage prep label Gant. But Ciongoli really got put on the menswear map when he launched Eidos in 2013.
Meant as a younger line of fine menswear, Eidos is a sub-line of Italian suit manufacturer ISAIA. The clothes were upscale yet relaxed, taking items like field jackets, blousons, and fisherman's trousers and mixing them with statement-making batik prints, jacquard fabrics, and marled knitwear.
"How do you make this stuff feel a little bit cooler and more appealing for a guy that doesn't have to wear a suit? How do you make it less precious? That was what we were trying to do," says Ciongoli.
His vision for Eidos looked great, but given its penchant for premium fabrics and made-in-Italy provenance, it was also prohibitively expensive for most consumers. Ever since Ciongoli left his post as creative director in 2017, his designs have been sorely missed from the menswear landscape.
Ciongoli left Eidos for a position as creative director at Roller Rabbit, a manufacturer of prep-minded womenswear, kidswear, and accessories that mainly utilizes ethically-made fabrics with vibrant, hand-blocked prints from India. That brings us to 18 East. Launched in September 2018, The label gave him the opportunity to create a new menswear label melding global inspiration, small-scale ethical manufacturing—and deliver products at extremely reasonable prices.
To be clear: 18 East is not a fast-fashion label. It's the complete opposite. Ciongoli admits he barely makes more than 50 of each item,  and he works closely with the factories and artisans who painstakingly make the fabrics he uses. Much of the brand's products are made in India, with exceptions being knitwear made in Italy, reworked Atelier & Repairs jeans done in Los Angeles, and Ciongoli's ongoing collaboration with Jimmy Gorecki's Standard Issue Tees label also made in California.
Whereas a shirt from Eidos could cost $300 and a pair of trousers could be $400, 18 East's shirting maxes out at $165 and its trousers all cost less than $150. Part of this is because it functions off a direct-to-consumer business model, but Ciongoli smartly avoids the marketing bullshit about "delivering the savings to the customer by cutting out the middleman" and instead is earnestly building a brand around a visually attractive menswear universe.
"We've made a conscious decision that we're not going to wholesale things, because it throws the numbers out of whack. The reality is that if [our] shirts had a Dries Van Noten label on them, they'd be $700," says Ciongoli. "The amount of handwork that goes into what we do is pretty crazy. But we're not spending money on advertising the way that other people do. I think I've sponsored a single Instagram post, and I spent $10 on it."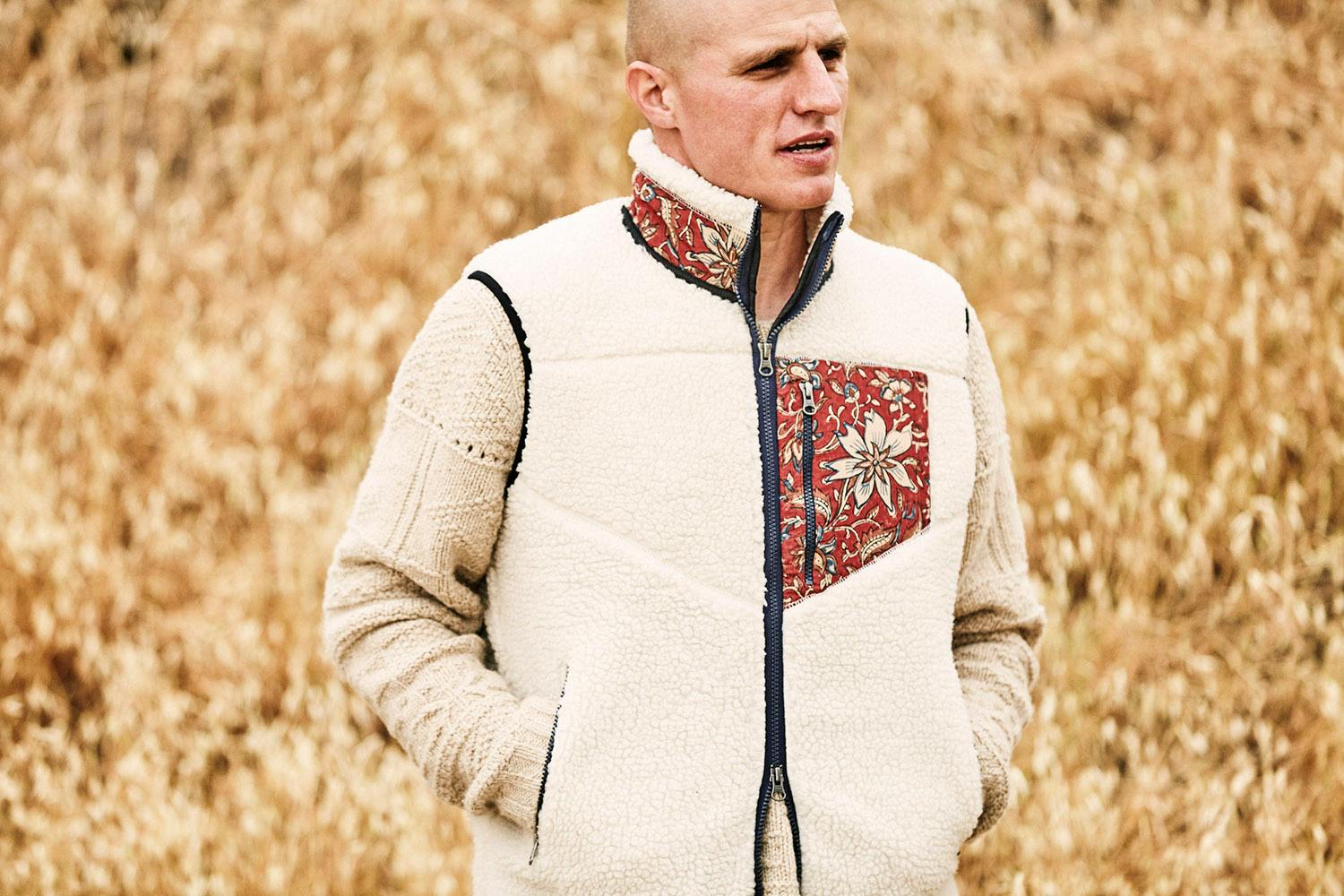 The through-line of 18 East's products is travel, utility, and comfort filtered through a worldly lens. It's an opportunity for Ciongoli to shine a spotlight on the Indian artisans who have been making these precious fabrics for centuries. That's why each of its pieces—from fleece vests to sweatpants—has at least one detail utilizing these unique prints and embroideries, some more subtler than others.
Due to the hand-loomed nature of many of the fabrics, sometimes Ciongoli can only make ten of one item. Its small runs of product release throughout the year as items become more seasonally appropriate. Because there's only so much of each product available, it's not strange for things to sell out shortly after they become available.
But the irony is that as so many fashion labels adopt the drop-based model, 18 East's rationale comes the closest to why brands like Supreme used it in the first place.
"It makes the most sense for us because it's kind of what we have to do," says Ciongoli. "I don't want to be making a ton of things that don't end up in people's closets. I'd rather make less of it and make it affordable so that people can buy it. And when it's gone, there is no wastage."
In many ways, Ciongoli is also achieving the goal he had with Eidos—making classic gear cooler. Take the "Eastern Suit" for example, it mixes a single-pleated trouser with an Indian-inspired jacket that mixes the upscale appeal of a sportcoat with the ease-of-wear of a Japanese noragi. Any guy could throw it over a T-shirt or a simple woven shirt—but the design is interesting enough that it could start a conversation.
"I hope the people interested in our products are conscious about the stuff that they buy. There's a million other places that are selling you something cheaper that may look like what we're doing," says Ciongoli. "At the end of the day, I hope that our customer is one who wants to talk about and engage with the things that they spend money on and invest in."
Avión Single Origin Tequila is the ultra-premium tequila that defines a new standard of quality and taste. It is from single source rare Blue Weber agave, in the highest elevations of Jalisco, Mexico – Jesus Maria. Avión's distinct flavors are created slowly in small batches using a meticulous, time intensive distilling process and proprietary ultra-slow filtration.