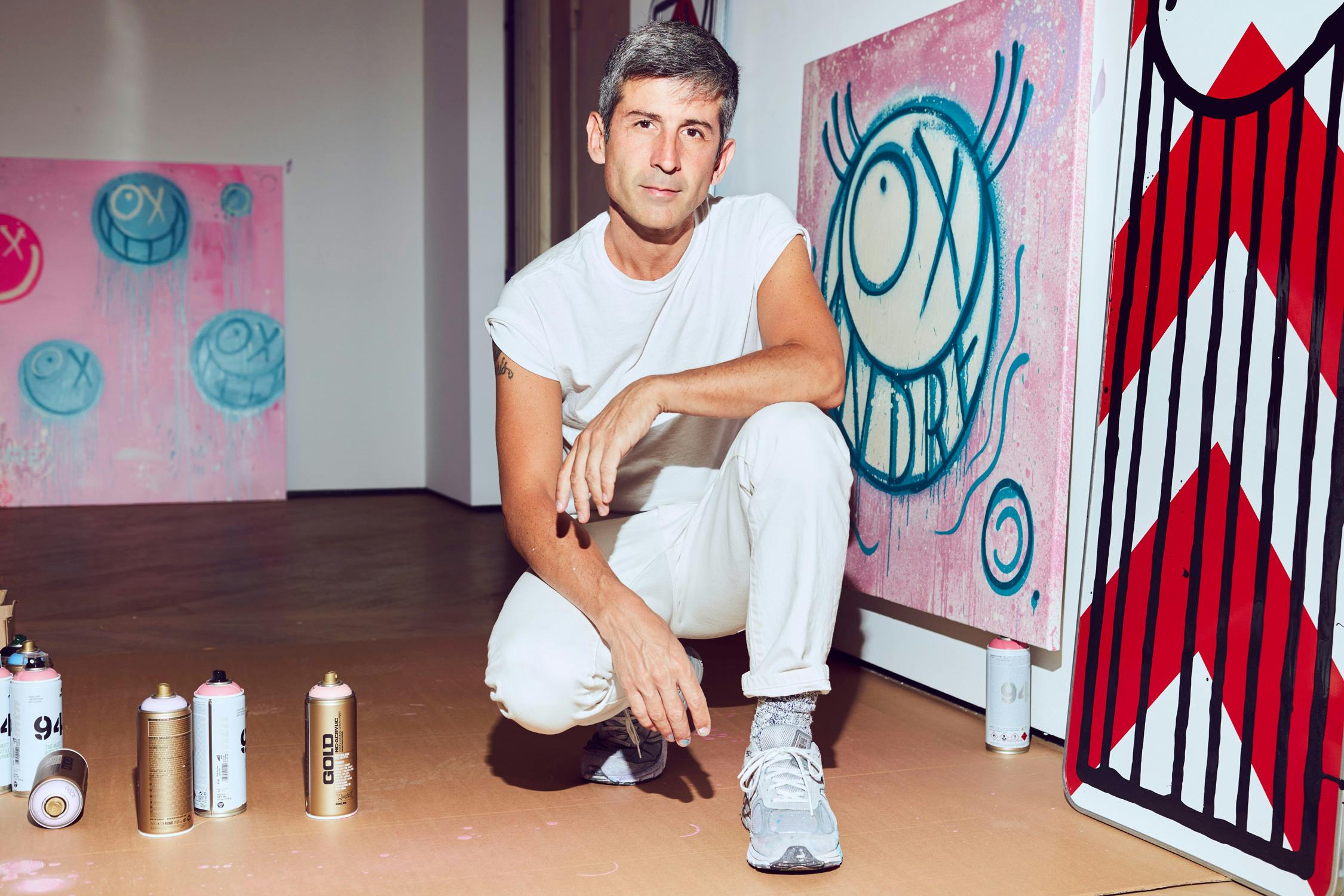 For a graffiti artist, creating a tag is paramount. It's the symbol that becomes your identity within the community, and when André Saraiva first started spray painting Mr. A in Paris during the 90s he could feel that it was going to go far beyond the French city.
Having since become a magazine editor, director of short films, nightclub owner, and hotel co-founder, Saraiva tells Highsnobiety over email, "more than thirty years later I still paint and draw him wherever I can — with the same love. He is my alter ego, he will never leave my side."
Most graffiti tags feature the artist's nickname or letters, but Saraiva picked something more universal: a smiley face that winks at passers-by. With its closed eye represented by an "X" symbol, the simple character has had countless incarnations incorporating different expressions and messages.
Today, he estimates that there are more than 300,000 Mr. A characters sprayed on walls around the world, going far beyond its original hometown of Paris to being found on all six continents. "Most people consider Graffiti as vandalism, I think it is a beautiful crime. It's a way to exist, it's also a way to take possession of anonymous cities," says the artist.
One of the places that he has sprayed the symbol is the door of a showroom used by his latest collaborator, Longchamp. In a statement, Sophie Delafontaine, the creative director of the French luxury goods brand, said "when we moved in, we discovered André had been there before us – because right there, on the back of a door, was Mr. A. So you could call that our first meeting. We eventually left the showroom, but we kept the door!"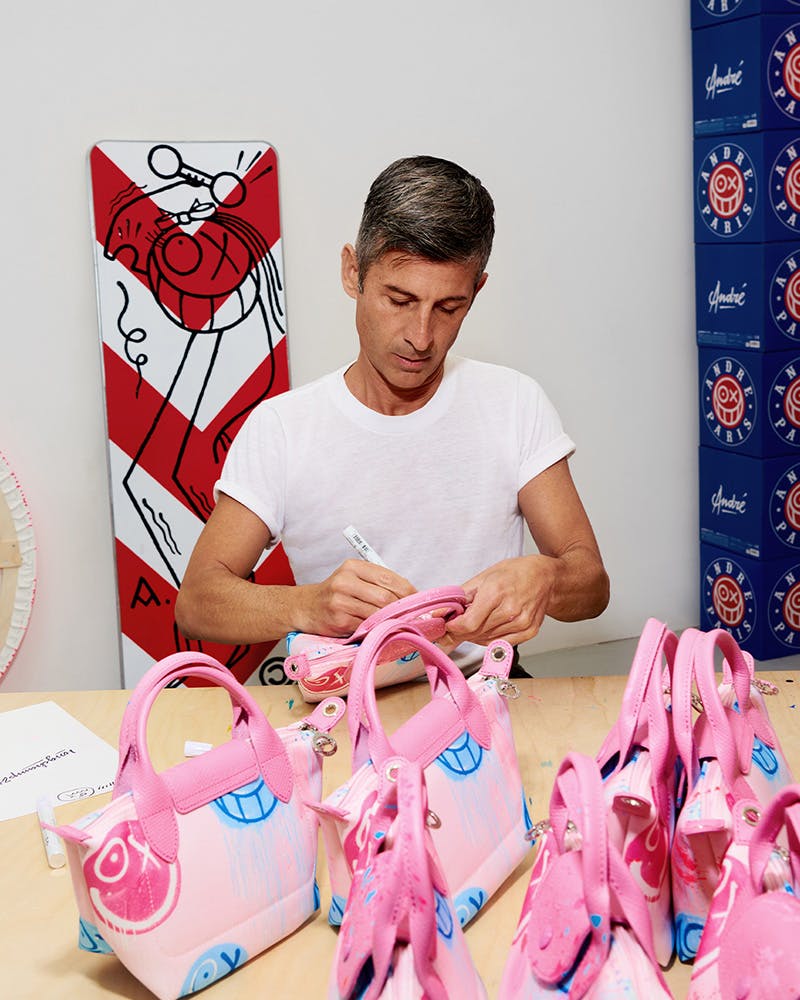 Fast forward to the present day and the two have launched a collection together that forefronts the character in his various moods, from Big Mr. A to Mr. A Happy. Complete with messages of love, goofy smiles, and stuck-out tongues, the simplicity and loveable nature of the character are on full display.
The 50-year-old is no stranger to bringing his work to new mediums, creating everything from hoodies with Off-White™ to a kitchen island with VIPP. Taking his art into these spaces is a natural extension for him: "working with fashion is a way to make my art and my characters more accessible for everyone. It is part of my process. I'm revisiting what pop art is."
The closed-off world of graffiti OGs might have a distrust of commercial projects and shun bright colors but for Saraiva, they are two central parts of his output that relate to his appreciation of pop art and they combine in this collection.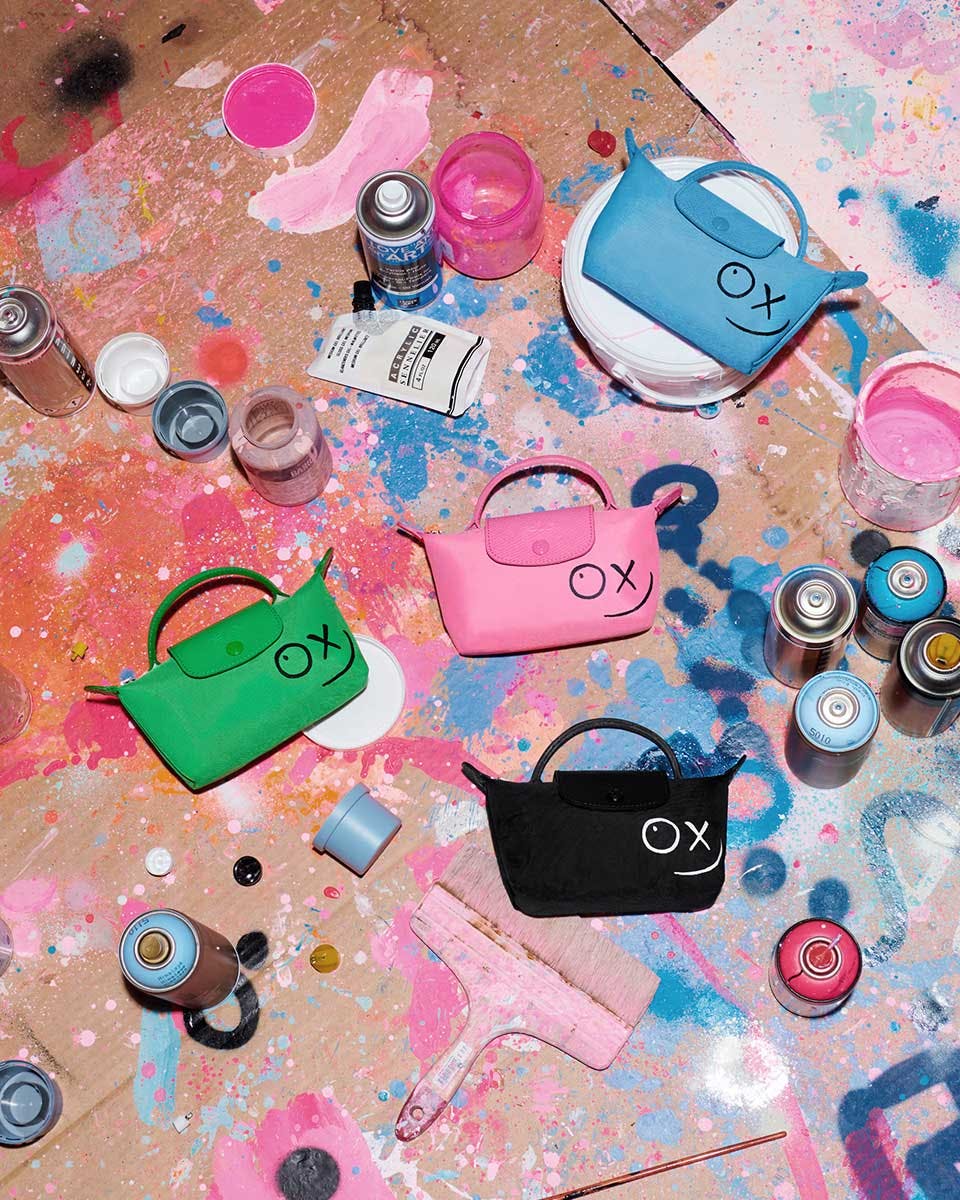 In particular, he has always had a fascination with pink. Most graffiti artists wouldn't use the color and its unpopularity meant that spray cans were readily available on shop shelves, making them easy for the artist to steal. But beyond being practical for shoplifting, the color gave Mr. A a distinct personality, the artist says, "I think my Mr. A's wink has the same effect as bright colors such as pink. They share the capacity to make someone smile."
Four iterations of Longchamp's signature Le Pliage bag have been updated to include the artist's affinity with bold hues in his latest collaboration, each being available in either pink, blue, green, or black.
However, none of the bags embody his colorful style more than a limited-edition pink top handle bag with a distinctive spray-painted effect. Painted by Saraiva himself, the 200 individually numbered bags each include a unique pattern of paint splatters and drips amongst Mr. As face.
The collection not only takes stylistic elements from Saraiava's street art but, for him, it also fulfills a purpose that is central to the art form: "the core of graffiti is to put it in as many places as possible. My dream is to make Mr. A as recognizable as Hello Kitty, Mickey Mouse, or Snoopy.
Graffiti artists will tag in the most hard-to-access areas from trains to skyscrapers so that their symbol is seen everywhere in a city and Saraiva has taken this mindset and used it to inform his fashion collaborations. He says that "putting my art on commercial objects is almost the same process as painting on a train. It will carry your art around the city."
Every time you wear a piece from the Longchamp x André collection, it scratches the graffiti artist's itch to be seen everywhere.
Shop the collection in full here.