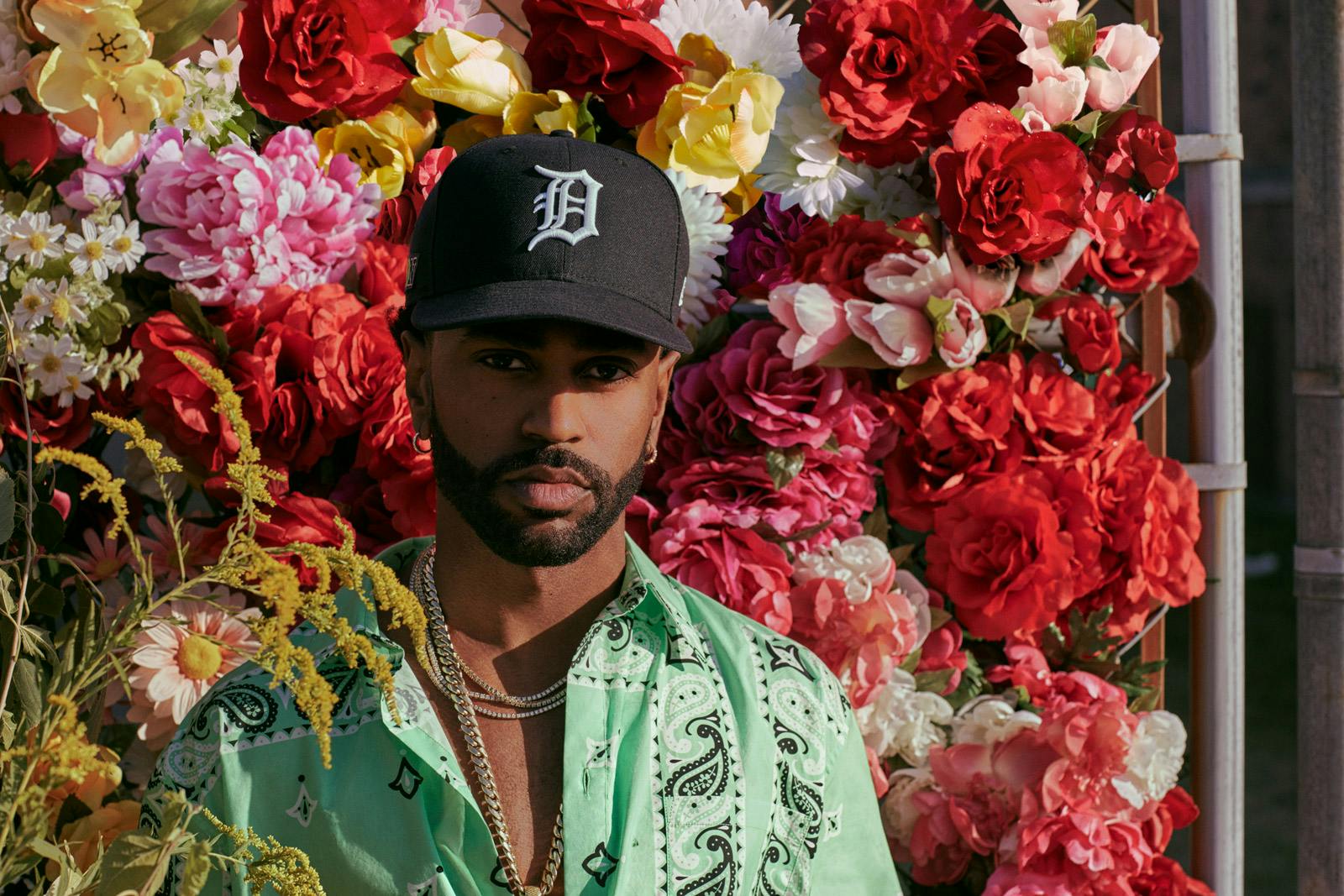 A decade into any practice can make you feel the need to step back and take stock of things. After Detroit rapper Big Sean dropped two albums in 2017 — I Decided and the Metro Boomin collaboration Double Or Nothing — 10 years on from the release of his debut mixtape Finally Famous, he took a leave of absence.
"I got to a place in my life where I was confused about how I was feeling," he recalls, sitting in his home studio, a neon "Don Life" logo haloing his head on the wall behind him. "Rapping and making music, that's something I always wanted to do, since I was 11 years old — and I got to a point where I was feeling very burnt out, feeling like it was more of a job than my passion." That disconnect, from his life-long ambition, led to depression. "I had tonnes of anxiety and just felt inadequate. To the point where I didn't even wanna live anymore."
Sean did what was right for himself; he invested his time into therapy and focused on his spirituality, which meant disconnecting from the Internet and his professional obligations. "I for sure made some people mad," he admits. "I probably lost a lot of money. But for the first time in my life, I had to put myself first, or I was going to self-destruct." The healing process that followed forms the foundation for his chart-topping fifth album, Detroit 2.
On "Deep Reverence," the single that hailed his official return — featuring his friend and collaborator, the late Nipsey Hussle — Sean states that his purpose is to give inspiration, which is clarity he's gained from self care. "I did a lot of spiritual work, connecting with myself, and really analyzed and asked myself, 'What is my passion? Why am I here? What is my real goal?' And I realized that my purpose on earth for me, that I decided, is to inspire people," he says. Sean's commitment to that realization empowered him to expand his bandwidth and start talking about things that he'd previously compartmentalized or kept private: on "Deep Reverence," he reveals that he and Jhené Aiko suffered a miscarriage, and on "Lucky Me," he talks about having a heart disease at 19 that was healed by a holistic doctor. "If my goal is to inspire people, I might have to sacrifice my privacy in order to relate to somebody and let them know that they're not alone," he says, of his more candid approach to writing.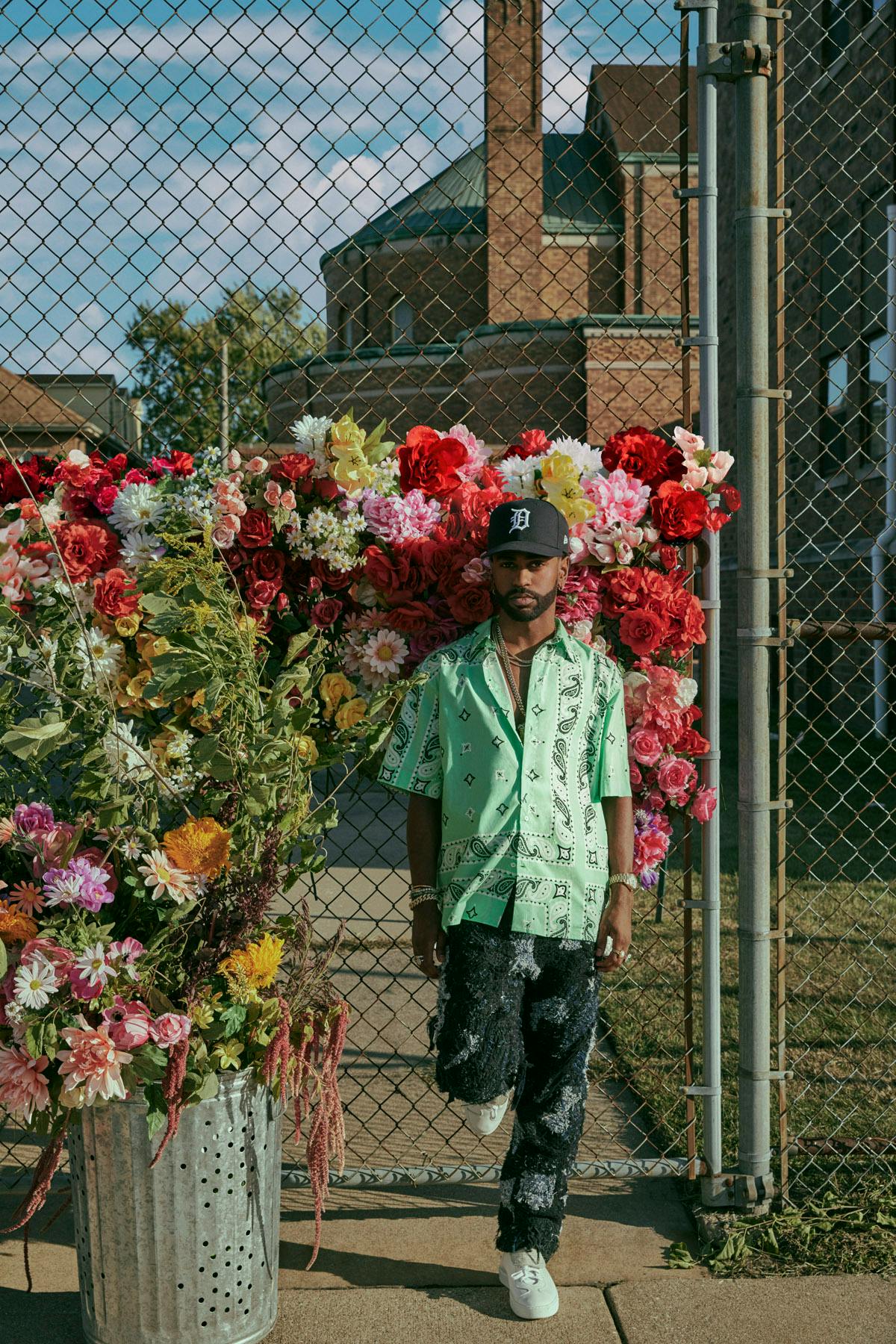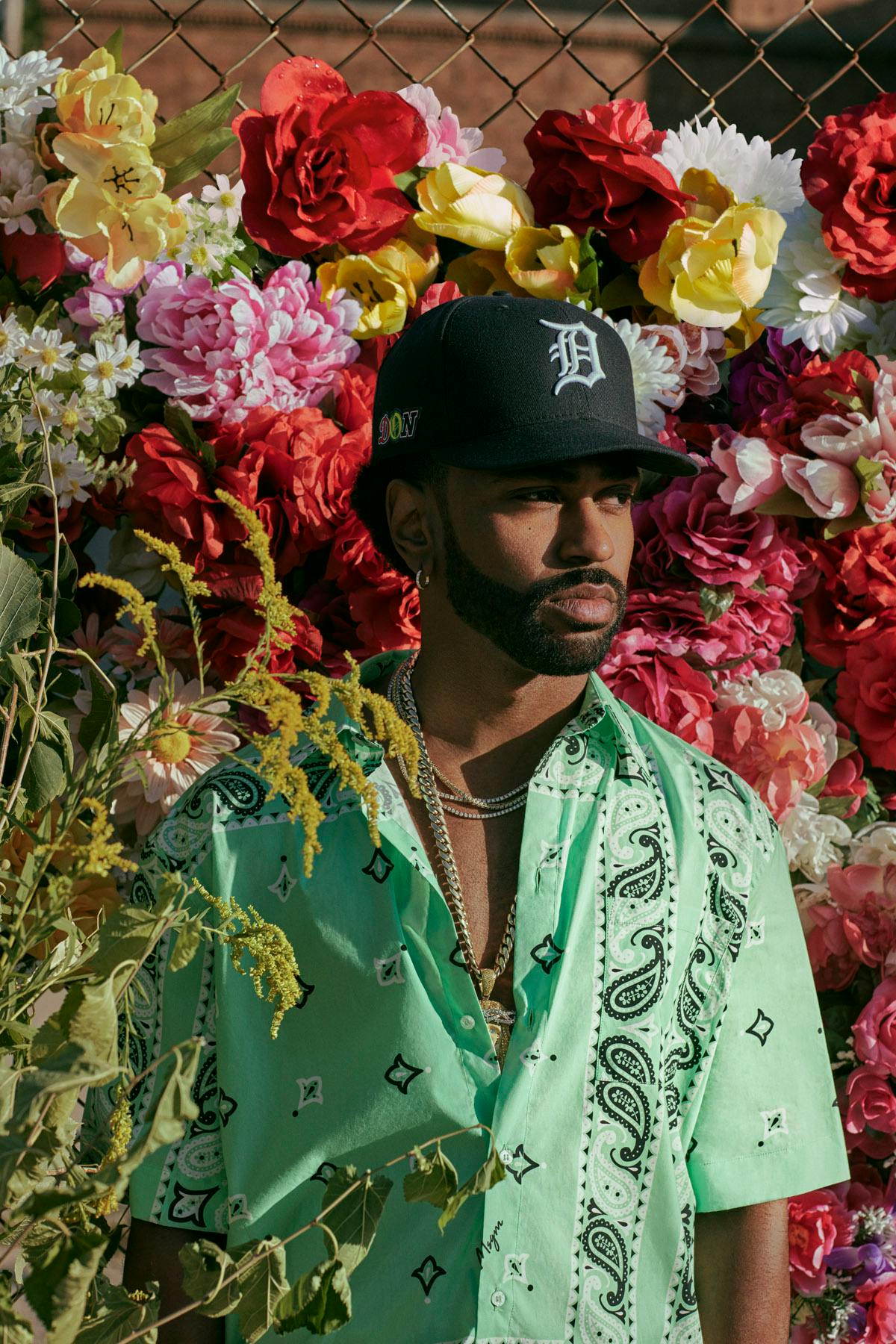 As a long-time anxiety sufferer, "Deep Reverence" sees Sean questioning the fact that it was never raised in the classroom. "Anxiety is something I've had to deal with more than physics, and more than trigonometry, and certain things I learned," he explains. "This is something I deal with on a daily basis." He believes that perceptions of mental health should be no different to physical health. "I think that now, especially with social media, it needs to be incorporated in schools. Because social media has changed the dynamic. It's beautiful that we all are together and all on the same platform, but we have to make sure that we put it in a perspective to where it doesn't define our lives and give us validation for our existence."
As a self-described "super sensitive" artist, he feels as though the criticism directed at him is often unwarranted and unfair: "I didn't know I gave you permission to even judge me like that. When I was growing up, when I used to have to go to church every Sunday, I was told that only God can judge you. It's crazy that people will even hold you to higher standards than they hold themselves." When he didn't know what else to do, he sought therapy. "I was like, 'Is something wrong with me? On the inside, in my head, and I don't know how to handle it?'" He's discovered the benefit of therapy to be in extracting his emotional baggage and leaving it behind in his sessions, rather than dragging it along with him, or imposing it upon loved ones: "I was just looking for someone to vent to, that could help me bring up issues in my head that I can leave there, too."
Nipsey Hussle's verse on "Deep Reverence" is one of several that were left on producer Hit-Boy's hard drive when the Los Angeles rapper and entrepreneur was murdered last year. "Me and Sean was just having a regular conversation, just talking about a lot of the stuff he talks about in the song, and I said that he should say it on a record," remembers Hit. "I pulled up the Nipsey verse and that beat and he just went crazy over it. That was one of the first ones that we locked in."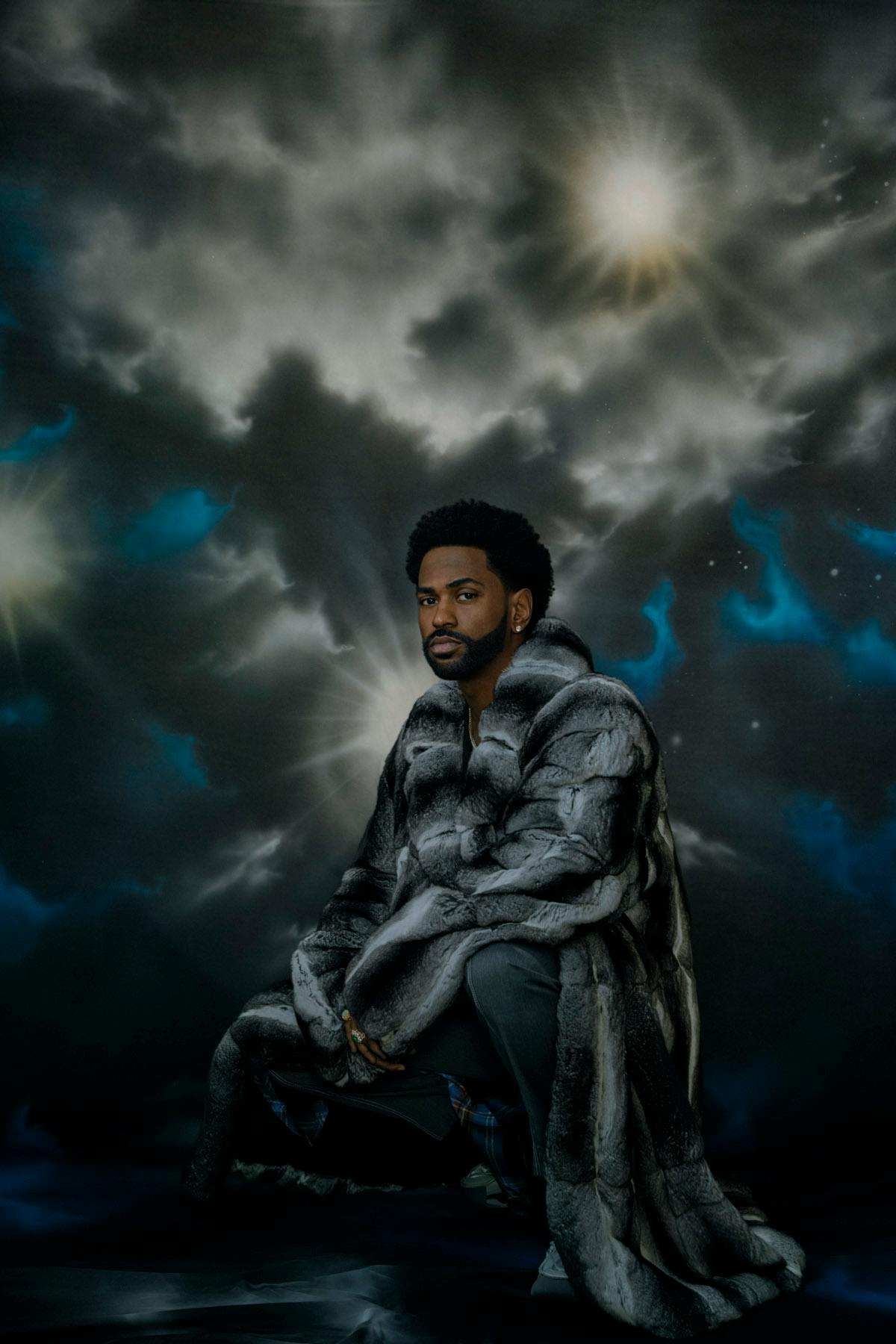 The collaboration first became public knowledge when Hit-Boy played it during his Verzuz battle on Instagram Live against Boi-1da in March. "We had talked about him not playing it," says Sean. "I was like, 'Man, don't play that song.' And he was like, 'For sure, I won't play it.'" But in the heat of battle, adrenaline running, Hit couldn't resist. "At first, I was on the side, like, 'No bro, no, no, no!'" Sean remembers, laughing. "But things happen for a reason right? I'm a firm believer of that." It was the highlight of the night, making headlines the morning after. Hit-Boy was always confident about the move: "I knew it was a moment, I knew it was going to be crazy. And I also knew that Boi-1da was going to play some unreleased Drake, so I had to have a bomb in my back pocket. Shit — it worked out!"
Sean intends to channel the message of Nipsey Hussle far beyond the posthumous appearance. "He taught me to not be pressured by the timing that people want you to do things, but always to work in the timing of God and your intuition and your heart," says Sean of his peer, who he first met in 2008. "He was very empowering in Black business, empowering his people, his neighborhood and reminding people that it's a marathon in life. And to me, that translates more of it to being a journey than it just being a race. It's the long run." Nipsey's influence can be detected throughout Detroit 2, from individual lyrics to the DNA of the record: "He's inspired me to be upfront and truthful and honest about things like holistic medicine, about uplifting my community, and highlighting where I'm from."
Reconnecting to his roots and his hometown lead Sean to title the new album after his DatPiff-crashing cult classic 2012 mixtape Detroit, which is considered by many to be his best work. Hit-Boy produced "Once Bitten Twice Shy," the closing track on the original, so he knew what he was getting into with a followup: "It's Sean's perspective; his view of Detroit and how he grew up," he offers. "It's really giving people a piece of him." Sean says his headspace at the time informed the title: "I was returning to that same mentality of when I was making the Detroit mixtape but it was just coming from a little bit more of an experienced mindset and an experienced perspective."
Echoing the original, the album includes stories from household names who talk about their experiences in the city — this time around, Dave Chappelle, Erykah Badu, and Stevie Wonder. Sean says that these segments come out of the need to share the positive stories about Detroit that he'd hear so often backstage, but rarely out in public. "This is a city that deserves it and has gone through so much hurt and pain — been bankrupt, and has lost out on so much. I thought it was important to get people to just talk about it, especially people not from Detroit." Fellow Detroit native Stevie Wonder got on board after he heard the album following a call with Sean to discuss how they could help the city's young people during the Covid-19 pandemic, but the others are all out-of-towners who speak of their experiences without bias: "When you hear, like, Dave Chappelle, Erykah Badu, Snoop Dogg, Jeezy or Common, it makes you look at it differently and respect it more."
Once Sean and Hit-Boy had a few great records in the bag, it made sense for Hit to come on board in a more hands-on role, as executive producer. It's been a prolific year for the Los Angeles producer, who has produced a full album for Nas, released a solo album, a collaborative album with Dom Kennedy, and still has another album with Griselda's Benny The Butcher on the way. "With Nas, I put every record together top to bottom, and with Benny the same thing," he explains. "But with Sean, he had other producers and he had me overseeing things, giving my ideas, thoughts, and opinions to records that wasn't mine."
In order to ensure that they were creating the best final product, the pair would exhaust their ideas, exploring every possible option before finalizing anything. "If I don't feel it in my heart, I know that it has to be re-approached or redone," says Sean. Hit-Boy ended up making five different beats for the opening track "Why Would I Stop?," before Sean ended up going back to their second version. "That was probably one of the toughest processes of any song I've made in the past couple of years," says Hit-Boy. "Every version we would do, he would truly live with it, and after a while, certain ones, he would just be like, 'Nah, that's not it.' We could have had everybody in the studio going crazy, but he still would wake up and be like, 'Nah, that's not it.' So that shit was frustrating, but at the same time, we all got what we wanted." Sean describes rewriting and reworking as his "least favorite thing to do ever," but believes it's ultimately worth the extra effort: "At least we go there. I think it's important that people explore their options and just try. Trying never hurt anything."
A meditation technique that Sean learned from motivational speaker and Feng Shui master Marie Diamond centres around reconnecting with your younger self, which allowed him to recall the hunger and dedication of a time where he'd sleep on studio floors and freestyle on local radio. One of the album's highlights, "Friday Night Cypher" — an almost 10-minute track which sees him bringing together a line-up of Detroit talent — was inspired by that time. "'Friday Night Cypher' was a show that I did when I was like 16 years old. Every Friday after school I would go to the radio station and a whole bunch of MCs would come together, and we would get to rap on air over the radio," he says, remembering that the station's 15-minute delay would mean he could listen back to himself on the car ride home. "For me, that was one of the most exciting, fulfilling moments of my life, hearing myself on the radio." Sean's version of "Friday Night Cypher" spans styles and generations, and sees Sean bringing together talent from the city that under other circumstances would be unlikely to appear on the same track: Tee Grizzley, Kash Doll, Cash Kidd, Payroll Giovanni, 42 Dogg, Boldy James, Drego, Sada Baby, Royce Da 5'9", and Eminem.
Detroit 2 also sees Sean collaborating with fellow G.O.O.D. Music affiliate Travis Scott, who pulled up at Sean's house in Los Angeles to record with Hit-Boy. Hit got no further than the first beat that he planned to play for the pair, an early version of the psychedelic guitar and drums from the beginning of "Lithuania." "As soon as I played the beat, Travis was like, load that up!" recalls Hit, who'd take the track home afterwards and work a trap-drum driven section in for Sean to rap on. "We put on Batman while we was working on 'Lithuania' and it was just a vibe," remembers Sean. "I was getting my hair braided and he came up with the first part, and right when he left I came up with the rest of the song. And he came back a couple of days later and we finished it up."
"Lithuania" got a premature premiere when Travis played the track — alongside "ZTFO," which he recorded ad-libs for — on his Apple Music 1 show .WAV Radio in July. "I didn't know Travis was gonna play it on that," admits Sean, with a grin. "I was like, fuck!" He qualifies that Travis had sent a text asking for new music, and when Sean replied asking if he was going to play the stuff they'd been working on, Travis responded: "We going up!" "So I'm like, what does that mean, bro?!" Sean recalls, laughing. "I wasn't mad at all, though, it was cool; it had a good feeling to it." Like Hit-Boy's "Deep Reverence" drop, the unexpected preview added to the cultural moment surrounding the album, hailing back to the nostalgia of its mixtape predecessor.
As the big budget sequel to his cult classic mixtape, Detroit 2 has proven to be a success both through reaching the number one spot on Billboard, and, more importantly, in fulfilling what its creators set out to achieve. "I'm proud that I was able to get something very honest across, that I probably would have been scared to do earlier in my career," says Sean. "I'm proud that I was able to speak my heart at a time where I feel like we really need to do that. And hopefully I can inspire more people to do that, too, because it's something I'm going to look back on and be happy that I did… If there's one thing this last year and a half has taught me, it's like, if you've got something on your mind, you've just gotta do it, because you never know how long you have."