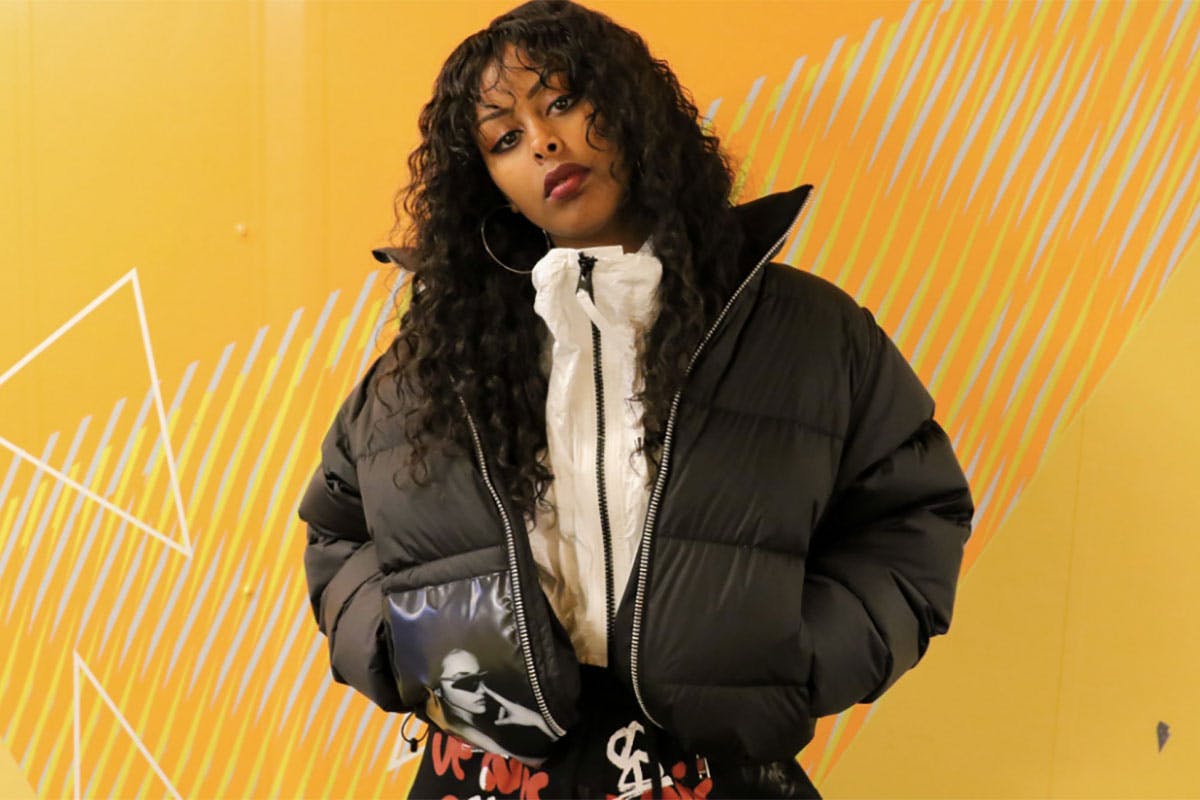 The first thing Cherrie says to me when I call her is "Wait, are you Somali?" Last October, the video for "163 För Evigt" had Somali Twitter claiming the "IKEA diaspora" is unrivaled. In the first shot where we hear and see Cherrie in the visual, she dons a monochromatic, millennial light pink fit with trendy glasses as confetti triumphantly spirals around her. She is singing "jag mkom direkt från ill Mogadishu bror" which translates to "I came up straight from a place called Little Mogadishu," and we get a glimpse at the community this song is an ode to.
The video for "163 För Evigt" went viral, and in the span of a year, as the rest of the non-Swedish speaking world scrambled to learn how to pronounce the lyrics, Cherrie has traveled the world and released her sophomore album, Araweelo. The record was delayed by the holy month of Ramadan; with many of Cherrie's fans celebrating, she postponed – a sympathetic and tactful move on her part, showing that she is cognizant of who she creates for and who listens to her. Araweelo was released on her birthday, and on Eid, giving her three things to celebrate that day.
Cold Specks, a Somali artist from Toronto, invoked Araweelo on her album Fool's Paradise, so has Ilhan Omar, who was just elected to Congress. Omar shares the story of how her grandfather repeated the story of the "mythical araweelo" to her because she never knew her mother. The trans-national duo Ifrah Ahmed and Sagal Abdulle named their online publication for Somali women Araweelo Abroad. Araweelo, the fearless ancient Somali queen is revered by Somali women; it's no wonder creatives from the diaspora honor her by naming her as an inspiration, and naming their works after her.
Highsnobiety caught up with Cherrie talks music, home and what Araweelo means to her.
Your music sounds like it's heavily influenced by '90s R&B. Who were you listening to when you grew up in Finland, and who was popular in Finland to listen to at the time?
Well, growing up in Finland, I wasn't really exposed to a lot of the kind of music that I like. My parents are kind of young, so they had a couple CDs; Aaliyah, Brandy, all kinds of music. I moved to Sweden when I was ten years old, and Sweden's been a lot more open to American music and American cultural overall. They had a lot more immigrants in Sweden then there were in Finland, so all of my cousins who lived down here could just go down to the city center and buy single CDs for 20 krons, like two dollars. Anytime I looked on TV and saw Aaliyah's video or something, I'd be like "Oh my God, this is amazing." That was the only representation for me to see when it came to young Black girls, or people that look like me. There weren't a lot of us when I came to Sweden.
A lot of people resonate with your music. I don't understand Swedish and I still loved listening to your music, so that's a testament to this specific Somali experience. Do you think that people resonate with the just the music in general? What do you think it is?
You know what it is, living in Sweden… It's a small country, there's only 10 million people here, but we have a lot of immigrants. My best friends were from a bunch of different countries: Iraq, Morocco, Somalia, Eritrea, Jamaica, Gambia, all kinds of people, it was just a mix. We were living here as third culture kids, third or second generation. We created our own culture where we had slang, and you'd listen to Arabic music because you had Arabic friends, or Nigerian music early (not Afrobeats, not the popular stuff).
Me creating the music that I do, sometimes you can hear the tropical beat to it, there's still an R&B feel, and sometimes the way I sing – especially if you understand Swedish – you can tell that certain melodies that I choose come from me growing up listening to Bollywood music, or Somali music with some of the tones I sing in. All of that, I think, comes from me being so multicultural, because of my friends and the area that I grew up in. That translates into music which makes it easier for people that don't understand it to still like vibe to it. There's a different, more inclusive feel to it.
Who or what influences your music the most?
I really don't have a favorite artist, I grew up listening to a lot of music. I'm more influenced by the themes of the music and what I stand for, the place that I'm from, and of course my friends and family. That is what inspires me, I couldn't have done this album if I wasn't around the girls that I grew up with and my family.
Why did you name your album 'Araweelo'? Somali girls love 'Araweelo,' but what does it mean to you?
She's a badass symbol of what it means to be Somali. I feel like Somali women are the strongest people I know, especially Somali moms. We've endured a lot as a people. Making music is not easy, even in a small country like Sweden. There will always be resistance, people not believing in you. Before me there wasn't a Black girl singing R&B in Sweden. A lot of people didn't believe in R&B music that comes from where I come from. I always had resistance in the beginning, especially as I was trying to get signed. I learned how to produce just so that I could have more power in the studio working with men, and I decided that I was going to have my own label. My company is called Araweelo as well, it represents what I stand for as an artist.
I remember when you first went viral for "163 Evigt" with Somali Twitter sharing the video, saying IKEA diaspora is popping and all that. What has this journey from that moment to present day taught you?
After that happened, I'm lucky to have such good management because they were the ones who pushed it even further for me to get on Genius and Vogue and all those outlets. First and foremost, it was the Somali diaspora, and to have that, people backing you. I know that people looked at the video and people saw Black bodies, having pride in where they're from.
We all love repping where we're from.
Yeah, it feels like home and I totally get it! People are going to be repping where I'm from, it was a personal validation and I needed it at the time. Now as an artist, I know that, what it really taught me was that there is nothing that's impossible, I could do whatever and still be me and still not compromise what I want to do as an artist.
What does home mean to you? How do you reconcile the realities of violence, specifically the gun violence in Stockholm, and having pride in where you're from? Your music speaks to both of these realities, but what relationship do you have?
As a kid, we moved from Finland because of the racism. When we came to Sweden it was like home, with brown and Black people everywhere. There's no where else I would rather live more than Sweden; it's really an amazing country, and for that to happen in the place that you love is hard, you know? I've been talking about this stuff in my music but I'm not political, I just talk about what I've been through. There are people I've been classmates with, I've been neighbors with, friends with, we grew up together. Then you see them die, brutally murdered in a café in an area two blocks away from your house. It gets really hard, but I want to talk about this stuff in a respectful manner and put a light on it.
So I use music to give a more emotional perspective, because at the end of the day that's my biggest tool as an artist. All of my music comes from a perspective that is very emotional, we have rappers that are amazing in Sweden that will paint pictures for you about what is going on, but me, I talk about the emotions – the mother's sorrow, losing a friend that's dying. Using music to actually make people feel it instead of seeing it, because they've seen the statistics in the newspapers and what not. When you listen to the music you might not want to hear about guys shooting guns and dying, but everyone knows what sorrow is.
So that's how you maintain your respect and integrity, you try to grasp on the nuances.
That's been my goal. That's why I think my first album did so well, because for the first time people heard about what the people felt. After a while I realized I can use music to help people feel versus trying to understand. The first single I made was "Tabanja" (which means gun in Swedish) and now that song is more of an anthem, or like a PSA of what was happening. In the song, I'm not really talking about anything but a mother crying because she loses her son. Right from the jump I was explaining where I'm from and what I stand for, and after that I started releasing the songs where I actually sing. In the beginning, people thought I was a rapper; I really wanted to show what I was representing in a way that doesn't get political because that's not what I'm about at all.
The interesting thing is, most marginalized people don't really go out of their way to be political, it's just their life.
Exactly. But when a Black girl from Sweden comes and talks about these issues they want to make it into a political thing. When I released that song there were political debates, and right wing papers tried to use it for their own debates. They wanted me to go out and explain what it was about. I was like, 'No, I'm not political. This is not for you, this is for the people that need to hear this shit.' I've always had resistance in that way, but I feel like music's always won.
Was it easy for you to make music? What did you have to do to get yourself and your music out there?
I've tried to do this thing since I was 13. Again, Sweden is a small country, and there was a time in Sweden where hip-hop was kind of underground, so it wasn't hard to get into certain studios and to work with certain producers. But every time I went, the only producers that made the kind of beats that I wanted were hip-hop producers. They didn't know how to record singers; I never thought it sounded good and it really made me insecure about making music at all. I thought, 'I'm not really good at this.' Then after 10 years of floating around I started to get into the studio with people that really understood what I wanted to do. I went, I took a course, I learned how to produce on my computer and how to record myself. That's when I really started to make music that I thought was good.
Any girl that wants to start making music, I'd advise them to get a computer and download a music program and at least learn how to record yourself. Because then you can get good enough where you'll attract the right people to work with you and make amazing music. Learn about yourself, because when you have that power, you don't need anyone else.
For more of our interview features, read our chat with Amir Obè.