It always feels special keeping tabs on someone who is well on their way to becoming a household name. Amir Obè, singer-songwriter, rapper, producer extraordinaire, is about to make his television debut on Late Night with Seth Meyers. We originally caught up with him last year to talk about his transition from independent artist to signing with Def Jam.
Now, we're on the phone with him a few days into a month in Los Angeles. He's mostly on his studio grind, punctuated with the occasional food delivery, making it more than clear that Obè is dedicated to his art. For anyone that's even a little bit familiar with his work – whether it's his solo project or his work with the likes of Drake and Partynextdoor – his dedication has always come through, as has his desire to keep things authentic and interesting.
His latest track "Famous" is a culmination of so much of what he's been showing his fans. His drive, his vulnerability, his lifelong desire to "be somebody" culminated with the realities of where he's at now ("Momma I don't want to be famous, I just want to go home").
Photographer Noa Gravesky shot Amir Obe in some fall looks while we reconnected with the Detroit artist's expansions on his Tweets, his fanbase, his Can't Be A ___ series of EPs, and much more.
I was looking at your recent tweets. You wrote, "Never compromise, never settle, follow your heart." I'm curious to hear about a specific time time where you did compromise and you did settle, even if it fucked things up for you in one way or another.
I've always been creative to keep things authentic. I've never followed the patterns or formulas to create a hit song, like people might assume others do. I always just create and maintain that integrity that I like to maintain in the studio. Keeping things authentic, organic, not forcing anything, not settling. It's really just about staying true to oneself.
I also noticed that on Twitter that you retweet a lot of what your fans say, their feedback. How important have your fans been to your career?
It's been a constant, steady growth. To be fully supported by fans - that's why I try to maintain the conversation by fans. That's why I try to lead the conversation by acknowledging their tweets or things they see online. I see all of it. That gesture when they share my music, praise my music publicly, or speak on it - that's what it's been pretty much my whole career to this point.
There hasn't been anything that's blown up. It's been about releasing music over time; it's been constant growth. The fans are really dictating more fans that come along. There's never been a catapult. The starting point and where we're at today, it's all just from fans speaking highly and sharing the music. It's been like a snowball effect.
Do you have any specific fan experiences that have stood out to you?
Not necessarily. The best moments are always after the show. I always go into the crowd after the show and take pictures or speak. I don't do the fan club thing. They don't have to pay extra to come there and it's just awkward light and stand around and take the picture ... I just go out there and chill and talk to everybody until they feel like it's a comfortable environment. They can come up and take pictures and stick around. I've always had that relationship with fans and I will always continue to do that.
I've had a lot of fans that say that I got them through rough times, so that's the greatest gift. If my music is healing some people, wherever they may be, that's always the highest statement I could receive.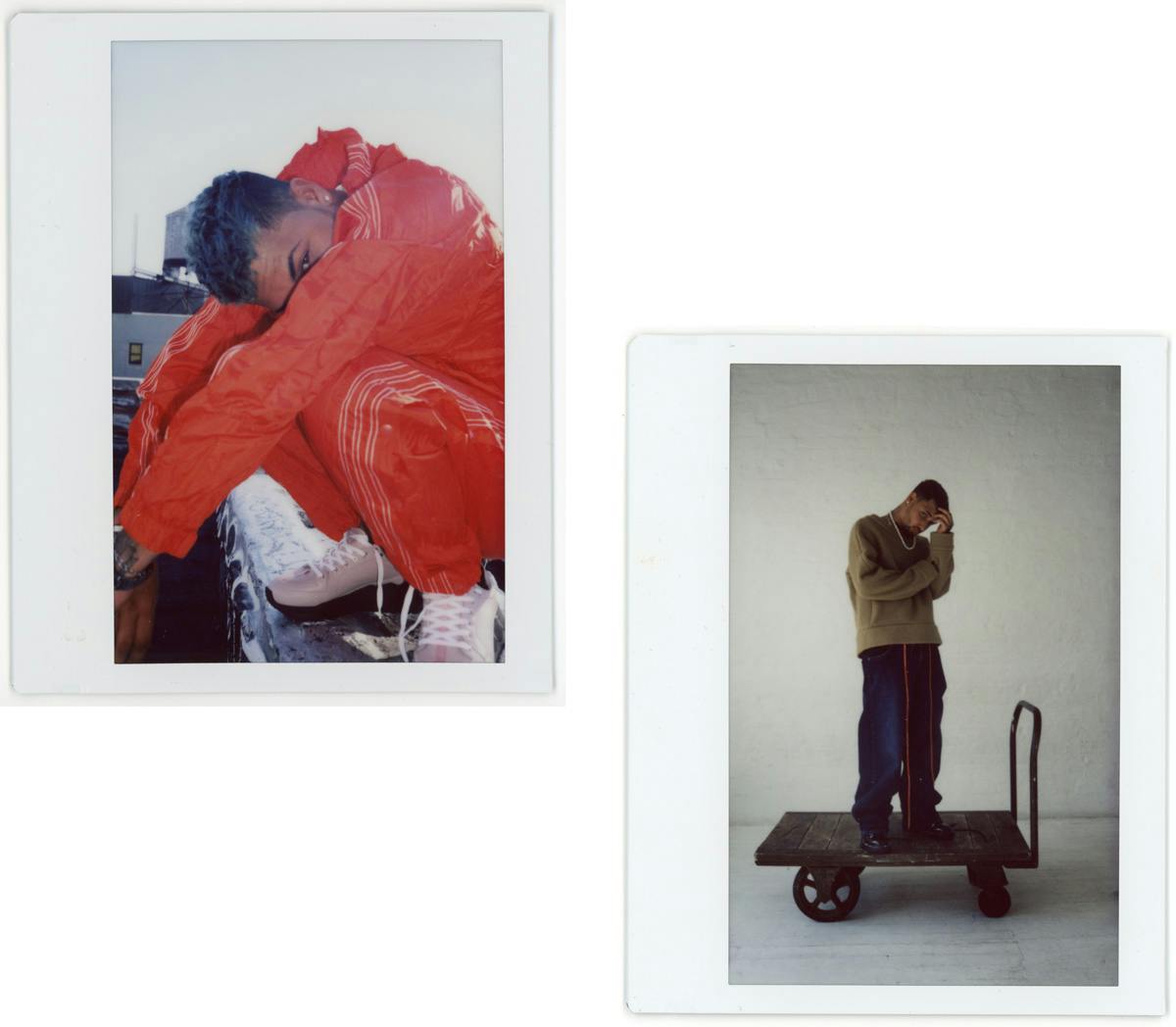 For sure. Who's the first musician that you remember being a huge fan of?
I was a huge Michael Jackson fan as a kid. I watched ... I owned his video games, I owned his action figure. I have past posters. I always was around his music. I had a whole list of things there. I'm a big fan of Michael Jackson and Prince, but I just always gravitated towards Michael and the way that he transitioned from album to album.
It wasn't until I was probably in my late teens where I could digest music like I can now. But I think we were all fans of Michael growing up, everyone in my age group. But then in the formative years when I got into rap and stuff, I was a big fan of Kanye from his first album. I remember that was one of the first CD's I had.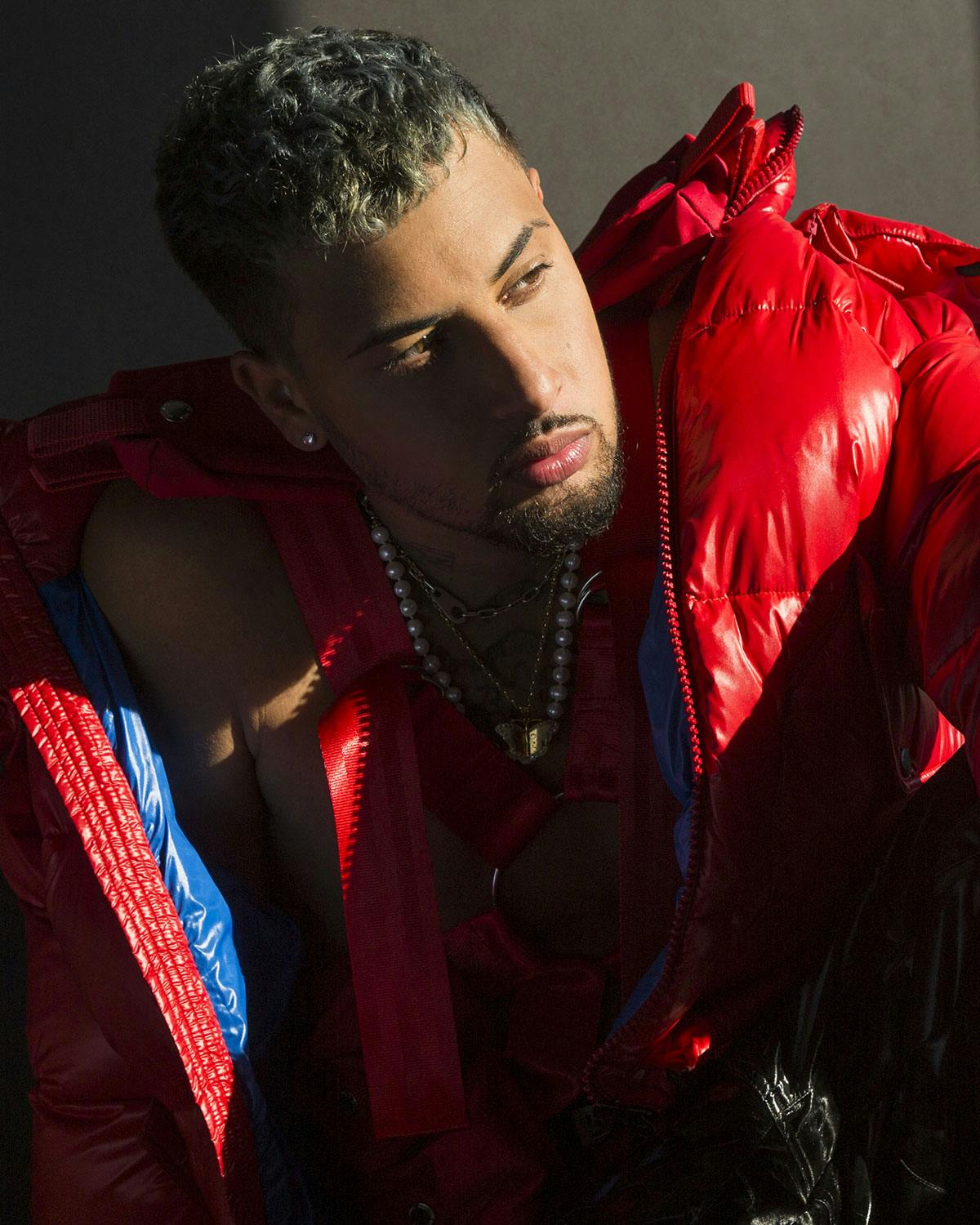 Speaking of Kanye, I've been thinking about his decision to make all the G.O.O.D. Music projects this summer only seven tracks long. Then when I was looking at your discography, I saw that a lot of your EP's and even your albums are fairly concise. In general, do you like being concise in what you release? Is that even a consideration for you?
It's never my mission to make an album or project that's seven songs or whatever. I do think it's easier to digest a full statement of the project in installments. Nobody has the patience to sit through an hour and a half of music and form an opinion that quick. I like people looking at those five songs, six songs, while I continue to work on the next thing.
There's always something to kind of look forward to that's not finished yet. Like watching a season on Netflix that you just got into. You can watch it, but the more you do, the more feelings that come out like, 'I gotta wait for next week for that next episode and I'm really into it now.' It's kind of like giving the fans that joy of patience, being like, 'what's next?'
Tell me a bit about your project Can't Be a ___ Here and its different chapters.
It's an introspective project but it's still relative. I know there's a lot of content or concepts in the music that people can relate to. That blank in the title is kind of reserved for an adjective. It's for the fans to fill in and apply to themselves. Whatever you want to apply, it's up for interpretation. I didn't even finish that title. There's a blank there for a reason. So whatever the project means to me doesn't matter. It's kind of reserved for a thing for the fans to have. To have that hope for them to interpret is as they wish.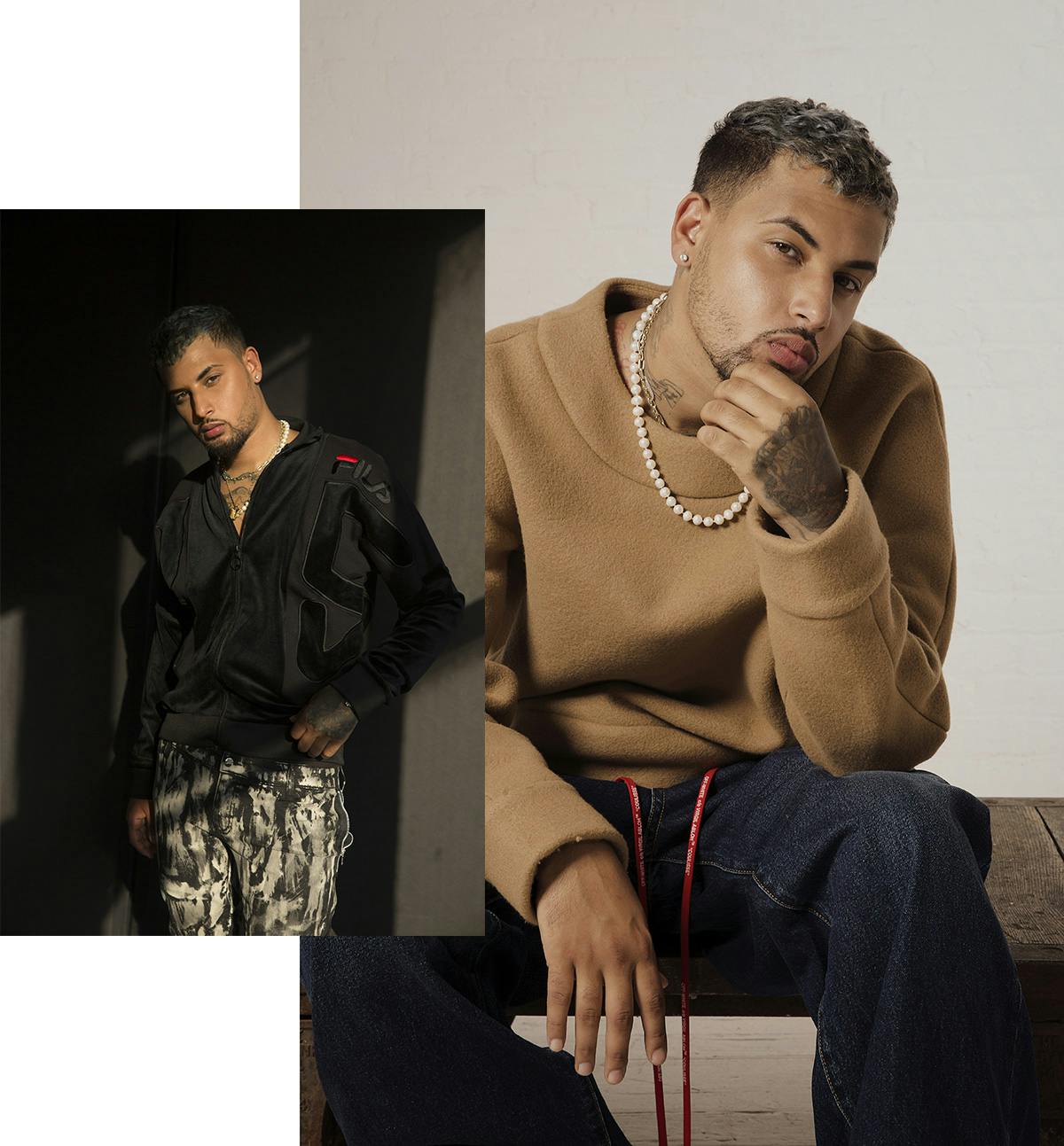 You open your song "Juliet" with the line "I don't ever cry but the songs do." It's pretty obvious what you're saying there, but which track out of this project would you say felt the most emotionally cathartic to create?
I would probably choose the intro song off Chapter 1, "Don't Belong Here." That one is also like a wave of emotions and a lot of realness. Like I said before it's a well needed conversation with myself. Various reflections. Looking in the mirror and just addressing yourself and being unapologetically real with yourself.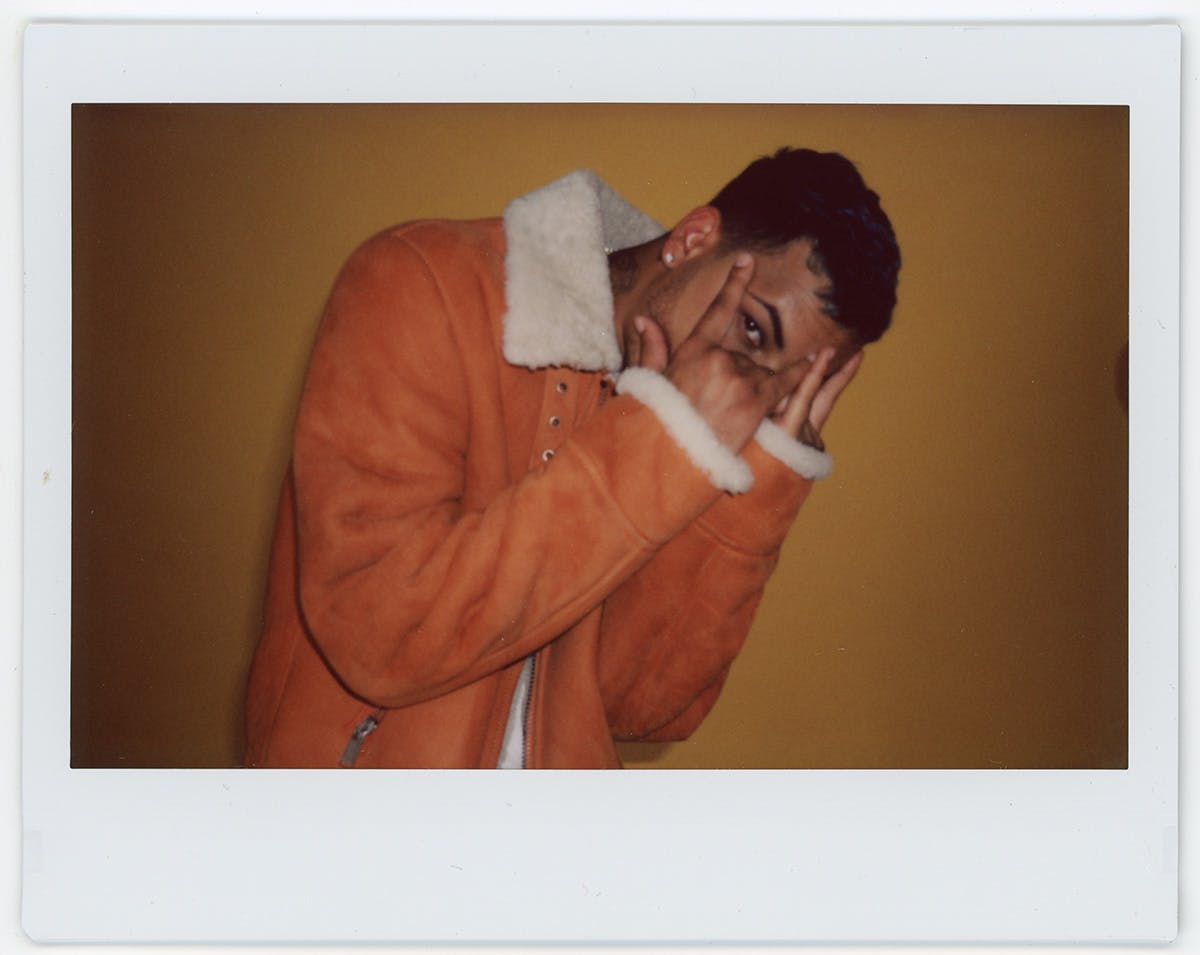 It's not always easy to be unapologetically real with yourself. How have you cultivated this idea of apologetic realness in your own life over the years?
I've always told myself, it's easier to make music that comes from an honest place. I can't be vague. It's effortless for me to speak on what I know. It's just like an open book.
I don't even think sometimes, I just let it out there and I don't care what people or how they react to it. I'm just very honest with myself and that's just the easiest way to create. Straight from an honest place and a real experience or a real conversation because it's a like a direct reference point for me. I'm honest. It's like have a conversation with a listener or just basically venting and talking into a mic. I find it more difficult to make a song being vague or trying to appeal to a wider audience. If it's real to me, I would assume it's real to somebody else.
For more like this, read our chat and check our editorial with the glamazon Tommy Genesis.