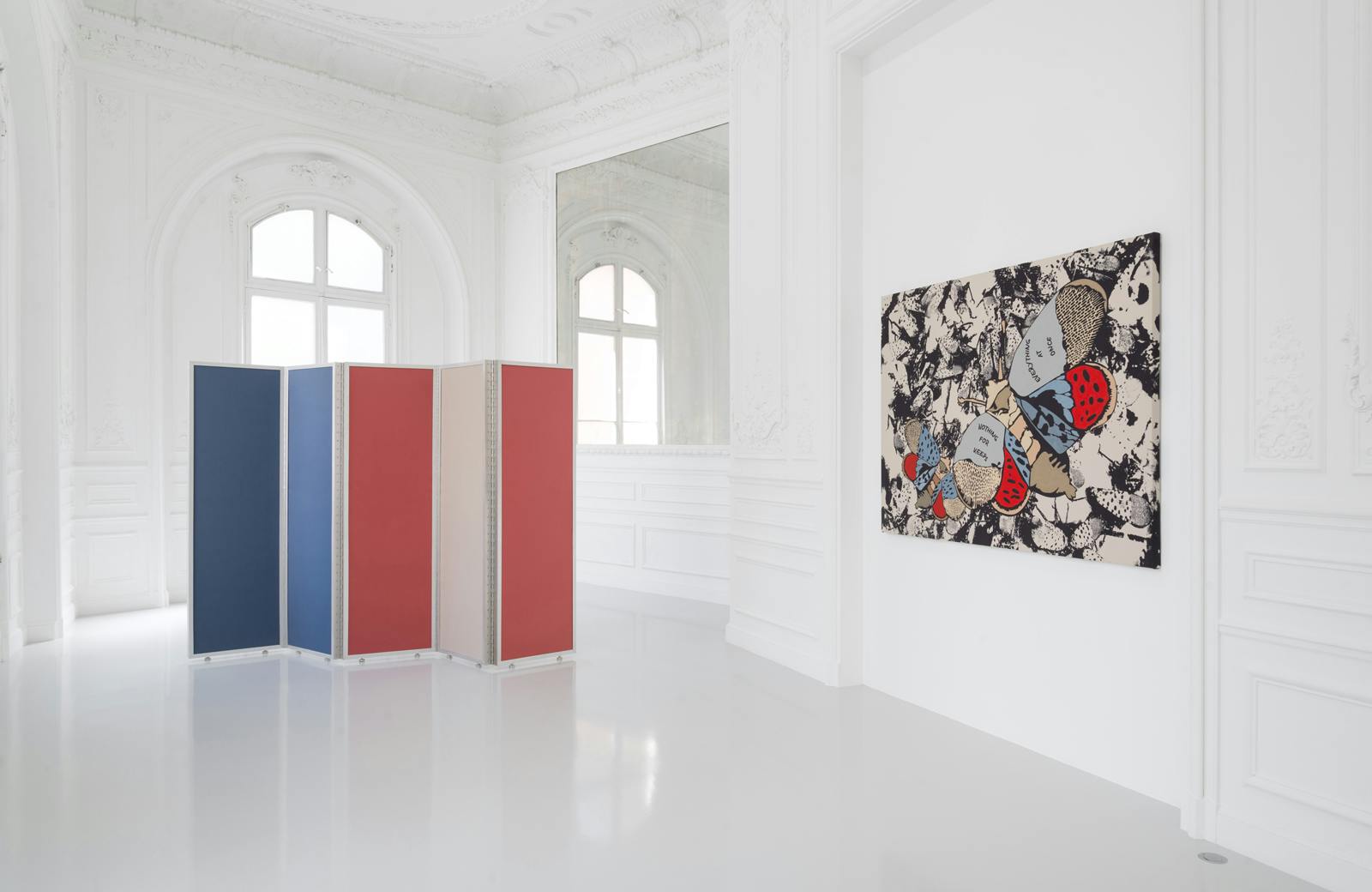 Courtesy of the artist and High Art, Paris / Arles
The 4ème édition of Not In Paris is finally here. With over 20 brand collaborations and exclusive content, it's our biggest one yet. Explore the series here.
In Dena Yago's latest show "Industry City," at High Art in Paris, the story of our precarious culture is told using a kind of generated banter. Paintings and folded panels are painted with trashed industrial landscapes, Cinderella birds, and various words that are at once easily identifiable but also a kind of beautiful gibberish. In the painting, Cursed Virtues, the words like "Elasticity," "Adjacency," and "Hybridity" are painted on leaves that are falling against a cobbled ground. They're words that have come to us downstream from ultra-positivist places like Silicon Valley; concepts that we were supposed to be lodestars for and that would finally set us free. Overall, the show is done in the style of cartoons and colors you might find in a premium mediocre hotel. It's a way of Yago getting across her own narrative by integrating it in easily identifiable forms.
"I have been using cartoon elements in my work since 2016 when I started doing large scale wall paintings. I found that by using forms that are very culturally legible it becomes a way of doing a bait and switch of more critical messages through forms that people might have their own personal relationships to. You see this in the memes that people make from the game 'Animal Crossing' where they're delivering quotations through a tiny rabbit. I think that it's a way to get the pill down easier. I don't necessarily think about it in terms of blending high and low brow. I think about it more in terms of the practice of fan fiction where one can explode these character universes and narratives and make them accommodate minor histories."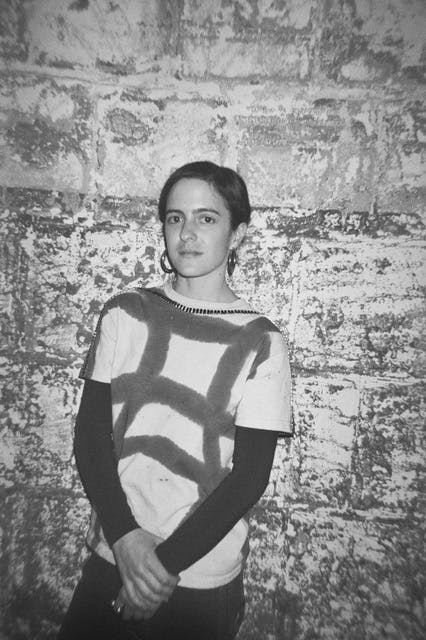 The show takes its title from an industrial space developed near Yago's studio in Brooklyn. Dubbed "Industry City," it features, among other things, a hatchet throwing studio, a gaggle of quaint boutique stores, an Amazon Flex Point, a Costco where the majority of bodegas in NYC get their products from, as well as the jail that held Ghislaine Maxwell. Places like this represent de-industrialization of spaces that once represented the apex of industrial production in America. It's these types of business ideas that are as vacant and random as the argot that is used to sell them, making them a kind of physical manifestation of a corporate word salad. By referencing these concepts, places, and argot, Yago's work is less about the artist role-playing as a corporate person, than it is about exposing the fact that we are all role-playing a narrative that has been crafted in a corporate setting, whether we are cognizant of it or not.
It makes sense that Yago's work takes considerably from this spectrum, as she herself continues to work as a consultant, something she's been doing since she graduated in 2010 and founded the group K-HOLE with friends. K-HOLE was a kind of pseudo-consulting firm that released trend reports and is perhaps best known for coining the term Normcore. By using the format of the trend report, K-HOLE was able to package the barbed criticisms of their own precarity in a way that brands themselves were eager to incorporate (ironically). Within a couple of years the group was asked to fly to Davos to consult with brands, proof of the success of their détournement.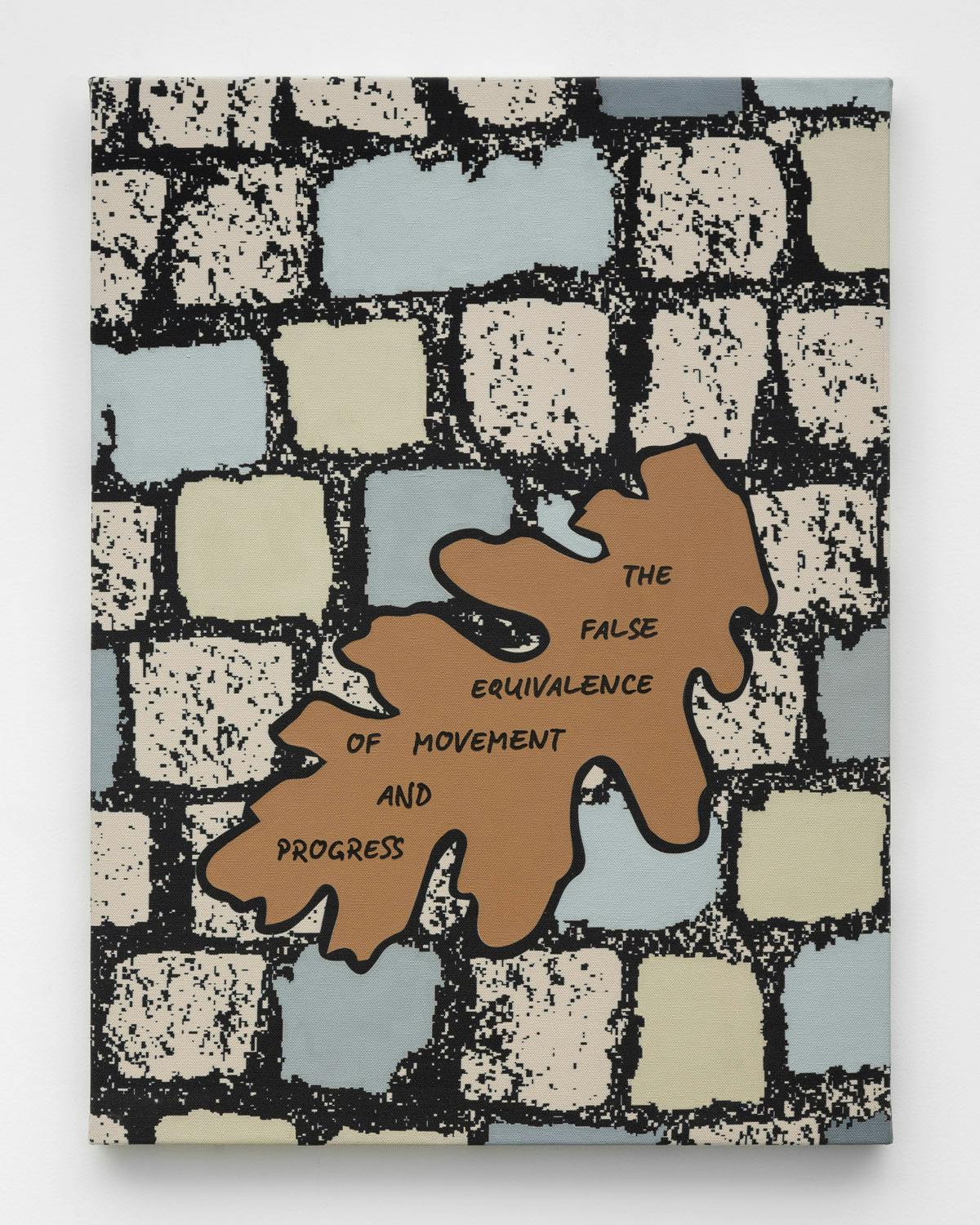 "When we started K-HOLE it was because we graduated into the recession and it ended up that the jobs that were available to us were in creative agencies and the production of mass lifestyles. But coming from our backgrounds and being an artist myself, I was really interested in how these two arenas speak to one another. I think what we're seeing now is just the logical evolution of that to a crazy degree where so many artistic tactics and strategies from the last 10 years are immediately recuperated. Just the speed at which the stuff cycles is wild. So K-HOLE was pretty much a collective literary project to mount some form of criticism from the inside, or the inside outside."
Although K-HOLE disbanded in 2016, Yago's work continues to be influenced by the processes she developed there. In particular, the language that she uses for her consulting work plays into the practice, where her poetry and word choices are often key. Even the names of two previous shows at High Art in Paris, "Escrow" and "Force Majeure," refer to the invisible forces that shape the way we craft our lives, work, and our relationship to the world around us. And like her recent show at High Art, she's always capitalized on the familiar. For the show "Dry Season" at Bodega Gallery in New York from 2020, Yago attached a number of Billy the Bass animatronic cartoon fish onto neutral colored canvases, while on a nearby wall she recreated Pieter Bruegel the Elder's painting Little Fish Eating Big Fish, only done in a chalk style that's reminiscent of a wall mural in Brooklyn.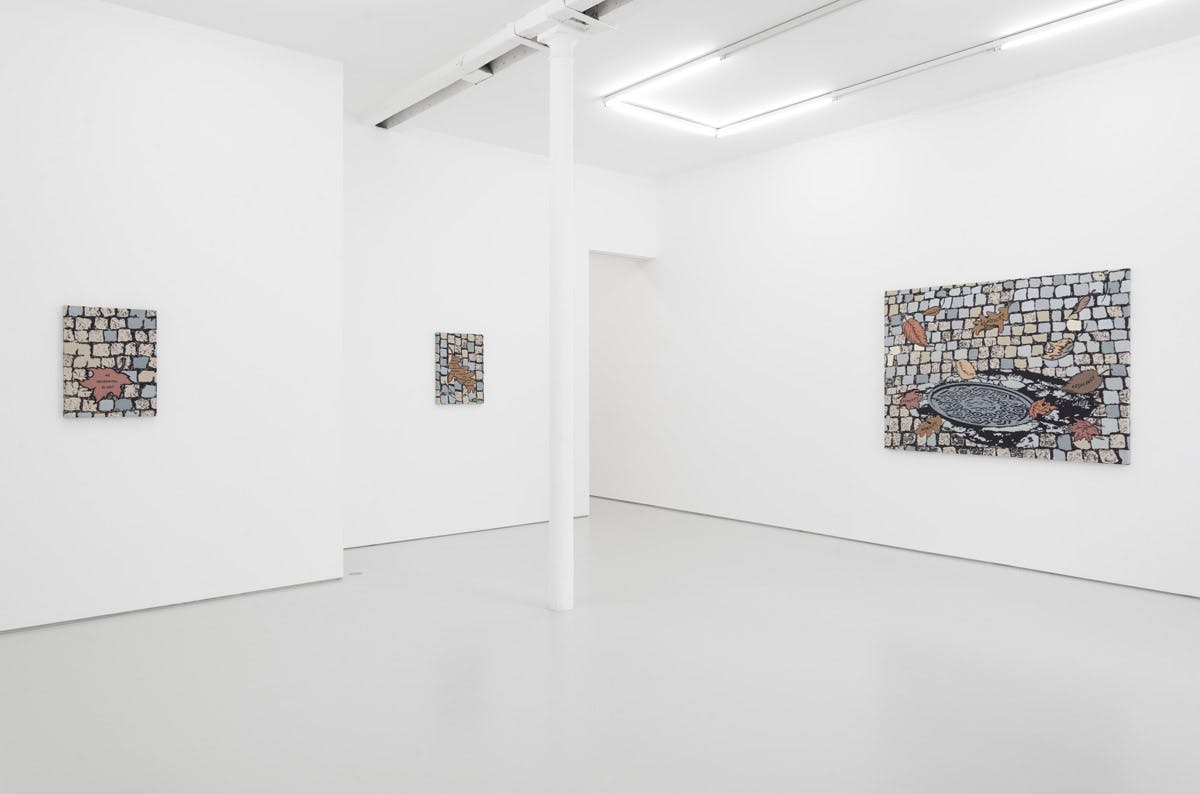 "A lot of the language from the consulting work that I do feeds back into my work, and my poetry is informed by the language that I have to engage with in client services, in branding and brand strategy, and things like that. The fact that I do have this professional practice, this consulting side of what I do... I feel like I'm bringing that back almost as a native informant, because a lot of what art people see as the corporate world is retrograde by 20 years. So you'll have an artist doing what Andrea Frazier was doing in the early '90s with the pantsuit business tactics, whatever, but that's not what we know as dominant creative capital looks like. It's a chambray shirt and Allbirds."
In the same way that highbrow and lowbrow has collapsed into unibrow, the differentiation between classes and classes of work has dissolved, as is evinced by Yago and her artist friends becoming consultants. We live in a society where a stock broker dresses, uses the lingo, lives in the same neighborhood, and is referred to in the same manner as an artist. Everybody is considered an artist to the point of being able to be exploited , everybody is a creator. But this change has mostly just led to the widespread exploitation of the gig economy and its associated instability.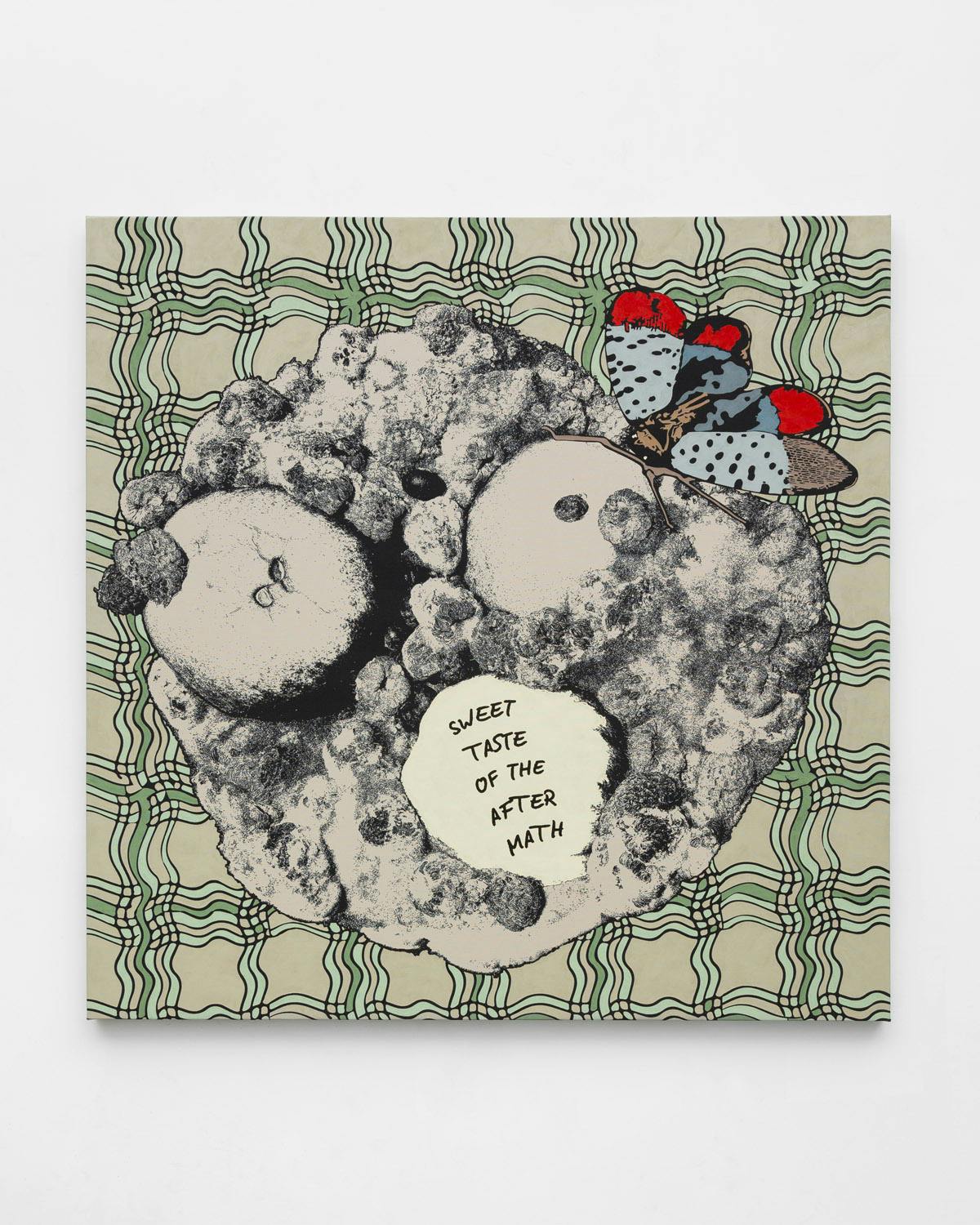 Within such a culture, one of the few roles the artist has left is to try to showcase a kind of reality. At face value, Yago's work features familiar forms done in a comfortable way. But inveterately the picture she paints is one of an anxious world, one trend away from disaster. It's one in which what we see isn't really what's there, because it's dressed up so much in cultural ephemera. Class precarity begets environmental precarity which begets reality.
"I think that cynicism in the Greek tradition is a productive act. We live in a culture that is, especially in the States, mired with bright siding and this toxic positivity. So I'm not necessarily saying that there are no alternatives, but I do think that the role of the artist is to reflect on some of the tougher things that are happening. Precarity is not specific to anyone's job or their labor. It's definitely just the condition under which we live today."