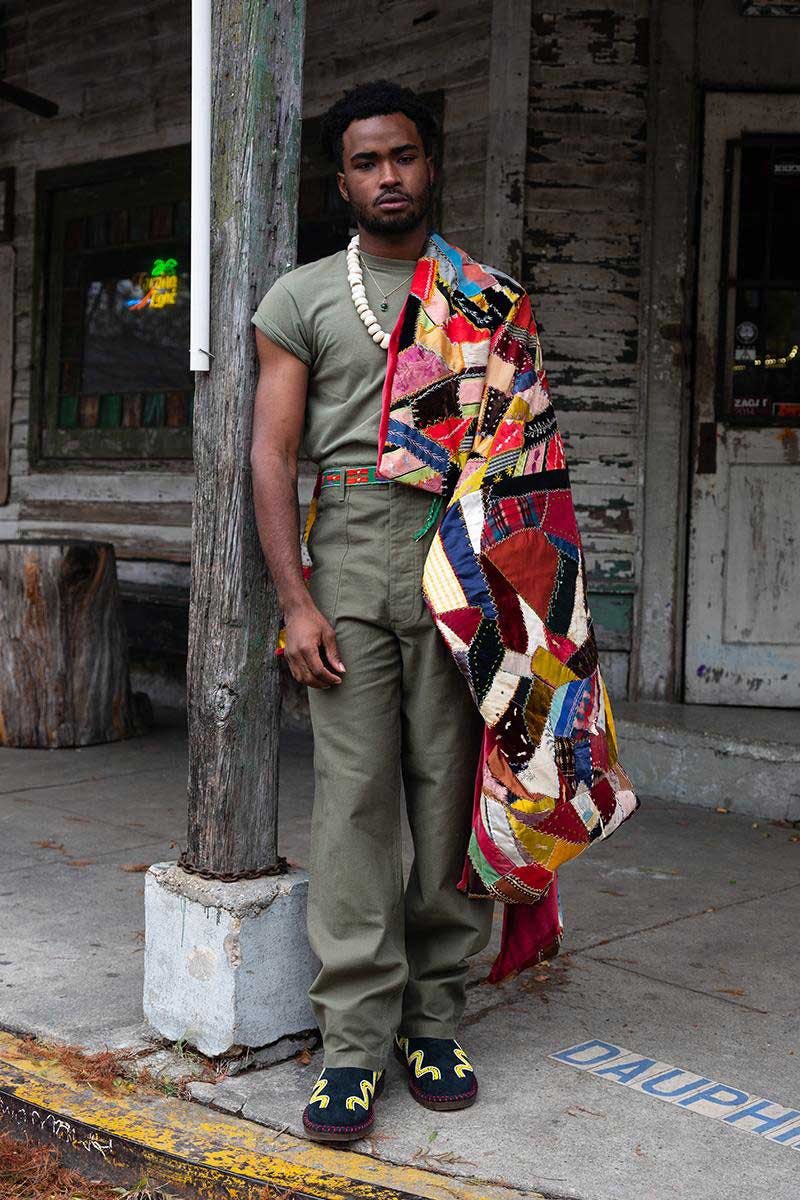 The Denim Tears x UGG collaboration is perhaps the most compelling collab I've seen in a minute. It is much more than just footwear. It's a story of Black family history.
Fresh off a Levi's 501 campaign, Denim Tears designer Tremaine Emory switches roles and becomes the family historian for this project, taking a deep dive into his familial roots. Precisely, he pays homage to his great grandmother Onia's Black Seminole origins, preserving the family's ancestry through the UGG collaboration.
Emory speaks on his grandmother and overall family, "My grandmother is 95 years old. Once my grandmother goes, that's it. There's no one else for me to talk to in my family about my great-grandmother. She's the last living person on Earth who knew my great-grandmother. How much more time does she have? Or do any of us have?"
He passionately continues about the big picture, "So, this is my attempt to try to cement some history so that, maybe one day, five kids or the rest of my family know the history."
With the help of Backstreet Cultural Museum and Guardians Institute, Tremaine unfolded his abundant family lineage, gathering a copious amount of information for personal and creative research. He and UGG donated $50,000 to both organizations as a big thank you and to help them continue to protect these deep-rooted cultural experiences.
During the research, the No Vacancy Inn co-founder uncovered a powerful discovery, revealing intersections with New Orleans and the "Black Masking Culture" community, or the "Mardi Gras Indians." Both names carry many historical connotations, but Mardi Gras remains a crucial component in each meaning, holding a principal place in Black and Indigenous cultures. And now, the holiday boasts a newfound significance for Emory.
Now that you've heard the story, you can truly understand the creative masterpiece generated from this collaboration.
Behold, the UGG x Denim Tears Tasman ONIA and UGG x Denim Tears Classic ONIA.
UGG x Denim Tears Tasman ONIA elevates the Tasman silhouette with a split-tone beaded and floral-embroidered overlay. The model's traditional suede peaks out from underneath while the familiar Toscana Sheepskin lining awaits with pure coziness.
Ugg's Classic boot gets the ultimate update from Denim Tears as the designer colorblocks the UGG x Denim Tears Classic ONIA's upper with chestnut and black. He further dresses the shoe with Indigenous-inspired details, decorating it with contrasting red stitching and a yellow beaded design.
Starring American trumpeter Chief Christian Scott aTunde Adjuah and Young Seminole Hunters member and contemporary bead artist Big Chief Demond Melancon, Emory unveiled a stunning 60-minute visual titled ONIA, capturing the pure essence of his NOLA background.
In the past few years, UGG has racked up some major collaborations, blending creative mindsets with brands like Telfar, BAPE, and Heron Preston to name a few.
Denim Tears joins the roster as another elite partnership, and honestly... I would like to see more.