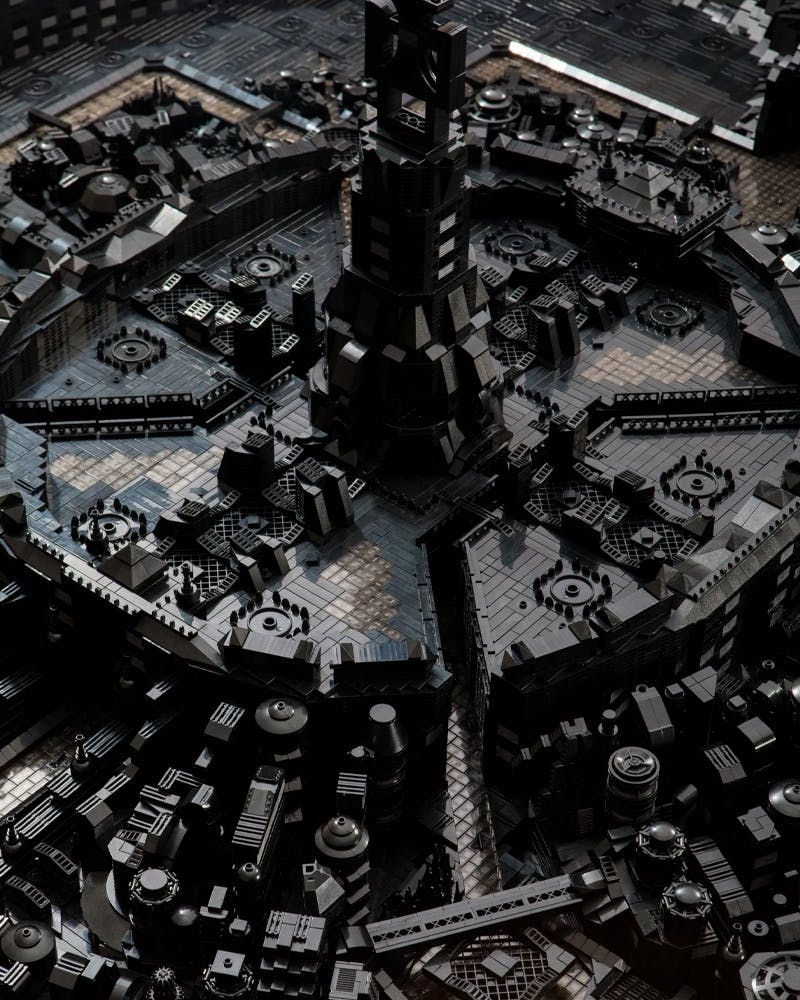 Ekow Nimako's 2019 work "Kumbi Saleh 3020 CE" is the Toronto-based artist's most ambitious cityscape to date. Constructed from 100,000 sleek black LEGO pieces, the Afrofuturistic metropolis reimagines the capital city of the ancient Ghanaian empire.
Building on historical scholarship, cultural symbolism, and a long-standing love for LEGO, Nimako's 30-square-foot sculpture catapults the medieval city into the year 3020. Here, he imagines an "uncooped narrative of Black civilizations." In his artist statement, Nimako explains that his work "seeks to reclaim histories, reconcile ancestral traumas and imagine liberated futures for all African peoples."
"Growing up, whether I was playing with LEGO or watching cartoons [...], representation was always an issue. When you're young you don't really realize, you're surrounded by whiteness with everything you consume — s0, when it comes to my art, it was very important for me to reflect myself, my people, my experience," Nimako ponders during the studio visit video below.
"When you see the monument you imagine old white men on horses being heroic and they carry a lot of colonial baggage." In his LEGO practice, and specifically in "Kumbi Saleh 3020 CE," Nimako asks: "Who are our heroes?"
The work responds to the Caravans of Gold, Fragments in Time exhibition, which explored how western Africa was the cultural and economic heart of the world during the medieval period. "The Afrofuturistic sculpture is situated within the genre's celebration and reimagination of a Blackness that is not constructed against the backdrop of enslavement, colonization, and violence," Nimako wrote.
"The use of LEGO as a sculptural medium," he explained, "further evokes a futuristic  aesthetic to capture architectural forms and elements from the natural world, transcending the medium's  geometric form." The work was recently acquired by the Aga Khan Museum in Museum where it will be on display when the Museum reopens in spring. Until then, watch a time-lapse video of the cityscape coming together below.