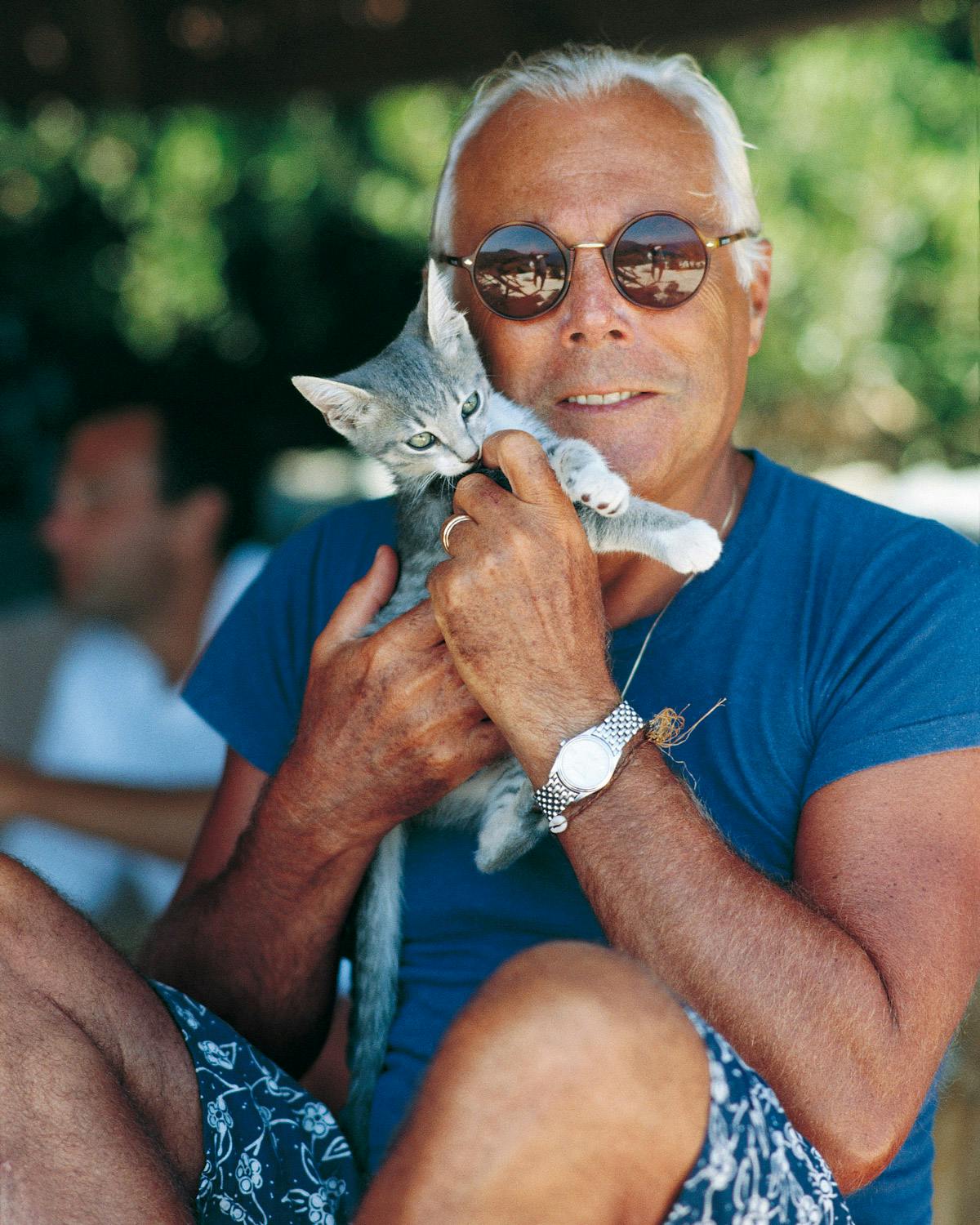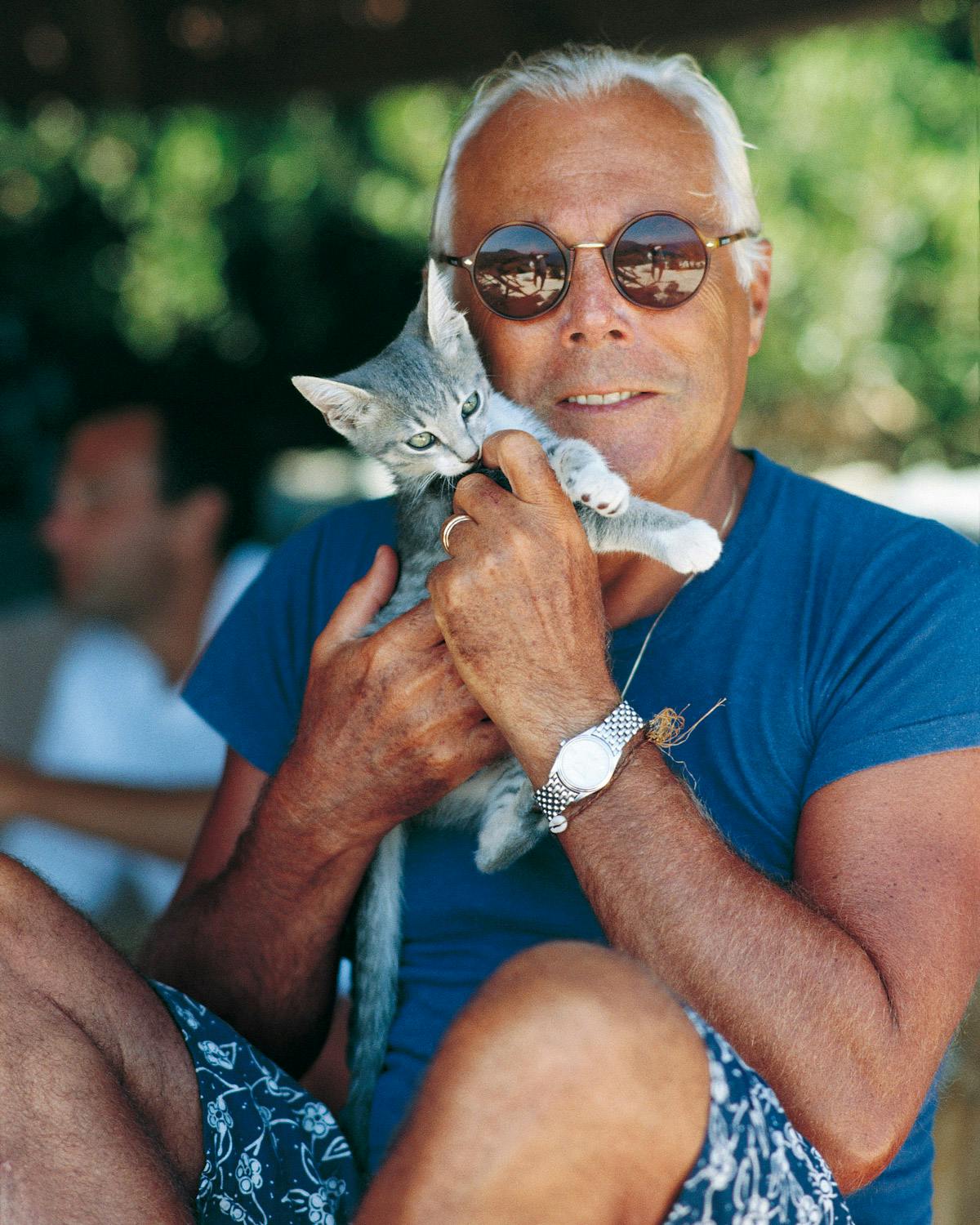 In this FRONTPAGE feature taken from HIGHEnergy, a print magazine by Highsnobiety, we speak to the man, the legend, the cat-connoisseur, and the industry titan himself, Giorgio Armani.
Giorgio Armani is a giant among men, dressed in a $2,000 navy blue suit. Sixty-five years since first setting foot into the fashion industry as a window dresser for Milanese luxury department store La Rinascente, the 86-year-old brilliant Italian fashion designer is still kicking.
"To be honest, I've worked even more," Armani told me this spring, still in the throes of Italy's stop-start reopening. "I discovered video meetings and remote fittings, which worked well. I'm always up for an unexpected challenge."
Last February, Armani — the brand — cancelled its Fall/Winter 2020 runway show due to the early spread of coronavirus within Italy. It was the first major luxury house to do so. Armani — the man — didn't pay much attention to the chatter from industry insiders who deemed the decision brash given the country's less than 200 cases and two fatalities. The decision stood, and with it came more than $2.2 million in donations to Italian hospitals and the country's Civil Protection Department. The move is simply the most recent case of the many in which Armani has led his peers into uncharted territory, from pioneering red carpet fashion to being the first designer to ban models with a body mass index under 18.
A revered leader in brand building, he continuously showcased an early knack for looking beyond the fashion bubble in which he resided. Since founding his namesake brand — with a men's and women's line — in the summer of 1975, Armani has Richard Branson-ed his way into ventures ranging from hospitality to entertainment, transforming his vision into a multi-billion-dollar aesthetic universe along the way.
In the beginning, Armani understood that power dynamics and needs were changing when he established the look of an androgynous and determined woman, and a less rigid man, offering his clients sophisticated and timeless clothes. Success was immediate. By the 1980s, he moved into film, designing the costumes for hit films including American Gigolo and sparking global demand for the brand's signature tailoring. To date, he's designed the costumes for more than 200 films.
An empire of product followed: sub lines including G.A. Le Collezioni, Armani Jeans, Emporio Armani, and A/X Armani Exchange, as well as an expansion into underwear, swimwear, kids clothing, cosmetics, glasses, socks, gifts, watches, sportswear, fragrance, couture, and home. Then came the hundreds of mono-brand stores, awards, museum exhibitions, magazine covers, bars, restaurants, hotels in Dubai and Milan, a cult house magazine, groundbreaking advertisements, a phone with Samsung, books, a series of special CD compilations, chocolates, and partnerships with top European sports teams.
In addition to making his name synonymous with luxury, Armani pulled off the even more difficult feat of doing so without selling it. His multi-billion-dollar business remains independent and is one of the last fashion companies of its size to do so. "Doing things according to what you — and not the others — think, is always radical," he says. In the age of clout-chasing screamers, Armani goes about business quietly, standing the test of time. Now that's truly radical.
With the world still clouded by uncertainty, Armani took us to school on 27 burning subjects.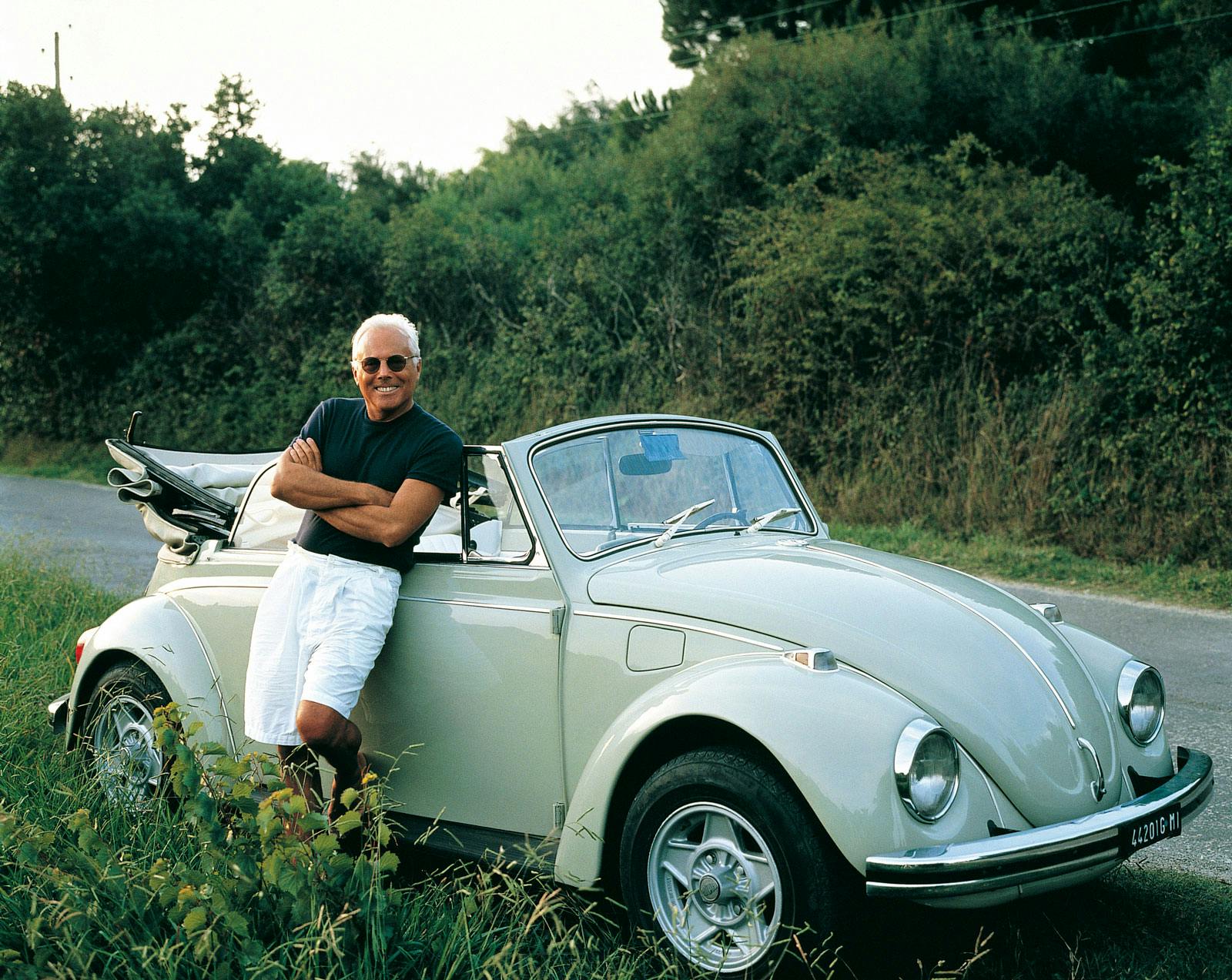 Navy Blue
"Navy blue is a stern yet gentle color. It's not as monastic and severe as black, but equally thoughtful, with a naval feel that is a plus for me, as I love the vast open sea. Navy blue projects an image of calm, and it actually relaxes me. My all-navy uniform is my way of saying, 'I do create clothes and a million other things, so I have no time to think too much about my look. But I'm paying attention to it anyway because I'm still a fashion designer, and a man with a precise aesthetic.'"
Elegance
"Intelligence is elegant. Stupidity is not."
The Best Footwear
"Clean white sneakers, like the ones I have been wearing forever."
Breaking Through
"When my sister Rosanna and her friends came to me asking for the deconstructed jackets that I made in my men's collection, I saw there was potential for something new in the market, as society was radically changing. The success of the eagle logo for Emporio Armani was another landmark, as it fuelled the only Italian subculture: paninaro."
Fitness
"It all goes back to an ancient motto: healthy mind in healthy body. Keeping in shape requires as little as 30 minutes of exercise a day — and a balanced diet. It has a huge impact on the way I think and work, that's why I stick to it."
The Best Piece of Clothing
"The jacket. It's versatile and useful. A wonderful playground for pragmatic invention."
The Worst Piece of Clothing
"High-heeled sneakers. They're such a bad idea."
His Work Ethic
"That's very simple: total dedication, absolute stubbornness, and being a complete control freak. I put my seal of approval on everything that I do, so I'm sure that I cannot blame anyone for things that go wrong. Everything is my decision, and that, I believe, shows."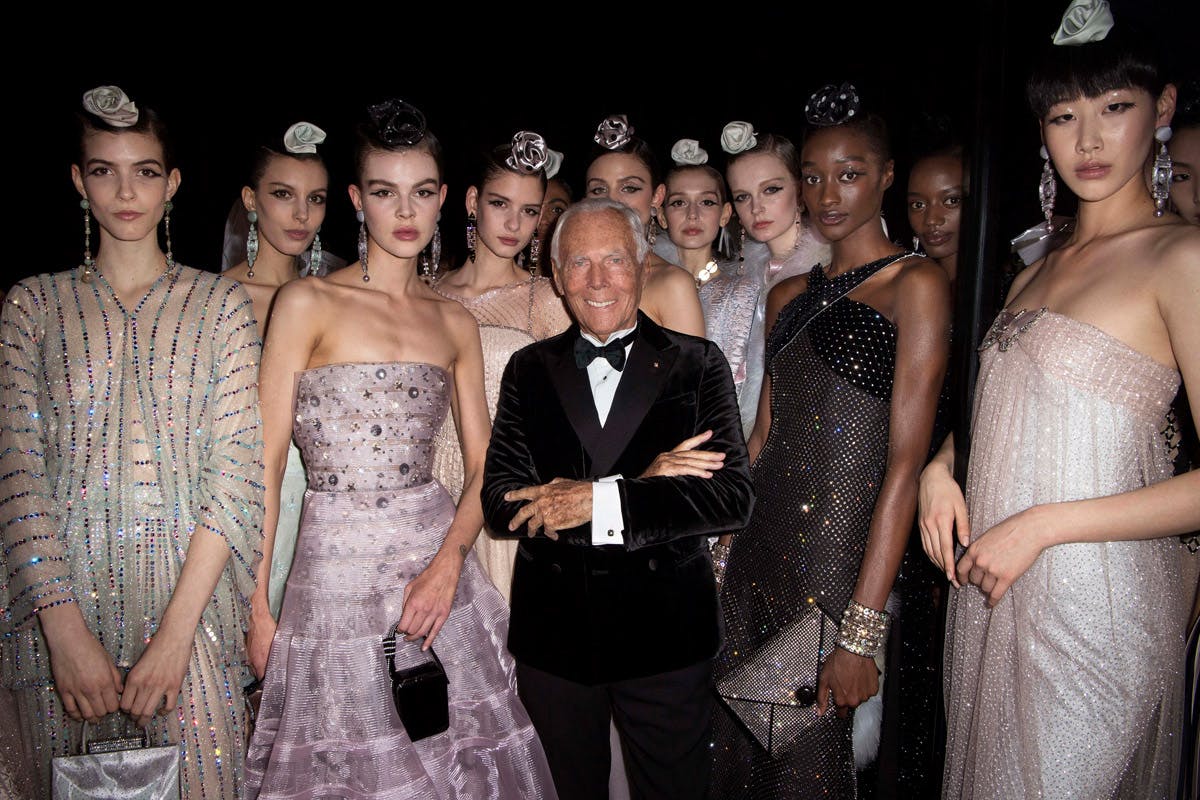 The Democratization of Influence
"As you can imagine, the way social media has shaped the very concept of influence is very different from my idea of it. It's so mercantile and intangible, I sometimes get shocked. But I'm curious about the phenomenon. It's like real life, today, has gone completely digital."
Streetwear
"The rise of streetwear has been one of the most interesting fashion phenomena of recent years. I'm hugely interested in everything that touches, or comes from, real life. Streetwear is real, probably a tad too theatrical and logoed at times, but real. It's also linked to the rise of a new generation of young big spenders. Of course, the idea of streetwear at designer prices is a bit counterintuitive, but that's a sign of the times."
Cats
"I love cats because they're a mirror of my personality. You have to earn their trust. They never come to you right away. They're capable of immense love and affection, but it takes time to get there. I'm just like that. Moreover, cats are very elegant, discreet creatures. They're also extremely lazy, which I am not, and that adds an element to my fascination."
Being Independent
"There's no other way to do this other than being completely in charge of all the decisions. Independence is a burden, but it also means total freedom. I cannot give up on this."
Fashion's Role in Climate Change
"Fashion, with its intense production of stuff, has a huge role in climate change, and we should all act on it, as soon as we can. What happened this year has made me [even] more aware of how much more important nature is. We only have one planet, and we have to preserve it."
Television
"I watch the TV as little as possible, but the last thing I really [enjoyed] — for its historical accuracy and the splendid costumes — was The Crown. I'm a big fan of things that bring me elsewhere."
The Fashion Calendar
"I believe that's one of the things that's killing the fashion system. It is killing the planet, too, with the senseless production of too much useless stuff. My idea is simple: less is better. It's for the creators, who can concentrate on the quality of what they do. It's for the consumers, who should learn to buy valuable things."
How Fashion Has Changed
"I started when fashion was a main driver of modernity. Today that baton has passed to social media and technology, perhaps, while fashion has morphed into a form of entertainment. That's the main change I've seen. As for me, I still believe in fashion as something that has a deep impact on people's everyday life, changing perceptions and attitudes, actually igniting progress. I don't believe in style as a self-standing exercise. Style is part of life."
The Chicest Person of All Time
"I'm not a fan of these kinds of lists. I actually hate creating 'best of' hierarchies. It is such a cliché. Our ideas of chicness change as we change. But Lee Radziwill wearing Armani was incredibly chic, I have to say."
Success
"Success for me isn't a goal, but a stimulus to do better. You can always raise the bar a bit higher, and that's what I actually do. Also, success makes you visible — a model for the public, indeed — which allows you to work on good causes and get results. In this field, I prefer to do things instead of talking too much about them."
The Perfect Artwork
"Choosing one would be unfair, for all the beautiful art that's scattered around the world. A Greek temple, a giant statue of Buddha, Michelangelo's David, Picasso's Guernica come to mind right away. The Roman ruins in the city of Palmyra [also] hold a precious spot in my heart."
The Best Song Ever Written.
"That's a difficult one. I love 'Tears in Heaven' by my friend Eric Clapton. Rarely has a song about mourning been so sweet and gentle, melancholic but not sad."
Fashion's Best Characteristic
"Its constant change. If fronted with intelligence and sensibility, it's actually a stimulus to never stand still. That's a great lesson."
Fashion's Worst Characteristic
"Constant change can be a trap, too, as it can lead to silly fickleness."
Career Advice for a Young Person
"Work hard and possibly harder, believe in your ideas, [then] work a bit harder, and you'll get to the top. Even if you don't get to the top, there's nothing to worry about. Being true to oneself is the best reward."
The Best Place in the World
"Being in Antigua, Pantelleria, or even in the garden at Forte dei Marmi. Looking at the vast open sea. There is truly nothing better."
His Last Purchase
"A lovely book on forgotten Italian words. It made me think a lot about time."
The Key Takeaway of Giorgio Armani, the Brand
"The idea that less is better and that timeless elegance is a form of gentle radicalism."
The Key Takeaway of Giorgio Armani, the Man
"Giorgio Armani does things his own way."
Order HIGHEnergy, a magazine by Highsnobiety, via our online store.