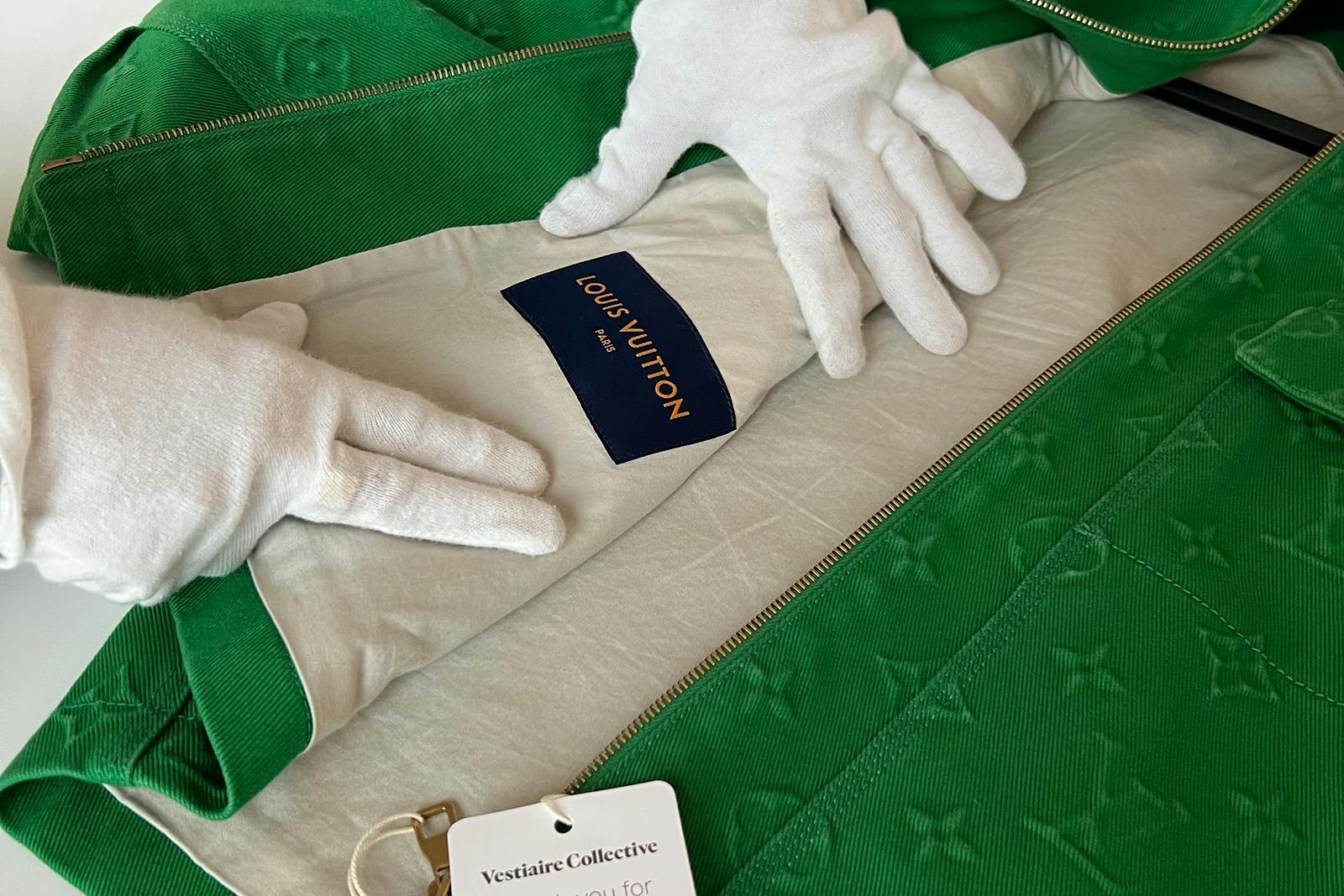 When you buy a second-hand luxury jacket or a pair of rare sneakers, your first concern is always the same: are they real? Authentication, the process of detecting whether a product is fake or not, is the backbone of the reselling world, and it's also its best-kept secret.
Vestiaire Collective, Europe's biggest platform for preloved luxury fashion, has one of the most sophisticated and efficient authentication systems in the world. Across five authentication centers, 80 experts, who have all undergone at least 750 hours of training, verify up to 40,000 items a year each. Since 2019, 1.5 million products have been physically verified by the team—with a 99.9 percent success rate.
To get an insight into the mysterious art of luxury legitimizing, we visited Vestiaire Collective's largest authentication center in Tourcoing. Located in Northern France close to the Belgium border, Tourcoing was a hub for the French textile industry until the late '80s when deindustrialization forced many factories to close, causing high levels of unemployment. In 2017, Vestiaire opened a facility in the town in a former wool factory to reinvigorate the local job market and leverage the fashion and design savoir-faire in the area.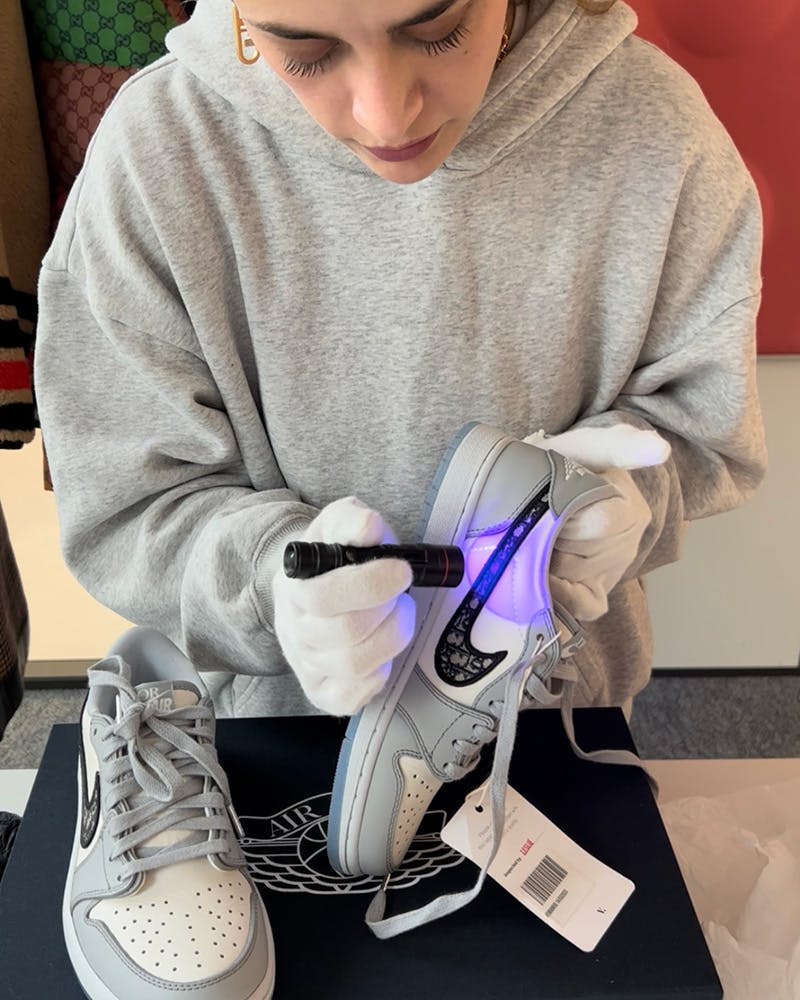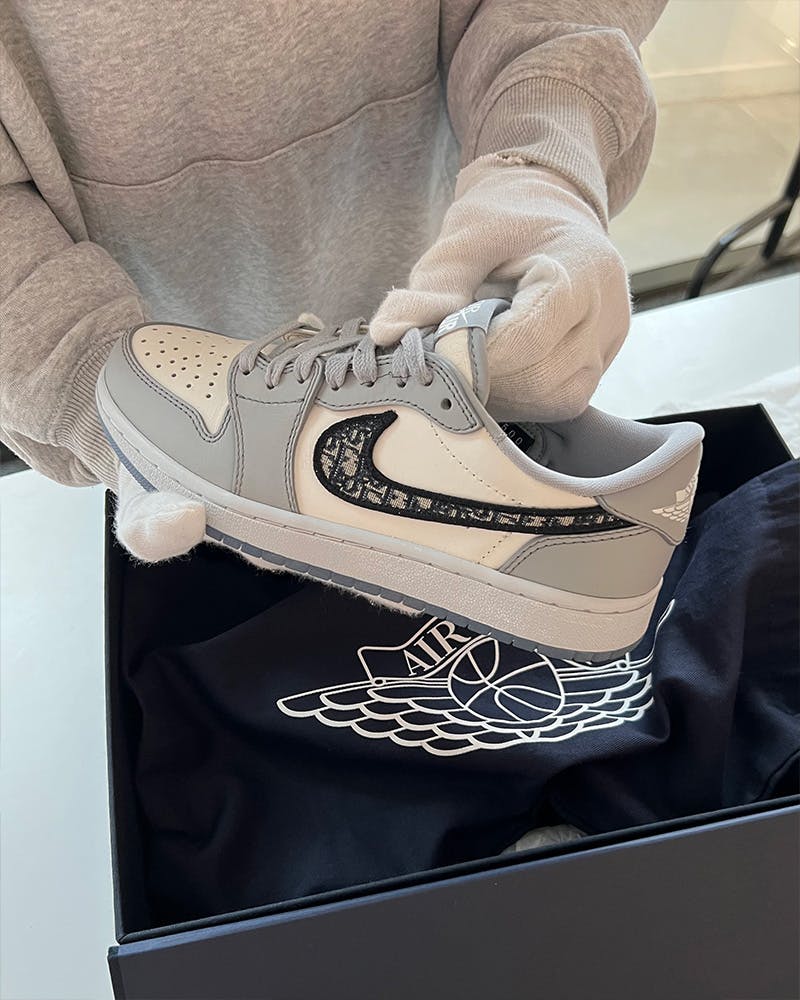 From the outside, it doesn't look like much, an unassuming brick factory with no signs, but inside, it's a treasure trove of luxury fashion. On the ground floor, conveyor belts whirl bringing in a steady stream of packages to be opened, sorted, and registered. If the buyer has chosen to have their purchase verified or if the item costs over €1000, it'll then land on the desks of one of the authenticators before being quality controlled and then shipped on to the buyer.
It's on the second floor where the kid in a candy shop experience really kicks in. Room after room is filled with products that are stored as part of Vestiaire's VIP consignment service, which entitles frequent sellers to a suite of perks, including storage of their listed items in the state-of-the-art facility. We enter into one secured room with rows of shelves and racks filled with extremely rare and exclusive pieces from every luxury house you can think of. I clock a Rolex watch, a pair of Tom Sach's Mars Yard Shoe 2.0, a polka dot tote from Louis Vuitton x Yayoi Kusama's first collaboration in 2012, several Gucci x The North Face puffers and, locked in a cage, three Hermès Himalaya bags, which are valued at over €140,000.
We collect a pair of Dior Jordan 1 Lows and Charleine Bejuy, one of 33 authenticators who works at the French facility, talks me through the process of verifying a sneaker and sniffing out whether it's fake. And I literally mean sniffing. "That's smell," she comments as she lifts a pair of Dior Jordan 1s to her nose. "That's the smell of calf leather. It's very distinct." She pulls back the tongue to show me inside the shoe. "You see the font on the sizing label? That's Nike's specific size label font. So even though this collab was made in Dior's Italian factory, the label follows Nike's standard design." Taking a magnifying glass from her desk, she inspects the swoosh, "the Swoosh is canvas printed with the Dior monogram. It's a vintage print but was reissued a few years ago."
The process of verifying a product isn't such a surprise. The first step is digital. Products are cross-referenced with a huge database of information, which includes an extensive archive of counterfeit pictures, swatches and products. Physical authentication follows for items that have been validated by buyers and above €1000, which starts by checking the packaging and dustbag, then the product and any accessories. Logo placement, font, fabric, construction, stitching, hardware and size and care labels are all closely examined to ensure they match the brand's standards. If there are any concerns about the product's authenticity, a second expert will examine it, and if in doubt, it'll be rejected. About eight percent of items don't make the cut.
What is most awe-inspiring is Charleine's knowledge—she can identify the creative director behind an item just by looking at it. I point to a bright green workwear-style Louis Vuitton jacket. "Oh, that piece is super nice," she enthuses. "It's a Virgil Abloh design, a Japanese exclusive from 2021." She explains to me that you can tell it was released after 2015 because of the color of the inside label—yellow, almost orange Louis Vuitton font set against royal blue.
Charleine's expertise comes from years of experience as well as time spent at the "Vestiaire Academy". Given the acute degree of knowledge required for the job, each authenticator must undertake 750 hours of study in materials, production techniques, and brand hallmarks when they first join. Once they've "graduated", they can start authenticating. They continue to attend training sessions throughout their career to ensure they stay up-to-date with new luxury brands, products, and counterfeit techniques.
Although Vestiaire continuously invests in its digital database and new opportunities like blockchain technology, nothing yet surpasses the human touch. "We believe in the combined expertise of people and tech to continue to improve our process. Human expertise is key as technology cannot replace the senses used by an expert to authenticate an item," shares Victoire Boyard Chammard, the Head of Authentication.
Vestiaire's reputation and its success hinge on trust, which it has earned over the years through its meticulous methods. Letting a counterfeit product slip through is out of the question. As the second-hand luxury goods market continues to expand rapidly—according to McKinsey, is predicted to grow by 10-15 percent annually over the next decade—so do the number and quality of counterfeits. The Business of Fashion state that the fake and pirated goods market reached $3 trillion in 2022, triple the amount in 2013.
With its two-step approach of state-of-the-art digital verification and human authentication, Vestiaire is determined to stay one step ahead. The trust exhibited by its growing user base and brands—Chloé recently announced a new partnership with Vestiaire allowing direct resale of its goods through the platform—suggests that it will, bringing Vestiaire one step close to its founding ambition of giving "people's fashion pieces a second—or even third—life."