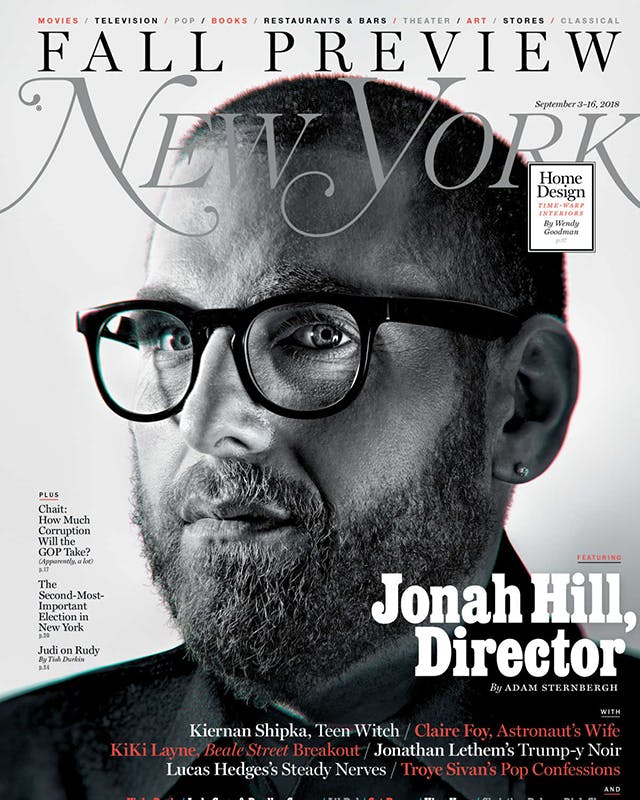 New York Magazine today unveils the cover for its new Fall Preview issue, featuring none other than Jonah Hill, ahead of his directorial debut for Mid90s, which premieres next month. In addition to a candid conversation with Hill, the issue highlights the best upcoming movies, TV shows, books, pop albums, and more.
Below we've highlighted the standout excerpts from Hill's interview with New York Magazine — touching on his career, finding himself in his 30s, and the making of Mid90s — which you can then read in its entirety here.
On making Mid90s:
"I wanted to show what it's like to try and make your way, and how acceptance happens so gradually or not at all."
On his lack of skateboarding talent:
"I would say dedication-wise I was 100 percent, but skill-wise 14 percent."
On life in the public eye:
"You can't live in a world where you're wondering what people think of you. It will just drive you crazy."
On feelings of accomplishment:
"Whenever you think you have it is exactly when you don't have it. I could give you any answer to these questions, but the reality is, I don't have it. To me, the lesson of life is you never have it. It's all just starting over every day."
On the death of his brother and a similar scene featured in Mid90s:
"In regards to my brother, I love him and I miss him very much, and that's all I want to talk about that."
On Jonah Hill Day:
"The first year, I didn't go because I was too nervous. I was like, Is it arrogant to go? You get so in your head. But then I thought, These people are throwing a day for whatever reason, out of appreciation. I'm going to go show them love."
On figuring out what he actually loves:
"When I pulled up to the set on the first day of Mid90s, and the cameras were there, and the trucks were there, and the kids were in their costumes, and I was behind the camera, I thought, This is home. I knew this is what I wanted out of my life. And I didn't feel like it was given to me. I felt like I had worked for it."
Follow here to read the entire interview.
Mid90s lands in theaters October 19.
For more, here's your complete guide to all of Jonah Hill's upcoming movies and TV shows.