Throughout my adventures across the industry, I've had the pleasure of speaking to many creative directors, but none that I know of quite have the supply chain, R&D capabilities, and confidence to match Gorden Wagener, the Chief Design Officer of Daimler AG.
Last year, Daimler's marquee brand Mercedes-Benz sold over 300,000 luxury new cars, each according to Wagener's design philosophy of "Sensual Purity." The designer has published an entire book on the topic, but Zooming with him from his office in Southern Germany is the ultimate crash course. Wagener's walls are covered by his own oil paintings of Mercedes roadsters and yachts, depicted in supple motion, contoured with gleaming lines. He uses words like "emotional" and "sexy" often when speaking about cars. And when it comes to making creative decisions with billions of dollars of revenue at stake, demographics and focus groups are roadkill compared to following a finely-tuned sense of beauty and the extraordinary.
Ahead of our call, I went for a spin in the most noteworthy of Wagener's new designs, an EV evolution of the iconic Mercedes S-Class sedan called the EQS. Driving through midtown Manhattan, onto the FDR Drive, and over the Brooklyn Bridge in the eclectic sedan, I was treated to the bizarre experience of co-existing in two time periods at once. 2021 New York is a noisy and jagged place filled with contradictions and extremes. Whereas the Year EQS is a time when human bodies glide, ghost-like, through space inside long, climate-controlled metal fuselages.
Perhaps the most emotionally-charged aspects of the EQS driving experience are its instrumental panel and its windshield, two elements that combine together to create a surreal, techno-sensual experience. The sedan is the first of Mercedes' cars to feature its Hyperscreen, an AI-powered touchscreen console that spans the entire front of the vehicle's interior, immersing the driver in its glowing "infotainment" experience. Floating above the screen — yet also strangely screen-like — the gently sloping windshield of the EQS bathes you in your surroundings as you move through space, creating a sensation that Wagener describes as being akin to piloting a small aircraft.
Speaking to him about the EQS and his design philosophy in general, it is clear that Wagener believes in a type of luxury that is not just expensive, but one that is responsible for transforming the nature of everyday life. And as we barrel into a new era with new values, more will need to change about luxury vehicles than just their drivetrains.
Gorden Wagener: I heard you had a chance to drive the EQS.
Thom Bettridge: I did, yes. Something I found really impressive about it is that I feel like a lot of luxury automakers are coming out with EV versions of their cars, but with the EQS' design and user experience, you guys are really trying to make a quantum leap with what it means to even be in a car — not just make the electric version of something that exists already.
We started with a blank sheet of paper and asked ourselves — with the new parameters of electric and digital — how we can fundamentally do it differently than cars have been done for the past 100 years. One of the most prominent factors is the axle proportion, which takes advantage of the pure electric architecture with a long wheel base. What we call the "bow silhouette" is more of a flowing, futuristic-looking proportion that hasn't been done before. So when you see the car on the street, it's actually quite stunning. And the interior comes with it. When you drive the car, it feels like you're sitting in a glider with no noise, almost hovering over the street. And the way you sit in the car, with the fast windshield kind of covering you, it's like you're sitting in the cockpit of a sports airplane.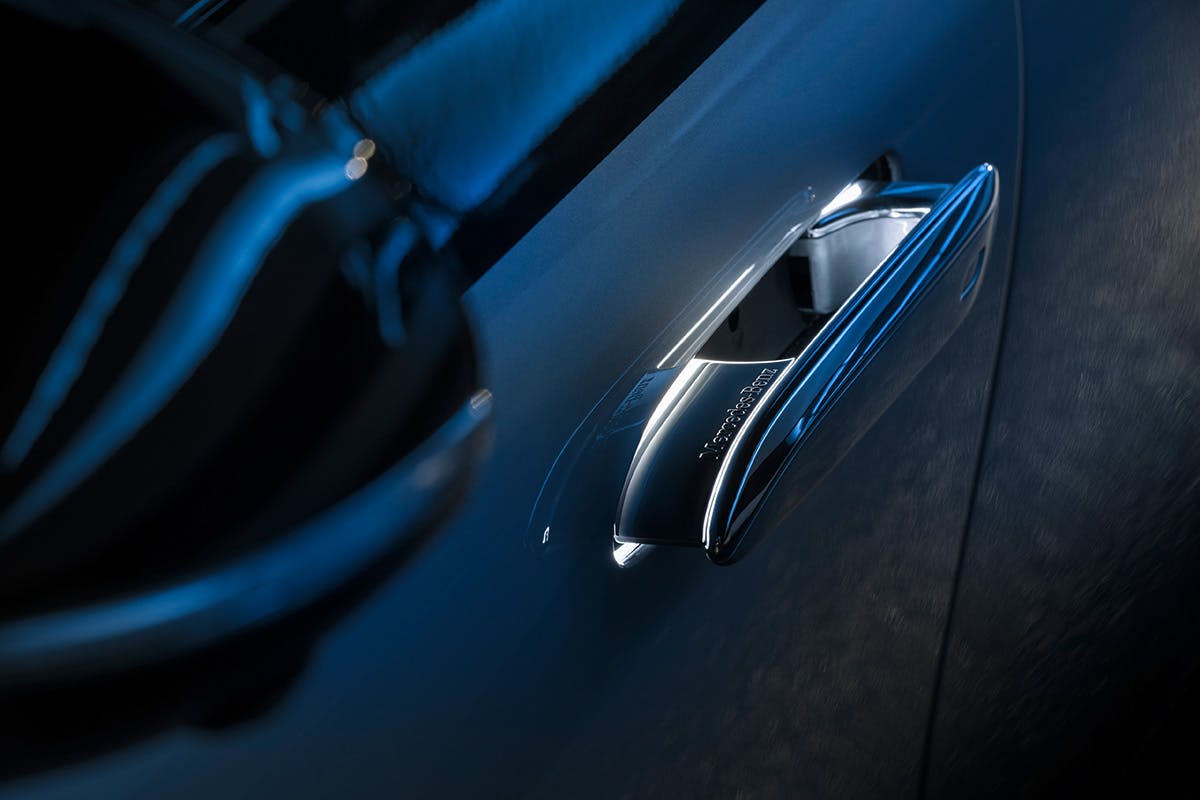 Driving the car, I got this strange feeling, like, "This might be the last car people actually drive themselves in." With the hovering experience and the big interior screen, it's like I could almost imagine the car just not needing me there anymore. Was autonomous driving on the top of your mind when you were designing the EQS?
Yes, because the initial idea came from that concept car F 015, which was an autonomous vehicle we presented in 2015 in Las Vegas — the instrumental panel and the bow proportion all came from that show car.
With a car like the EQS, how do you go about communicating futurism without arriving somewhere corny? Because when I look back at the original generation of hybrid cars, I feel like so many of those designs look kind of stuck in that 2000s moment. How do you go about communicating an electro-futurism that feels luxurious and not like a prop from Star Trek?
We have a very strong sensual purity philosophy, and that allows us to have something very emotional, sexy, alluring on one hand, and very clean and tech-y on the other. That's our style as a luxury brand, and whatever we do fulfills that. That style makes the difference between, let's say, the cheap mainstream brands.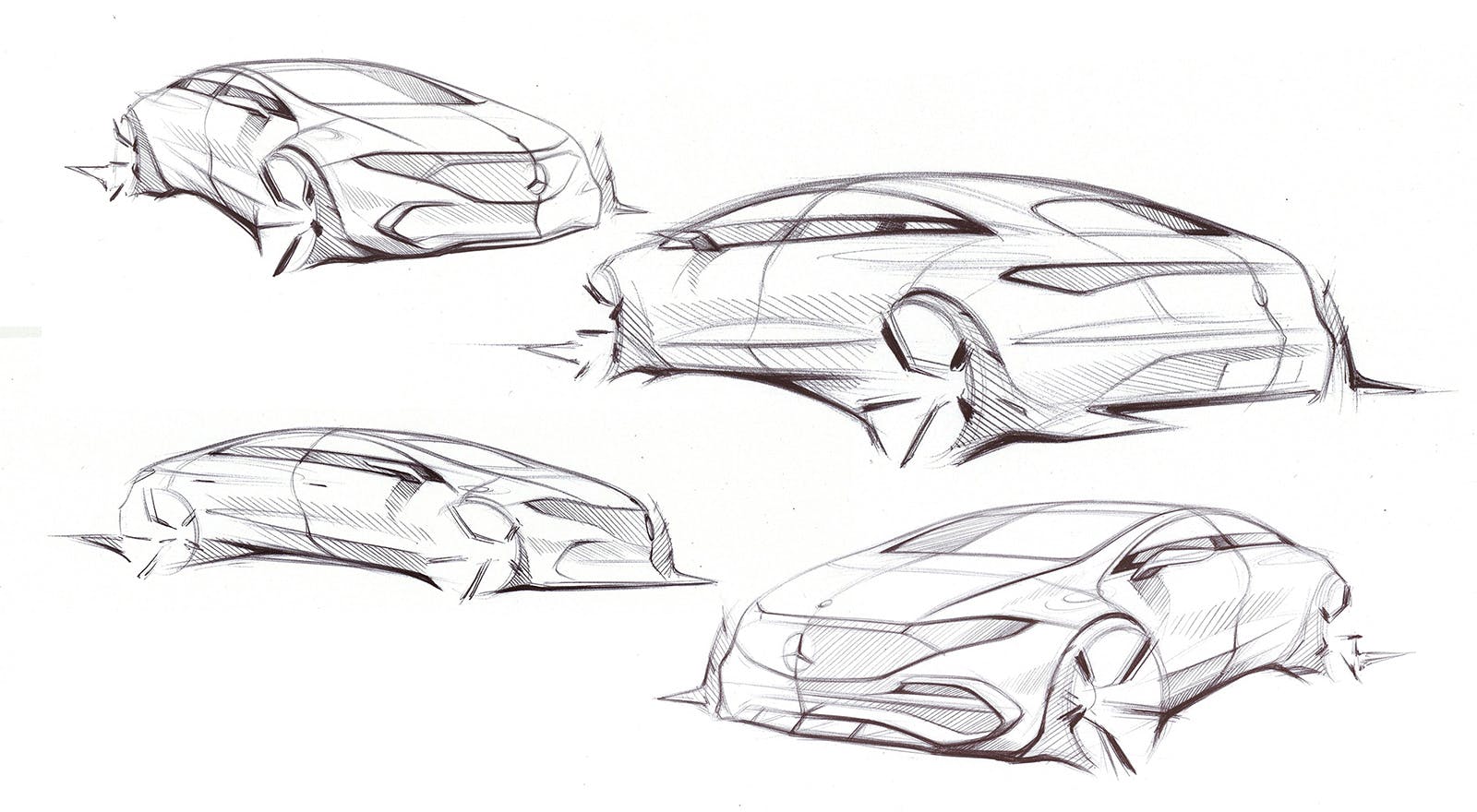 And what guides you in that process?
The first thing is beauty, or even sex appeal. If we feel that something or somebody is attractive, there are aesthetic reasons, but that process is also intuitive. If you look at classic cars, some things refer to the beauty ideals of that time, but most of it is timeless: that full, voluptuous, sexy surfacing. The EQS shares in that full-body surfacing. It's very tech on the one hand, but it expresses that attraction, beauty, and sex appeal.
When designing the EQS, were there things you and the engineers took into account to make the change in driving experience easy for the more traditional S-Class driver?
We design for things that will hit the market in five years' time, so we are designing something far more advanced than what the customer is used to today. That's why I don't believe in clinics where you ask people what they think of the car — because what people like today might not be what they like in five or ten years from now. I mean, look at the car we did with Virgil [Abloh]. Some people loved it, but classic G-Class lovers didn't like it so much. But then that process starts, and they think about it, and they start to discover stuff they like.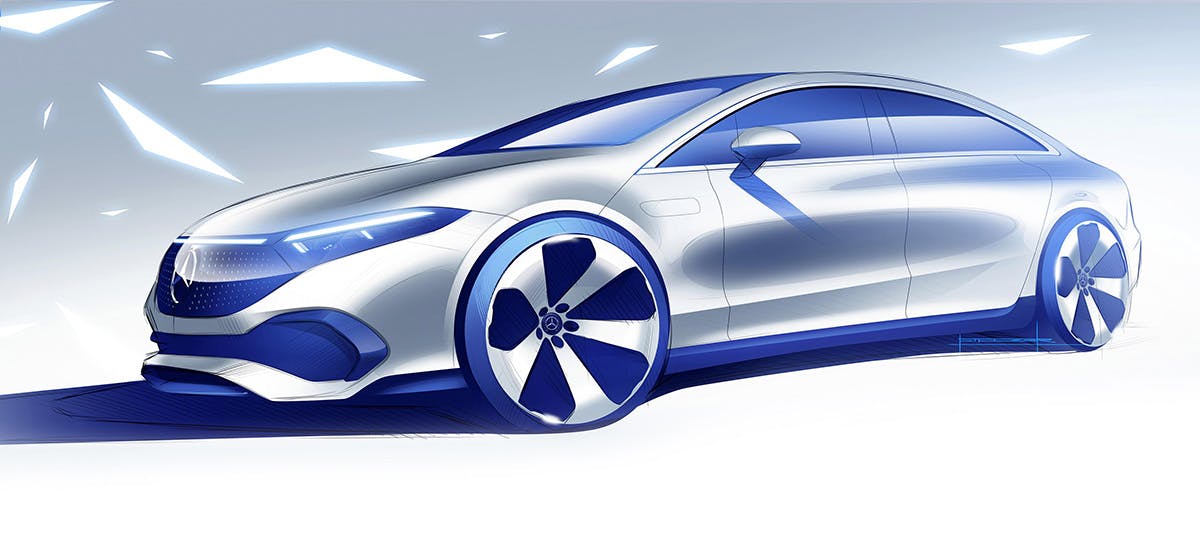 How do these kinds of one-off experiments — like the Virgil car, but also the F 015 concept car you mentioned — fuel the design process?
It's a great process, because we have to think out of the box and have different approaches. If you ask a designer, "Okay, make me the next production car," then he is very limited in his thinking. But if you tell him, "Okay, let's create a vision of the autonomous car for 2030," then you end up with something completely different. And from this more future-oriented approach to design, you can always draw something out and make it happen today. The exercise with Virgil was slightly different. That was about art and the next level of luxury — which is not like traditional luxury, because it's tailored to a new group that hasn't been there before. So that project was more of a redefinition of luxury in the auto world.
I feel like a lot of the questions you're asking about the future of luxury are ones that are being asked in the fashion industry. Do you find a commonality in your work with the creative directors redefining that apparel space today?
The speed is very different. Fashion is doing four collections each year, while we are doing one collection that is trialed for five years before it hits the market and stays on the market for about seven years. So it's a different approach to thinking.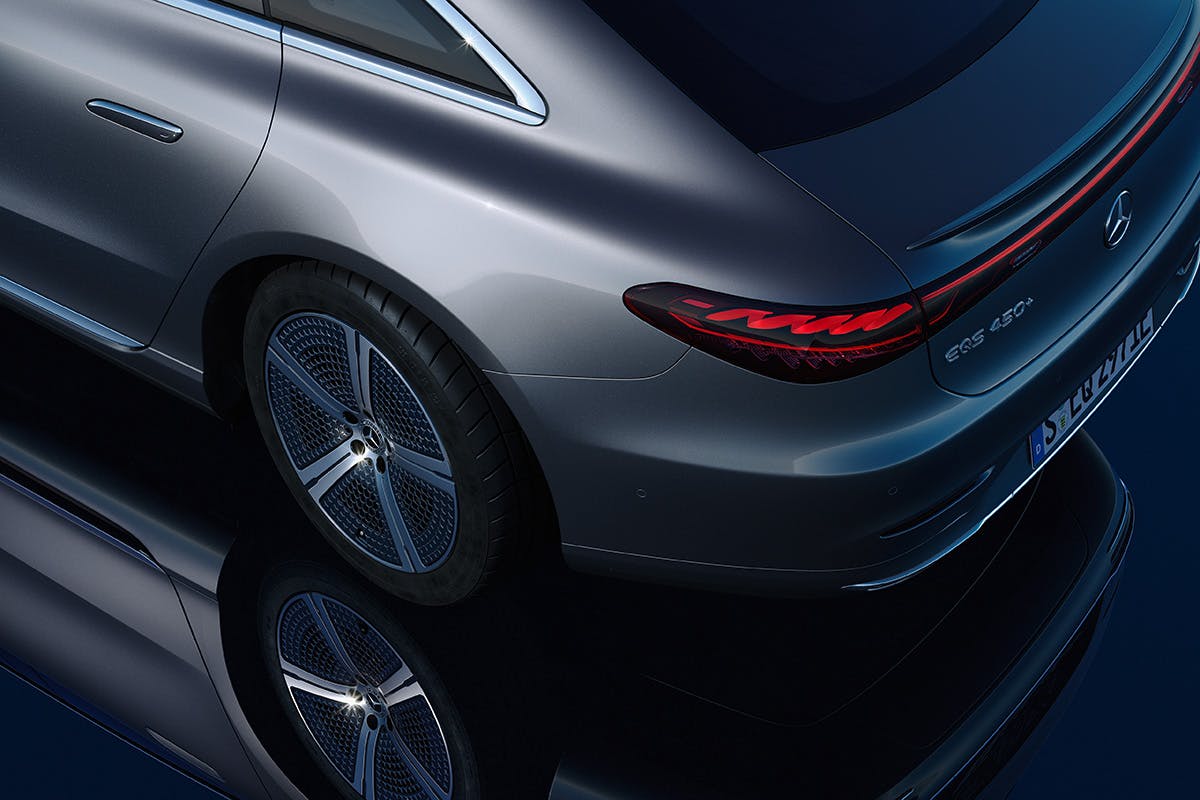 In terms of defining the kind of new luxury you mentioned in the auto world, how does that work at a company where you have such a broad audience? You have 70-year-old surgeons buying Mercedes cars, but you also have 20-year-old rappers buying them. So how do you push the older generation forward while still appealing to your entire audience?
First of all, I think it's important that you not try to please anybody. When we design, we're not designing for this guy or that guy. We don't even think about whom we are designing for. Because when you have somebody in mind, this is the wrong approach. You want to create an authentic piece of design, and through that process you will make something attractive for kids, for the elderly, for boys, for girls, for men, for women, for all nationalities. The key to a luxury company is that people buy it for its specific, significant style. My mission is to make Mercedes the most loved — no, let's be precise — the most desired luxury brand. So with whatever we do, we ask ourselves, "What kind of desire do I create when I do it like this?"